Bold red, florals, French tips with/without negative space, iridescent chromes, neon, and sheer blush or strawberry-glazed nails are dominating this year.
Scour Instagram and you'll see endless designs that do justice to these trends.
Instead of recreating them and getting lost in the sea of inspired nail designs, try something a little luxe on your nail beds: black and yellow.
This striking combination adds a whole new level of depth to your fingertips with almost no effort. It creates a fashionable statement that will bring a touch of sophistication and refinement to any outfit.
It's the best of both worlds — subtle and bold, making it the perfect look for you.
Best Ideas for Black and Yellow Nails
With black and yellow hues, the world truly is your oyster.
There are endless variations to choose from — from stripes to polka dots, flower motifs to letterings, tiger stripes to sparkles, and marbled effects. You can even pair them with rhinestones to take your manicure game to the next level!
Up ahead, you'll find our top picks for the nail trend that's got everyone buzzing.
1. Classic Black and Yellow Nails
2. Bee Inspired Black and Yellow Nails
3. Yellow Nails with Black Stars
4. Nails in Geometric Black and Yellow Design
5. Neon Yellow Nails with Black Cats
6. Short Black and Yellow Nails
7. Black and Yellow Nails with Floral Accents
8. Black and Yellow Swirl Nails
9. Happy Black and Yellow Nails
10. Black Nails with Yellow Sunflowers
11. Space Theme Black and Yellow Nails
12. Funky Black and Yellow Nails
13. Nails with Yellow Black Butterflies
14. Tortoise Shell Nails in Black and Yellow
15. Black and Yellow Nails with Rhinestones
16. Cute Floral Black and Yellow Nails
17. Abstract Black and Yellow Nails
18. Bright Yellow Nails with Black Colourful Accents
19. Yellow and Black Speckles Nails
20. Vibrant Black And Yellow Nails
21. Black and Yellow Jungle Print Nails
22. Black and Yellow Glam Nails
23. Black and Yellow Sunflower Design Nails
24. Yellow and Black Leopard Print Nails
25. Black Nails with Yellow Gold Flames
26. Abstract Art Nails in Black and Yellow
27. Yellow and Black Geometric Tips
28. Matte Black and Yellow Nails
29. Black and Yellow Checkerboard Nails
30. Black French Tip Nails with Yellow Smiley Faces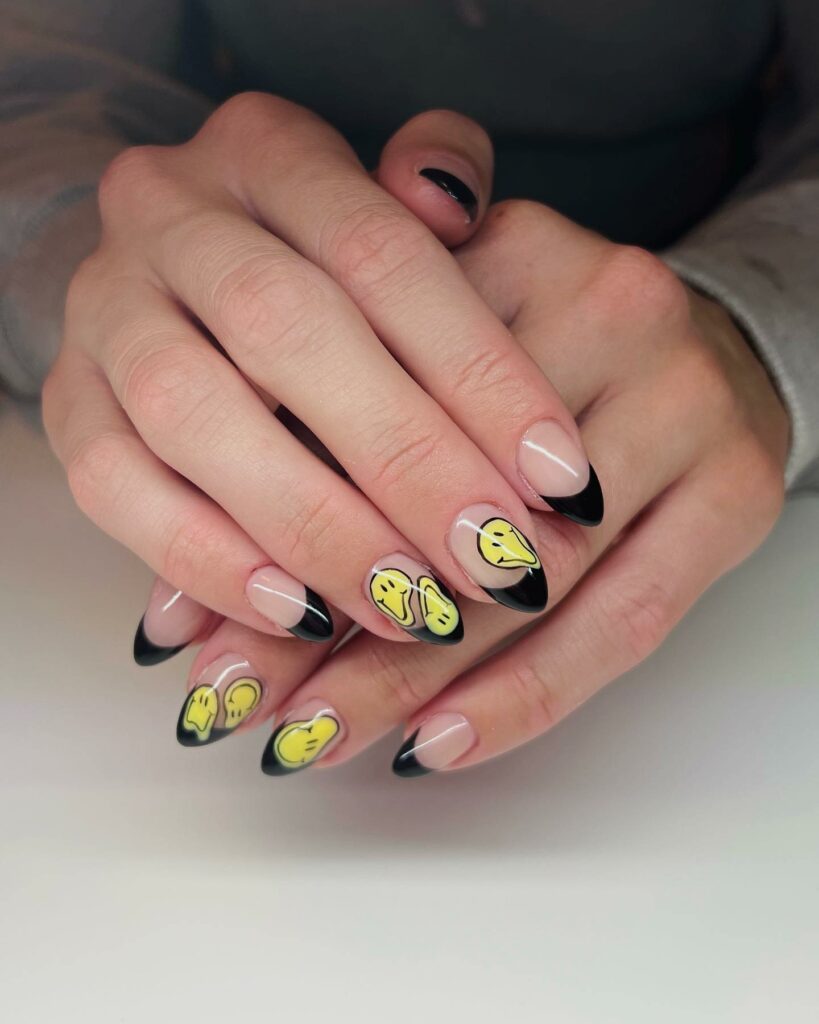 31. Long Coffin Black and Yellow Nails
32. Black and Yellow Nails with Art and Crystals
33. Black and Yellow Tipped Nails
34. Yellow Nails with Black and Gold Glitter
35. Honey Black and Yellow Nails
Symbolism of Black and Yellow Nails
Did you know that your black and yellow nails can help you manifest your goals?
Black has always been seen as the color of death and darkness, but there's so much more to it than that. In the nail world, it represents confidence, elegance, strength, and power — all great qualities to have at your fingertips. It gives you that untouchable, mysterious vibe that will have people vying for your attention.
To keep things from being too plain, this muted color pairs beautifully with yellow's sunny and unmistakable shade.
This hue, known for its bright and exuberant appearance, adds a splash of optimism, joy, and happiness. In some cultures, it's viewed as a royal and erotic color. It also balances the edgy look of black and creates a striking color combo.
Tips for Maintaining and Styling Black and Yellow Nails
The key to keeping your black and yellow nails looking freshly painted is knowing what can ruin a good mani.
Here's how to maximize their staying power and make your black and yellow nails last longer.
Before applying polish, wipe your nails with alcohol wipes to strip away remnants of polish or oils. It will create a clean surface and will prevent chipping, increasing the lifespan of your mani.
Let each coat dry thoroughly before starting on the next one to prevent streaks and patchiness. It will also prevent the paint from peeling or flaking once dry.
If you're working with foil, put it on when the gel is still wet so you can reposition it if required. Apply another top layer after to seal it all in.
Use ultra-fine nail brushes to create intricate designs and patterns as well as get rid of excess glitter. These tools will keep the final look crisp and clean.
Keep your nails looking vibrant and stylish at all times with these tried and tested tips:
Wear protective gloves when you do the dishes or work in your garden.
Be extra gentle when you go about your day. For example, carefully open car doors so your manicure isn't ruined.
Give your nails another layer of protection with a top coat every 2 to 3 days.
As for removal, here's how you can prevent damage and maintain healthy nails:
Moisturize your hands regularly in the morning and before bed. This will reduce dryness and boost skin elasticity.
Slather your nails with cuticle oil and massage the area to replenish your skin's hydration.
Use acetone-free nail polish removers with hydrating benefits to heal your nails.
Eat a diet full of nutrients to build stronger, healthier nails.
Use a glass file to trim your nails and keep them from splitting and breaking.
Take a break from extensions every now and then to allow your nail beds to breathe. Otherwise, they will become weak and brittle.
And yes, make sure you use the right products for the job. They might be expensive (not always — mind you), but they can make a world of difference.
Our top recommendations include Sephora Color Hit Mini Nail Polish, Gucci Vernis À Ongles Nail Polish, ULTA beauty Gel Shine Top Coat, Ejiubas Nail Stamper, 12 Boxes Gold Silver Copper Rainbow Foil, and Miss Forever Nail Striping Tape.
You're welcome.
Conclusion
With their complementing colors, the aesthetically-pleasing combination of black and yellow will be an eye-catching addition to your OOTD.
It's also very versatile, allowing you to experiment with a range of creative styles, techniques, and designs that are sure to be the envy of every woman.
Resources: