Are you planning to welcome the changing seasons with new nails? In that case, you're at the right place!
We have curated a collection of 23 gorgeous fall ombre nails you will love to try right away!
Ombre nails are one of the most popular trends in nail design, and not just for the season. To celebrate fall, you can update your manicure with the pretty colors of the season like bright orange, fall leaf brown color, moody green and even pink!
Only imagination is your limit when it comes to selecting the perfect design for your fall ombre nails. However, if there are specific trends you want to follow, or looking for inspiration for your next nail salon appointment, we are happy to help!
Below is a simple video tutorial in case you want to do your manicure at home, followed by our roundup of the best fall ombre nails.
Happy hunting for the best nail design!
Ombre Nails Basic: Video Tutorial
3 Ways to do Ombre Nails: Video Tutorial
Video tutorial by Very Emily
23 The Best Fall Ombre Nails Ideas
Here is the curated collection of 23 best fall ombre looks for your nails!
If you need even more ideas, we have added dozens more nail designs to our dedicated Pinterest board, so go and check them out! While there, don't forget to follow our Pinterest account to stay on top of all nail design trends!
1. Golden Touch
2. Red and Orange Ombre
3. Individual Ombre Nails in Neutral Tones
4. Earthy Tones Individual Ombre
5. Ombre Nail Tips
6. A Touch of Yellow
7. Purple for Fall
8. Muted Individual Ombre Nails
9. Fairy Tale Red
10. Vibrant Red Ombre
11. Neutral in Grey
12. Midnight Magic Nails
13. Beautiful Nude for Fall
14. A Touch of Pink for Fall
15. The Color of the Season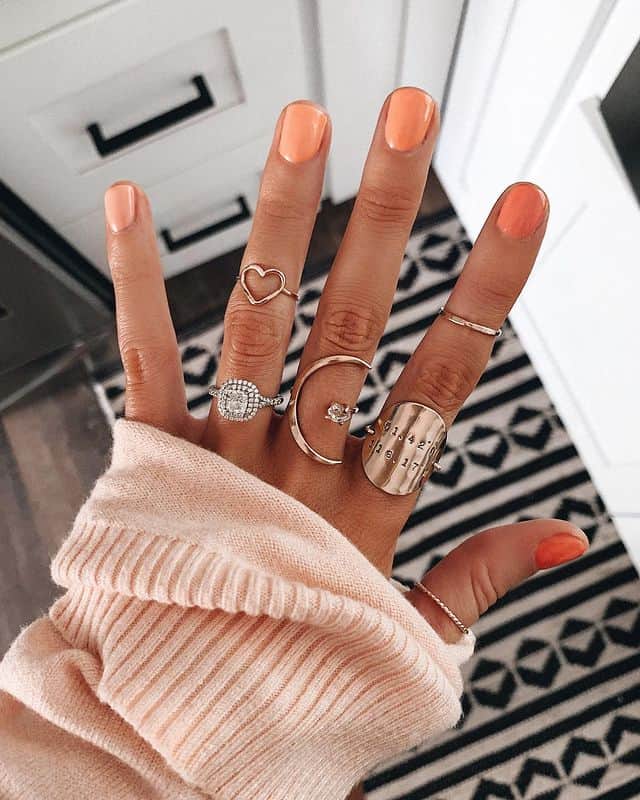 16. Fall Leaves Colors
17. Vibrant Orange Gradient
18. Dark Brown Gradient
19. All the Colors of the Season
20. Orange and Nude Ombre
21. Beyond Halloween
22. Sunset Kissed Nails
23. Burgundy Bliss