Summer is the time to get creative and bring brightness, positivity, and warmth to your nails, and what better way to do this than coffin sunflower nails?
We have compiled a collection of over 30 coffin sunflower nails that you will love to try out this summer.
We love coffin sunflower nails as the design suits everyone. You can either go bold or keep the design simple. Coffin sunflower nails can brighten your mood whenever you look down at your nails.
The coffin shape is excellent at elongating your fingers and making your hands appear more elegant. The shape works on short or long nails and looks stylish.
Whether you are looking for sunflower nail design inspo for your next salon visit or trying it out at home, you will surely find plenty of sunflower nail designs that will grow on you.
Let's dive right into the trends for coffin sunflower nails, watch a video tutorial on creating this design and go through our ideas to find your favorite one.
2023 Trends for Coffin Sunflower Nails
What are the hottest trends for coffin sunflower nails this year?
Here is a collection of our favorites that are rising in popularity in 2023.
Short coffin sunflower nails
Acrylic coffin sunflower nails
Simple sunflower nails
White coffin sunflower nails
Ombre sunflower nails
Translucent sunflower nails
Double-toned sunflower nails
Video tutorial: Coffin Sunflower Nails
This easy coffin sunflower nail tutorial from Not Polish Nail will help you create sunflower nail designs perfectly.
30+ Ideas for Coffin Sunflower Nails
Here is our carefully selected collection of over 30 coffin sunflower nails that are perfect for this summer.
If you want to see more trendy summer nails, head to our Pinterest board to see more bright and beautiful designs.
And while you're at it, it would warm our hearts if you could give us a follow so that you can stay on top of the latest trends and designs.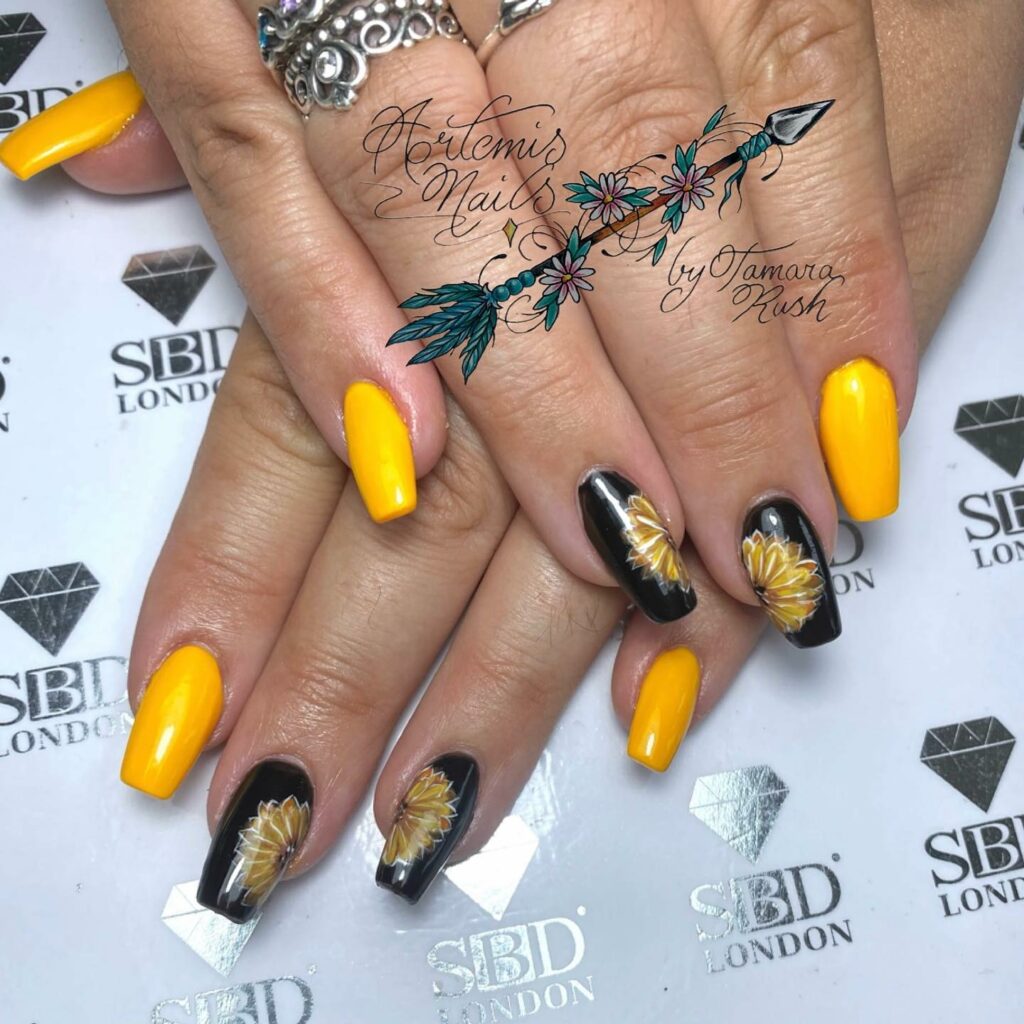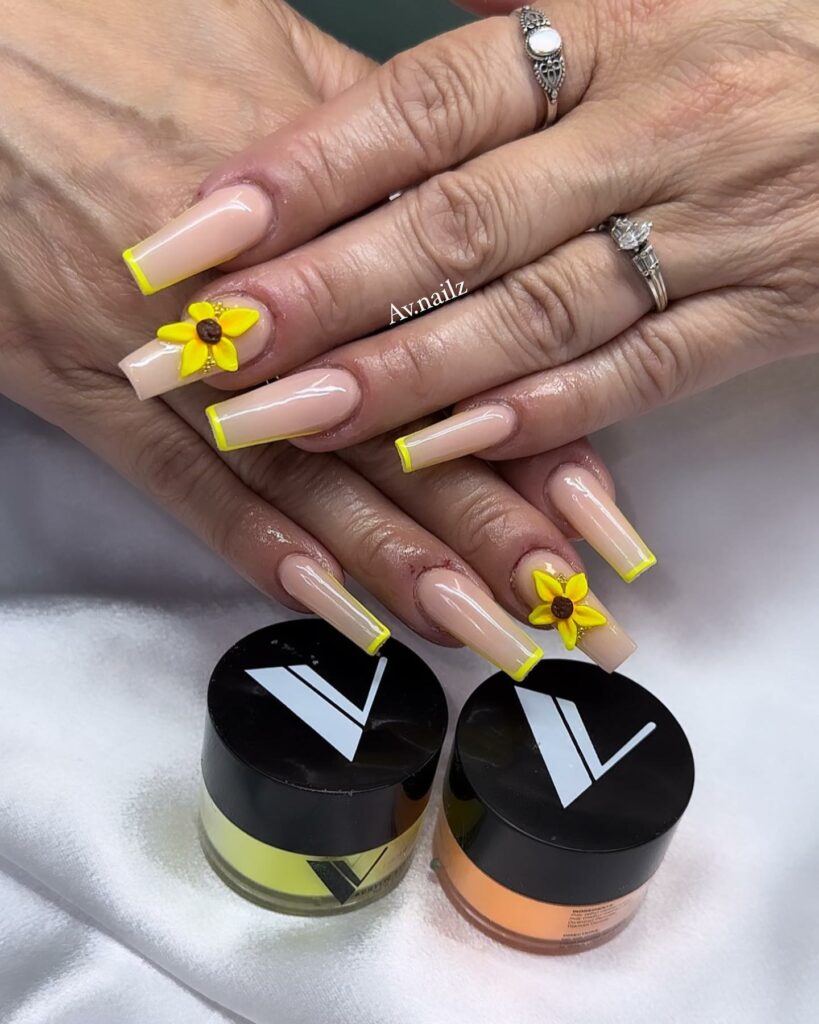 How to do Coffin Sunflower Nails at Home
Coffin sunflower nails are so easy to create at home. Anybody can create sunflower nails. The secret is flowers don't have to look perfect.
The less perfect, the more realistic they look. So let's dive right in and see how you can create this nail design at home.
The following tools are essential to creating the design:
You will need white, yellow, orange, and brown polish, acrylic, or gel.
You will also need a thin nail art brush and a dotting tool.
Follow the steps below to create your sunflower nails:
Decide on which nails you want your sunflower design to be on.
Take your dotting tool and apply a brown dot to your nail to form the sunflower's center.
Next, take your thin nail brush and create yellow petals around the brown center.
To finish the design, you can apply tiny little white dots to the brown center to make it more realistic.
Lastly, apply a top coat to your sunflower nail design to seal them in, and you are done!
How to Make Your Manicure Last Longer
Are you tired of doing your nails, and as soon as you get up or go do something, your nails chip? Well, we have the solution to your struggle. Let's get to it!
Cut and file your nails to ensure that there are no uneven edges. Keeping your nails on the shorter side will also help your manicure to last longer.
Apart from filing, cutting, and buffing, cleansing your nails and removing the excess oils are also very important factors in letting your polish last longer. Push your cuticles back, cleanse your nails, and dry your nails thoroughly afterward.
After your nails are dried, apply your base coat. When applying your polish, make sure to apply it in thin layers. Lastly, add some drying drops, wait a minute or two, and there you go.
Here's a tip, avoid soaking your nails in warm water and rather use gloves when washing the dishes. You can also ask your hubby or wifey to help you out.
Coffin sunflower nail designs are perfect for the summer. We hope you get a sunflower nail set from our collection that will make your summer even more summery.