We are getting ready for party, festival, and fun in the sun season which means party nails inspiration is a must.
Green is a rich and beautiful color that looks beautiful on everyone. Green glitter polish comes in so many shades. Starting with seafoam and chartreuse, olive, neon, and down to emerald.
We love glitter.
Honestly, it seems like almost everyone loves glitter, especially on their nails, from full-on solid green glitter manicures to ombre green glitter polish (with one solid green on each finger going from light to dark), over to accent nails and French tip style glitter fabulousness.
Just so you know, there are many ways to polish your nails with glitter. You can use loose glitter from a jar, like green glitter shards or fine green glitter.
You can mix it with polish to customize the look for yourself that you envisioned. There are different types of green glitter polish, like holographic glitter or glitter in shapes like hearts and stars.
With the versatility of small to large glitter flakes, the ability to give your nails dimension by mixing the different sized and shapes of glitter flakes and all the shades of green to choose from are just a few reasons we love this flashy mani.
Since it is so durable, glitter polish lasts longer than regular polish, and is so versatile, it's easy to understand why green glitter nail polish is so popular.
In this article, you will discover over 40 ideas for green glitter nails for this month and the season.
30+ Ideas for Green Glitter nails
So, we named a few ideas for fun and trendy green glitter nail options above, but we thought it would be more fun to show you, so scroll down and choose from the 30+ photos of ideas for your next nail style.
Nail design by scratchmagazine
Nail design by nailtechbb
Nail design by nails.by_jenn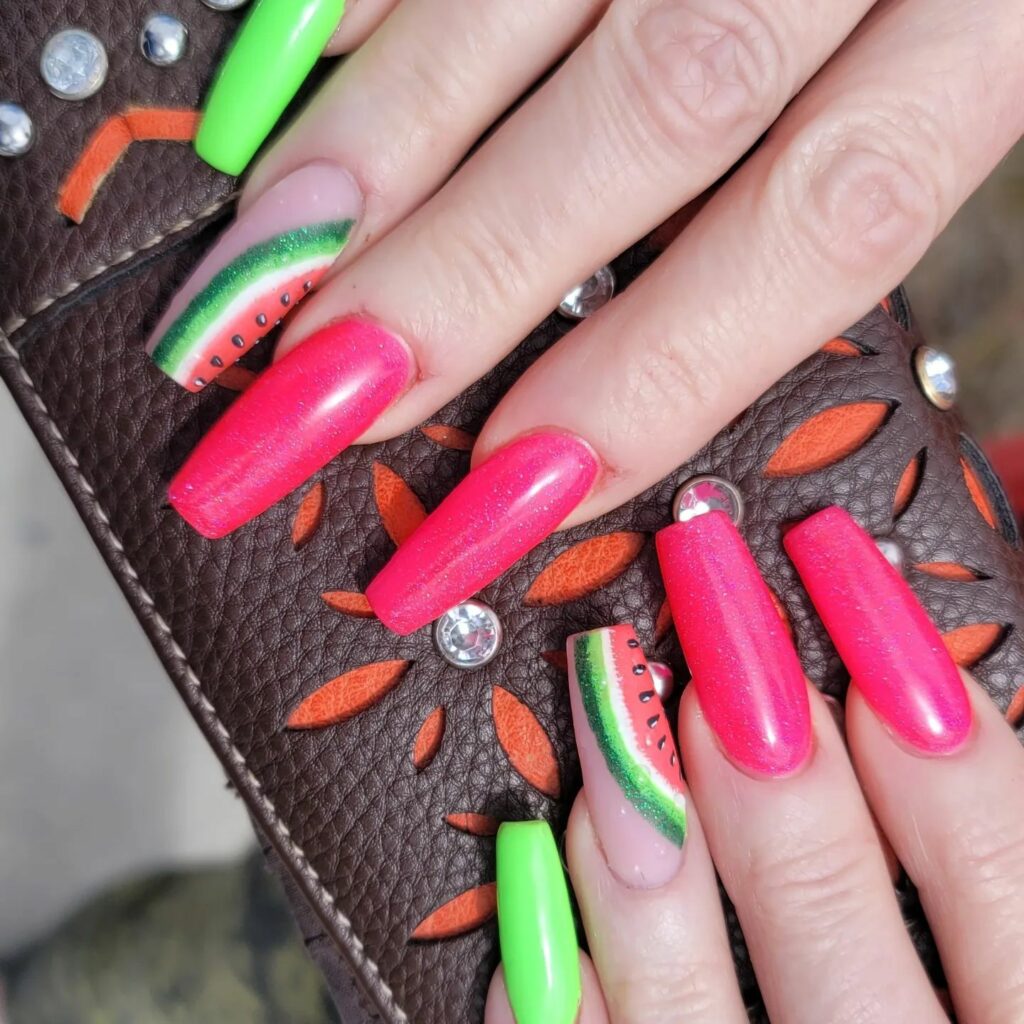 Nail design by high_class_nails
Nail design by nails_kappa
Nail design by jazzy_jaznails
Nail design by lileynails
Nail design by nailsbymelissaj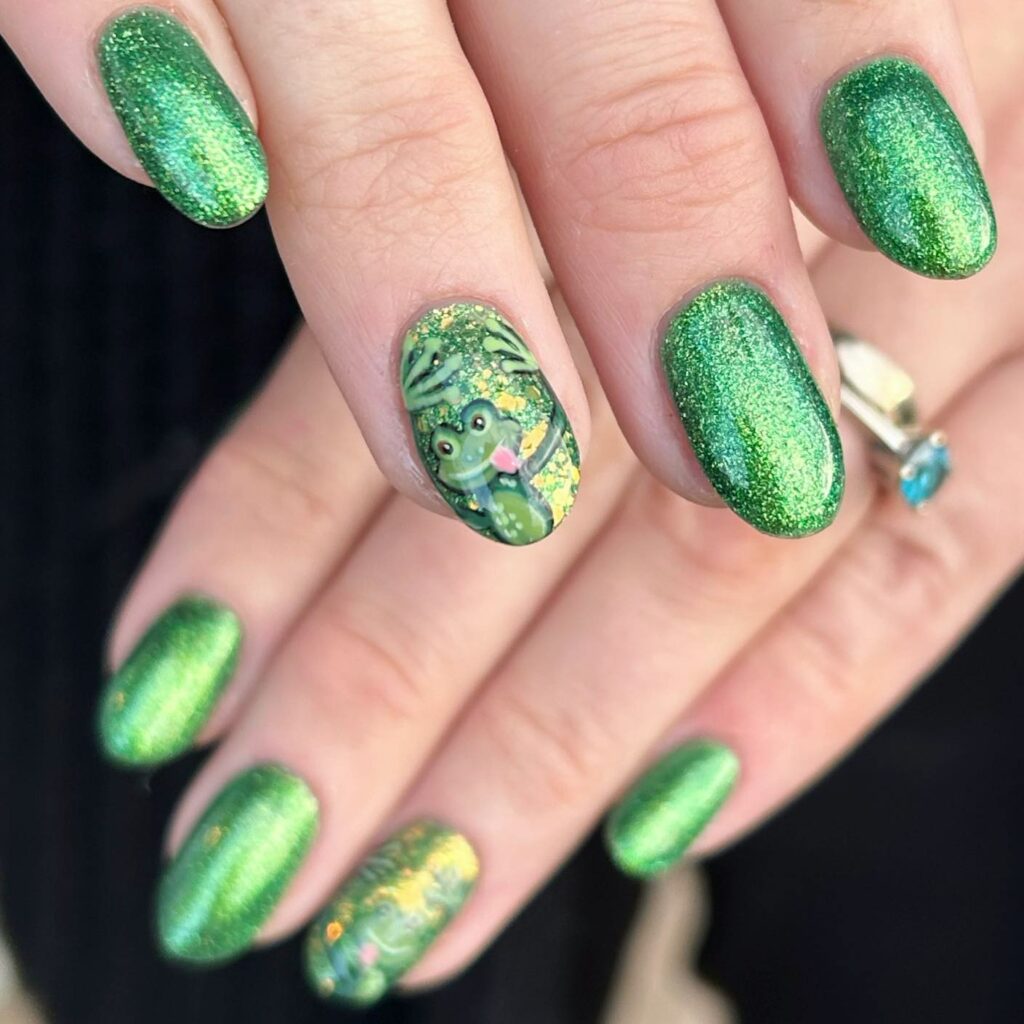 Nail design by nails_by_stephanie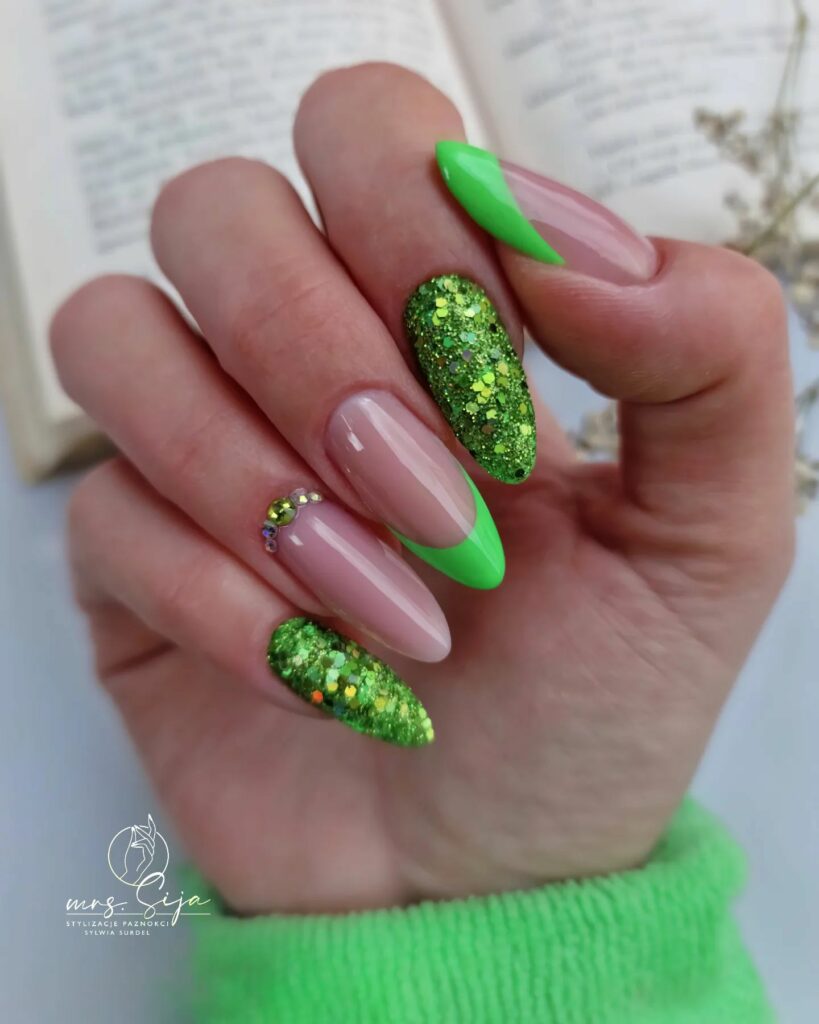 Nail design by sylwia.surdel
Nail design by kats_nailz_
Nail design by thrivenails
Nail design by watch.fritz.repeat
Nail design by jackydatiles
Nail design by parisnails.princeton
Nail design by nailsbyaandreeaa
Nail design by heavenlynailsbypatrycja
Nail design by stacy.does.dipnails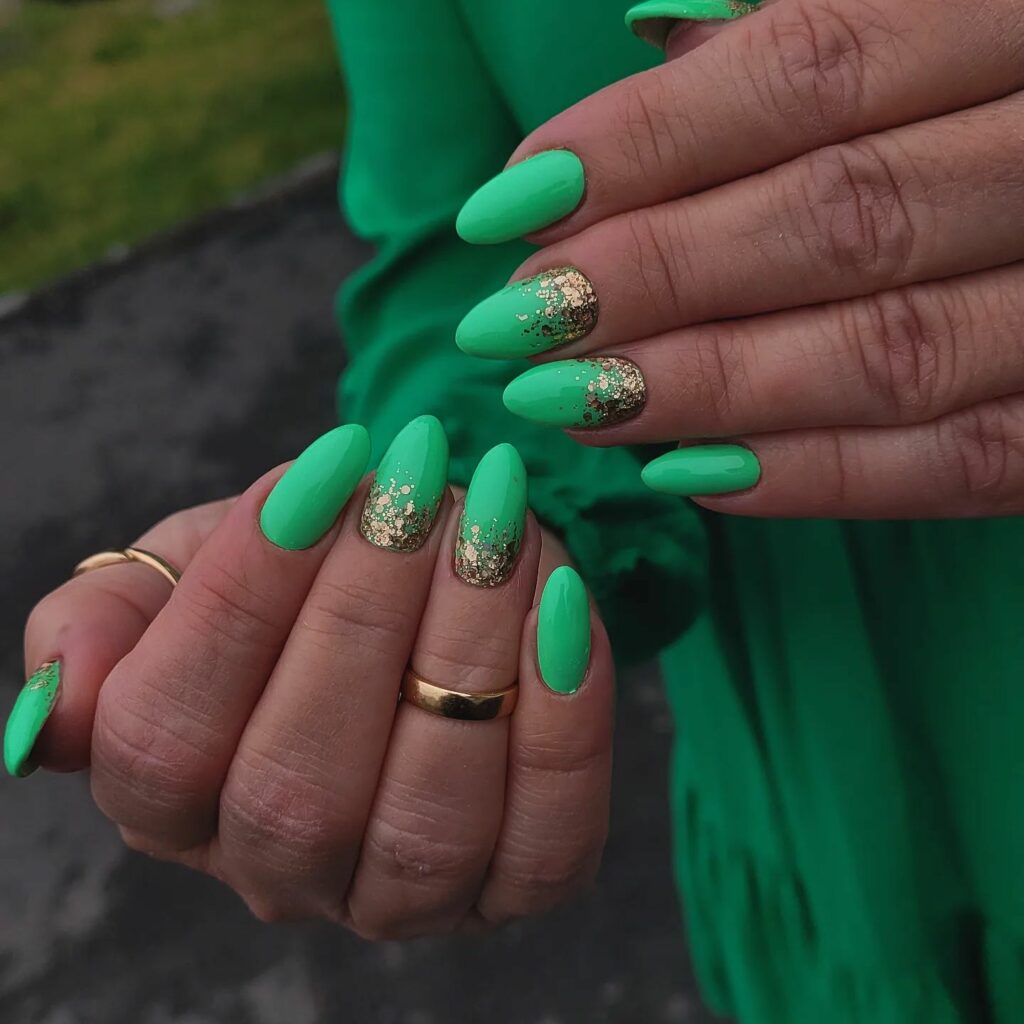 Nail design by tmiemiliasalonen
Nail design by palm_nail_studio
Nail design by nailsbytaija
Nail design by nuance_decouleur
Nail design by manis.by.cricket
Nail design by biancass.beautyy.room
Nail design by ezo98bella
Nail design by nailsby.prachi
Nail design by lizakayykellie
Nail design by pattydipdit
Nail design by darannails
Nail design by nail_it_with_corrine
Nail design by nailsbyashleighk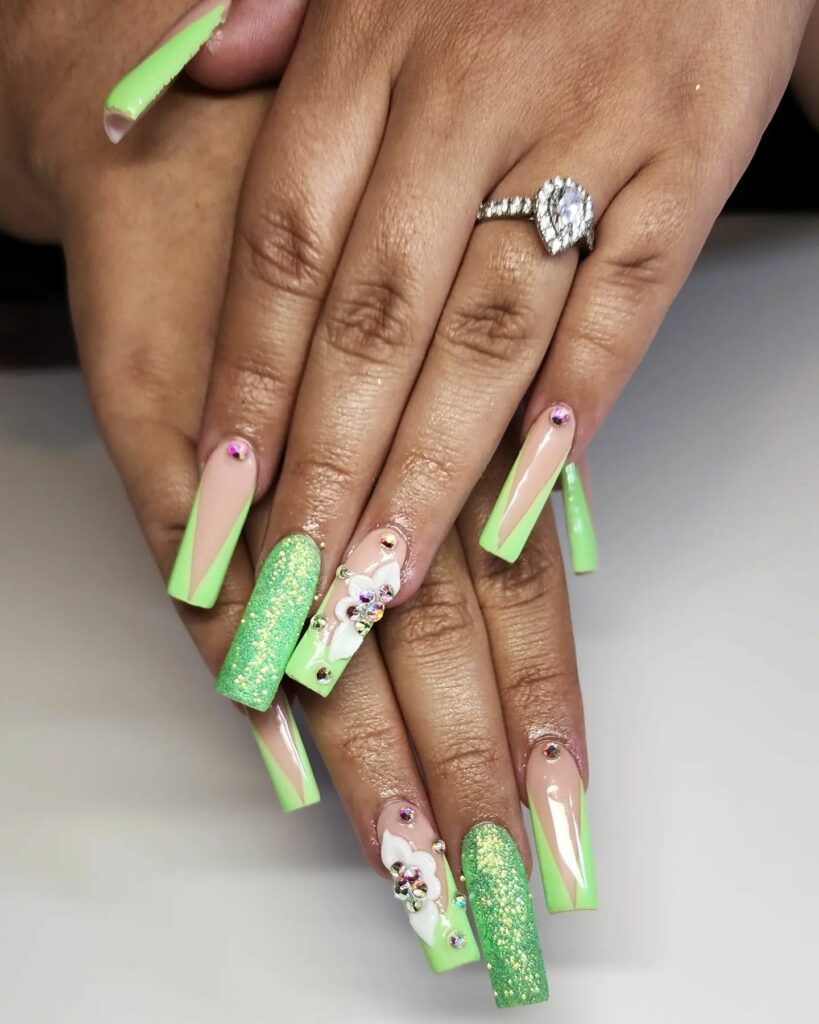 Nail design by yaamach_creations
Nail design by desara_nailss
Nail design by nailsbyadilah
Nail design by _esthetica
How to do Green Glitter Nails at Home
Sassing your nails with green glitter has to start with a nice manicure, but it is possible to achieve this look on your own. Here is how you can have pro-looking green glitter nails at home.
Cutting and filing your nails to your ideal length and shape is the first step. One way to keep your nails from breaking easily is by shaping your nails to match the shape of your cuticles. Another way is to keep the somewhat short and round.
After you've finished shaping, gently push back your cuticles and clip whatever dry skin is sticking up. Do not over-cut your cuticles. They can grow back thicker and dry looking, and we don't want that.
Pushing the cuticle back and buffing the nail to make it smooth before polishing is more beneficial. Buffing the nail smooths out the surface and clears debris from cuticles.
Next, you will put a thin layer of sticky base coat over the nails.
There are a few different ways of applying glitter polish.
One way is by painting the glitter onto the corner of a makeup sponge and dabbing it onto the nail. With this method, you will want to put something around your cuticle, like glue or liquid latex, to help clean up the glitter.
Sometimes you only need one coat with the sponge method.
The second way is to take whatever green glitter polish you chose and place it as close to the cuticle as possible. Next, slowly pull the brush, while keeping the bristles flat, toward the free edge and cap the nail.
Try to get as much coverage as you can with the first coat. Repeat on the other side of the nail, ensuring you get close to the skin without getting all over the finger.
It's ok if it gets on the finger a litter, but glitter can be a little more difficult to clean up than regular nail polish.
For the second coat, depending on the coverage of your polish, you want to take a drop of the glitter polish and move it around where coverage is needed on. Think of it like molding the glitter to your nail.
This second method is for more of a steady hand and will work really well with a non-sheer glitter polish.
When you finish polishing, clean your fingers with a clean-up brush and acetone. Finish with a top coat, and make sure to cap the free edge.
That's it, you have just glitz up your day with DIY green glitter nail manicure. Enjoy!