It's 2023, and we are feeling the promise of something new and fresh—blue marble nails.
If you're like us, you're probably ready to shake off the old and switch up your look.
Blue marble nail designs can add the perfect bit off spice to any manicure, especially for the fast-approaching summer. We love it because we can dress them up or keep them casual.
This design can be applied in many different ways and blended with different accent colors
In this article, we have 30+ nail art ideas inspired by blue marble polish and a few tips and tricks for how to do them yourself, so keep reading.
2023 Trends for Blue Marble Nail Designs
Let's get to the good stuff. Here are a few fun trends for 2023 blue marble nail art designs.
Blue marble French tip- keep reading. There is a detailed tutorial on how to achieve this look in this post.
Half-nail blue marble- one nail is painted solid(or left clear)on one half and marbled on the other half.
Ring finger- an accent finger to add a little something to an otherwise solid-colored manicure is an excellent way to be understated and unique at the same time.
Gold foil flakes on top of the blue marble nail design.
Holographic and marble nail art.
Video tutorial: Blue Marble Nail Designs
Here is a video by @bornprettyofficial of all the steps to creating marble nail art, perfect if you are ready to try it on your own.
30+ Ideas for Blue Marble Nail Designs
In need of some inspiration? We have you covered! Scroll through the more than 30 photos below, and you are sure to find a few.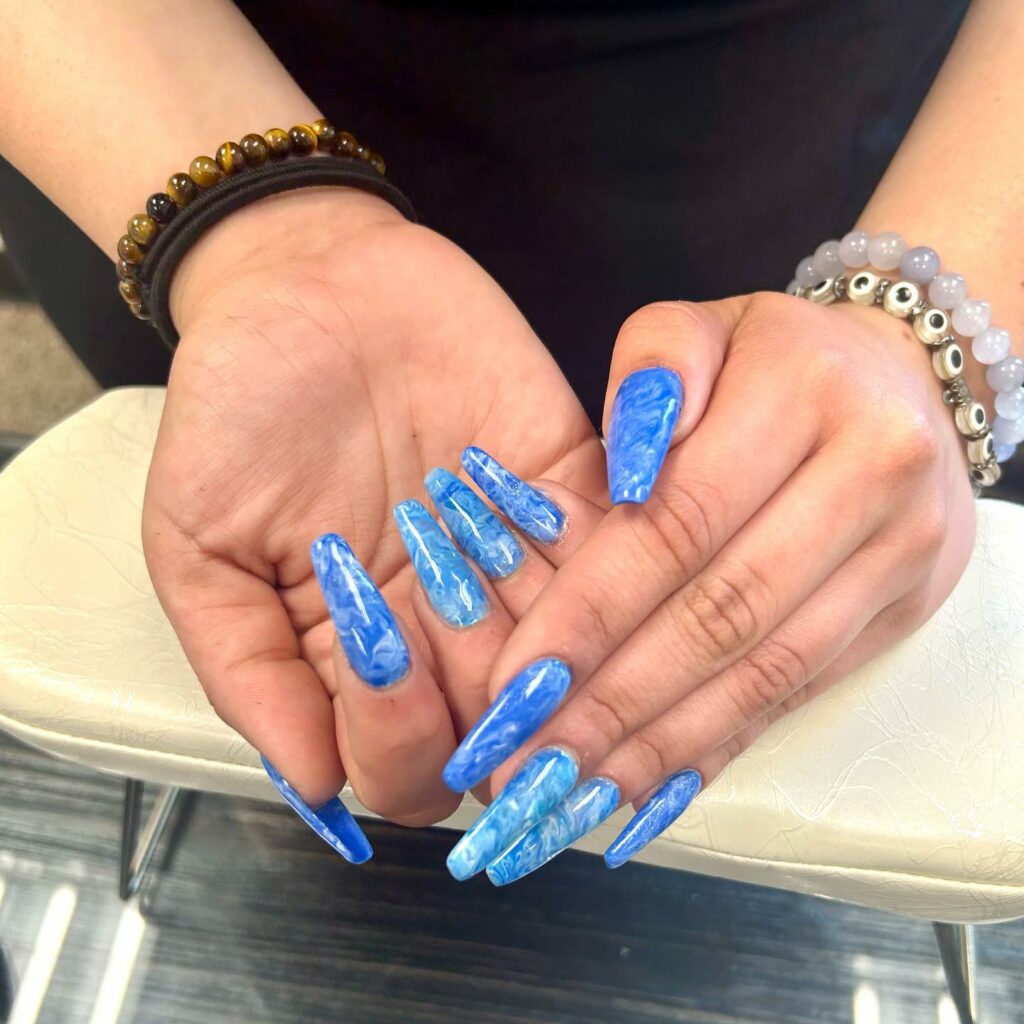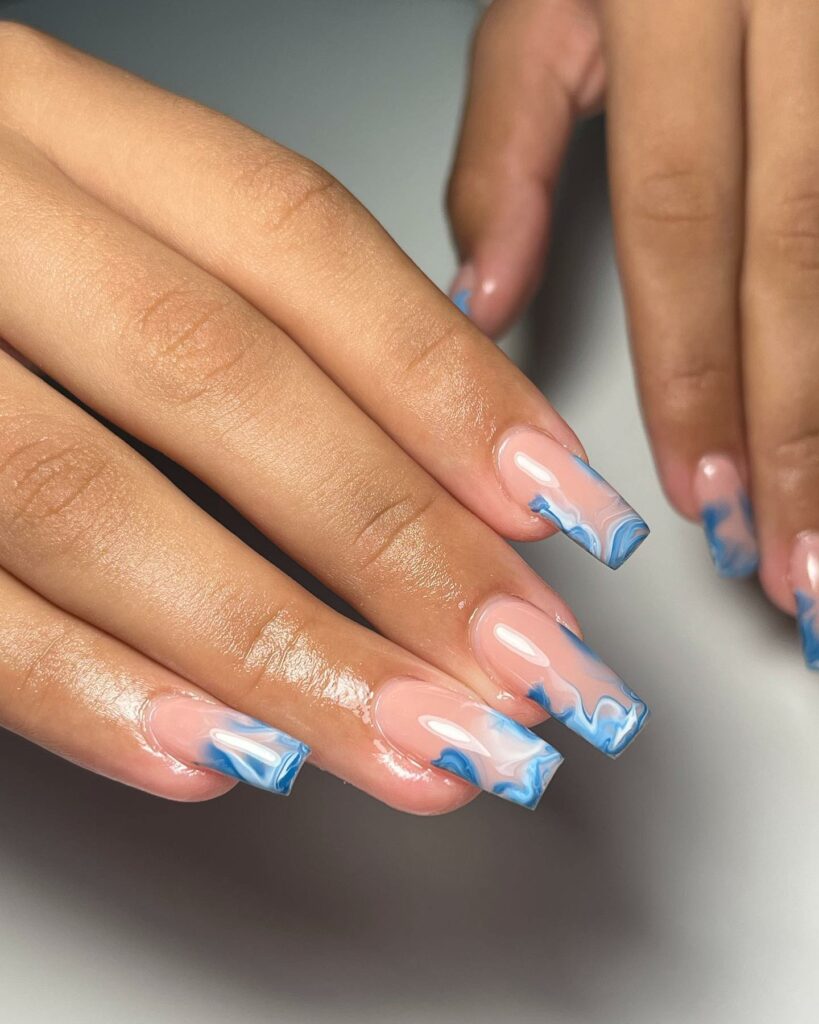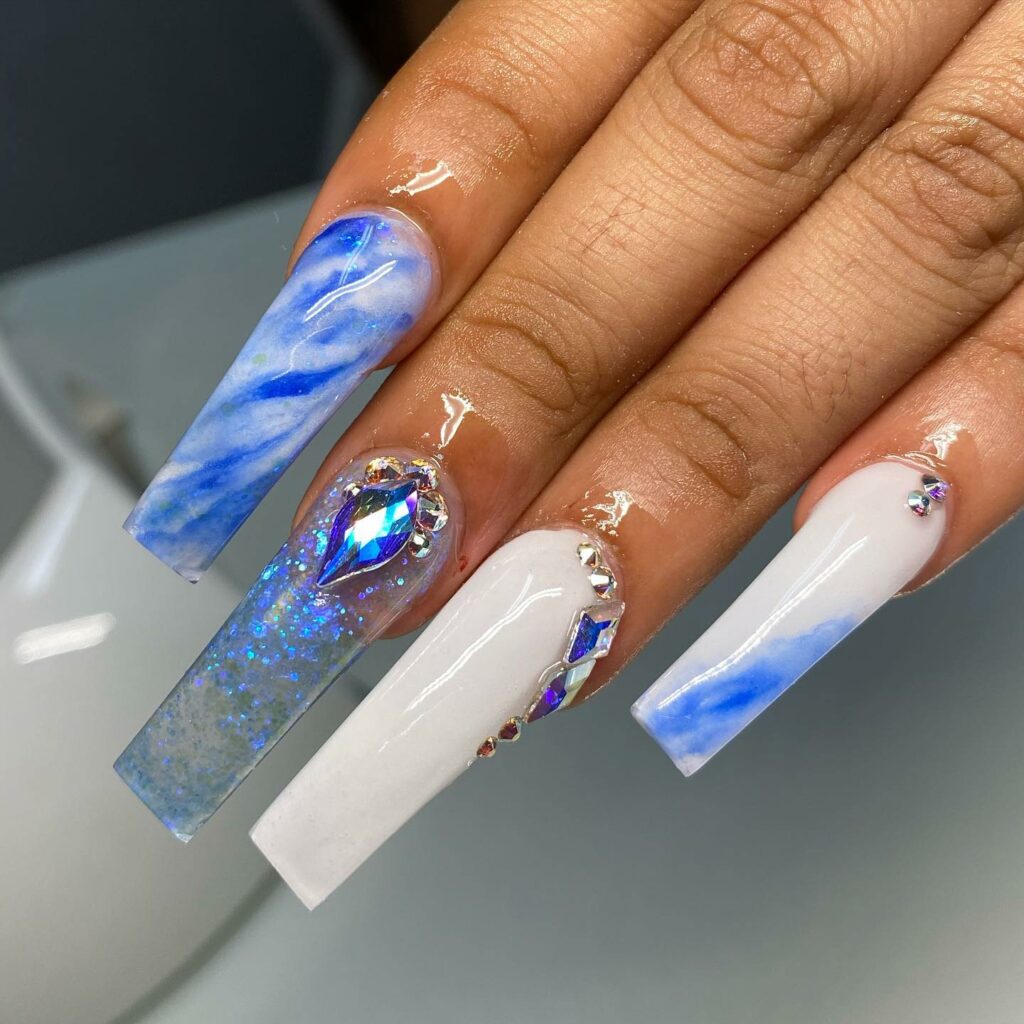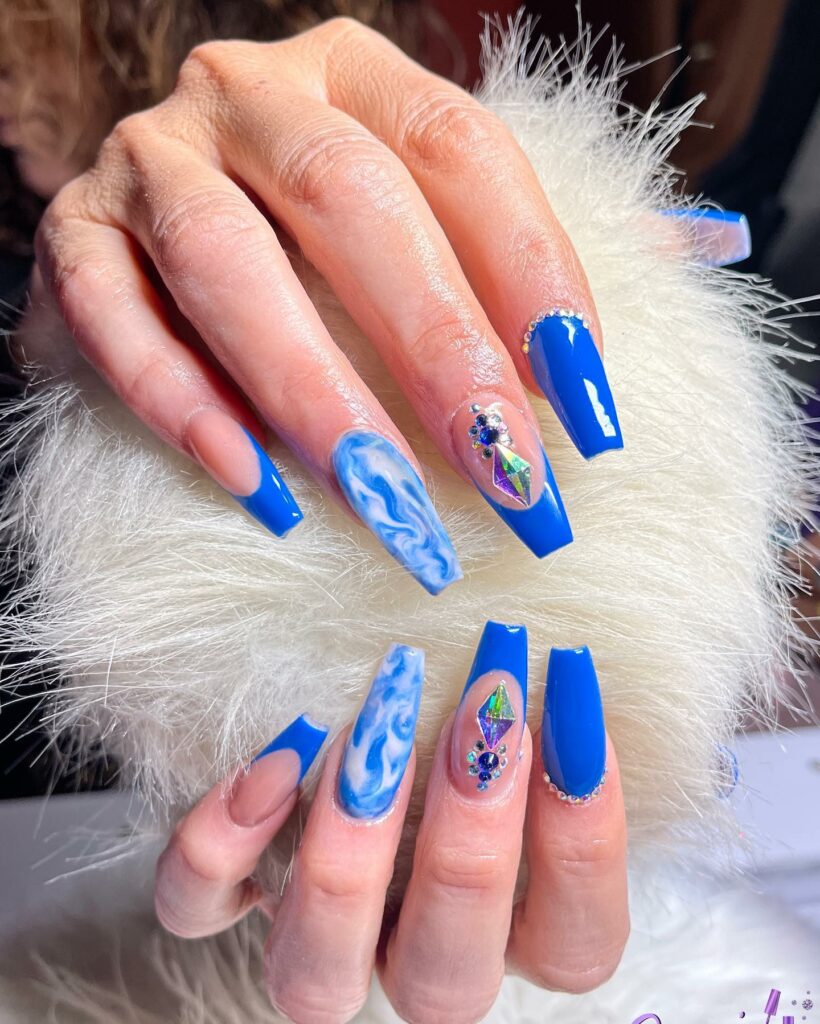 How to do Blue Marble Nail Designs at Home
Ready to try creating some marble nail art on your own?
Using regular polish at home for the blue marble nail art doesn't need to be a difficult task.
Paint the base of the nail with one coat of white or neutral color. Right away, take two different blues and a white, grey, or a little black, and immediately drag a striping brush so the colors run together. Drag the brush from side to side and even little quick circles.
There are a few ways to achieve the blue marble nail designs yourself. Gel polish may be one of the easier products to use for any design.
An easy way of creating marble blue nails with gel polish is to pick three different colors.
I suggest a bright or neon blue, a deep or royal blue, and a white or almost grey.
You can use a thin striper brush to paint all three colors across the tip of the nail, where the French line would begin. In thin, slightly curved, horizontal lines. These lines do not have to be perfect.
*A little tip if you have a shaky hand. Hold the striper brush close to the nail almost parallel so you don't get paint all over the place and less clean up*
Start with the darker blue, then the white, then the lighter, then the dark, laugh, white, and so on until you have reached the free edge of the nail.
Take the striper brush and lightly drag it through the lines from front to back, whip off the brush on a paper towel, and then drag the same brush from back to front across the nail until you have marbled the polish from one side to the other.
If it doesn't look good to you, I am sure it will look perfect because this is a perfect technique for beginners as well as seasoned nail artists. Use alcohol to wipe it before you put it under the light, and try again until you are happy with the look.
How to Make Your Manicure Last Longer
The most important combo that can help make your manicure last starts with a great sticky base and shiny top coat. You will want your cute blue marble art to look fresh for as long as possible.
In addition to prepping your nails, do this by cleaning up the cuticle, making sure the nail is not oily by wiping it with acetone and buffing it nice and smooth. You will want to make sure you cap the free edge of the nail with a light base.
The polish and top coat at the end will help to keep your manicure fresh until you are ready for some more new nail art. You're all set to show off your cute new nails.
So, we have gone over 2023's best blue marble nail designs, shared fabulous pics to give 30+ unique ideas, and shared how to do the marble yourself including tips on how to make your mani last longer. Now all you have to do is enjoy!