Although traditional solid-colored nails are still popular, more women are leaning toward creative nail art with bolder colors and eye-catching accessories.
Today's growing trend is royal blue coffin nails with diamonds! And we are here for it!
Gorgeous royal blue nail polish is applied on coffin-shaped nails with a hint of sparkle from diamond studs and stickers.
Here's some inspiration you can use as you give this nail design a try!
33+ Ideas About Royal Blue Coffin Nails With Diamonds
Here are royal blue coffin nails with diamonds ideas that you can show your manicurist or do yourself.
1. Royal blue Coffin Nails with French Tip, Glitter and Diamonds
2. White, Royal Blue Glitter and Diamonds Coffin Nails
3. Royal Blue Diamond Coffin Nails
4. Royal Blue Glitter Coffin French Tips with 3D Flowers and Stones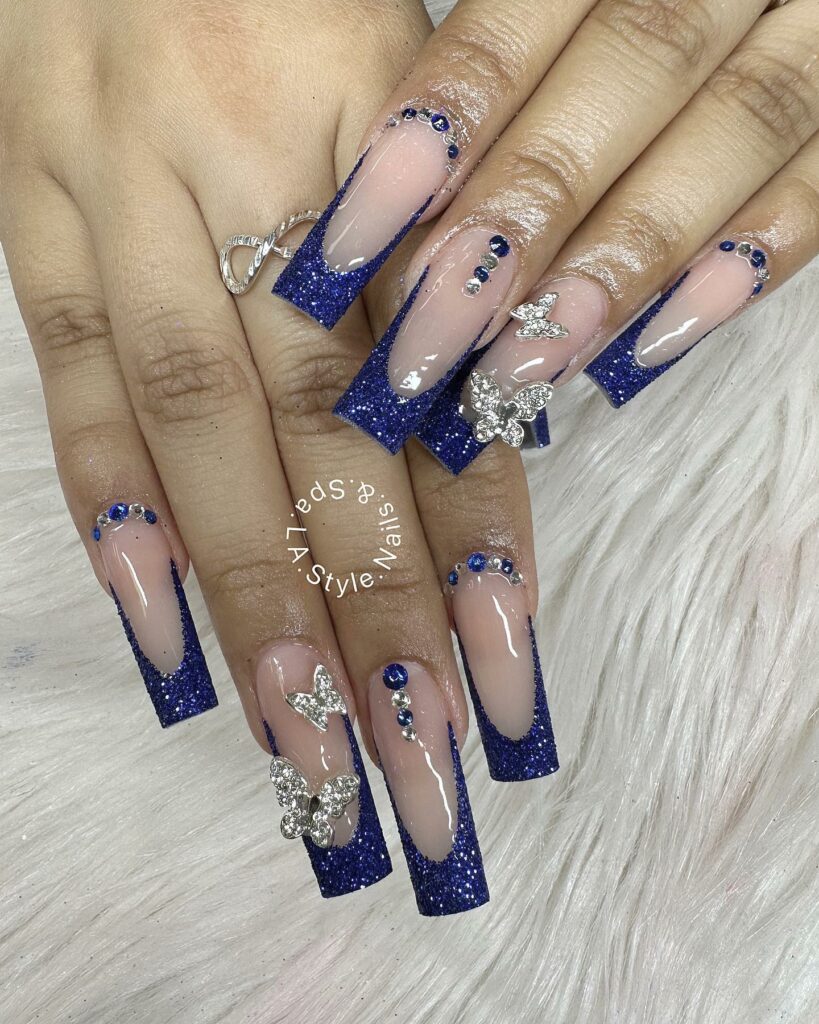 5. Royal blue Nails with Butterflies and Diamonds
6. Glamorous Royal Blue Coffin Nails with Stones
7. Royal Blue Chrome Tips with Planet Diamonds
8. Royal Blue V-Cut Tips with Diamonds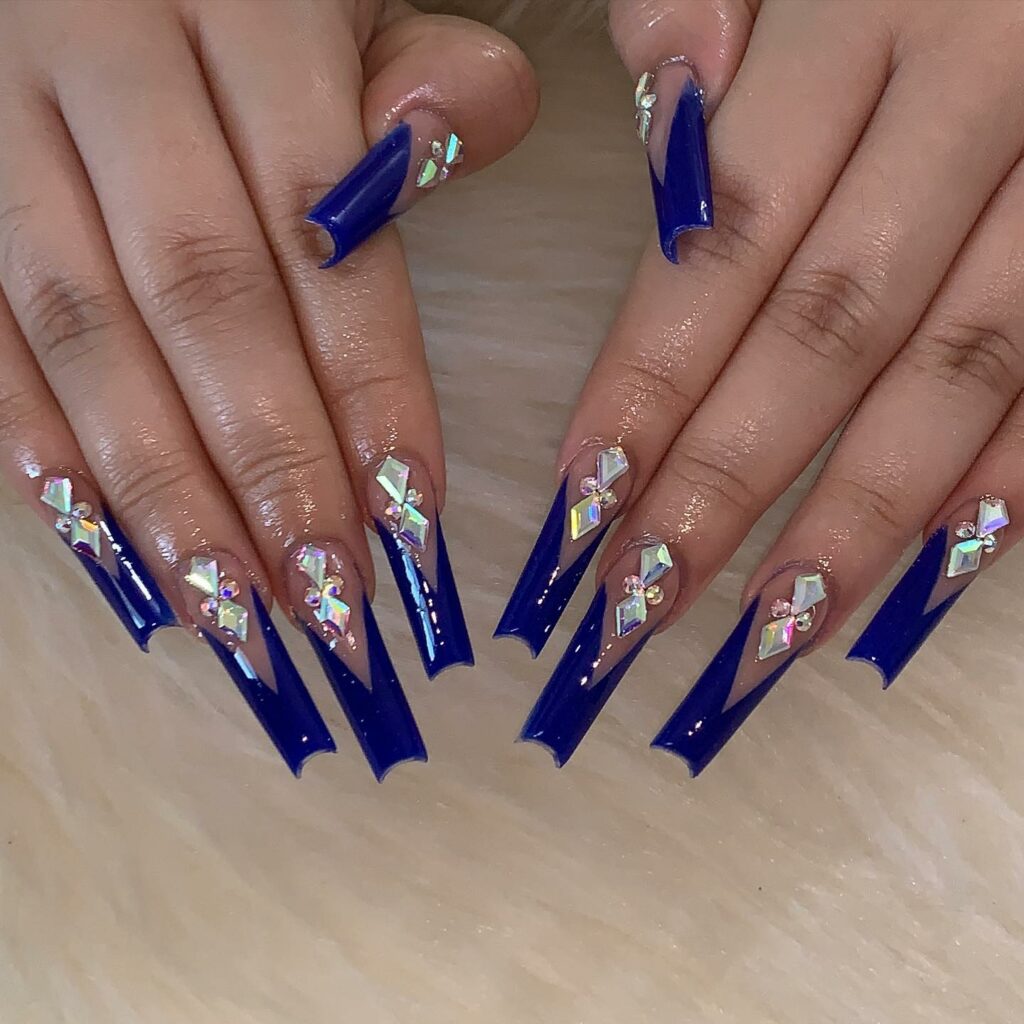 9. Matte Royal Blue Coffin Nails with Diamond Stones
10. Royal Blue Ombre Coffin Nails
11. Royal Blue and White Coffin Nails with Diamonds
12. Extra Long Coffin Nails in Royal Blue with 3D Art and Gold
13. Royal Blue, White and Glitter Coffin Nails with Diamonds
14. Royal Blue Matte Marble and Diamond Stone Coffin Nails
15. Royal Blue Nails with Sugar Glitter and Stones
16. Amazing Matte Royal Blue Coffin Nails with Stones and Shiny Gliter
17. Royal Blue and Nude Coffin Nails with Glitter, Ombre and Stones
18. Long Coffin Nails in Royal Blue with Ombre Glitter and Diamonds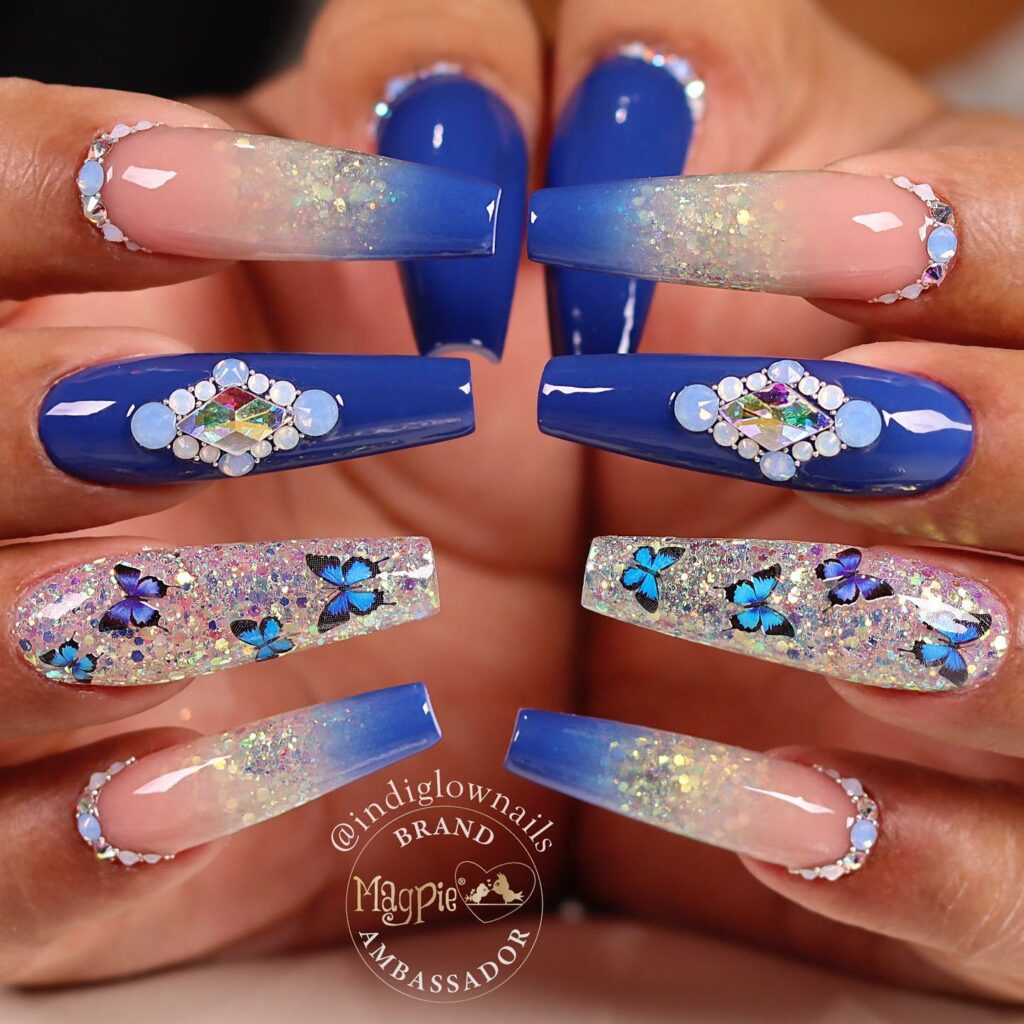 19. Two-Toned Coffin French in Light and Royal Blue with Stone Details
20. Royal Blue Diamond Glitter Nails
21. Royal Blue Deep Dive Nails
22. Royal Blue Winter Coffin Nails with Diamonds
23. Amazing Royal Blue Diamonds and Marble Coffin Nails
24. Royal Blue and Nude Coffin Nails with Stones
25. White Nails and Royal Blue Diamonds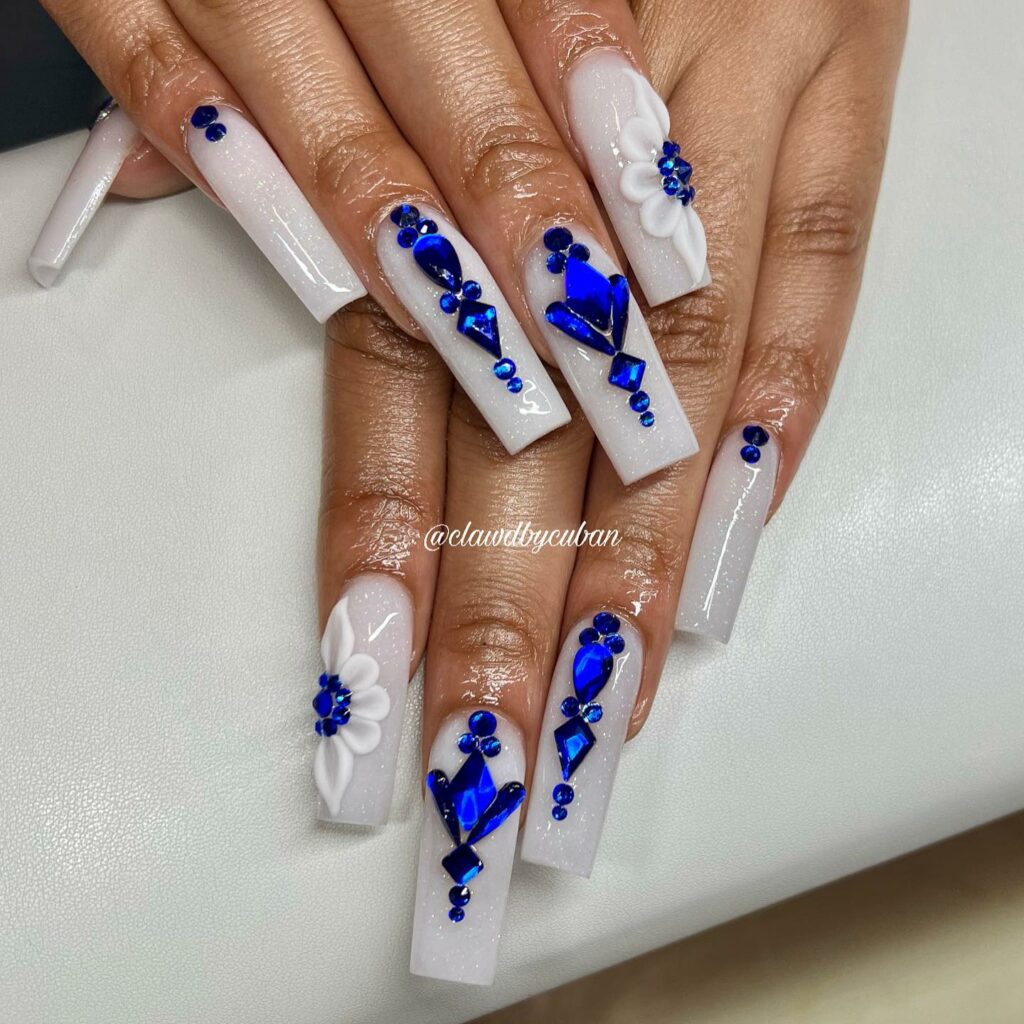 26. Matte Royal Blue Matte Nails with Little Diamonds on the Tips
27. Long Coffin Nails with French Tips in Royal Blue and Diamonds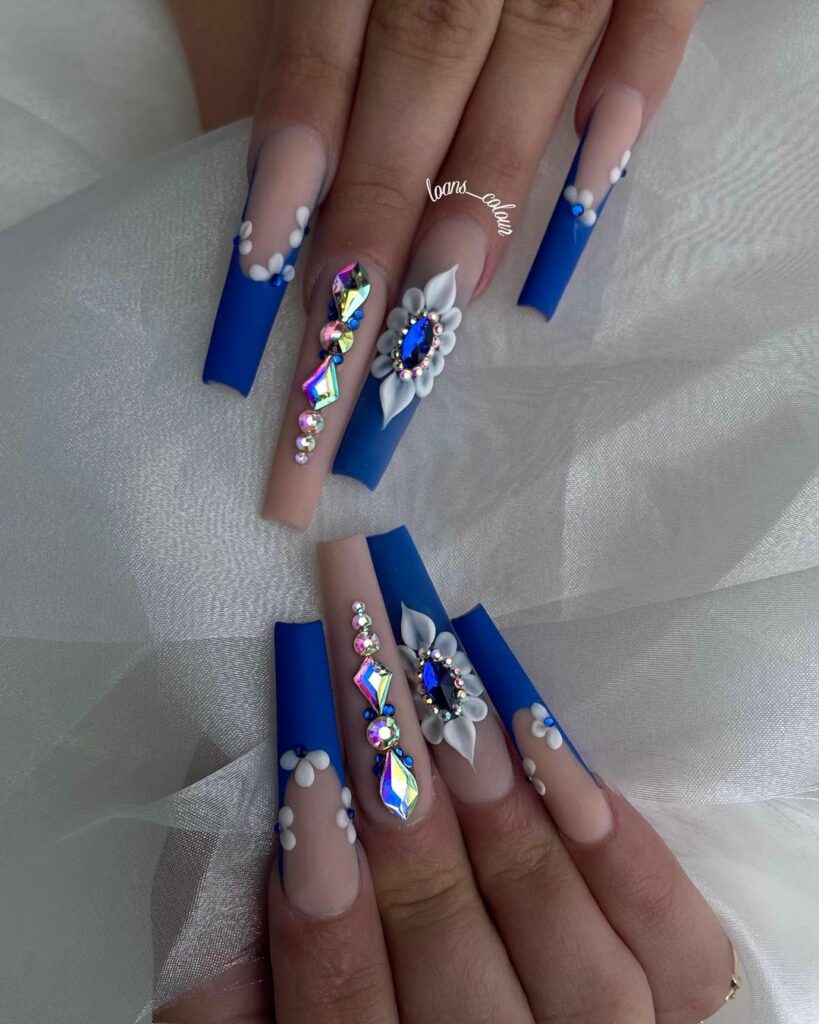 28. Short Coffin Nails in Royal Blue with Matte, Glitter and Diamonds
29. Simple Royal Blue Coffin Nails with Glitter and Stones
30. Royal Blue and Nude Base French Tips with Glitter and Crystals
31. Coffin Nails in Royal Blue with Marble, White Art and Stones
32. Short Coffins with Royal Blue Glitter, Diamonds and White French
33. Glamorous Royal Blue Matte Coffin Nails with Diamond Details
34. Textured Royal Blue, Sugar Glitter and Diamond Nails
35. Extra Long Royal Blue Coffins with Stones and Art
36. Royal Blue and White Ombre with Diamond Glitter
The Rise of Coffin Nails
Coffin nails, sometimes called ballerina nails, have a shape similar to a ballerina's slipper and a coffin, thus the names.
They're an updated version of stiletto nails but with a square tip.
Many socialites, celebrities, and influencers favor this type of nail because it can flatter most fingers and hands.
It elongates the fingers and provides a bigger canvas for nail art. Their square and flat tips are also more durable than pointed nail shapes.
Why Royal Blue?
The color royal blue has always been a fashion staple. It is elegant, sophisticated, and refreshing to the eyes.
The same shade on nails has become a go-to hue, especially for those looking for a classic shade that offers a pop of color.
Royal blue represents trust, authority, confidence, and reliability, which is why it is commonly used by businesses.
Many find the color dignified while in fashion, it complements all skin tones and works well with most colors.
The "Bling" Factor: Diamonds
Diamonds can help elevate your fingertips.
The pretty shine it adds quickly and seamlessly upgrades your royal blue-painted coffin nails.
Aside from diamonds, rhinestones, gold studs, and tiny pears are other sparkly options.
DIY vs. Professional Salons
Getting our nails done by a professional can be an indulgence.
While it isn't cheap, expert manicurists will deliver whatever designs you have in mind.
A nail salon will also have the necessary tools, quality nail polishes, and expert advice.
Working on your skills at home and doing your nail art designs yourself can boost your confidence and creativity.
Although the output you want won't be achieved in an instant, you get a sense of accomplishment from doing your nails yourself.
Remember that you'll need to invest in nail tools, nail lacquers, and accessories for DIY nails.
Maintenance Tips
Here's how to keep your royal blue coffin nails with diamonds looking good:
Apply your diamonds and rhinestones with super nail glue. You can also allow them to cure with gel polish to keep them from falling off.
Wear protective gloves when handling chemicals like cleaning solutions.
Seal royal blue nail polish by applying a top coat.
Don't apply thick layers of polish. If you'll be using more than one nail lacquer, keep the layers thin and make sure that every layer is completely dry before adding another.
Re-apply your top coat every three days.
Moisturize your cuticles with cuticle oil.
Alternatives and Variations
With royal blue nails, you can use rhinestones, 3D nail accessories, and even a matte top coat.
If you want a more minimalist look, go for beige and nude with pearls or the all-time favorite fiery red with chrome powder.
The sky's the limit when it comes to nail colors and designs.
Conclusion
You can never go wrong with a royal blue base on coffin nails that's been accessorized with diamonds.
Let your creativity and individuality show through your nails.
Whether you had them done or you created them yourself, flaunt your gorgeous blue nails by sharing pictures and videos.