This winter, channel your inner snow queen by sporting white nails with blue snowflakes.
This design is a more creative approach to traditional blue and white colors, making your holiday nails fun and exciting.
A versatile color combination, you can count on your white and blue manicure to complement any of your OOTDs.
33 Ideas About White Nails With Blue Snowflake
There are many ways to achieve those white nails with blue snowflakes. Here are more than 30 nail designs to inspire you.
1. White Glitter with Navy Blue Snowflake Short Nails
2. Blue and White Snowflake Nails with Stone Details
3. Short White Nails with Blue Glittered Snowflakes
4. Amazing Long Coffin Snowflake Nails
5. Different Shades of Blue and White Snowflake Nails
6. White and Blue Glitter Snowflake Nails
7. Navy Glitter Snowflakes and White Short Nails
8. All White Snowflake Nails
9. Blue Glitter and White Snowflake Nails
10. Textured Nails with Snowflakes in White and Blue
11. Elegant Blue Snowflake Design Nails
12. Royal Blue, White and Silver Glitter Nails with Snowflake Design
13. Snowy Winter Nails with Snowflake and Gems
14. Amazing Blue and White Snowflake Design Nails
15. Long Textured Coffin Blue and White Glitter Snowflake Nails
16. White and Blue Nails with French Tips and Snowflakes
17. Frosty Navy and White Snowflake Nails
18. Silver Glitter, Blue and White Snowflake Nails
19. Clear White Icy Snowflake Design
20. Extra Long Coffin Nails in White and Blue with Snowflake
21. Beautiful White and Blue Nails with Snowflake
22. Icy Winter Nail Design
23. Amazing Frozen Snowflake Art Nails in Blue and White
24. Artistic Snowflake in Blue and White Nails
25. Winter Bling in Blue and White Nails
26. Blue Ombre and White Snowflake Nails
27. Navy Blue Snowflakes and White Art Nails
28. Cute White and Blue Snowflake Nails with Diamonds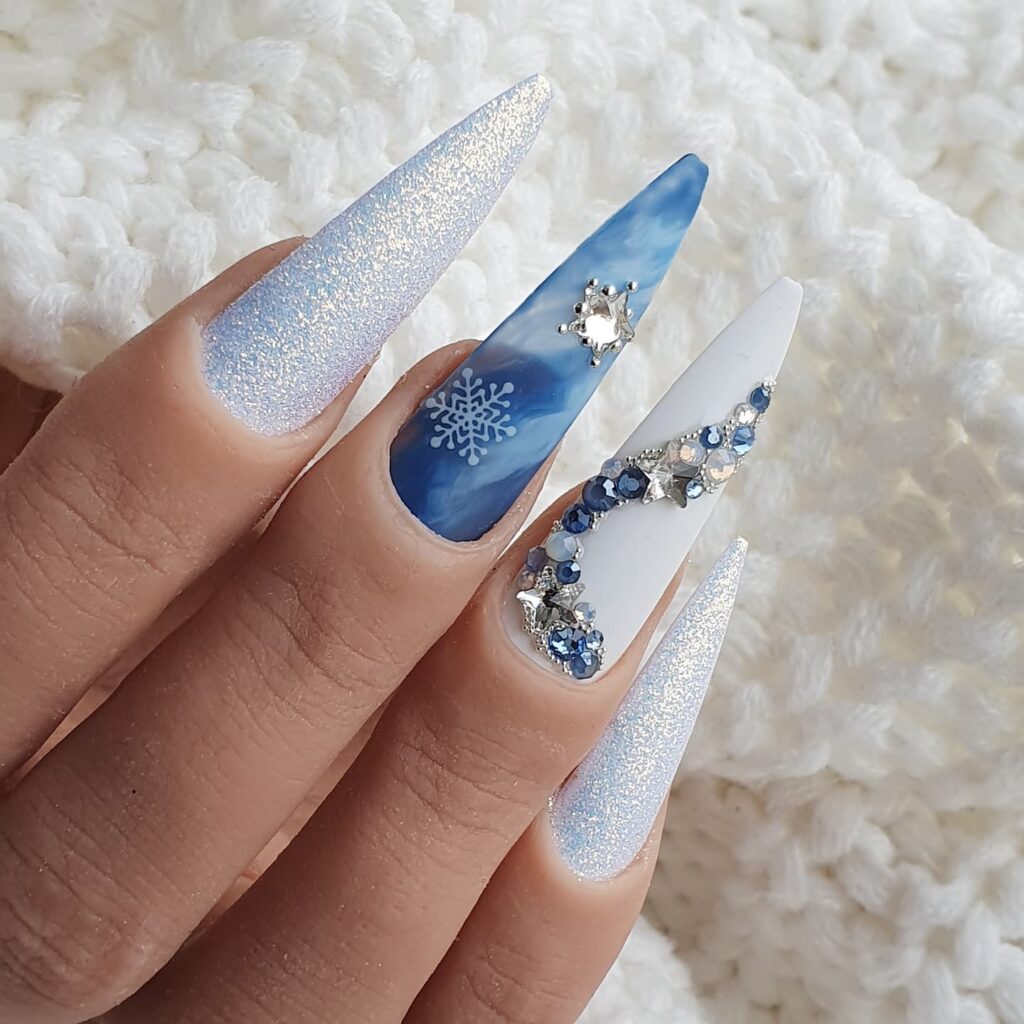 29. Icy Blue Snowflake Nails
30. Snowflakes and Glitter Nails
31. Winter Wonderland Snowflake Nails in White with Little Blue
32. Blue and White Ombre Nails with Snowflakes and Stars
33. Shiny Icy Nails in Blue with White Details
The Trend: White & Blue Nails
White has always been a classic when it comes to nail polish. It easily goes with pops of blue, another traditional color that has a wide range of shades.
Both are refreshing and cool to the eyes, matching the winter vibe perfectly.
It's a nail color combo that can easily transition from elegant to casual and everything in between.
Mix and match their different hues until you find the blue and white winter nails of your dreams!
The Snowflake Symbolism
Snowflakes are the ultimate icon for the winter season.
They perfectly complement white nails with their seasonal design.
But did you know that snowflakes, with their unique natural shapes, represent individuality and originality?
This makes them the perfect design for those who want to stand out without being too loud.
The shape denotes delicateness and softness while offering an unmistakable winter charm.
Step-by-Step Guide: Creating the White Base
It's critical to get that white base right so your primary canvas can beautifully allow your blue snowflakes to take center stage. Here's how to create a solid, beautiful base:
Choose a quality white nail polish.
Ensure your nails are clean, shaped, trimmed, and filed.
Exfoliate your hands and nails. Moisturize them to remove dead skin while keeping your cuticles hydrated.
Use a thin layer of petroleum jelly on your fingertips. This will help keep the nail polish from getting into your skin. Should any nail polish get on your skin, you can easily remove it.
Apply a quality base coat on your nails and let them dry completely.
Apply the first layer of your white nail polish to each nail. This thin layer can be applied in three strokes. Let it dry completely.
Apply the second and third thin layers of white nail polish. Immediately remove any lacquer that accidentally gets on your skin.
Once the three layers of white nail polish are 100% dry, apply an even layer of quality top coat.
Adding the Blue Snowflake: A Mini Tutorial
With your white base completely dry, add some glitter and blue snowflakes to your nails. If you want an easy but pretty snowflake design, follow this how-to video:
Pro Tips for Long-Lasting Results
The best and easiest way to enjoy your white with blue snowflakes nails is by using the right materials.
This means using high-quality nail polish, base coats, and top coats.
Use thin layers. After applying that last layer of your nail polish, use a top coat on your nails and their edges.
Once done, protect your nails when handling chemicals like cleaning solutions by wearing gloves.
You should also keep your cuticles moisturized with cuticle oil to help keep your nail polish intact for longer.
Alternative Designs and Variations
From ombre styles, block colors, dots, swirls, glitters, and rhinestones, nothing's stopping you from unleashing your creativity.
Play with the different shades of blue. No matter which you choose, it will always work with white.
You can even try different base shades like nude, beige, or blush.
Remember to incorporate some diamond studs, chrome powder, and 3D accessories to add texture and character.
Conclusion
Celebrate the season with gorgeous white nails and blue snowflakes.
They're traditional, whimsical, and feminine. Plus, they'll help you get into the holiday spirit.
Don't forget to share your winter-worthy designs with us when you're done!