Everybody loves a nice French tip. It's classy and elegant with a hint of femininity.
Brown nails with white tips can give your manicure a chic and natural look!
And it's perfect for any season or occasion!
After all, more and more women are gearing towards that minimalistic, natural look.
Read this article for inspiration on this simple but eye-catching color combination.
33 Ideas About Brown Nails With White Tips
Brown nails with white tips are undoubtedly a trend that you need to get in on. You'll love this simple, versatile, and effortless look. Here are some design inspirations to get you started.
1.
2. Brown Almond Nail Tips with White Underline
3. Cute White and Brown French Tipped Nails
4. Brown Glazed Ombre Nails
5. Light Brown Nails with White Tips
6. White and Brown Abstract Almond Nails
7. Extra Long Brown Coffins and White Tips
8. Curvy Terracotta Cut-Outs in Brown and White
9. Shades of Brown with a bit White Tips
10. Brown ann White V-Cut Tipped Nails
11. Matte Brown and White Swirled Tips
12. Brown and White V-Cut Tips
13. Almond Swirly Nails in White and Brown
14. Brown and White Tipped Almond Nails
15. White Tips with Brown Swirls
16. Cow Print French Tips in Brown and White
17. Perfect Fall Ombre Nails in Different Shades of Brown
18. Amazing White and Brown French Tips with Texture
19. Swirly Brown and White French Tipped Coffin Nails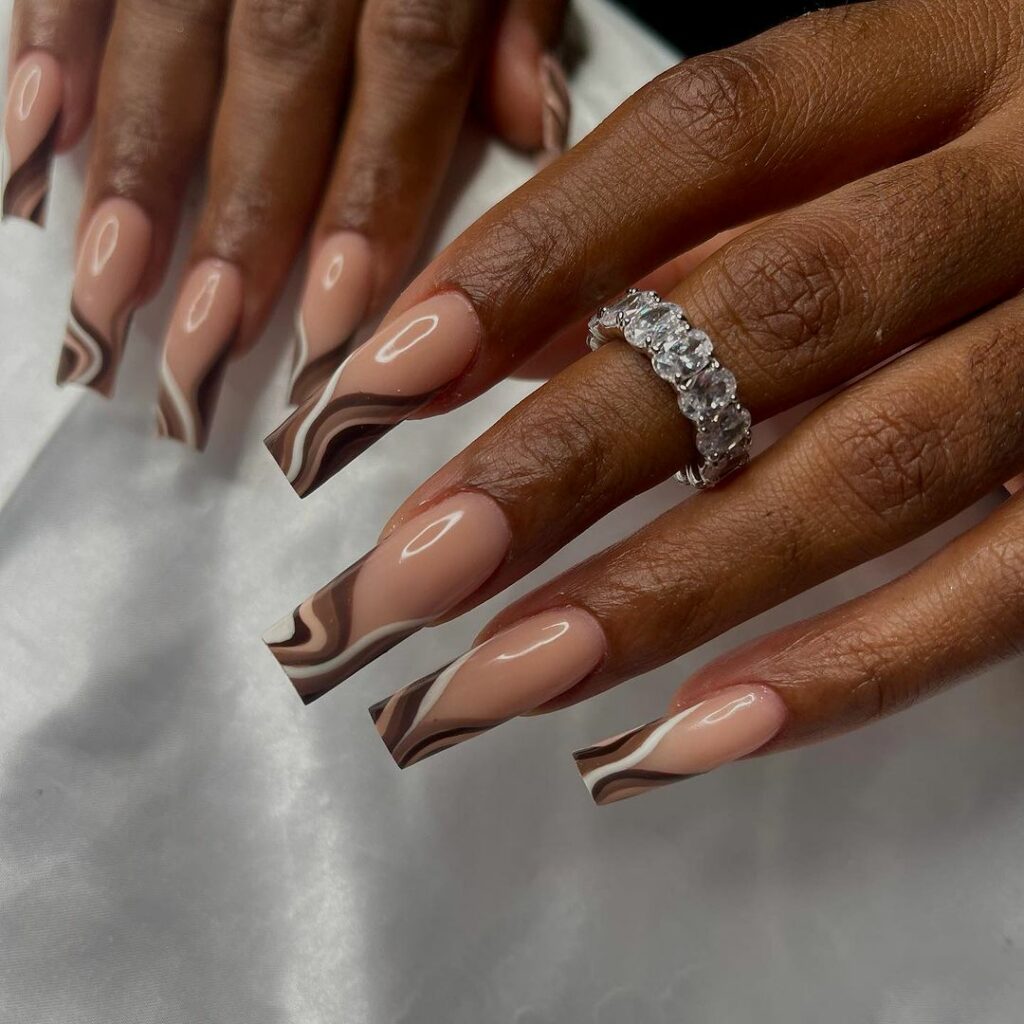 20. Crocodile Print French tips in Brown with Stones
21. Abstract Tip Design in White with Animal Print
22. Different Shades of Frenchies
23. White Tipped Nails with Brown Swirls
24. Light Brown and White Ombre Nails
25. Extra Long Wgite Tips and Brown Base with Stones
26. White Tips and Brown Plaid Design
27. Underlined White Tips and Brown Base Nails
28. White Tips, and Brown Crocprint
29. Glamorous French Ombré Nails with Rhinestones
30. Floral French Ombre with White and Brown
31. White Flower Tips on Light Brown Nails
32. Crocodile White French Tips and Brown Base
33. Brown Base and White Tips
Why Are Brown Nails With White Tips So Popular?
Kendall Jenner and Margot Robbie are fashion icons in their own right. Both love the anything-goes brown nails with white tips.
Brown is also a typical nail polish color for women who want more color than traditional blacks, beiges, blushes, and whites.
Plus, it's a color that complements all skin tones!
Combining brown with white tips gives you a traditional yet edgy style.
With so many shades of brown, mixing and matching them with white can satisfy your artistic side while keeping your fingertips looking fantastic.
Occasions Where This Nail Style Shines
Since brown nails with white tips are a variation of a classic, you can wear them anytime, anywhere.
From attending classes, going on coffee dates with the girls, Friday night football games, and movie dates with your beau, brown nails with white are appropriate.
This color combination also works for formal dinners, office presentations, weddings, and other events where you're dressing to impress.
Salon Tips: What To Ask Your Nail Technician
Getting your nails done by a professional nail technician comes with perks given that they already have the experience, skill, knowledge, and resources to complete any design.
To ensure that there is no room for miscommunication, here are some salon tips the next time you schedule a nail appointment:
Go to trusted and reliable nail professionals and check their reviews and feedback.
Be clear about what you want to achieve. Having a photo of how you want your nails to look can eliminate errors and miscommunication.
Ask the technician about the products they'll use on your nails. Quality nail polish and premium top coats add longevity to your nail polish.
Be open to recommendations. There are instances when your nail technician may suggest another design or approach. Consider them before saying no.
Maintenance and Care
Maintaining your manicure requires a good aftercare routine.
The first thing to remember is to maintain healthy nails. What you consume significantly impacts this, including how well you hydrate your body.
Be conscious of harmful chemicals or objects that may damage your nails. Invest in cuticle oil and a quality top coat.
The cuticle oil will moisturize your nails while a top coat application every three days will protect your manicure.
The Do's and Don'ts
Here's how you can rock brown nails with French tips.
Do's:
Pair your nail style with warm fall colors like orange, rust, cream, nude, yellow, gold, and even shades of green.
Opt for short nails if you are physically active and outdoorsy.
Add glitter or chrome powder to your brown nails with white tips for added oomph.
Don'ts
Overwhelm your nail art design with too many accessories where you use pearls, rhinestones, glitter, and 3D nail accessories at the same time.
Skip the base coat and the top coat—these two are non-negotiables.
Conclusion
If you're still having second thoughts about trying dazzling brown nails with white tips, consider this as your sign to go for it.
This timeless combo can be worn throughout the year because they're so versatile.
So, share your creations on social media and show off your mad skills!