Black and white is a classic combination that looks sleek, stunning, and stylish.
This holiday season, why not mix things up with black and white Christmas nails instead of the usual red and green?
Consider the color combination an homage to dark winter nights and starry skies speckled with snowflakes.
37+ Ideas for Black and White Christmas Nails
From bold designs that channel your inner Ice Queen to chic masterpieces that add a touch of magic to your nails, we've rounded up a variety of ideas for black and white Christmas nails.
Use this collection to inspire your latest manicure, and experience the magic of this simple yet chic color combo.
1. Simple Black and White French Tip Nails for Christmas
2. Black Nails with White Dots Christmas Inspired
3. Christmas White Snowflakes on Black Nails
4. Stiletto Black and White Christmas Design Nails
5. Short Black and White Nails with Christmas Tree
6. Sparkling Black Christmas Coffin Nails
7. Black, White and Gold Christmas Star Nails
8. Black Christmas Nails with White Sugar Spark
9. Black and White Christmas Snowflake Nails
10. Black and White Nails with Christmas Toy Design
11. Traditional Brown, White and Black Christmas Nail Art
12. Matte Black Nails with White Snowflakes
13. Black, White and Red Short Christmas Nails
14. Black and White French Christmas Nails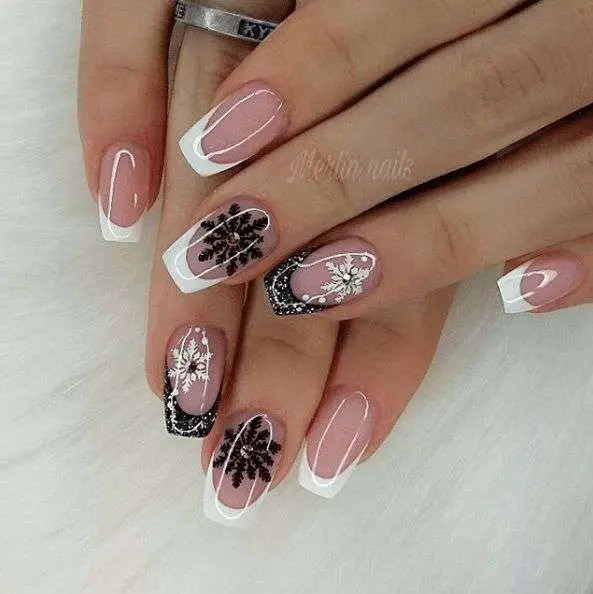 15. Simple White Christmas Nails
16. Holographic Snowy Christmas Nails with Black and White Art
17. Snowy Textured & Stamped Christmas Nails in Black, White and Nude
18. Black and White Star Nails Suitable for Christmas
19. Christmas Present Black and White Nails
20. Black and White Detailed French Christmas Nails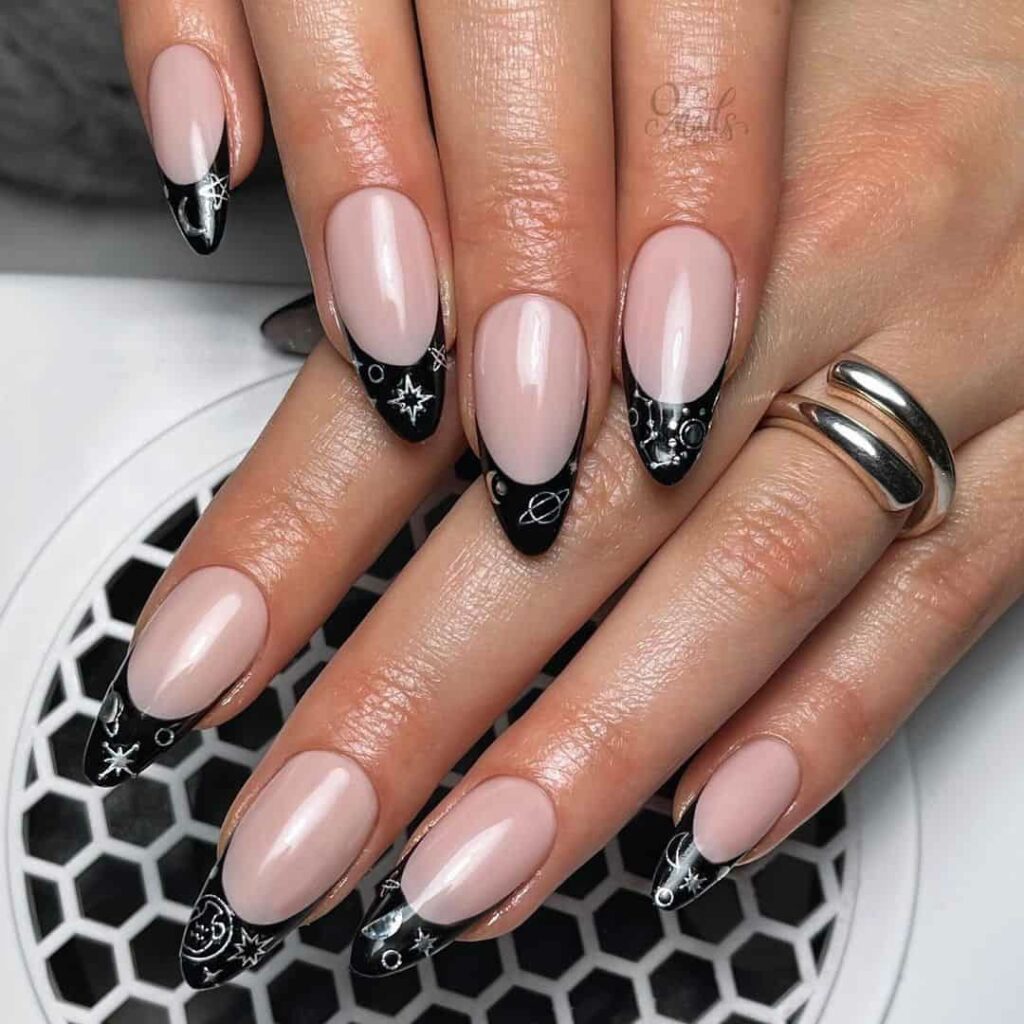 21. Black Coffin Shaped Christmas Nails with White Art
22. Black and White Christmas Nails with Gold Flakes
23. Black, White and Nude Textured Christmas Nails
24. Glitter Black and White Textured Star Christmas Nails
25. Christmas Present Black and White Nails
26. Black Nails with French Tips and White Christmas Snowflakes
27. Long Coffin Black and White Christmas Nails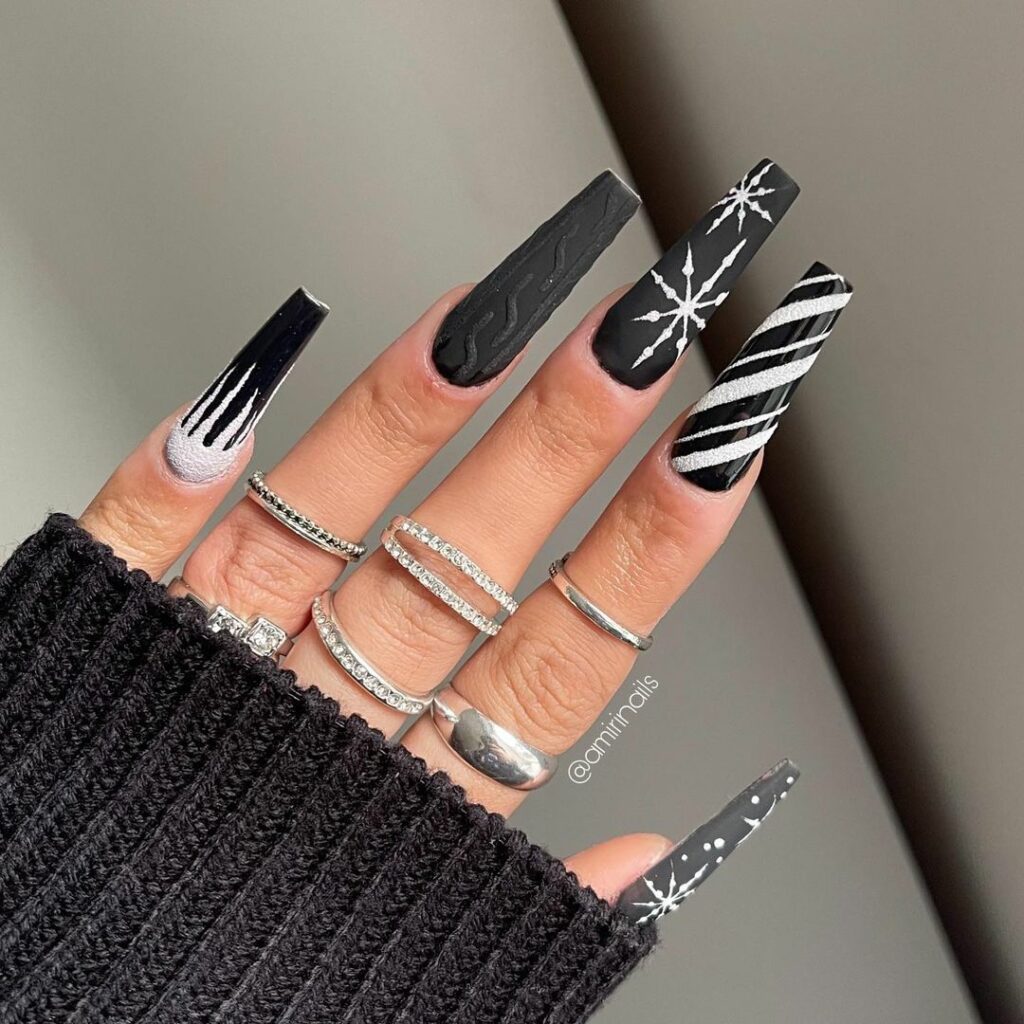 28. Black and White Christmas Design Almond Nails
29. Snowflakes Black and White Art on Nude Nails
30. Black Matte and Glossy Christmas Nails with Glitter and White Art
31. Black Nails with White Christmas Trees
32. Chrome, Black and White Christmas Nails
33. Black, White and Red Christmas Design Nails
34. Black and White Christmas Sparkle Nails
35. Black Nails with Cute White Rudolf Christmas Art
36. Short Black Nails with White Stars
37. Black Matte Nails with White Christmas Art
38. Cute Christmas Nails with Nude, Black, White and Red
Classic Black and White Christmas Designs
If you're looking to give your classic holiday nails a special twist, you can stick to your usual designs, just change your color palette to include black and white!
You can also explore all kinds of timeless designs, such as black and white candy cane stripes to make an old Christmas favorite look stunning, edgy, and different.
White snowflakes on a black background are another mesmerizing design.
Combine them with polka dots for a uniquely festive look.
Monochromatic Elegance for the Holidays
The elegance of this monochromatic color scheme will tide you through all the festivities.
But monochrome doesn't have to mean boring.
In fact, you can use matte and glossy finishes together to create mesmerizing and unique designs!
Think of a matte white background with a glossy design to give the finish some depth.
Incorporating a single accent nail with a more intricate design will be more impactful and eye-catching.
Incorporating Holiday Elements
You may think that two colors can be limiting for holiday nails, but that just isn't true.
The possibilities are endless if you know how to incorporate holiday elements into your black-and-white Christmas nails!
Holly leaves and berries, reindeer silhouettes, holiday sweater patterns, and even snowmen make great holiday elements that you can create with your black-and-white palette.
French Tips With a Twist
Gone are the days of boring old French tips.
You can now experiment with incredible designs while adding a unique black-and-white flair to them!
If you're looking for a touch of glam, add some magic and sprinkle some sparkly glitter to make your French tips pop.
You can also do a reverse French manicure:
Paint your base color onto your nail. Keep it black if you want to go bold, and white if you're looking for more elegance. You can also use a nude shade and save the black and white for the design.
Use the accent color to outline your cuticles, forming a crescent shape. You can also make two thin lines of black and white if your base is nude!
French tips and reverse French manicures are an easy yet effective way to elevate your style for the holiday season.
Black and White Nail Stamping Art
Nail stamps are a fun way to get some incredibly detailed designs on your nails.
Whether you're looking for abstract holiday-themed patterns, winter wonderland landscapes, or Christmas motifs, there's all kinds of holiday nail stamps to choose from.
To get your nails stamped, you'll need a kit with a stamper, a stamping plate, and a scraper.
Apply a clear base coat and let it dry.
Apply the base color of your choice and let it dry.
Coat the design of your choice on the stamping plate with a contrasting colored polish.
Scrape off the excess polish from the stamping place and lift the design onto the stamper.
Use a Q-tip to clean off excess nail polish from the stamper.
Carefully stamp the design onto the nail.
Allow the stamped layer to dry completely.
Seal your design with a top coat.
You can use a glossy or matte top coat to get the desired finish!
Glitter Black and White Christmas Nails
There are all kinds of nail glitters available on the market, from fine and powdery, to statement chunky glitter.
You can even create a gradient effect by adding contrasting glitter to your black or white base color and use glitter to create realistic snowflakes!
To achieve this, apply a base coat of matte black nail paint.
Use a thin brush to draw snowflakes on with glittery white or silver nail polish.
Conclusion
Embracing black and white Christmas nails is a surefire way to stand out this season.
Whether you opt for a velvety matte finish or a dazzling gloss, don't be afraid to experiment and have fun.