It's easy to see why black and white winter nails are popular designs.
Dark-as-night black evokes mystery, power, and elegance.
Pair that with the achromatic white, symbolic of purity and grace, and you've got a potent interplay.
As temperatures go down, we gravitate towards darker colors while the landscape is covered in the most beautiful white.
The hues contrast; at the same time, they complement each other.
It's a match made in nail heaven.
Create an aesthetically pleasing winter manicure with this timeless duo.
37+ Ideas for Black and White Winter Nails
These black and white nail ideas are bold and sophisticated.
They will combat the doom and gloom of the winter and complement every 'fit.
1. Black and White Winter Nails with Snowmen
2. Marble Vibe Black and White Winter Nails
3. Black and White Winter Coffin Nails with Silver
4. Black French Tip Nails with White Star for Winter
5. Black, White and Gold Winter Nails
6. Black and White Nail Design Suitable for Winter
7. White and Black Nails with Hearts
8. White Nails with Black Tip and Gold Lines
9. Matte Black Nails with White and Gold
10. Black and White FrenchTip Nails with Crosses
11. Abstract Design Black and White Winter Nails
12. Black and White French Tip Winter Nails with Stars
13. Black French Tips with White Lines and Hearts
14. Black, White and Grey Swirl Nails Suitable for Winter
15. Winter Design Nails in Black and White with Gold Flakes
16. Short Negative Space Black and White Nails
17. Coffin Black and White Side Tips with Stars
18. Matte Black Nails with White Marble Effect
19. Abstract Winter Design Nails in Black and White
20. Black and White Illusion Nails
21. Different Hand Black and White French Tipped Nails
22. Grey, Black and White Winter Coffin Nails with Lace
23. Black Matte Nails with White Snowflake Winter Design
24. Black and White Almond Winter Nails with Stars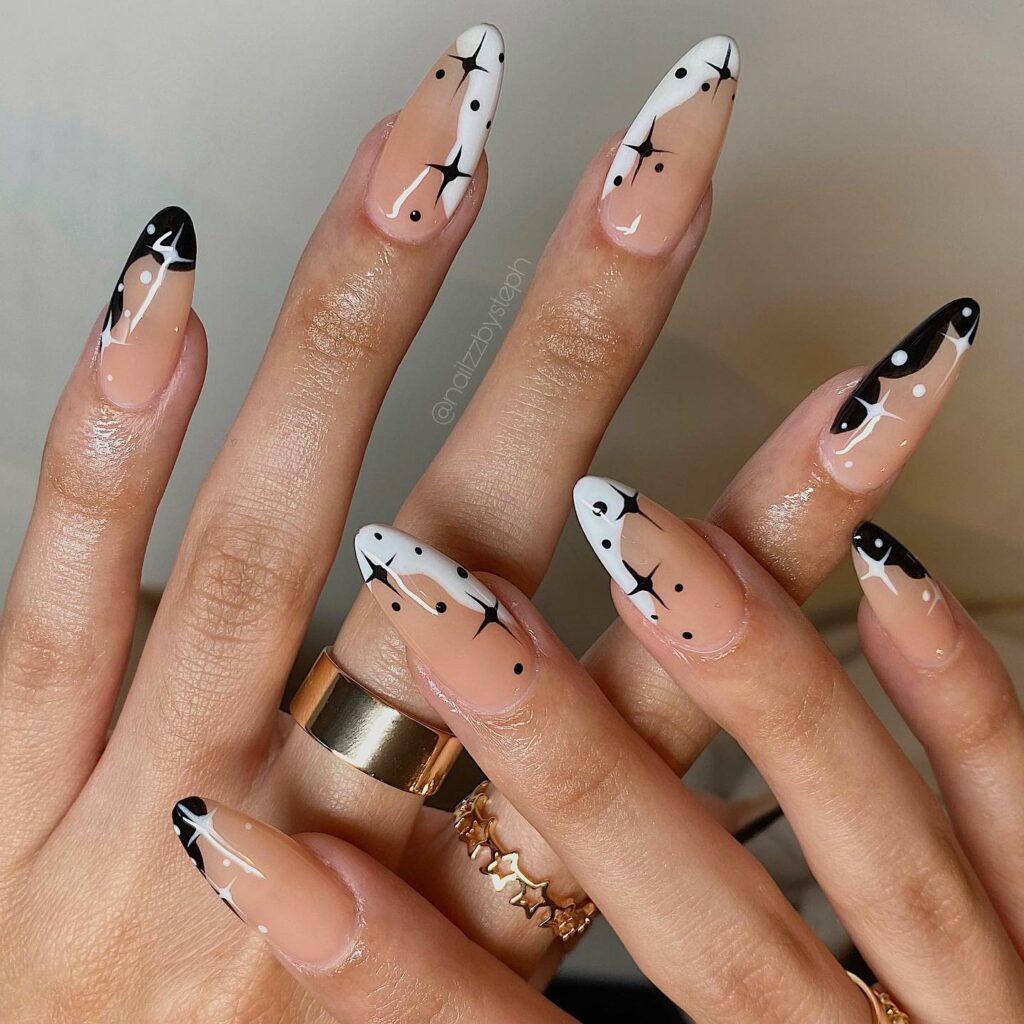 25. Coffin Nail Design in Black and White
26. Black and White Snkae Print Short Nails
27. White Tips and Black Swirls on Top Nails for Winter
28. Smokey Design in Black and White Coffin Nails
29. Black and White French Tip Nails with Flowers and Stones
30. Nude with Black and White Nails Design
31. Black and White Winter Christmas Design Nails
32. Black nails with White Snowflakes Winter Design
33. Glittery Black Winter Nails with White Sugar Glitter
34. Amazing Winter Monochrome Nails
35. Candy Black and White Winter Nails
36. Matte Black and White Nails with Snakes
37. Glamorous Black Matte Nails with White Accents
38. Black and White Cow Print Coffin Nails
39. Short Black and White Nails with Abstract Lines
40. Nails with Monochrome Leaves for Winter
The Allure of Black and White Nail Art
Black and white is the embodiment of contrary forces that exist in harmony.
Despite being as different as night and day (pun intended), these contrasting colors do not compete.
Instead, they create a visual pop that draws attention.
The combo can combat the subdued and cozy ambiance of a gloomy winter.
Classic Monochrome Designs for Winter
Here are some chic and cool designs you will be obsessed with.
French manicure with white tips and swirls of black
White base with black stripes of different widths in different directions
Black and white polka dots for a retro feel
Black and white half-moons
The contrast of black and white also looks gorgeous as yin and yang, representing the balance of opposite forces living in harmony.
Winter-Inspired Patterns
Here are some ways to incorporate winter patterns into your nail art:
Icy marble effect using swirls of black and white.
Snowy landscapes or the night sky with white sparkles.
Penguin and snowman accents on an alternating black and white background.
You can also go with the classic snowflake patterns on an unsuspecting black base.
Adding Dimension: Textures and Embellishments
Black and white is a classic combination, and it isn't boring!
And no, we're not saying opt for embellishments like rhinestones, studs, 3D decals, and bright stripes—although they do go a long way to enhance their elegance.
Add depth and character to your design with different finishes: creme for great color payoff, sheer for a natural, effortless design, or matte for minimalism.
A glitter finish delivers a touch of sparkle wherever you go, metallic is excellent for the nightlife vibe, or textured with a grainy feel for some interest.
Minimalist Geometric Designs
Not all manicure styles are appropriate for all occasions.
All except minimalist geometric nail art, mind you.
This aesthetic, particularly in black and white, goes well with any outfit and is suitable for every setting.
Luckily, they're also easy to do at home!
Triangles, sharp lines, and grids create a clean yet striking appearance.
You can also make overlapping racing checks with gray areas for a simple but stunning look.
Tips for Creating Flawless Black and White Nails
Here's a short guide to achieving precise black-and-white nail designs:
A base coat helps polish adhere beautifully.
Use petroleum jelly for easy cleanup.
Choose polishes with nourishing ingredients for healthier nails.
Roll the bottle between your hands to prevent air bubbles.
Soak your nails in ice water to make the polish dry faster.
Apply polish from the base to the tip in one stroke to maintain consistency.
Opt for short nails to prevent snags, chipping, and peeling.
Use a detailed angled brush to create lines sharp enough to kill.
Use nail tape if you're a beginner.
Customization and Personalization
Black and white winter nails are versatile; you can easily make them uniquely yours.
Use different finishes, try duo tones, play around with glitter, add a pop of color with the brightest hues, and mix textures—there's a world of customization possible!
Caring for Black and White Winter Nails
Get value for money with these practical tips that give your manicure top-quality staying power:
Apply a coat of nail hardener every few days to promote growth and make your nails more resistant to breakage.
Use cuticle oil daily to keep your nails in mint condition.
Wear rubber gloves during chores to minimize exposure to cleaning products.
Reach for a glitter-infused topcoat to freshen up your mani every 2 to 3 days. Swipe on areas most likely to chip: the edges and bottom of your nails.
Once your manicure is nearing the end of its lifespan, soak cotton balls in nail polish remover and place one on each nail for two minutes.
Pressing down from the base, slide it upwards for effective removal without staining.
Conclusion
Black and white winter nails contrast beautifully with seasonal changes when temperatures drop.
Channel your creativity in this nail art to create a masterpiece!