Okay, we are super excited about this look.
By the time you are done scrolling through this article, you will be too.
You have just discovered gold nail foils, and therefore, you have elevated your life.
Keep reading because, in this post, we will explain the different types of nail foils and some of the best looks you can use for inspiration, and we are going to share how easy it is to get this look in the comfort of your own home.
What are Gold Foil Nails
Gold foil nails come in an assortment of variations that are sure to meet your needs and match your nail mood. This look is for anyone looking to add a little sass to their next set of nails.
Gold foil nails can look like literal ripped-up pieces of gold foil for 3D effects that are taken from a jar and placed directly on your nail.
Or it can look like it's a part of the polish if you choose the transfer paper route. You can also cover the entire nail this way, it might not be as seamless as chrome powder, but it still looks amazing and makes a statement.
Gold foil comes in straight lines if you want a more structured look or thinly shredded flat pieces that can be sprinkled for an abstract effect.
The thing about gold foil is that it can be added to any polish color and any design. Whether you choose to cover half of the nail or just have a touch of the foil here and there, it will no doubt elevate your look.
33+ Best Ideas for Gold Foil Nails
We have over 30 pictures for you to scroll through with the most beautiful golf foil nails to choose from. Good luck picking just one!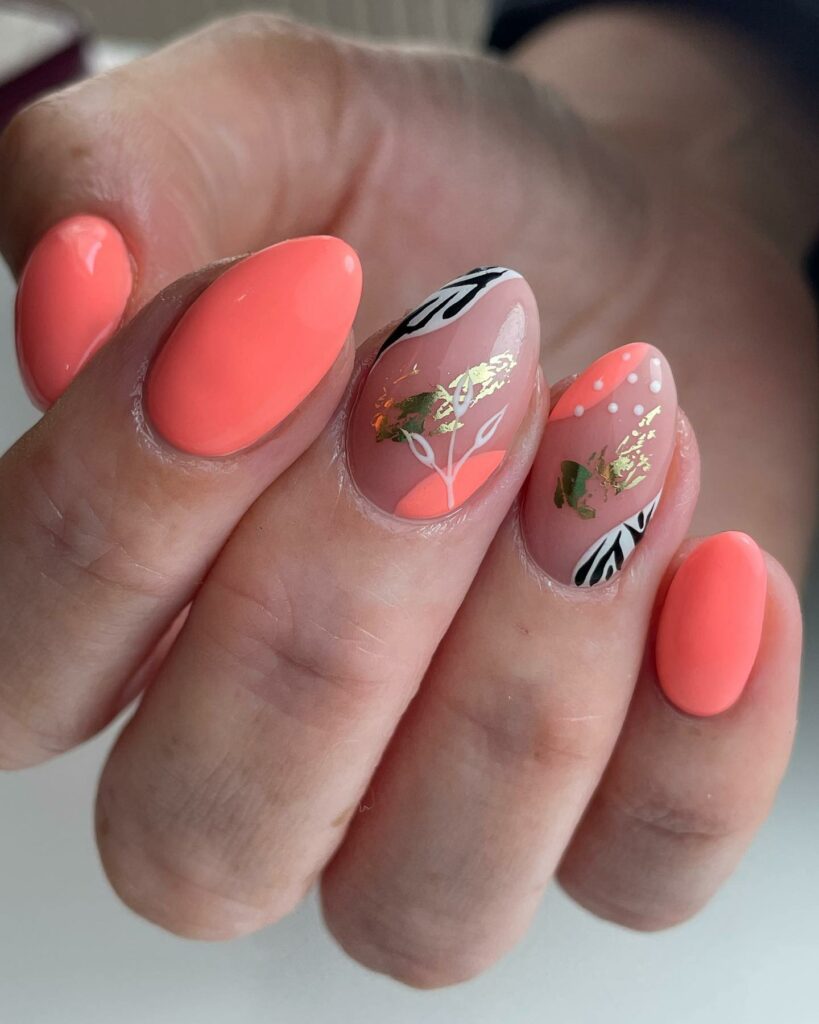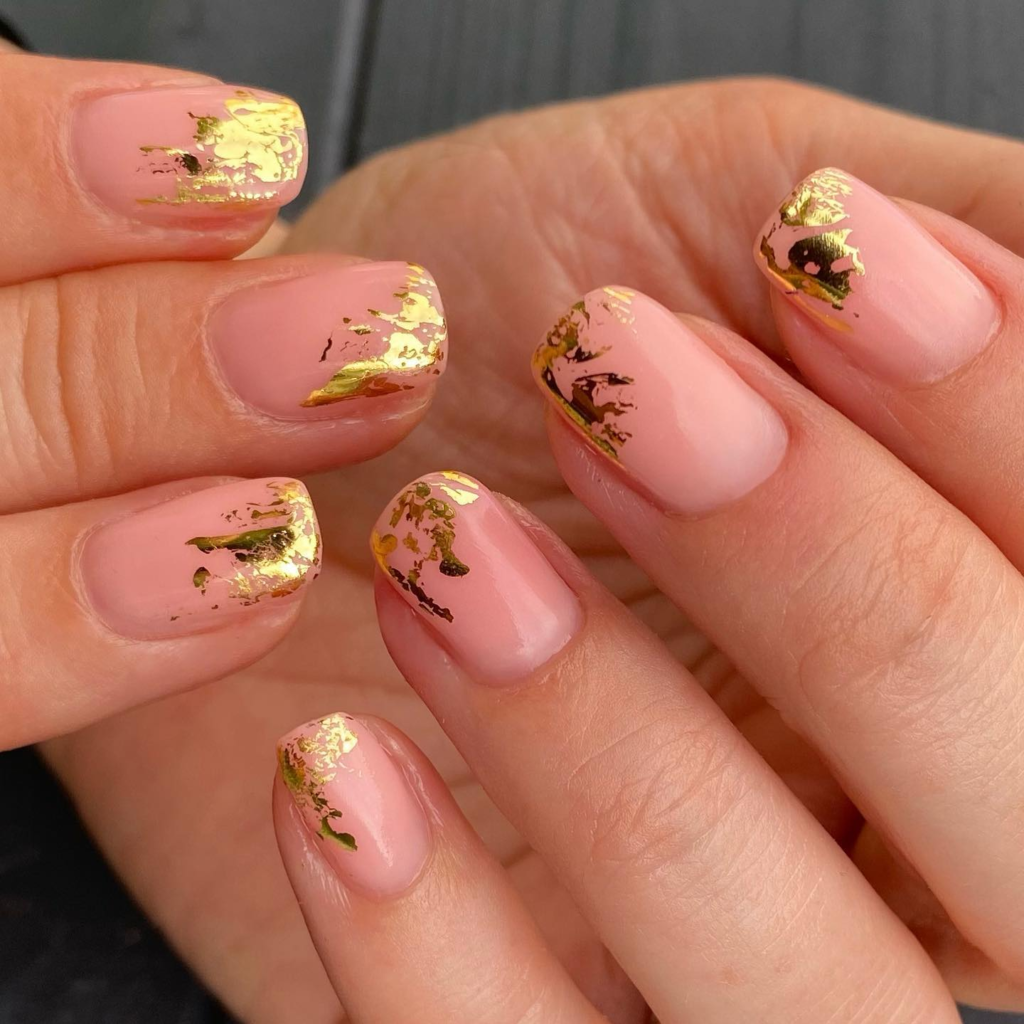 Most Popular Shades for Gold Foil Nails
You may want to know how you can style gold foil nails. Below is a short list of great ideas for you to rock this beautiful look, so keep reading.
French ombre with pieces of gold foil nails.
Clear, white, and grey marble with touches of shredded gold foil on stiletto or almond nails.
Three diagonal solid colors separated by gold transfer foil.
Reverse French with black and gold foil.
Acrylic or gel encapsulated gold foil nails.
How to do Gold Foil Nails at home
If you want to add gold foil to a manicure at home is pretty simple. You can order supplies from Amazon. The foils usually come in kits, be sure to look for one that has the foil adhesive.
After you give yourself a manicure and prep the nails, this includes cleaning up the cuticles, filing the nails to the desired shape and length, and using acetone to clear the base of any oils and debris.
Next, you will polish on a base coat and two coats of whatever polish you choose.
While the polish is still tacky, you can use tweezers to place the foil wherever you think it will look cute. Try to position the foil so the corners are facing downwards.
Take your topcoat and dab it on top of the nail where the foils have been placed, then lightly drag it down and paint the nails free edge. The foil look will feel slightly textured but nothing very bothersome.
If you use transfer paper, you can complete the steps above up to polishing with your color, and let the polish dry completely.
Next, apply foil adhesive to which you will be transferring the foil and let it dry completely.
Place the foil GOLD SIDE FACING UPWARDS, and rub where you want it to transfer. It can be a corner of the nail or the entire nail.
Apply the top coat and you are all set!
The above steps can also be done with gel polish for longer-lasting and more durable wear.
In conclusion, you have learned what gold foils are, we have shared different styles of nails with gold foil, including 30+ photos for your inspiration, and you learned how to do gold foil nails at home.
Now all you have to do is show them off and have a great time doing it. Enjoy!