Nothing makes you feel better than a fresh set manicure with a fabulous set of nails. If you're looking for a new style to turn you from a basic B to a bad B, black almond nails with glitter could be the edgy new look for you.
We always stan a glitter nail, and when paired with a deep, dark black and filed into a perfect almond shape, you bet your bottom dollar we were excited to dive right into all the different looks on offer!
It's no secret that glitter black is the new black – it goes with any outfit and is perfect for any occasion, plus the options for customizations are endless, making it a truly versatile style.
We have rounded up some drop dead gorgeous black glitter almond nail designs to suit a whole range of styles and occasions, so you are certain to find a design that you'll fall for! 
30+ Ideas for Black Almond Nails with Glitter
Here is a list of the hottest on-trend black almond nails with glitter we found that will leave you ready to rock your next set!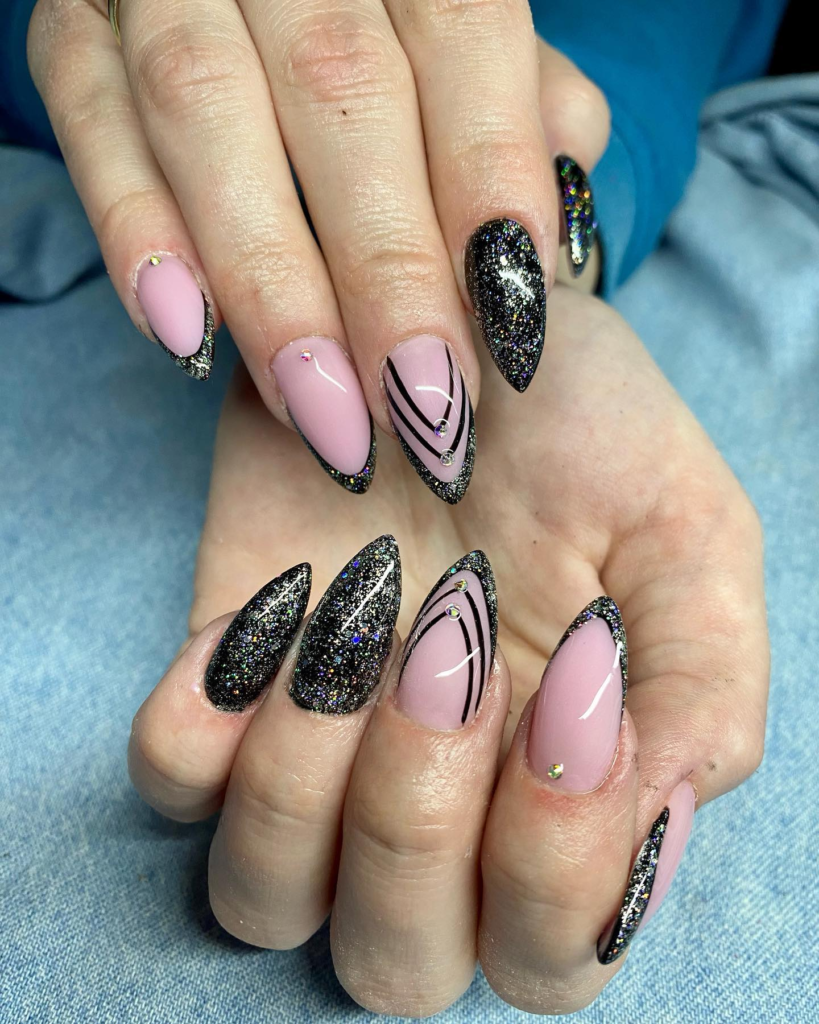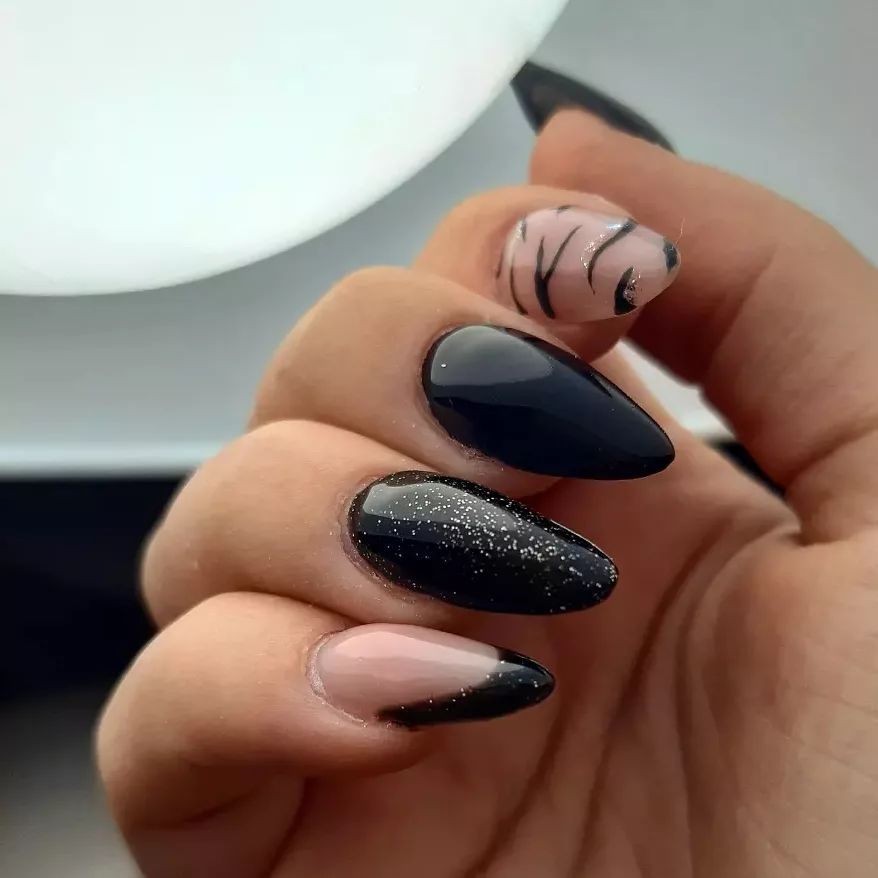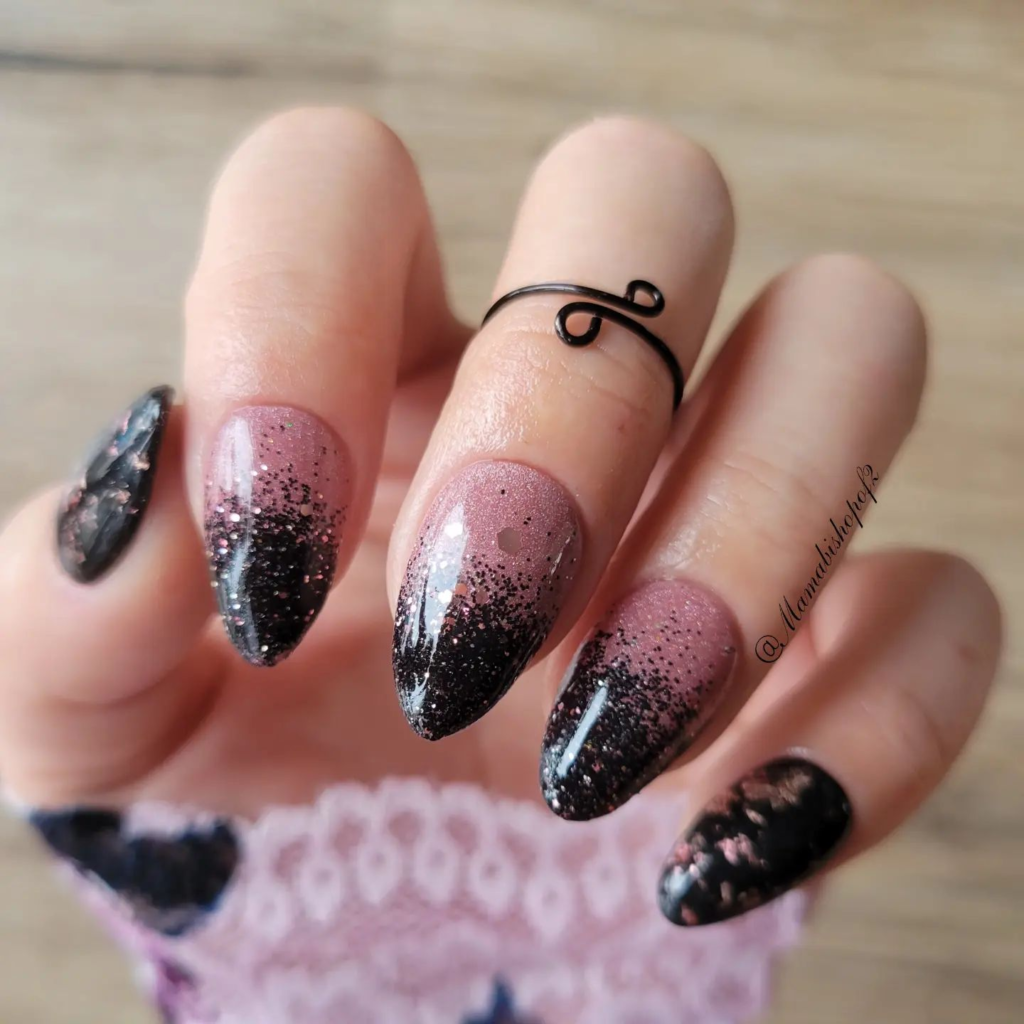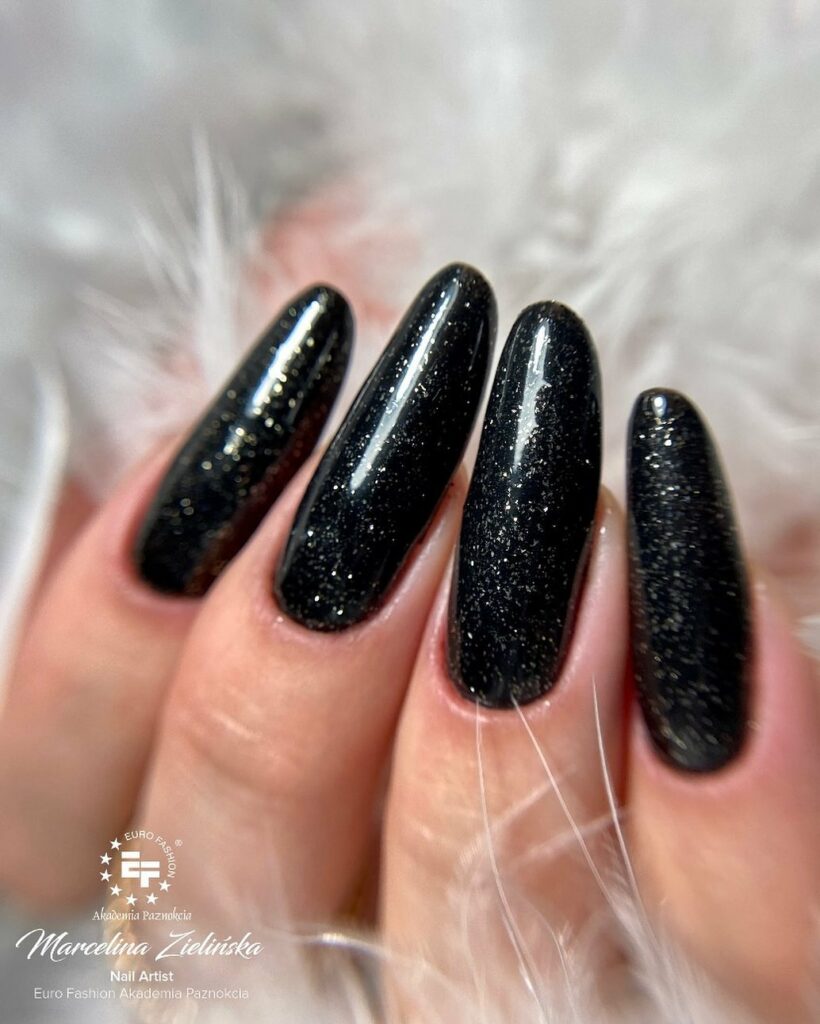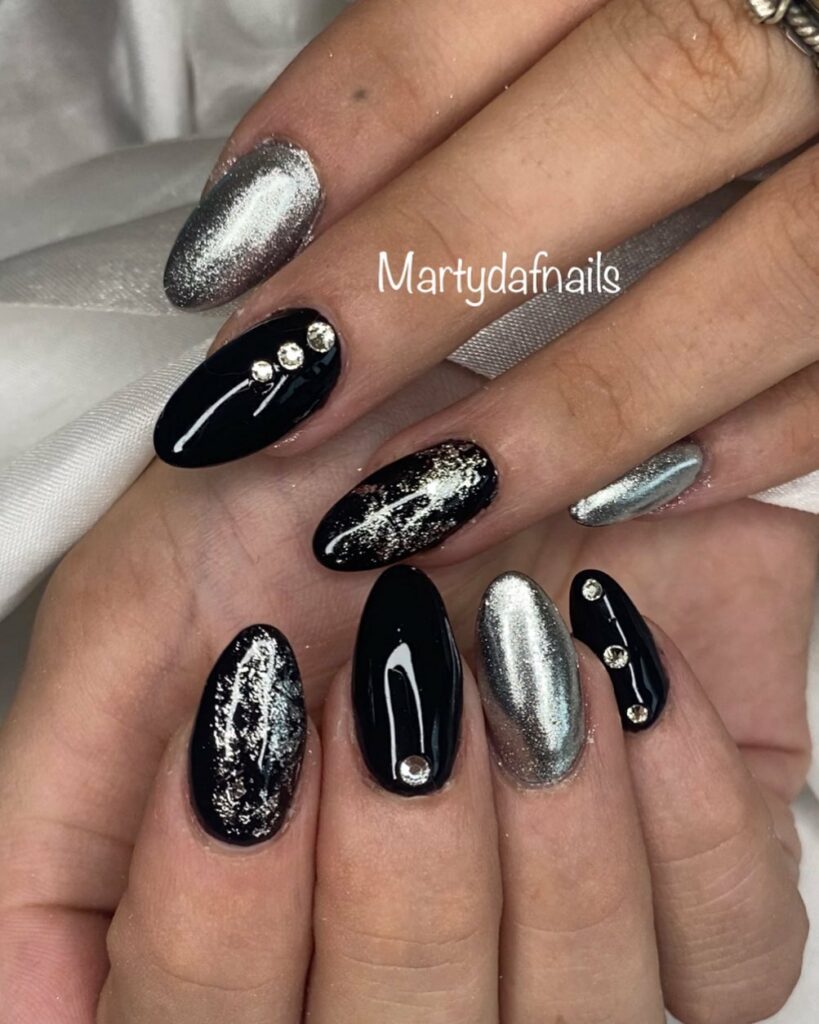 Black Almond Nails with Glitter: How to Achieve the Look
An almond nail starts wide at the base of the natural nail and softly tarps into a rounded-off peak.
This dreamy shape is a popular choice by many because it is not too round and not too pointy, but still holds the power to elongate nail beds and make even short fingers look longer and more elegant.
Achieving perfect almond nails requires attention, practice and patience.
To achieve almond-shaped natural nails you will need nails that go at least over the tip of your finger, but you may find that long or medium length natural nails will be easier to shape.
Alternatively, you can go to the salon or your manicurist and have a set of acrylic tips instead, which can be easily filed into a perfect almond shape.
How To Do Black Almond Nails with Glitter at Home
Shaping your nails can take some practice, but it is achievable to create perfect almond nails at home! The clue is in the name when shaping – think almonds! You could even look at a picture of an almond for reference when shaping for the first time.
Start by cleaning your nails with a nail polish remover for a grease-free base to work from, then draw or imagine a line down the center of your nail.
Next is shaping. You can either clip or file the sides of the free edge of your nail at a slight angle to form a peak at the nail tip, keeping in line with the natural width of your nail bed. The line you drew should be in the middle of the peak you are creating.
Next, file to round off the harsh point and turn it into a softly curved peak. Then create a smooth edge with a buffer.
Push your cuticles back to elongate your nails and use a good quality cuticle oil or cream to keep them soft. Before you apply your polish, always wipe over each nail with some extra remover to ensure you get rid of any residue from the filing.
When it comes to applying color, you want to build the color in layers by applying thin coats of black. Once at the desired shade, you can add a glitter top coat for that extra sparkle!