If you're planning to try galaxy nails for the first time, the pastel shades are some of the prettiest to go for!
Especially if you're looking for a soft look for the summer and want to stay away from the darker shades, you will love our selection of the best pastel galaxy nail art ideas!
Pastel galaxy nails come in a range of designs, from super complicated nail art capturing the essence of the Milky Way, to a more simplified and minimalist look featuring hand-painted stars or nail stickers with star and moon shapes. With the pastel shades, there are so many color variations to play with and try!
If you want to give this a go at home and do your own manicure, you will find plenty of ideas in our selection below. Try to stick to those that do not require hand painting any intricate nail art as that might require quite a bit of practice.
The other benefit of this manicure is the fact that you can make it work even on the shortest natural nails, but also on long coffin nails.
So, whatever your preference may be, get inspired by our selection of styles we found on Instagram!
17+ Pastel Galaxy Nail Art Ideas
Check out the selection of the prettiest nail art ideas from talented nail artists from around the world. If you would like to get the latest trends in nail design, don't forget to follow us on Pinterest – go check it out now!
1. Short Playful Pastel Galaxy Nail Art
2. Abstract Pastel Galaxy Nail Art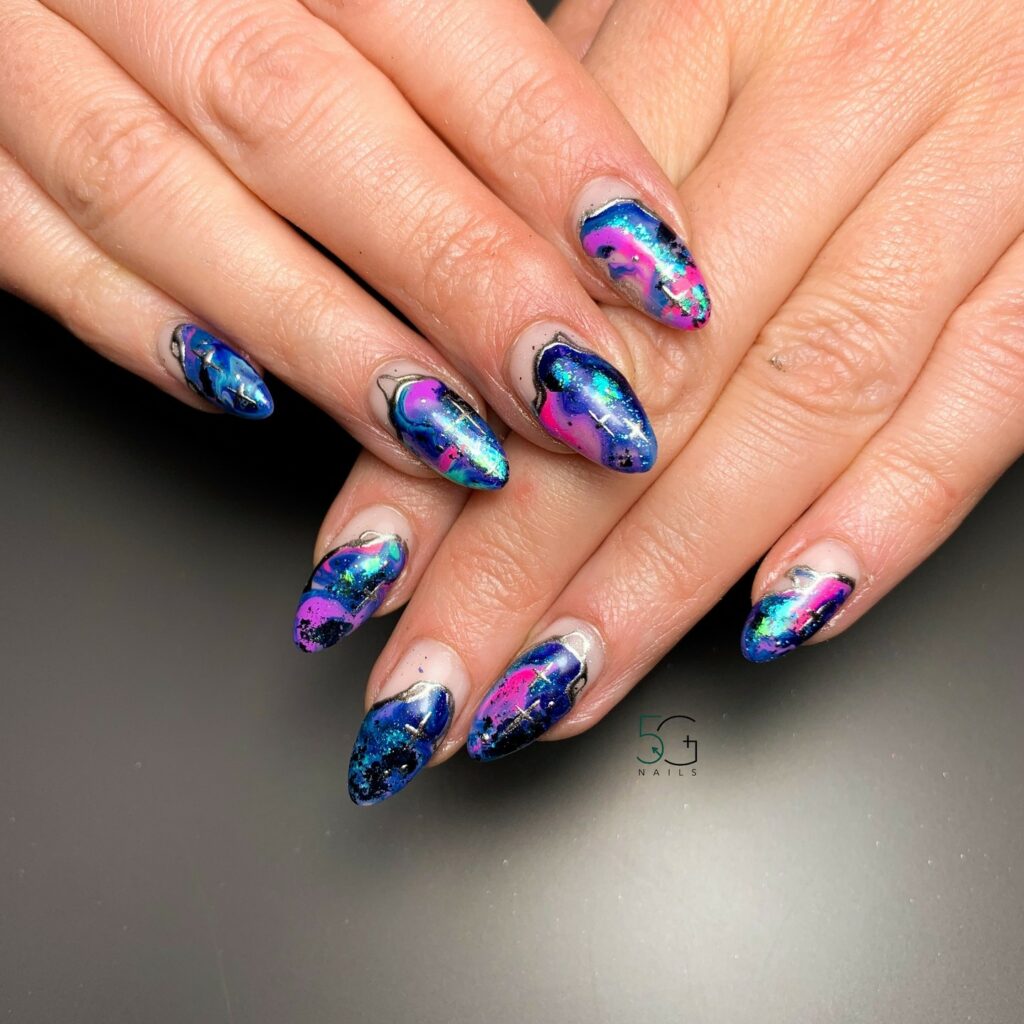 3. Dreamy Pastel Galaxy Nail Art
4. Green Pastel Galaxy Nail Art
5. Galaxy Nail Art on French Tips
6. Blue Pastel Galaxy Nail Art
7. Bright Pastel Galaxy Nail Art
8. Coffin Nails with Simple Pastel Galaxy Nail Art
9. Short Nails with Pastel Galaxy Nail Art
10. Pastel Galaxy Nail Art with Glitter
11. Pastel Galaxy Nail Art on Short Nails
12. Bright Galaxy Almond Shaped Nails
13. French Tips with Minimalist Galaxy Nails
14. Super Short Pastel Galaxy Nails
15. Bright Design Short Pastel Galaxy Nails
16. Purple Pastel Galaxy Nails
17. Simple Pastel Galaxy Nail Art
18. Vibrant Chrome Pastel Galaxy Nail Art