Olive green is such a versatile color, it's no surprise it's such a popular choice for manicures! In this article, we have compiled some of the most beautiful ideas for matte olive green nails, in a variety of styles and for different nail shapes.
Before we look at them, did you know that olive green color came into use already between 1150 and 1500? The name of this shade of green is derived from the color of olives, and it's a color shade favored by armed forces around the world as it helps them to blend into the background.
Olive green is the perfect choice for a manicure as it's one of the colors that's flattering to most skin tones. Here are some color pairings and combinations, if you're thinking of elevating your matte olive green nails further:
to complement the shade of olive green, you can pair it with beige, navy tones or light greys
colors that pair well with olive green are red, purple, grey, navy, maroon and tan
if you want the color to pop, you can pair it with hues of violet or red
Now that you know everything about your color choice, lets look at some beautiful nail designs you can use as inspiration for your next manicure project or a trip to the nail salon.
Ideas for Matte Olive Green Nails
Below is our curated selection of over 13 gorgeous designs for matte olive green nails. If you need even more ideas and inspirations, we have saved dozens more in our dedicated Pinterest board, so go and check it out!
1. Mustard and Matte Olive Green
This is a beautiful manicure with super simple contrast using matte olive green with rusty mustard nail polish elevated with the use of gold flakes. For the special occasion look, or if you want to try something completely different.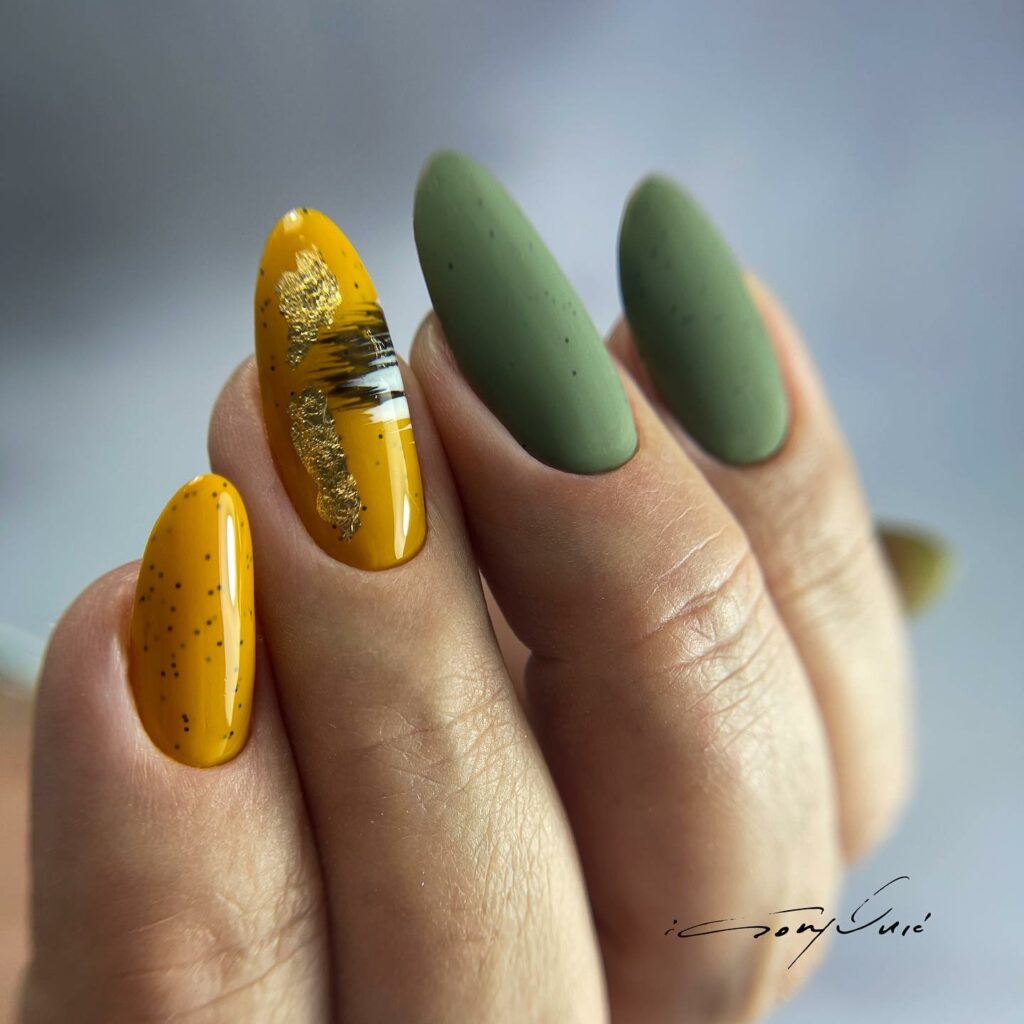 2. Beige and Matte Olive Green Nails Design
If you love a feminine look for your nails, this is a manicure that will certainly tick a lot of boxes. Pretty matte nail polish in shade of olive green and beige, elevated by simple botanical patterns that makes the whole manicure look super delicate.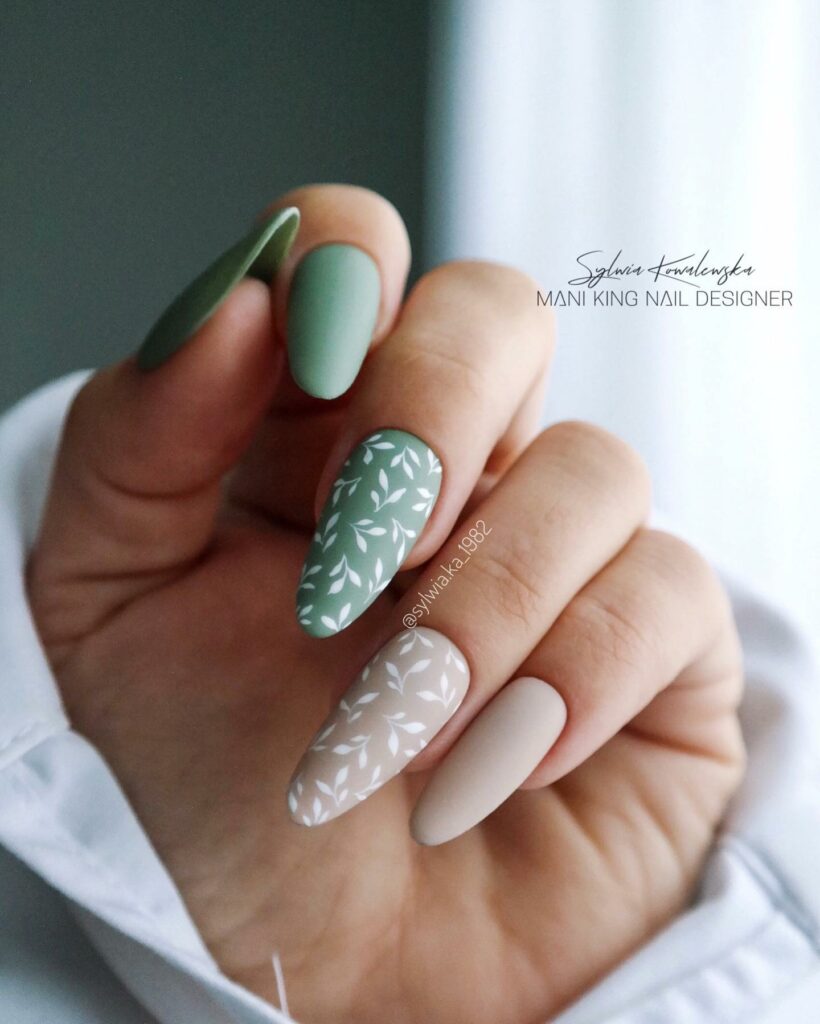 3. Matte Olive Green Nail Design with Glossy French Tips
This is a unique use of a matte nail polish that really allows you to see how much is possible. The matte base is elevated by French tips painted in high gloss olive green nail polish for added contrast and interest.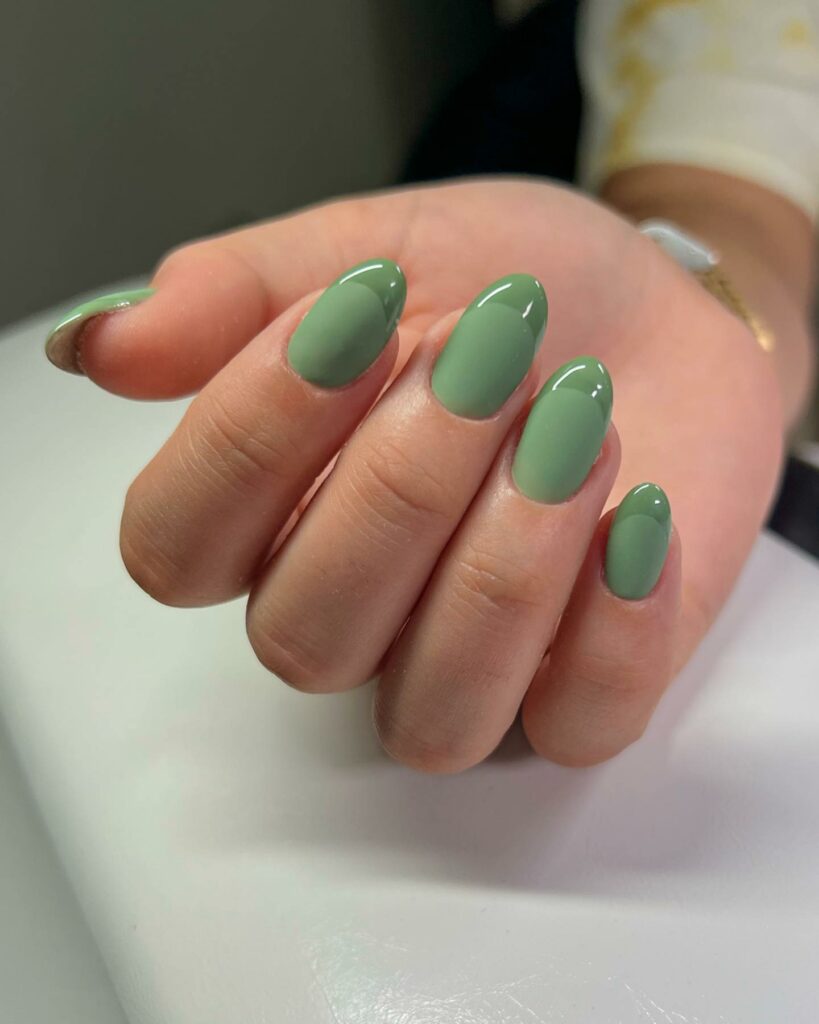 4. Simple Short Matte Olive Green Nail Design
Got short nails? You can keep things super simple and just use a single shade of olive green nail polish.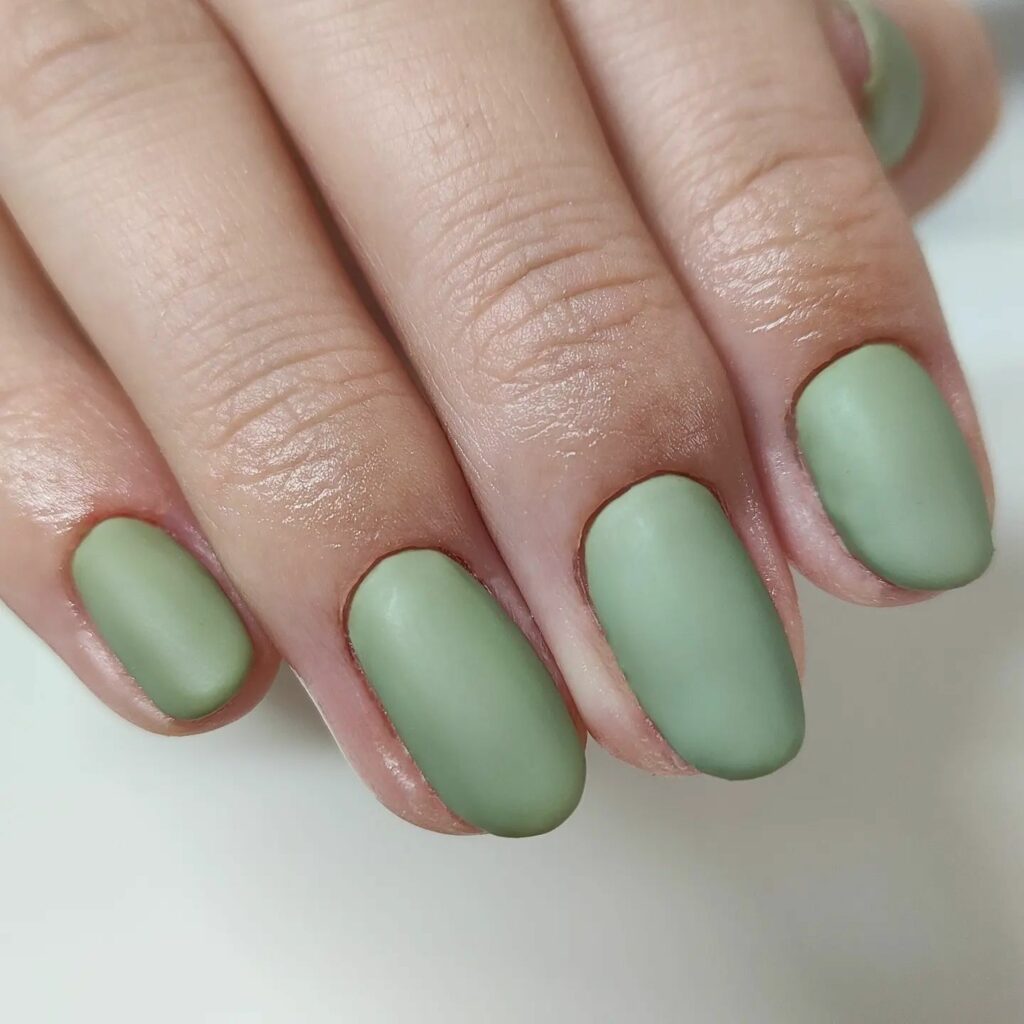 5. Sweater Effect Matte Olive Green Nails
This may not be the shade for you, but it's great as an inspiration on how far you can take your olive green nail polish. The sweater nail art is usually suitable for a winter manicure, but when paired with olive green color it looks fabulous all year round.
6. Matte Olive Green and Purple Nails
Bored of one color? Add contrast by incorporating purple, and adding variation by using both matte and high gloss nail polish.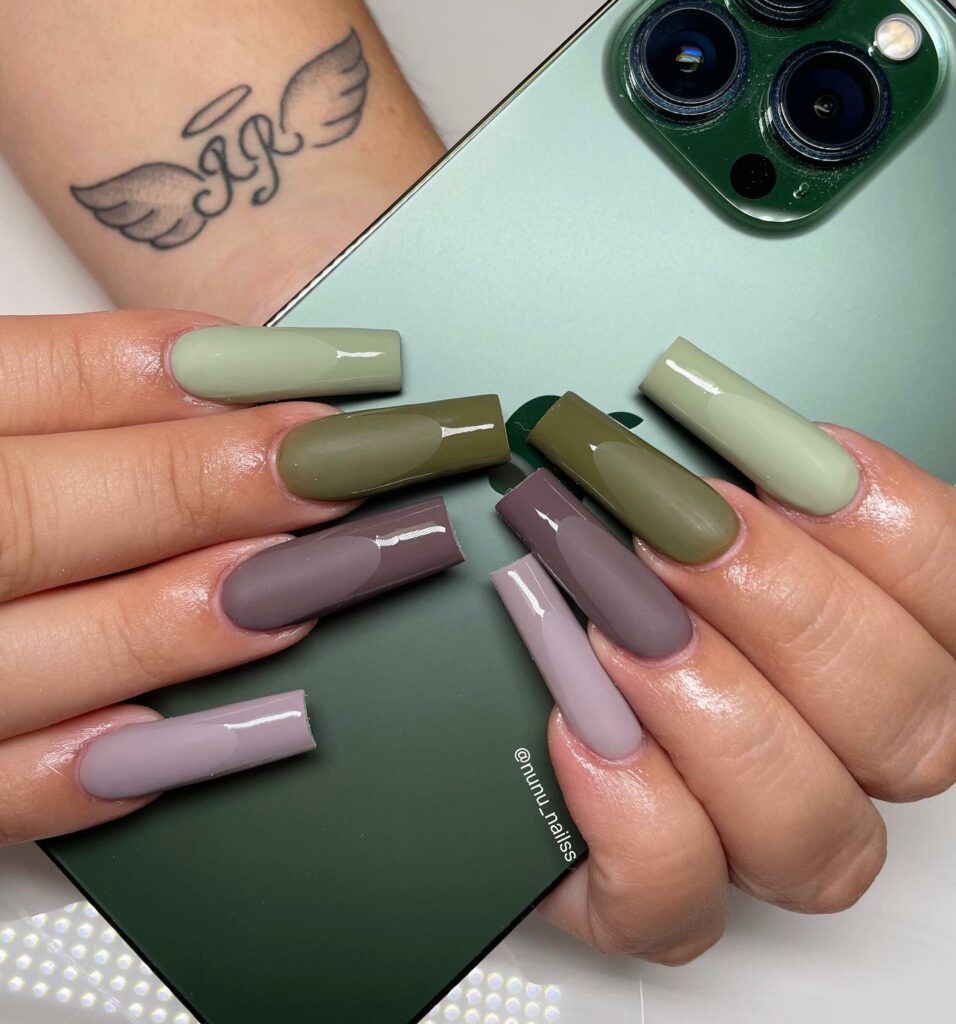 7. Almond Matte Olive Green Nails
These pretty nails look like they belong to an art gallery – a beautiful design on stiletto nails with golden and dark olive green outlines.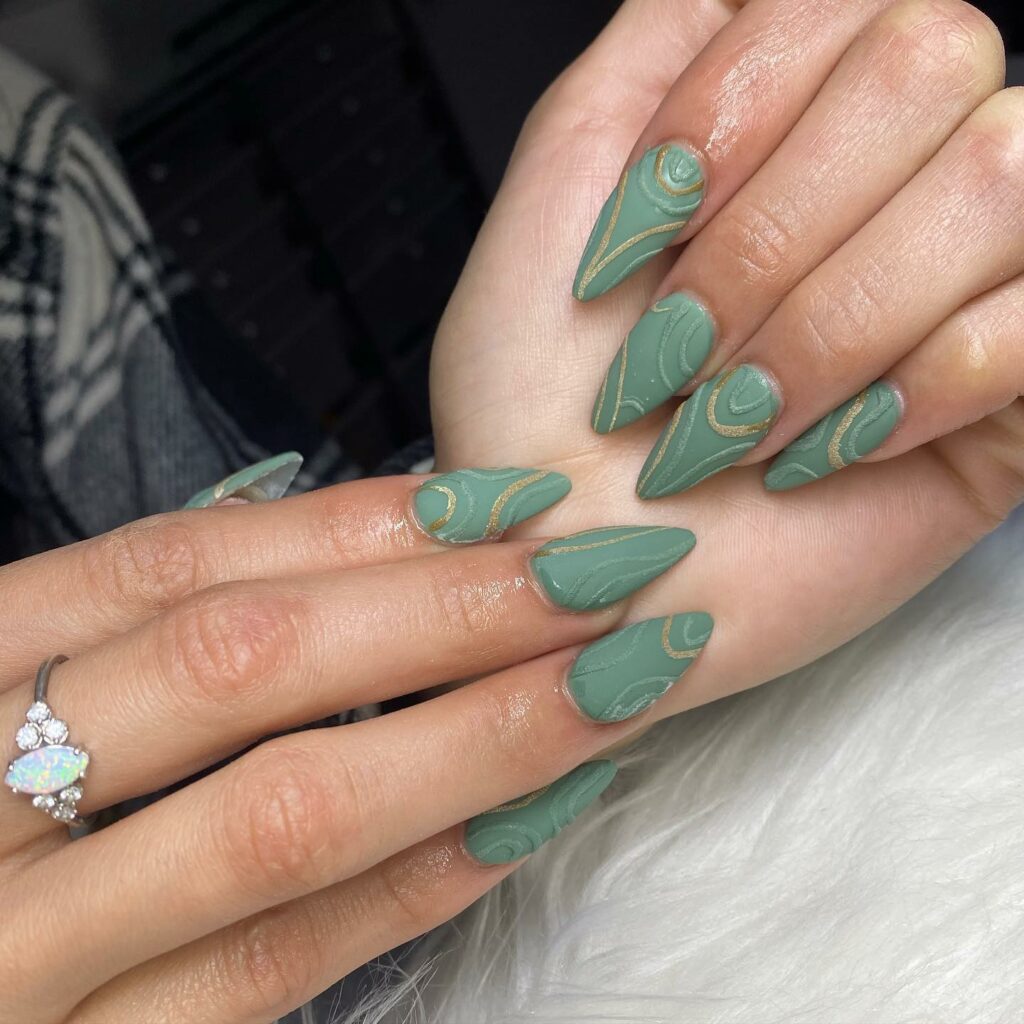 8. Gold Florals on Matte Olive Green Nails
If you need nails for a special occasion, shiny gold or glittery gold nail polish pairs wonderfully with olive green base color, especially if you're going for the matte look which helps to bring out the shine even more.
9. Long Coffin Olive Green Nails
Long coffin nails? Keeping things simple may be your best bet, especially if you're looking for a simple manicure you can do easily at home.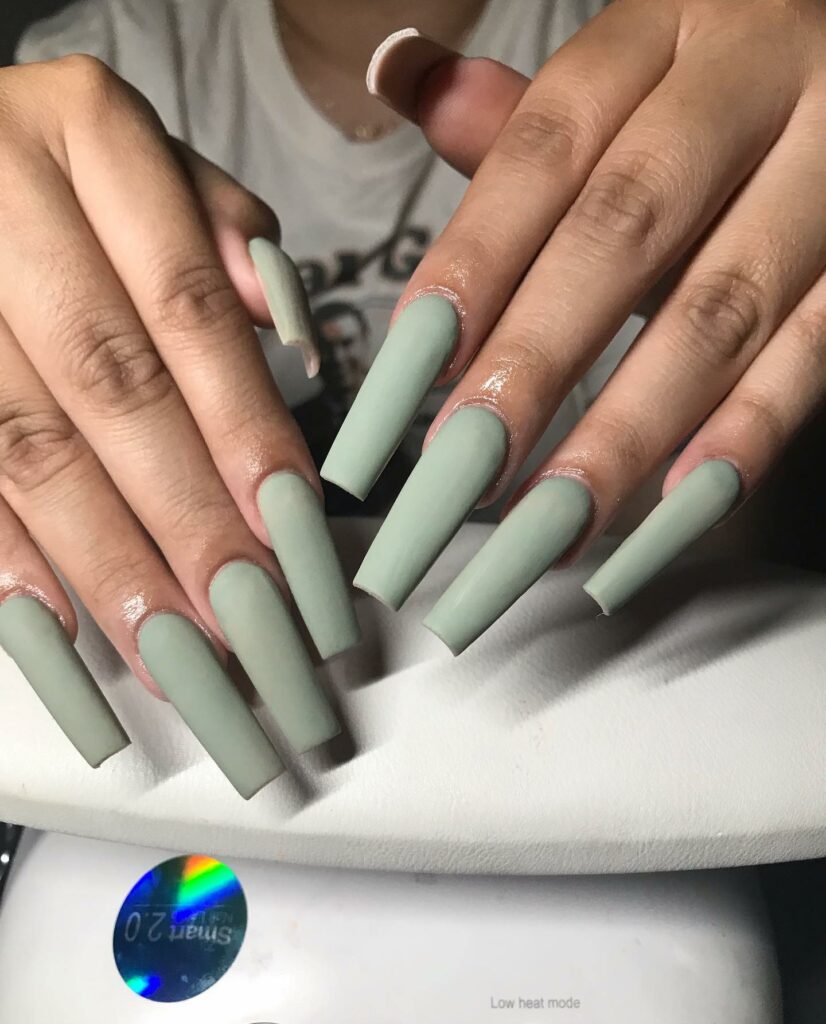 10. Geometric Matte Olive Green Nails
Add a bit of variety to your manicure by incorporating simple geometric shapes.
11. 3D Art on Matte Olive Green Nails
If you love the look of 3D nail art, it pairs beautifully with simple neutral base, such as the ombre olive green look shown below.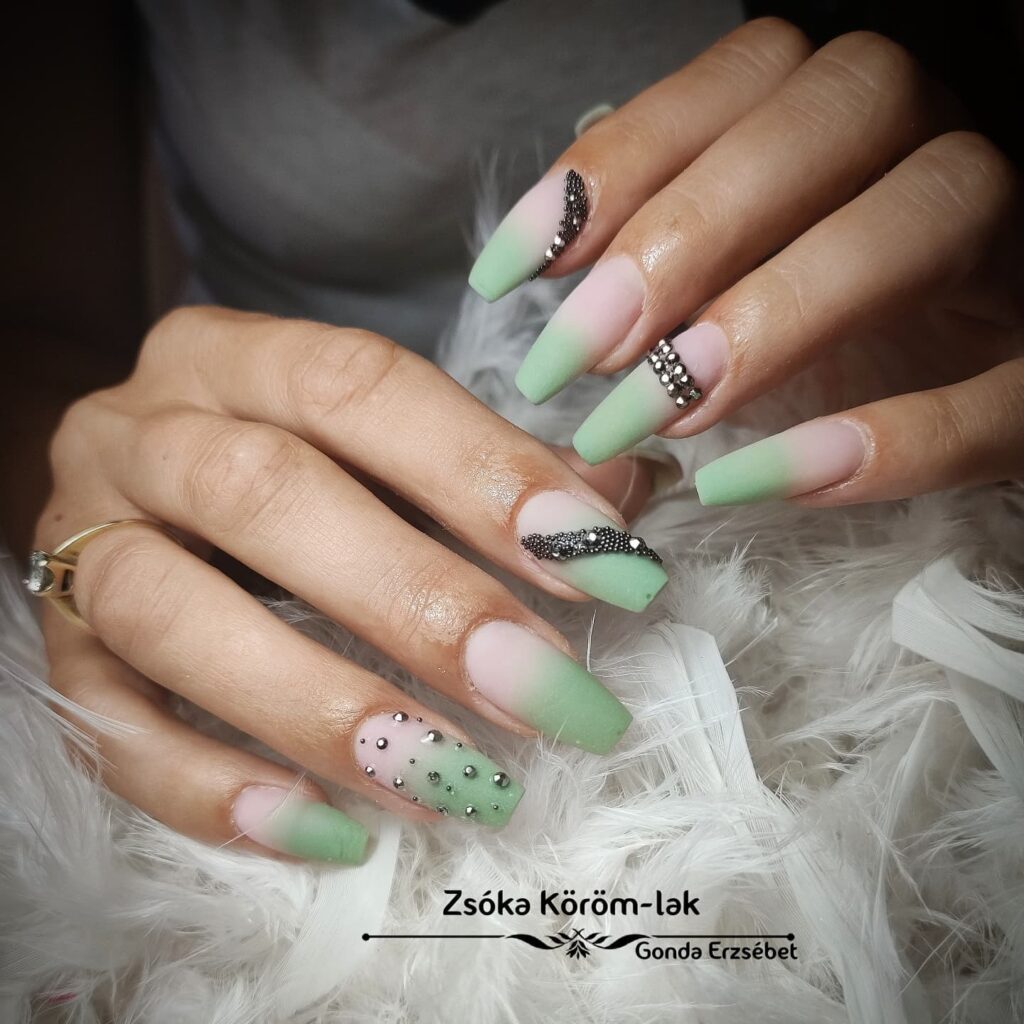 12. Minimalist Dark Matte Green Nails
Even darker shades of olive green can work magic! Give your nails a minimalist look by including very simple outlines with black nail polish.
13. Matte and Marble Nails
For an added contrast and interest, include a marble nail design with some gold flakes.
14. Matte Olive Green with White Nail Art
Short nails beautifully decorated with elegant thin white nail art.