French tip nails are a timelessly chic style that's been around since the 1930s, but it has been making a special type of resurgence in recent years — but with a fun twist!
We're no longer keeping it muted with neutrals; instead, we're going all out with vibrant shades that are impossible to ignore while still keeping things elegant. It's like getting the best of both worlds — statement and subtle in one swipe.
Try it for yourself with these 30+ design ideas for French tip nails. They look so good; anyone with good vision would think a nail tech worked their magic on your digits!
Video Tutorial: Purple French Tip Nails
Want to add a pop of color and texture to your claws? Follow this step-by-step video tutorial to create the most amazing purple French tip nails at home.
30+ Ideas for Purple French Tip Nails
Looking for inspiration?
Here are 30+ ideas for purple French tip nails that will complement your wardrobe and hairstyle without upstaging your look.
They range from simple mattes to ombre looks and embellishments, so you're guaranteed to be spoiled for choice.
1. Simple Almond Purple French Tip Nails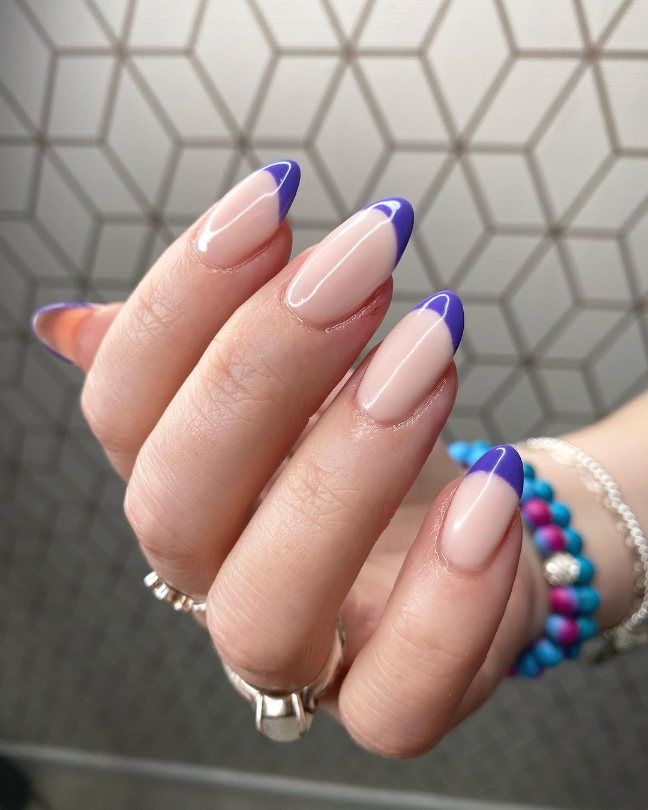 2. Stiletto Textured Purple French Tip Nails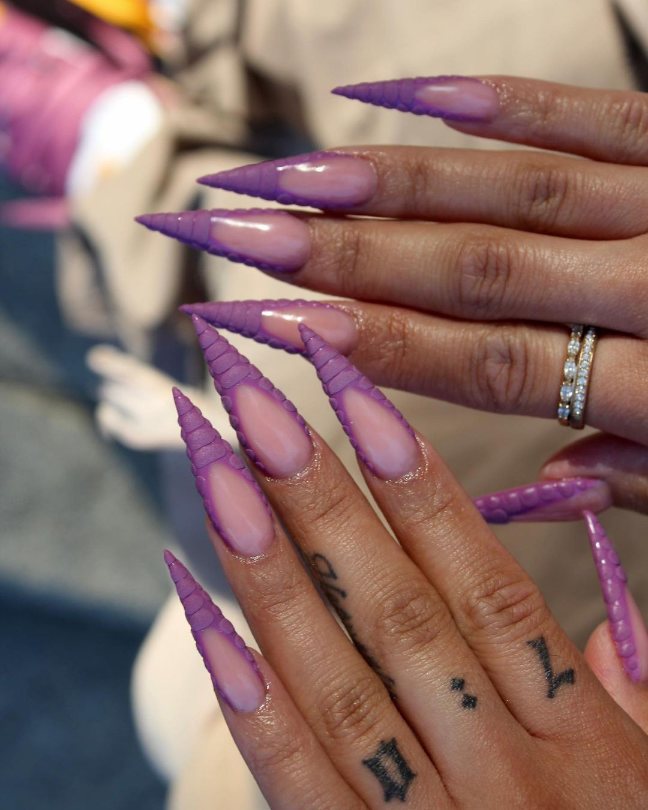 3. Long Lilac Purple French Tip Coffin Nails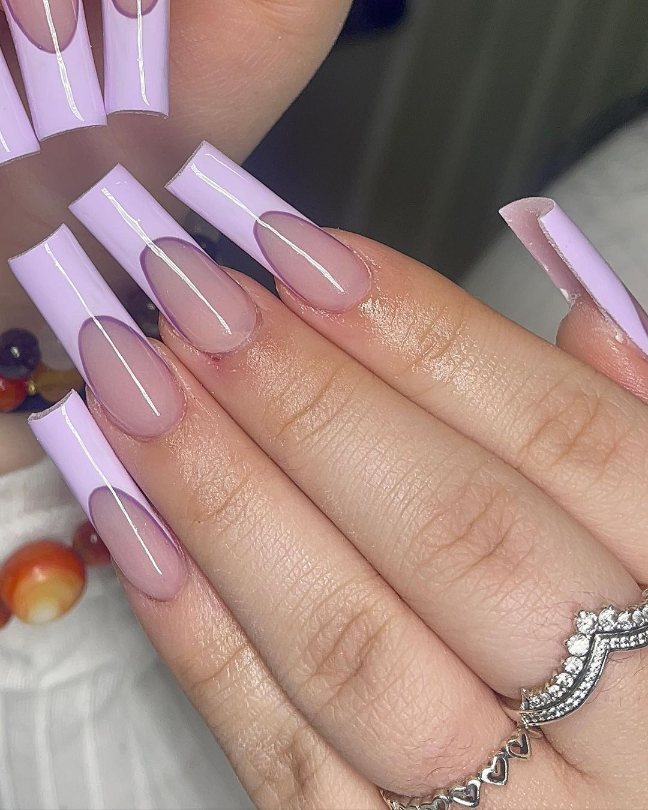 4. Glittery Purple French Tip Nails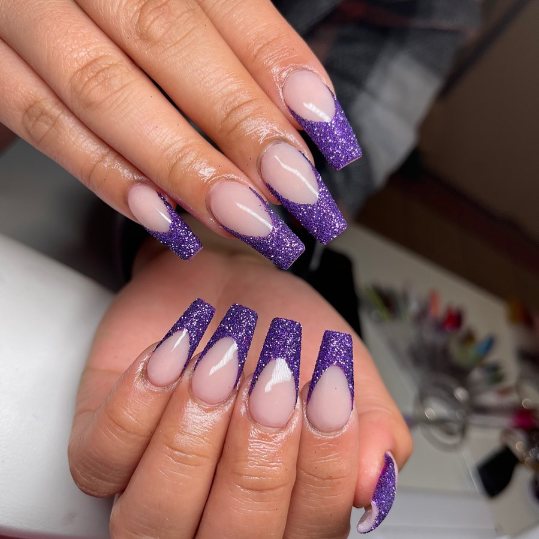 5. Pastel Purple French Tip Nails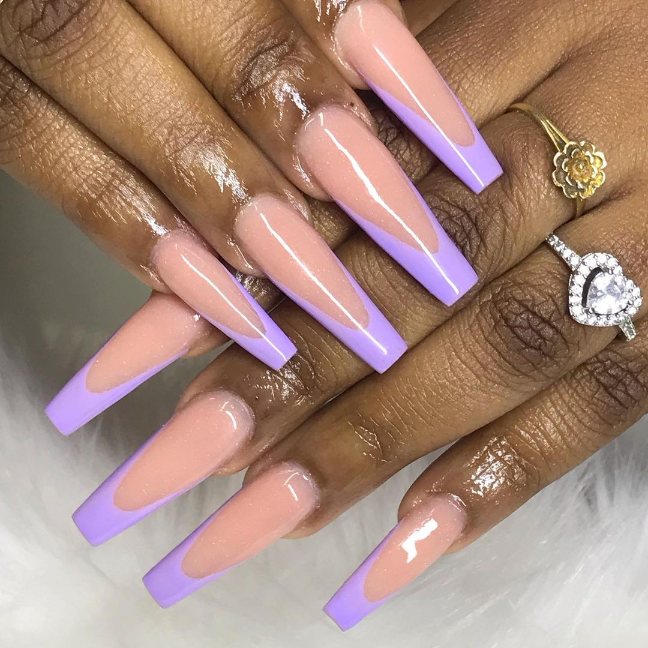 6. Pink and Purple V French Tip Nails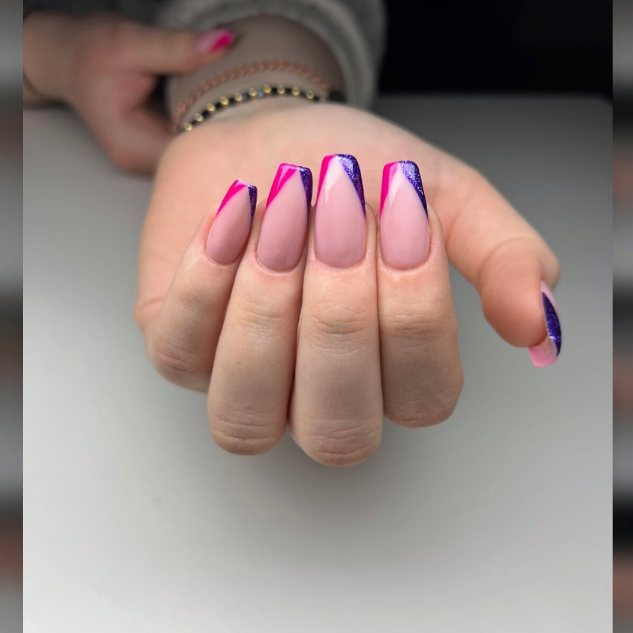 7. Bold Purple French Tip Nails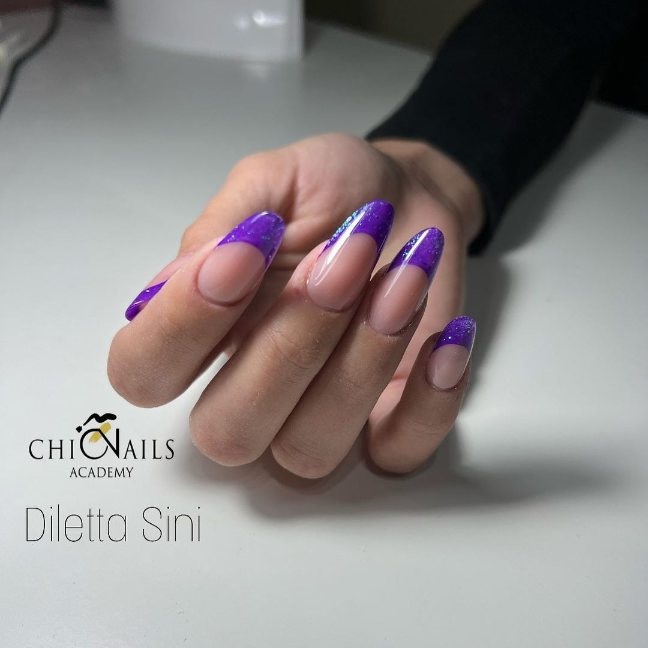 8. Light Purple and Glitter French Tip Coffin Nails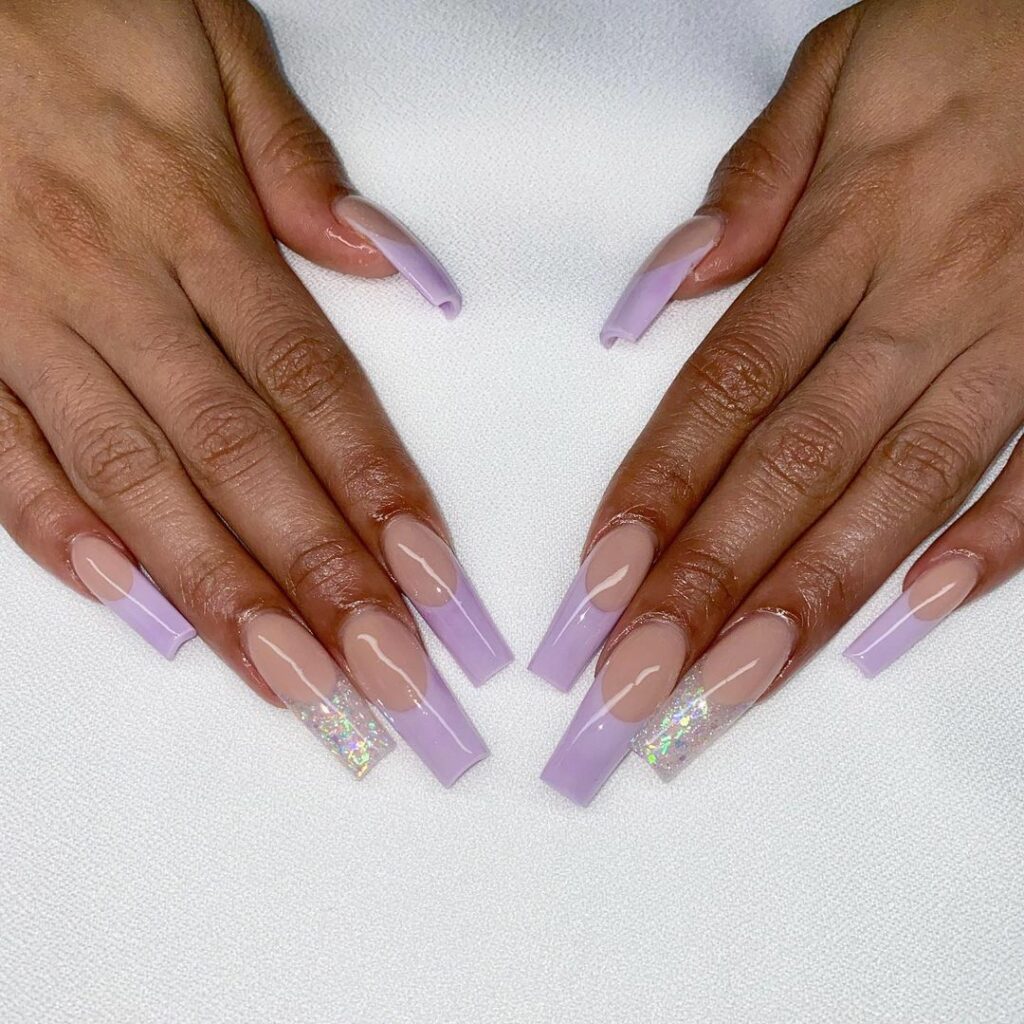 9. Purple, Pink and White French Tip Nails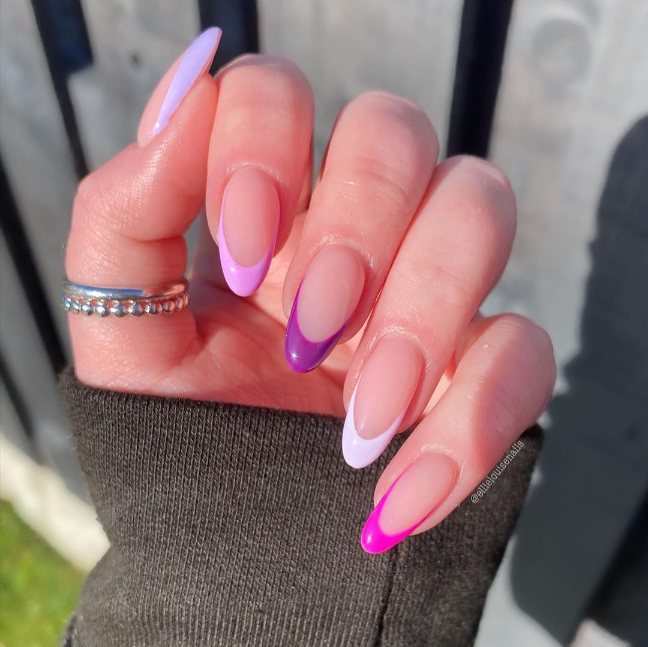 10. Deep Purple French Flower Nails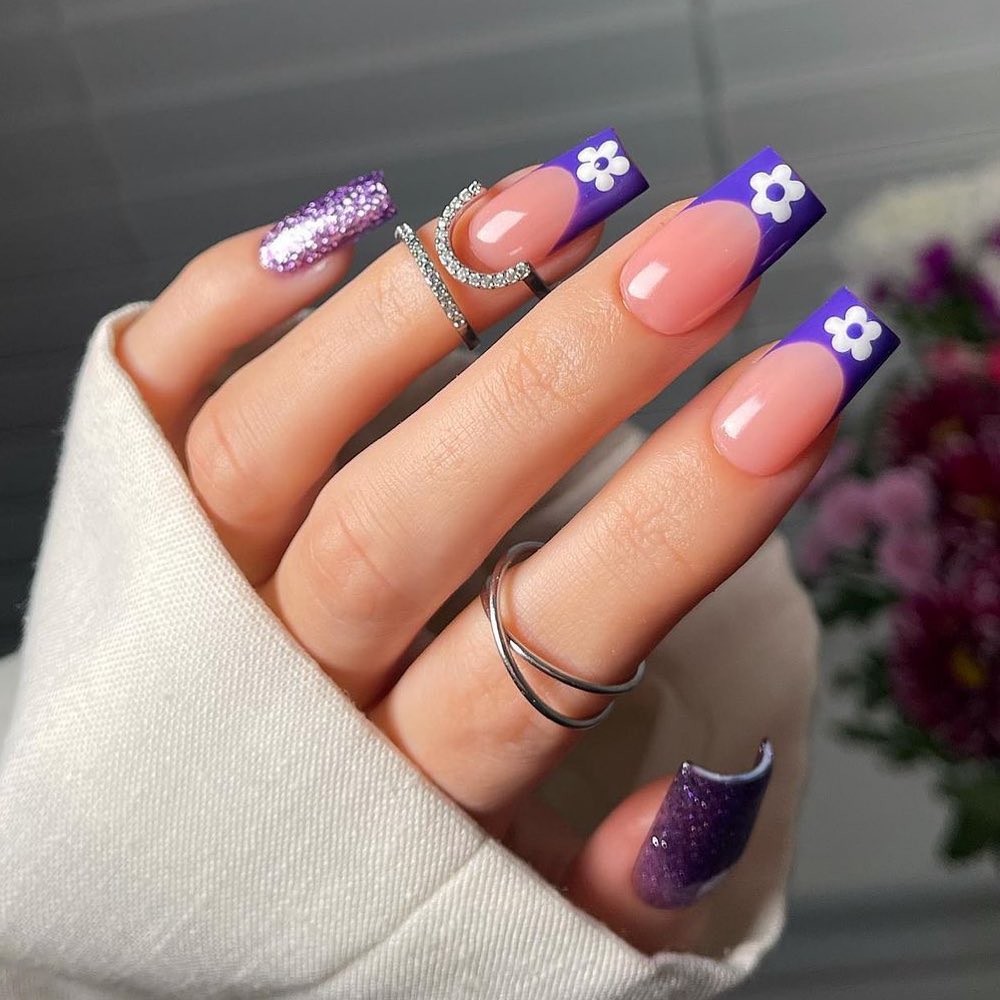 11. Abstract Lines French Tip Purple Nails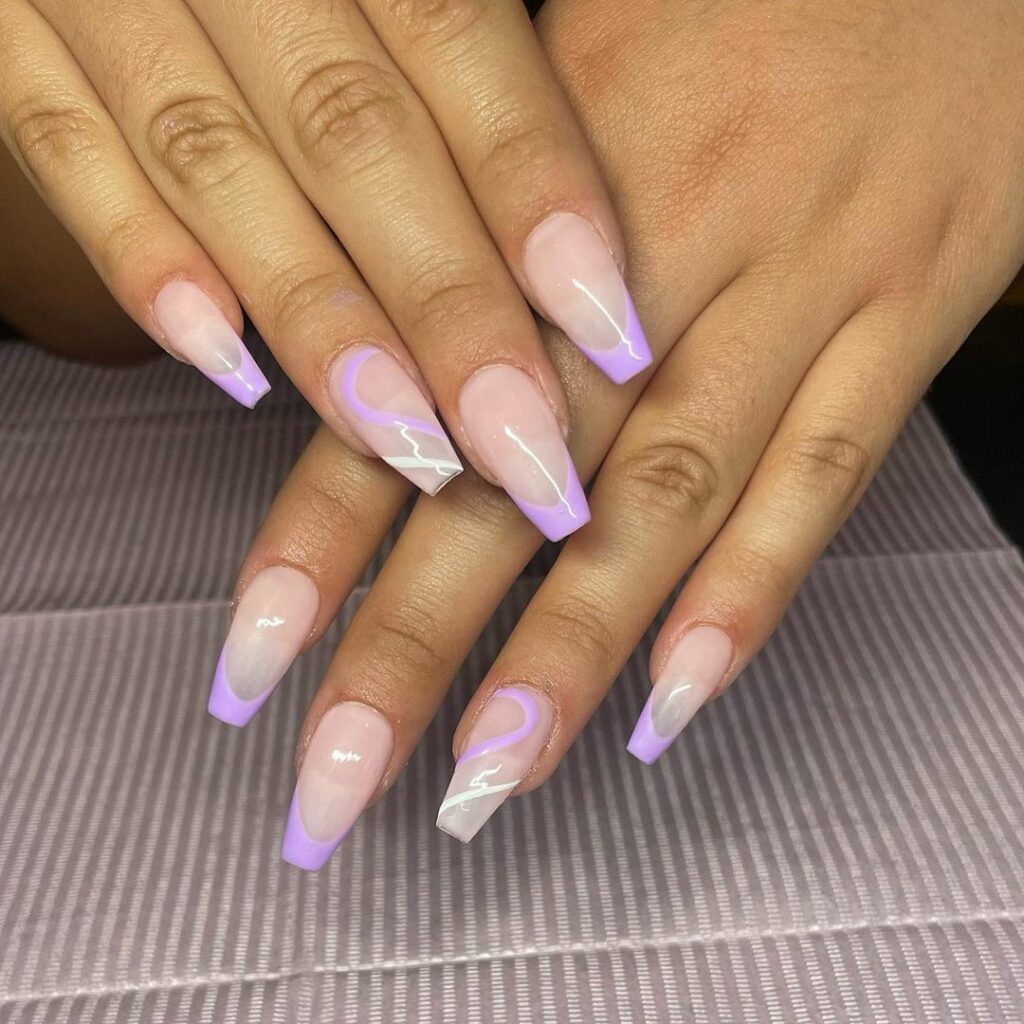 12. Light Purple French Tip Nails with Stones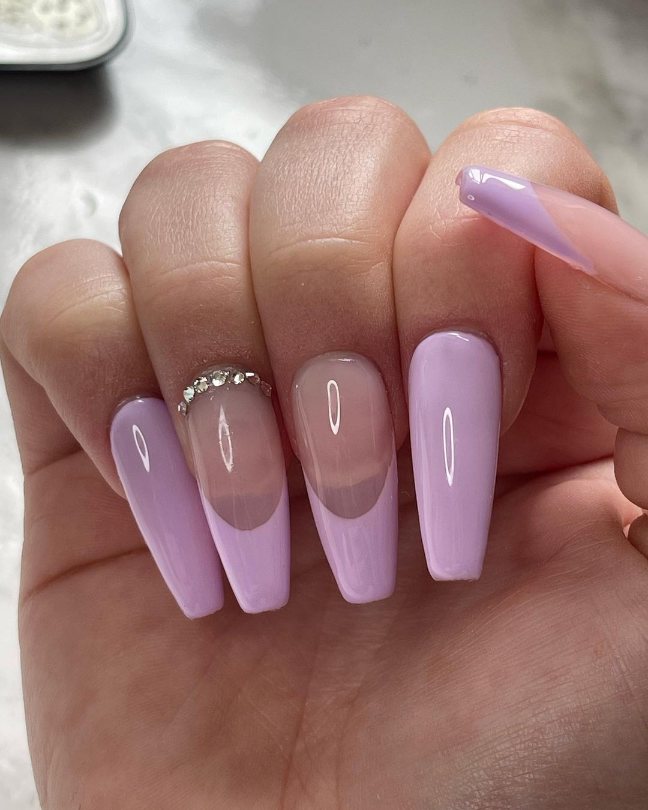 13. Lilac Purple French Tips with Flowers and Stones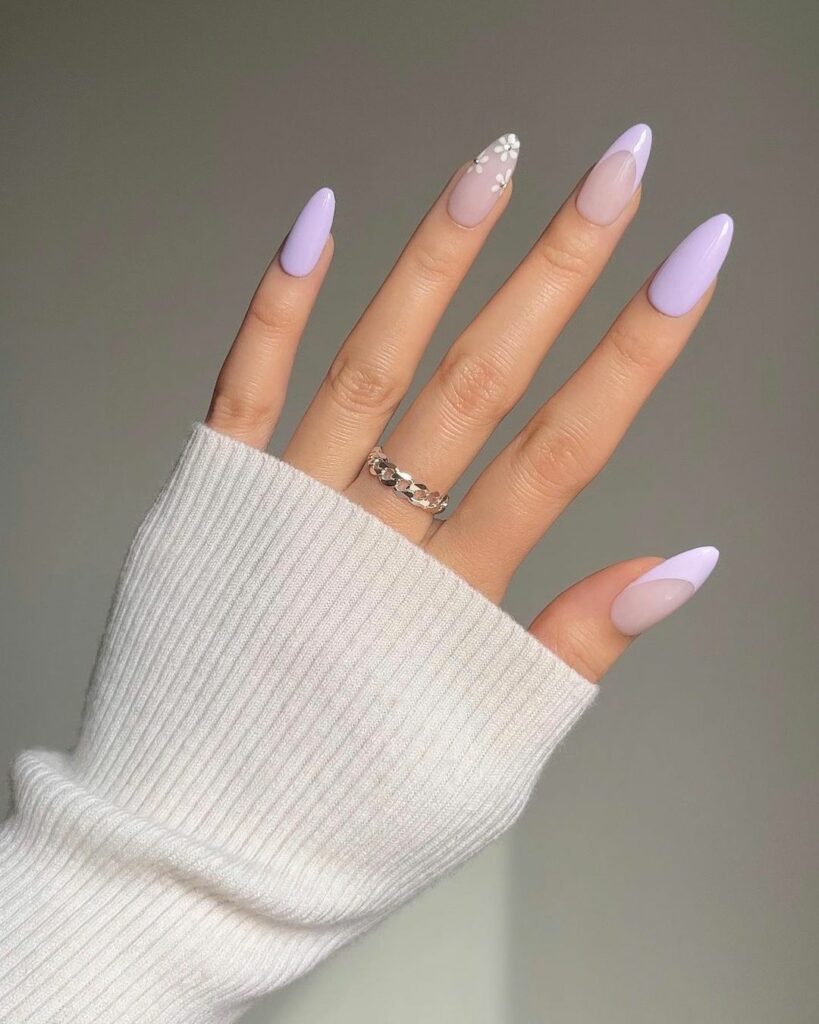 14. Subtle Shades of Purple Side French Tip Nails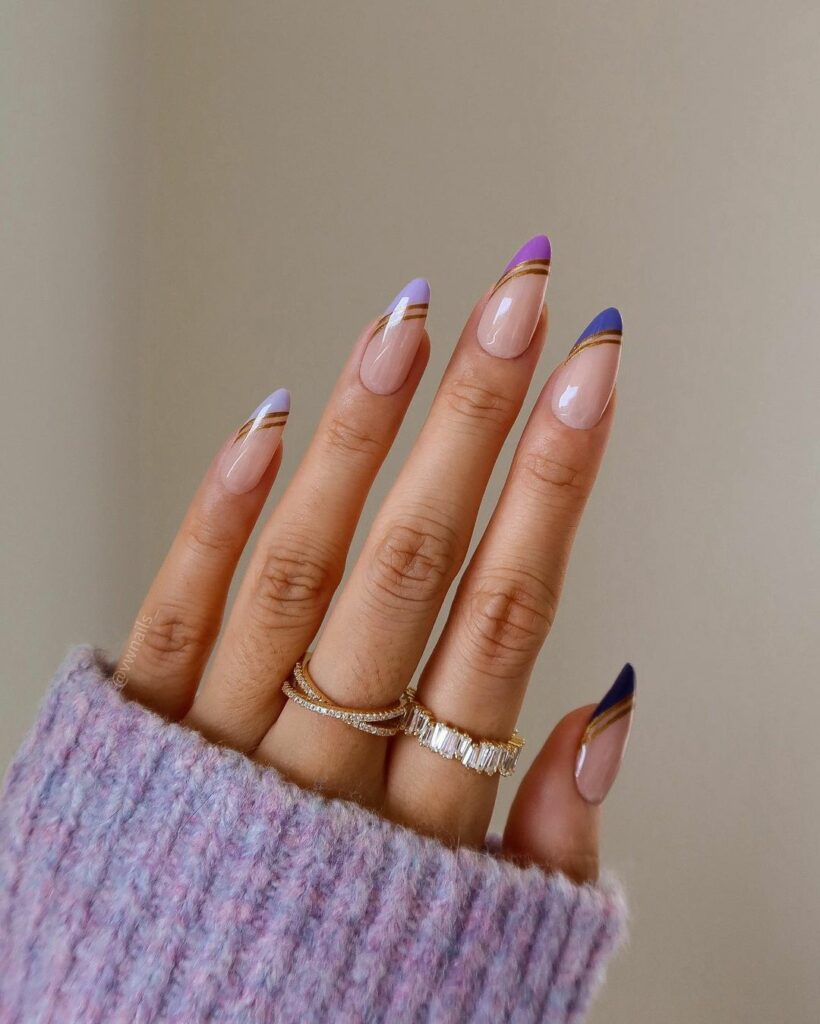 15. Purple Ombre French Tip Nails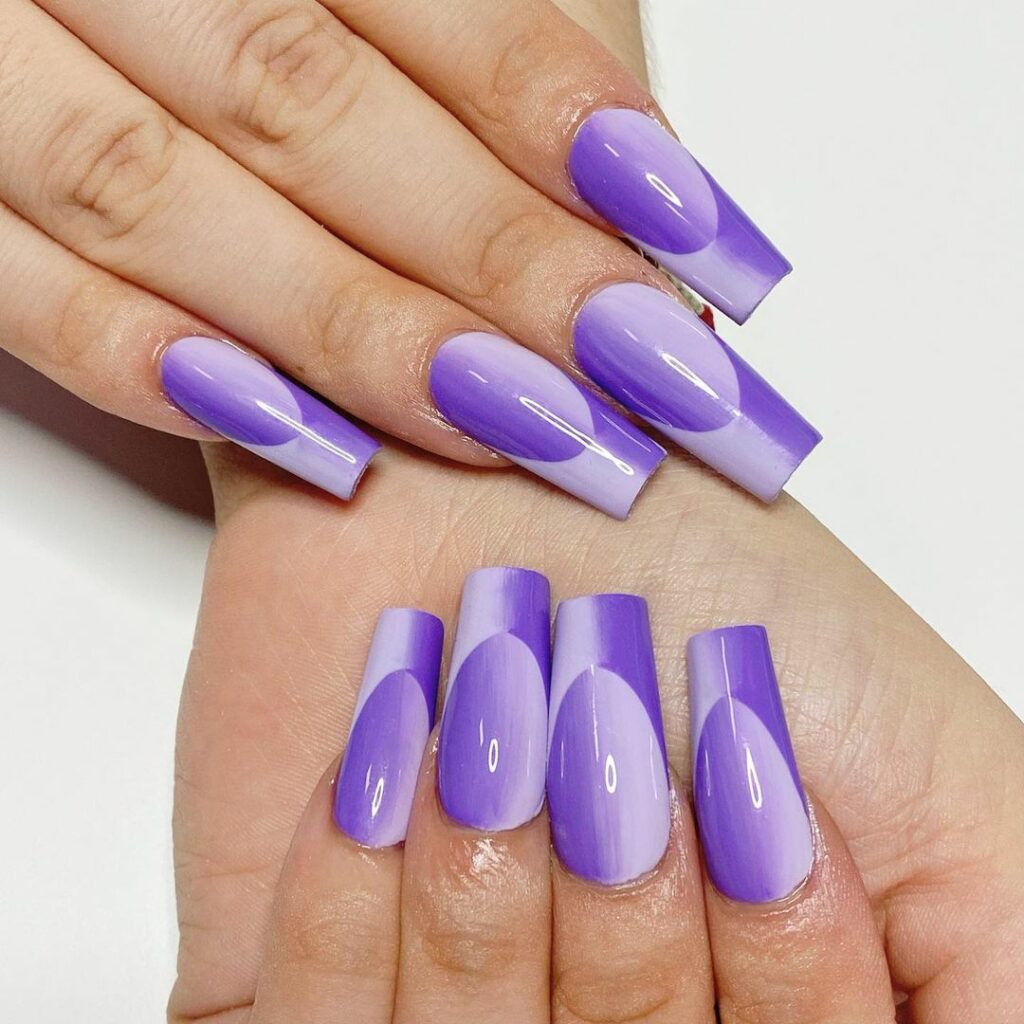 16. Purple Marbled French Tip Nails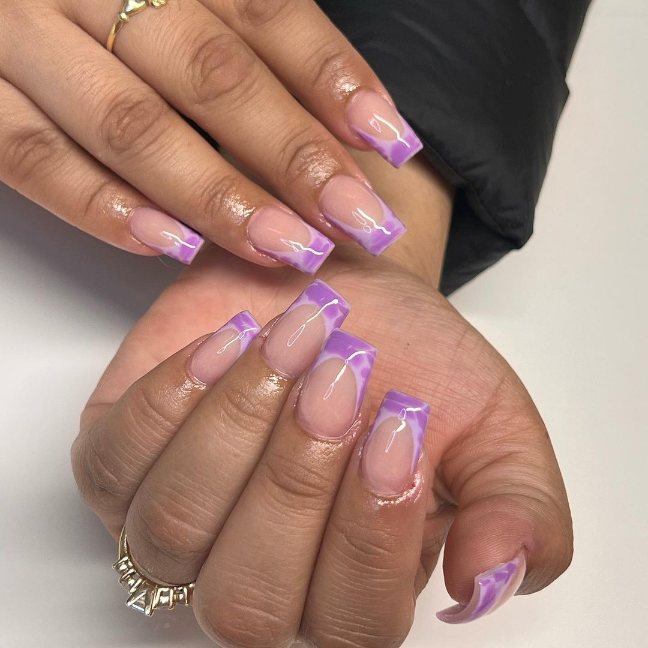 17. Pastel Purple and Blue French Tip nails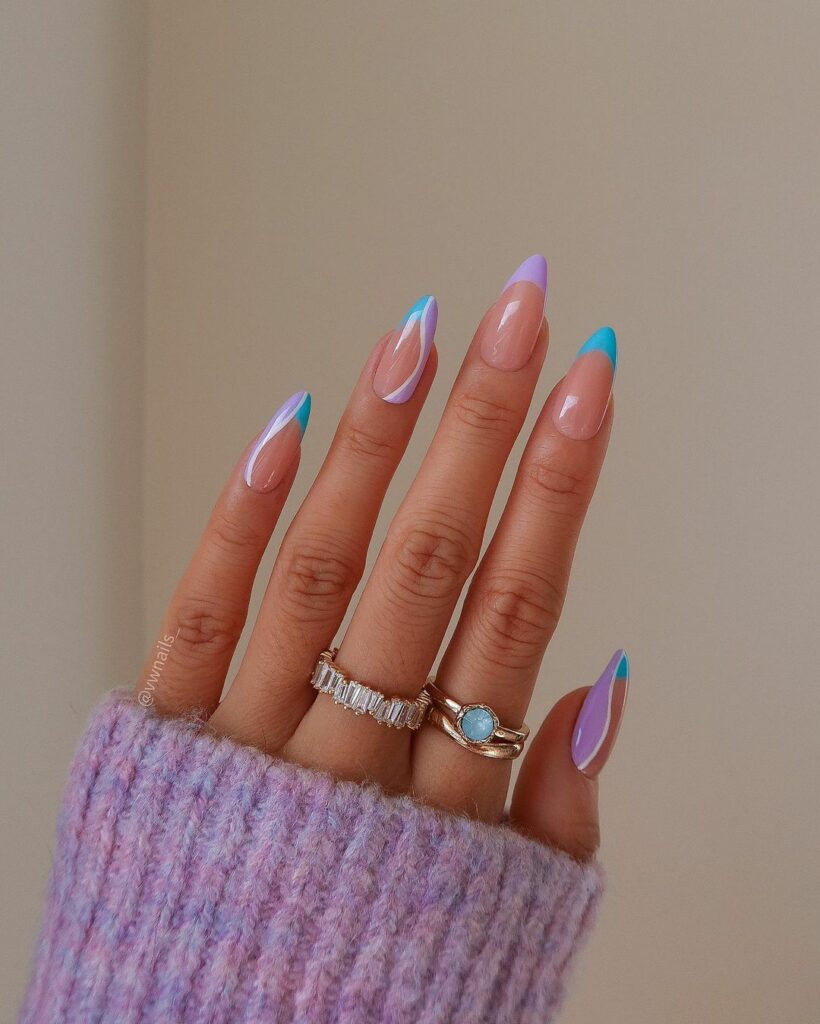 18. Short Dipped Purple French Tip Nails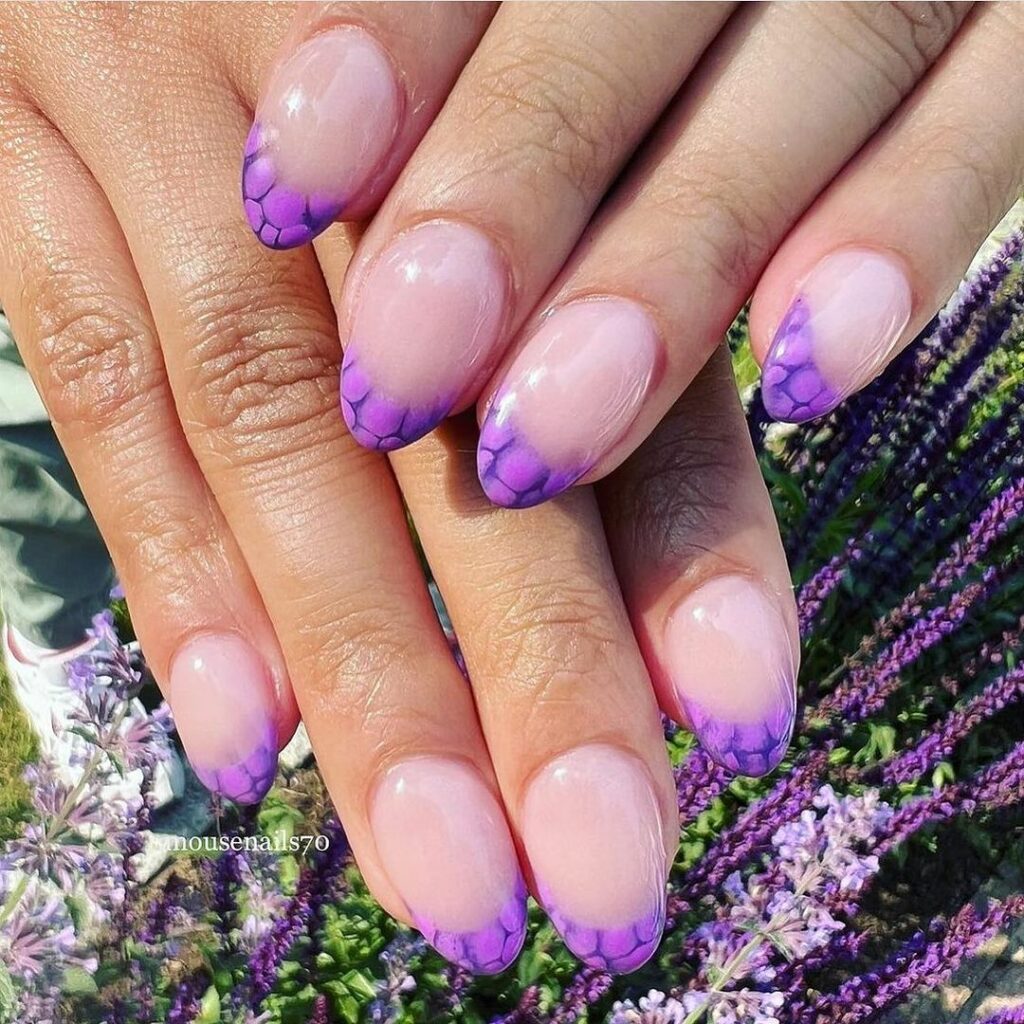 19. Lavender Purple V French Tip Coffin Nails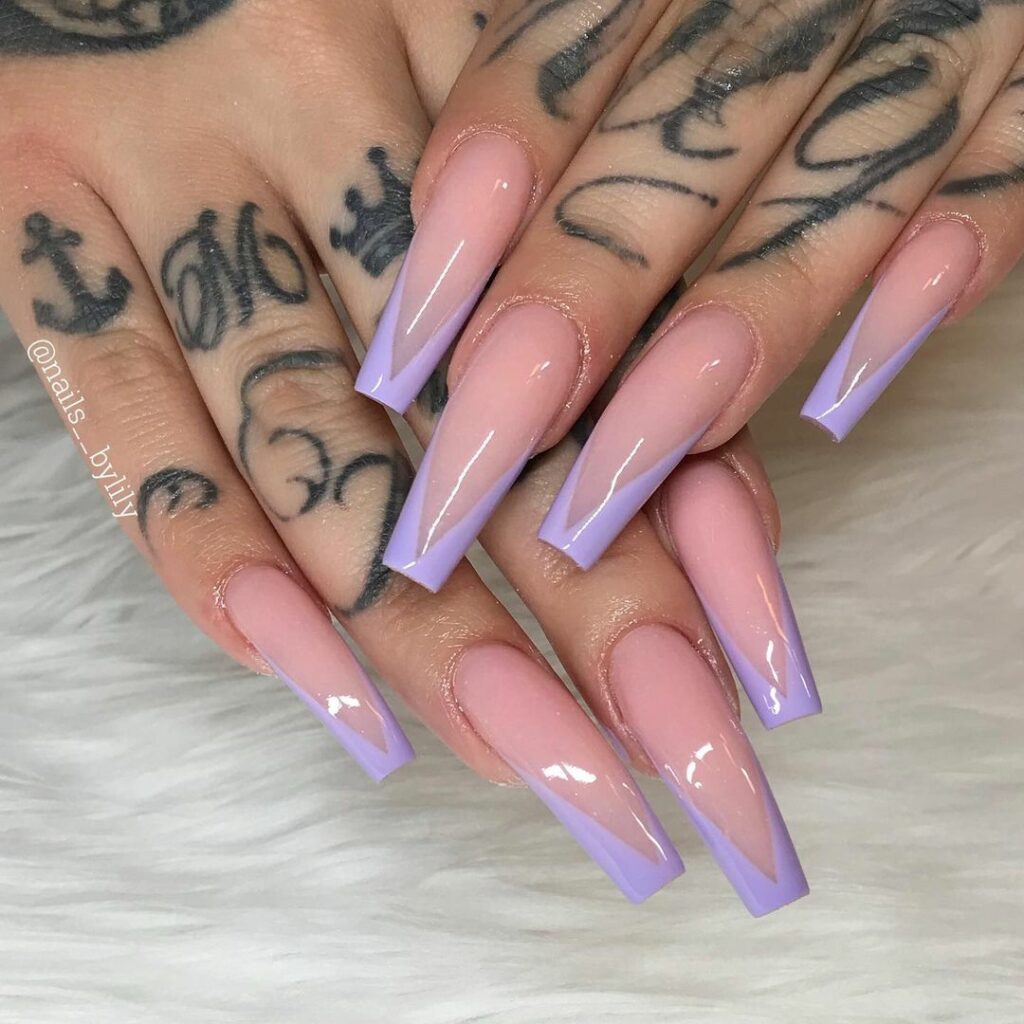 20. Crocodile Print Purple French Tip Nails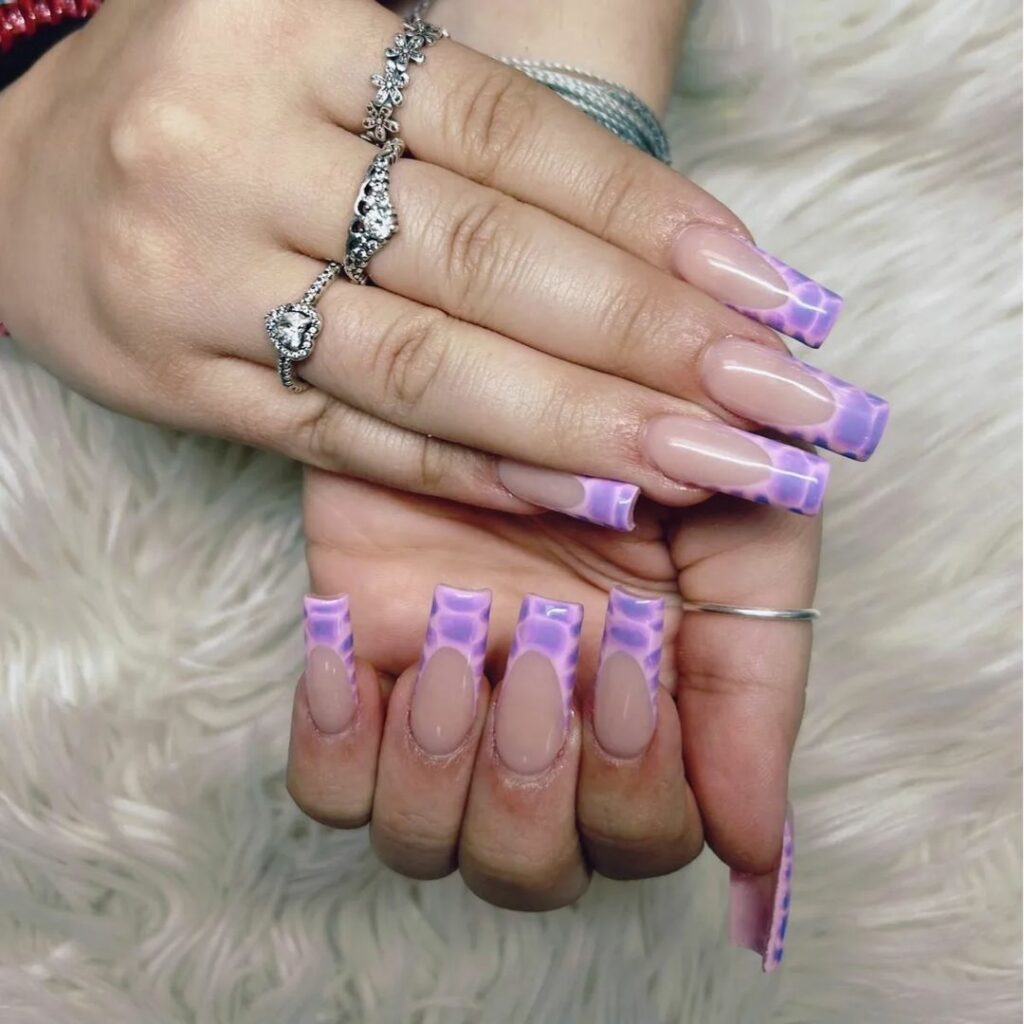 21. Long Acrylic Dark Purple Glitter French Tip Nails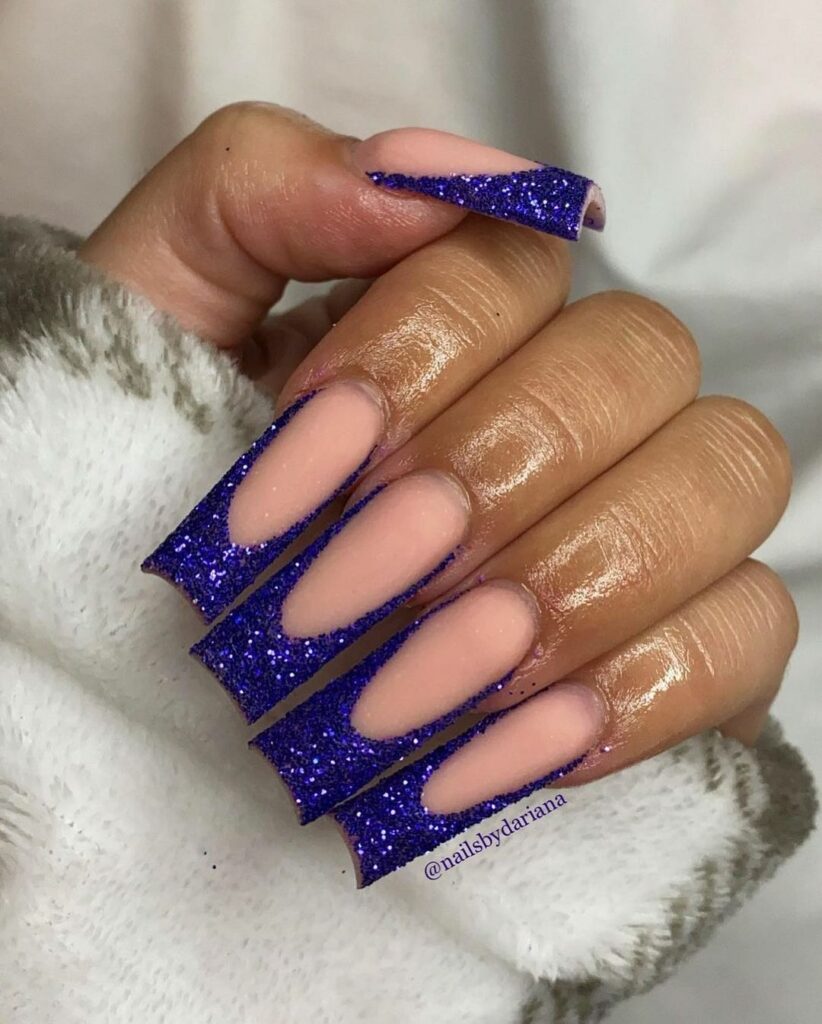 22. Minimalistic Purple French Tip Nails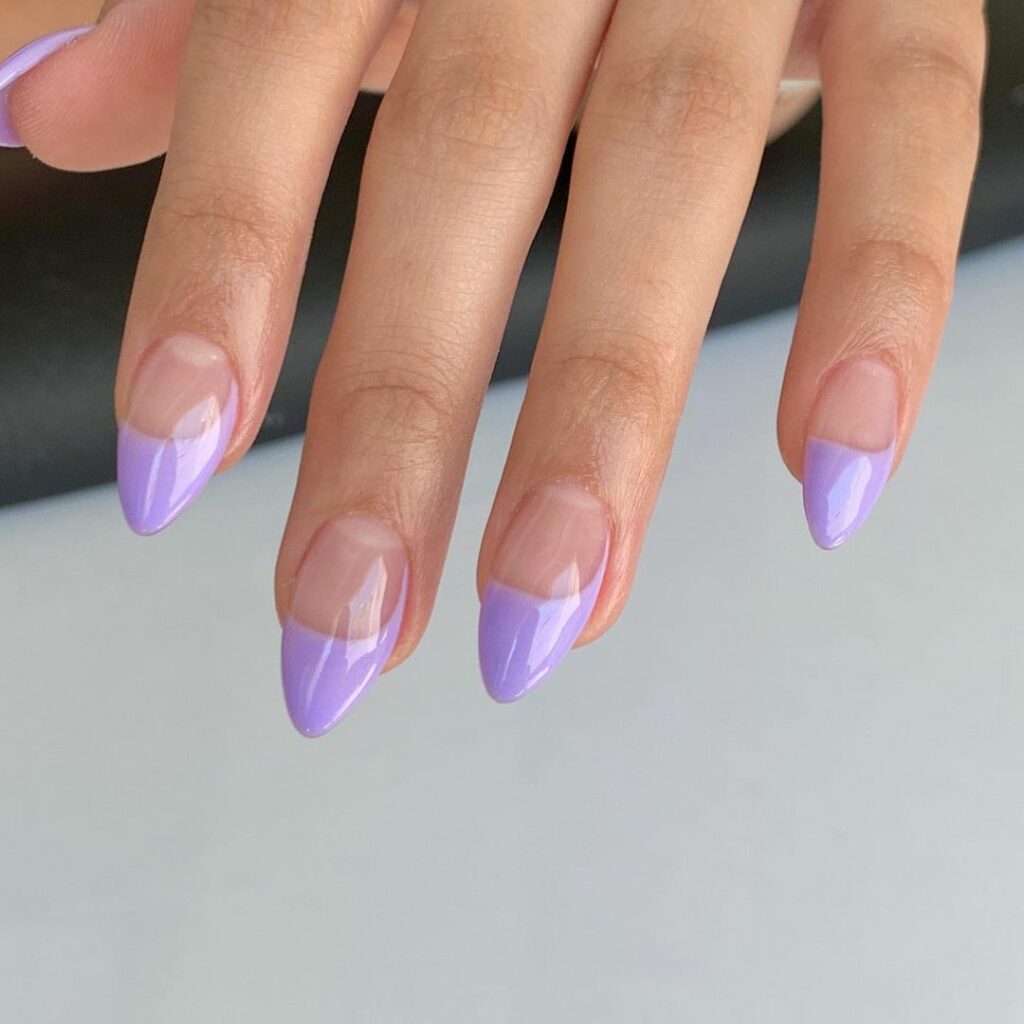 23. Two-Toned Purple French Tip Nails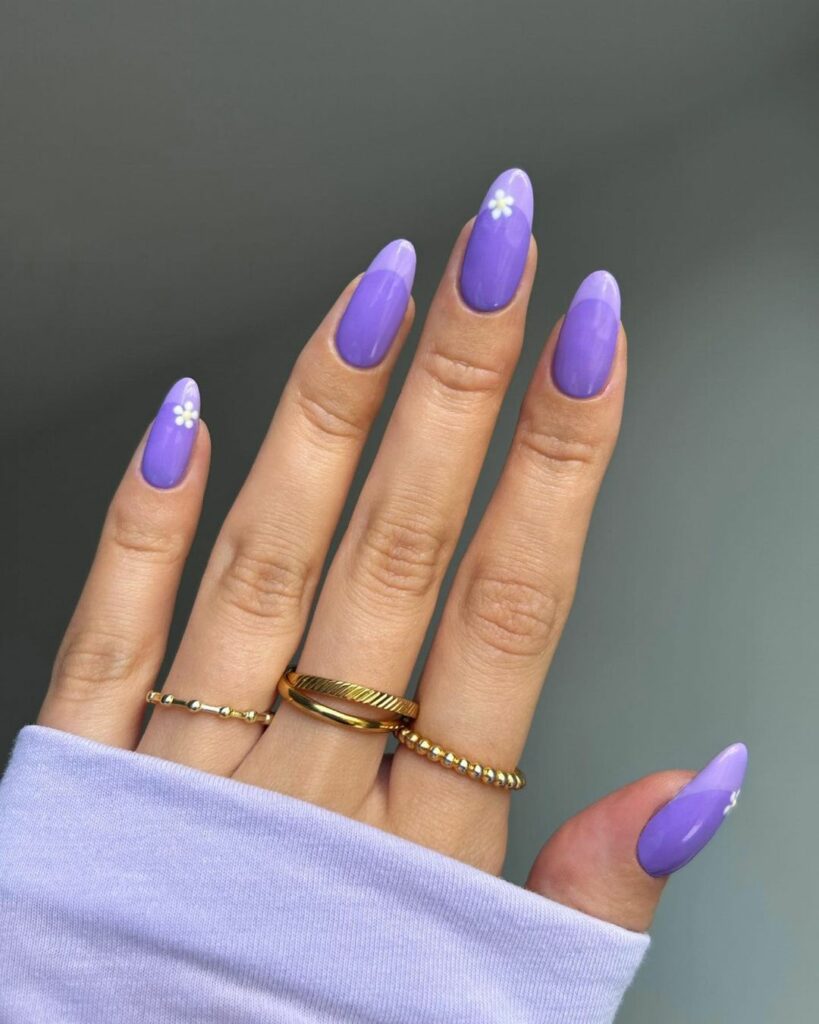 24. Purple Geometric French Tip Nails
26. Christmas Purple Glitter French Tip Nails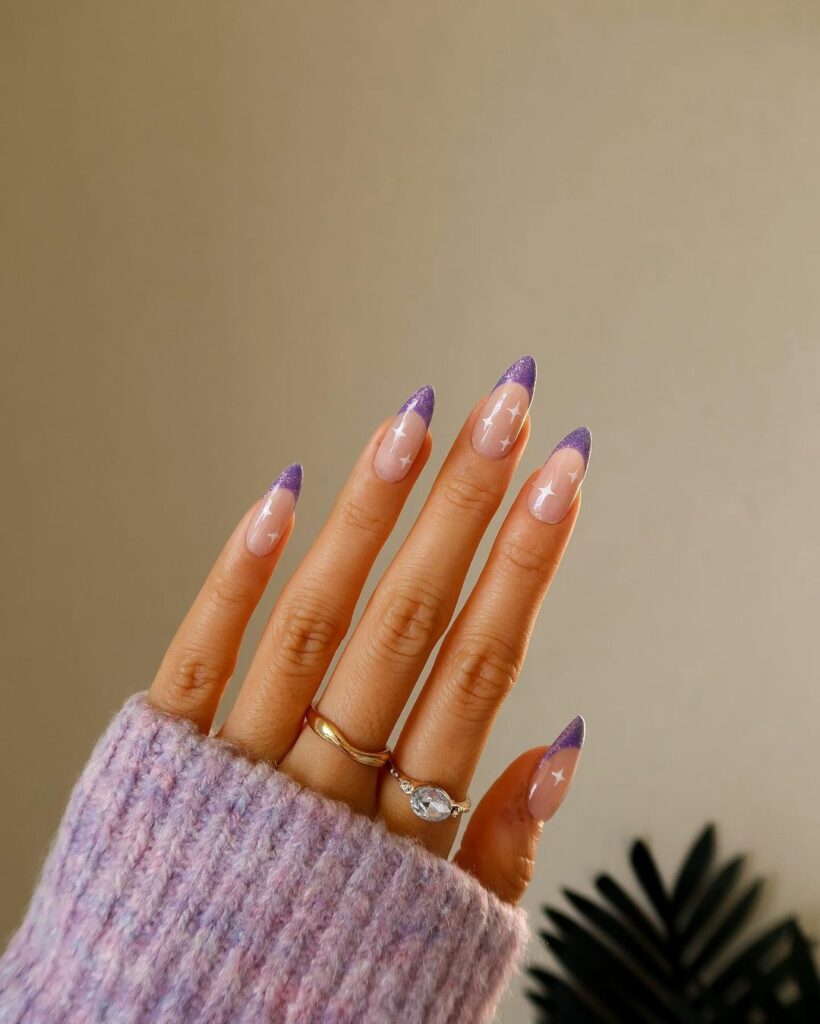 27. Purple Shades of French Tip Nails with Pearls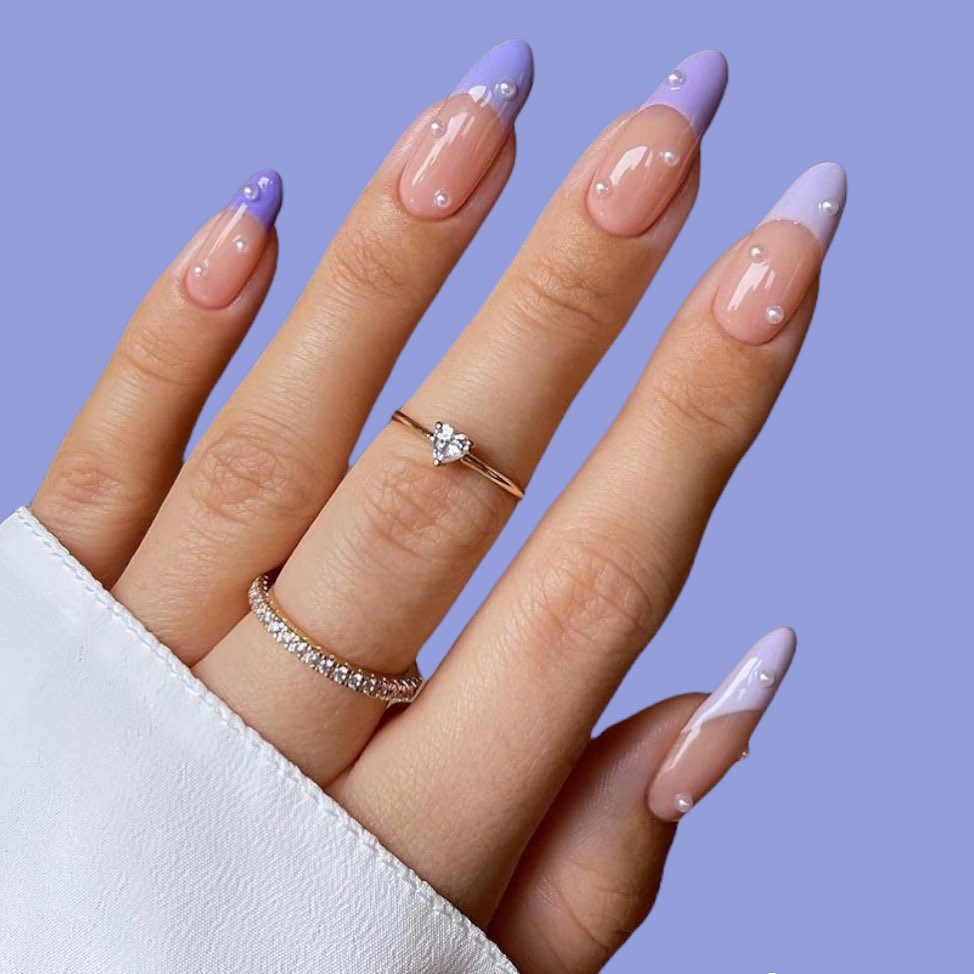 28. Dark and Light Purple French Tips on Stiletto Nails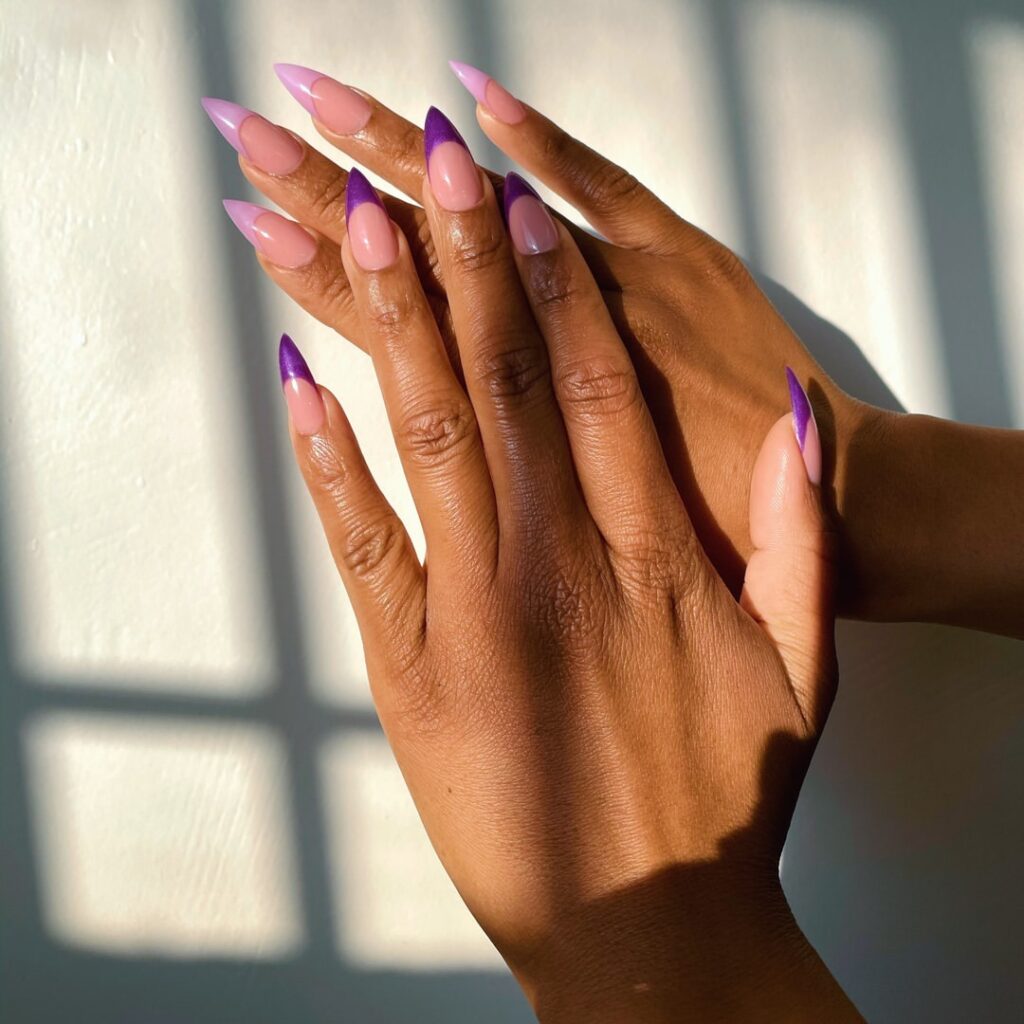 29. Square Purple French Tip Nails with Clouds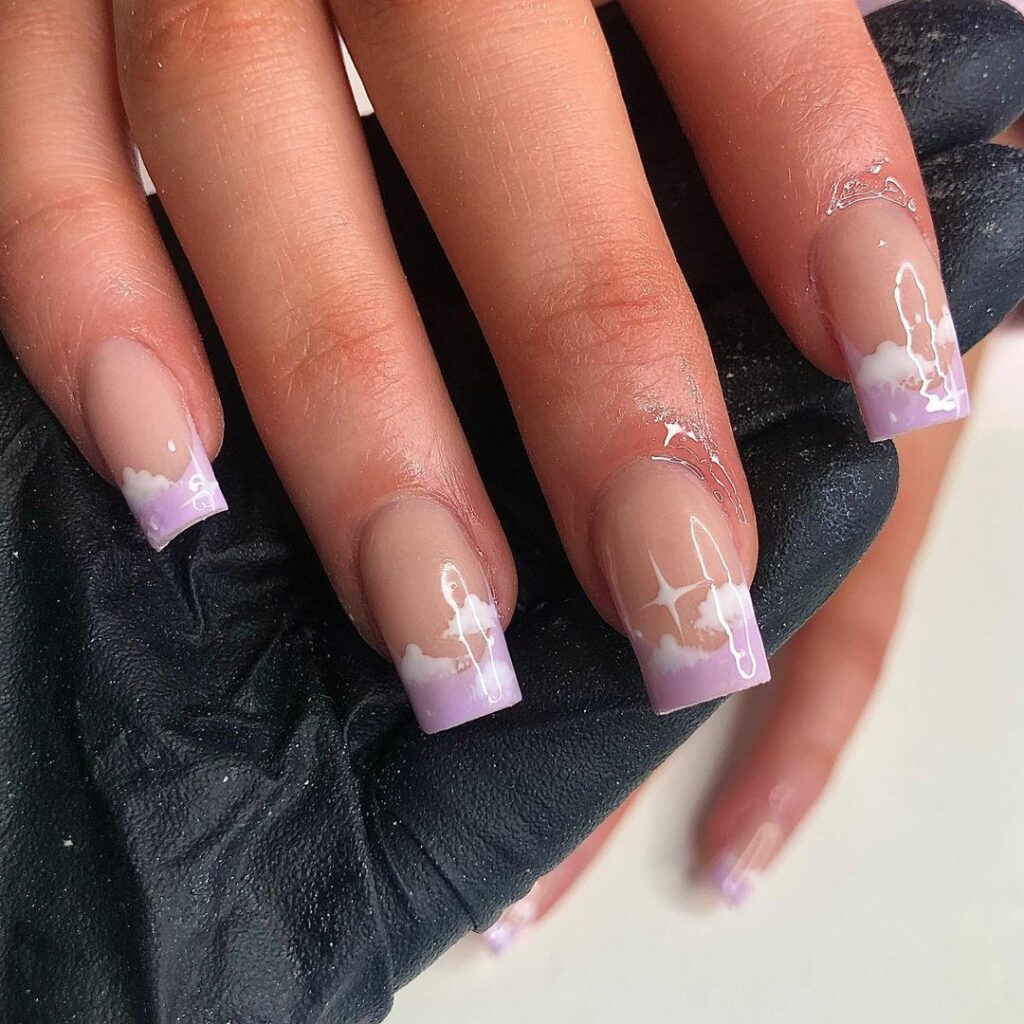 30. Surrealist Purple Pink Lined French Tip Nails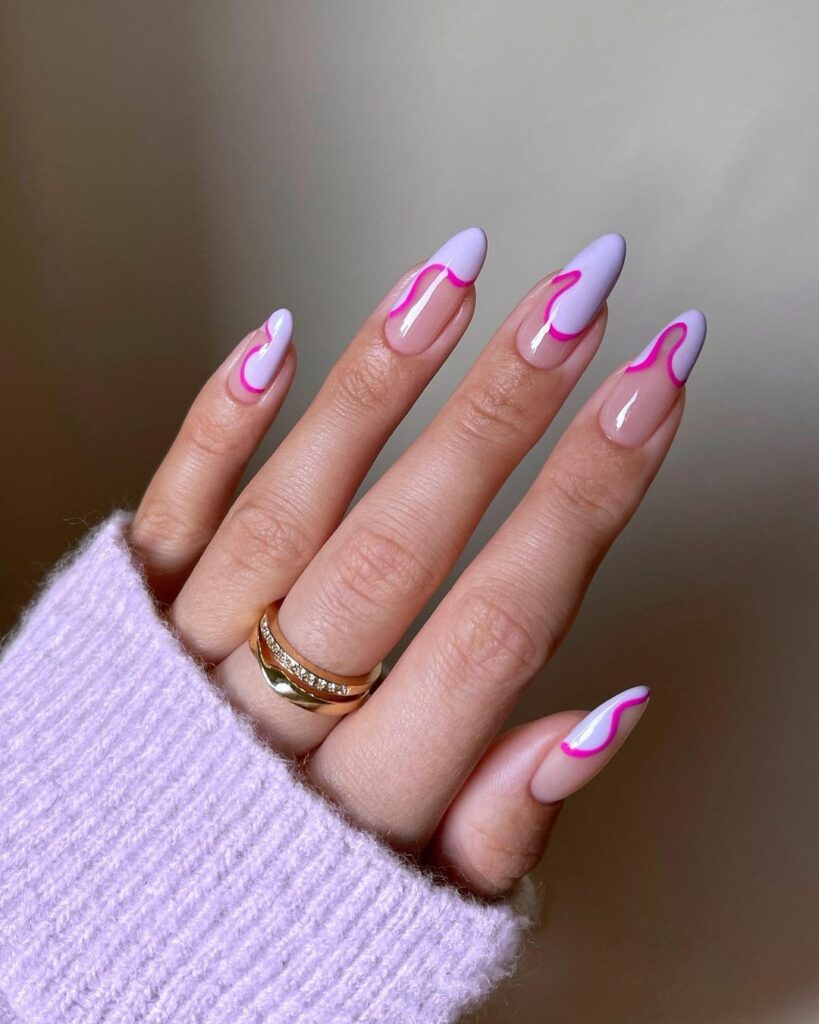 31. Purple French Tip Nails for Halloween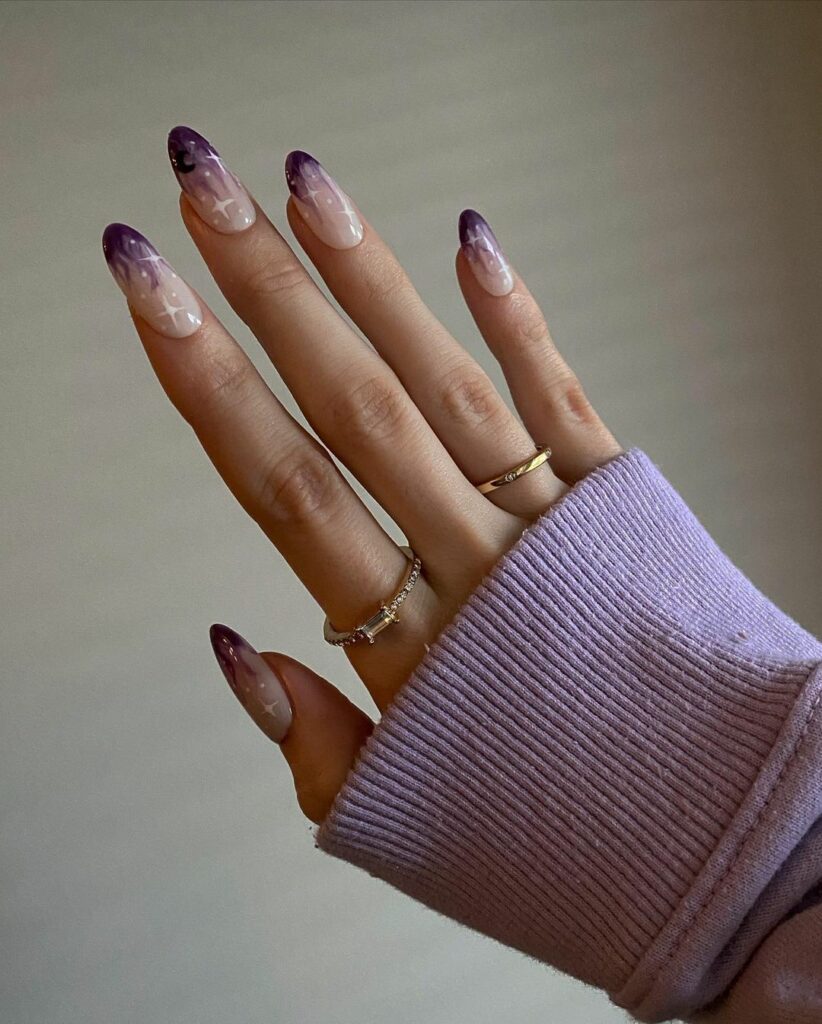 32. Purple Gemstone French Tip Nails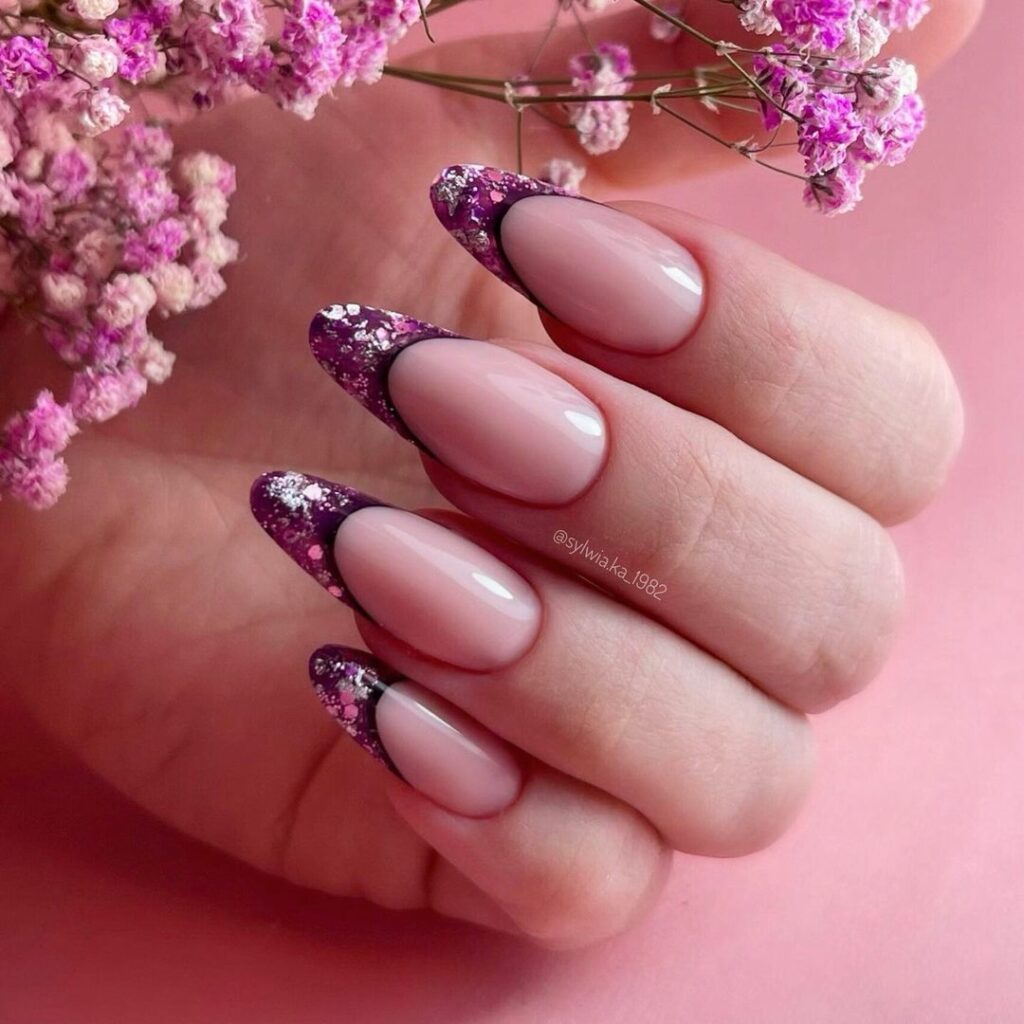 33. Two Lined Purple French Tip Nails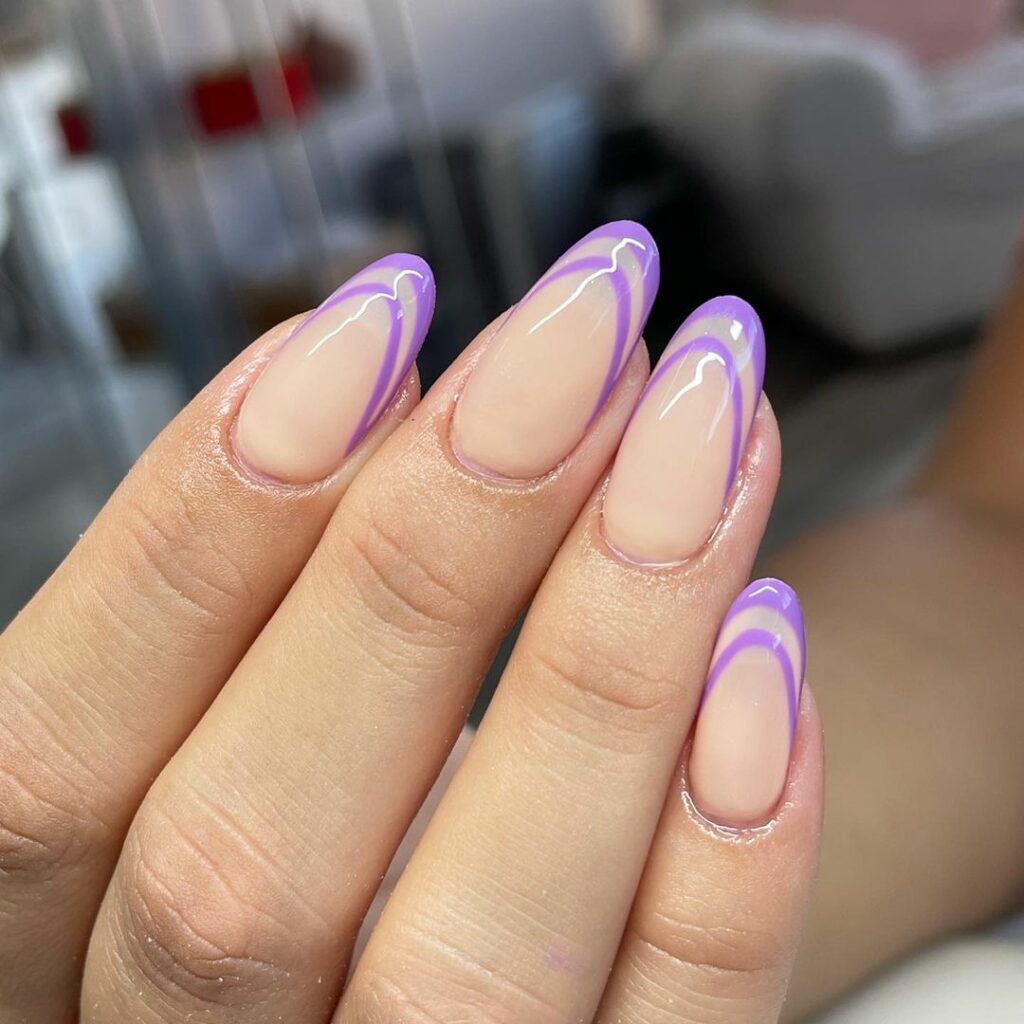 Why We Love Purple French Tip Nails
When it comes to creating purple French tip nails, your nail bed is a canvas, and you're the artist.
There are endless variations to choose from — think matte, glitters, foil chunks, acrylics, embellishments, the whole shebang! Plus, the design is focused on your tips and rarely covers your entire nail, so it often stays longer on your nails as you don't have to worry about the tips of your nails outgrowing the paint!
So, if you're looking for a design that will effortlessly enhance your nails while also saving you money, French tips are where it's at.
And when purple is the color in focus, that's guaranteed to be a smash hit for your overall style!
This stunning color combines the passion of red with the calmness of blue, giving you a hue that's perfect to wear on date nights and other events where you let your opulence shine. After all, purple is the color of royalty, so why not embody it?
Of course, you can also keep things more subtle with a cute lilac shade. It's perfect for lunch with your girlies or for creating a gorgeous Pinterest aesthetic!
Trends for Purple French Tip Nails
These trending designs for purple French tip nails will grab eyeballs wherever you go:
Almond purple French tips with cute hearts.
French tips in matte lilac.
Intricate geometric designs to go with trendy French purple tips.
Metallic purple nails with rhinestones or silver dots.
Nude base with purple tips and swirls on accent nails.
Ombre effect with light and dark purple tips.
Purple nails with daisies and butterflies.
Purple tips with chunky glitter.
Round beige nails with a purple glitter gradient.
Square or squoval marbled French tip nails.
Creating the Pinterest Aesthetic: Hacks That Just Slap
We hate to admit it, but creating purple French tip nails is not as easy as it seems.
So, if you're a beginner to this technique, we're here to give you some helpful pointers to really *nail* this look:
Make silicone nail stamping tools your BFF. This manicure hack — which occupies impressive real estate on #nailtok — offers a super easy way to transfer color to your nails and create perfectly aligned French tips every time.
Use French tip stickers. This is the ultimate cheat sheet for creating a professional-looking mani. It has a self-adhesive that holds well, so you should be able to keep your mani for a decent amount of time without spending a bomb.
Invest in a pointed brush. Mess is part and parcel of creating nail art. So, instead of steering clear of designs you're yet to master, simply dip a brush in acetone and swipe it at your messes and wayward strokes for a clean end result.
Remember to take the time to watch videos of nail artists; it will give you the blueprint to create the most gorgeous purple French tip nails of your dreams.