Ok so far, we are loving all the nail trends of 2023.
Some of them are a new spin on old favorites, and in this post, we will go over something new, well, newish.
Simple nail art that can be recycled many times over and still be a breath of fresh air the triangle French tip nails are that something.
Keep reading because, in this article, we will explain what the triangle French tip nails are, some of the best ideas and trends for this nail design, and how to achieve the triangle French tip look at home.
What are Triangle French Tip Nails
For those of you that are confused as to what triangle French tip nails are, they are a modern take on the classic French look that expresses femininity and no shying away from any attention this look is sure to bring.
This look is like two triangles on either corner of your nails free edge. This trend is taking over this year because it tends to look elegant on longer nails but can also be flattering on shorter nails. So anyone can rock it.
Chevron French manicure is another name that this style is known by.
37+ Best Ideas for Triangle French Tip Nails
Having a hard time imagining ideas for triangle French tip nails? Keep scrolling because we have 30 images that will grab your attention.
1. Square Black Triangle Frenchies
2. Orange and White Outlined French Tips
3. Mint Spider Frenchies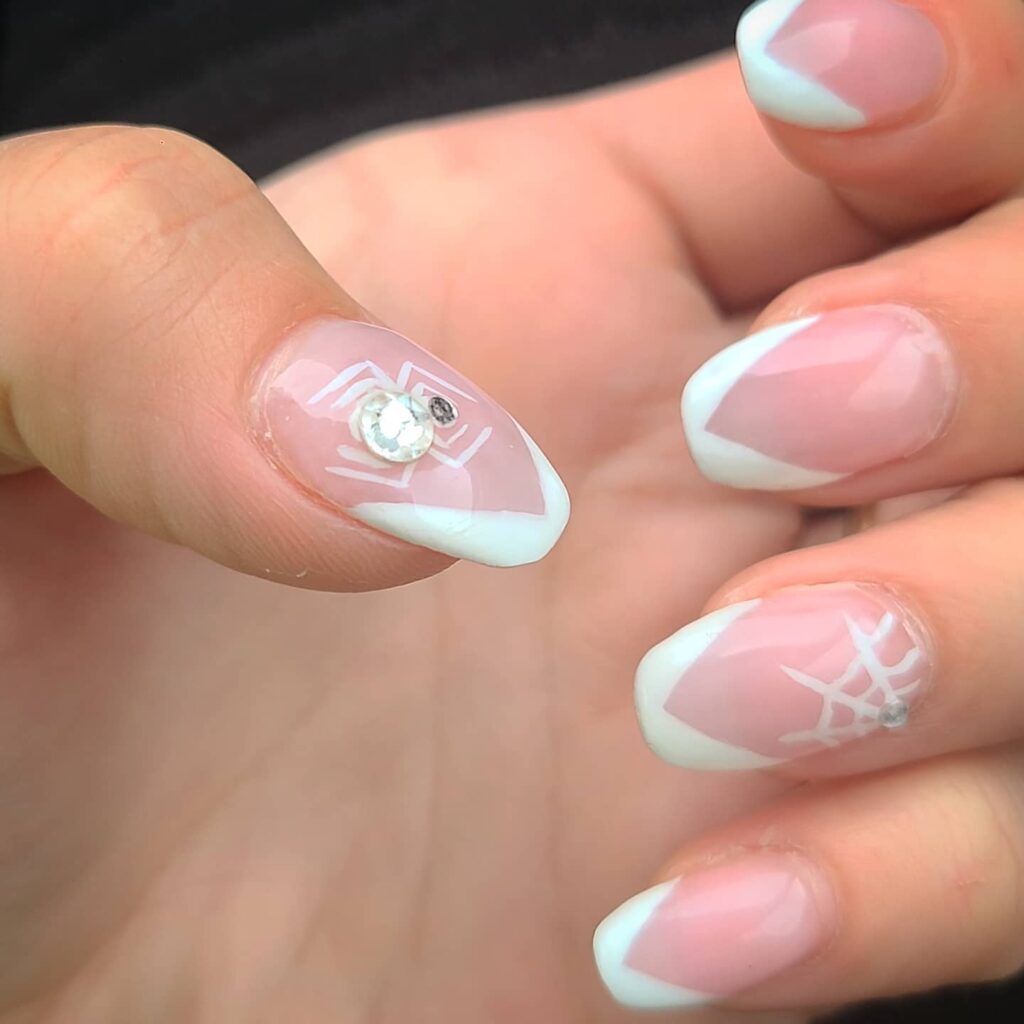 4. Black Coffin Triangle French Tips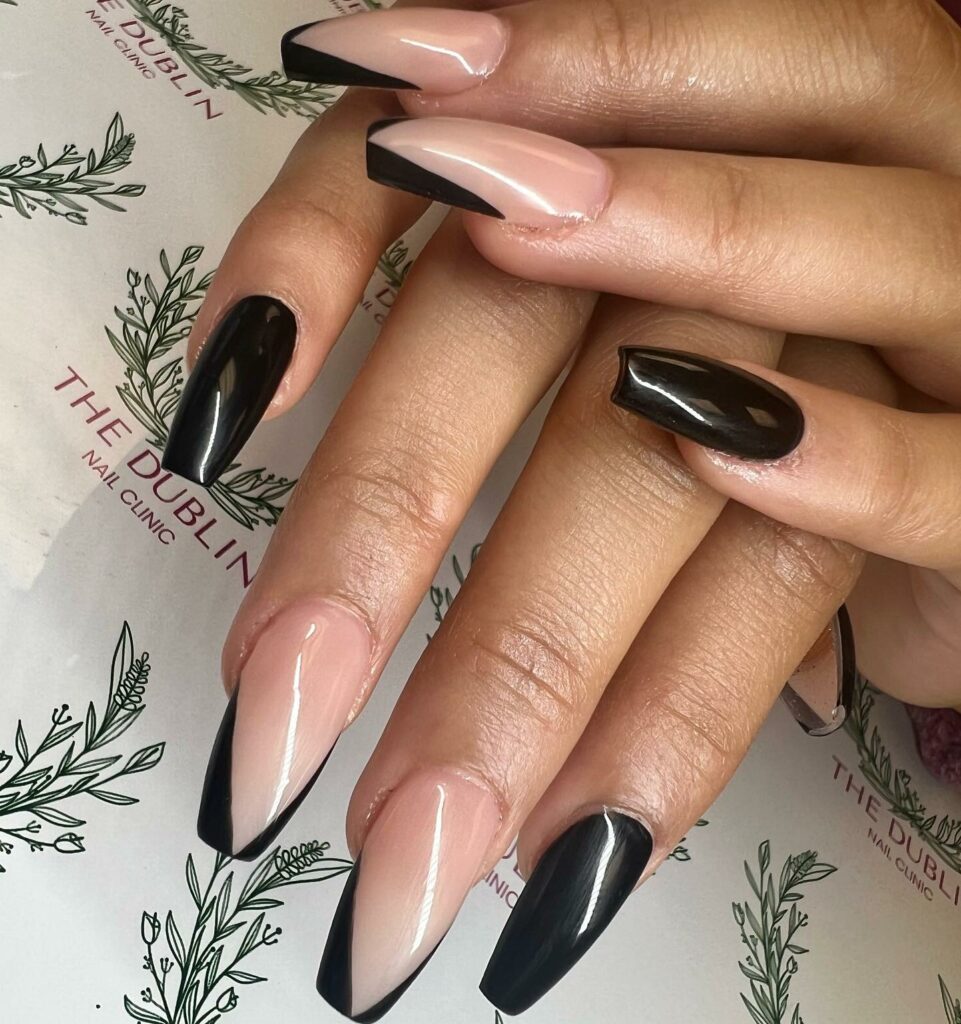 5. White and Red Short French Coffin Tips
6. Bright Triangle French Tips
7. Fruschia Triangle Frenchies
8. Cherry French Tips on Coffin Nails
9. White Coffin French Tips with Butterflies
10. Matt Pink Triangle Frenchies
11. Black V Cuts
12. Short Black Frenchies
13. White and Pink French Tips
14. Baby Blue Coffin V Cuts
15. Royal Blue and White French Triangle Tips
16. Fall Triangle French Tip Nails
17. Olive Green Nails
18. Glitter Outlined Frenchies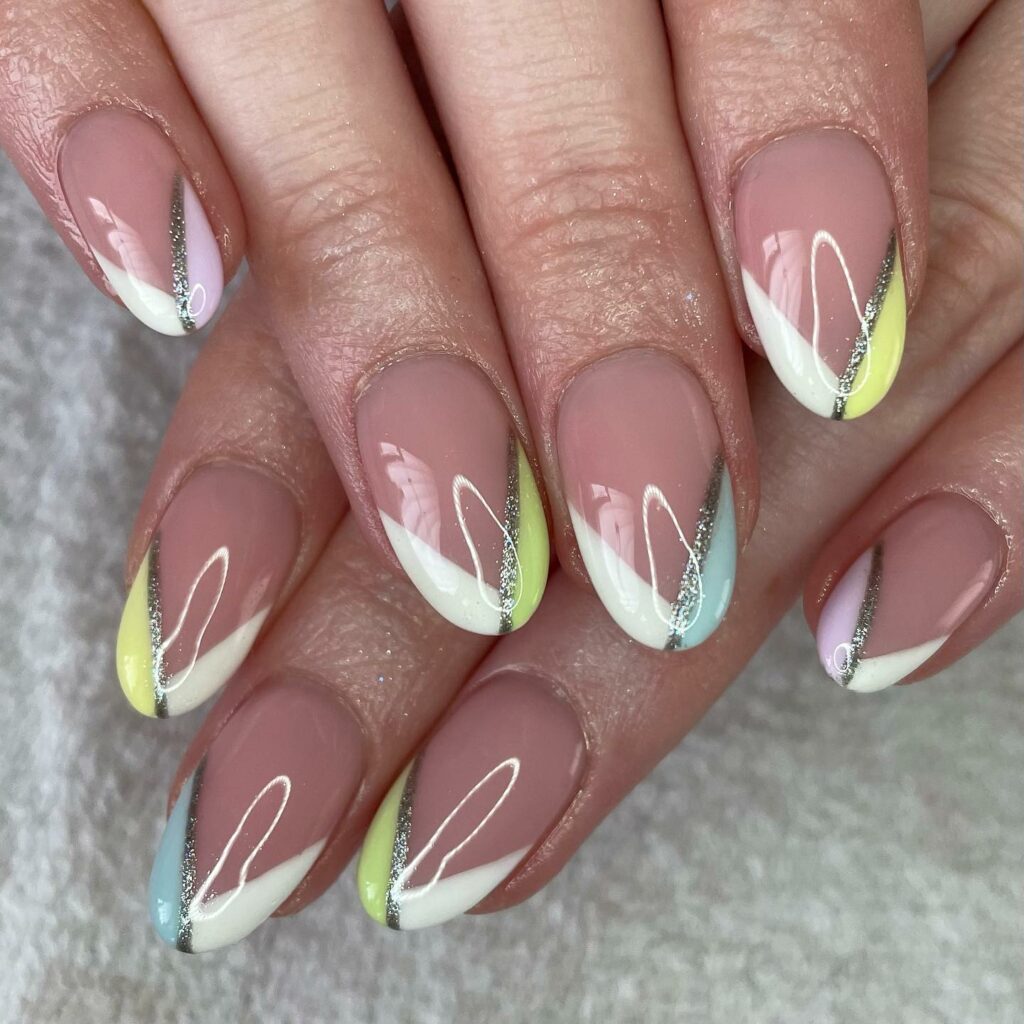 19. Spring French Tips
20. Cobalt Blue French Tips
21. Glitter Coffins and V Cut Frenchies
22. Classic White V Cut French Tips
23. Rhinestones French Tips
24. Triangle Black French Tips
25. Orange Ombre Nails
26. White Frenchies with Stones
27. Coral and White Triangle French Tip Nails
28. Emerald Green French Tips
29. Nude and Black French Tips
30. Short Glitter Coffins
31. Aqua French Tip Nails
32. Nude Frenchies
33. Pink Coffin Nails
34. Light Pink French Tips with Rhinestones
35. Mermaid French Tip Nails
36. Nude Coffin Nails
37. Pearl French Tips
38. Aqua Blue and White Triangle Frenchies
39. Hot Red Nails
40. Neon Triangle French Tip Nails
41. White and Silver Mountain Peak Nails
Most Popular Shades for Triangle French Tip Nails
You can use any color for your triangle French nails, but keep reading for some shades that will take your look to the next level.
Diagonal white and gold French tip nails.
Navy blue triangle French tips.
Neon pink, green, and black.
White and slver chrome
Neon hot hot hot pink
How to do Triangle French Tip Nails at Home
The best part about this trend is that you can do it to yourself in the comfort of your home.
All you will need are clippers, cuticle nippers or mani scissors, file, buffer, base, and top coats, and of course, the polish of your choice, striper brushes, and a clean-up brush.
Starting out, you are going gently push the cuticles back and trim any excess skin that is sticking up, being careful not to overcut the cuticle.
Next, you will want to cut and/or file the nails to the shape and length you are comfortable with.
Being that the triangle French nails can look lovely on most nail shapes and lengths, once you have reached the shape and length you desire follow up with a light buffing of the free edge and the base of the nail to eliminate any bumps, ridges, and sharp points.
Next, you can apply some acetone to the nail to cleanse off any oils and begin polishing your base coat. Followed by the base color you have chosen, cover the entire nail.
Let it dry.
Finally, use a striper brush dipped in the color you are using for the triangles. Polish, in one long solid stroke from the side of the nail to the middle of the free edge. Move to the other side of the nail and mirror the striper stroke.
Next, you will use the polish brush to lightly fill in the color of the triangle French tips followed up with a shiny top coat. You are all done!
That's all there is. We've broken down what triangle French tip nails are and shared over 30 ways you can wear this elegant and eye-catching style. We also discussed how to master the look on your own. Now you get to enjoy it.