Black nails never go out of style; they just keep getting reimagined!
This edgy, chic, and glamorous color has been in the spotlight forever — and we don't suspect that will change anytime soon.
That said, it's far too common to see it on long nails than short, but if current trends are any indication, it's now gaining a stronghold with shorter nail beds, too.
You know what they say — better late than never!
Thanks to their rise in popularity, we see a lot of short black nail designs conquering our Instagram feeds. Read on to learn how you can work with this color to transform your short nails!
Styling Tips for Short Black Nail Designs
Got short nails? Have no fear; you can shape them into ovals, round, lipstick, or almond nail shape to give your tips an elongating effect.
When working your magic on this nail size, apply a thin coat of glue around your nail. This is because you have a small area to work on, which means there's a higher risk of errors. You should also apply your polish in thin coats, letting each dry thoroughly to prevent smudging and keep bubbles at bay.
You can also use nail art and embellishments to elevate your look. Stripes, patterns, stamping, and rhinestones are all good options.
And remember to always use complimentary colors for accents. White, nude, and beige are fantastic paired with black.
Best Ideas for Short Black Nail Designs
From sparkling and glittery to minimalistic, chic, and edgy, here's a roundup of the best short black nail designs on the internet that will never go out of style.
Screenshot your favorite design to take to your nail artist!
1. Basic Short Black Nails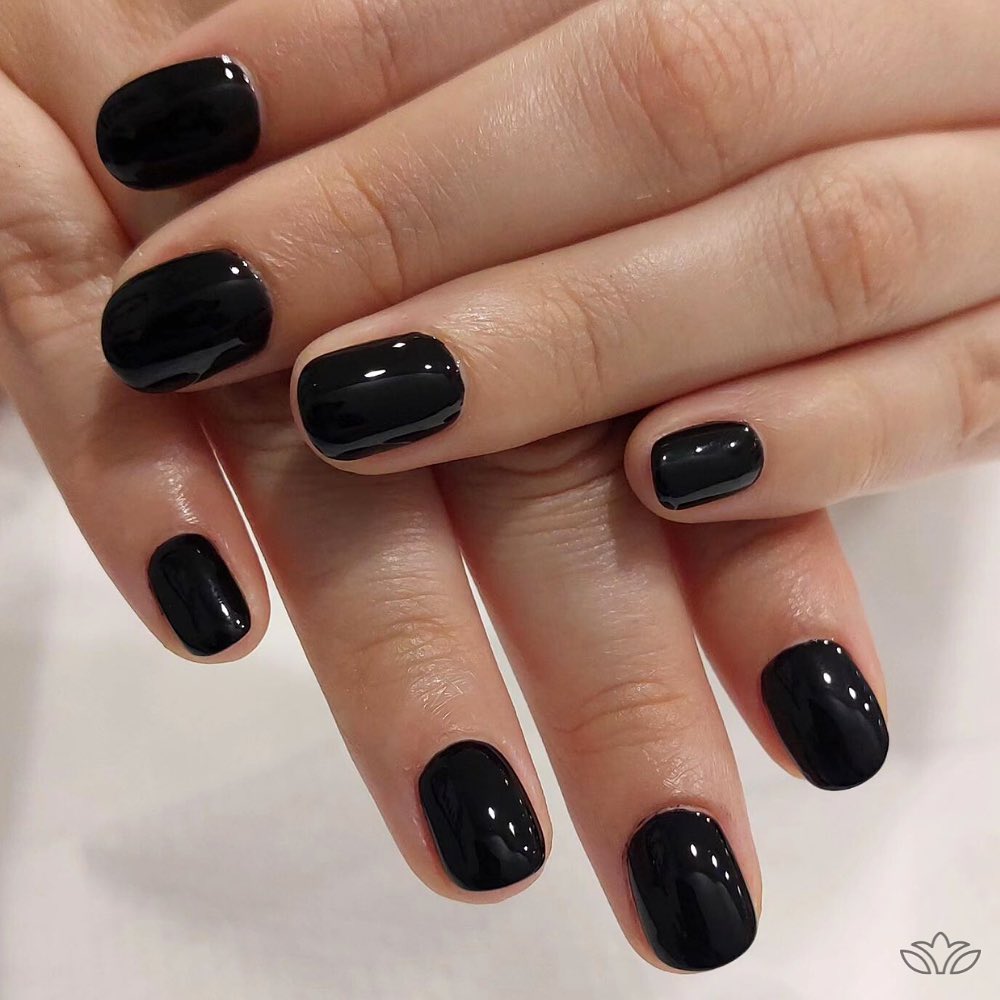 2. Zebra Print Black Short Nail Art
3. Black & White Short Nail Design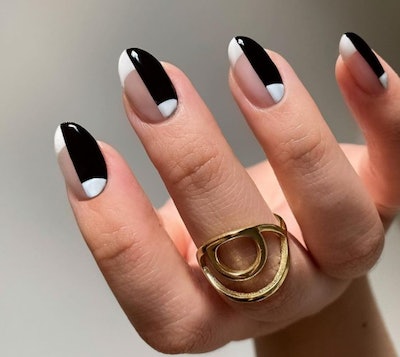 4. Subtle Black Leopard Short Nail Design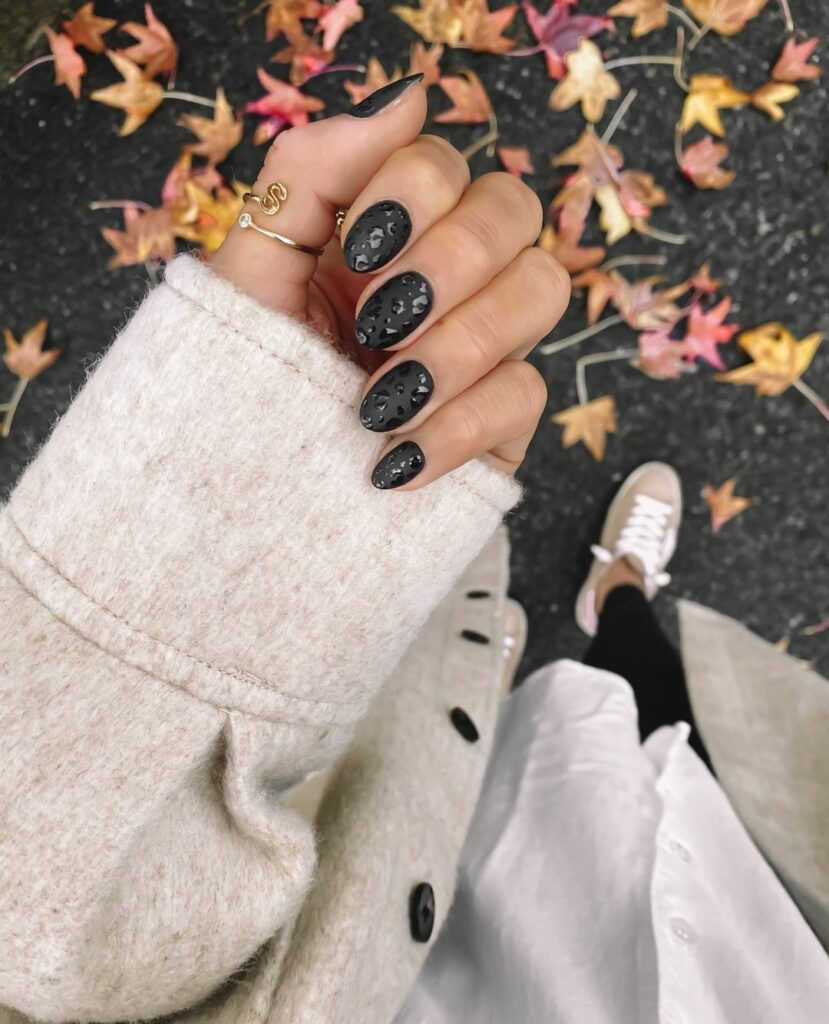 5. Short Black French Tip Nails Design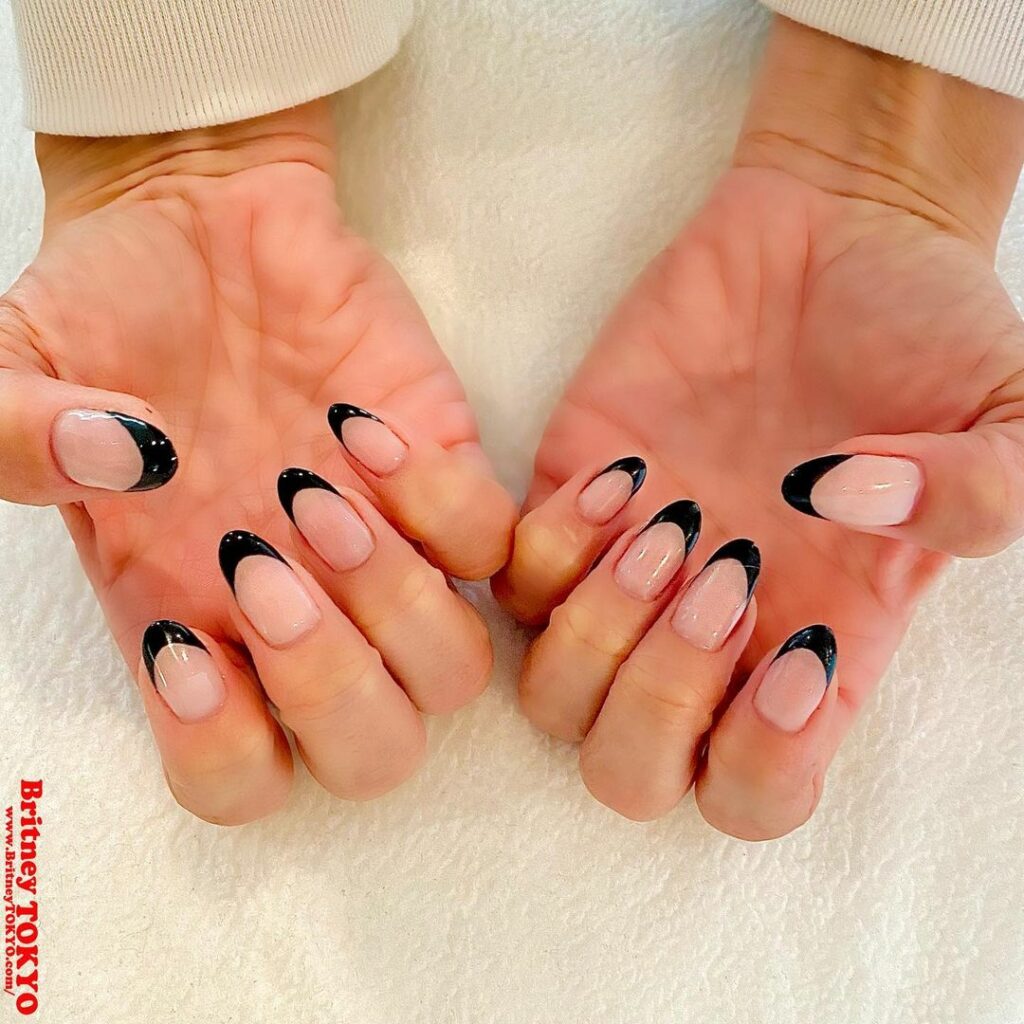 6. Short Black Moon French Nails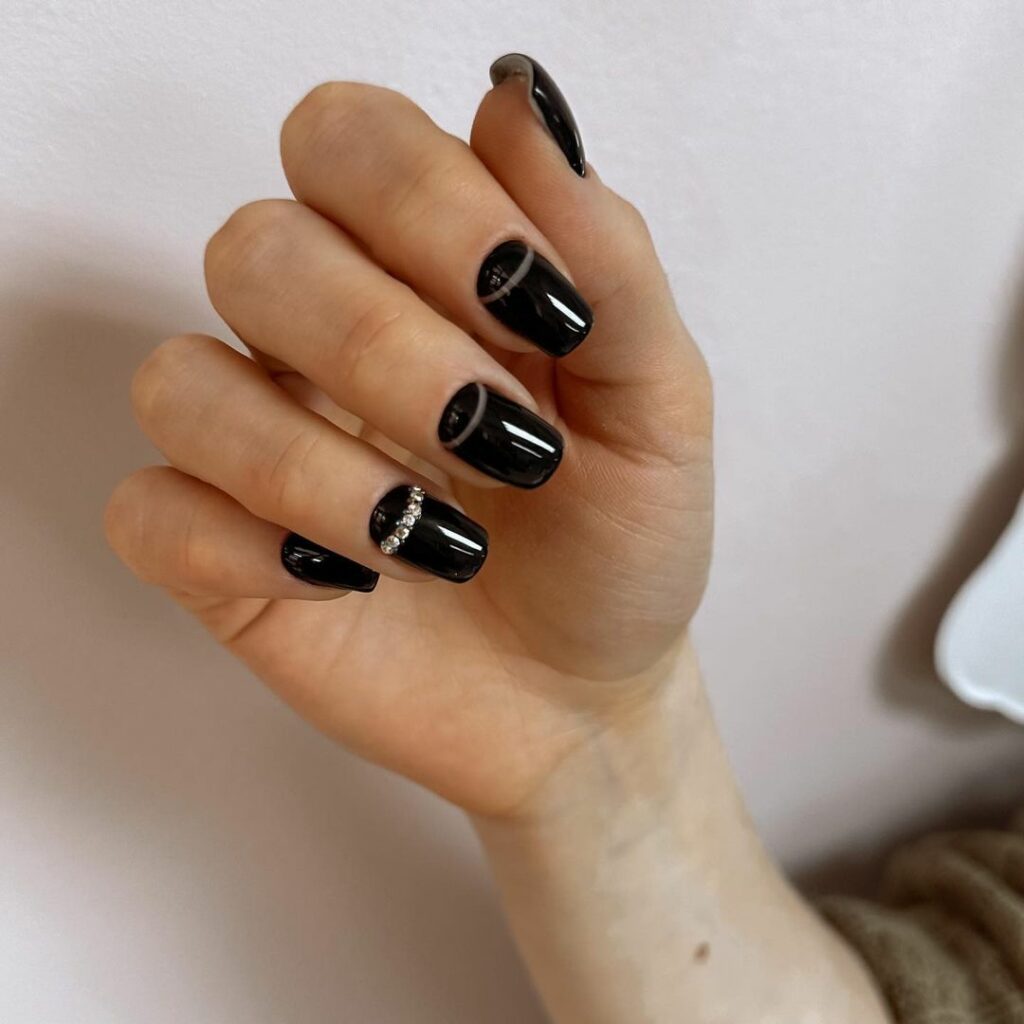 7. Checkerboard Black Short Nail Design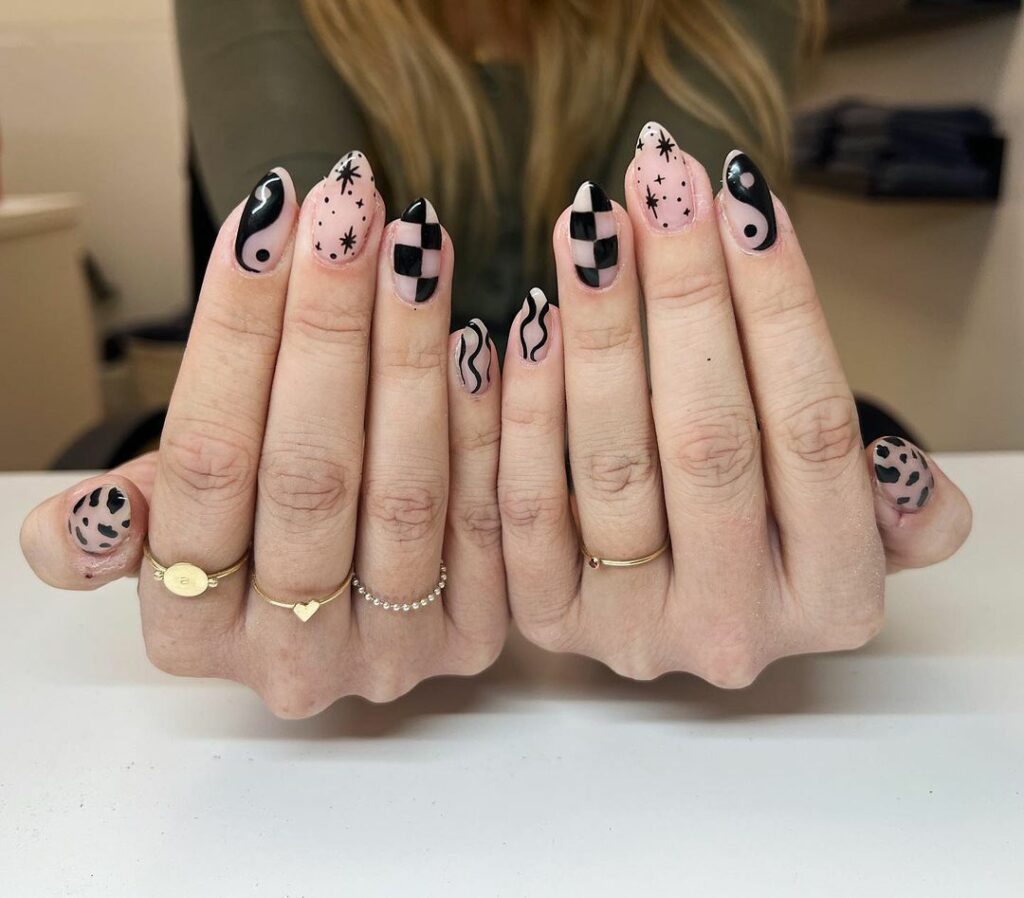 8. Black Short Nails with White Smoke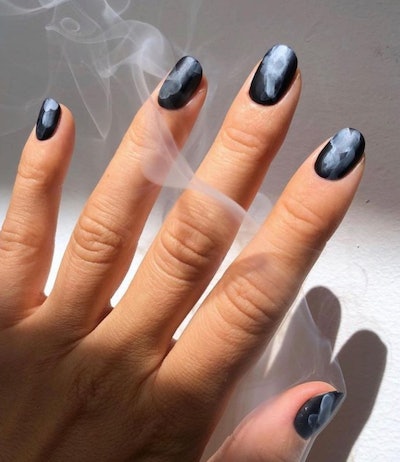 9. Clean Black French Tip Short Almond Nail Design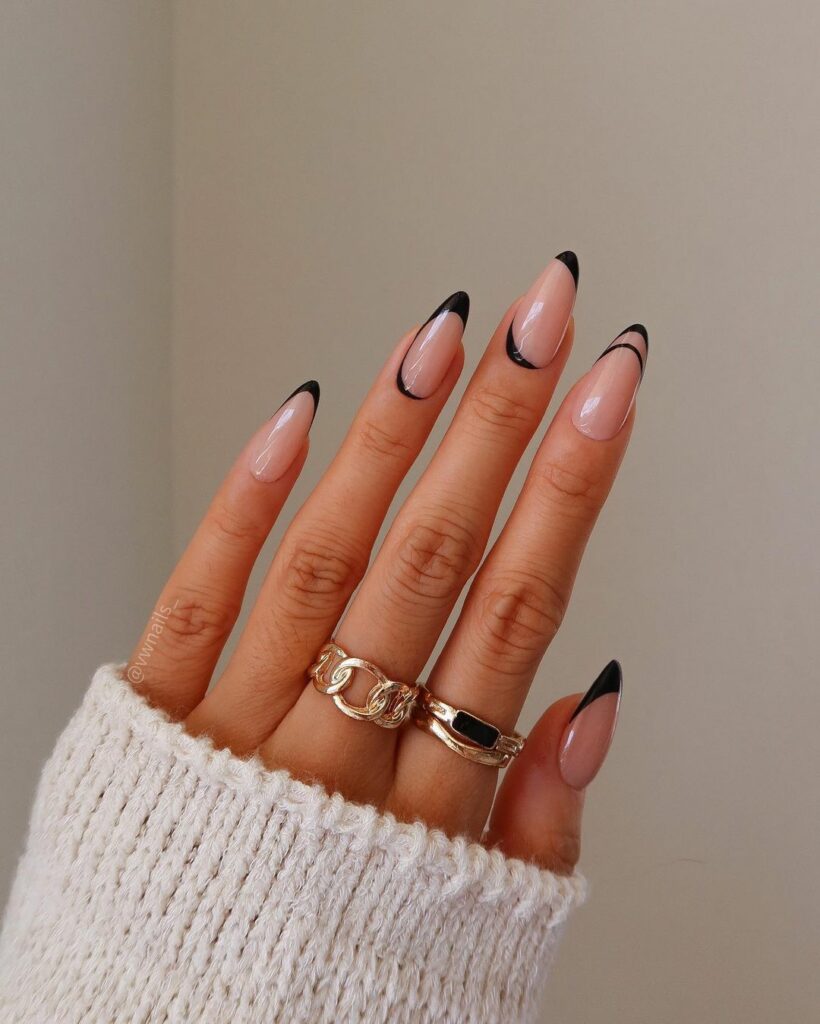 10. Short Square Leopard Print Black Nails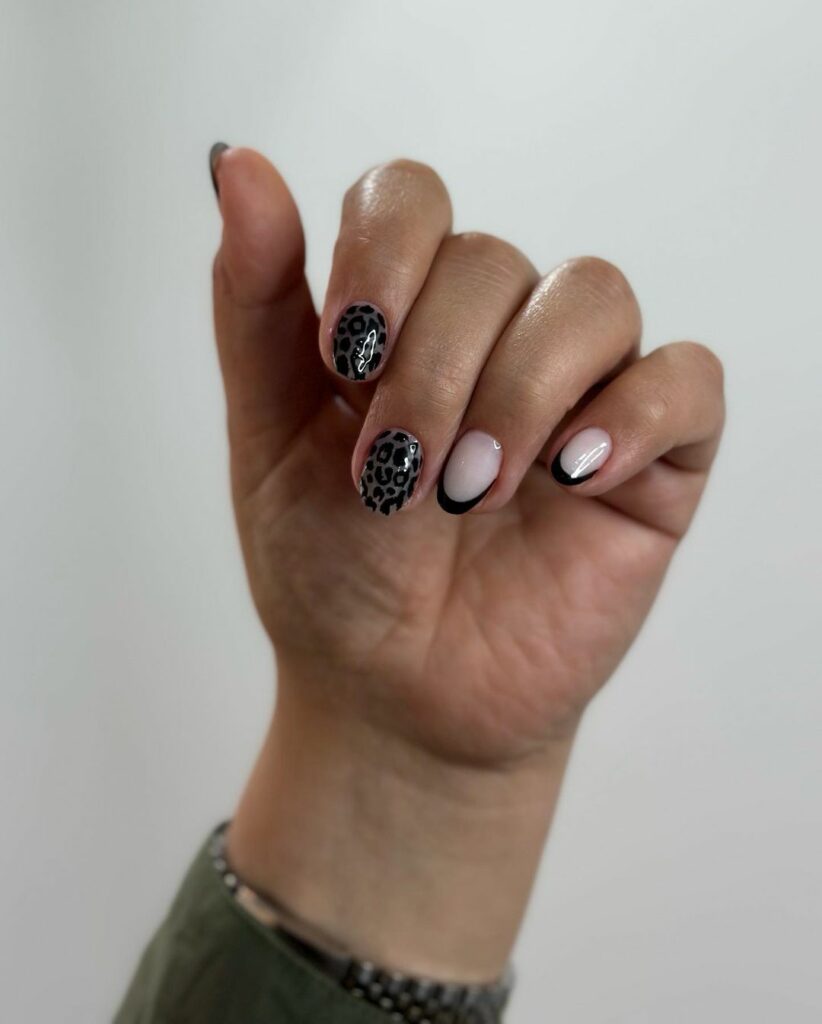 11. Short Glossy Black Nail Design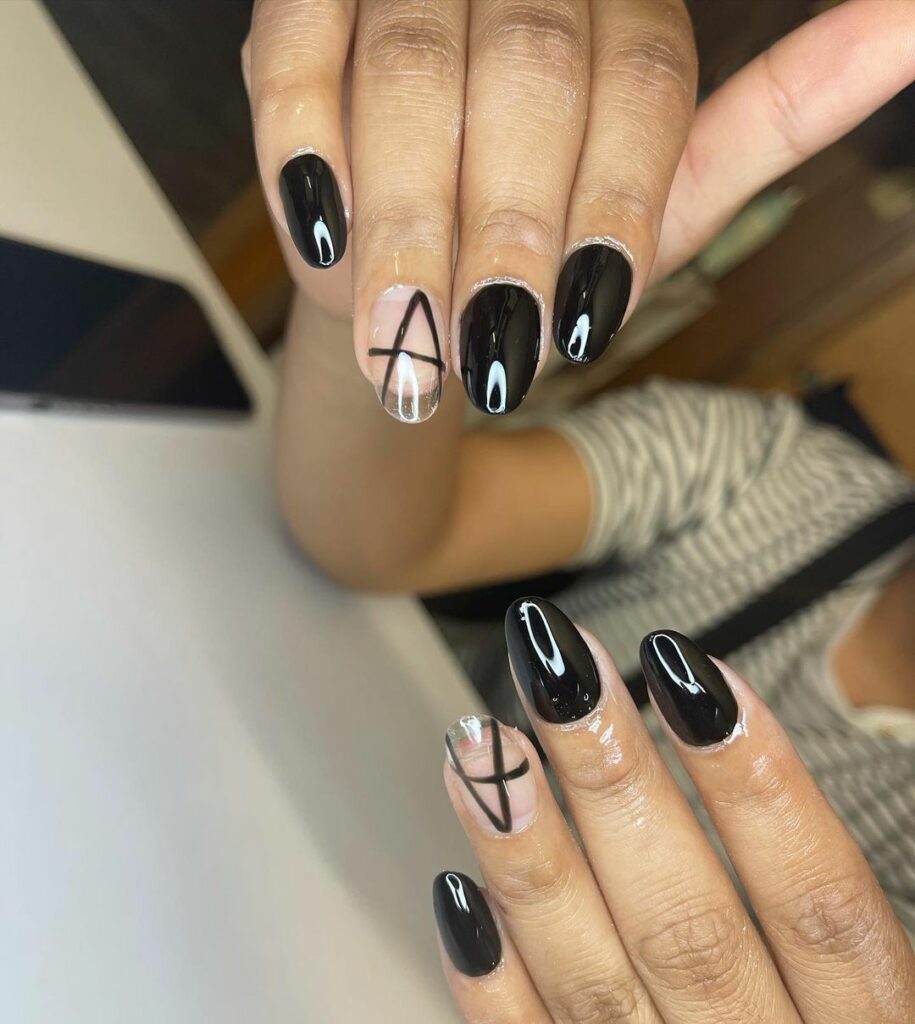 12. Polka Dot Short Black Nail Design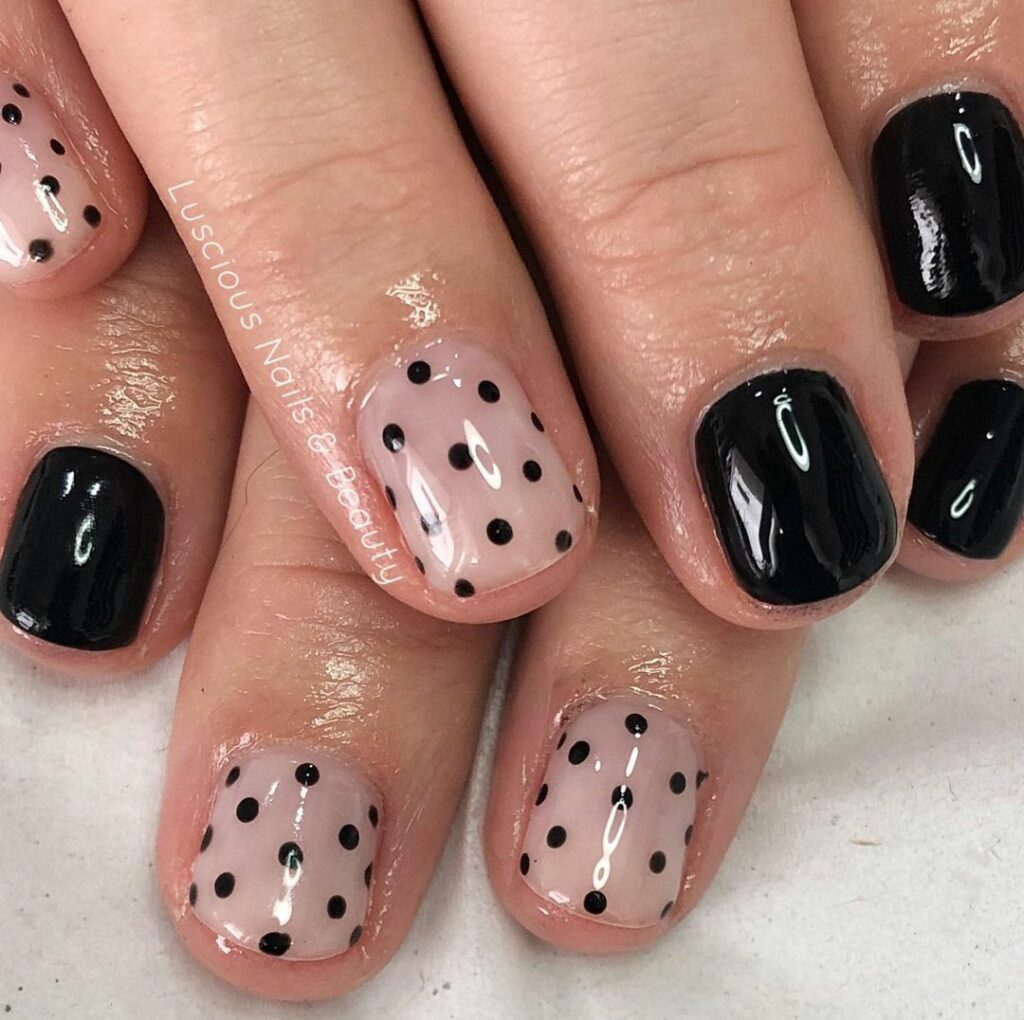 13. Short Almond Black Swirly Nail Design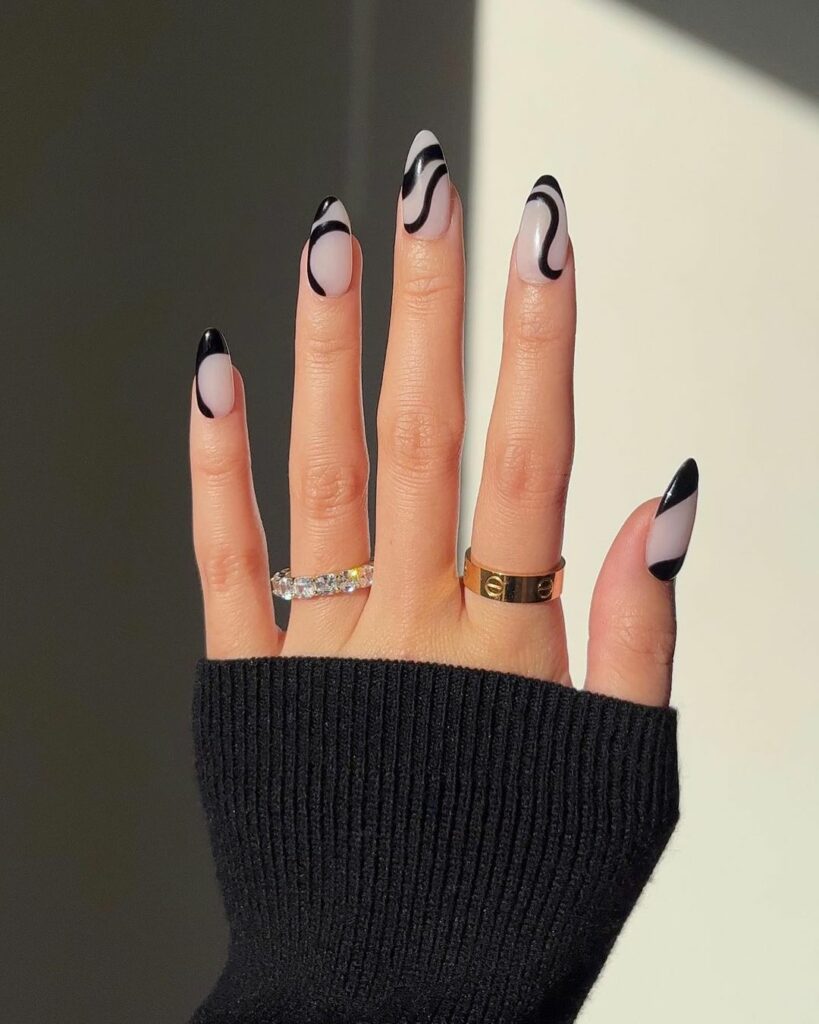 14. Short Black Nails with Daisy Design
15. Short Black Flame Nails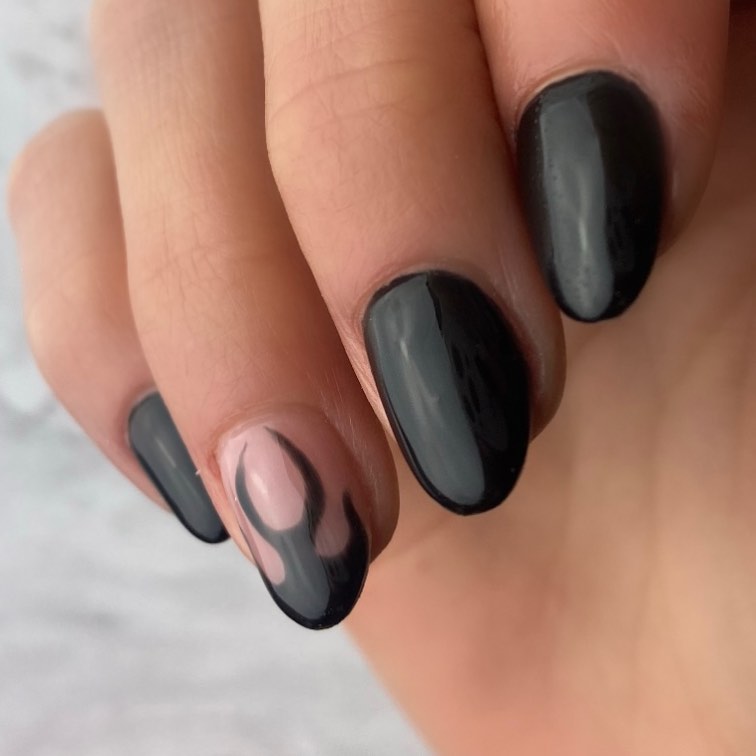 16. Short Black Heart Design Nails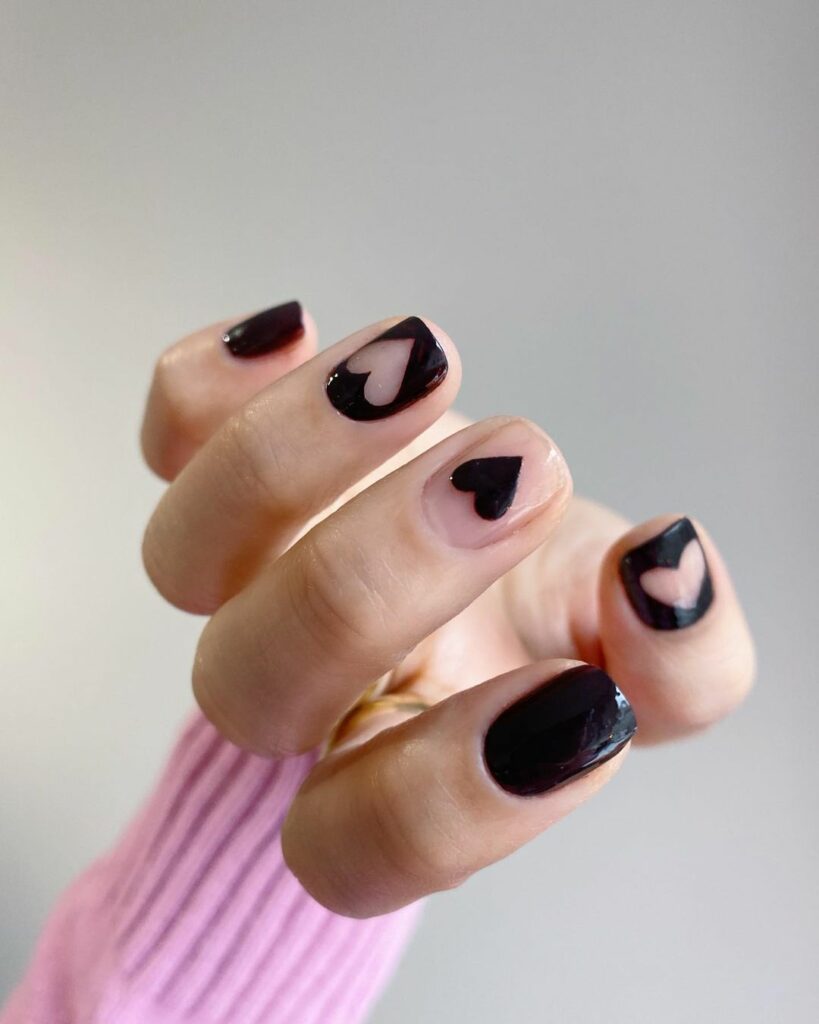 17. Cute Black Short Nail Design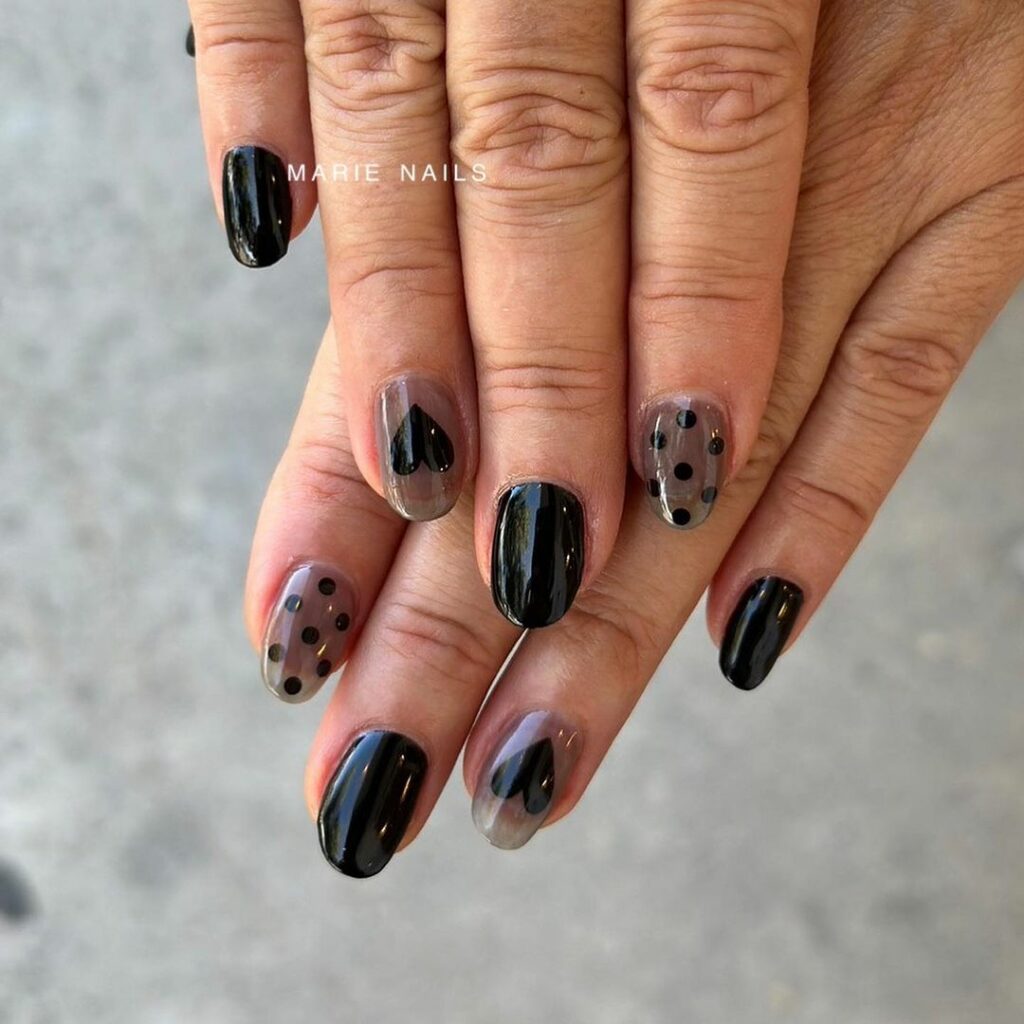 18. Short Nails Design with Black and Different Colours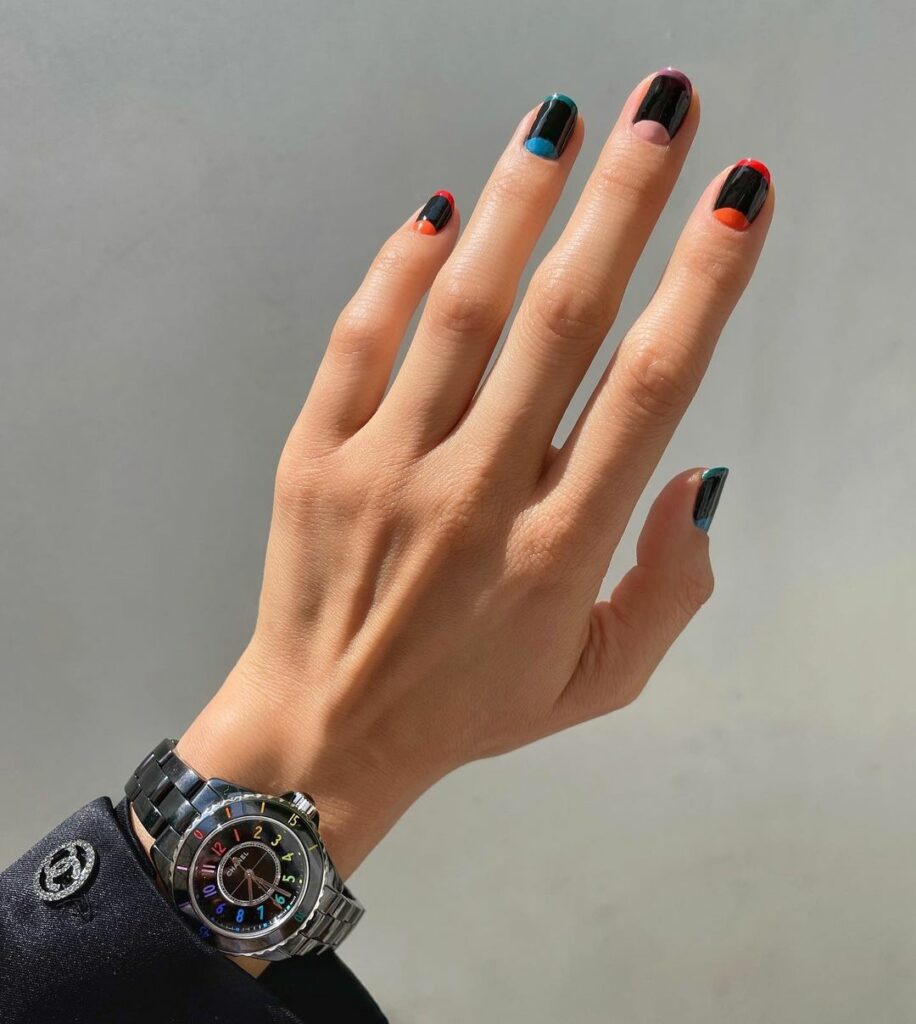 19. Black Short Nails with White French Tips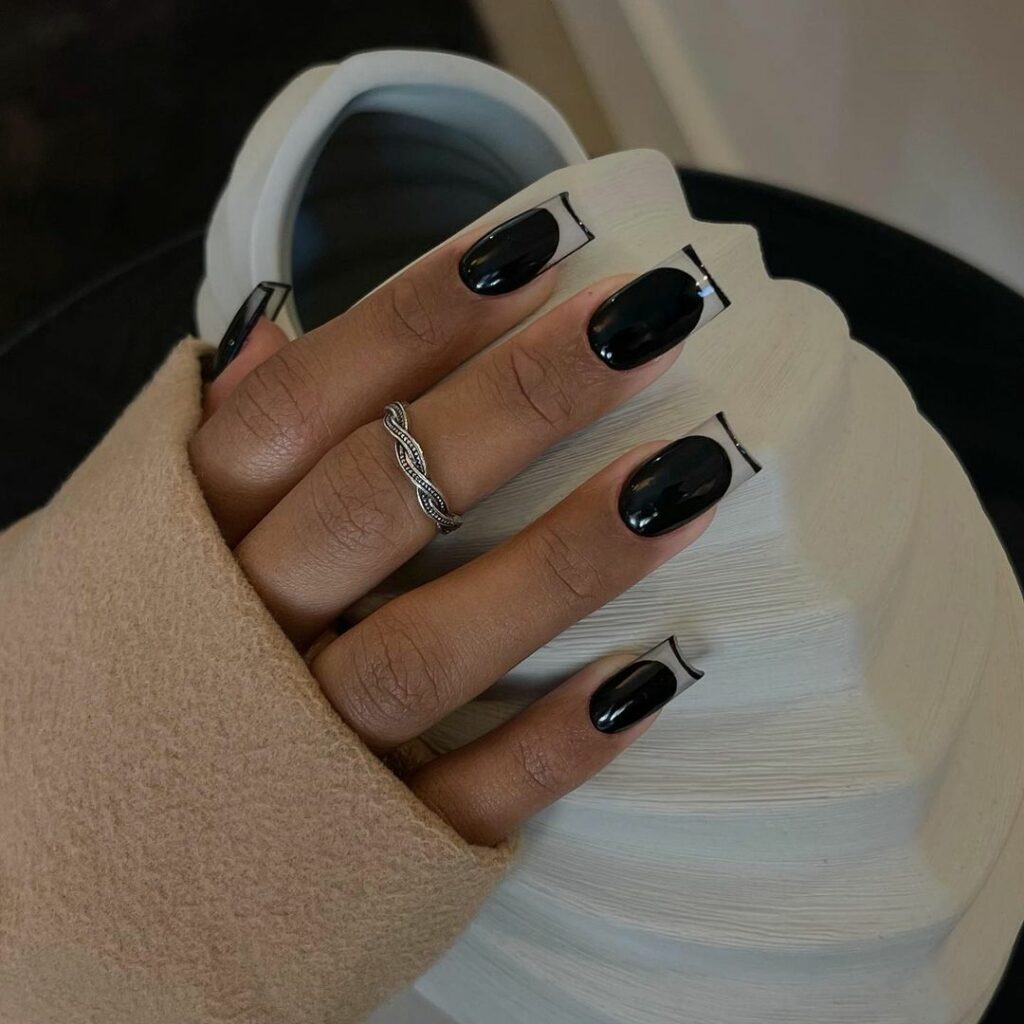 20. Short Black Nails with Silver Art Design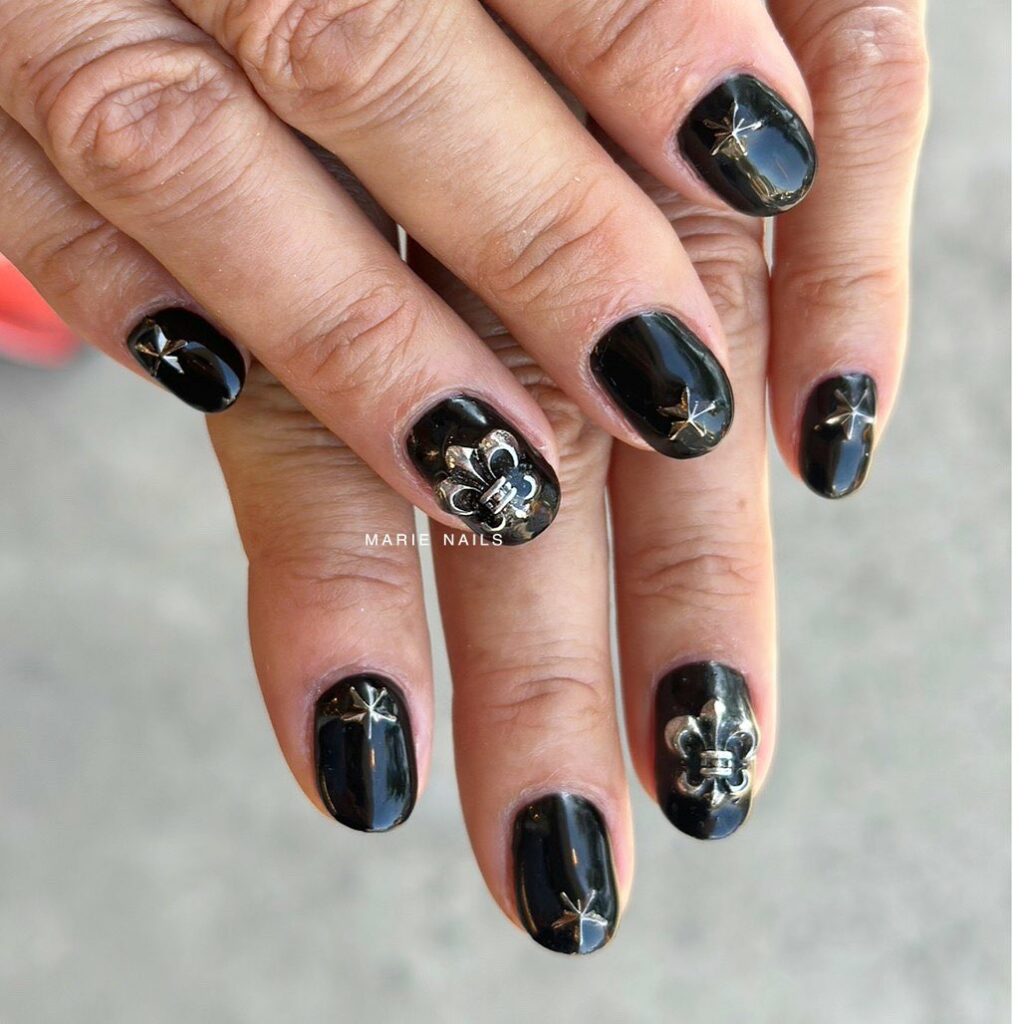 21. Artistic Short Black Lined Nail Design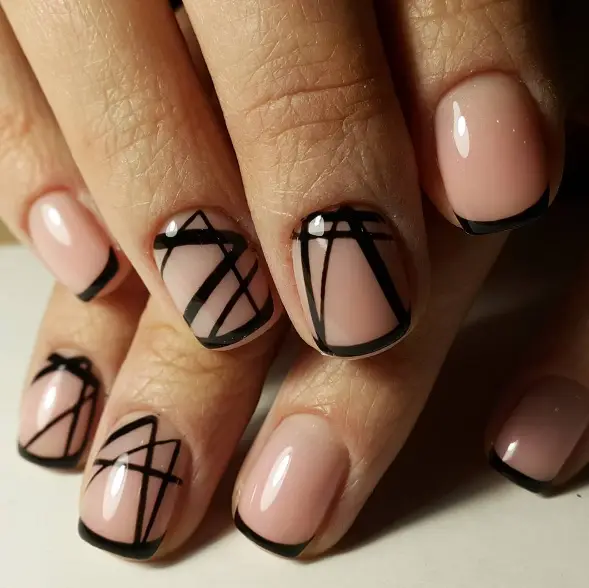 22. Short Black Nails with Rhinestones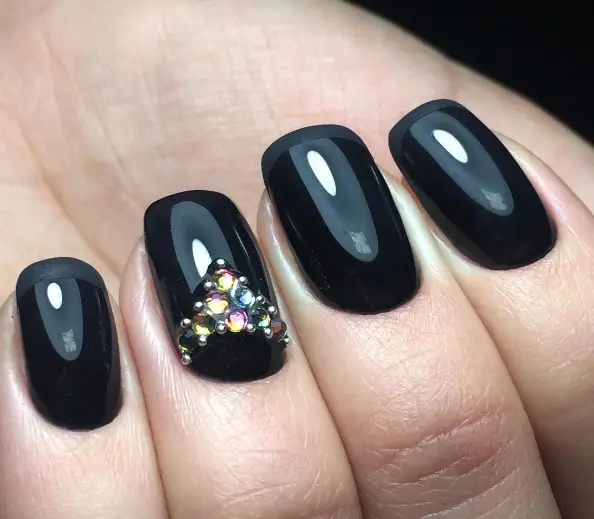 23. Short Matte Black Nails with Chrome French Tip Design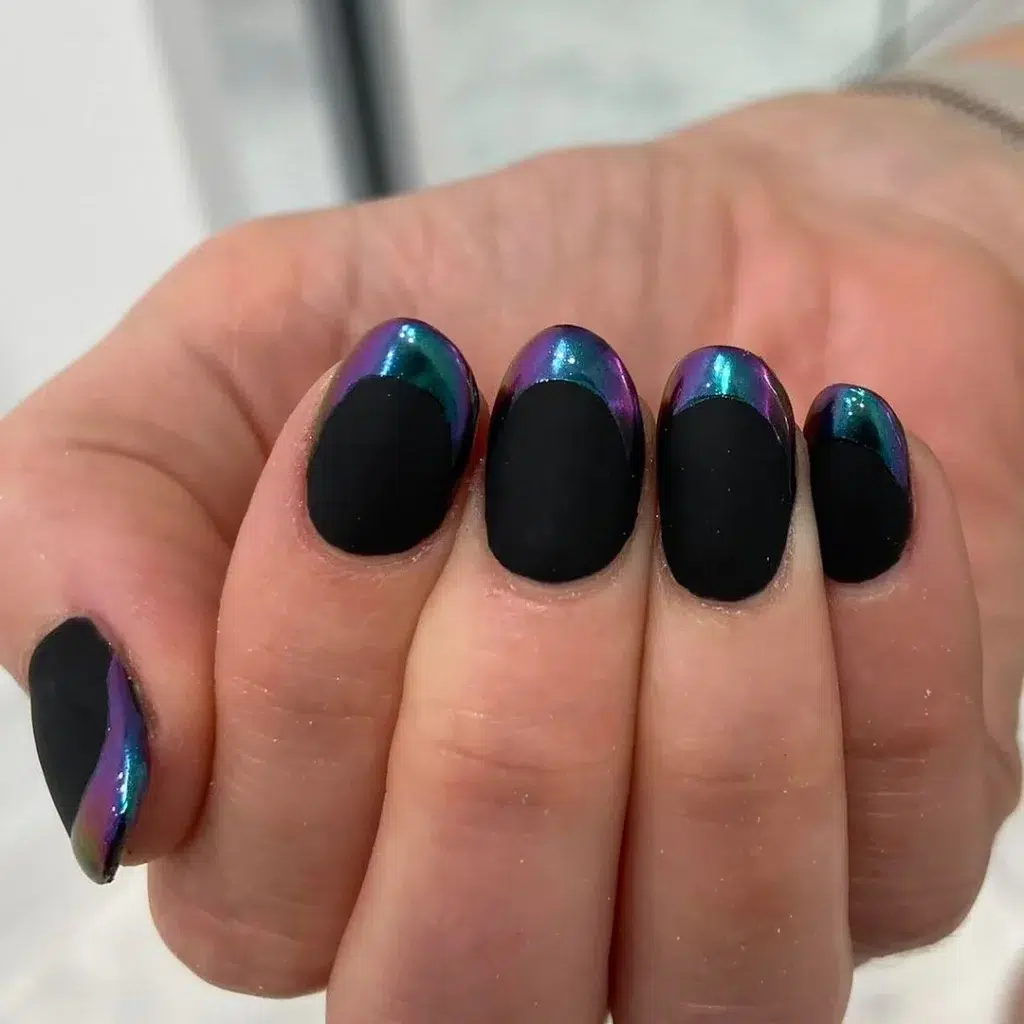 24. Short black Nails with Geometric Patterns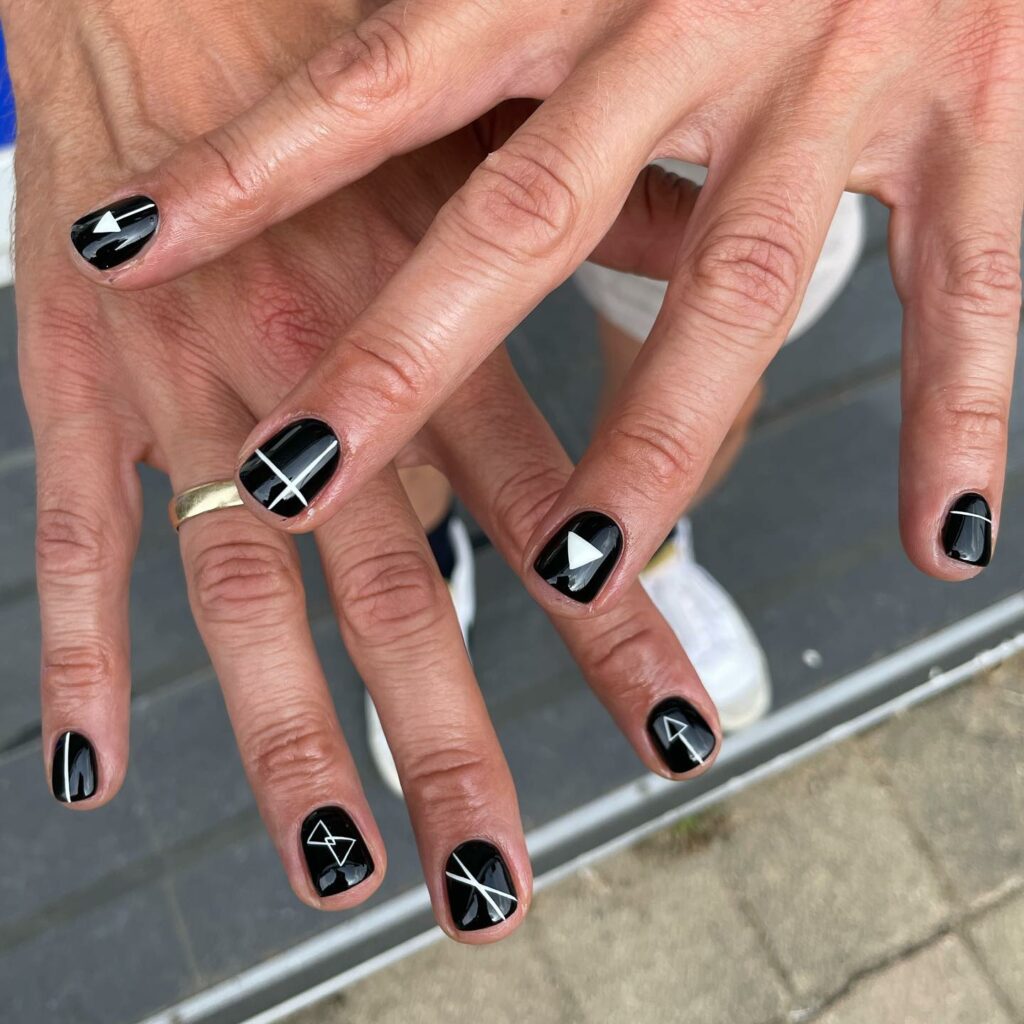 25. Negative Space Design Black Short Almond Nails
26. Almond Matte French Tip Black Nails
27.
28. Monochrome Contrast Short Black Nail Design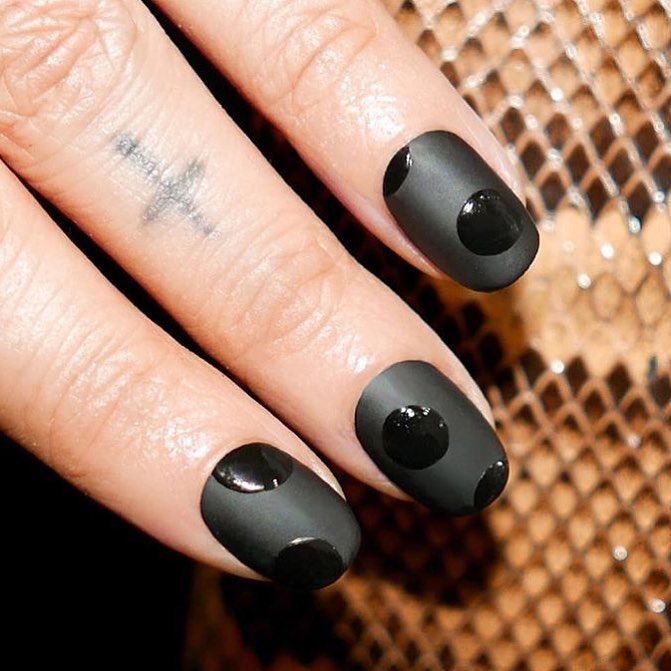 29. Black and Gold Short Nail Design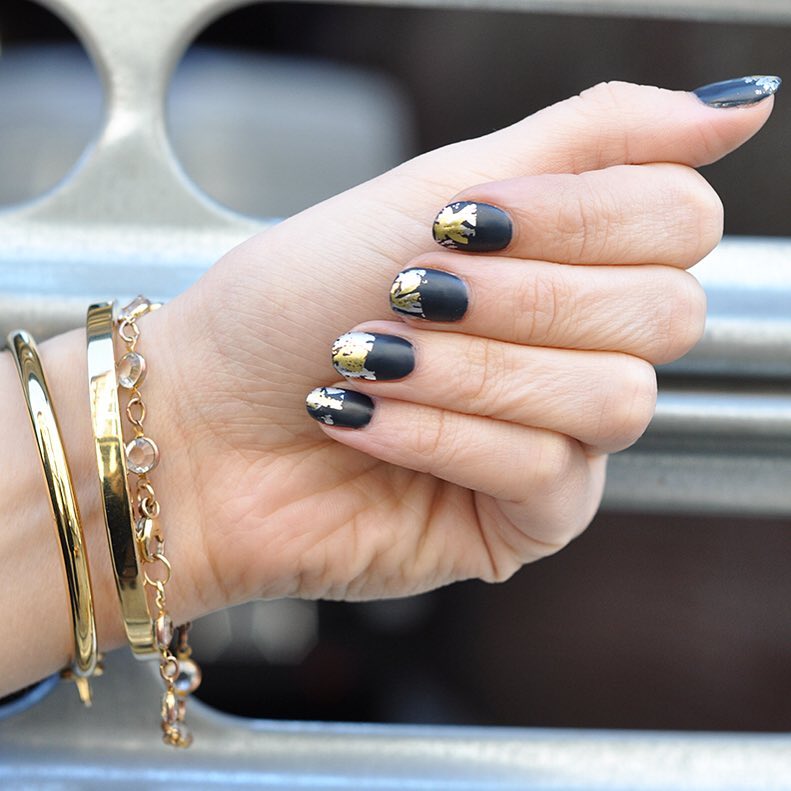 30. Short Nails with White Floral Design on a Black Base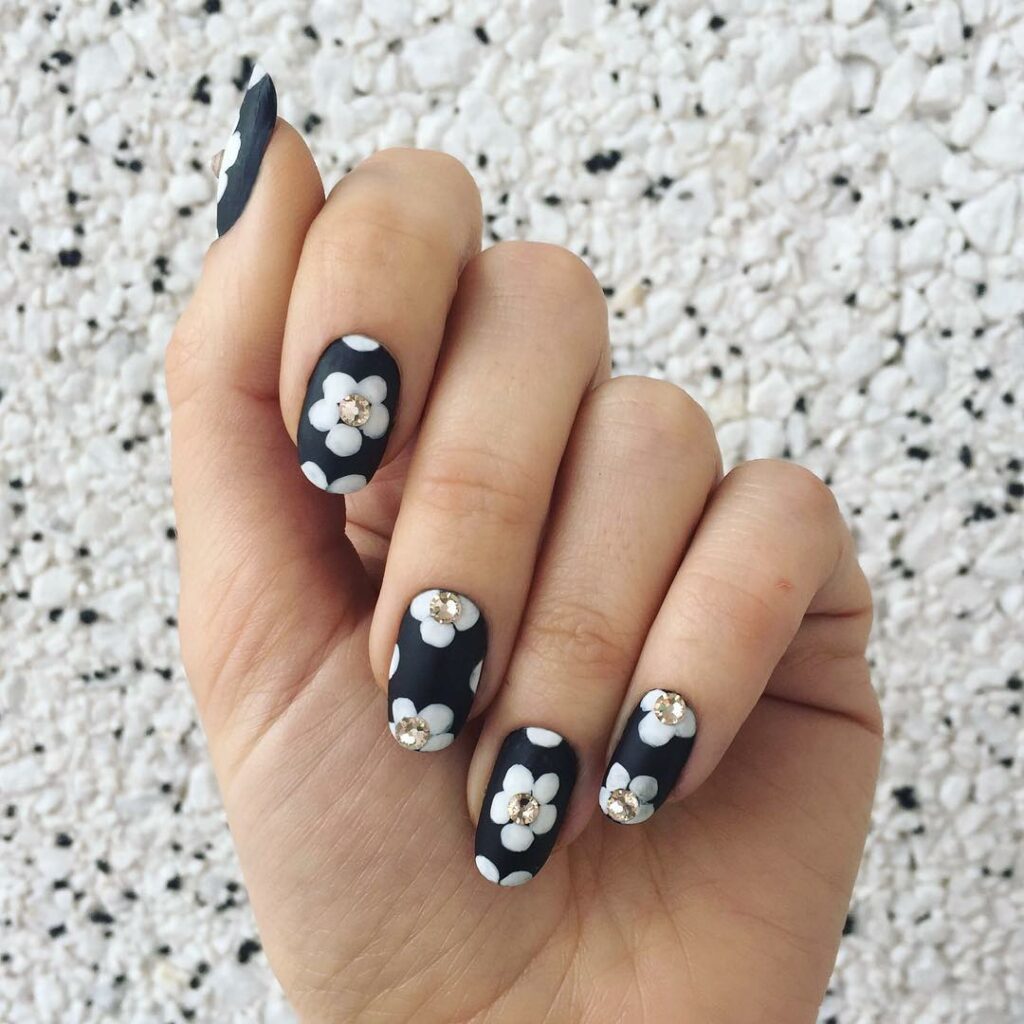 31. Dotted Black Short Nail Design
32. Black Glitter Ombre on Short Square Nails
33. Ribbon Black Lined Nail Design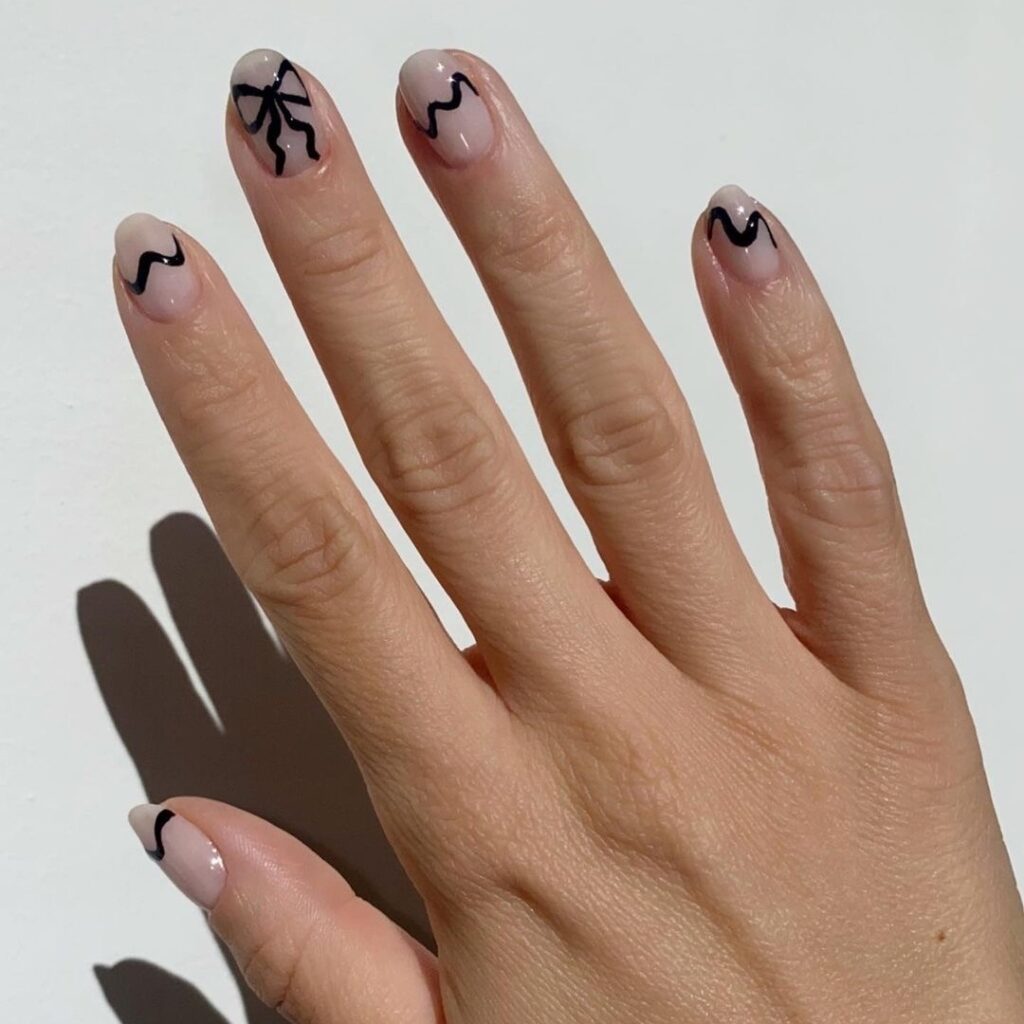 34. Black And White Short Nails with Stars Design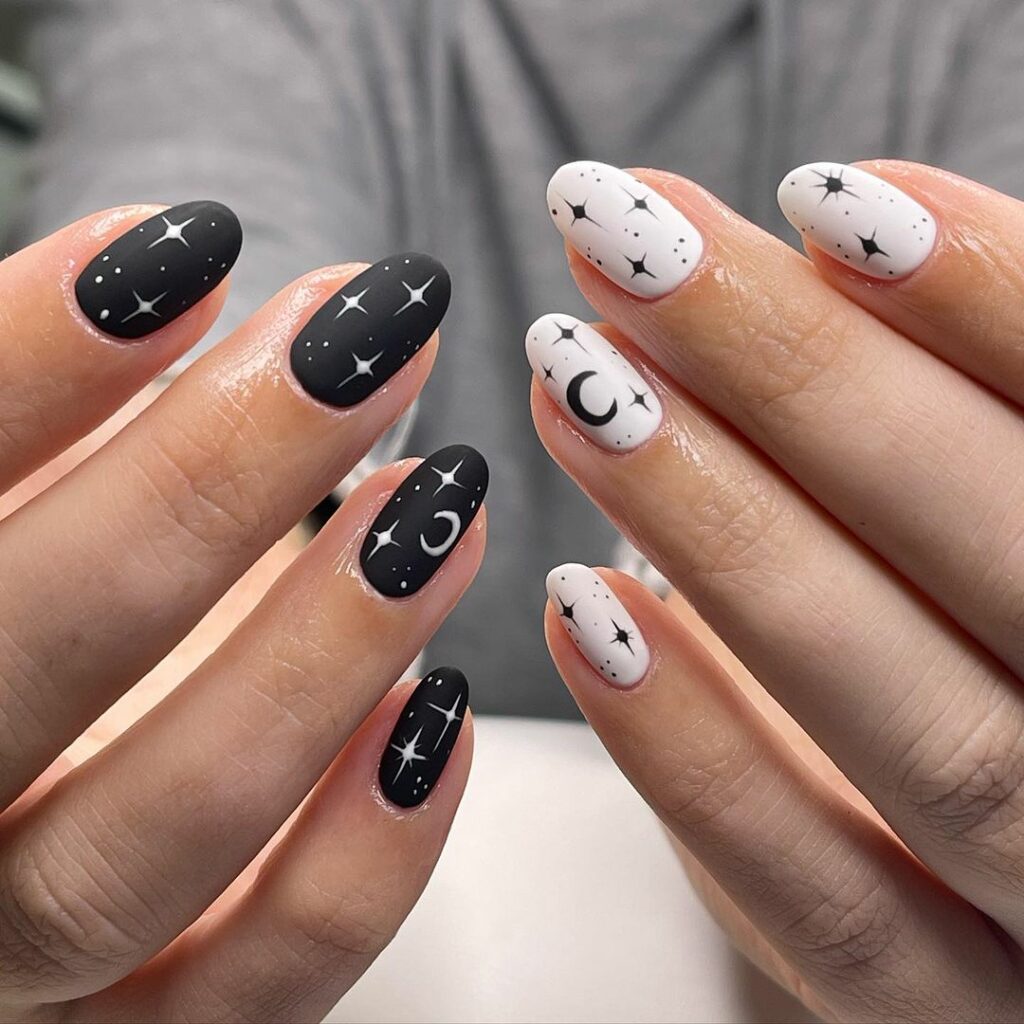 35. Short Black Nail Christmas Glitter Design
36. Short Glitter Black Nails with Lace Design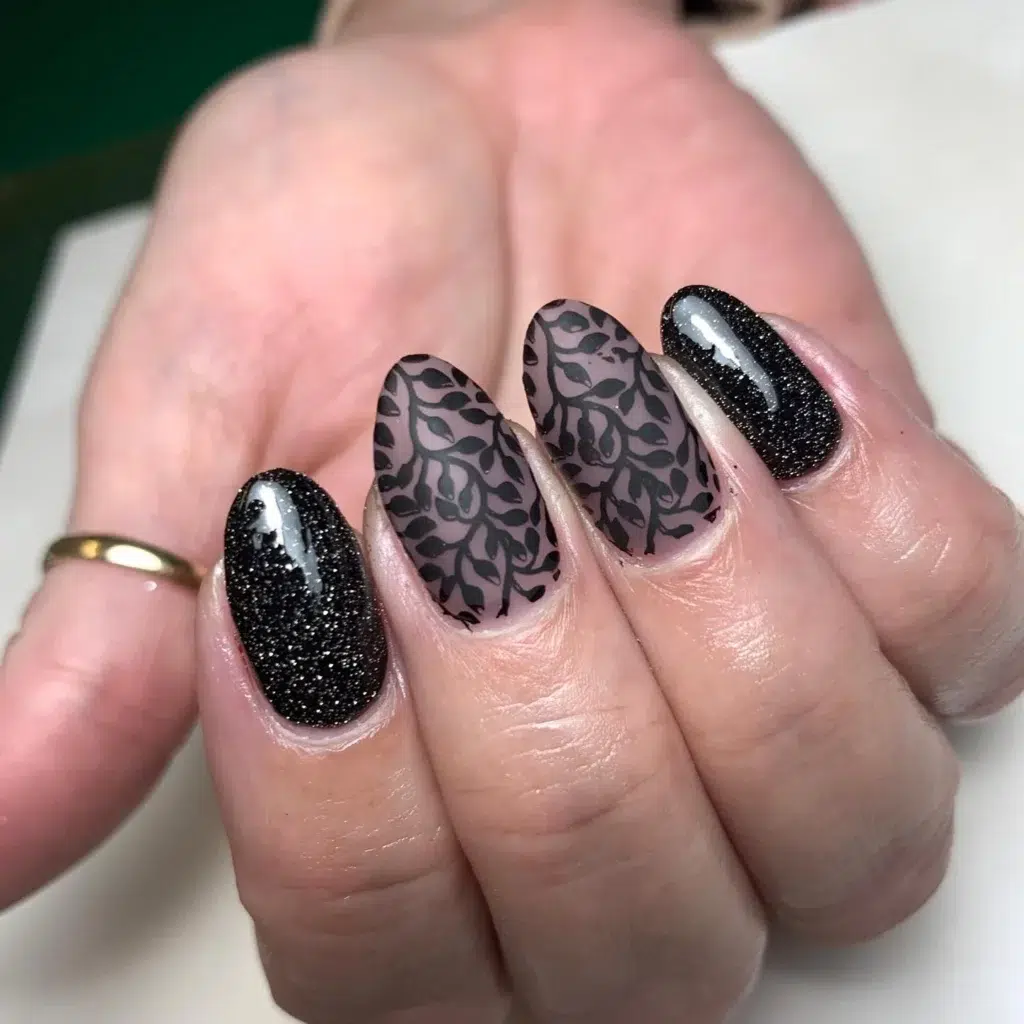 37. Black astrology Short Nail Design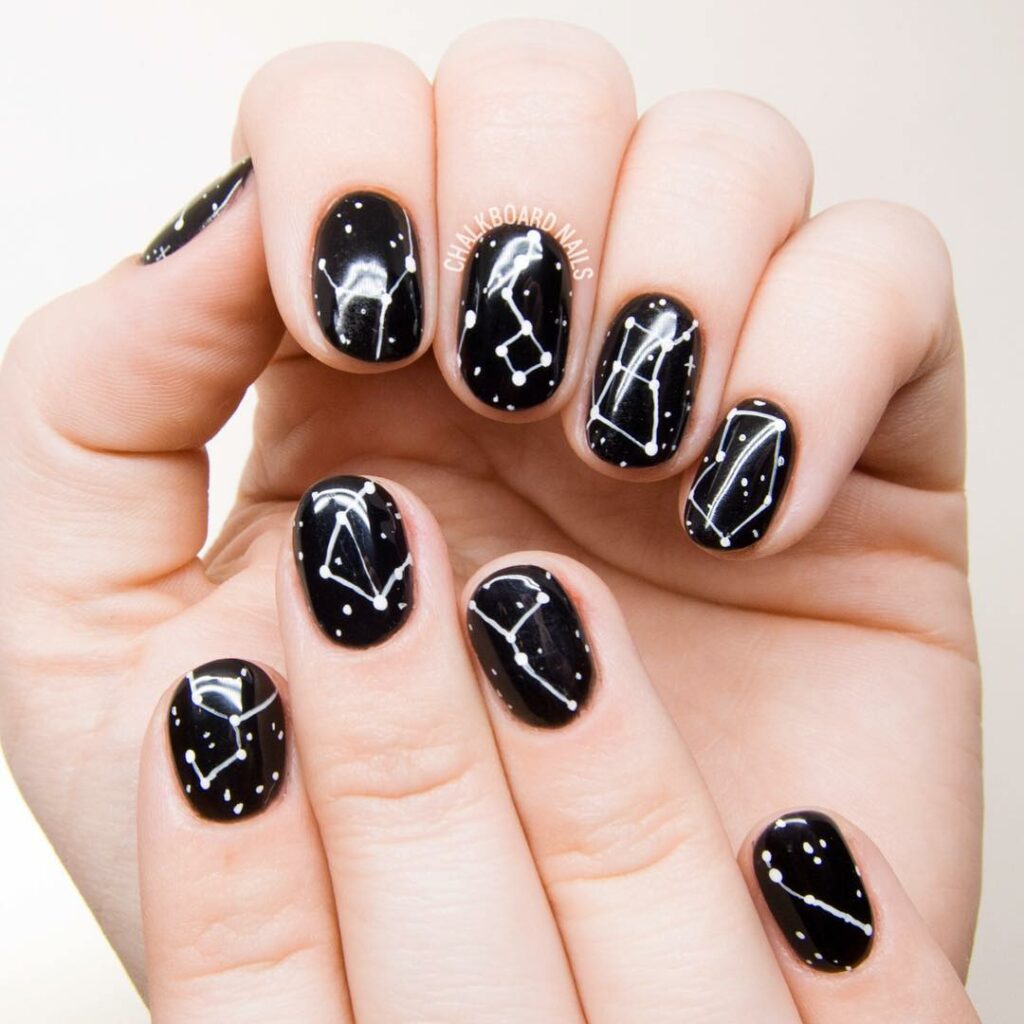 38. Halloween Design Short Black Nails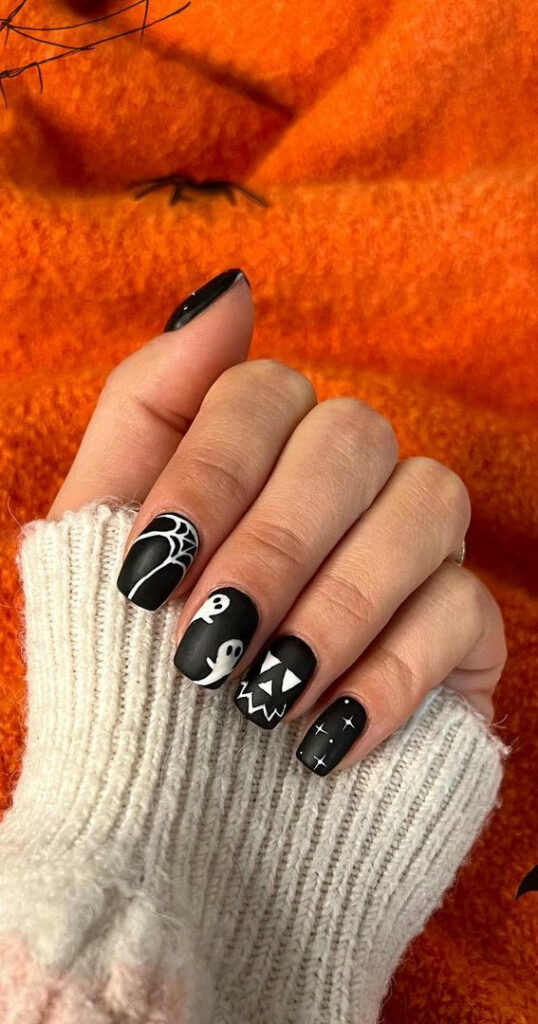 39. Black short Leopard Print Nail Design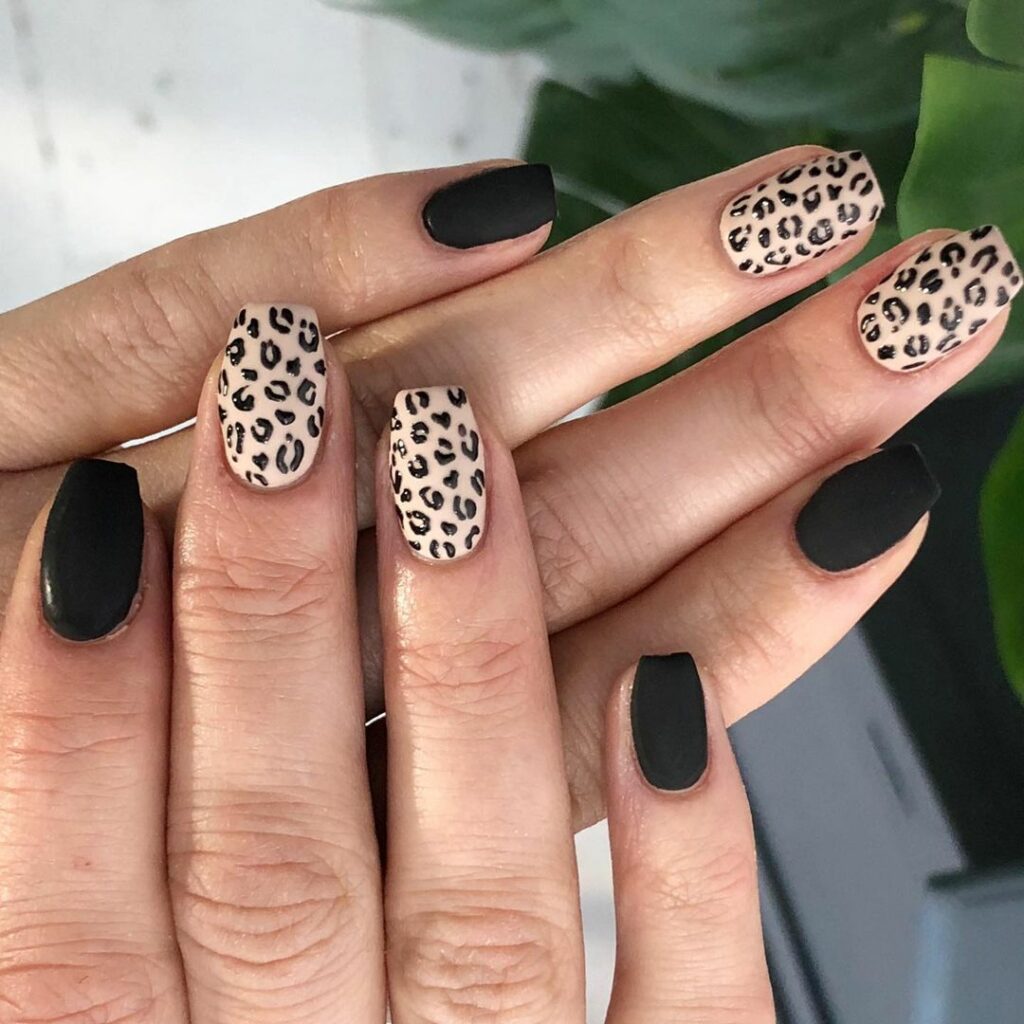 40. All Matte Short Black Nail Design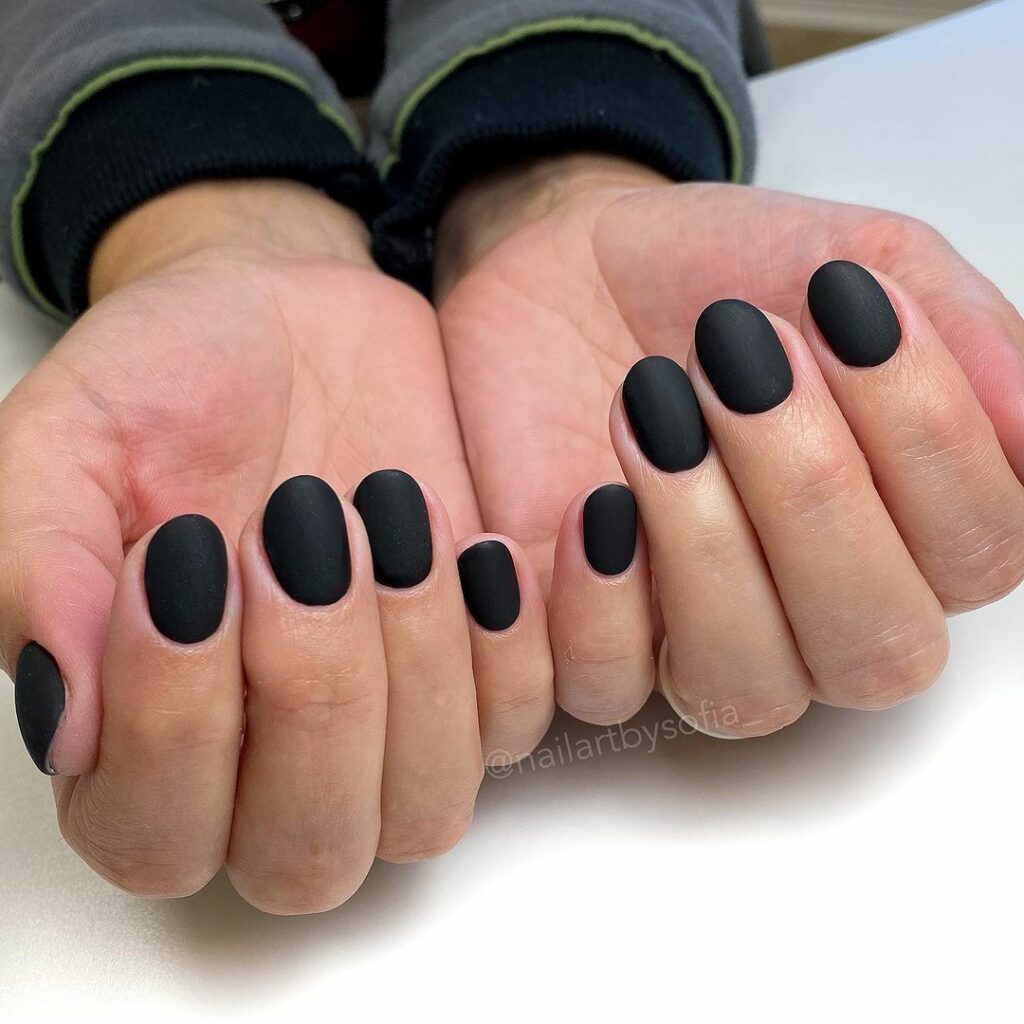 41. Short Black Nails with Little Glitter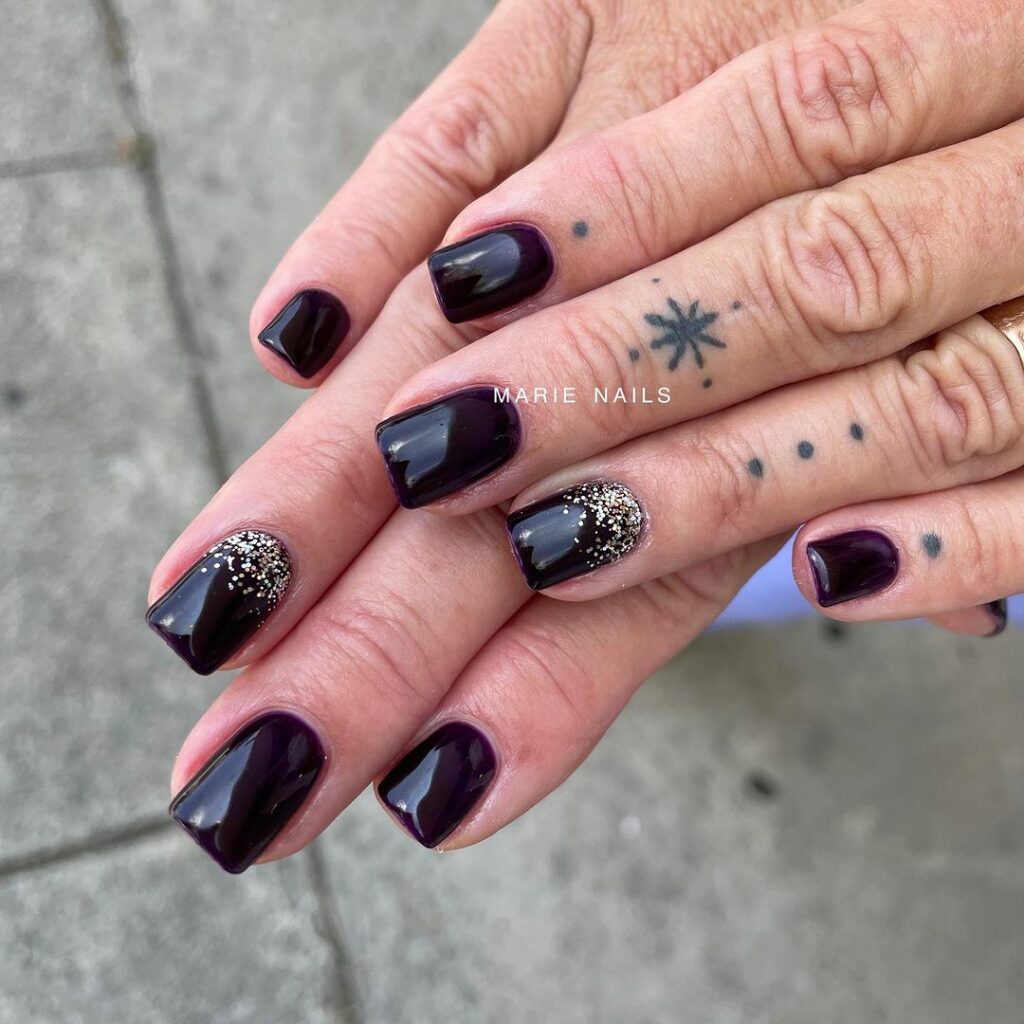 42. Short Black Nails with Stones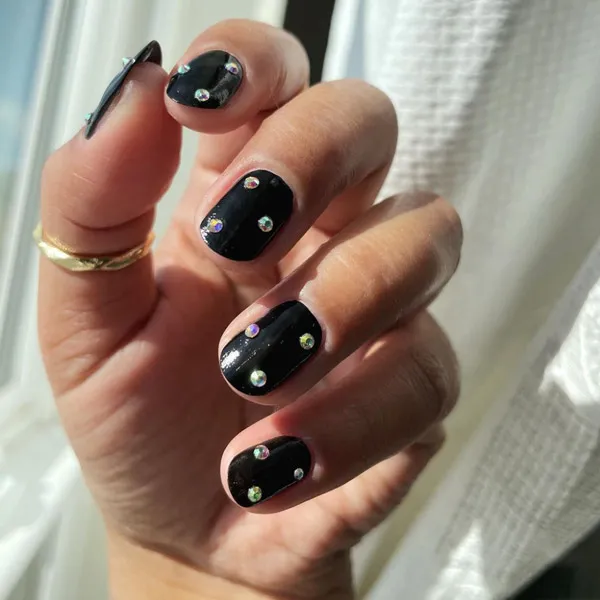 43. Cow Print Short Black Nail Design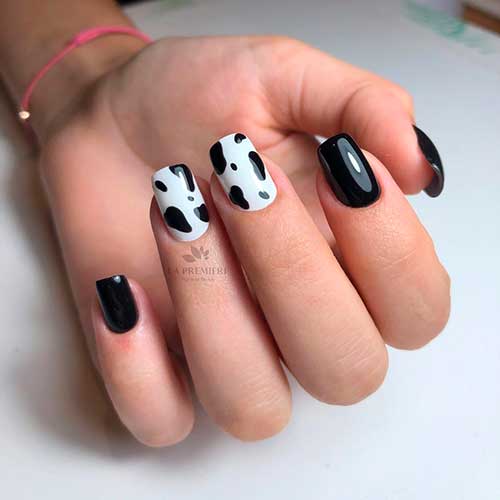 Minimalistic Short Black Nail Designs
If you are a "less is more" person and love a subtle but effective style, here are some simple but impactful designs to try:
Silver gemstones spread across your black nails.
Galaxy-inspired black moons and stars on a nude beige.
French manicure, but make it diagonal from the center.
A basic matte black nail art with subtle metallic silver glitter lines.
Black nails with a negative space strip stopping halfway in the center.
Edgy Short Black Nail Designs
Channel your inner Wednesday with these designs:
Little silver or black stones on matte black nails for a rock-inspired style.
White geometric patterns and line art on a dark-as-the-night black base.
Black ombré nails with glitter polish to bring the galaxy to your fingertips.
Glamorous Short Black Nail Designs
Black is a very elegant color that works for any and every occasion.
Here are some designs that won't fail you:
Accent nails covered in black rhinestones on a black matte base.
Gold or silver striping tapes on a matte-black base.
Gold flakes and shimmers on the accent nail of a full black set.
Galactic black and blue combination with metallic swirls.
Glossy black polish with specs of foil for a textured design.
Black ribbon bow design on the accent nail.
Seasonal and Occasion-based Short Black Nail Designs
Black is THAT girl of the nail world, and if there's something we can say for certain, it's that it'll be spot-on in literally any setup — even holidays.
Don't believe us? Here are some ideas for you to mull over.
1. For Halloween:
A black and red-themed look with a web on the accent nail.
All-black look with cartoon ghosts and rhinestones on the eyes.
Black base with lettering drawn in the shape of bones!
A black base with lime green slime stemming from the cuticles.
2. For Formal Events and Parties:
Matte black base with polka dots in glossy lacquer.
Black hearts on a nude base paired with big white sparkles.
White and black daisies for a creative twist on the all-time fav florals.
Leopard spots on an unsuspecting beige base.
A glossy all-black design with glitter thrown in for a dramatic effect.
3. For Christmas and New Year
A black base with snowflakes in white glitter.
Candy stripes, but make it black and white.
Pumpkins and skeletons on a black base.
Colorful Christmas lights on jet-black claws.
Maintenance and Care for Short Black Nails
Here's how you can maintain beautiful nails:
Keep your fingers clean and dry to prevent dirt from accumulating under your nails.
Maintain your cuticles by massaging them with cuticle oil to hydrate them and trimming hangnails.
Add a top coat to give your nail polish some staying power.
Wear gloves when doing household chores to protect your nails from chemicals.
Read the ingredient list of your products to avoid toxic ingredients.
Eat a good diet for healthy, strong nails.
If you have staining on your nails, you can dip your fingers in acetone to get rid of it.
Conclusion
Black is a color that can work its way into any season and occasion — even on shorter nail types, which are notorious for being hard to work on! And despite having limited working space for nail art, short black nails can work as a great canvas for unique designs.
So, what are you waiting for? Get ready to channel your inner Bob Ross!