When Halloween's just around the corner, there's more than just your outfit your need to think about.
This is your time to go all out, especially with your nails!
And this year, it's time to move away from the boring and predictable orange and black and opt for something bolder and brighter — like purple!
Purple Halloween nails are the thing now and are ideal for a night of fun and spook, especially if you pair them with some coffin nails for a frightfully fab look.
So, if you want to be bolder this year, here are some purple nail inspirations you can try!
The Meaning Behind Purple Halloween Nails
When we think of Halloween, we tend to automatically associate it with black and orange colors.
These two hues do have a symbolic meaning to the horror holiday.
Black represents darkness, and the fun begins when the sun sets, while orange is the color of fire and is also a good representation of fall and the harvest season.
This is also when decorations like the Jack-O-Lantern, candy corn, and black cats are expected to make an appearance during Halloween.
Although the black-and-orange combo will always be a top choice, purple is also quickly becoming a Halloween favorite! Purple is a regal color, often associated with witchcraft and sorcery.
It's a fresh and bright color that has a less scary vibe while still providing that air of mystery. That's one of the main reasons for so many people using purple as their main nail polish base during Halloween for a more modern vibe.
33+ Best Ideas for Purple Halloween Nails
Believe it or not, purple is easy to pair with other colors. You can easily match it with other Halloween colors like teal, blue, pink, and black and orange classics to create unique combinations. Here are 20 purple nail designs for you to take inspiration from for a spooktacular Halloween event!
Purple Halloween Nail Designs and Styles
1. Short Cute Purple Halloween Nails
2. Purple Ombre Nails With a Matte Top Coating.
3. Purple Halloween Nails With Spooky Ghost Designs.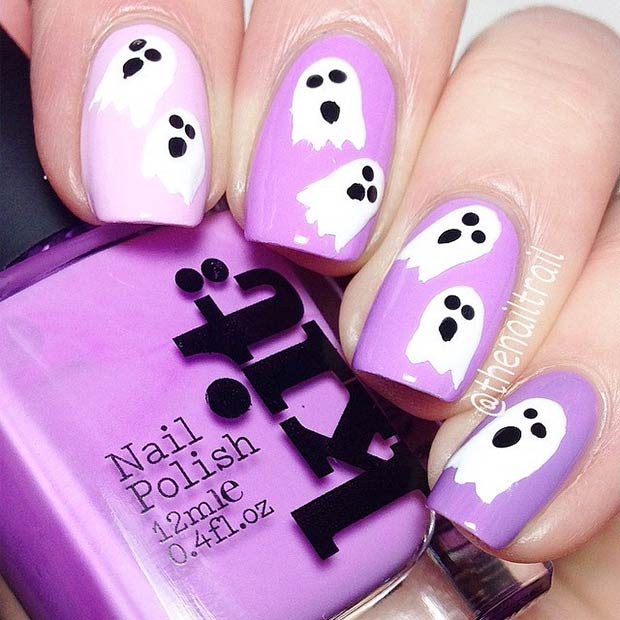 4. Neon Green and Purple Halloween Nails
5. Sparkle & Soft Purple Pumpkin Halloween Nails.
6. Cute But Spooky Halloween Purple Nails
7. Glittery Purple Halloween Nails
8. Purple Long Nails With a Jack Skellington theme.
9. Halloween Light Purple Nails with Black Spiders Designs
10. Purple Nails With Spooky Cats.
11. Sparkling Purple & Black Coffin Nails with Rhinestones.
12. Purple and Orange Halloween Theme Nails
13. Haunted Halloween Purple Nails
14. Purple French Tip Halloween Nails
15. Light Purple Nails With Black Bats
16. Pastel Purple and Blue Vampire Bite Halloween Nails
17. Halloween Madness With Glittery Purple Nails
18. Stitched Purple Halloween Nails
19. Pretty Pastel Purple Coffin Nails for Halloween
20. Purple Halloween Nails With Glowy Pink Bats
21. Purple Cat Eye Halloween Nails
22. Sparkly Halloween Design Purple Nails
23. Chrome Purple Spiderweb Halloween Nails
24. Purple Halloween Nails With Ghostface Design
25. Purple Spiders and Rhinestones Halloween Nails
26. Spooky Purple Halloween Nails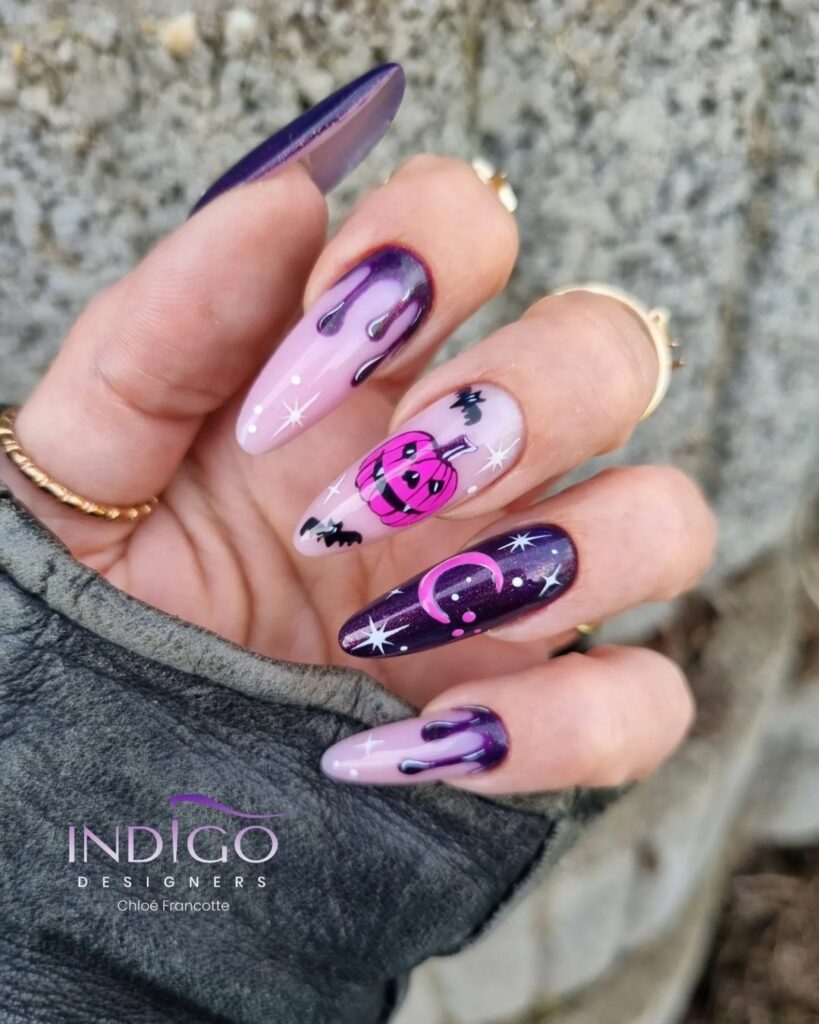 27. Cute Halloween Ghosts on Purple Nails
28. White and Purple Halloween Design Nails
29. Bat's Purple Sky Halloween Nails
30. Shades Of Purple Spooky Halloween Nails
31. Sparkling Purple Ombre Halloween Nails
32. Futuristic Purple Halloween Nails
33. Chromatic Purple Halloween Nails
Purple Halloween Nails for Different Personal Styles
Purple nail polish is relatively easy to work with. With so many shades of purple to choose from, you have so much versatility in creating fantastic nail art. You can also complement it with a variety of nail accessories, from rhinestones and beads to stickers, stamps, foil, loose glitter, and so much more!
Just because your nails are purple means that your Halloween OOTD should be the shade of purple, too. While you can still opt for an all-out purple look, don't be afraid to wear yellow, orange, pink, or blue because these colors can complement your purple nails. The color is surprisingly adaptable and makes a fun base hue for all skin tones.
Conclusion
Be bolder this year and give your Halloween nails a new look! Ditch the old black and orange and opt for purple nails this coming All Hallows' Day.
This vibrant color can easily elevate your overall appearance and make you feel more confident about yourself. Have fun with your purple nails, and let them showcase your personality and style!
Sources:
http://www.prairiebeautylove.ca/2022/10/halloween-nail-art-purple-holo-tip.html