From jeweled accents and French tips to geometric designs and floral motifs, nail art has become the IT girl in the nail world. It is a simple yet stunning accessory that completes the look and demands attention.
And although you often have to take your nail shape into consideration, one design that won't fail you are hot pink and black nails.
This trend has been all over social media and Pinterest feeds lately, and it's easy to see why. Hot pink and black are a classic and timeless color combination that puts you in your femme fatale energy.
And with endless nail art designs to choose from, there are practically no limits to how you show off your style with eye-catching manicured claws!
Most Popular Hot Pink and Black Nails for 2023
Harness the power of this cute but gothic look with one of these hot pink and black nail designs.
There's something for every level of expertise, from beginners to nail enthusiasts who can pass off as manicurists, so everyone can get in on the trend.
1. Simple Hot Pink and Black Nails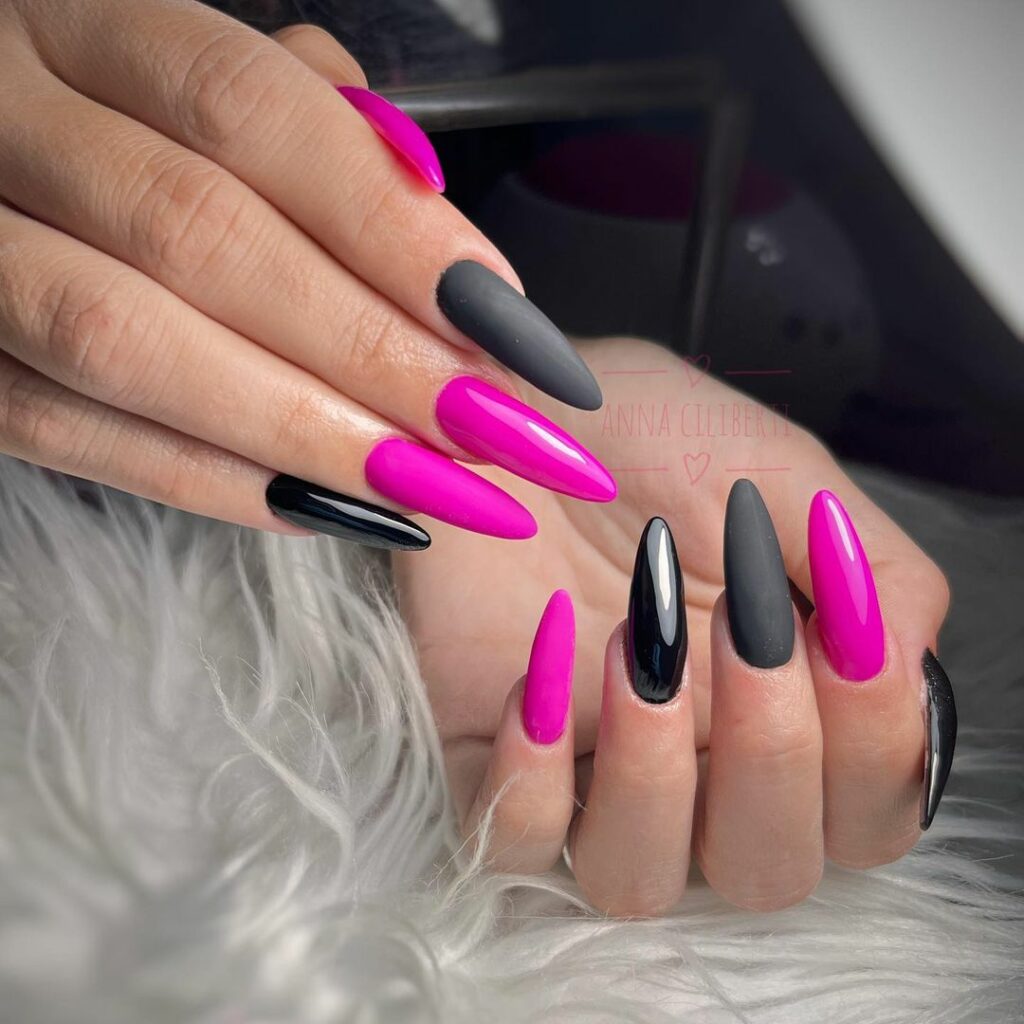 2. Fire Hot Pink and Black Nails
3. Short Nails in Pink and Black
4. Black Flames on a Pink Base Nails
5. Hop Pop Art Nails in Black and Pink
6. Butterfly Design Coffin Pink and Black Nails
7. Almond Black and Pink Hot Nails
8. Matte Marble Pink and Black Nails
9. Long Acrylic Hot White, Pink and Black Nails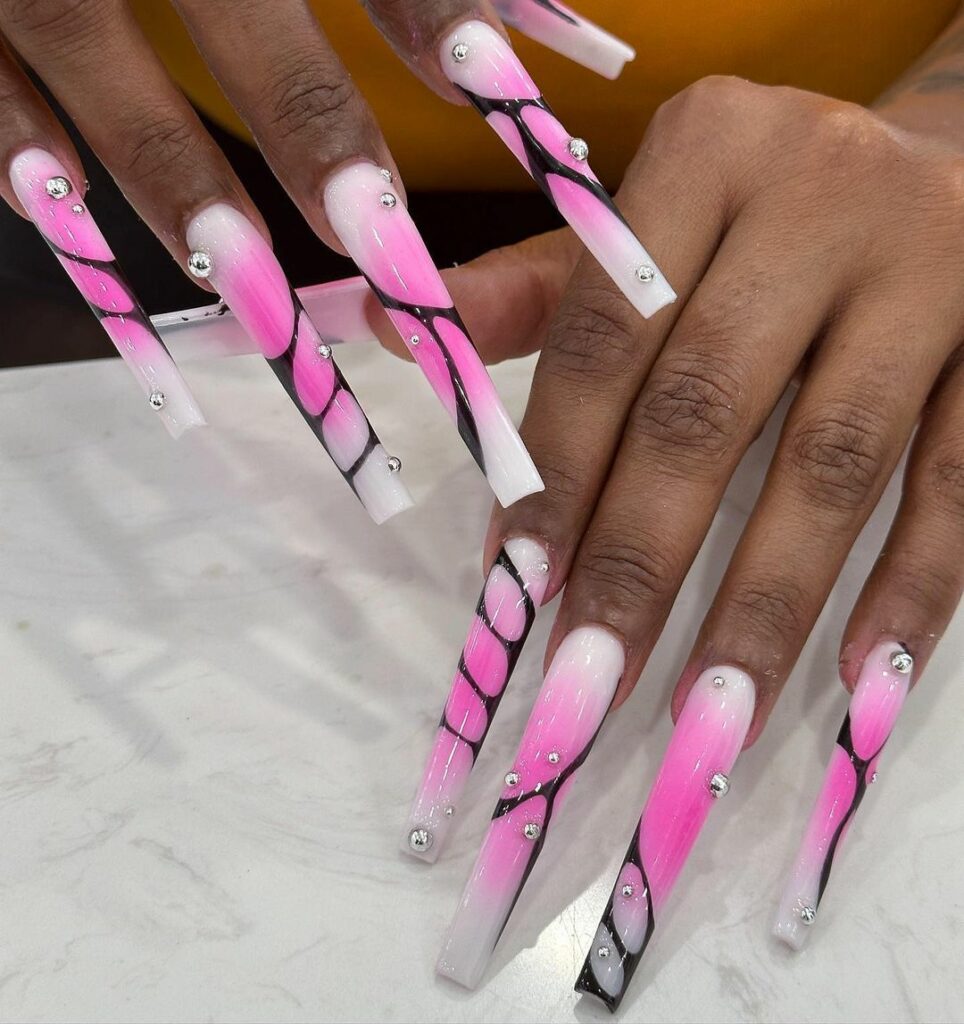 10. Abstract Black Design Hot Pink Nails
11. Swirly Hot Pink and Black Nails
12. Black Nails with Hot Pink Hearts
13. Different Hands French Nails in Hot Pink and Black
14. Abstract French Tip Nails in Hot Pink and Black
15. Speckle Feature Hot Pink and Black Nails
16. Spooky Hot Pink and Black Nails
17. Short Square Hot Pink Black Nails and Glitter
18. Black Leopard Print and Hot Pink French Tip Nails
19. Hot Pink and Black Zebra Nails
20. Long Hot Pink Hearted and Black Matte Nails
21. Animal Printed Hot Pink and Black Nails
22. Vintage Hot Pink and Black Nails
23. Half Hot Pink Half Black Nails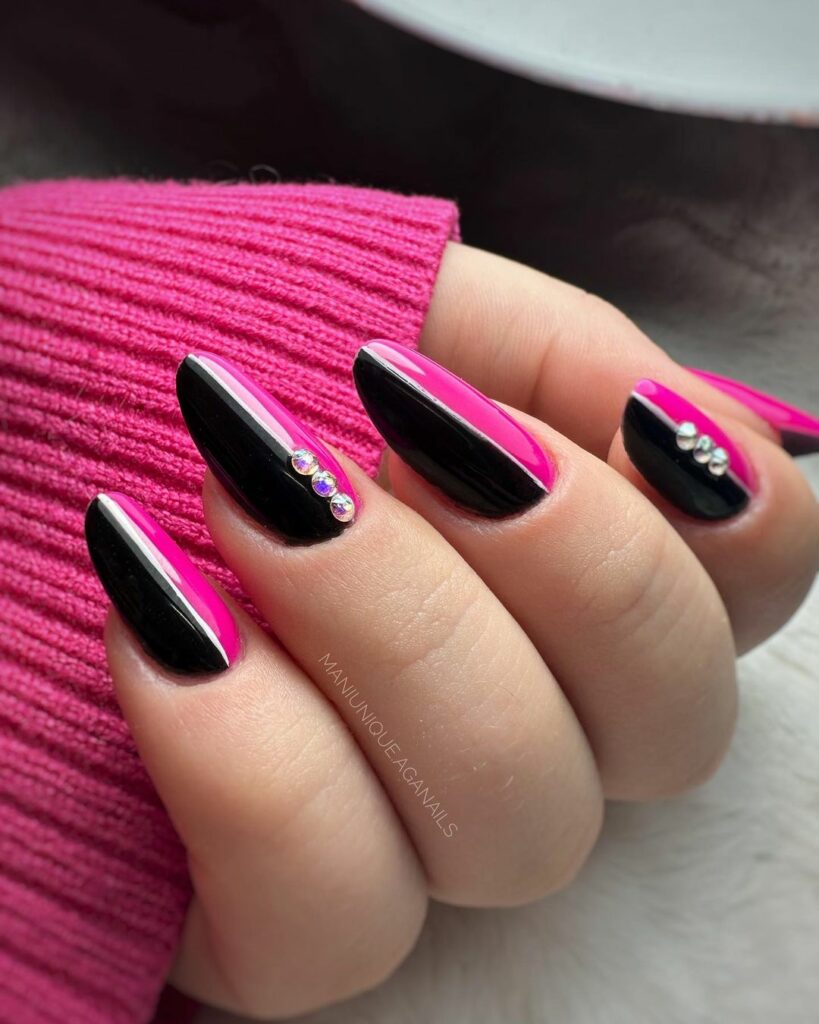 24. Hot Pink and Glittery Black Nails
25. Long Coffin Hot Pink and Black Nails
26. Butterfly French Tip Nails In Hot Pink and Black
27. Black Ombre and Hot Pink Nails
28. Sparkling Black and Hot Pink Nails
29. Hot Pink and Black Cat Design Nails
30. Tie Dye with Hot Pink and Black Nails
Nail Art Trends
From fresh chrome at Fe Noel and preppy stripes seen on the Models at Tommy Hilfiger to extra accents at Monse and dainty French at Brandon Maxwell SS23, several nail art trends have featured the vibrant hot pink-and-black combo.
This color combination offers the perfect balance between light and dark, creating a striking look suitable for various occasions. Use it to complement your style with one of these nail art techniques and designs:
A pink-to-black ombre that creates a gradient effect.
A pink accent nail with geometric patterns in black.
Pink and black marbled nails with specks of gold.
Pink base with white florals and black leaves.
Black base with hot pink fire and heart motifs.
Hot pink nails with black fire stemming from the cuticles.
Heart-shaped tips in beautiful pink and black.
DIY: Creating Hot Pink and Black Nail Designs
Are you intimidated by the pink and black color combination? This handy tutorial will take the fear out of the equation, allowing you to rock this gorgeous nail art!
add video here
Hot Pink and Black Nails for Every Occasion
Hot pink and black nails are perfect for all occasions and preferences; it's what makes them so unique. With just a couple of changes in your base layers and the technique used, you can create brand-new designs with the same color combo.
Here are some examples that'll work for different events.
For professional settings: Black lines on a pink base, a heady mix of color-blocking and geometric lines, or a studded French mani with black tips for a cool but collected nail art design that grabs eyeballs.
For parties and brunch: French tips in white and adorned with hot pink and black hearts, an abstract pink and black design for a simple but bright look, or a black and pink cartoon-style design that truly pops.
For weddings: Simple hot pink base with black polka dots, French tips with cheetah print in black and pink, or pink base with zebra swirls at the tips.
Just make sure to match your nails with your outfit. Ideally, you want to wear something along the lines of blue, coral, gold, gray, green, lilac, nude, orange, pink, red, or white with this color combo. And make sure you keep the accessorizing to minimal and subtle pieces. Let your nails do all the talking.
Nail Care and Maintenance
Want to keep your hot pink and black claws for the maximum possible duration?
Here are some expert tips to help you out:
Use a base coat and a top coat to offer extra layers of protection to your nails to maintain their shine and prevent chips.
Check the ingredient list of products you purchase, as some contain harmful chemicals that can cause your nails to turn brittle and crack.
Wear protective gloves when doing household chores. It will prevent the chemicals from coming into contact with your nail paint.
Use cuticle oil to keep your cuticles and nails healthy and hydrated.
And while you're at it, make sure to disinfect your nail tools to keep bacteria at bay.
Resources: