It's that time of year again! And take it from us, there is nothing more elegant during the Christmas season than black Christmas nails.
If there's one thing we love, it's bringing a little bit of flair to the holidays!
If you're like us and feel like celebrating Christmas in style, you are going to love the ideas that we have in store for you.
These designs are sure to get you into the holiday spirit. Elegant, classy, and fun, these beautiful nail styles can easily become the gift that keeps on giving.
The best part is, you don't need to wait for Christmas morning to unwrap them from under the tree. You can get them for yourself!
In this article, we will be exploring 30+ beautiful black Christmas nail trends for 2023 that would bedazzle St. Nick himself!
There's even a little bonus at the end to help you with choosing the best manicure to help you celebrate the most wonderful time of the year!
Why We Love Black Christmas Nails
There is just something magical about Christmas. It is a time of wonder and joy, and who says that this magical experience has to stop at decorating the Christmas tree?
Black Christmas nails are a fun way to bring another dimension to our celebrations. We love these nails because they are gorgeous, sleek, and fun.
If you're like us, you've seen all the classic holiday movies. The ones in black and white where the women always look so stylish and refined are exactly what the vibe of these beautiful designs gives us.
They are a perfect fit for anyone who wants to bring a little bit of that same elegance to their holiday festivities!
2023 Trends for Black Christmas Nails
We love these styles and the glamor that it brings to the party. Setting out cookies and milk for Santa has never looked so good! Here are the 2023 trends.
Black French triangle tips
Black and silver chrome
Black acrylic with snowflake nail art
Rose-gold glitter with black base
One nail painted halfway painted black, the other half red or silver, while the nail beside it is marbled red or silver to match
Video Tutorial: Black Christmas Nails
Want a little inspiration for your new holiday look? We've got you covered! Check out this awesome video for some great info on achieving the style you've been looking for!
30+ Ideas for Black Christmas Nails
These black Christmas nails are sleek, elegant, and gorgeous. They are sure to stand out with a wide variety of wardrobe options without clashing. They even look good if you're wearing an ugly Christmas sweater! Trust us, we know.
1. Black and Nude Christmas Almond Nails
2. Black Stars Short Nails
3. Acrylic Black Christmas Nails
4. French Tips on Short Almond Nails
5. Starry Sky Nails
6. Short Black Nails with Glitter
7. Long Square Christmas Nails in Black and White
8. Black and Fruschia Festive Nails
9. French Almond Nails
10. Textured Black Christmas Nails
11. Long Black Almond Nails
12. Gold and Black Acrylics
13. Black Christmas Nails with Rhinestones
14. Mountain Peak Festive Nails
15. Black Christmas French Tips
16. Short Snowy Nails
17. Black and Red Christmas Nails
18. Short Almond Christmas Nails in Black
19. Christmas Sky
20. SHort Black and Gold Christmas Nails
21. Acrylic Black and Nude Christmas Nails
22. Black Christmas Acrylics
23. Black and Blue Christmas Nails
24. Christmas Countdown
25. Black Glitter Nails
26. Fairy Lights Nails
27. Black and Pink Christmas Nails
28. Snowy Christmas Night
29. The Gingerbread Man
30. Black Peppermint Candies
31. Black Snowflakes
32. Black French Tips and Golden Stars
33. Christmas Elements
34. Snowflakes Black Nails
35. Black Christmas Nails with Glitter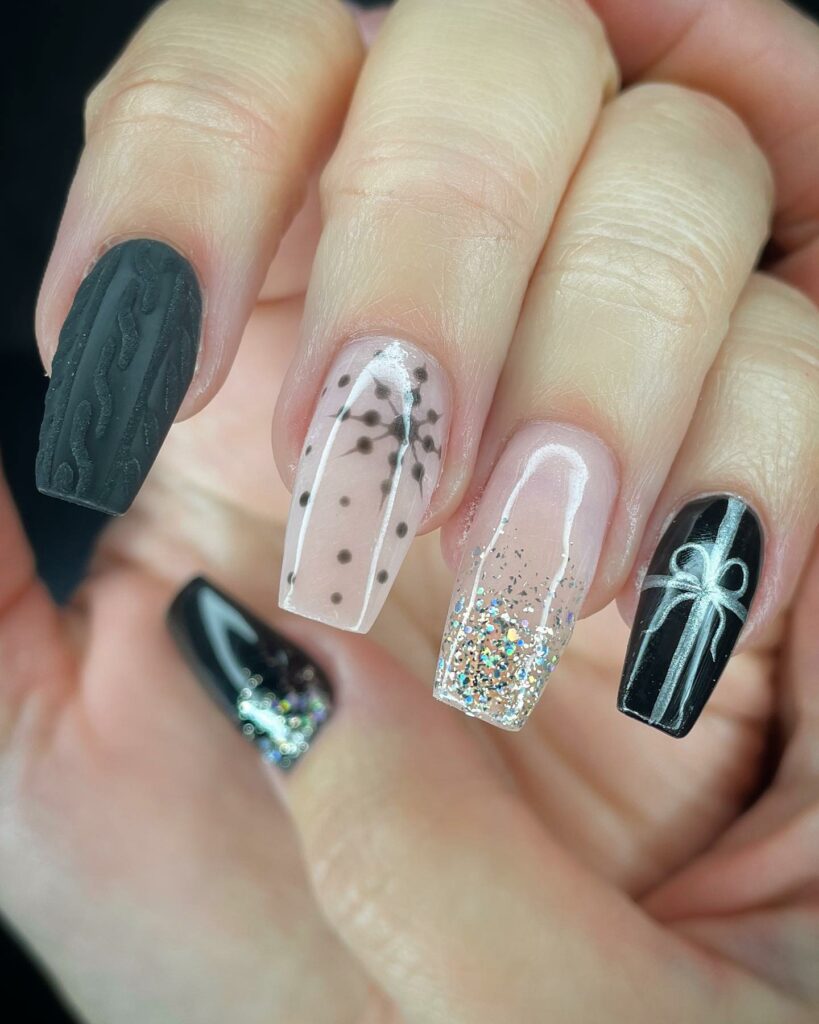 Top Tips for Holiday Manicures
For your best holiday manicure, we have to start with the basics! Wash those nails and cuticles before doing anything!
Next, think about what you want to convey with your look. Are you feeling festive? Classy? Fun? Maybe a little silly?
Once you've decided, that will open the doors for you with getting the look you've been hoping for! If you want something sleek, the classic black styles are very stylish.
If you're going for festive, consider nail art! From elegant Christmas ornaments and snowflakes to silly, cute things like reindeer and presents, the options are limitless!
For a look that lasts, use gel or acrylic. Apply your base coat first. If you want glitter, mix it in with a clear polish. And if you want to go the full mile to celebrate, stickers are always a reliable option for that extra fun holiday design!