Bold, elegant, and effortlessly classic, wine color nails are a moment.
This gorgeous hue (or should we say hues?) is fit for a royal. Whether you go for a deep matte wine or a glossy, sheer shade, this vibrant color is perfect for making a statement.
We've put together a collection of 37+ wine-color nails that'll help you choose shades that perfectly complement your skin tone!
Why We Love Wine Color Nails
The wine color palette plays home to a wide variety of reds — think purple, magenta, ruby, garnet, and even tawny. This is a color that can help you find your very own style statement, establishing an icon in the fashion world. And if that isn't enough to seal the deal, this rich, vibrant color can even make you feel invincible!
However, keep in mind that wine-colored nails can be a tad dominating at times.
To ensure they don't stick out like a sore thumb, consider pairing them with beige, black, navy, nude, and white dresses.
It'll help add just the right amount of heat, drama, depth, and sensuousness to your look, so your personality can take center stage.
Video Tutorial: Wine Color Nails
Intrigued by the hype surrounding wine color nails?
See if it holds any weight with this helpful how-to video of the fabulous nail trend. 
37+ Ideas for Wine Color Nails
This family of stunning hues can take even the simplest of manicures to the next level, though you can also incorporate detailed designs.
We've covered it all (and then some) in this compilation, so you're sure to find nail art you'll love!
1. Wine Color Nails
2. Matte French Tip Wine Color Nails
3. Extra Long Wine Color Nails
4. Glittered Wine Color Nails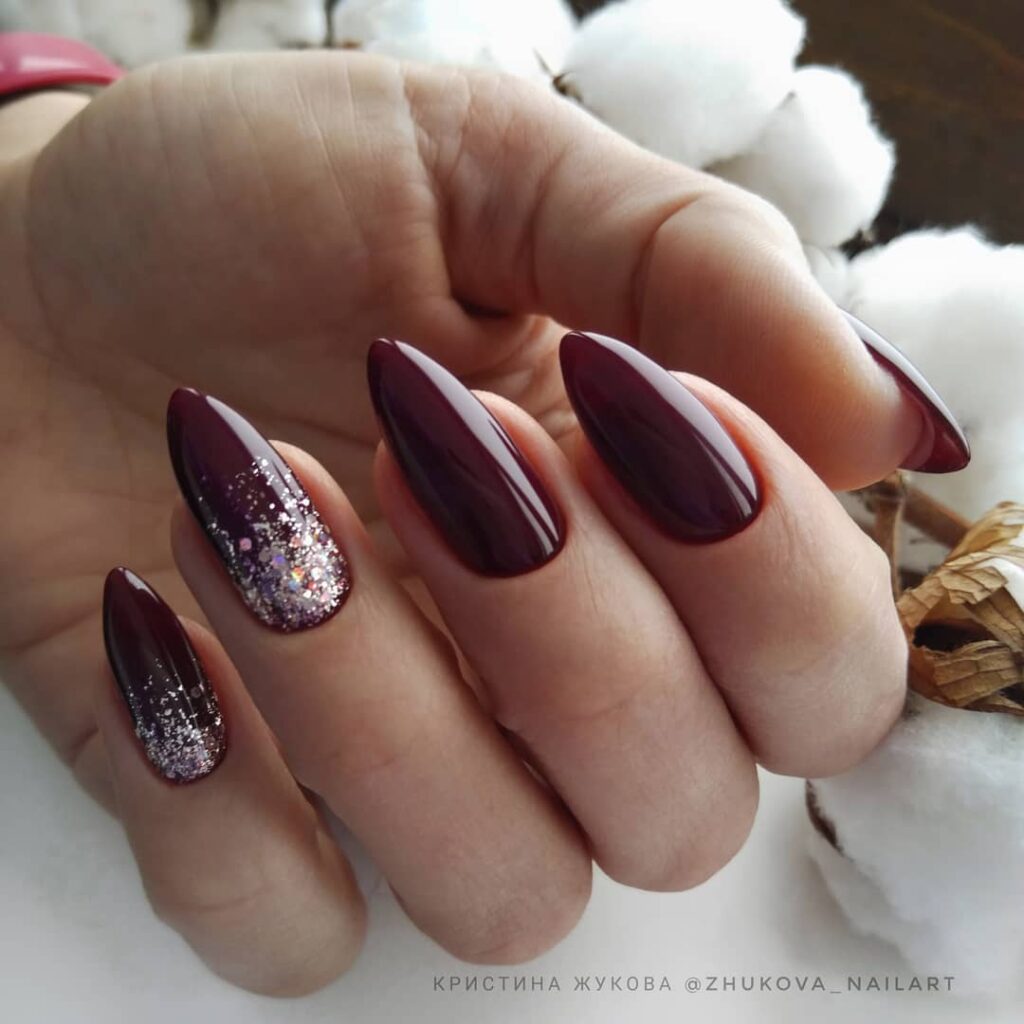 5. Short Wine Color Nails
6. Acrylic Wine Color Nails
7. Burgundy Wine Ombre Color Nails
8. Glossy Vino Wine Color Nails
9. Marble Effect Wine Color Nails
10. Gold and Wine Color Nails
11. Wine Down Color Nails
12. Fresh Berry Wine Color Nails
13. Flames in Wine Color Nails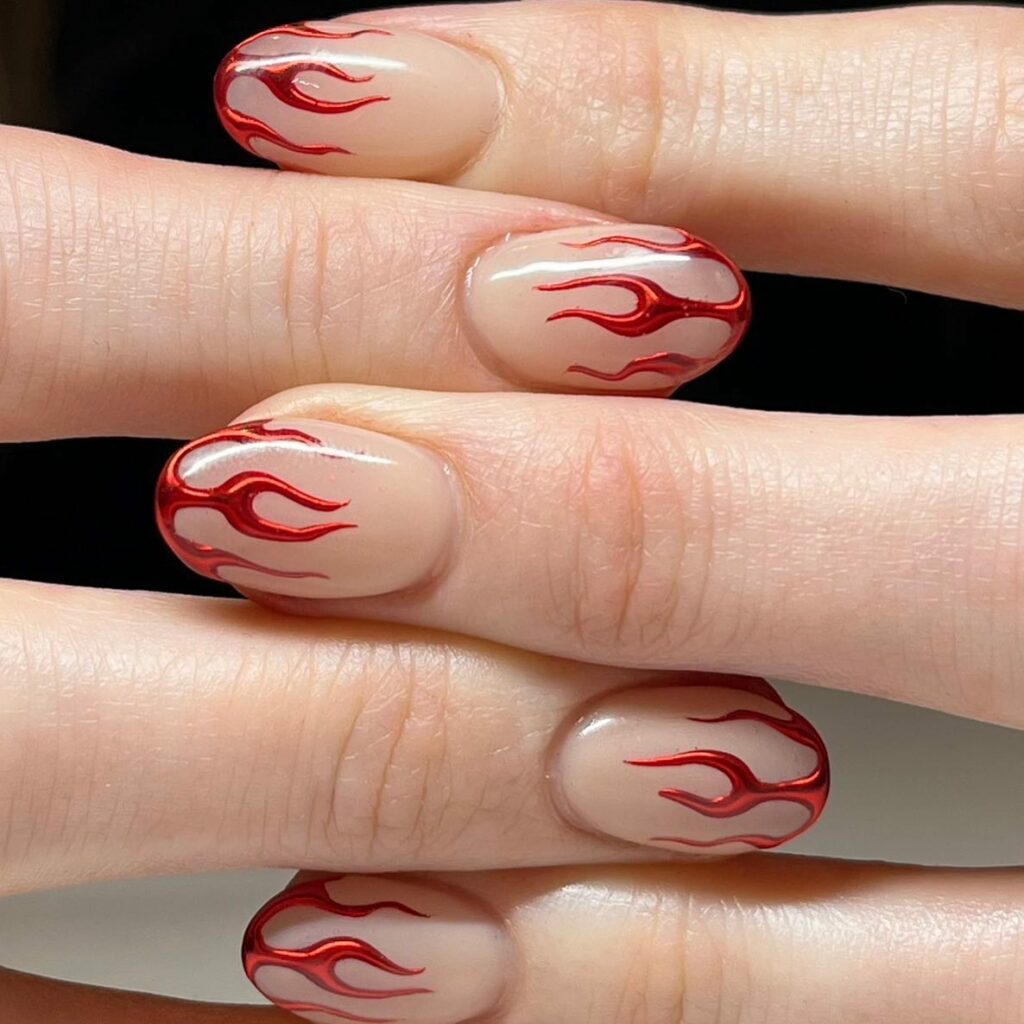 14. Black and Dark Red Wine Color Nails
15. Tipped in Gold Wine Color Nails
16. Floral Wine Color Nails
17. Velvet Wine Dreams Color Nails
18. Red Wine Color Nails
19. Cherry Wine Color Nails
20. Matt Ombre Wine Color Nails
21. Halloween Wine Color Nails
22. Vampire Vibes Wine Color Nails
23. Chrome Wine Color Nails
24. Wine Color Nails with Gold and Navy
25. Wine Color French Nails with Stars
26. Wine Swirls Color Nails
27. Deep Wine Color Nails
28. Bloody Wine Color Nails
29. Burgundy Wine French Tip Nails
30.Soaked in Wine Color Nails
31. Jigsaw Wine Color Nails
32. Wine Color Nails in Glitter
33. Crocodile Print Wine Color Nails
34. Glamorous Wine Color Nails
35. Wine Color Nails and Silver Glitter
36. Malaga Wine Color Nails
37. Plum Wine Nails Color
Trends for Wine Color Nails
Wine color nails are a hot topic right now — and for a good reason! Explore the best of what this hue has to offer here:
A gorgeous dark red set with a single white swirl towards the cuticle on each nail.
Glossy wine nails with a floral nail sticker on accent nails.
Glossy wine nails, with beige accent nails done with flower and leaf motifs.
Matte wine nails with a glossy French tip of the same hue.
Shimmering ombre, with the accent nail covered in rhinestones.
Wine French tips adorned with a golden heart.
Wine nails with a glitter accent nail.
Wine nails with gold foil.
Wine red squiggles and negative space separated by a glitter line.
Wine set with gold glitter tips.
Expert Tips to Give Your Mani Staying Power
Want to get the most out of your wine color nails?
Treat this guide like the nail Bible to maintain your polish for longer than a week:
Buff your nails after filing; it seals the keratin layers, adds shine, and prevents rough edges, giving you the perfect canvas to work on.
Tread very carefully when your nails are wet. In an ideal world, that means being mindful of the time it takes for your polish to set. If you rush this process, it will smudge your nail art and ruin your mani.
Hot air keeps your nails from drying properly and causes the polish to bubble, which can make it more susceptible to chipping. So, use a cool air setting or sit under a fan at room temperature to aid the process.
Apply a top coat every 2-3 days to keep your polish from peeling over time. Choose any finish (matte, glossy, etc.) to take your nail game to the next level.
Look for nail polish with moisturizing agents to keep breaks and splits at bay.
Avoid getting your nails wet too often. The water and/or cleaning products can seep beneath the polish, lifting the pigment and causing it to chip prematurely.
Remember to push your cuticles back with a wooden stick before painting your nails; it prevents the polish from bonding to the cuticle and keeps it sealed to the nail, making it less likely to lift. It also prevents the onset of bacteria, which is another plus.