Yellow and blue ombre nails invoke freshness and tranquility so you can live the summer lifestyle every day of the year.
It's a standout combination that's always on trend and easy to create.
Why is this color palette so popular?
Ombre nails are a color gradient of your favorite hues that transition from light to dark.
It combines complementary and contrasting colors well, and you can have fun with various combinations!
33+ Ideas for Yellow and Blue Ombre Nails
Give your nails a statement-worthy makeover with these yellow and blue ombre nail designs.
If you prefer basic and minimalist or bold and dramatic with glitter and shimmer, there's something for every occasion.
1. Simple Blue and Yellow Ombre
2. Glowing Blue and Yellow Ombre Nails
3. Sculpted Yellow and Blue Ombre Nails with Glitter
4. Blue and Yellow Ombre Nails with French Tips
5. Blue and Yellow French Tip Nails
6. Three Coloured Ombre Nails in Blue, Green and Yellow
7. Pastel Blue and Yellow Ombre Nails with Accents
8. Reversed Aura Ombre in Blue and Yellow
9. Yellow and Blue Art Nails with Aura Ombre
10. Blue Nails with Yellow Ombre Finger
11. Classic Yellow Ombre Nails
12. Neon Yellow and Blue Ombre Nails
13. Glitzy Neon Yellow and Blue Ombre Nails
14. Cute Matte Pastel Ombre Nails in Blue, Pink and Yellow
15. Yellow and Blue Nails with Sunflower and Vertical Ombre
16. Blue Nails with Beautiful Glitter Yellow Ombre
17. Short Yellow Nails with Dark Blue Tipped Ombre
18. Long Yellow and Blue Ombre Nails
19. Glittery Yellow and Blue Ombre Nails
20. Matte Neon Ombre Nails in Yellow, Green and Blue
21. Blue French Ombre with Yellow Flowers
22. Sea Blue and Sand Yellow Ombre Nails
23. Stardust Chrome Blue and Yellow Long Ombre Nails
24. Short Rainbow Pastel Ombre with Yellow and Blue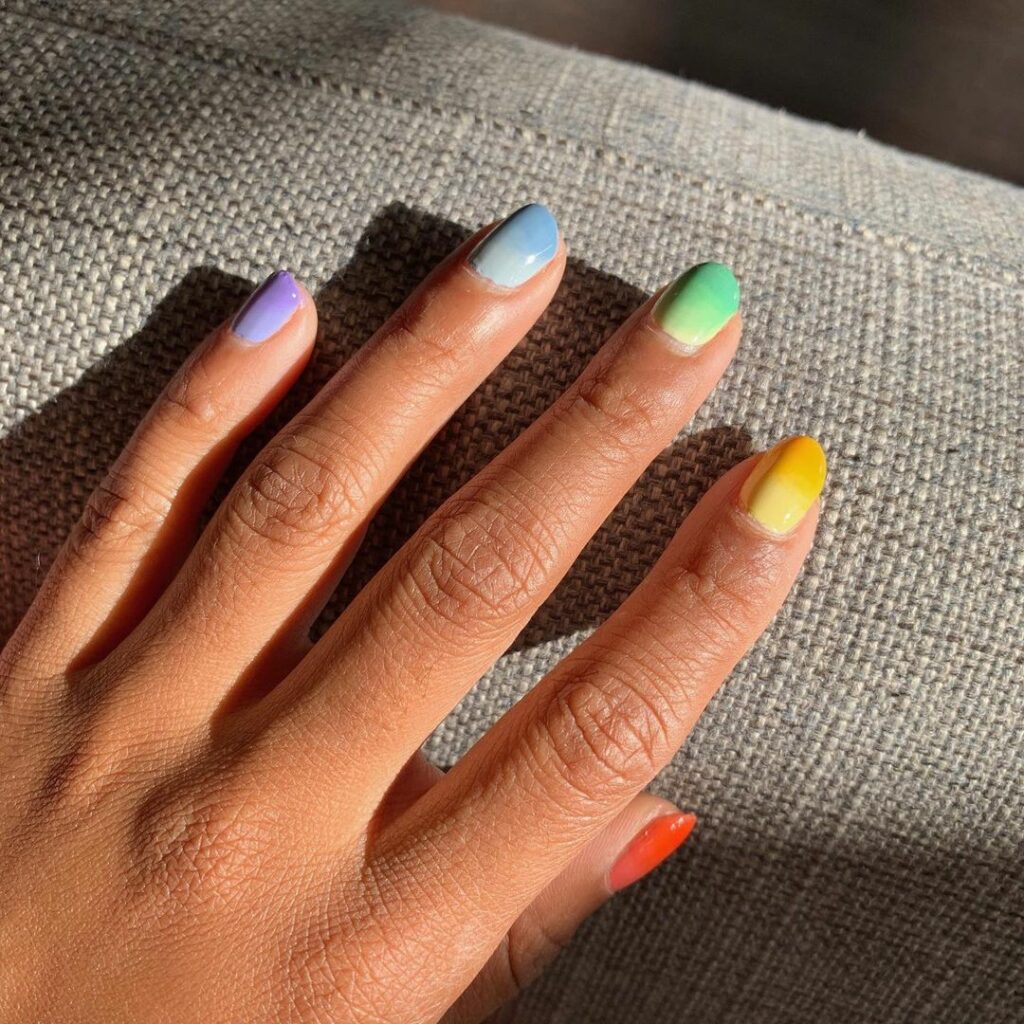 25. Yellow and Blue Ombre Coffin Tipped Nails
26. Polka-Dot Blue and Yellow French Tip Ombre Nails
27. Matte Blue and Yellow Nails with Abstract Ombre Art
28. Blue Turquoise and Mustard Yellow Matt Nails with Black Leaves
29. Tie Dye Ombre Nails in Blue, Yellow and Purple
30. Abstract Nail Art with Vertical Blue and Yellow Ombre
31. Yellow Nails with Blue Swirls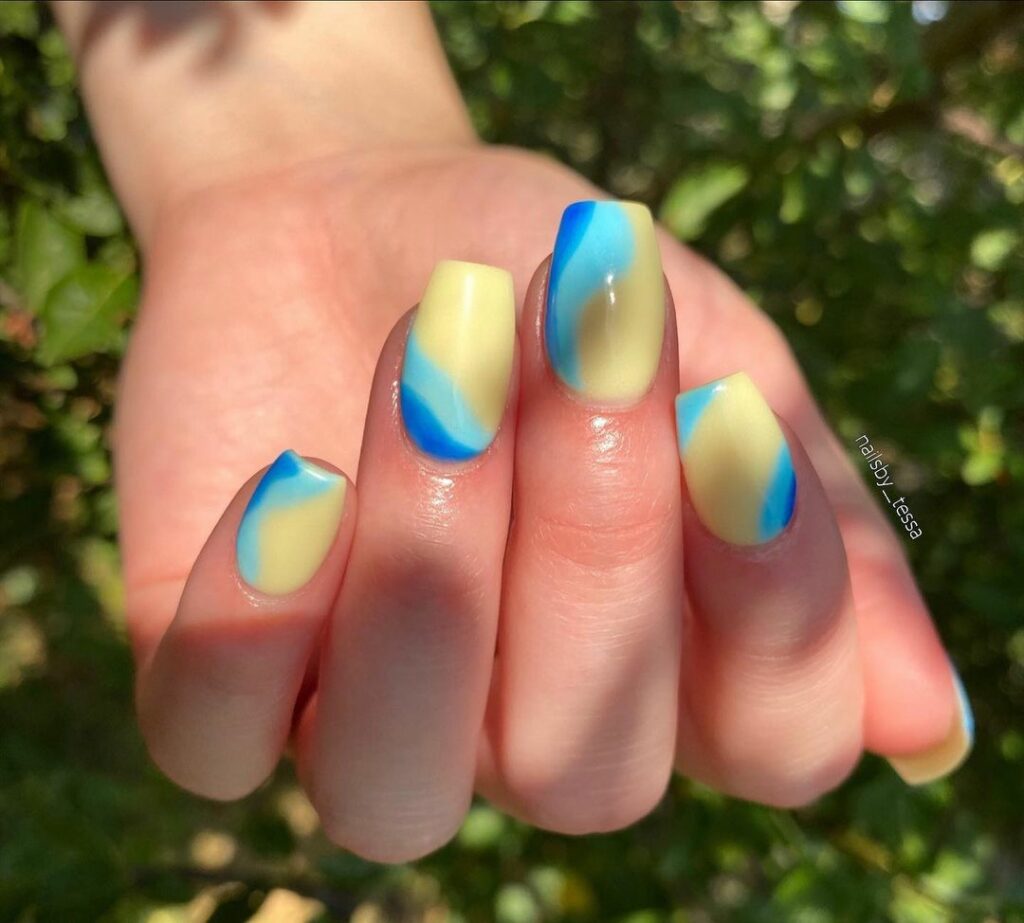 32. Blue and Yellow Ombre Nails with Rose Art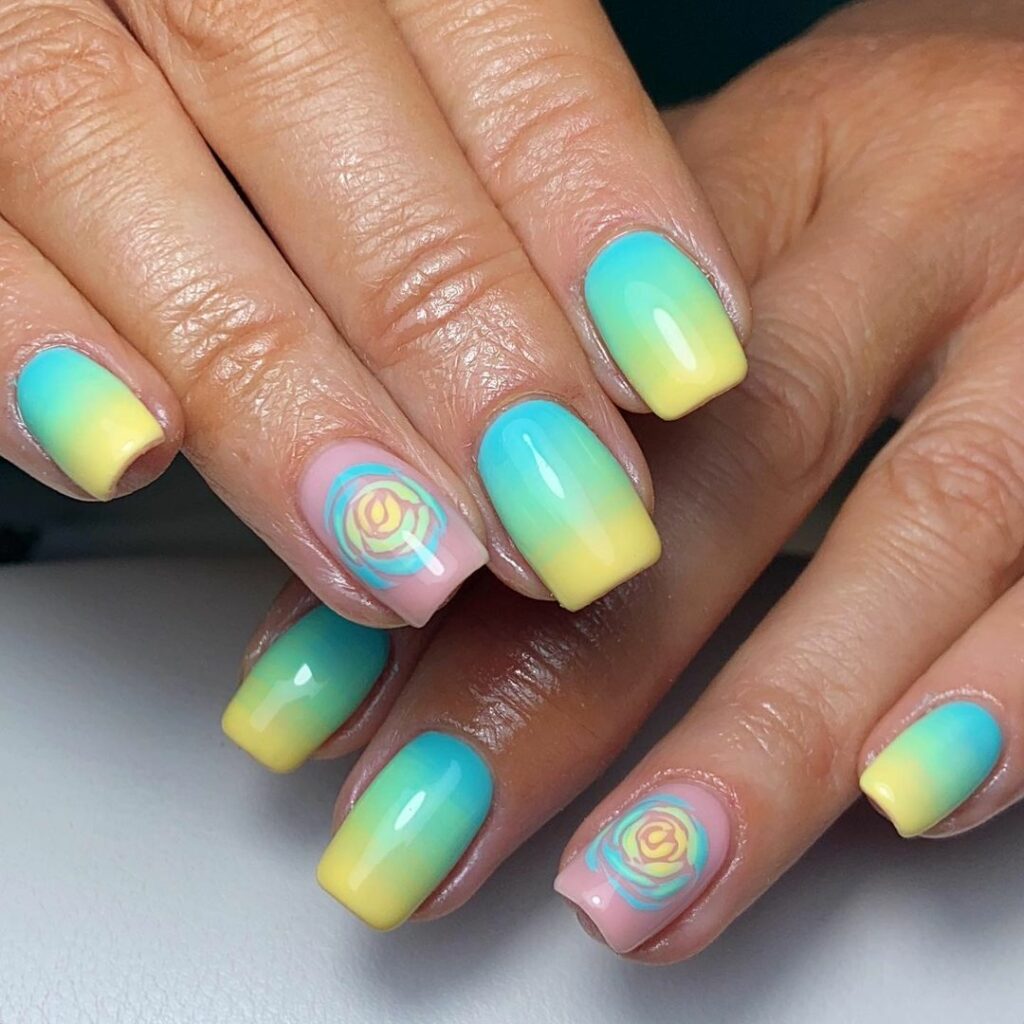 33. Yellow and Blue Ombre Artistic Nails
34. Bright Yellow and Navy Blue Ombre Nail Design
35. Blue Ombre and Yellow Gold Nails
Mastering the Ombre Technique
Don't know how to create ombre nails? We got your back, boo.
Here's a step-by-step guide to achieving a seamless yellow-to-blue gradient:
Apply a thin layer of base coat. This creates a barrier between your nails and the polish to prevent staining and improve adhesion.
Choose a shade of yellow and blue. Subtle hues will work better than stark and chaotic ones. Apply a coat or two of the lighter hue.
Layer a generous amount of yellow and blue shades on a disposable sponge—it's okay if they overlap for a smooth transition. Dab it on your nails repeatedly until you get the desired effect.
You can also apply matte yellow and blue polish directly on the nail and use the tip of the brush to blend the colors.
Use an angled brush dipped in nail polish remover to eliminate messes. Apply a topcoat to smooth out any texture. You're all set!
Playing with Patterns: Ombre Nail Art Ideas
Ombré look is an adaptable style, and you can bring this playful yet sophisticated technique to life in so many ways.
For example, instead of applying polish horizontally, you can create a gradual diagonal transition.
Experiment with bold lines, waves, and curves for a modern twist on the classic.
Choosing the Right Shades of Yellow and Blue
The duo can seem basic, but that's far from true!
Yellow has dozens of shades, like pastel yellow, moccasin, mellow yellow, mustard, amber, dijon, honey, Tuscany, banana, peach puff, and more.
You'll also find a range of stunning blues on the spectrum: turquoise, sky blue, ultramarine, cadet blue, cobalt blue, Celeste, electric blue, etc.
But first, consider your skin tone and personal style before you pick up certain colors.
Fair skin tone: muted and pastel
Medium skin tone: cool tones with warm undertones
Dark skin tone: bright yellow and dark blue
Be as creative as possible by mixing and matching shades for a personalized touch.
Top Coat Magic: Sealing and Finishing the Look
A high-quality top coat is where function meets fashion.
It seals the color in your ombré design for top-notch staying power and blocks UV rays from causing discoloration.
Apply it at the center of your nail and work your way up.
Cap the edges to avoid chipping.
Top coats come in different finishes (matte, glossy, glitter-infused), so you can choose the final touch for your nail art.
Pro tip: Use a quick-dry top coat if you are busy.
Ombre Nails for Every Occasion
Personalize your ombre nails for different occasions.
Use muted, soft, and pastel colors for a casual look for business meetings or brunch with the girls.
Add embellishments, glitter, or rhinestones for a night out.
Tweak the design to uplift your mood and elevate your 'fit.
Confidence in Color
Yellow and blue are complementary hues, and the combination can be quite bold.
But you can play with different palettes and techniques to achieve the right intensity for your style preferences without creating any color clash.
Nail art is how you express yourself; don't be afraid to take the reins!
So, tap into the timeless appeal of the ombré technique by following the how-to guides, tips, and tricks shared by professionals!