Yellow ombre nails are on-trend, and they have completely won us over!
So, if you're in the mood to try something new, these vibrant-colored nails offer countless design possibilities that can be recreated with a splash of yellow polish and some nail accessories.
Here are over 30 ideas for yellow ombre nails that go well with any outfit. We also throw in some manicure maintenance tips.
Once you've nailed the look you've chosen, you can't help but feel as bright, bold, and beautiful as your nails!
Video Tutorial: Yellow Ombre Nails
Don't know how to paint yellow ombre nails? Watch this video to learn how you can create this gradient nail art using your favorite nail polish and a small sponge.
30+ Best Ideas for Yellow Ombre Nails
Yellow ombre nails are all the rage right now. Stay on trend with this classic and timeless design using your favorite hues of yellow. You can even add glitters, foils, and nail accessories to awaken your creative side and shake things up a bit.
After all, isn't variety the spice of life?
On that note, we compiled a list of over 30 of the trendiest yellow ombre nail ideas for you. Take them to your nail artist or DIY them at home with a beauty sponge!
1. Yellow Ombre Almonds
2. Short Yellow Ombre Nails with Decoration
3. Yellow Ombre Acrylics with Jewelry
4. Light Yellow Ombre Nails with Hearts
5. Neon Yellow Ombre French Tips
6. Classic Yellow Gradient
7. Neon Yellow Ombre Coffin Nails
8. Short Coffin Nails
9. Almond Boho Nails
10. Nude Yellow Ombre Nails
11. V Cut Frenchies
12. Glam Yellow Ombre Nails
13. Yellow Acrylic Ombre with Decorations
14. Lemon Ombre Nails
15. Yellow and Silver Ombre Nails
16. Soft Yellow Acrylic Nails
17. Yellow Peach Nails
18. Flowers and Pearls
19. Stiletto Yellow Ombre Frenchies
20. Rhinestones on Yellow Ombre Almonds
21. Classic Gradient Ombre
22. Summer Daisies
23. Neon Yellow Stiletto Nails
24. Glitter Yellow Ombre
25. Yellow Butterflies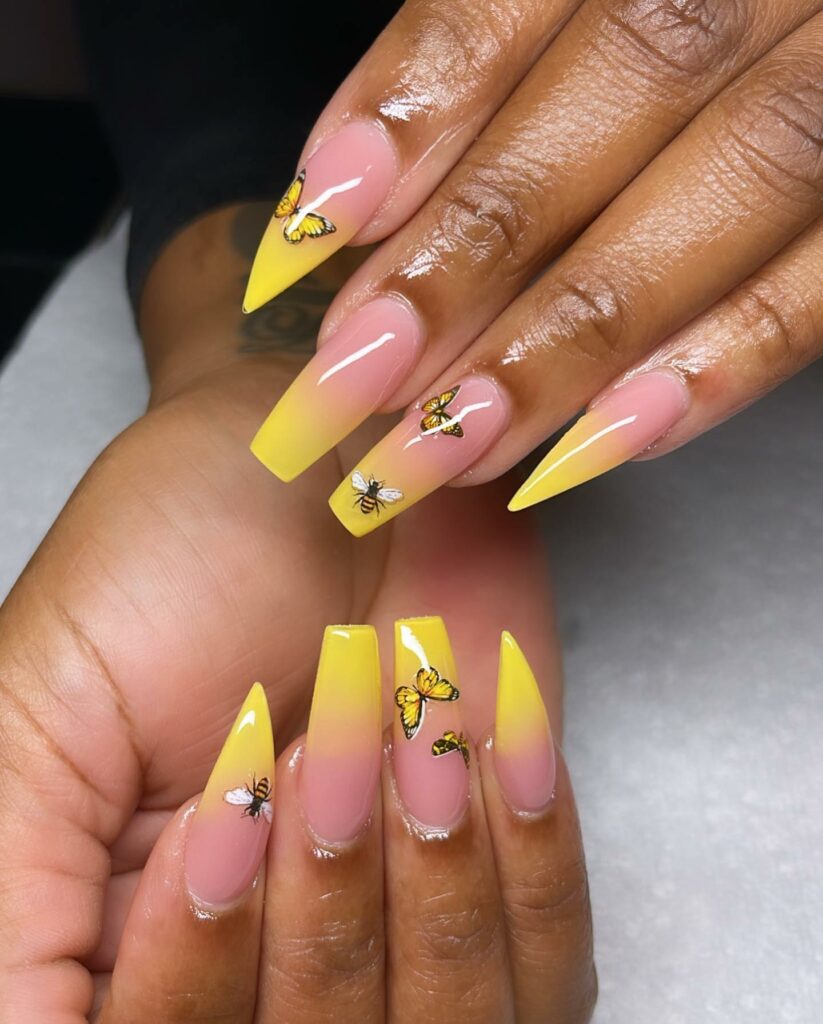 26. Yellow and White Swirls
27. Yellow Ombre French Tips
28. Sunflowers
29. Flowers and Butterflies
30. Funny Yellow Ombre Nails
31. Outlined Frenchies with Gold
32. Mustrud Yellow Ombre Nails
33. Yellow and Purple Ombre Nails
34. Yellow Ombre Coffins
35. 3D Flowers
36. Classic Almond Nails
37. Bows and Lemons
38. Coffin Nails with Yellow Flowers
39. Pastel Ombre Nails
Why We Love Yellow Ombre Nails
Yellow is a hue that makes you feel cheerful and excited. It's an energizing color that adds a modern and elegant summer or springtime vibe to your fingertips.
It's also the most visible color in the spectrum.
So, if you're looking to command attention wherever you go, this is one hue where you can't go wrong. It's even better in ombre, a dramatic gradient technique where colors shift and blend in harmony to create a masterpiece on your fingertips.
Trends for Yellow Ombre Nails
Show off your playful side with these stunning trending yellow ombre nail designs:
A simple yellow ombre set brought to life with white flower stencils
French ombre set with clear polish
Light yellow ombre with a muted pink flower art topper
Nude to bright and bold yellow, topped with silver glitter
Ombre set with abstract white waves
Orange butterflies and gems on top of a light yellow ombre base
Pastel ombre with the tiniest of glitter
Subtle pastels with an accent nail spruced up with dried flowers
Yellow gradient with tapered nude pink, jazzed up with Swarovski crystals
Yellow shade blending into a lavender shade for an effortlessly chic look
Maintain Yellow Ombre Nails With These Genius Tips
Did you choose yellow ombre nails for your tips?
That's one decision you won't regret.
Chances are, you'll want to keep them around for as long as possible (I mean, have you seen how expensive salons can be?). Good news for you, that's totally doable.
Here's how you can give your polish better staying power:
Soaking your nails can cause peeling and make your nails brittle. So, consider using gloves while doing chores to keep your manicure looking fresh.
Reapply a top coat every 2 to 3 days to add a layer of protection against fading, extend your manicure's life, and seal the nail tip from peeling.
Give your nails some TLC with cuticle oil to protect your manicure while giving it a lasting shine, stimulating nail growth, and making your nails healthier.
If your nail polish gets chipped at the edge, don't panic. You can still save your manicure. Use a nail file to grind, file, and shape your nails, then apply a layer of topcoat.
Don't chomp on your nail polish. It doesn't just taste awful; it can also result in chipping which will shorten the lifespan of your manicure.
By following these tips, you can enjoy envy-inducing yellow ombre nails for as long as possible!