As the seasons change, so do the trends and aesthetics surrounding fashion and accessories, including our nails.
If you're looking to embrace autumn with open arms and by snuggling inside with a delicious cup of hot chocolate, make your manicure reflect how you feel.
Yellow autumn nails are a great way to go about it as there are plenty of shades of yellow to choose from.
Plus, the color is known for being happy and gleeful, putting a smile on your face even on the gloomiest of autumn days!
47+ Ideas for Yellow Autumn Nails
Autumn brings with it a plethora of nail styles, making it hard to pick just one.
Check out these ideas for inspiration and you'll be on your way to yellow autumn nails this season!
1. Simple Yellow Autumn Matte Coffin Nails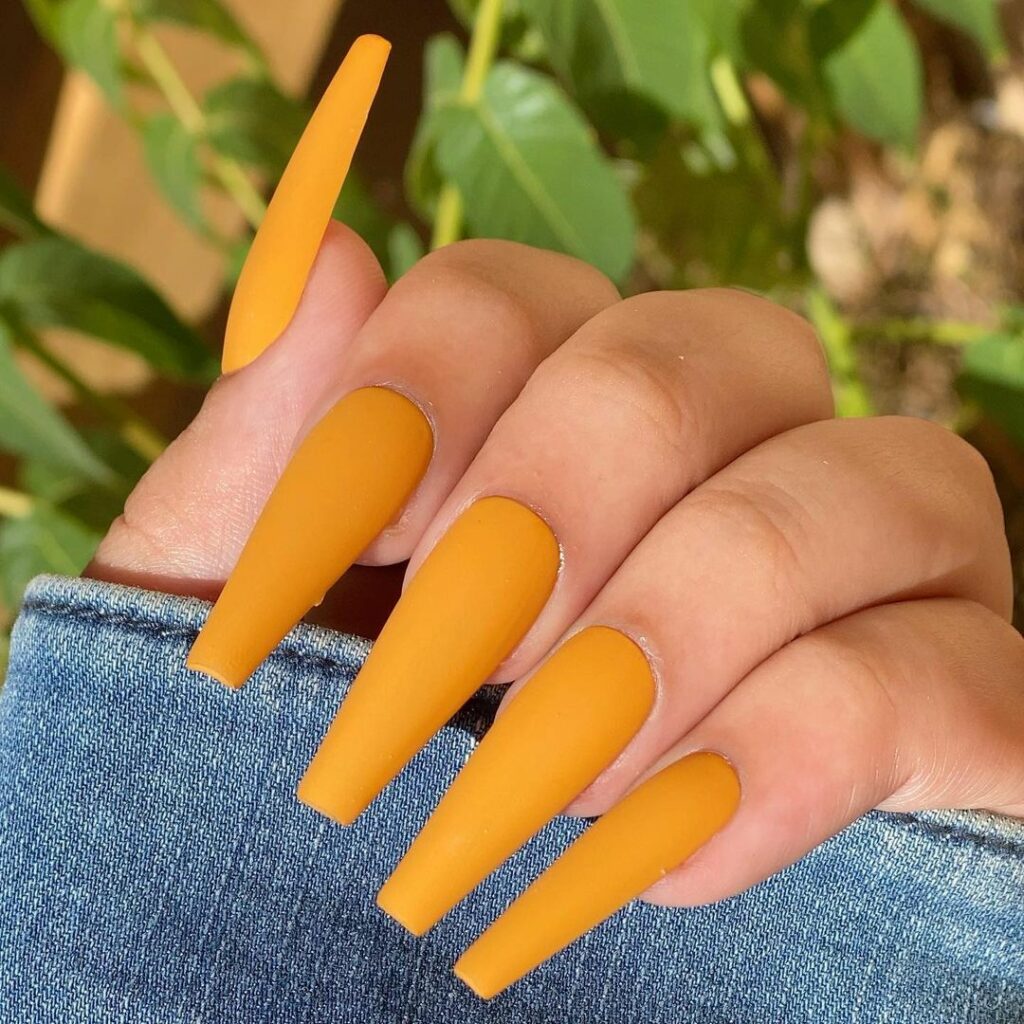 2. Perfect Mustard Yellow Almond Autumn Nails
3. Short Yellow Autumn Nails with Flower Art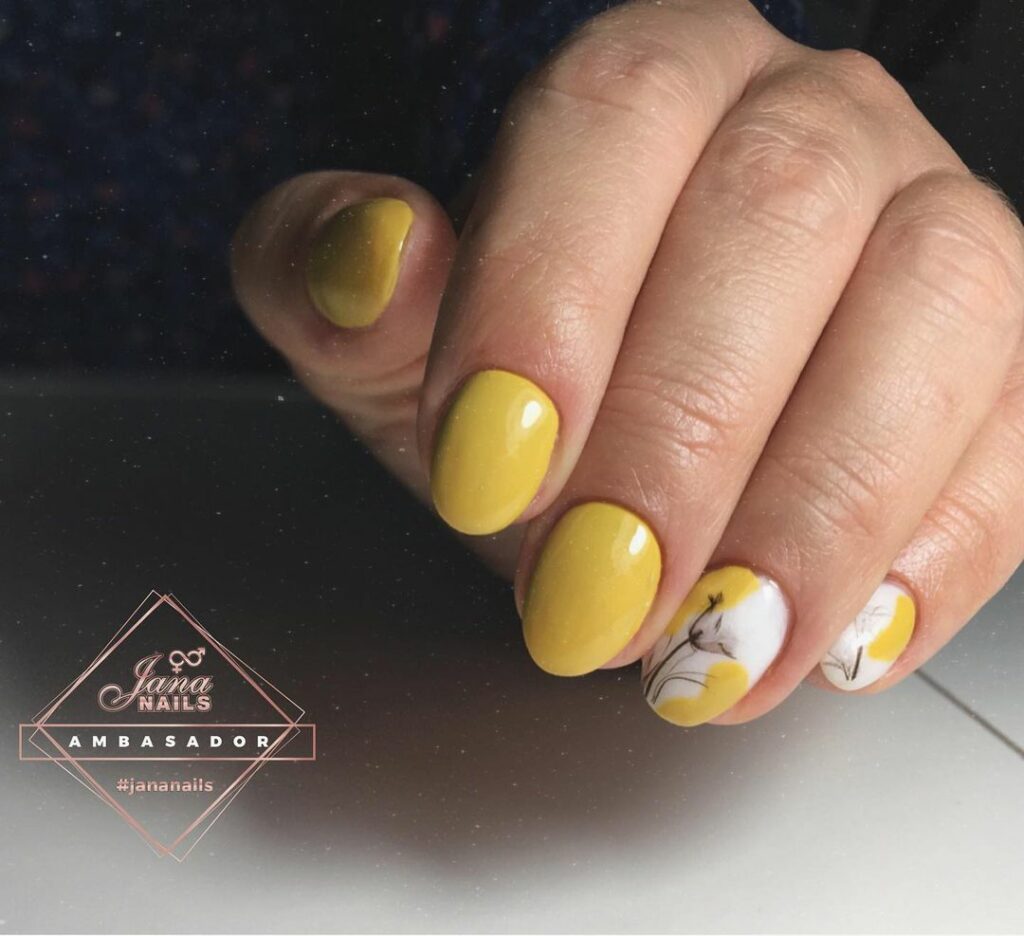 4. Almond Yellow and Orange Autumn Nails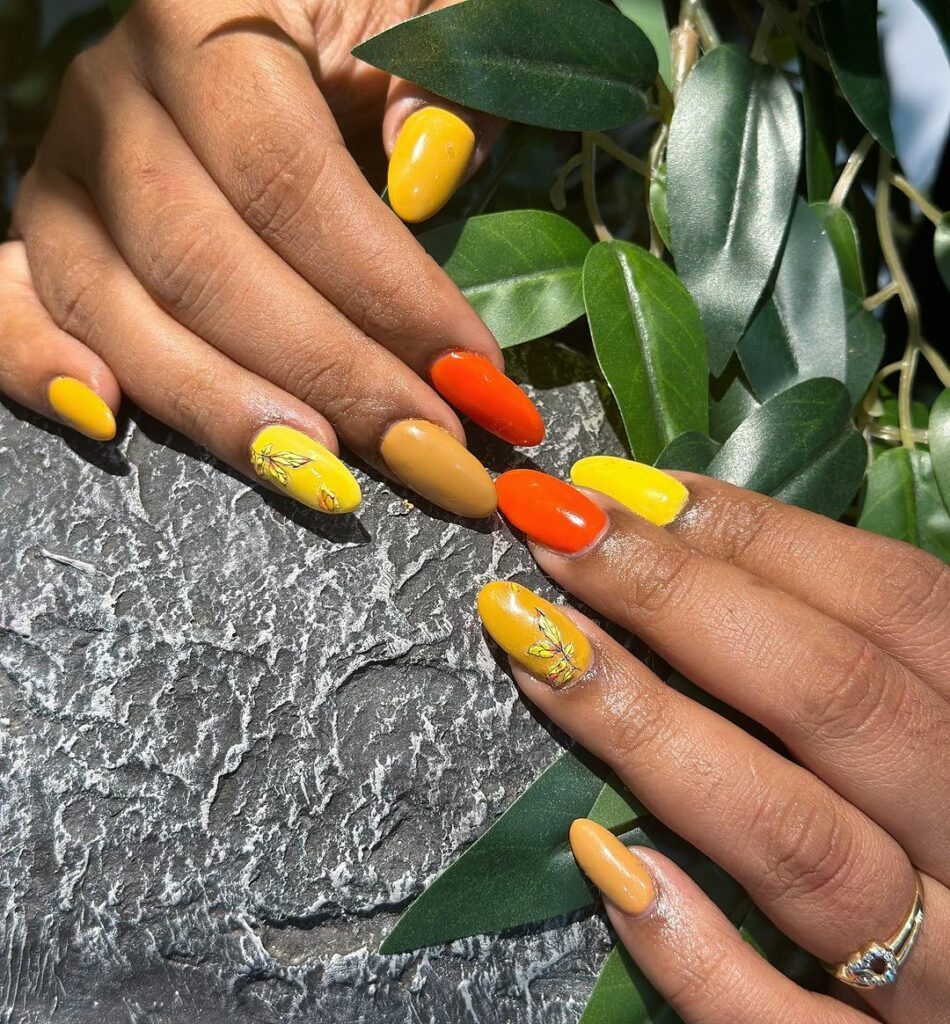 5. Yellow Gold Autumn Nails with Orange Art
6. Green and Yellow Autumn Inspired Nails
7. Acrylic Lemon Yellow French Tip Nails
8. Matte Autumn Yellow Detailed Nails
9. Yellow Pumpkin Autumn Coffin Nails
10. Bright and Creamy Mustard Yellow Autumn Nails
11. Yellow Base French Tip Nails with Flames
12. Flower Design Yellow Autumn Nails
13. Matte Yellow and Red Autumn Nails with Art
14. Artistic Yellow Autumn Nails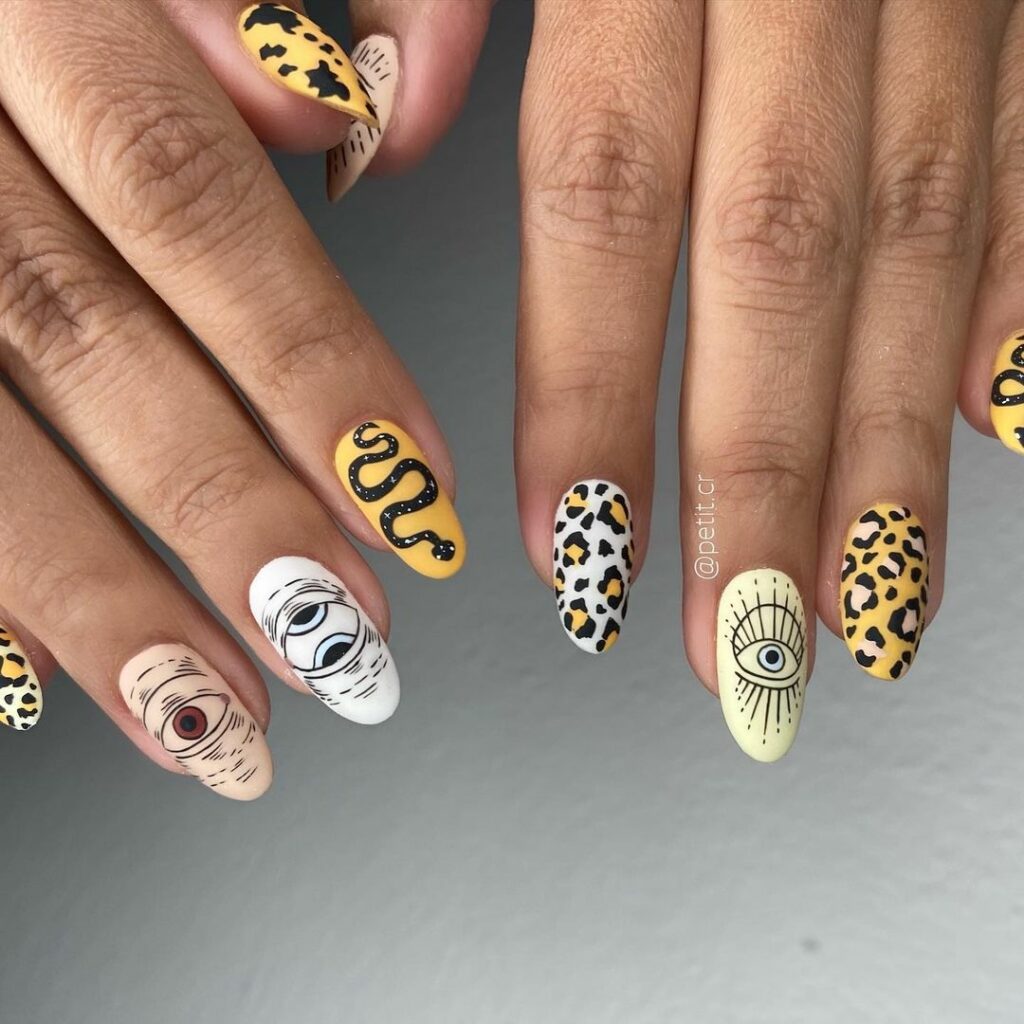 15. Glitter Yellow Nail Design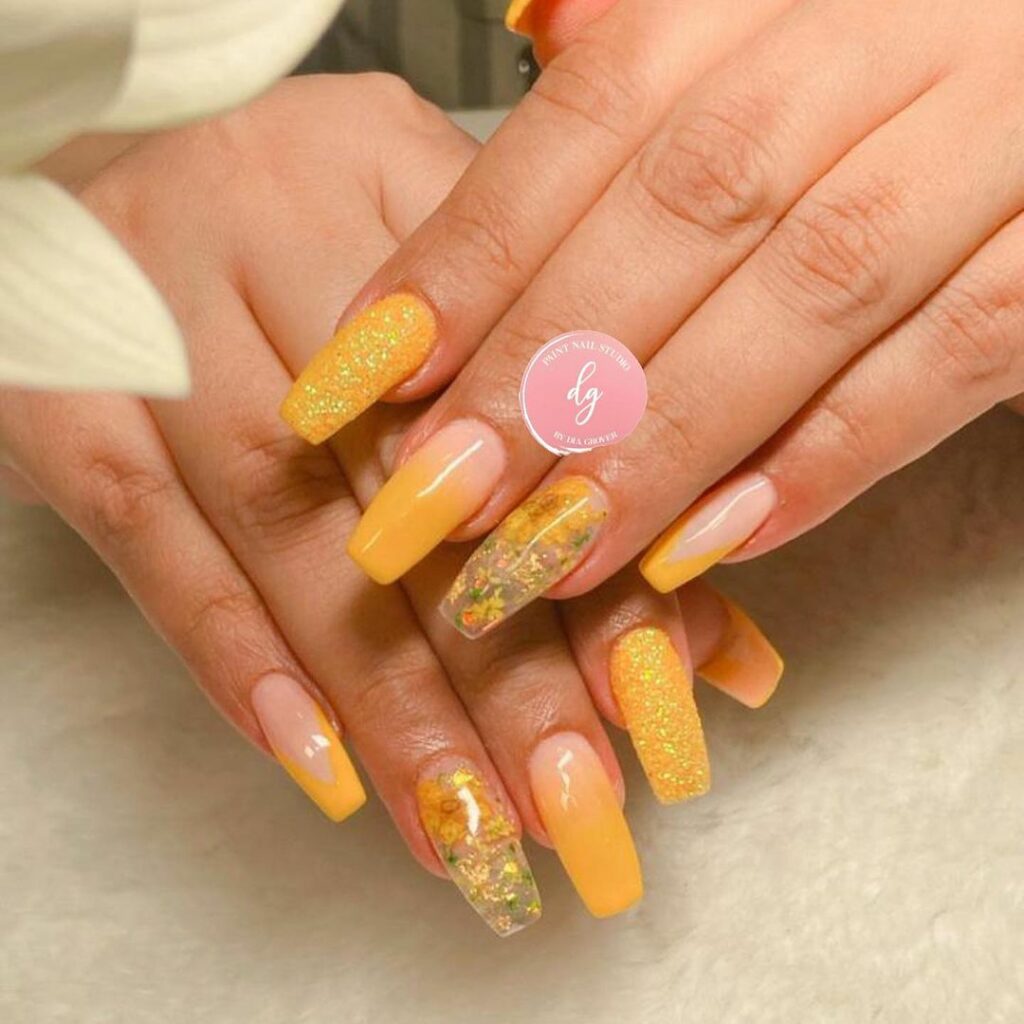 16. Long Acrylic Autumn Nails in Yellow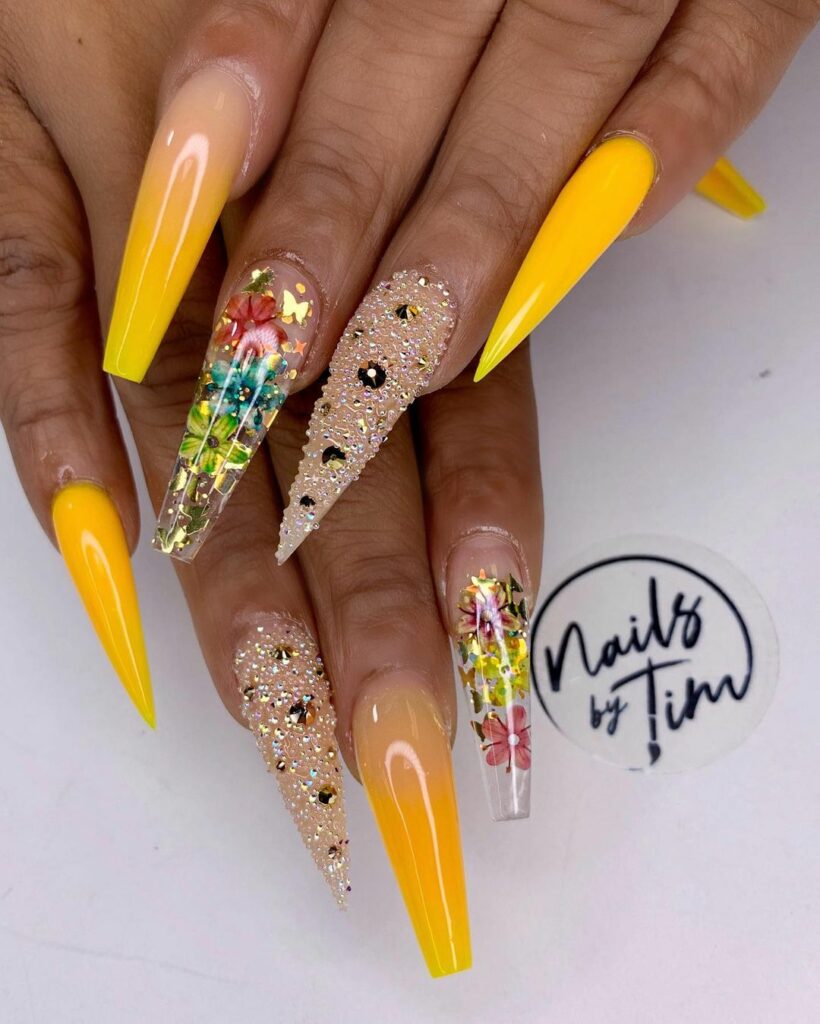 17. Nude and Yellow Ombre Autumn Nails
18. Red, Yellow and Orange Autumn Nails Design
19. All Glitter Yellow Nails
20. Multicoloured Autumn Mix Nails with Yellow
21. Yellow Nails with Butterflies
22. Autumn Yellow Ombre Nails
23. Yellow Autumn Marble Nails
24. Amazing Autumn Yellow Art Nails
25. Tartan Yellow Nails with Black Art
26. Banana Ombre Yellow Nails
27. Navy and Yellow Autumn Nails
28. Glossy Yellow Short Nails
29. Glittery French and Ombre Yellow Nails
30. Beautiful Yellow Sunset Autumn Nails
31. Two Toned Yellow French Tipped Autumn Nails
32. Yellow and Orange Aura Ombre Autumn Nail Design
33. Tortoise Shell Autumn Nails in Black and Yellow Tones
34. Yellow And Pink Base Autumn Nails with Flower Art
35. Fancy Yellow Autumn Leaves Nails
36. Yellow and Nude Gold Lined Autumn Nails
37. Yellow Nails with Wavy Smiley Face
38. Abstract Art Two Tone of Yellow Nails
39. Short Mustard Yellow Leopard Print Nails
40. Yellow Autumn Nails with Gold Lines
41. Autumn Art Yellow Nails
42. Yellow and Green Autumn Pumpkin Nails
43. Swirly Yellow Autumn Nails
44. Black and Yellow Autumn Design Nails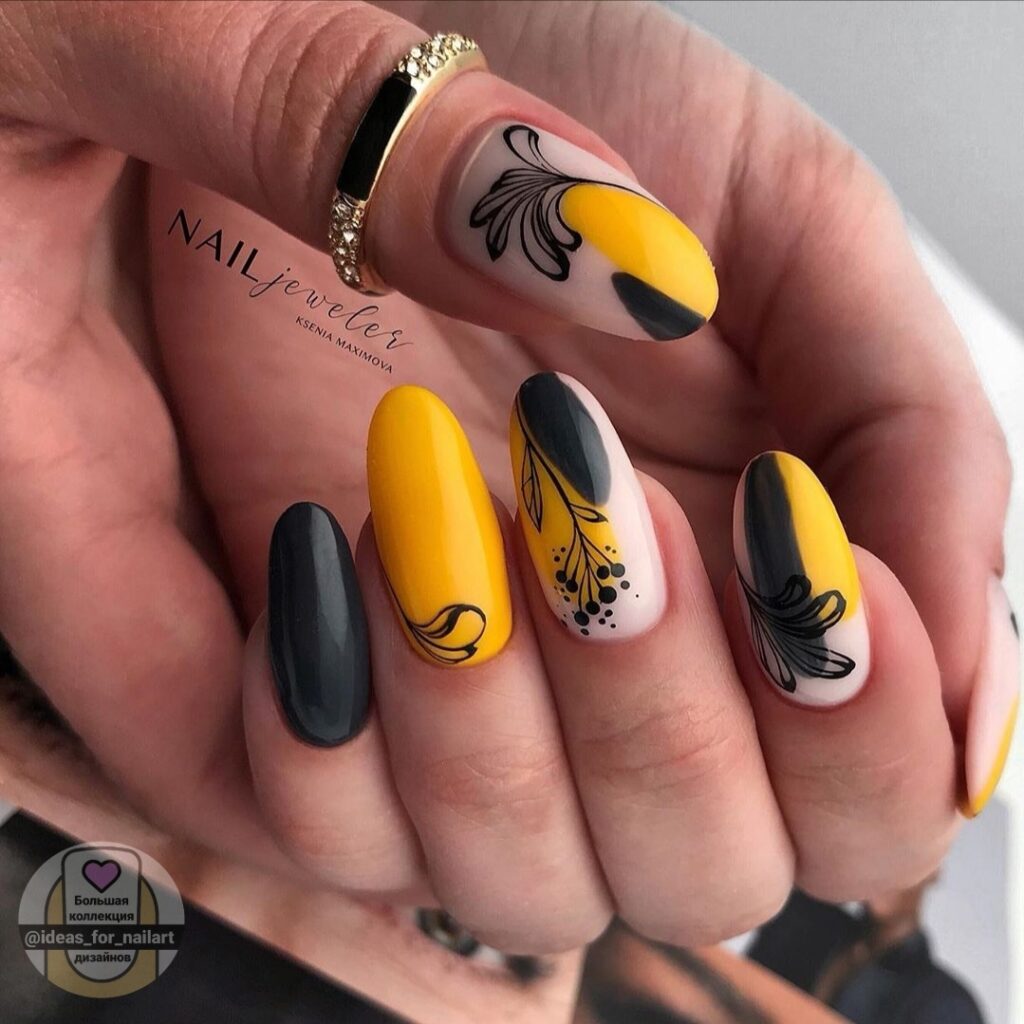 45. Basic Honey Mustard Yellow Autumn Nails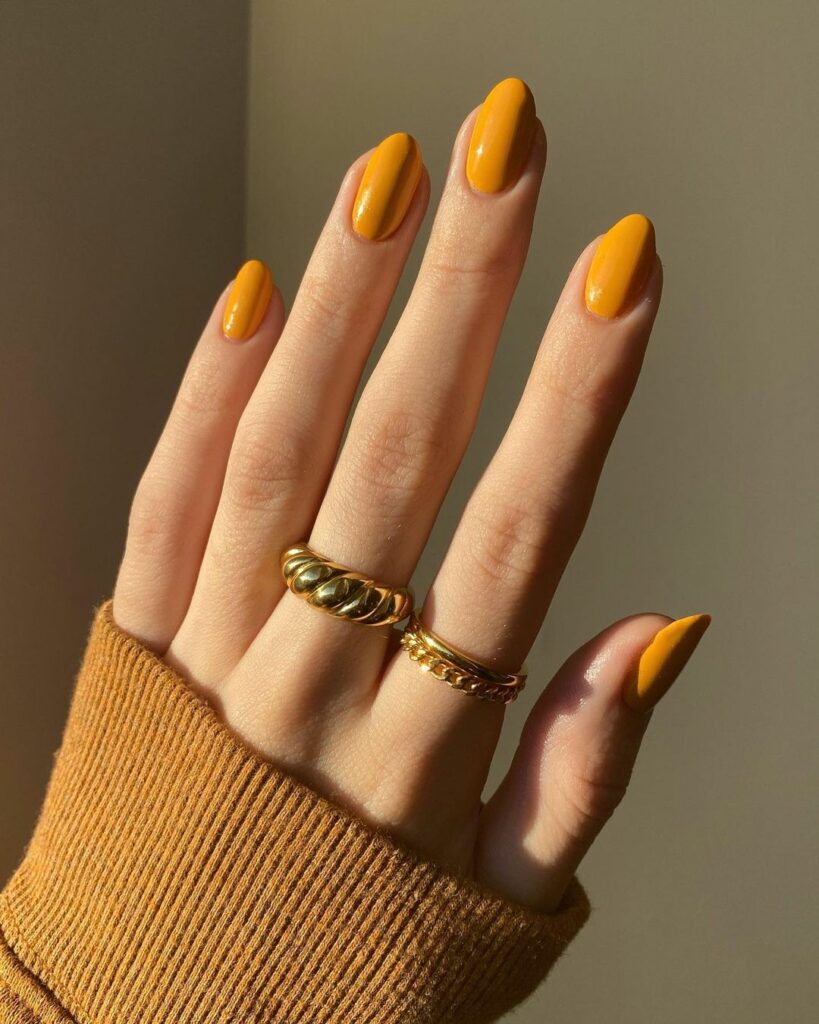 46. Yellow and Black Speckles Autumn Nails
47. Dipped Gold Yellow Nails
48. Yellow Tips With White Half Moons Nails
49. Animal Printed Yellow Nail Design
50. Tortoiseshell and Golden Yellow Combination Nails
Embracing Autumn Vibes with Yellow Nails
While maroons, reds, and burgundies are all great options, they tend to be overused.
If you really want to stand out and make your nails pop this fall, yellow and orange is the way to go.
Yellow is associated with enthusiasm, hope, confidence, happiness, and excitement.
Finding the Right Shade of Yellow
Pick from a range of different yellow hues to get autumn-themed nails.
Dandelion, honey, pineapple, butterscotch, apricot, tangerine, cantaloupe, and merigold are just a few of your options.
When selecting a shade for your yellow autumn nails, pick something muted so it's on-theme for the season.
Otherwise, it could end up looking more summery than you intend.
Consider your skin tone and undertones as well as your personal style.
If you're someone who usually wears dark colors, opt for something darker so it blends with your usual style.
Complement yellow with other autumn hues to give your manicure a finished look, add pizazz, and enhance your autumn theme.
Incorporating Autumn Elements Into Yellow Nails
Combine different motifs to achieve unique-looking nails.
Start with a base coat using your chosen shade of yellow and use other autumnal shades to add depth and variation to the elements.
You can also use nail stickers, stamps, or stencils, depending on what you're comfortable with.
Then, seal the deal with a top coat and you're good to go!
Texture Play: Matte, Glossy, and Metallic Yellow Nails
Playing around with texture is a great way to make a single color go a long way.
Matte, glossy, and metallic effects make nails look completely different even if it's the same shade of yellow!
Matte textures look best for casual or daily wear.
Glossy or metallic textures make a bold and fun statement for special occasions.
Yellow Nails That Transition From Day to Night
If you need versatility from your nails, pair yellow nails with burgundy or black.
This gorgeous combination can easily transition from day to night.
Bonus points if you add a metallic silver or gold accent to further elevate your manicure!
The key to matching your nails with your outfit is to use a yellow shade that goes with the rest of your clothing choices.
For example, if your wardrobe has mostly muted colors, go for a muted yellow.
Nail Care Tips To Make Your Autumn Yellow Nails Pop
The trick to a long-lasting manicure is the right care:
Use quality products.
Apply a base coat and a top coat to seal your manicure.
Use cuticle oil on your cuticles and nails.
Keep your hands moisturized.
Clean your nails.
These simple measures enhance the longevity of your manicure.
Embracing Individuality: Personalizing Your Yellow Autumn Nails
Yellow autumn nails are a wonderful option.
Add your own personality to your manicure with fun elements that make it unique from the rest.
Little customizations can go a long way – be it the shade of yellow you pick, or the added embellishments and glitter that make it pop.
You won't regret how empowered and confident it will make you feel to look at your nails and know that they are special and unique like you.
Conclusion
There's an endless list of possibilities when it comes to yellow autumn nails.
Just take a look at some of our amazing options.
Use them as they are or create your own variation.
No matter how you go about it, it's an eye-catching and stylish way to celebrate the season.