Been thinking of painting your nails blue?
We don't blame you. After all, blue is the world's favorite color.
As a nail color, it's sometimes an indication that someone may be taken or unavailable for dating. But it's also associated with wonderful qualities like femininity, innocence, and serenity.
If you are going to paint your nails blue, you can make them look instantly trendy by painting them on coffin nails. You know, the one shaped like stiletto nails but with a square tip?
Here are 30+ designs for blue coffin nails that will bring this beautiful hue to your fingertips.
Video Tutorial: Blue Coffin Nails
Are you a fan of blue coffin nails but don't know how to begin experimenting with them?
This video will give you all the information you need to stay on trend with this refreshingly calm color of the year. Copy it yourself, or take it to your favorite nail artist to create the aesthetic you're looking for.
30+ Best Ideas for Blue Coffin Nails
Looking for some inspo for your blue coffin nails?
We're coming through for you with over 30 designs that will blow you away.
So, get your nails into a coffin shape (or just use extensions!), then choose from amazing hues from navy and sky to azure to electric, and get ready to elevate your nail game.
1. Chrome Blue Coffin Nails
2. Glitter Blue Coffin Nails
3. Butterflies Coffin Nails
4. Pastel Light Blue Coffin Nails
5. Blue Ombre Coffin Nails with Glitter
6. Blue Acrylic Coffins with Rhinestones
7. Blue and Nude Coffin Nails
8. Livid Coffin Nails with Cherries
9. Pool Coffin Nails
10. Royal Blue Cow Print Coffins
11. Blue Ombre Coffins
12. Gradient Blue Coffins
13. Royal Blue Coffin Nails
14. Glam and Floral Blue Coffins
15. Mettalic Blue Coffins
16. Glam and Sparkling Aqua Blue Coffins
17. Aqua Blue Coffins
18. Powder Blue Coffins with Stones
19. Indigo Coffin Nails
20. Ocean Glam
21. Ivory Blue Coffins
22. Glam Navy Blue Nails
23. Turquoise Blue Nails
24. Midnight Blue Fall Coffin Nails
25. Light Blue with Gold Foil
26. Acrylics Blue Art Coffins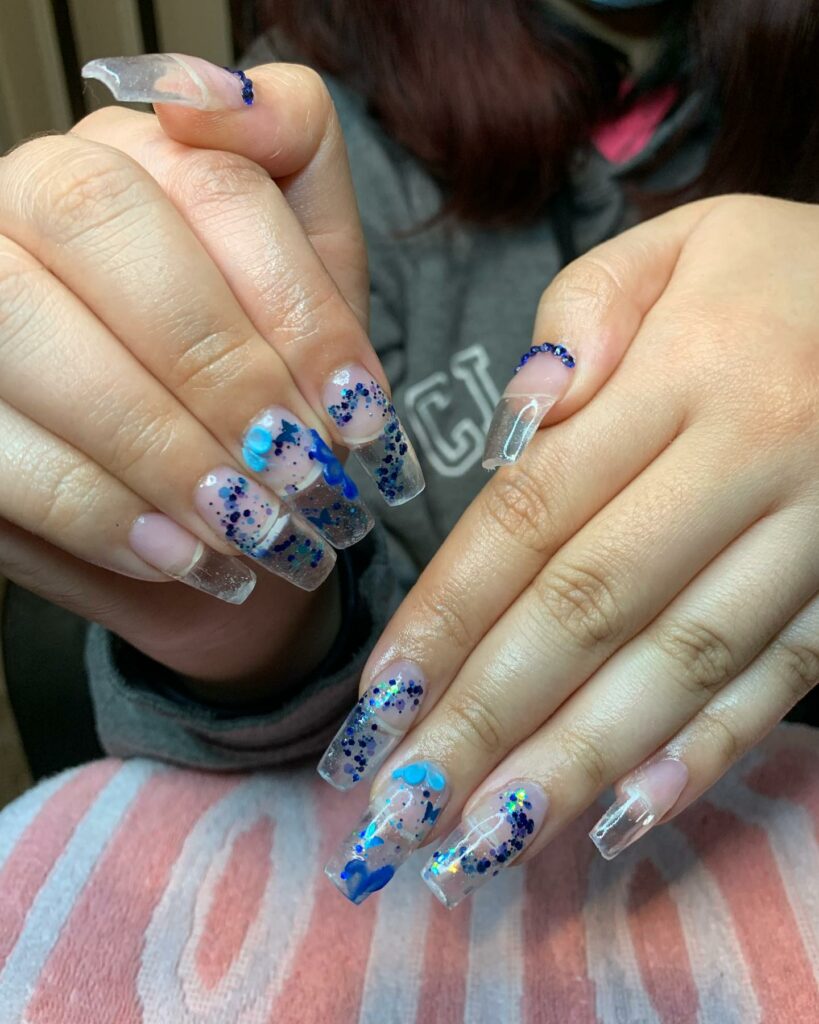 27. Ultramarine Ombre Blue Frenchies
28. Azure Swirls
29. Blue Coffins with 3D Flowers
30. Azure Blue Coffins
31. Blue and Black Marble Coffin Nails
32. Aqua V Cut Frenchies
33. Baby Blue Coffins with Butterflies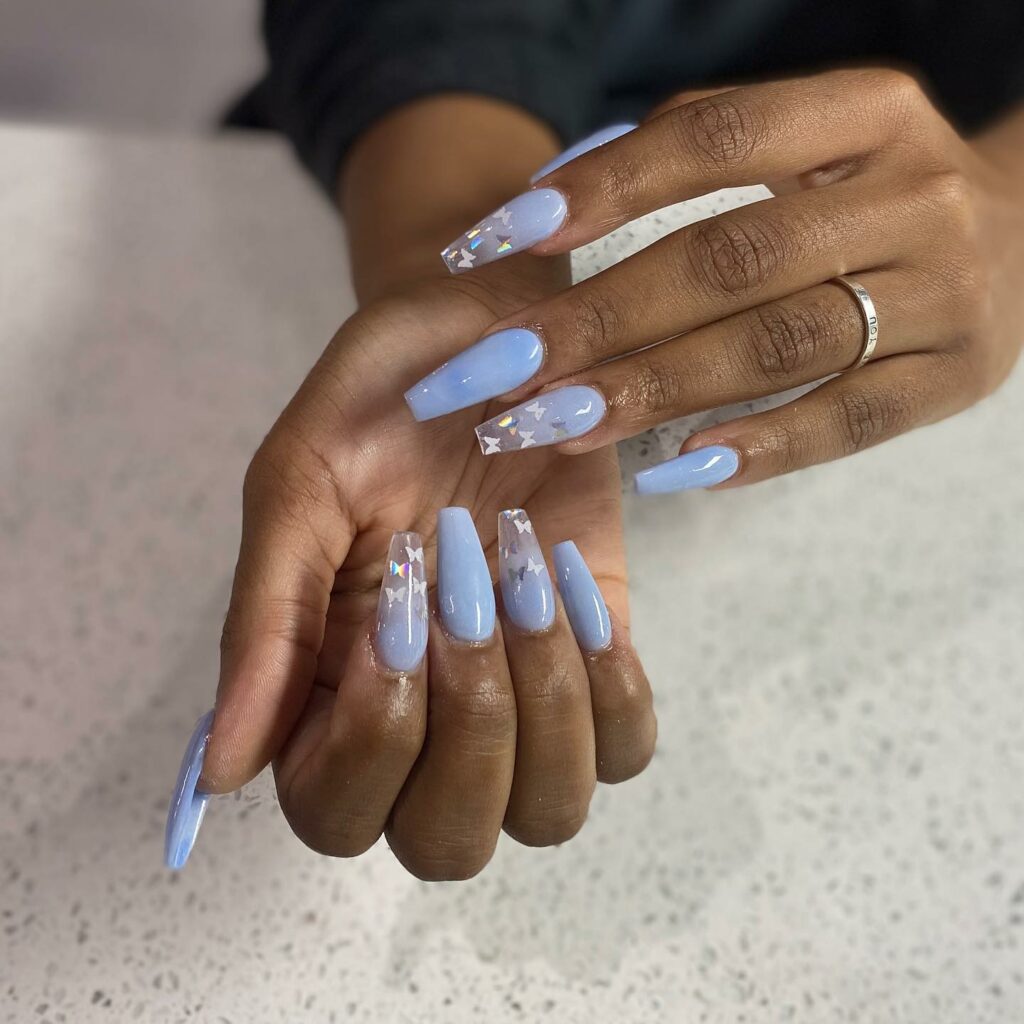 34. Summer Blue Marble Coffin Nails
35. Cornflower Coffins with Pearls
36. French Blue Coffins
37. Blue Marble French Tips
38. Neon Blue Glam Nails
39. Indigo and Nude Coffin Nails
40. Cyan Blue Long Coffin Nails
42. Blue Coffins with Black Lines
43. Triangle Blue French Tips with Butterflies
Why We Love Blue Coffin Nails
The real question is, what's not to love?
Blue, no matter the shade, exudes calm and tranquility. It creates peace, even when there isn't any in our pretty little heads, and improves our creativity and concentration, allowing us to focus on the present and let our true selves shine.
That's why blue coffin nails are so interesting. They turn a seemingly understated color into a complete winner that grabs eyeballs. This style also gives you lots of flexibility, so if your nails aren't big enough, you could always use extensions!
Trends for Blue Coffin Nails
These designs are a great way to wear blue coffin nails, creating just the right amount of dimension to showcase your personality and complement your look:
A blue base sprinkled with 3D gold for a touch of decadence
A clear base, with a single blue star on each nail, for a minimalist vibe
A blue abstract design on a nude base
Blue checkerboard tips with a clear base
Blue florals on a white base for a porcelain-type vibe you won't soon forget
Blue French tips jazzed up with a thin gold/silver accent line
Cyan blue nails with marble details
Different shades of blue on each digit, custom-designed for those who can't make up their minds
Ombre blue for the perfect gradient look
Squiggles of blue on a clear base
Pinterest-perfect Blue Coffin Nails
Have you been sighing after those perfect blue coffin nails on Pinterest? The great news is those Pinterest-perfect nails can be yours with a few tools of the trade:
Dotting tools: These come in a range of sizes. You can keep it simple with a tiny flower design or go all out with a polka dot design.
Loose glitter: Glitter will help you jazz up your look. You can spread it evenly on your entire nail or keep it concentrated at the tip — you decide.
Nail art brushes: They'll help you get creative with your nail art with thin lines and intricate details so you can get the design you were going for.
Nail art stickers: They come with an adhesive backing and can be adapted for any look from simple to all-out in seconds.
Rhinestones: They add quality bling to any nail set. Make sure you have toothpicks for placing them, or you'll find yourself battling it out with the glue God.
And that's how you get drool-worthy nails for Pinterest and Instagram!