Are your nails in need of some overdue attention? Are you ready to try something new and fresh? If so, trendy navy blue nails could be the exciting new color for your next manicure!
With spring in bloom and summer just around the corner, you can say goodbye to those winter blues by experimenting with vibrant colors that make your outfit pop!
Navy blue is as striking as it is sophisticated and a fresh set of navy blue nails is guaranteed to turn heads and grab attention from passers by.
There are so many options when it comes to navy blue nails, so we've compiled this handy guide to trending styles and striking looks to ask for at your next salon visit, or even to try yourself at home!
Are you ready to get obsessed with navy blue nails?
Most Popular Shades of Navy Blue Nails
Despite being vibrant, navy blue is neutral enough to suit every skin tone, and one of the best things about navy blue is the variety of different shades that it can come in!
From deep, royal blue to dark, almost black shades, there is a shade that will suit you, your skin tone and your style.
2023 Trends for Navy Blue Nails
We are head over heels with these 2023 trending navy blue nail designs:
Deep navy blue nails with accent finger detailing
Short square navy blue block color nails
Navy blue nails with marble detail
Midnight sky navy blue nails with gems
Navy blue ombre nails
Navy blue French tip nails
Minimalist navy blue nail art
40+ Ideas for Navy Blue Nails
Navy blue nails are bang on trend for 2023, so there is already an amazing choice of nail design ideas on offer!
To help you fall in love with your next set, we have compiled this list of 30+ of the most gorgeous navy blue designs we have seen that are guaranteed to suit any style.
Remember, if you are looking for even more inspiration, you can always check out our regularly updated Pinterest boards for hundreds of trending nail design ideas!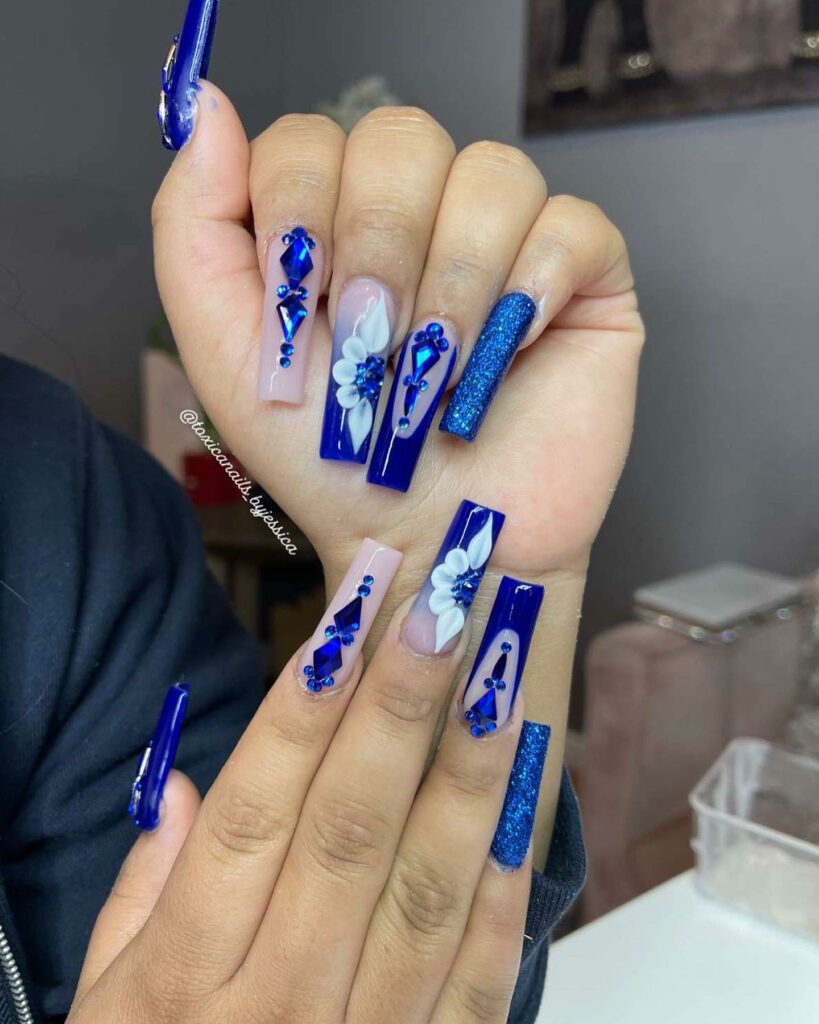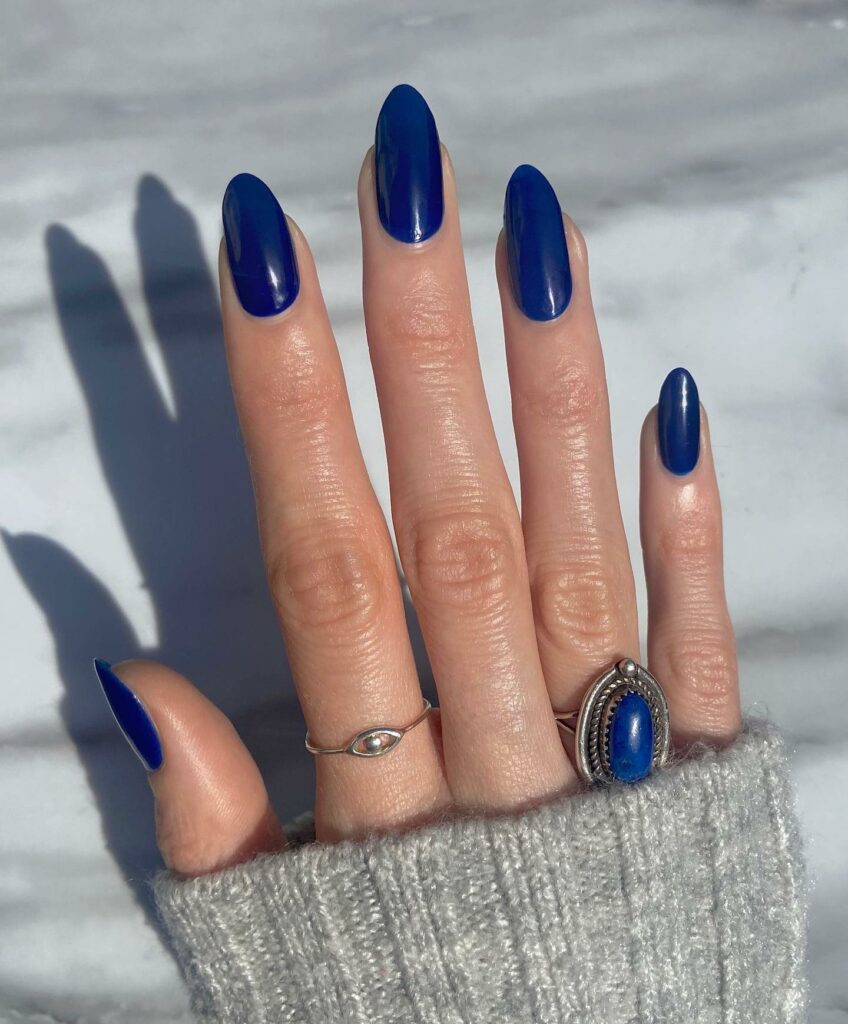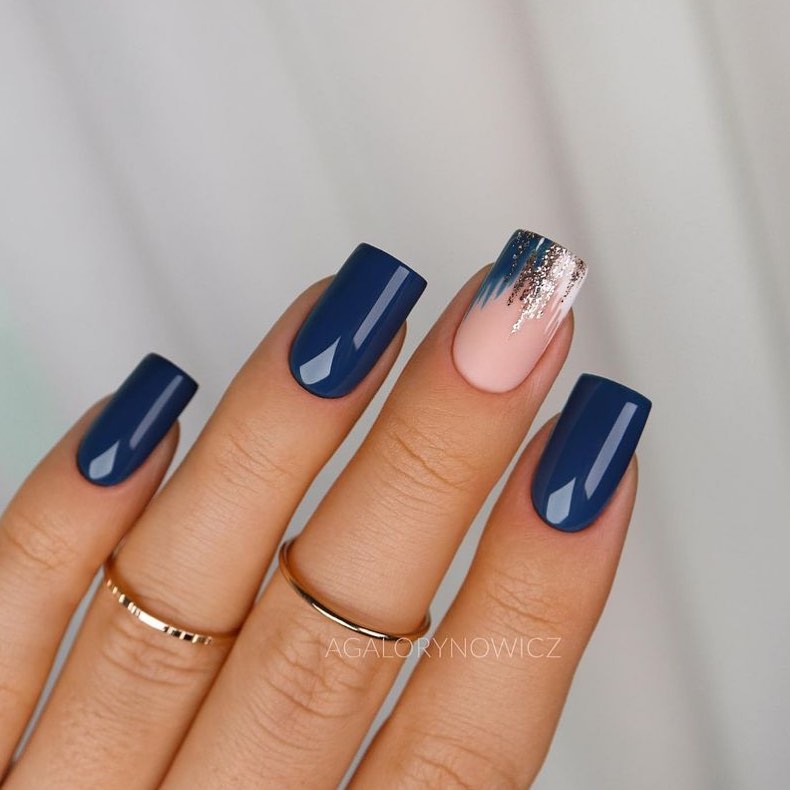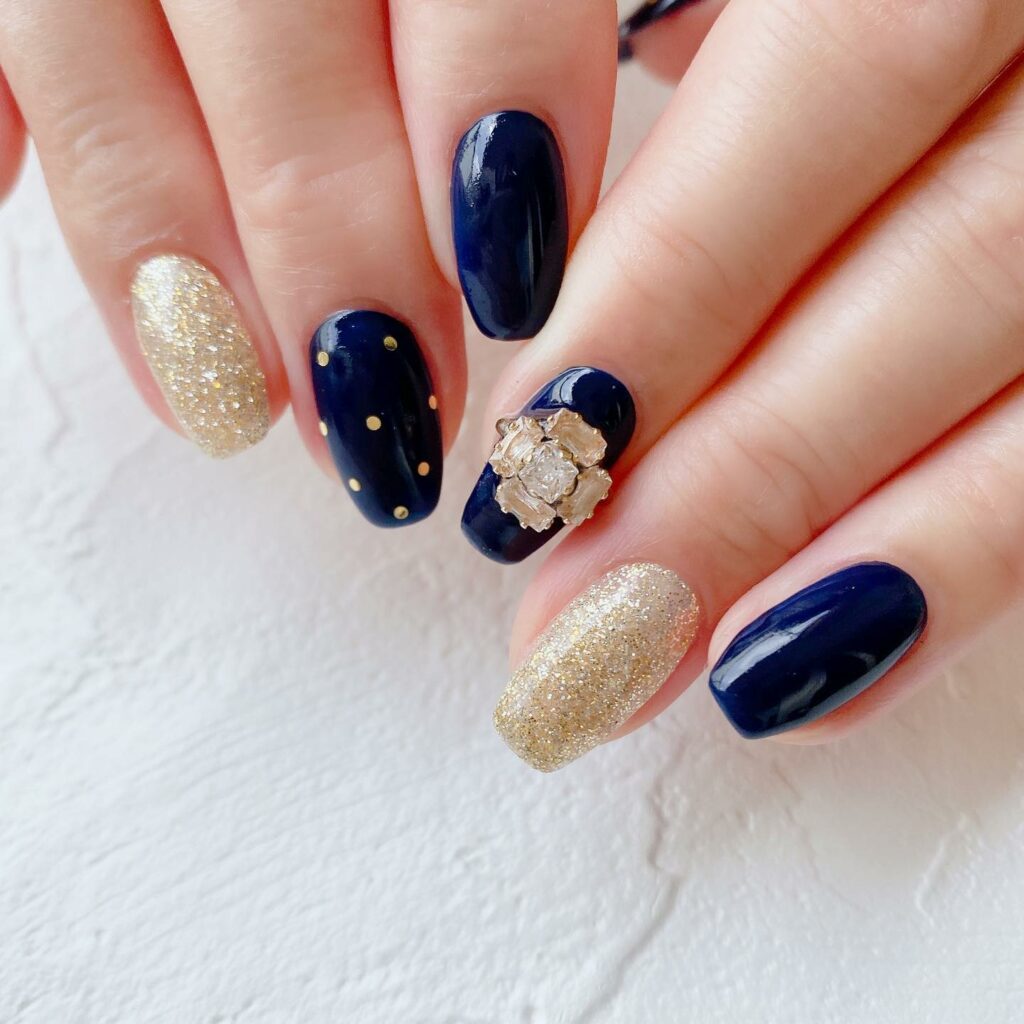 Navy Blue Nails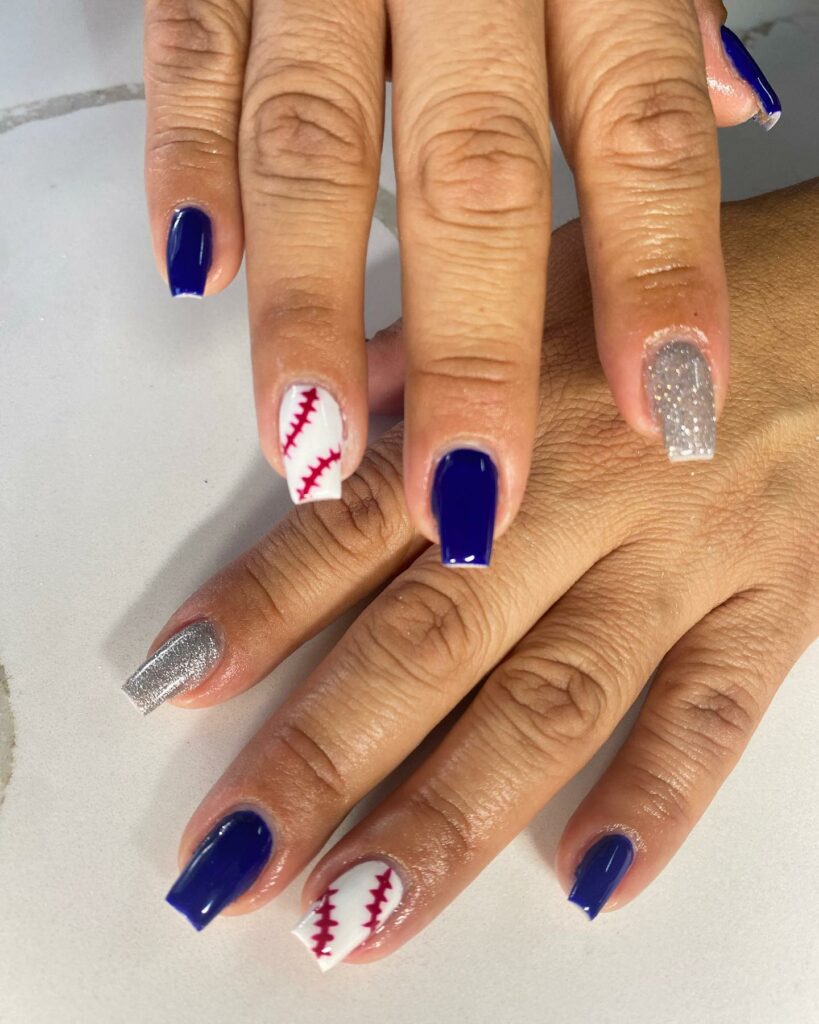 How To Do Navy Blue Nails at Home
Ready to give navy blue nails a try at home? When it comes to doing your nails at home, prepping your nails is key to making them last!
Clean your nails with a nail polish remover for a grease-free base to work from. Then you can file and shape as required, paying attention to creating a smooth edge with a buffer. Push your cuticles back to elongate your nails and use a good quality cuticle oil or cream to keep them soft. Before you apply polish, always wipe over each nail with some extra remover to ensure you get rid of any residue from the filing.
With a dark color like navy blue, you want to build the color in layers by applying thin coats – Applying too much at once can look messy and increases your chance of unsightly bumpy nails! Always finish with a coat of good-quality clear polish and make sure they are completely dry before you touch anything to make your set last longer and reduce the chances of the paint chipping.
If you can't stand chipped nails, opt for UV gel polish for a chip-free finish!