Coffin nails painted in glitter and sparkles are girly and sweet options you must try soon.
Nothing screams pretty and feminine more than having some shine on your fingertips. And if you are looking for some coffin glitter nail style and inspiration, you're in the right place.
We've got a collection of more than 30 pretty coffin nail design ideas here, all with glitter, for you to flaunt at your next big occasion! Whether it's for your business presentation, date night, or girls' day out, you'll find a design for all your coffin glitter nail needs.
Why We Love Coffin Glitter Nails
Glitter on nails is the new basic, and coffin glitter nails are a subtle way to make an impression. Whether you keep your coffin nails long or mid-length, you should always apply glitter as part of your manicure. This deserves considerable love because glitter works with any color and style.
Applying glitter to your coffin nails automatically gives them an added oomph, and you'll certainly love how they sparkle when they catch the light. It is a nail polish add-on that you certainly can't miss. After all, always take out the glitter when in doubt.
Trending Designs For Coffin Glitter Nails
Kickstart your glittery experience by checking out this year's latest trends and styles when it comes to coffin glitter nails.
Coffin nails with glitters and rhinestones
French tip coffin nails with glitter top coat
Ombre coffin nails with sugar glitters
·Blush pink coffin nails with glitters and charms
White coffin nails with metallic glitter
Black coffin nails with glitter tips
Mermaid coffin nails with glitter scales
Black and glitter gold coffin nails
Video Tutorial: Coffin Glitter Nails
Are you ready to sparkle? Watch and follow this beginner-friendly tutorial and paint your coffin nails with the prettiest design with glitters as the finishing touches.
30+ Ideas For Coffin Glitter Nails
If you want designs for your coffin nails that use glitter and more sparkles, keep reading and scrolling down. Here's a list of more than 30 designs and styles for all your nail glitter needs. Mix and match and come up with your designs based on these inspirations.
1. White Coffin Glitter Nails
2. Light Pink Coffin Glitter Nails
3. Black Glitter Coffin Nails
5. Light Pink Glitter Coffin Frenchies
6. Red and Black Coffin Glitter Nails
7. Glitter French Tip Coffin Nails
8. Pale Pink Coffin Glitter Nails
9. Glitter Nails with Stars
10. White Marble Coffin Nails with Glitter
11. Nude Coffin Nails with Glitter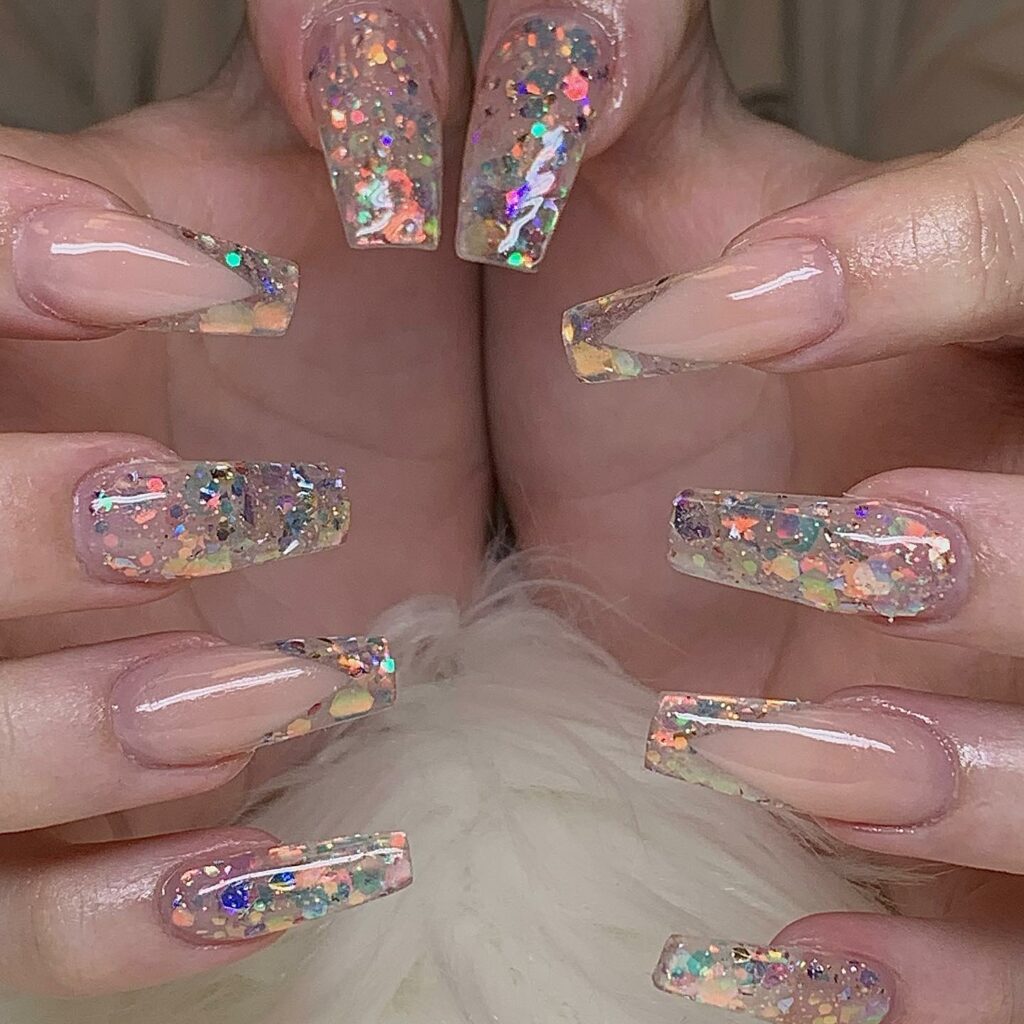 12. Sparkling Ombre Coffin Nails
13. Silver Glitter Coffin Nails
14. Light Blue Ombre Nails
15. Mermaid Coffin Nails
16. Gold Glitter Nails
17. Dark Glitter Coffin Nails
18. Pink Glitter Ombre Nails
19. Emerald Glitter Coffin Nails
20. Pink Ombre Coffins With Glitter
21. Blue Ombre Coffins
22. Nude Coffins with Glitter
23. Elegant Coffin Glitter Nails
24. Dark Blue Glitter Frenchies
25. Black and White Coffin Glitter Nails
26. Colorful Coffin Nails with Glitter
27. Baby Pink Coffins with Glitter
28. Dark Green Coffins with Glitter
29. Short Coffins with Glitter
30. Marble Glitter Coffins
31. Purple Coffins with Glitter
32. Palm Tree Coffins
33. Coffin Glitter Nails and Stones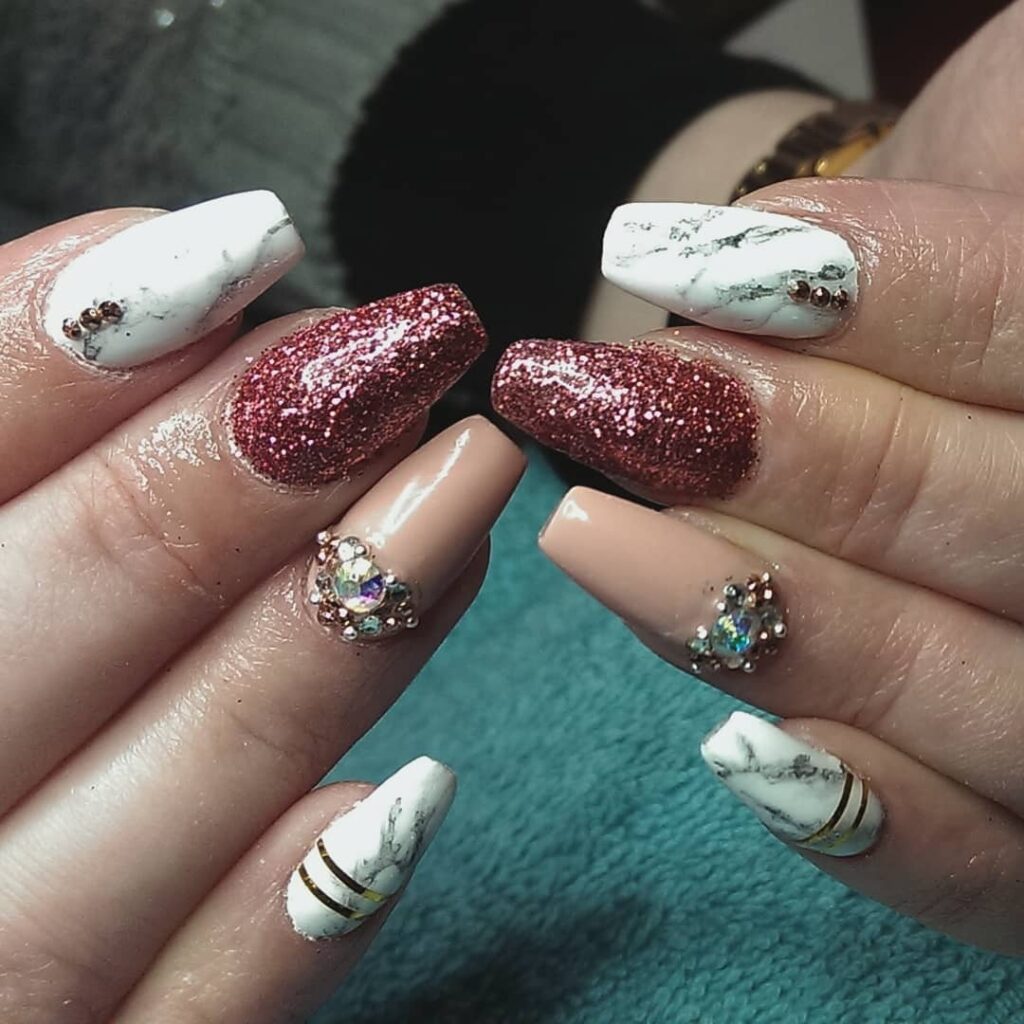 34. Barbie Pink Coffins
35. Fall Coffin Nails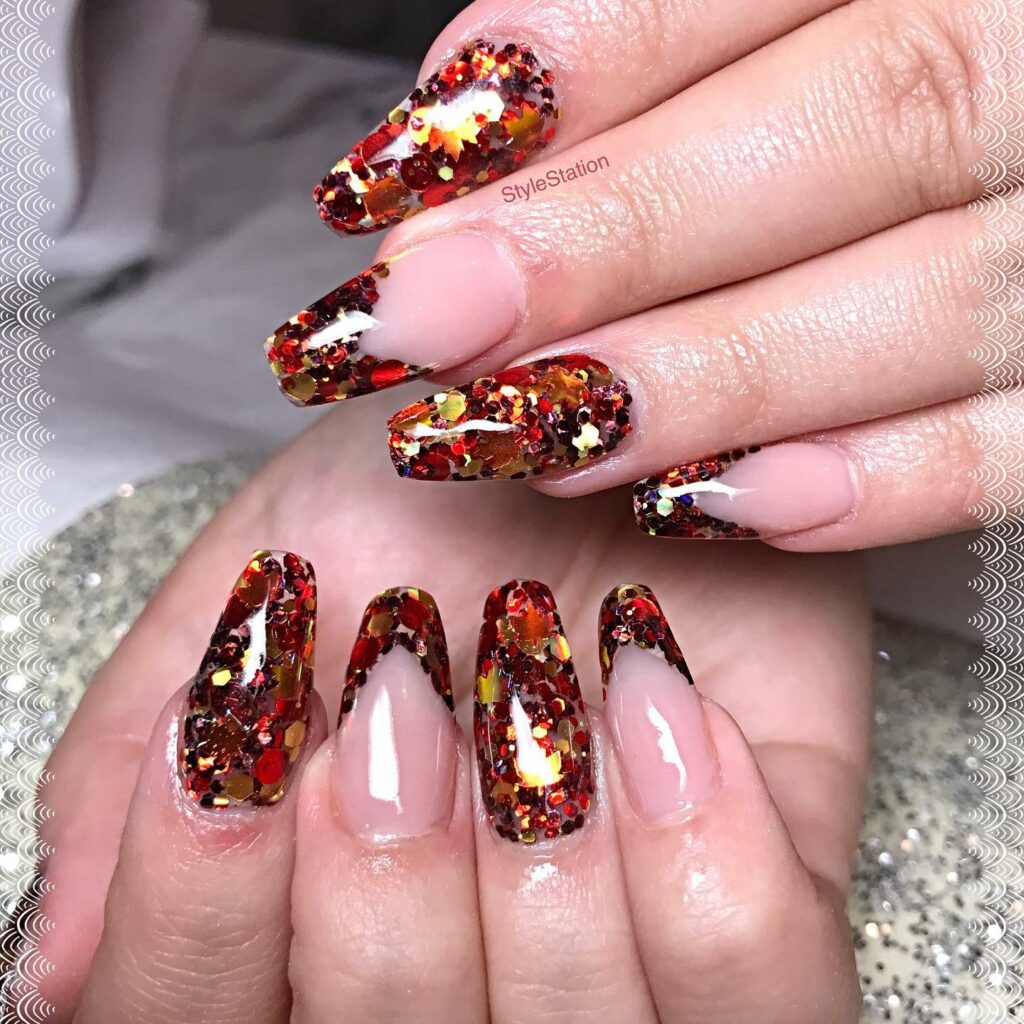 36. Galaxy Coffin Nails
How To Take Care Of Your Coffin Nails
Your coffin nails, especially when you paint them with glitter, give you that chic and feminine vibe, but there's more to it than having pretty nails. You have to allot time and resources to maintain the strength of your nails and keep your coffin nails healthy.
The first and most practical step is to support your nails to improve their health naturally.
You can do this by eating healthy and consuming more foods rich in protein, biotin, and omega fatty acids.
You must also give your cuticles additional TLC by faithfully applying cuticle oil.
Being careful when handling chemicals like detergents, cheap nail polish removers, and cleaning agents can cause your coffin nails to weaken and easily break. So wear gloves if you need to handle any of these products.
Another way to care for your coffin nails is to learn about specially designed nail hardeners. This is intended for people who have weak nails, so this product can toughen the enamel of your nail beds and reduce the likelihood of chipping and breaking.
Moisturizing your hands and nails can also make all the difference.
Dry nails need that added TLC through extra hydration, so drink plenty of water and religiously apply your rehydrating hand cream.
Lastly, give your nails a breather every once in a while.
As stunning and confidence-boosting as coffin nails with glitter are, your nails need a break from nail polish, rhinestones, and gems. Resting your nails for two to three weeks between your manicure sessions is the best way to give your coffin nails a chance to recover.