Cotton candy nails are what carnival dreams are made of.
This multi-chrome mani featuring gorgeous pastel colors has become increasingly trendy.
It's a sweet and fun nail art that can add a chic pop of color to any outfit or style — and the best thing is that this nail style allows you to customize your nails to your personality.
So, if you're a nail enthusiast looking for some super-adorable nail designs to try, here are 30+ cotton candy nails you must explore to slay any look!
Why We Love Cotton Candy Nails
Cotton candy nails come to life with muted pinks, softer purples, restrained blues, and everything in between. That also allows you a lot of flexibility to explore all the hues you have in your nail polish drawer instead of spending big on nail art supplies.
And the fact that this nail art flawlessly integrates its cutesy Y2K vibes with other nail art gives it a solid 10/10 in our books. Think ombre, marbled vibe, futuristic, geometric — the possibilities are endless!
Video Tutorial: Cotton Candy Nails
The cotton candy nail technique is one of the easiest designs to achieve since it's also very forgiving — even a beginner in nail art has little risk of messing it up!
So, if you want to give your claws a playful look that reminds you of cotton candy skies, gather your supplies, press play on this video, and gear up to perfect this whimsical nail art. 
30+ Ideas for Cotton Candy Nails To Show Off This Season
With vibrant colors and gorgeous textures, cotton candy nail designs are incredibly appealing among nail art aficionados.
Browse through our favorite picks of some incredibly stunning cotton candy nail designs that will make your nails look like literal works of art!
1. Lovely Cotton Candy Inspired Nails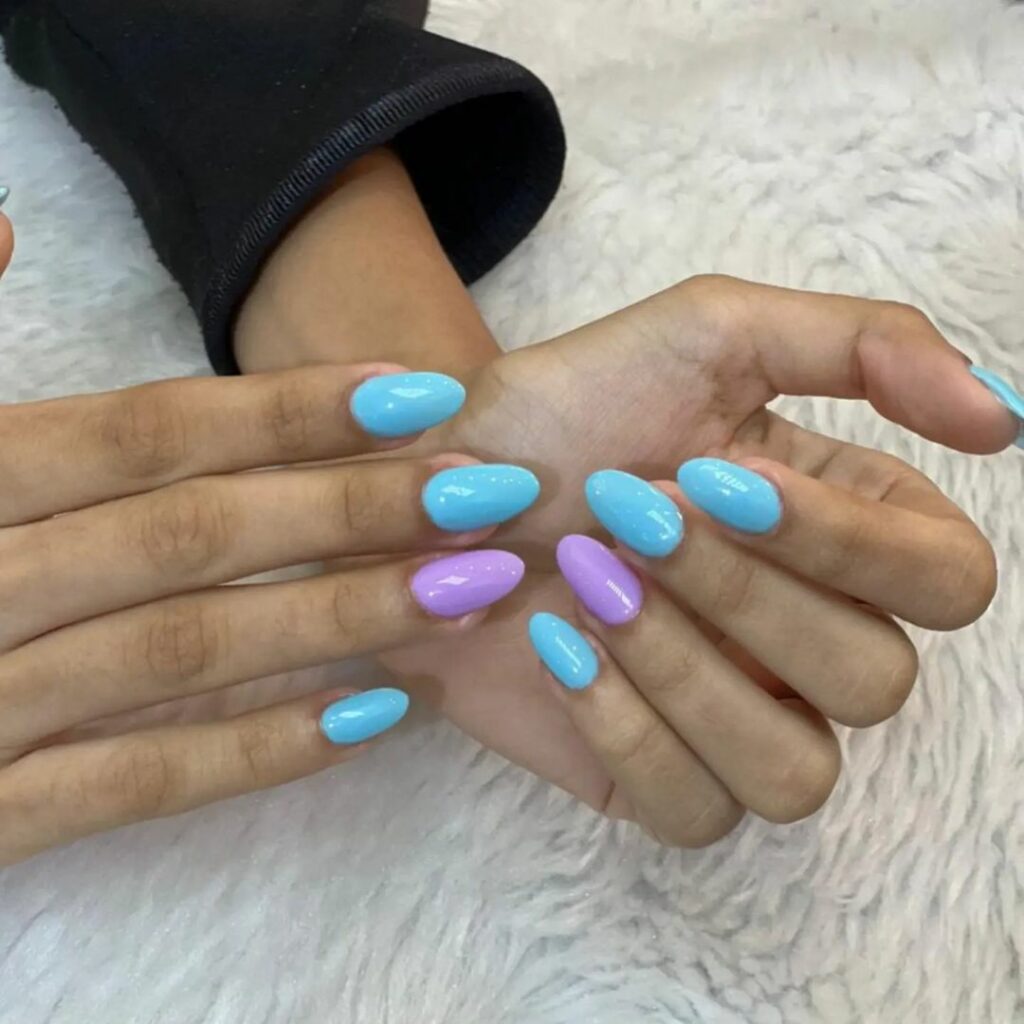 2. Sugar Glitter Cotton Candy Nails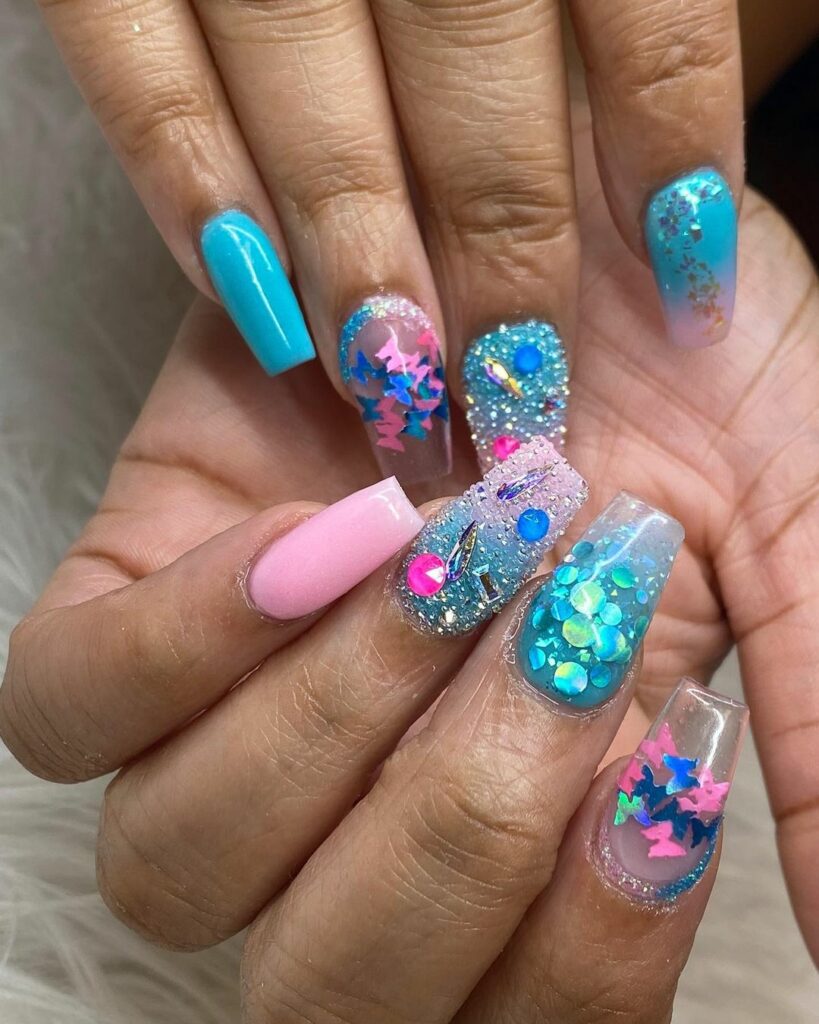 3. Side Ombre Cotton Candy Coffin Nails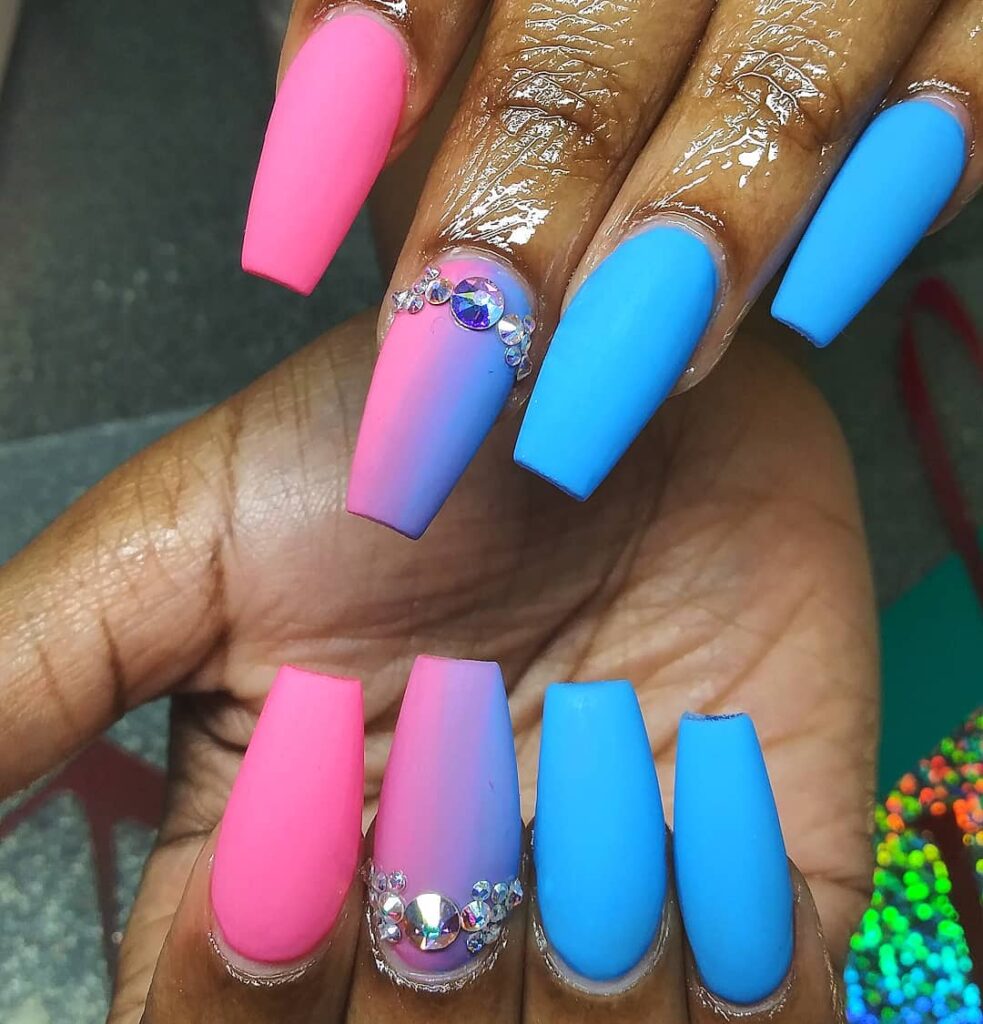 4. Different Hand Cotton Candy Nails
5. Cotton Candy Sky Nails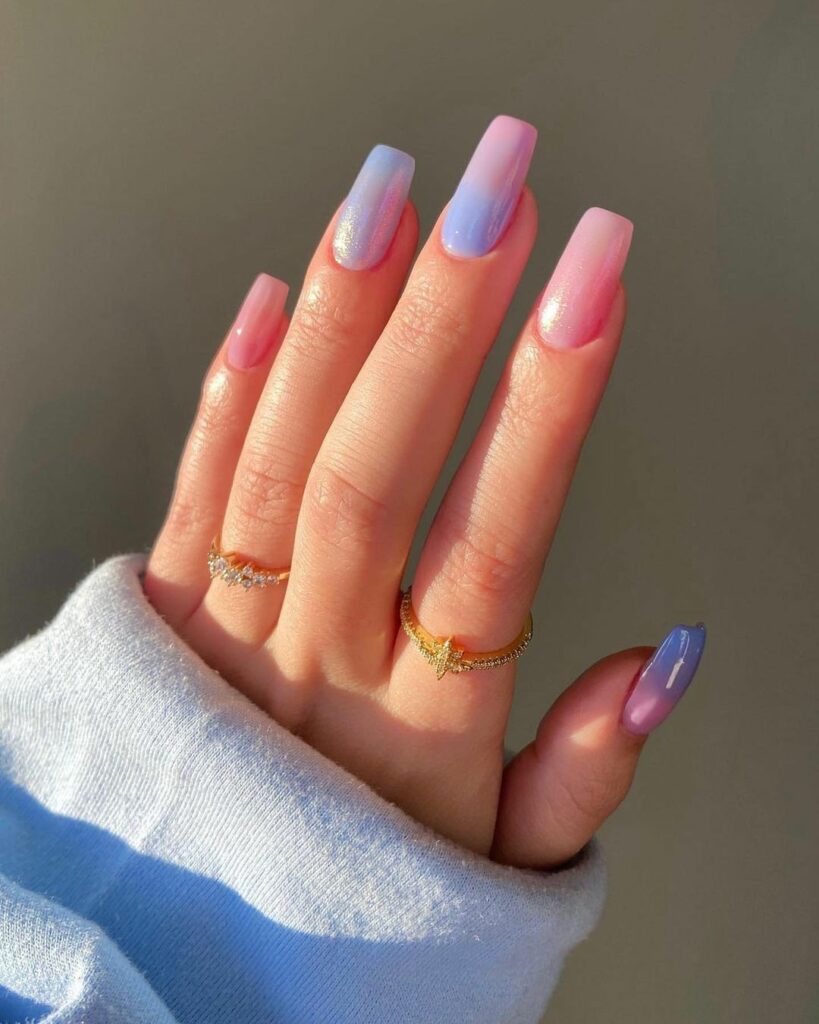 6. Cotton Candy Gummy Bear Long Nails
7. Glitter Cotton Candy Nails
8. Cotton Candy Nails with Rhinestones
9. French Nails with Cotton Candy Tips
10. Matte Cotton Candy Almond Nails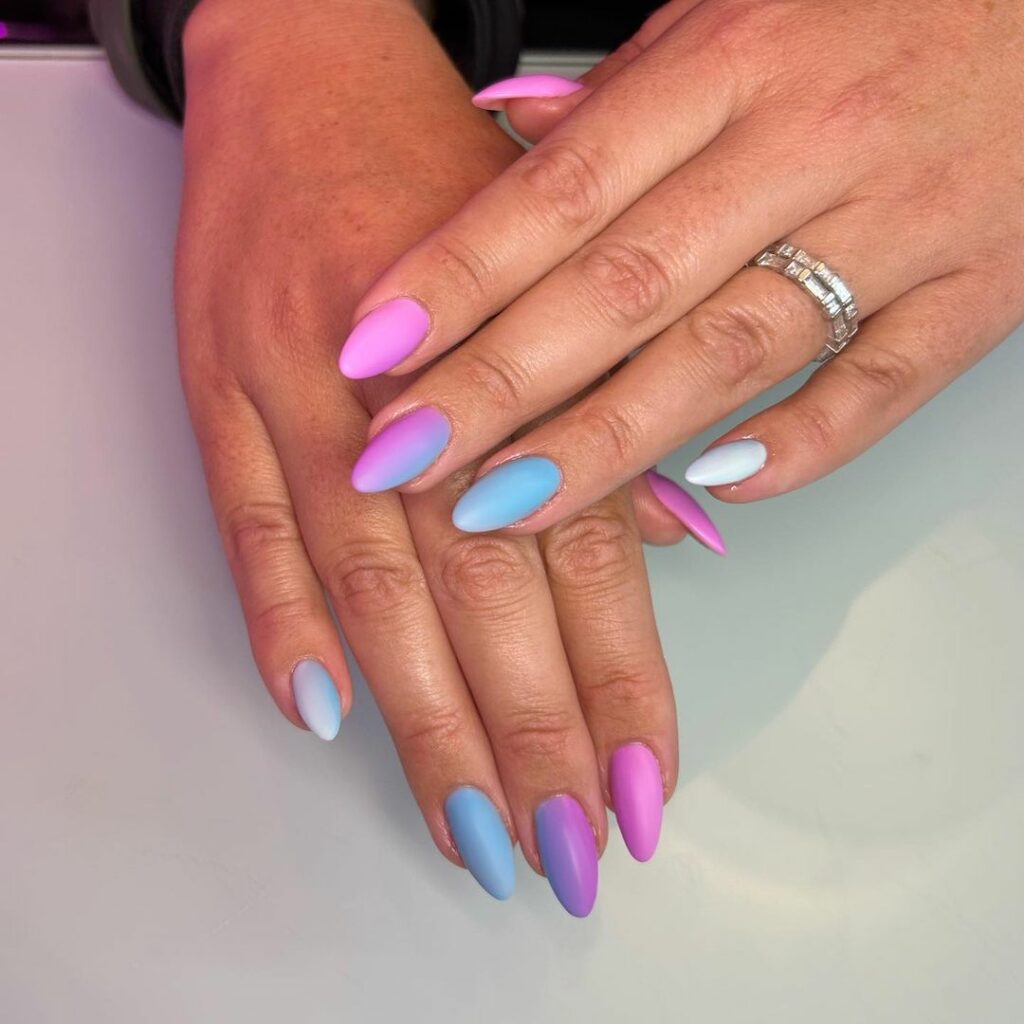 11. Short Cotton Candy Sky Nails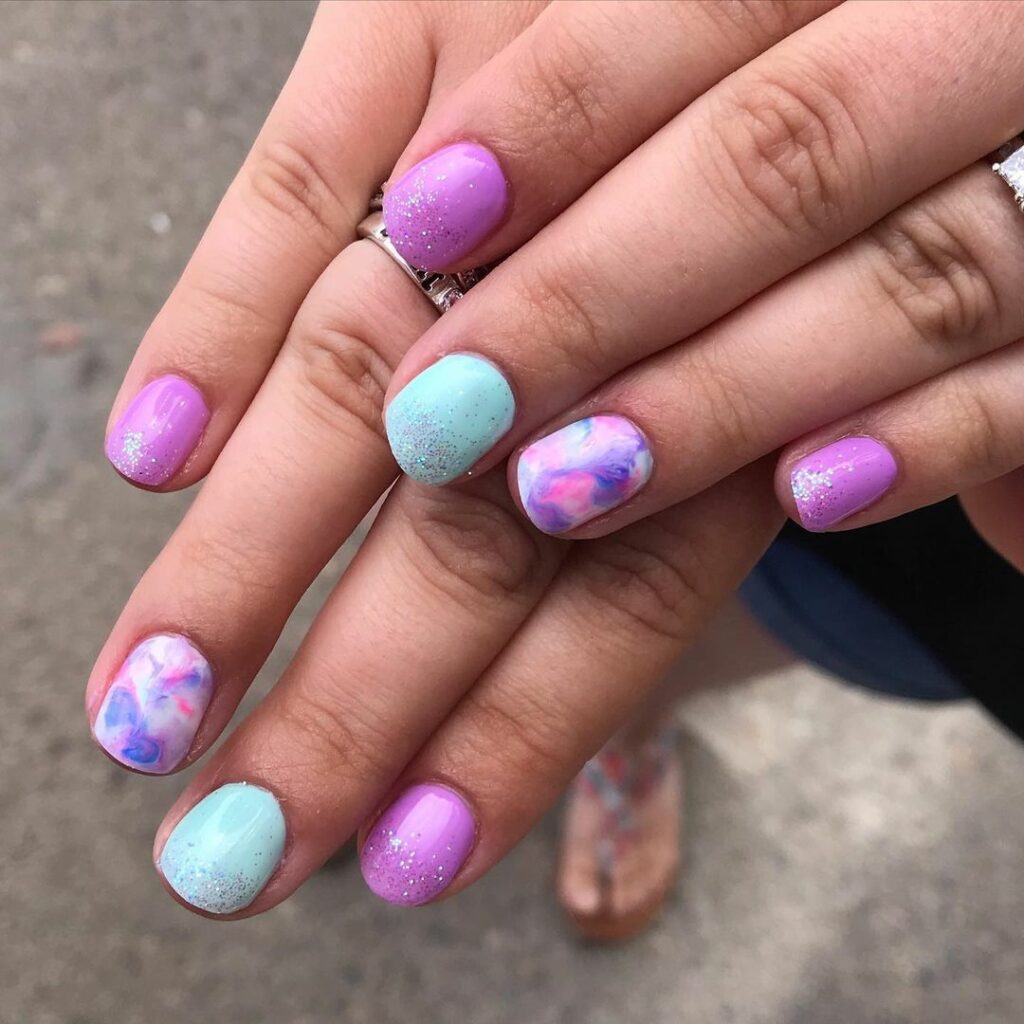 12. Cotton Candy Nails with Crystal Drops
13. Chrome Cotton Candy Nails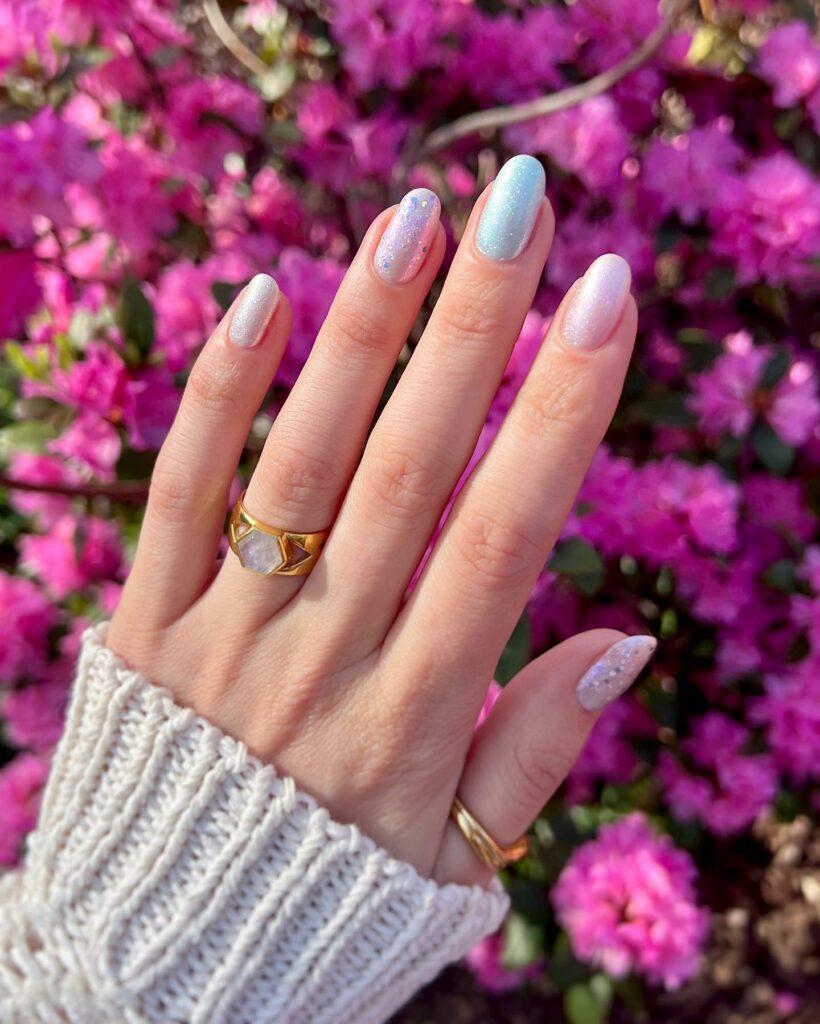 14. Cotton Candy Nails with Gold Stars
15. Dark Cotton Candy Nails
16. Mint and Pink Cotton Candy Side Tipped Nails
17. Cotton Candy Butterfly Nails
18. Cotton Candy Aura Nails
19. Long Coffin Matte Cotton Candy Nails
20. Swirly Cotton Candy Nails
21. Shattered Cotton Candy Nails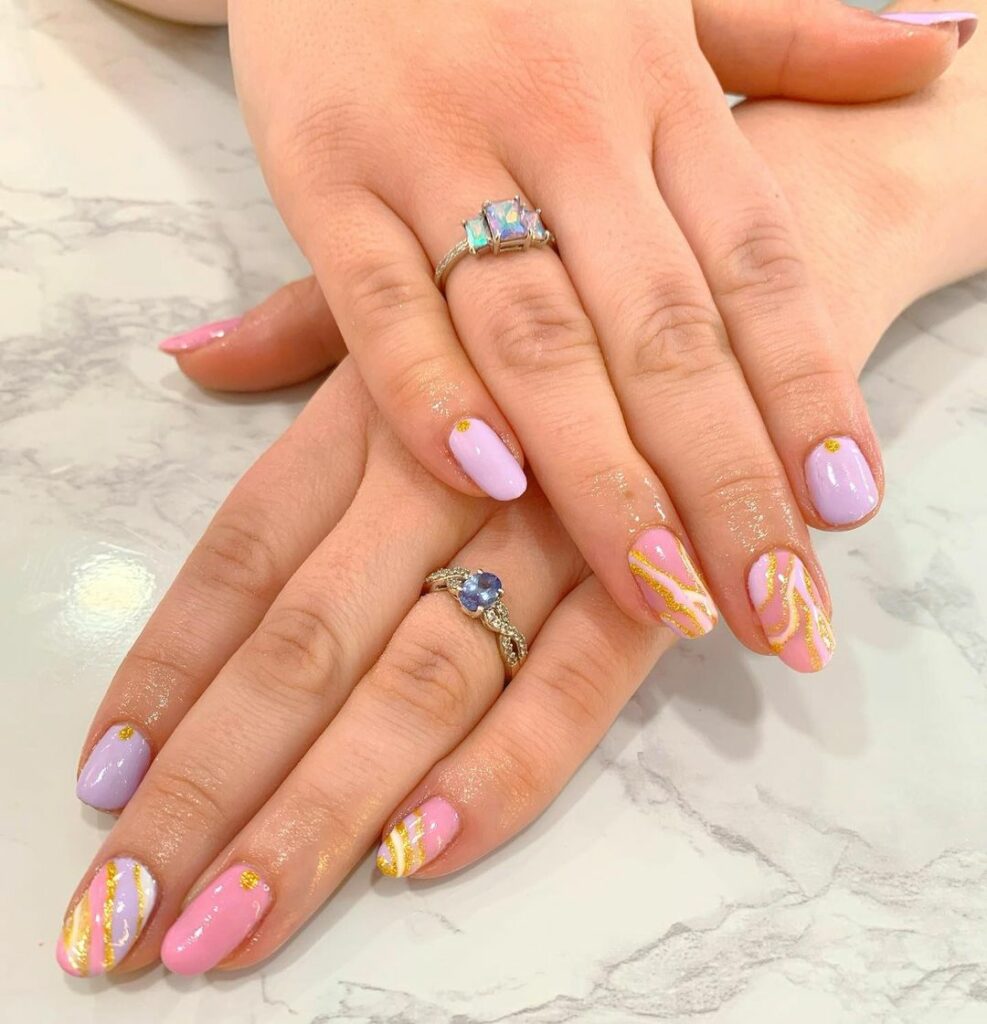 22. Unicorn Cotton Candy Vibes Nails
23. Cotton Candy Ice Cream Nails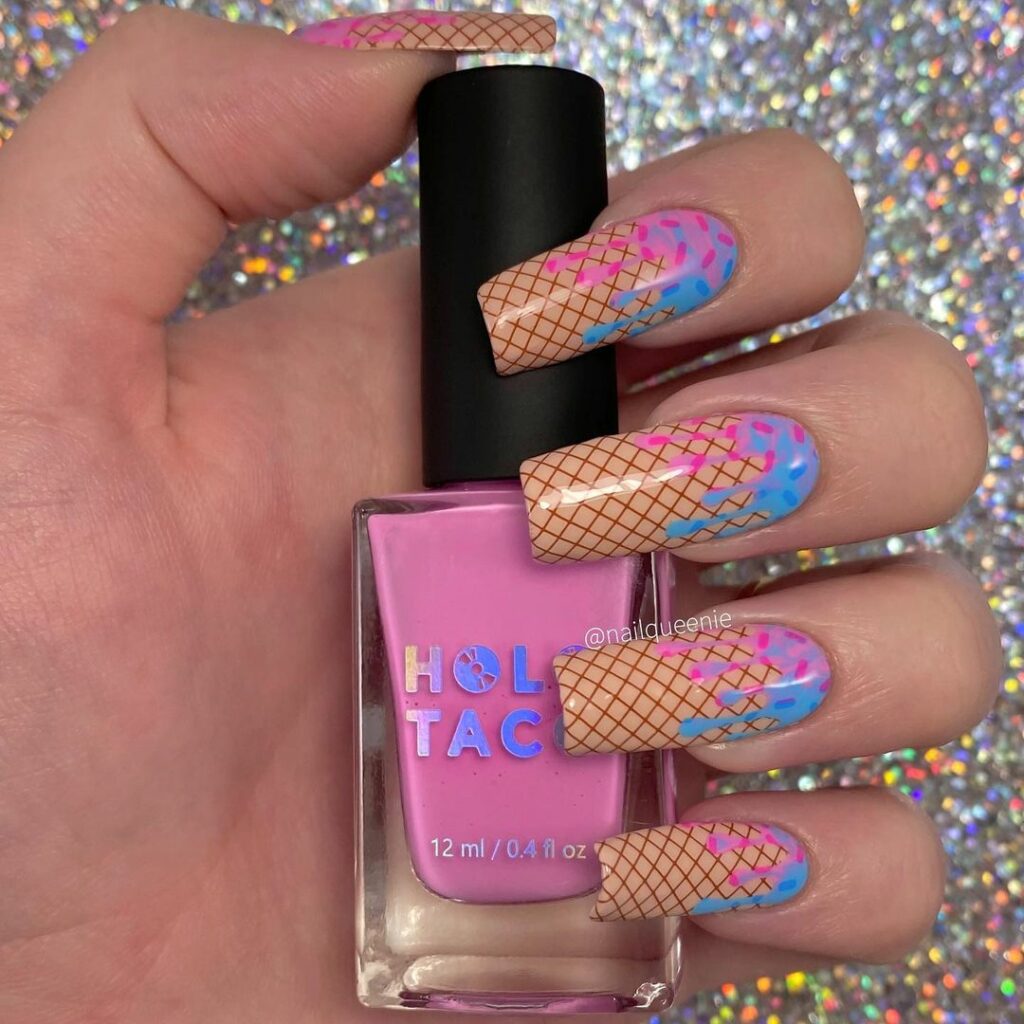 24. Cotton Candy Madness Nails
25. Blue Magic Cotton Candy Nails
26. Almond Cotton Candy Nails with Dots
27. Cotton Candy Nails with Clouds
28. Textured Cotton Candy Nails with Rhinestones
29. Shimmery Cotton Candy Nails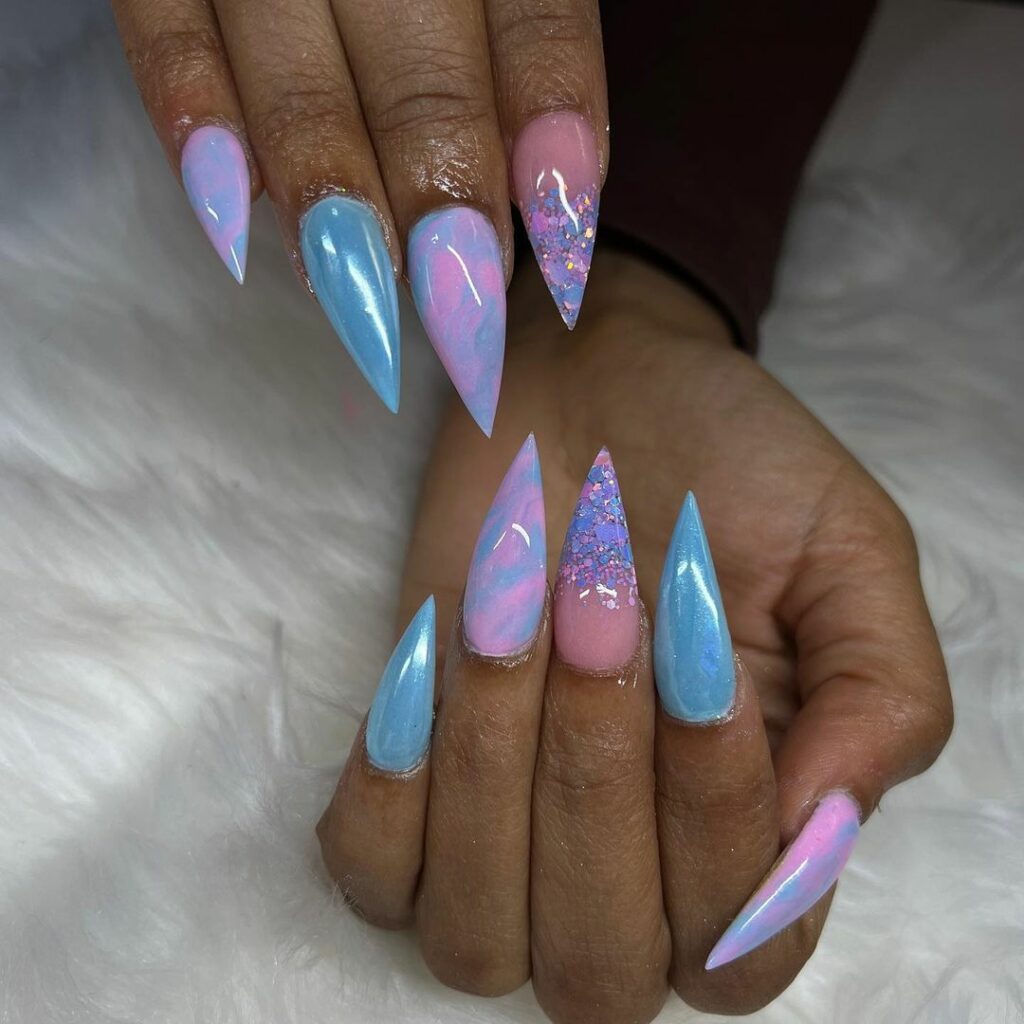 30. Cotton Candy Silver Sky
Trends for Cotton Candy Nails
Cotton candy or pastel tie-dye nail art is a deliciously dreamy design that comes together with two or more hues, although nail accessories are not out of pocket.
Here are some of the best cotton candy designs trending today:
A fuzzy-wuzzy cotton candy look with different hues of flocking powder.
Cotton candy hearts on a white nail base.
Futuristic vibe done right with cotton candy nails but with a silver lining.
Marbled cotton candy nails with pale lavender and cotton candy pink, along with gemstones near the nail bed.
Pink base with confetti art. Perfect for birthdays and special celebrations!
Purple, pink, and blue ombre design, blinged up with glitter.
Up Your Manicure Game with These Genius Tips
Cotton candy nails are easy to create, but it's also easy to mess up the design if you're not very comfortable working with this style. Don't worry; we're coming through for you with some helpful tips and tricks you can use to prevent any mishaps with your nail art!
Glue or Vaseline is your BFF. Apply it around your nail and allow it to dry. And then, you can start painting your tips. If you've been sloppy and have gone out of line, you can easily peel or wipe the mistake off for a clean manicure.
Experiment with nail stickers or strips. They may not be as professional-looking, but they get the job done — and they get it done fast!
Use the cotton swab technique, dipping one swab in pink and the other in blue, to create a faded effect reminiscent of a cotton candy ombre.
Remember that watching others rocking elaborate cotton candy nail designs on the internet is easy, but recreating them is a whole other ball game — especially if you're a beginner. So, start small and master your technique before you move on to the more complex designs!
Resources: