Do you love the look of dark teal nails? Are you wondering what nail design style should you go for?
In this article we have collected over 23 of the prettiest dark teal nail ideas, to give you plenty of inspiration for your next manicure project.
Dark teal is a super pretty and popular color for almost any occasion. It lends itself well as a mix with other colors, especially gold, which makes it a great choice for a special occasion. As it's a dark color, it's normally chosen for the fall and winter seasons, but you will also see it featured heavily at New Year parties.
With dark teal nails, you never have the issue of matching your manicure to your daily outfits – it works well with jeans, black outfits but it will also elevated any beige, white or grey clothing choice.
If you're ready to select your favorites, head down to the image selection below. The selection features nail artists we found both on Instagram and Pinterest. If you would like to see more work from the same nail artist, in most of them we have included a link to their Instagram profile under the image.
23+ Prettiest Dark Teal Nails For Inspiration
Here they are, the 23+ prettiest styles we found online.
To see even more teal nail design inspiration, head over to our Pinterest board.
1. Gold & Botanical Dark Teal Nails
The perfect match for a special occasion, this custom botanical art will get everyone talking about your nails.
2. Dark Teal French Tip Nails
Elegant and understated, French tips get a modern makeover with pretty glitter teal nail polish.
3. Dark Teal and Gold Nails
Mix things up and add that special spark to your manicure by using a gold nail polish.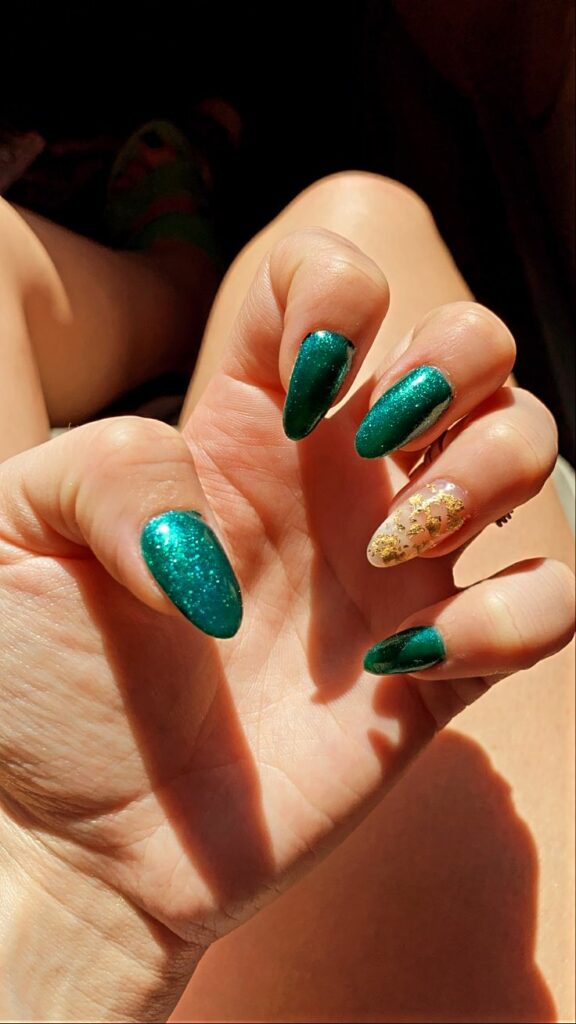 4. Dark Teal Nails with Glitter
Alternating a simple teal color with a glitter nail polish will add more contrast to your nails and make your manicure more interesting.
5. Matte Elegant Dark Teal Nails
Keep things simple with the prettiest shade of matte teal nail polish.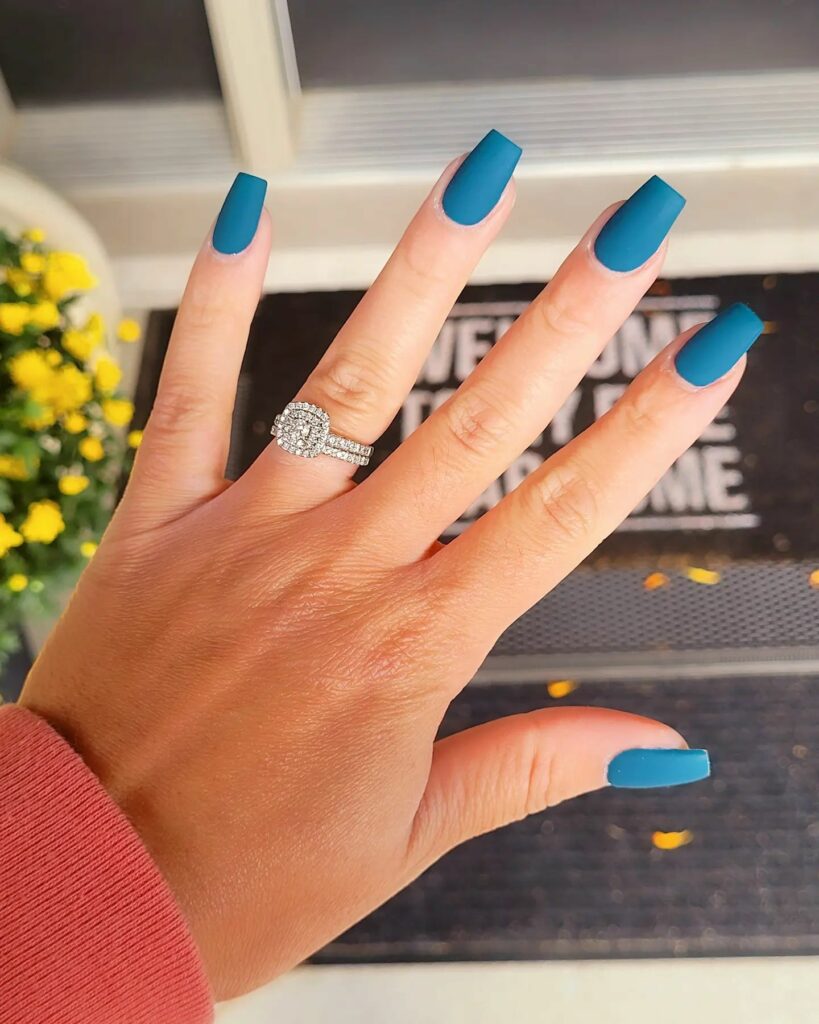 6. Mixed Nail Art with Dark Teal Nails
Reveal your inner artist by opting for an intricate nail art manicure.
7. Rose Gold, Pink and Dark Teal Nails
Rose gold, pink and dark teal are a match made in heaven!
8. Elegant Dark Teal Nails
Keep it simple – if you have long nails, which are properly maintained and nicely shape, just a single tone of a teal nail polish will look spectacular.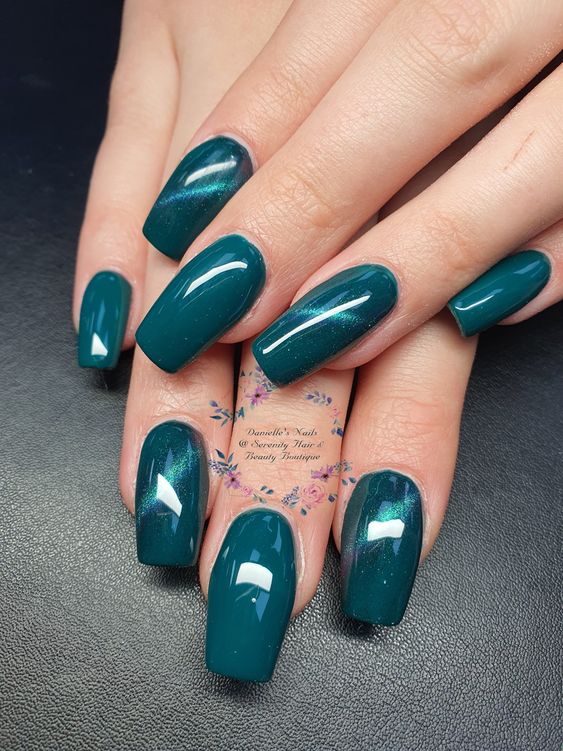 9. Gold Foil and Dark Teal Nails
Need a bit more color? Add some gold flakes!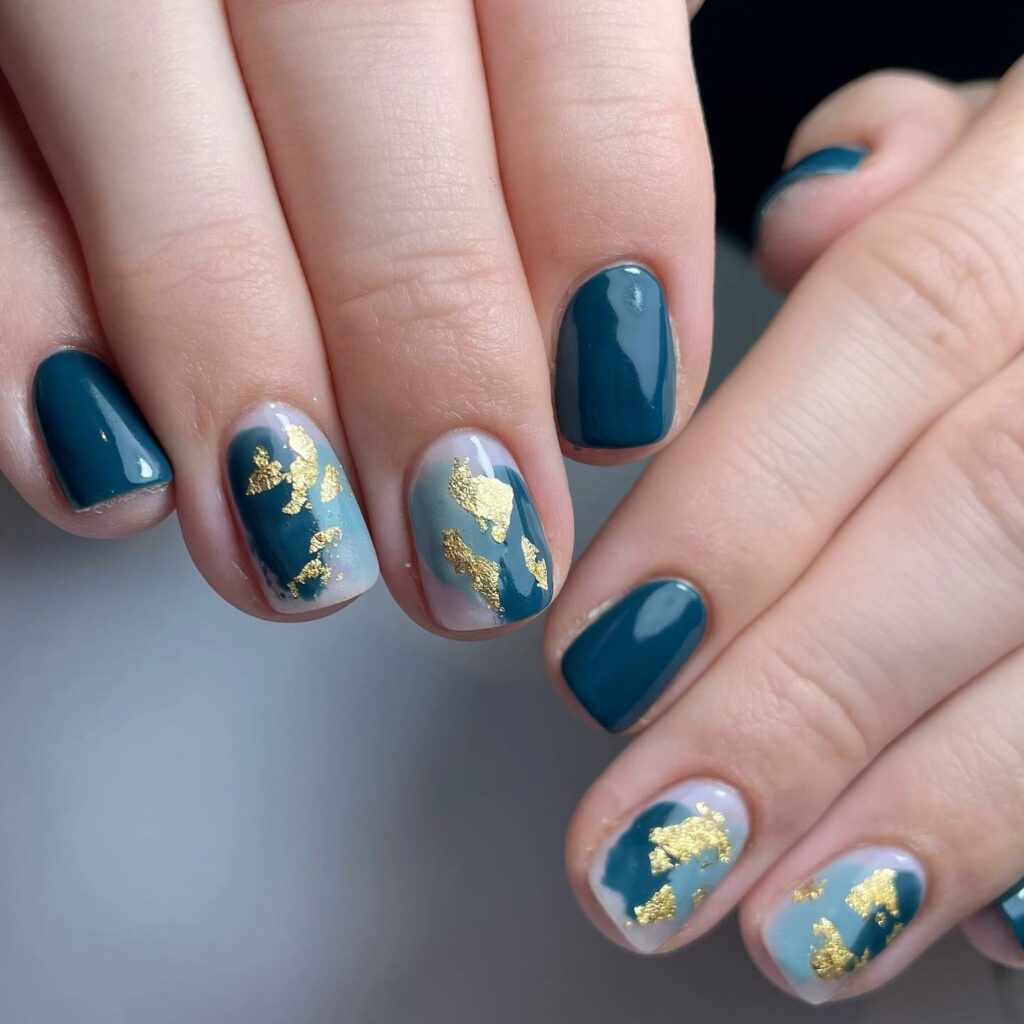 10. Dark Teal for Special Occasion
These nails will certainly get their heads turning!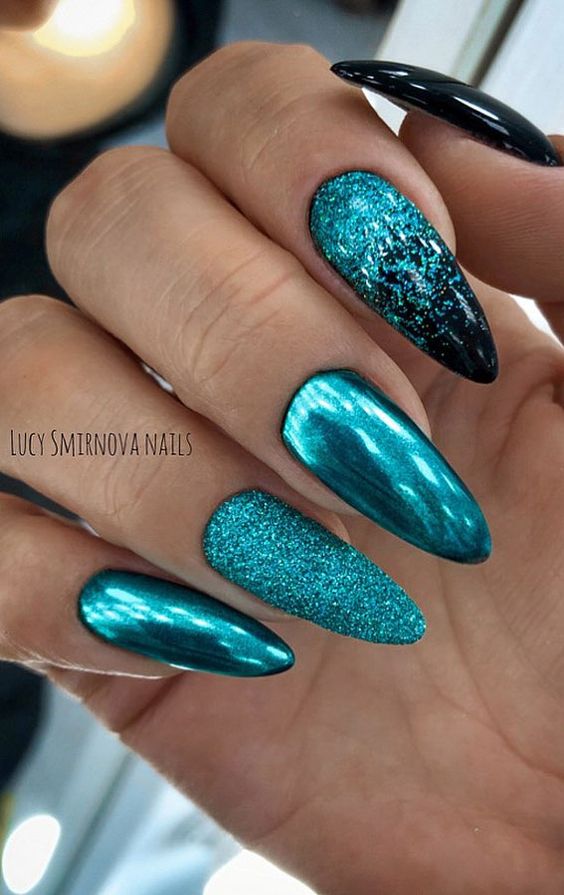 11. Marble Dark Teal Nail Design
Transform your nails with marble nail design.
12. White and Dark Teal Nail Design
Pretty contrasting manicure with dark teal and white.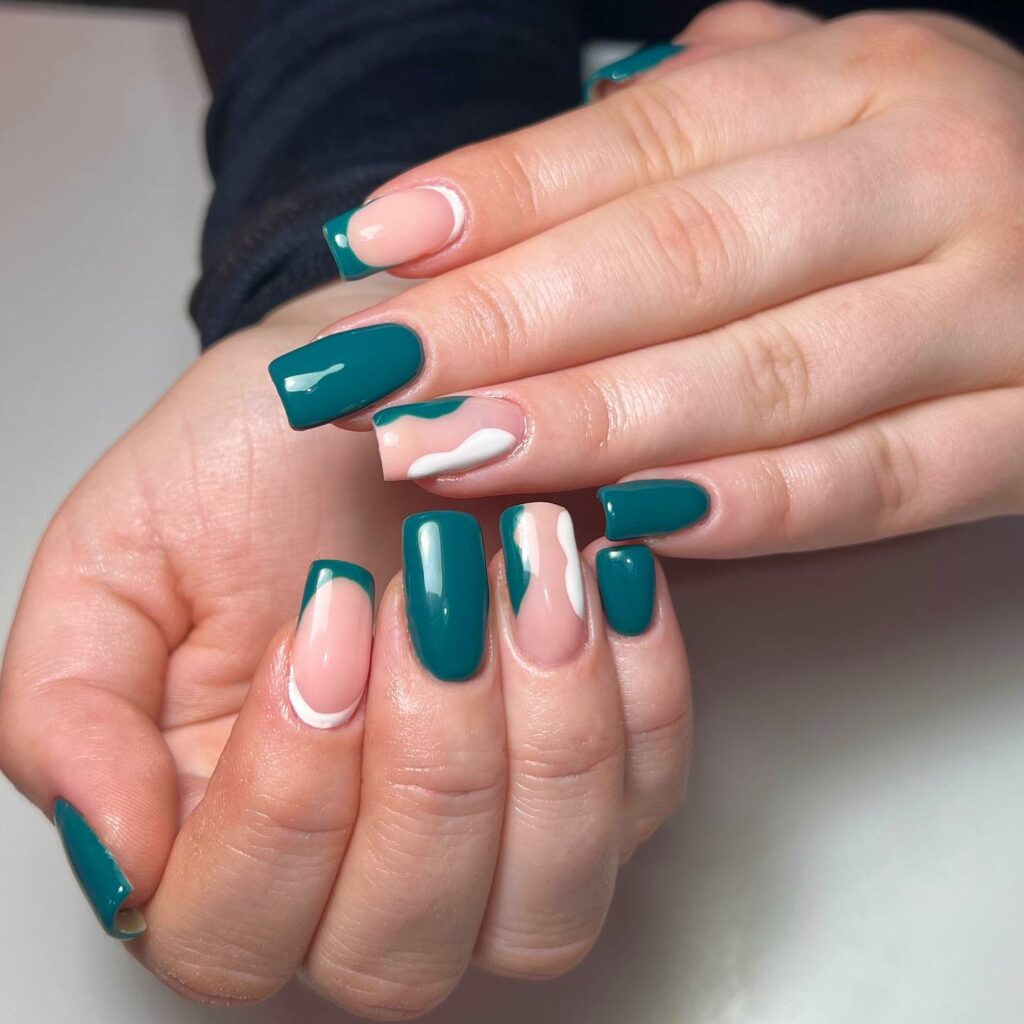 13. Blue and Teal Nail Design
Reverse ombre effect with blue and teal nail polish.
14. Green and Dark Teal Nail Design
Manicure that's certainly fit for a party!
15. Gold Dusted Teal Nails
If celebration calls for it, there's never enough gold glitter on your nails.
16. Minimalist Dark Teal Nails
Keeping things simple and minimalist can look as pretty as in this example.
17. Simple Glitter Dark Teal Nails
Gorgeous nail polish doesn't need anything else to stand out.
18. Mismatched Glitter Dark Teal Nails
Can't choose just one shade? Use a couple of them at the same time.
19. Red and Dark Teal Nails
A beautiful match with white and red nail art.
20. Nail Art with Dark Teal Nails
Abstract art on long nails is always a good idea!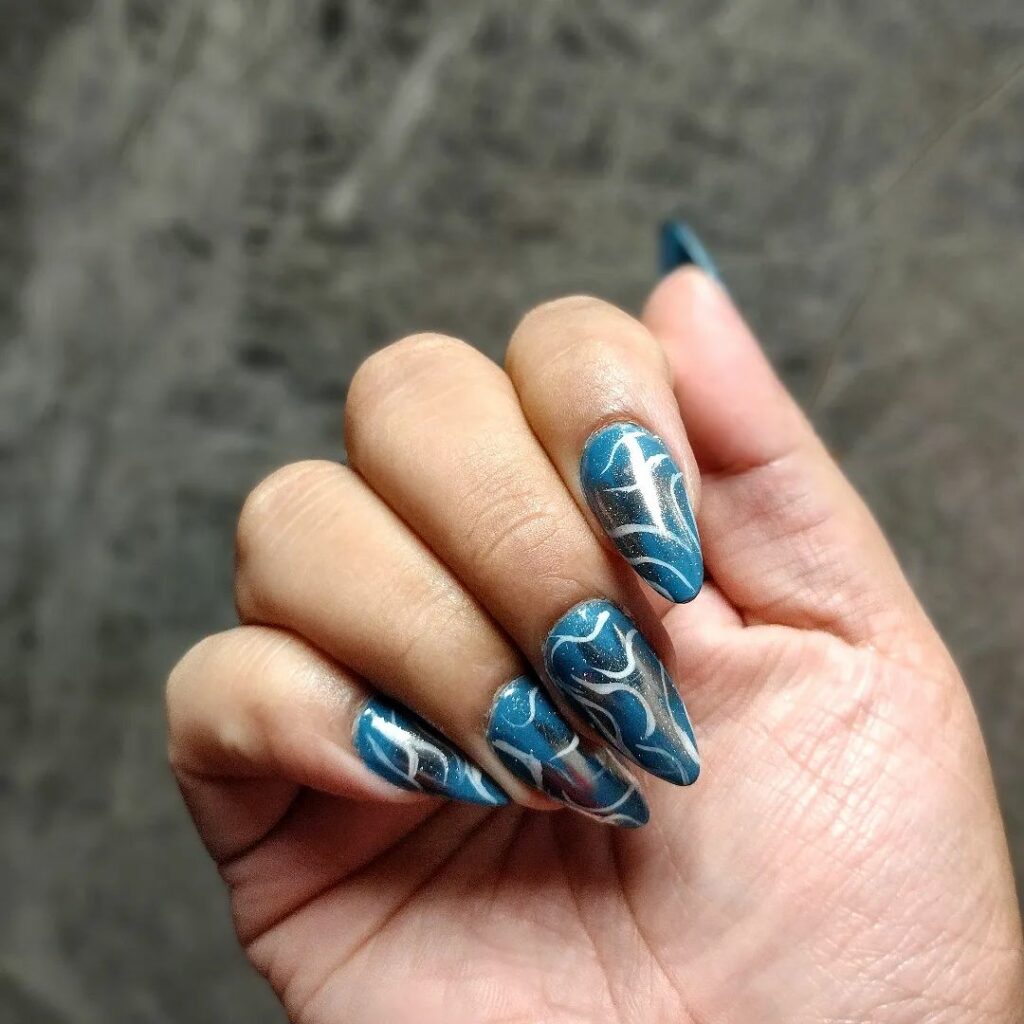 21. Gold Confetti Nails
New Year parties anyone?
22. Dark Teal Gemstone Inpsired Nails
Gemstone inspired nail art.
23. Dark Teal Galaxy Nails
Capture the essence of the galaxy on your nails with this dark teal color.
24. Long Dark Teal Nails
Pretty and simple.