If you love the look of ombre nails, there's certainly one color that needs to get on your radar – olive green!
Olive green ombre nails combine the best of both worlds – a natural-looking color that goes well with almost any outfit, and the popular ombre nail design style that adds some contrast to your manicure and makes it look super stylish.
If you're thinking about trying the olive green ombre nails styles, there are a few variations of this manicure look you can choose from, which include:
Mismatched Look – featuring one ombre nail among a mix of other nail design styles
Olive to Beige – this is the most popular color combination for ombre nails, especially if you have shorter nails
Half and Half – doing only two or three nails with an ombre design, while the rest uses a single color olive green coat
Ombre with Rhinestones – if you keep it simple with an ombre nail design across all your nails, it's very simple to take the manicure further when the occasion requires it. Simply add some rhinestones on a few nails to transform the way your nails look in an instant.
Olive Green with Gold Nail art – one of the most popular looks and a simple way to transform your nails is to add some hand-painted gold nail art
16 Olive Green Ombre Nails Ideas for Inspiration
Here are the 16 prettiest looks for olive green ombre nails we found on Instagram.
If you would like to check more work from the same nail artists or studio, simply click on their Instagram bio link under the image.
For more inspiration and the latest trends on everything related to nails, follow us on Pinterest!
1. White and Olive Green Ombre Nails
Ombre nails are best mixed with some classic nail design styles, including this pretty white nail art. Make it stand out by completing the look with full coverage olive green nail color.
2. Night Sky Olive Green Ombre Nails
Whether it's for a Halloween or other party, choosing olive green with this pretty night sky-inspired nail art will certainly ensure that you stand out from the crowd. The pretty ombre effect looks super stylish even on these mountain peak nails.
3. Light Color Olive Green Ombre Nails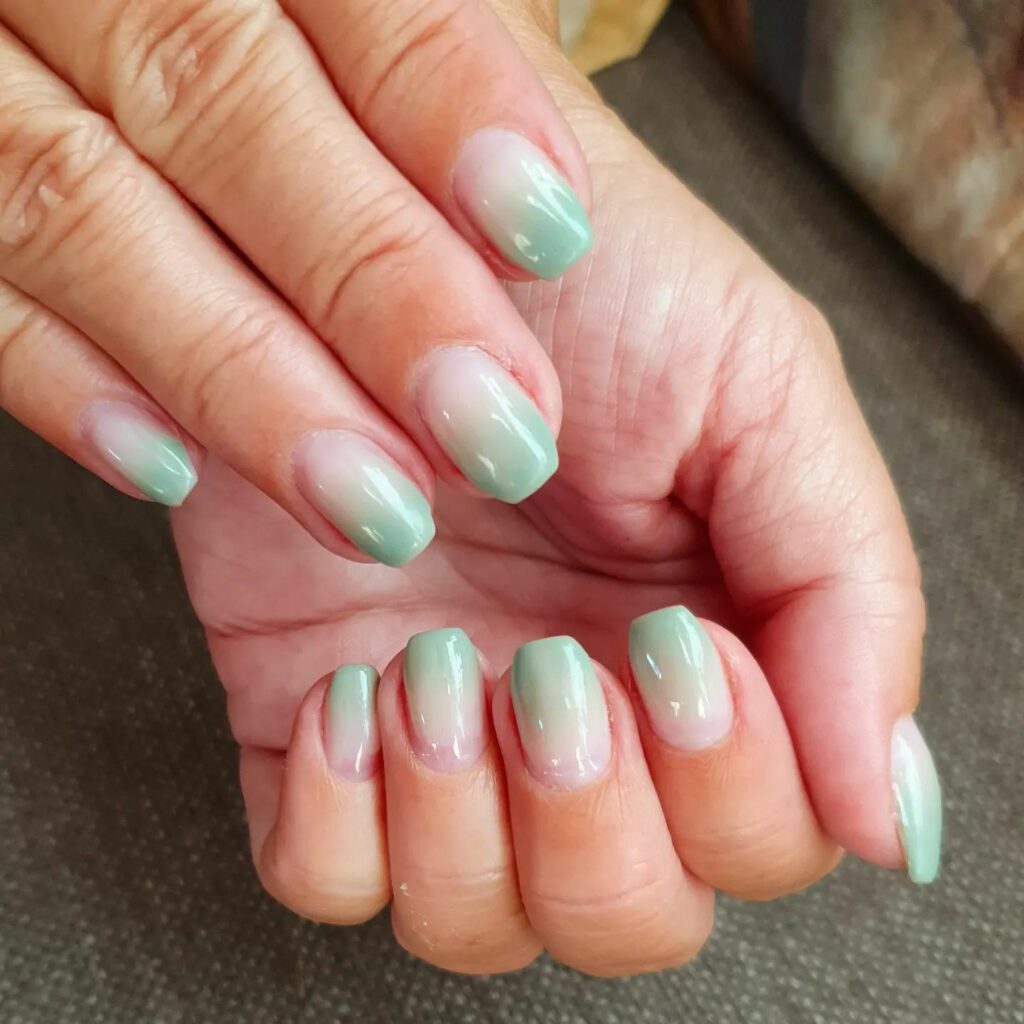 If you have short nails, choosing a lighter shade of olive green is a good option that will allow your manicure to look more natural yet giving you the contrast you're looking for.
4. Olive Green Ombre Nails with Neon
Going big and bold? In that case, this manicure is exactly what you need! Long coffin nails with a dark olive green ombre effect are elevated by the use of neon green hand-painted nail art. It beautifully outlines the transition from the beige color to olive green, almost simulating the effect of French tips.
5. Olive Green Ombre Nails with Gold
Make them glow! This pretty manicure showcases the beauty of adding some golden elements to an olive green nail design – simple swirls that resemble golden flames.
6. Olive Green Glitter Ombre Nails
While gold may be the pairing of choice when it comes to olive green, you certainly shouldn't shy away from experimenting with different glitter nail polish shades. This silver option looks especially pretty and on-trend when paired with an ombre nail design.
7. Coffin Olive Green Ombre Nails
With coffin nails, you have so much space to max out the ombre effect. To take it to the next level and transform your nails into a party manicure, adding rhinestones and simple graphic elements is all it takes.
8. Floral Olive Green Ombre Nails
The perfect manicure for the summer with 3D floral nail design on super long coffin nails.
9. Olive Green Ombre Nails with Swirls
A shimmery finish to the olive green manicure is elevated even further thanks to the white swirls which help to add more contrast to the ombre effect.
10. Gradient Olive Green Nails
Love the ombre look and want to create it at home? This gradient-style manicure is the perfect alternative which will allow you to replicate the high-end manicure without the need for visiting your local nail salon.
11. Olive Green Ombre Nails with Stars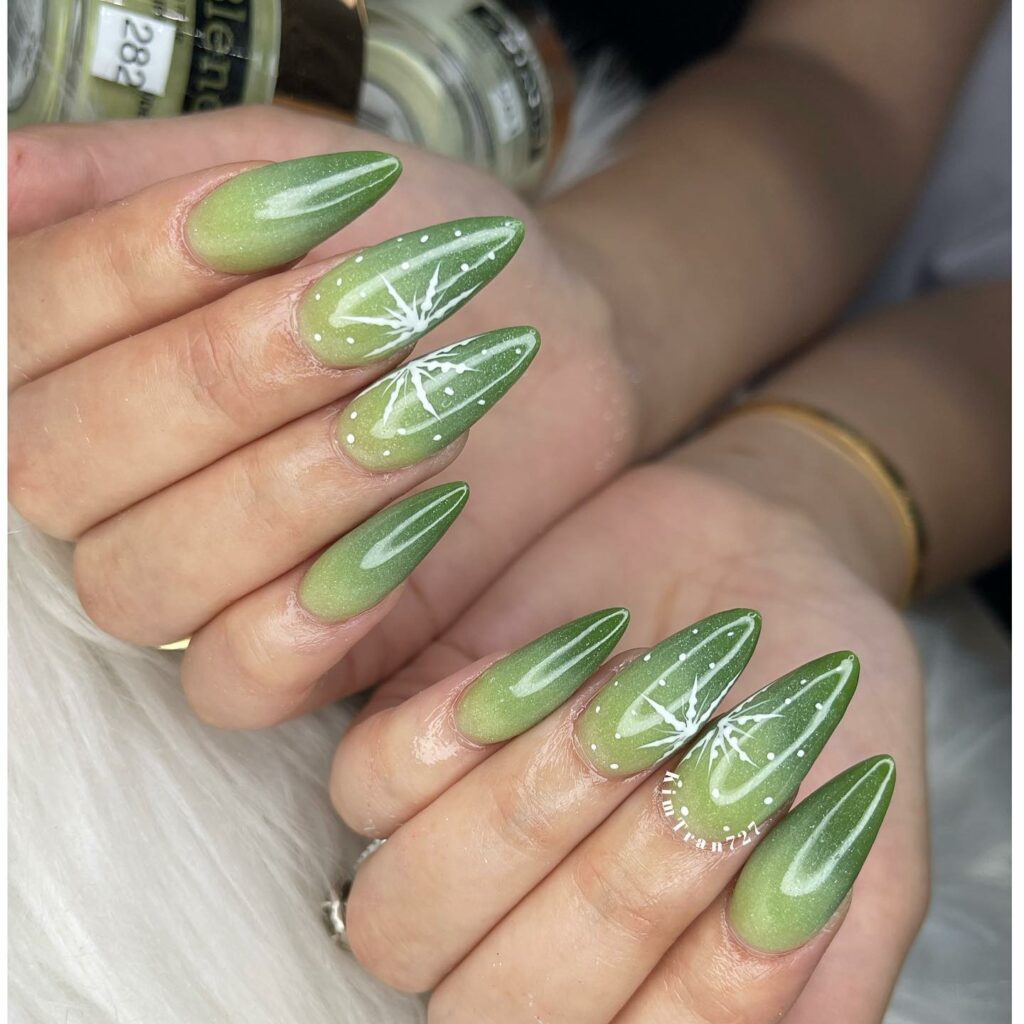 Perfect sparkly nails not just for the holiday season!
12. Matte Olive Green Ombre Nails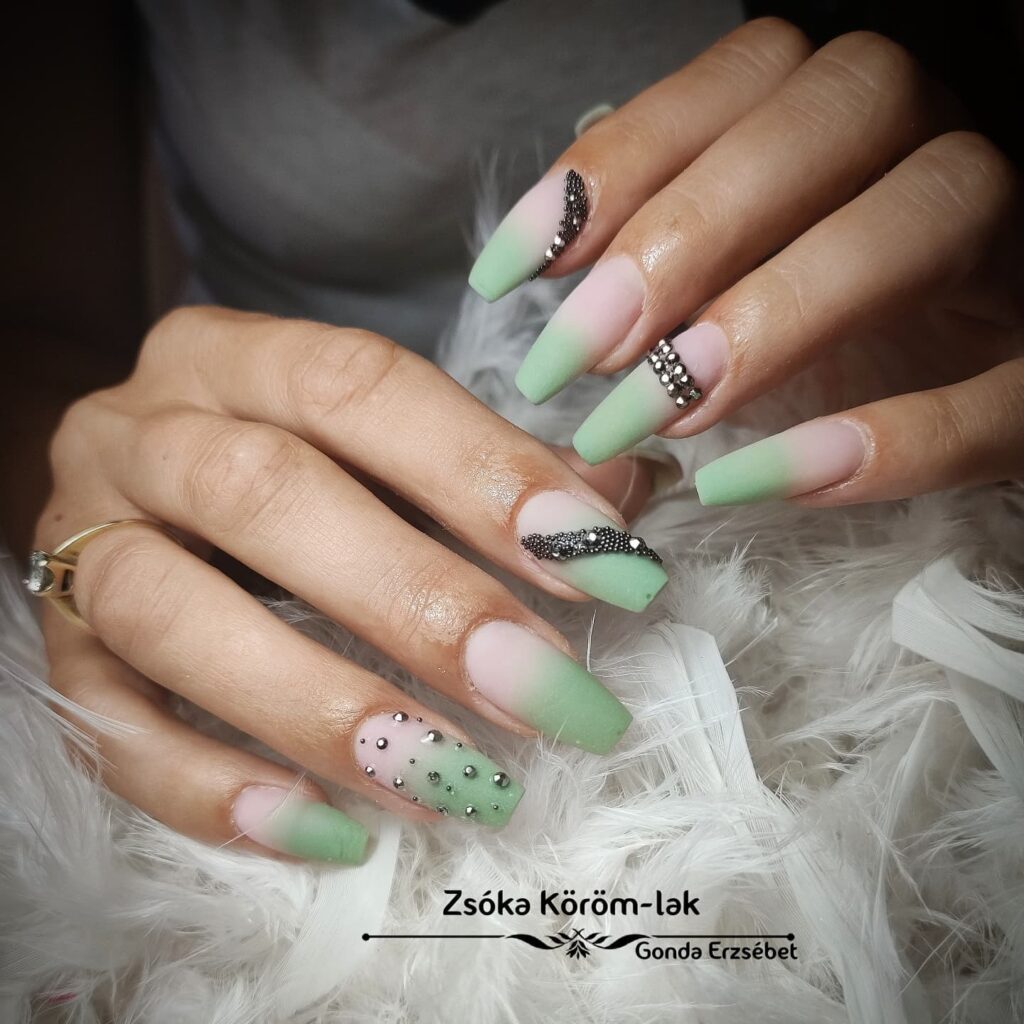 3D art is one of the most popular trends in nail design, and if you thought it was not for you, this manicure will certainly convince you otherwise. The 3D nail art adds a bit of an edge and personality to a simple ombre manicure.
13. Butterfly Olive Green Ombre Nails
Make your nails summer ready by adding some simple butterfly nail stickers.
14. Rhinestone Olive Green Ombre Nails
Olive green nail polish with ombre nail design pairs perfectly with tiny blue and green rhinestones that will transform your nails into a work of art.
15. Dark Olive Green Ombre Nails
Live on the dark side! This ombre manicure certainly pack a punch!
16. Dark Gradient Olive Green Nails
Another variation of the ombre gradient look across all nails – something you can easily do at home with the right color palette choice.
17. Light Olive Green Ombre Nails
Soft and feminine, these olive green ombre nails are everything you need for your spring and summer nails.
18. Sparkling Olive Green Ombre Nails
These olive green nails perfectly fit to any nail shape.
19. Gradient Olive Green Coffins
From dark shades of yellow to mild olive-green hues, this ombre design matches any nail length and shape.
20. Dramatic Olive Green Ombre on Coffins
If you like dramatic nail designs, these olive-green coffins are perfect for you.
21. Gradient Green French Tips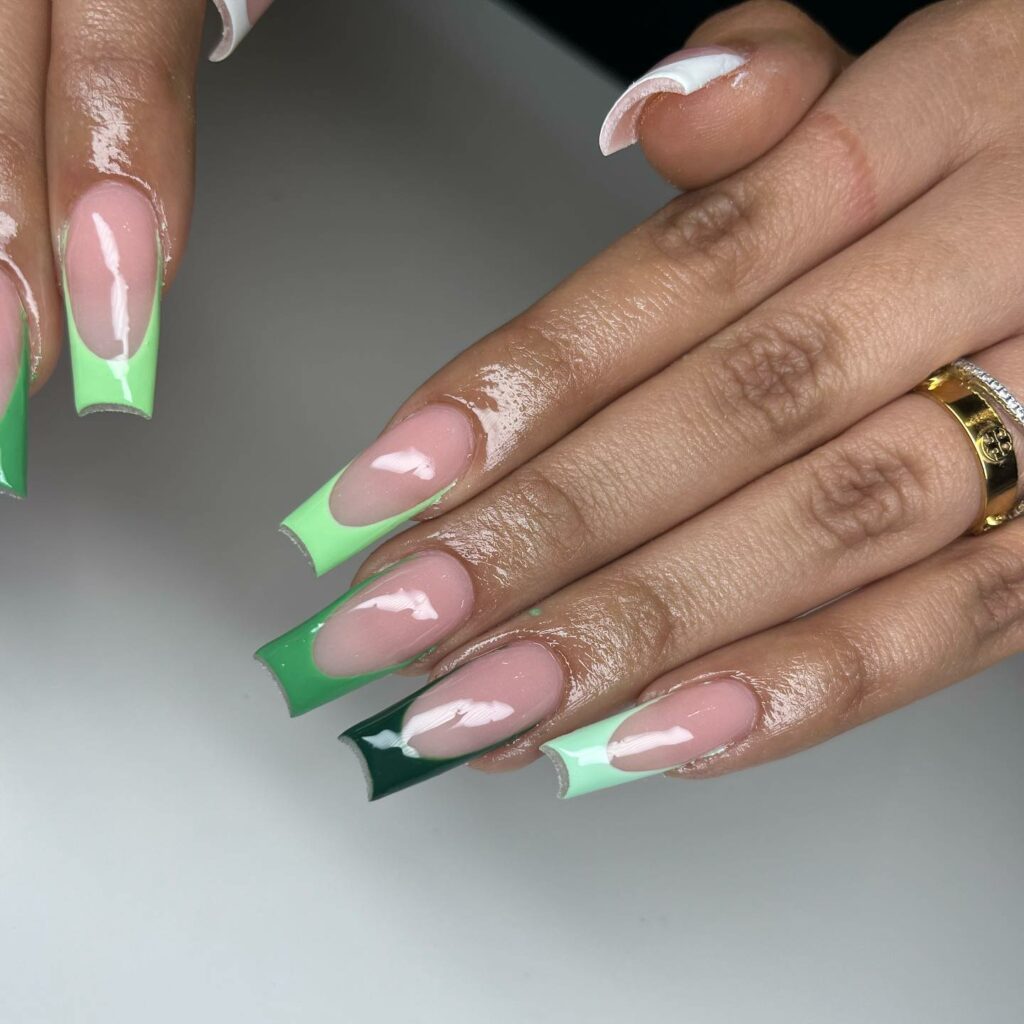 22. Short Olive Green Nails
Simple, elegant, and classy nail design in the olive green palette.
23. Olive Green and Gold
Olive green and gold are perfectly combined in these coffin nails.