Is your nail salon appointment coming up soon? Are you looking for some pretty teal acrylic nails to try as your next manicure option?
In that case, you're at the right place! Our team of expert nail artists put together this little roundup of the prettiest teal acrylic nails and nail design ideas to give you plenty of inspiration for your salon visit.
Whether you love the look of dark teal, bright or mixed colors, there are so many variations and options that you're bound to find lots to fall in love with. With acrylic nails, the options are nearly limitless.
Best of all – they are available in a range of shapes and sizes, so you can find the perfect match for your own nails.
Below are some of the things you should be aware of and consider before getting acrylic nails, follow by the list of our picks for the teal manicure options.
What to Consider Before Getting Acrylic Nails
Acrylic nails are much harder to the touch compared to gel nails, so they will last longer, but they also use pretty harsh chemicals. If you're sensitive to certain chemicals you might want to skip this one and opt for other options.
If you love the look of super long nails, extra sharp nails or would like to include some 3D art on your nails, acrylics should be your choice over gel nails
Even though acrylic nails are considered to be a little outdated, they are now making a comeback making them a popular manicure choice, especially among celebrities
Applying acrylic nails requires specialized skills, so you can't count on any nail salon offering them. In fact, you should research the options to make sure the salon you're going to has a skilled technician that can pull off the look you were hoping for.
Are they bad for your nails? When your natural nail is properly prepped for the procedure and the nails are applied correctly, they are no worse than other artificial nail extensions.
23+ Gorgeous Teal Acrylic Nails For Inspiration
Whether you love dark, light or even neon-colored teal nails, there are lots of ideas for each option below.
To see even more teal nail design inspiration, head over to our Pinterest board.
1. Teal Acrylic Nails with Confetti Glitter
Make your nails shine with this confetti inspired glitter nail polish and pretty teal nail color.
2. Teal Acrylic French Tip Nails
Simple French tip acrylic nails with the most vibrant shade of teal color.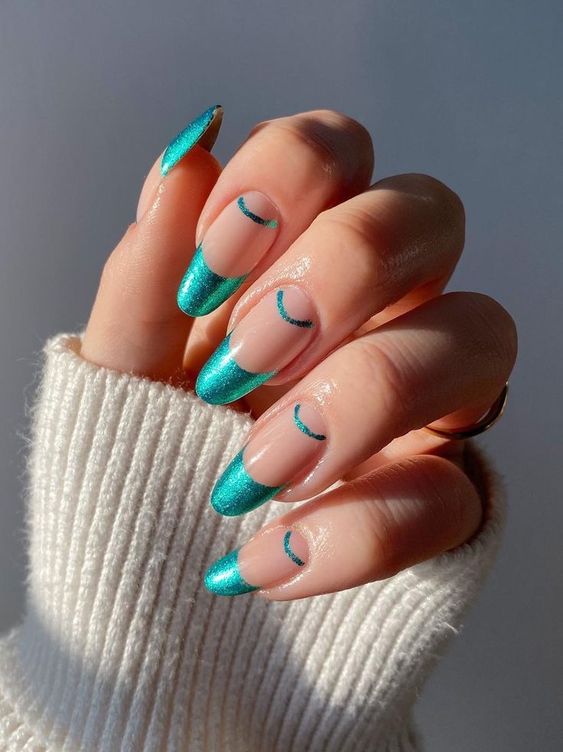 3. Teal Acrylic Coffin Nails
Bright and glossy, just the way we like our nails.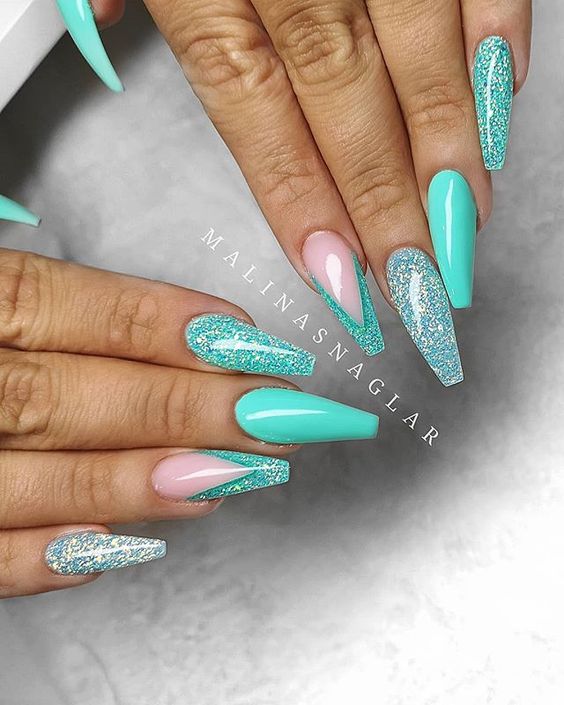 4. Teal Acrylic Ombre Coffin Nails
A variety of nail design techniques really stand out on these long coffin nails.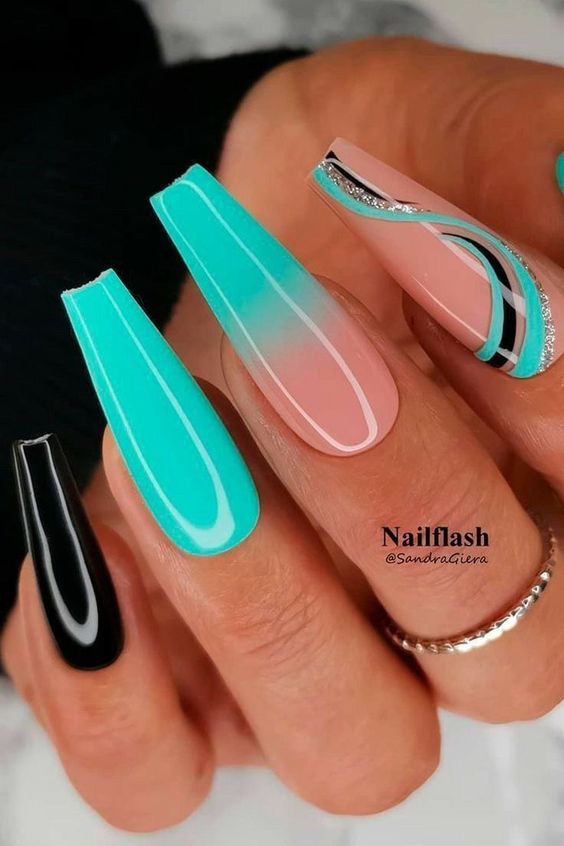 5. Teal Acrylic Ombre and Marble Coffin Nails
A pretty blend of ombre, glitter and marble nail design technique on coffin nails.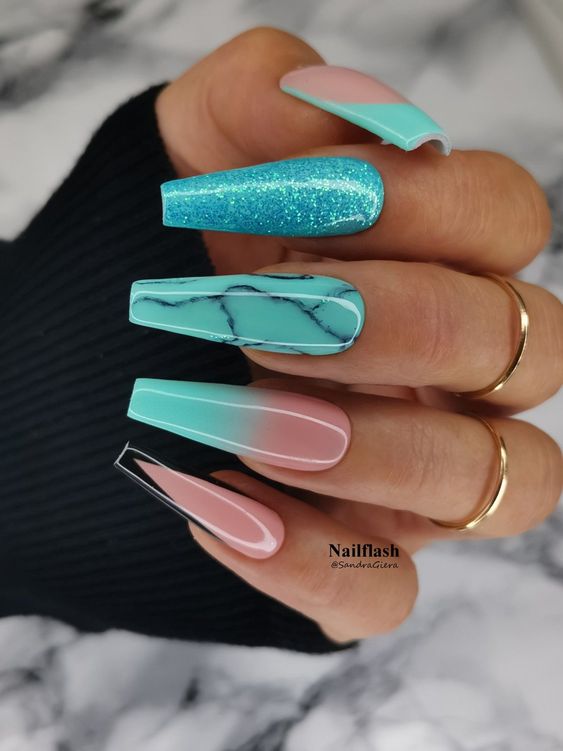 6. Single Tone Teal Acrylic Nails
Keep things simple with a pretty shade of teal nail polish on long almond shape nails.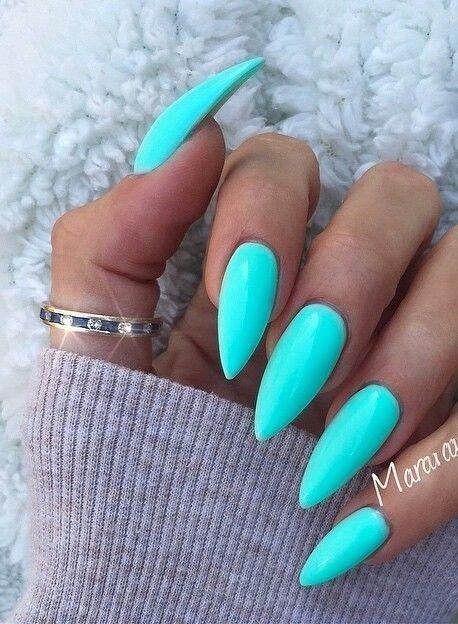 7. Dark Teal with Gold
Need nails for a special occasion? Just add a bit of gold and you're done!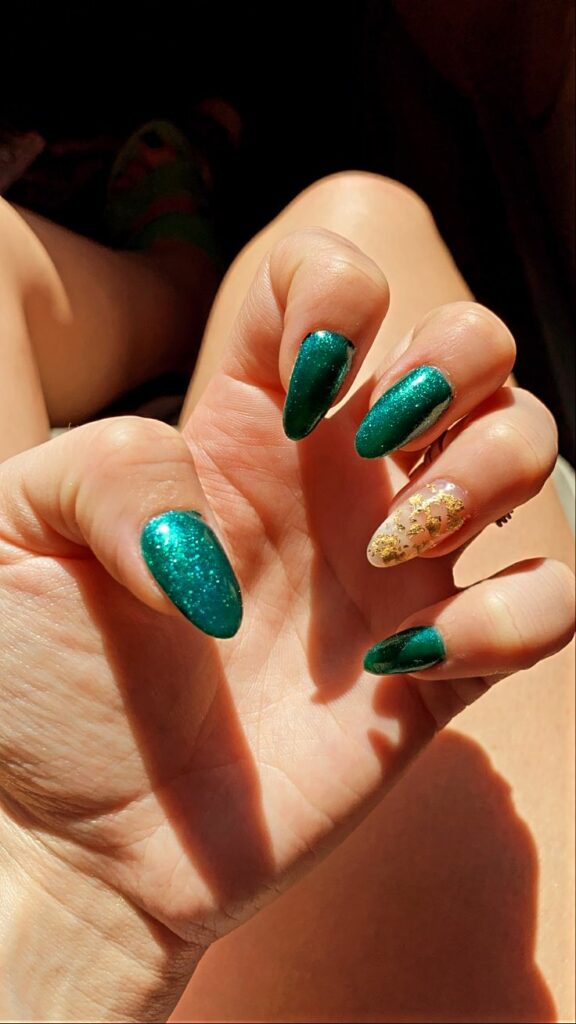 8. Mermaid Teal Almond Nails
The perfect summer manicure with teal and purple shades.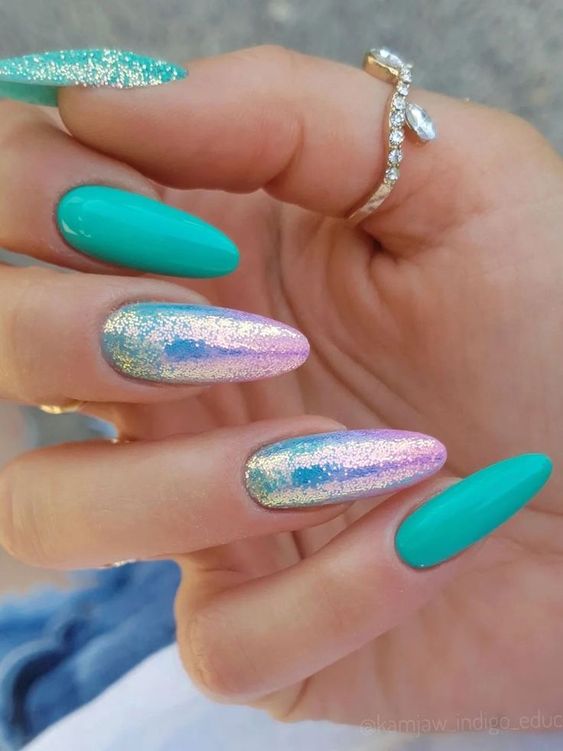 9. Abstract Nail Art Teal Nails
Work of art on your nails.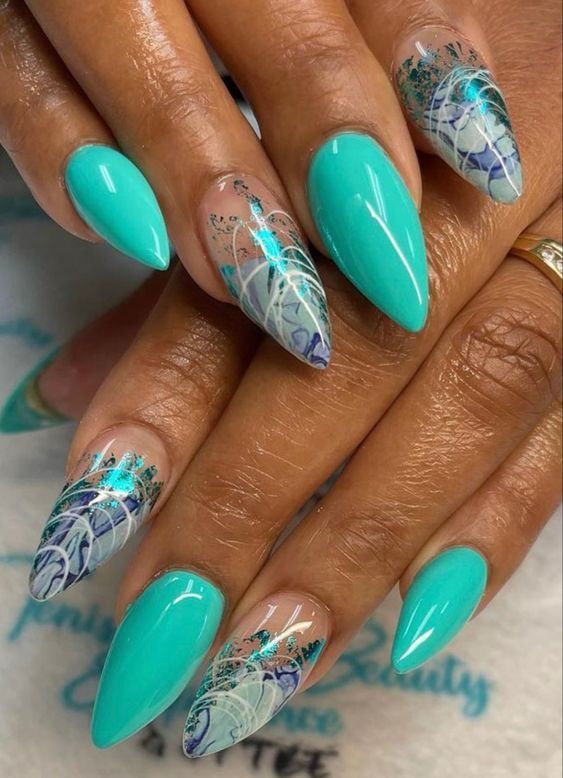 10. Marble and Glitter Teal Nails
Glitter and gemstones transform these simple ombre nails into a more interesting version of a basic manicure.
11. Bright Coffin Teal Nails
Glitter and teal – match made in heaven.
12. Super Long Teal Acrylic Nails
Super long nails are elongated even further this this stylish design with nude base color, gold glitter nail polish and dark teal.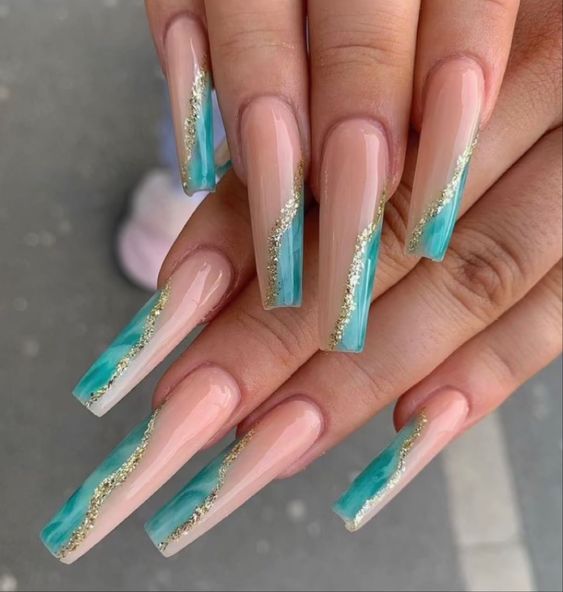 13. Almond Shape Modern French Tips
A pretty version of the classic French tip nails with gold and teal nail polish.
14. Dark Teal with Black
Super pointing sharp almond nails with black and teal nail polish.
15. Dark Teal with White
Add a touch of white to bring more contrast to dark teal manicure.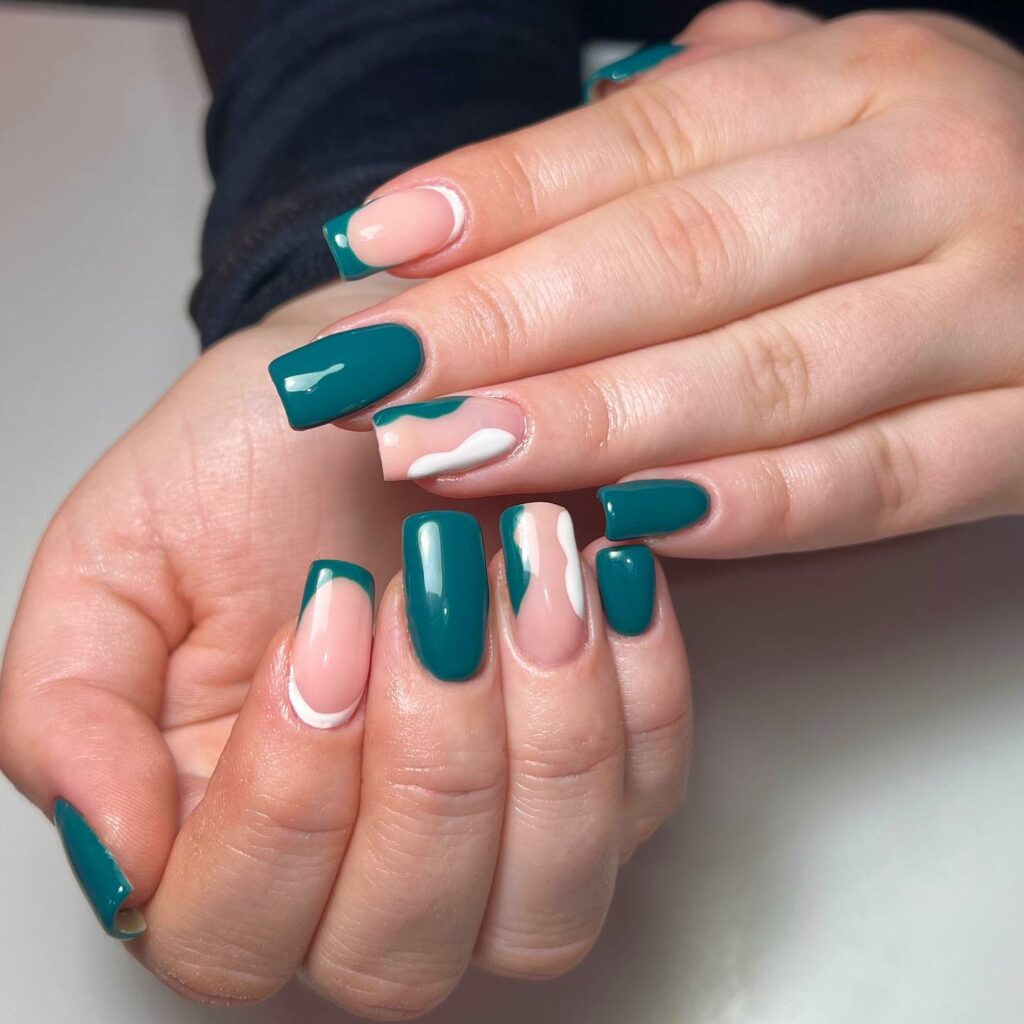 16. Coffin Nails with Teal Ombre Nail Polish
The freshest looking manicure for the summer – pretty gradient ombre effect using five teal nail polish shades.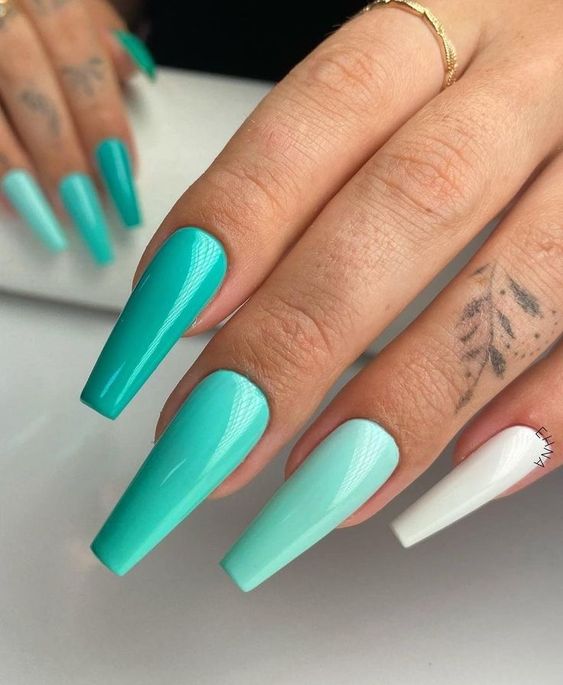 17. Coffin Teal Glitter Nails
Add a bit of glitter to the base of the nail to create a nice contrast with the French tips.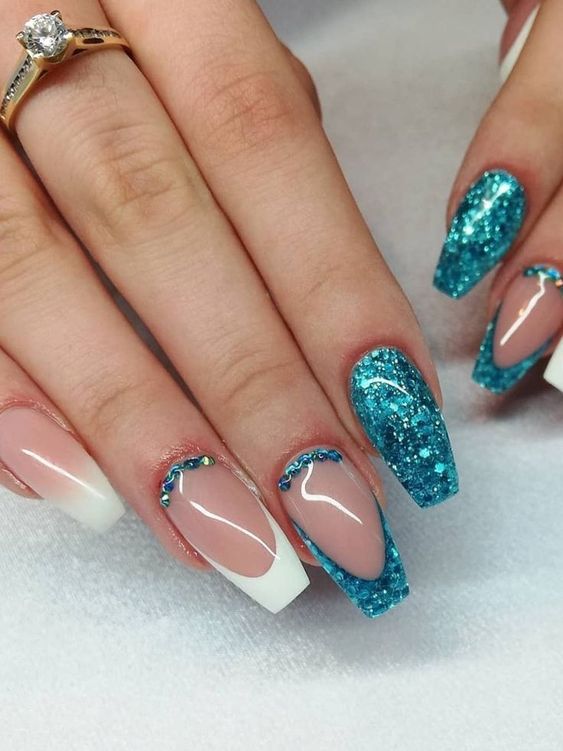 18. Almond Shaped Ombre Nails
Muted colors in this gradient ombre manicure are perfect for a special occasion.
19. Dark Teal Acrylic Nails
Simple manicure using a single shade dark teal nail polish.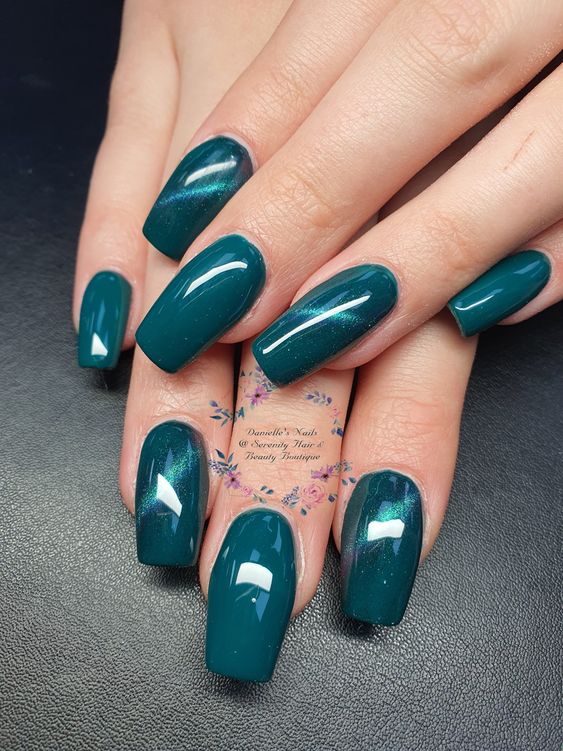 20. Midnight Magic Acrylic Nails
The work of magic!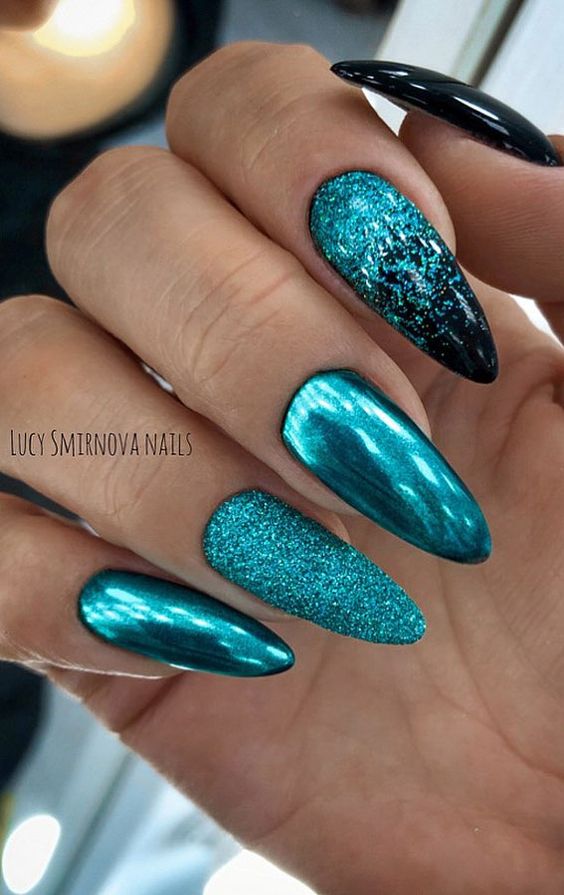 21. Pink and Dark Teal Marble Nails
Marble nails with gold, pink and dark teal.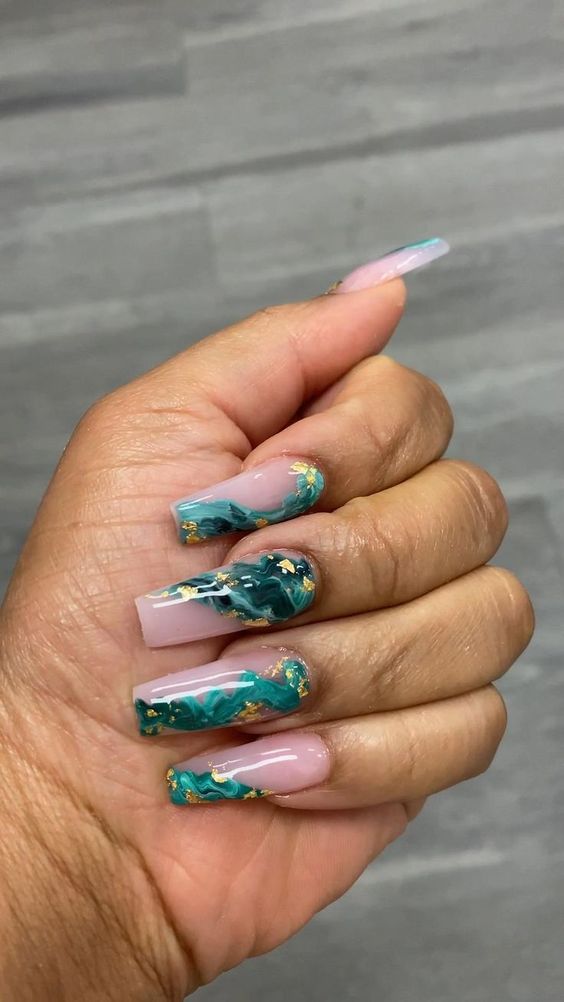 22. Evening Sun Nails
Pretty and simple nail art will make this manicure the right choice for the summer season.
23. Feature Glitter Nail
Add a bit of variety to your manicure by using one feature nail with statement design.
24. Dark Teal Nail Art
Dark teal nail art brought to life by the use of white nail polish.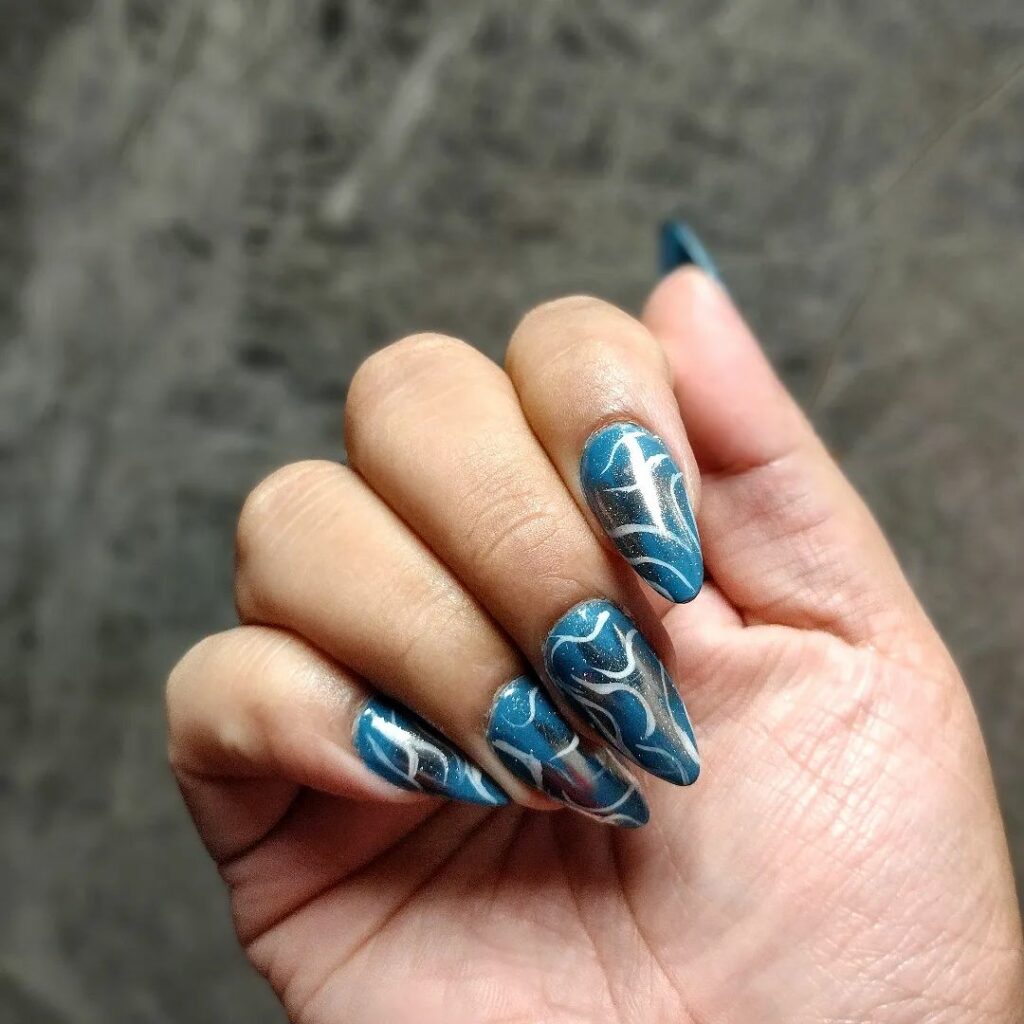 25. Mixed Teal Acrylic Nails
Mix and match teal and white manicure on almond shape nails.
26. Elegant Teal Acrylic Nails
High gloss dark teal color looks spectacular on this nail shape.