If you want a manicure that's literally out of this world, then look no further than galaxy nails!
Galaxy nails have been trending on social media for some time, so we thought we would prepare this ultimate list of the most beautiful and 'out there' designs to give you plenty of inspiration for your manicure.
So what are galaxy nails?
Well, they come in all shapes, sizes and different variations, there is no one template to fit all really. You can go super artistic and recreate intricate nail art with all the planets, or go as simple as a glitter nail polish in a few different shades.
Galaxy nail design works on all sorts of nail sizes and lengths, so you can do acrylic galaxy nails, and coffin galaxy nails but there are also plenty of beautiful designs that look just stunning even on the shortest natural nails.
If you're looking for some styles of galaxy nails you can try, here is a short list of the most popular variations of these:
Trending Galaxy Nails Styles & Design Ideas
Black Galaxy Nails – black is one of the best base colors you can choose for your galaxy nails as it highlights any color you put on top of it. The popular color combinations include black with blue, purple, silver, white and even grey.
Neon Galaxy Nails – if you want more contrast on your nails and striking color that stands out from the crowd, you can do your nail art or the twinkling stars in a bright neon color like blue or purple.
Galaxy Nail Art with planets – a skilled nail artist will be able to create individual planets on your nail, so you can really say that you've got the whole galaxy in your hands
Blue Galaxy Nails – blue is one of the most popular colors to use for this design, often paired with subtle hues of purple and white.
Purple Galaxy Nails – purple is another color that works great with black base nail polish, creating the outline of the Milky Way or adding stars to your design.
Milky Way Nails – one of the most frequent and popular designs that are also super easy to create for a beginner is the Milky Way nail art. Just a sprinkle of different shades of glitter nail polish and a subtle marble effect is all you need to make it happen.
Stardust Nails – this is a more subtle take on the topic, with just a hint of sparkle and slight movement on the top coat nail polish color, usually white or grey.
Minimalist Galaxy Nails – if you love the ideas of galaxy nail art, but don't want to go overboard, you can also do a simplified version showing just a few stars and maybe an outline of a planet.
Nude Galaxy Nails – love a neutral base color? Just add the design in a neutral white or black nail polish and it will look fabulous!
Video Tutorial: Holo Galaxy Nails
If you're planning to try this design at home, you can try this simple tutorial by Kelli Marissa via youtube.
Video Tutorial: Galaxy Nail Art with Planets
Looking for something a little more intricate? Check out this video tutorial by Nails Revolutions.
40+ Beautiful Galaxy Nails Ideas
Below are some of our favorite designs from talented nail artists from Instagram. If you want even more inspiration, you can check out the galaxy nails Pinterest board on our account.
1. Purple and Black Galaxy Nails
2. Neon Bright Galaxy Nails
3. Stiletto Blue Galaxy Nails
4. Short Sparkly Galaxy Nails
5. Minimalist Beige Galaxy Nails
6. Black Star Covered Galaxy Nails
7. Purple and Green Star Galaxy Nails
8. Almond Shaped Glitter Galaxy Nails
9. Monochrome Galaxy Nails
10. Pastel Long Galaxy Nails
11. Purple and White Star Galaxy Nails
12. Grey with Blue Finish
13. All the Planets on Your Nails
14. Bright Green Stiletto Nails
15. Ombre Dark Blue Night Sky Nails
16. Dark Purple Nails with White Stars
17. Purple Milky Way Nails
18. Mermaid Milky Way Nails
19. Almond Shaped Galaxy Nails
20. Blue Nails with the Sun
21. Grey Nails with Gold Stardust
22. Purple Glitter Nightsky Nails
23. Short Pastel Galaxy Nails
24. Coffin Start Dust Nails
25. Purple Nails with White Stars
26. Glitter Almond Nails
27. MultiColor Galaxy Nails
28. Neon Blue with Gold Stars
29. Black and Pastel Nails
30. Ombre Nails with Gold Stars
31. Dark Milky Way Nails
32. Sky Blue with Gold Stars
33. Burgundy Galaxy Nails
34. Mismatched Black and Purple
35. Green and Pink Galaxy Nails
36. Long Coffin Nails with Glitter
37. The Earth Nails
38. Purple Gold Dust Nails
39. Purple Almond Galaxy Nails
40. Neon Blue Galaxy Nails
41. White Star Galaxy Nails
42. Multicolor Star Galaxy Nails
43. Blue Star Galaxy Nails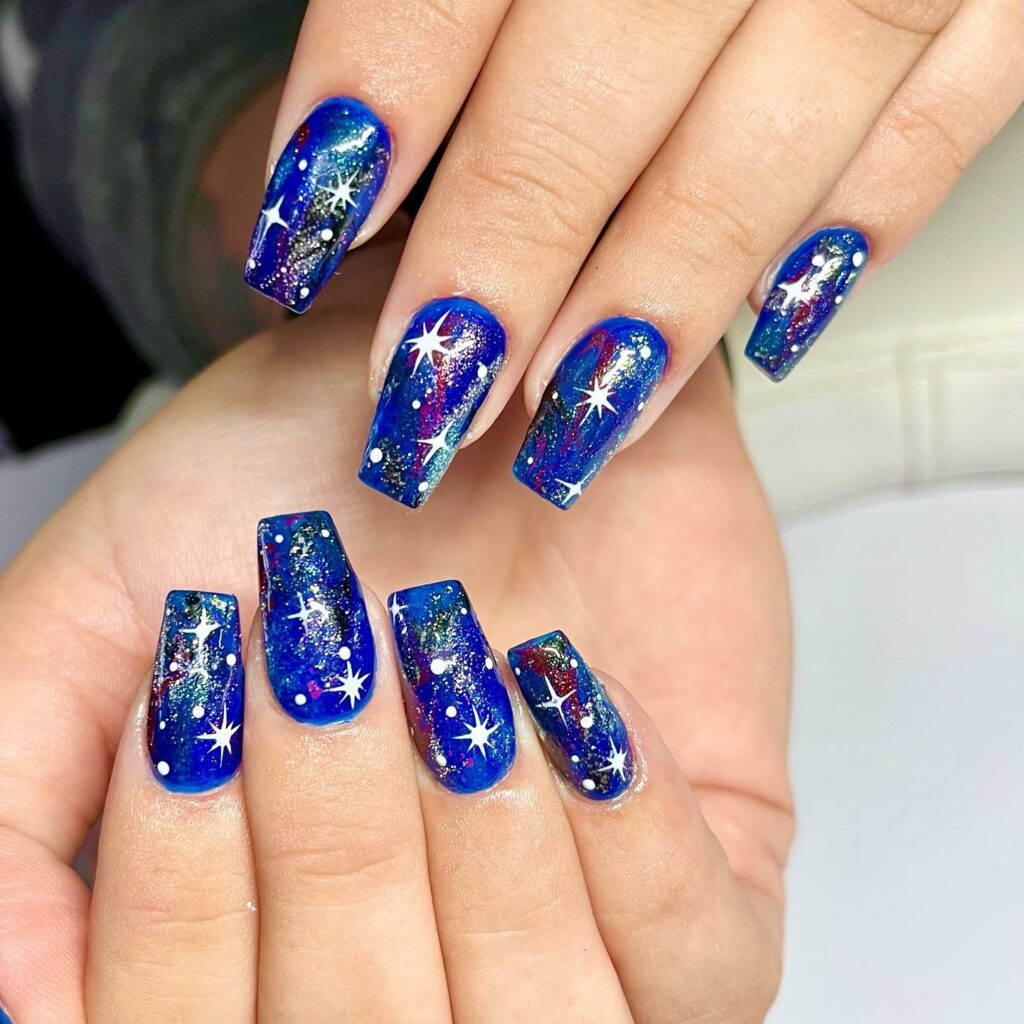 44. Baby Blue Nails with Stars
45. Vibrant Purple Galaxy Nails