If you're planning your next manicure and thinking about something out there, we have just what you're looking for right here – black galaxy nails!
Don't worry, you don't have to recreate the whole Solar system on your nails!
This space-inspired manicure comes in a variety of designs and nail shapes that will satisfy even the most enthusiastic nail art fans. Whether you're looking for something that will make you stand out from the crowd, or want to try a new challenging design at home, we have plenty to choose from for both categories.
In this article, we put together a selection of the prettiest black galaxy nail designs to help you find the perfect fit just for you. Whether you have long nails, acrylic nails, short nails or natural almond-shaped nails, any of these pretty designs will work with whatever nail shape and nail length you might have.
Are you ready to dive in and choose your favorites?
10+ Gorgeous Black Galaxy Nails Designs
Below is our selection of the best designs we found online. If you would like to check more nail styles and ideas from the same nail artists, you will find their Instagram bio linked under each image.
1. Black Nails with Planets
Challenge your nail artist to recreate this piece of art on your own nails – a selection of planets with the Milky Way and stunning details that will leave anyone speechless.
2. Black Galaxy Nails with White Stars
If you want to try something simple, that can be easily accomplished at home, this look with a simple black glitter nail polish as a base, and hand painted white stars, is the right choice for you.
3. Black Galaxy Nails with Milky Way
An elegant look for almond shaped nails with black glitter nail polish and the appearance of the Milky Way achieved by the use of blue and purple nail polish.
4. Glitter Black Galaxy Nails
If you're wearing longer nails, use them as a big canvas to create this masterpiece!
5. Purple and Black Galaxy Nails
Not sure about a single color? You can create more contrast by incorporating two different looks into one nail design.
6. Glitter Black Galaxy Nails
Coffin nails? Glitter nail polish that captures the essence of the night sky and the Milky Ways is one of the prettiest way to execute the galaxy look.
7. Earth and Stars Galaxy Nails
Paint your favorite planet and pair it with some stars!
8. Simple Almond Galaxy Nails
Another simple look for shorter almond shaped nails with black based and white hand-painted details.
9. Galaxy Nail Art for Short Nails
An elevated look using the sprinkle technique and some hand-painted details.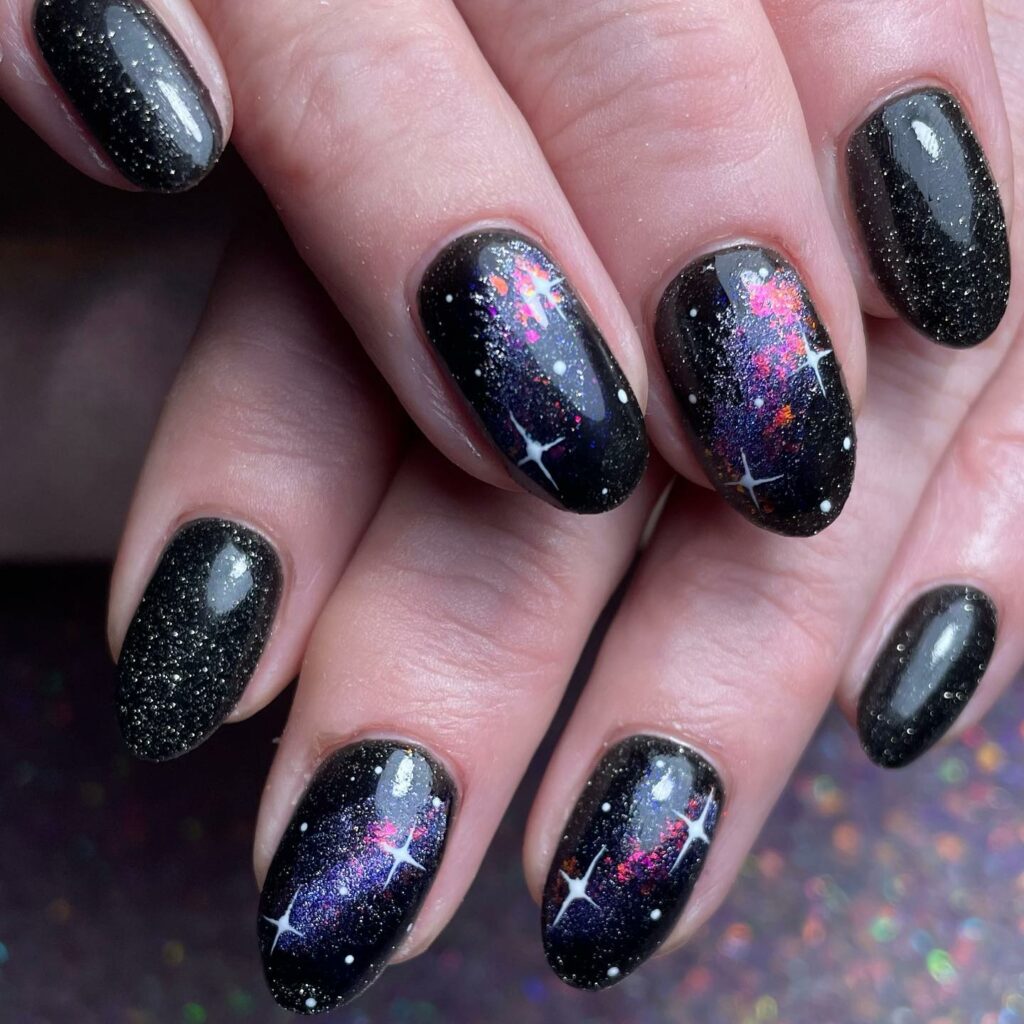 10. Colorful Planets on Black Nails
Add a pop of color to your nails, especially if you want to capture some of the planets.
11. Black Galaxy Nails with Blue Star Dust
Blue and purple pair wonderfully with the black base nail polish and make the whole manicure come to life.
12. Black Galaxy Nails with Blue Milky Way
Using high gloss nail polish in a pretty black base, with hand-painted details make these nails look like you're almost touching the sky.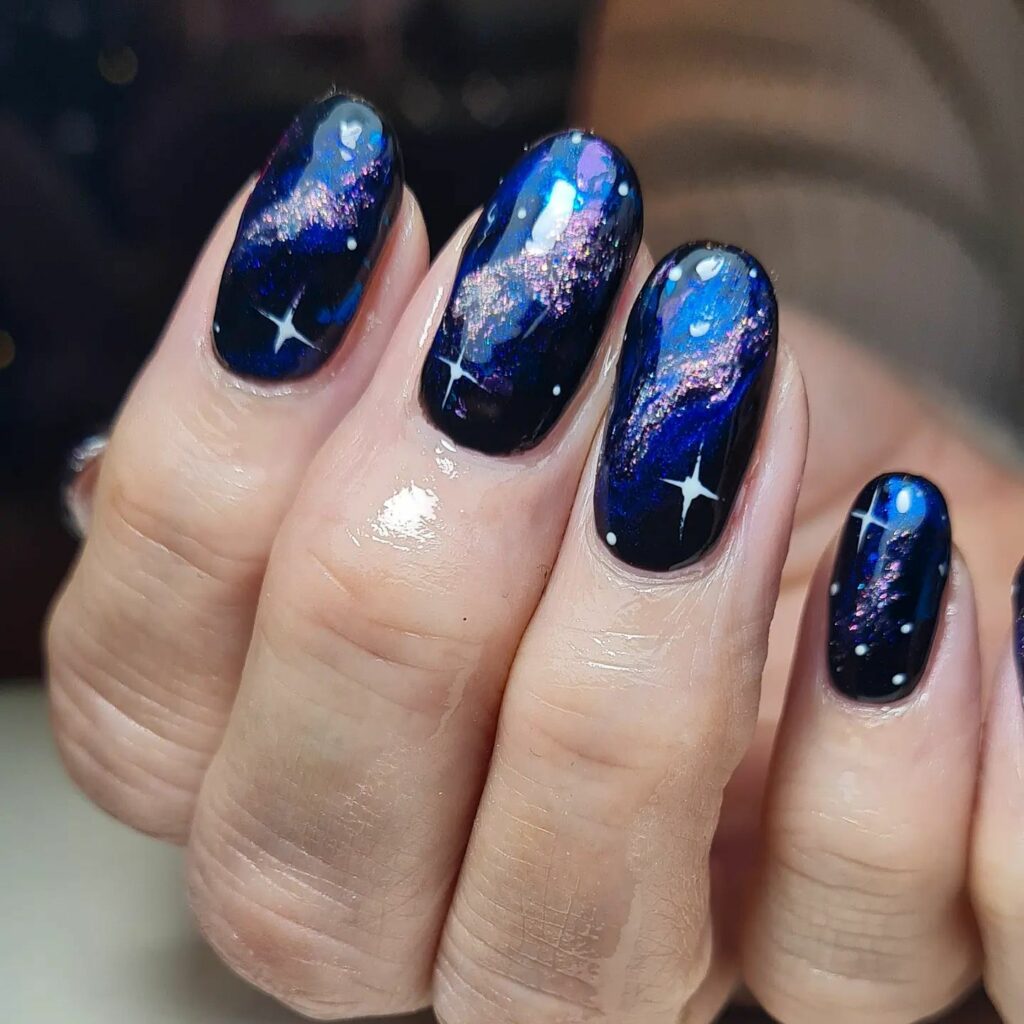 We hope you found some. manicure look that you absolutely adore! Feel free to check out our other ideas from the recommended articles below.