If you're looking for beautiful nails that fit any occasion, look no further than black French tip nails! This stylish and timeless manicure is making a comeback, as evidenced by social media, and we are here to offer you the coolest and most stylish options on how to wear them.
Most of us are already familiar with the hugely popular French tips, with the classic look of the white painted tip of the nail and the base in a naturally neutral color. These days french tips come in a range of different colors, including red, blue, sage green and now even in black!
In this article, we have curated a collection of the best styles that will help you pick the most elegant manicure for the upcoming season!
How to Achieve the Look
French tips are one of those nail designs that's pretty easy to create at home, with a bit of practice.
start with a clean and polished nail, to avoid any dust or mess getting onto your painted nails
paint the whole nail with a neutral base color, such as beige, light pink or light white
using nail artist stickers, place them on the nail right under where you want to paint your tips – this way you will have a clean and defined line when you paint your tips with black nail polish
the next step is creating those tips – simply use any black nail polish to go over the tips, be careful not to run over the stickers into the base color
once you're done, seal the whole masterpiece with a layer of a clear nail polish
Trending Styles for Black French Tip Nails
Some of the nail design styles that we see over and over on social media are the following:
black French tips with an extra framed outline right under the tip, either in a contrasting color like white, or with glitter nail polish
glitter is also a popular choice for the black design on the French tips
outline French tips which just create the optical illusion of the tip by framing it with black nail polish, and leaving the inner part of it in a neutral color
bright white nail polish is used as a base color to create even more contrast for your nails
adding nail art like starts to your nails
using small gemstones in your nail design
Video Tutorial: Black French Tip Nails
If you would like to try creating this look at home, take a look at this video that will guide you step by step.
Our Picks: 37+ Best Black French Tip Nails Ideas
Are you ready to get inspired? Whether you're heading for your next nail salon appointment or looking for a simple manicure you can create at home, you will find lots of inspiration in our curated collection.
If you need even more ideas, we have hundreds of trending nail designs in our Pinterest account, so don't forget to check it out!
1. Simple and Elegant Black French Tip Nails
2. Acrylic Black French Tip Nails
3. Double Line Black French Tip Nails
4. Coffin Nails with Double Outline
5. Black and White Almond Nails with Silver Nail Art
6. Elegant Extended Black French Tips
7. Simple French Tips with Gemstones
8. Monochrome French Tips with Nail Art
9. Heart Shaped Black French Tips
10. Black French Tip Outlines on Shorter Nails
11. Two Layer Black French Tips on Natural Nails
12. Extended Black French Tip Nails
13. Black French Tip Nails with White Base Color
14. Black French Tip Nails with Glitter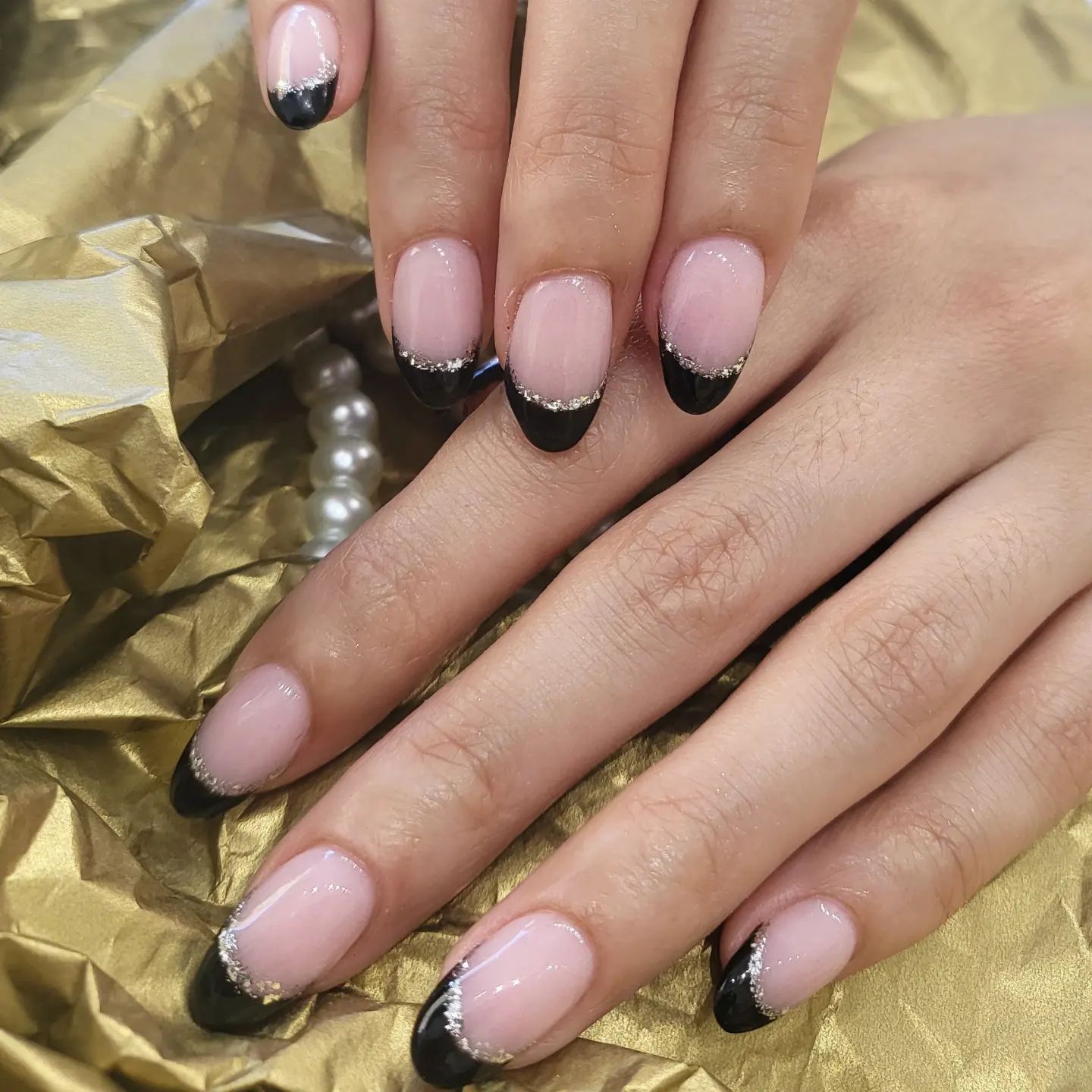 14. Arrow Shaped Black French Tip Nails
15. Gold Glitter with Black French Tip Nails
16. Winter Black French Tips
17. Bold Statement French Tips
18. Thin French Tips with Stars
19. Minimalist Black French Tips
20. Black French Tips with Outlines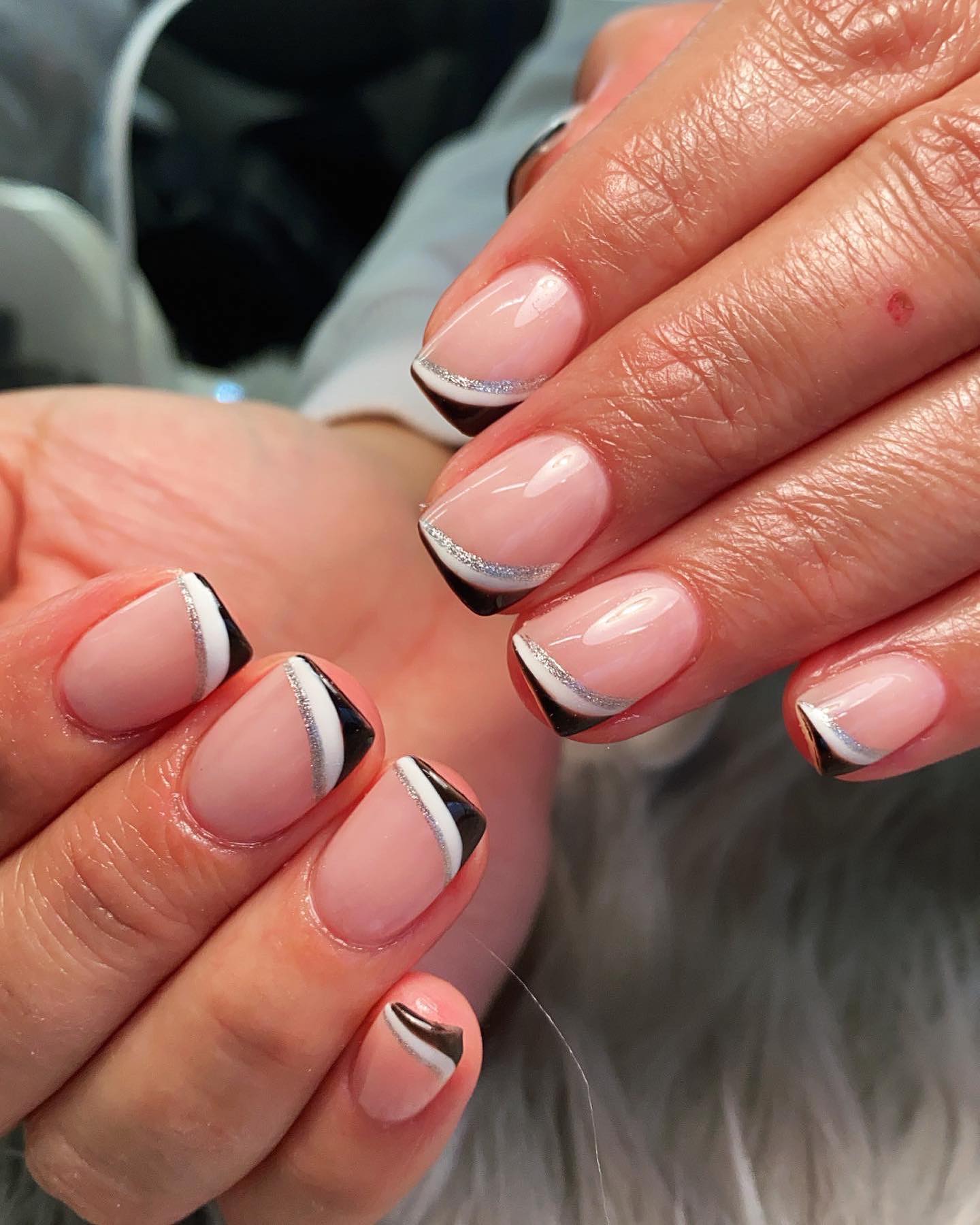 21. Arrow Shape Black French Tips
22. Black French Tips with Glitter Base Color
23. White Outline on Almond Nails
24. Smoke Effect French Tips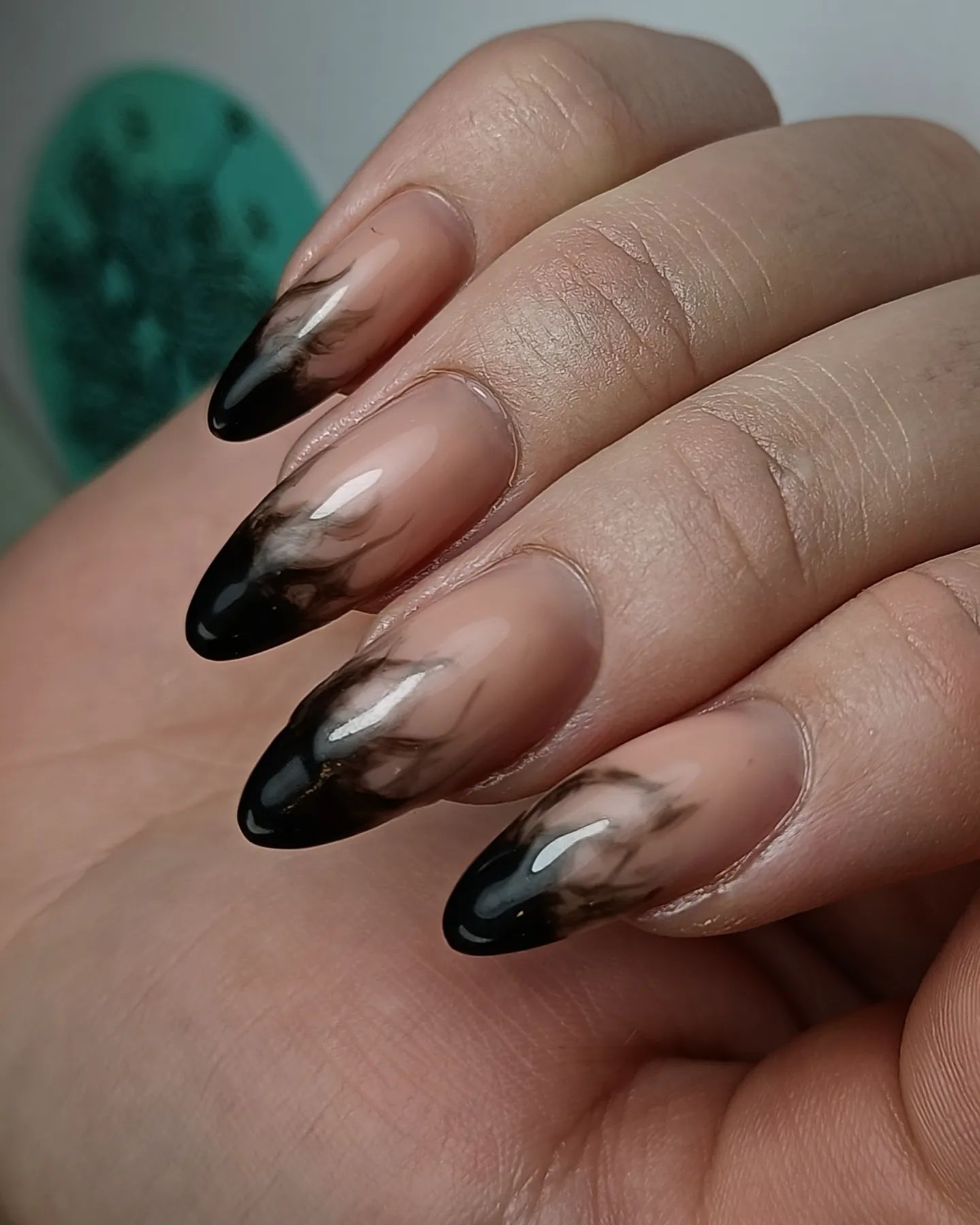 25. Rounded French Tips on Almond Nails
26. Crossed French Tips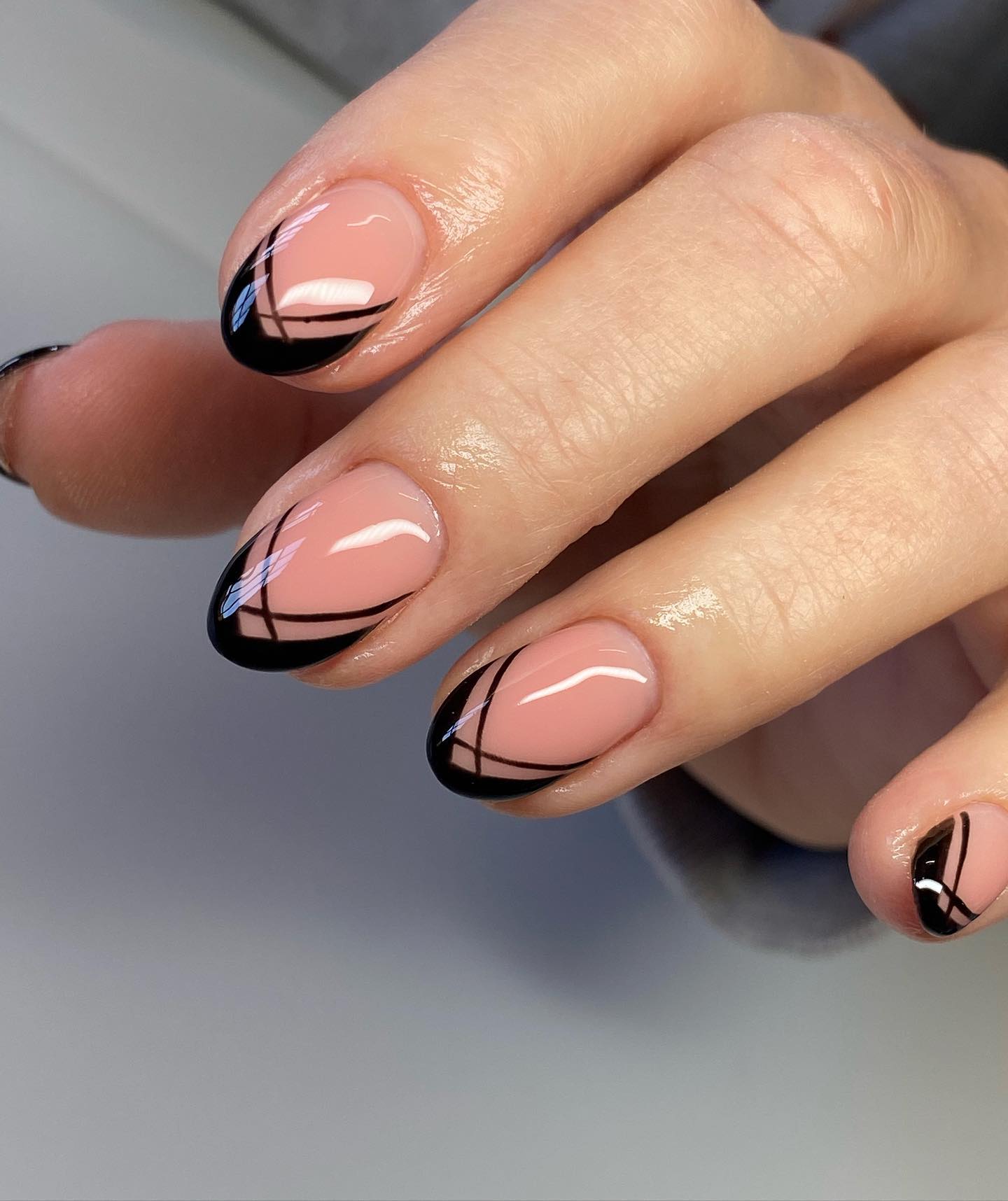 27. Black French Tip with Half Moon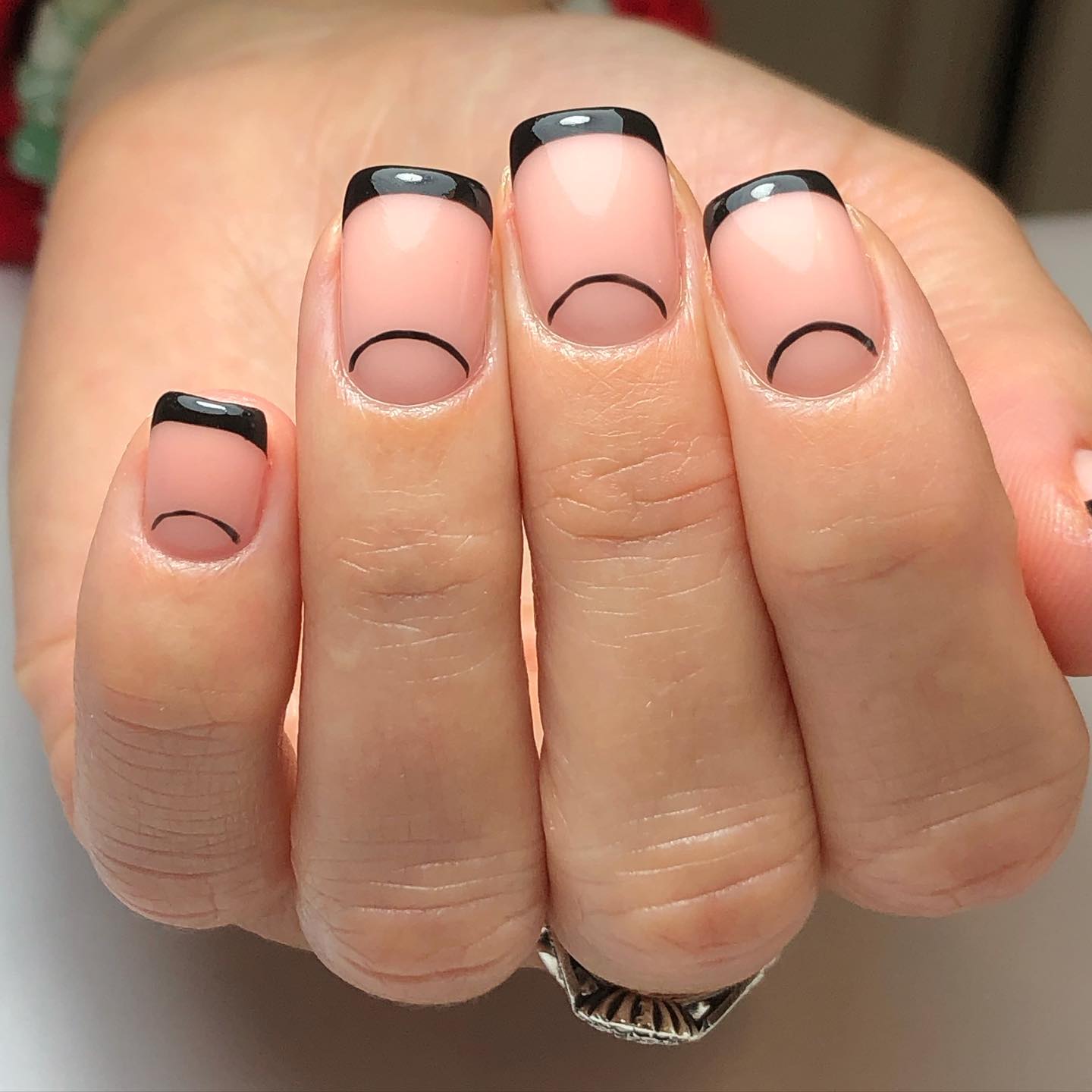 28. Blended French Tips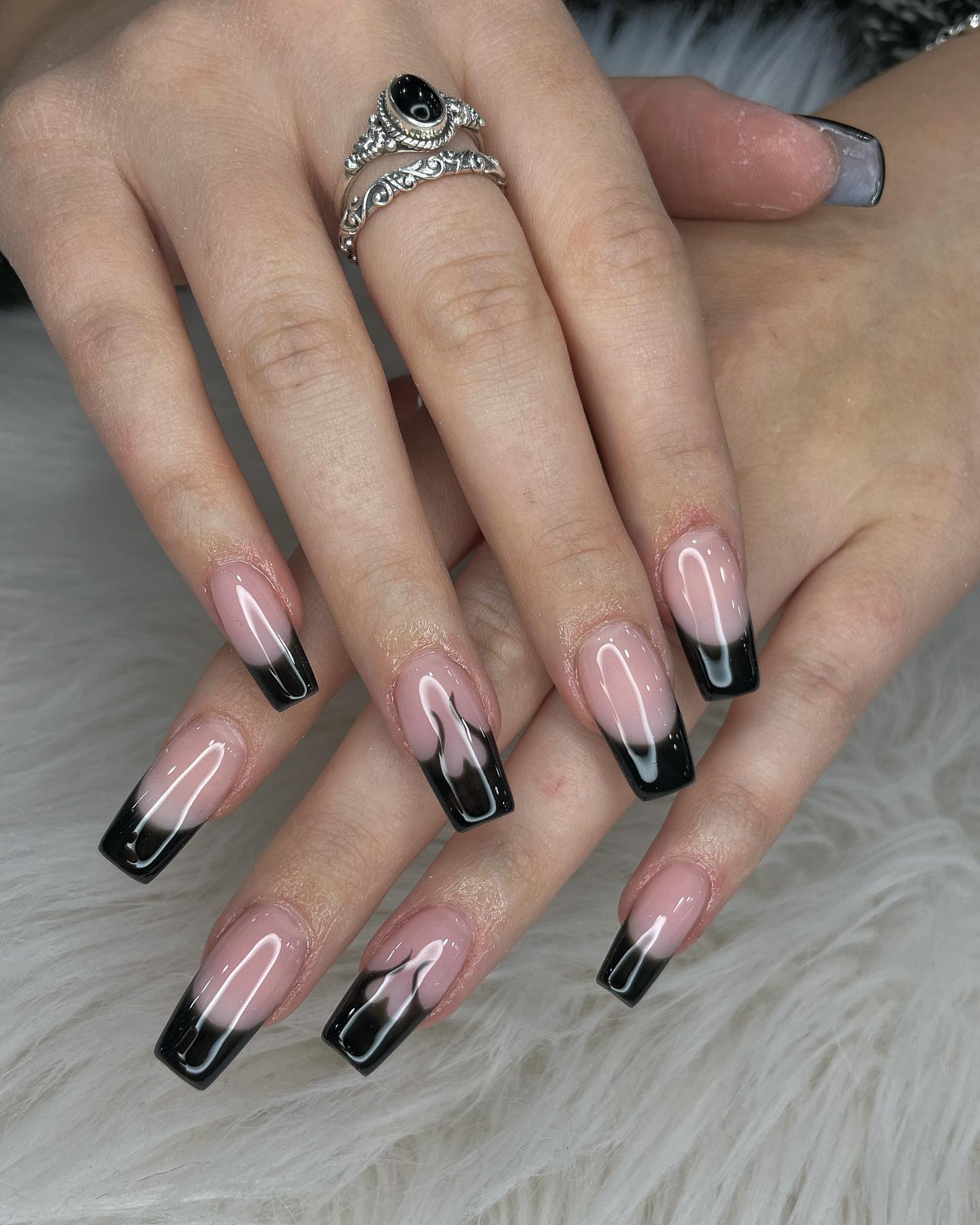 29. French Tips with Black Glitter Nail Polish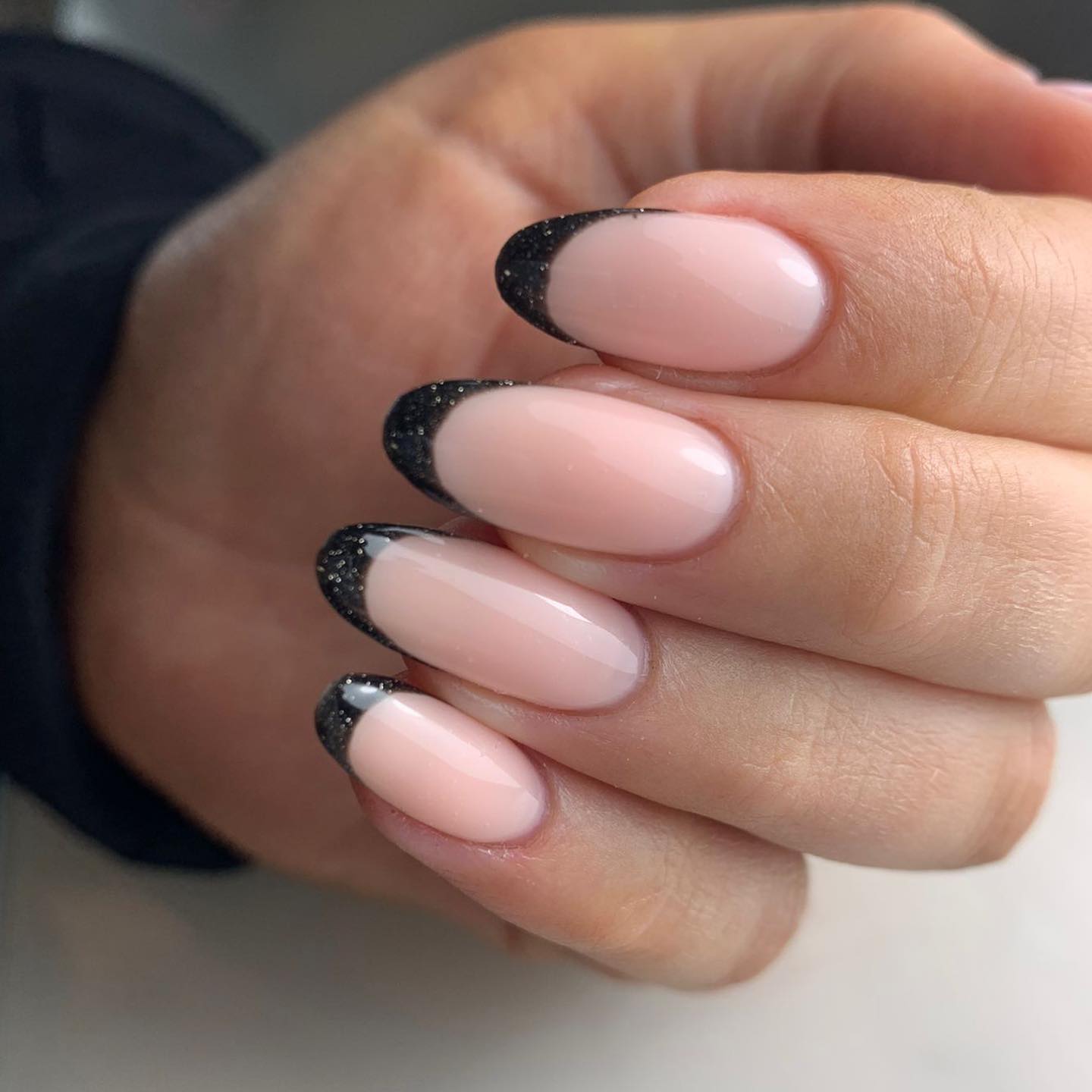 30. Minimalist French Tips on Almond Nails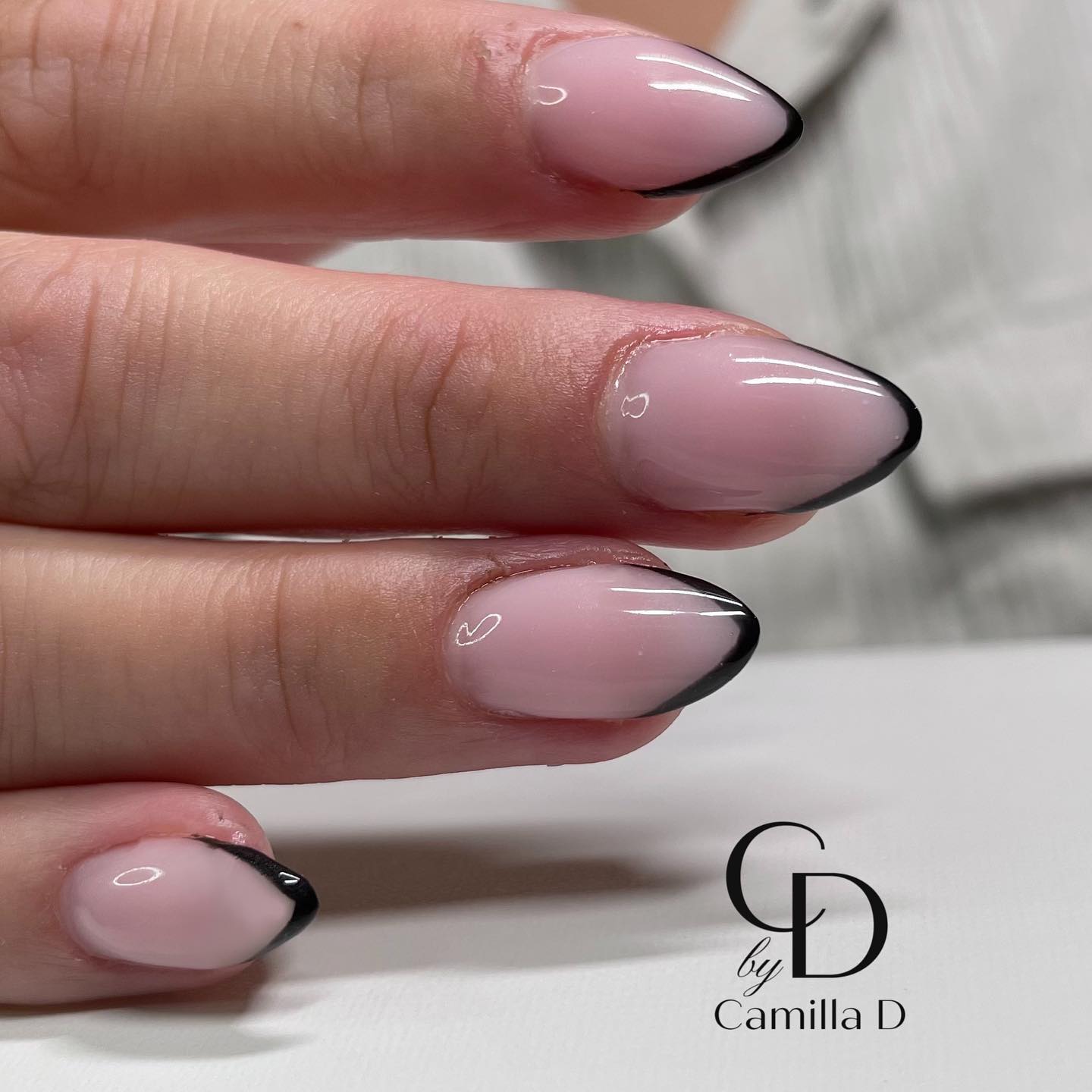 31. Black French Tips with White Frame
32. Black French Tips with Silver Frame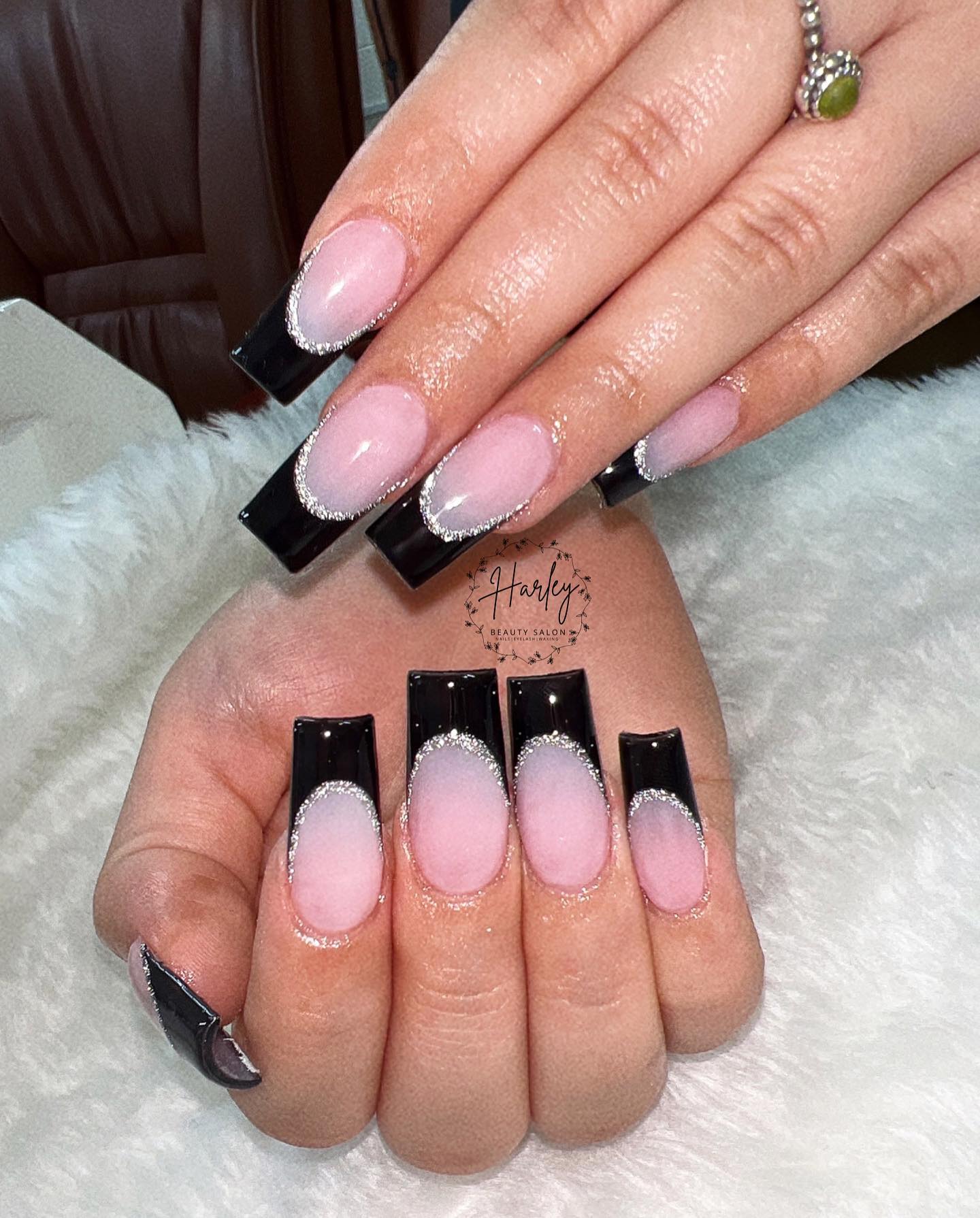 33. Matte and Glossy Black French Tips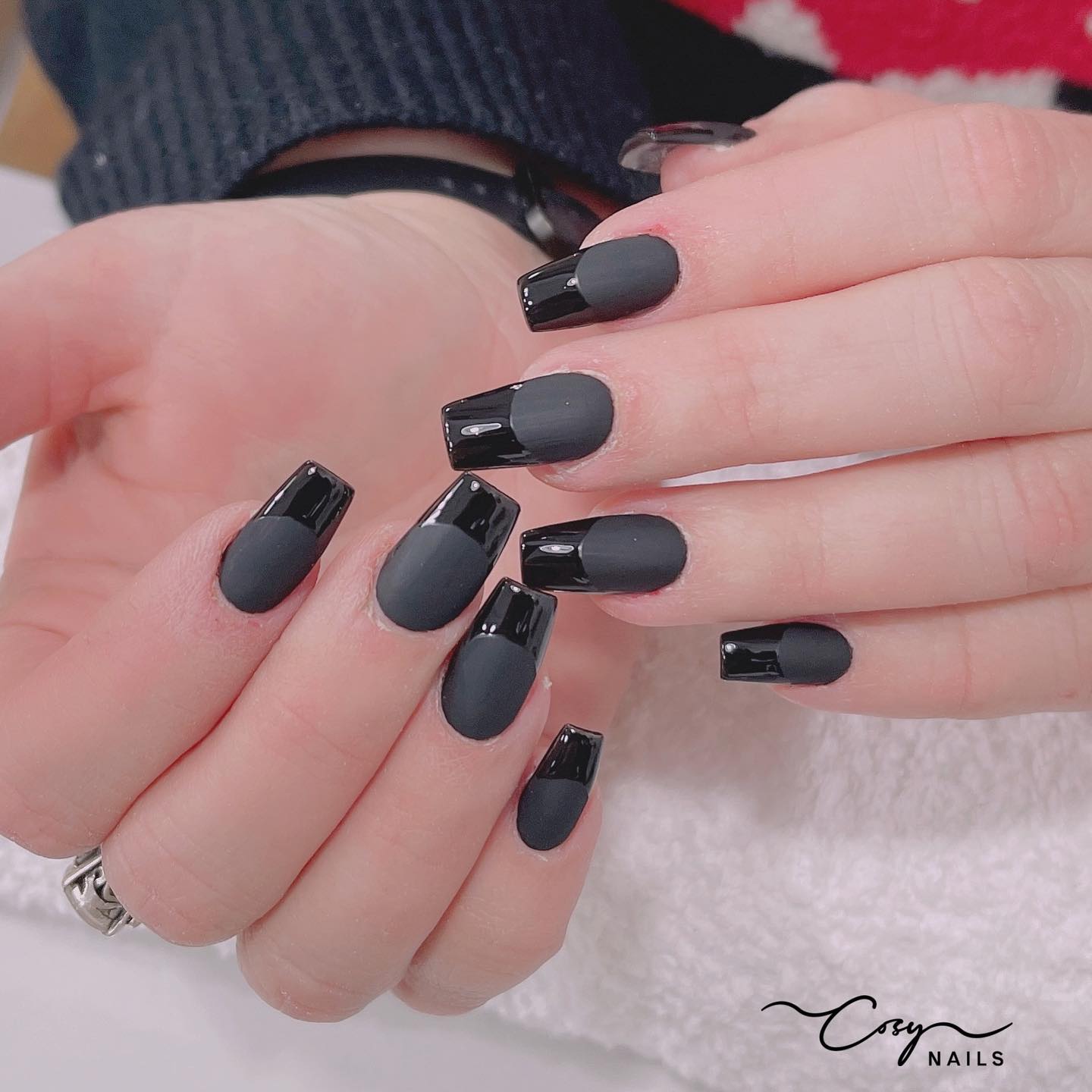 34. Mismatched Black French Tips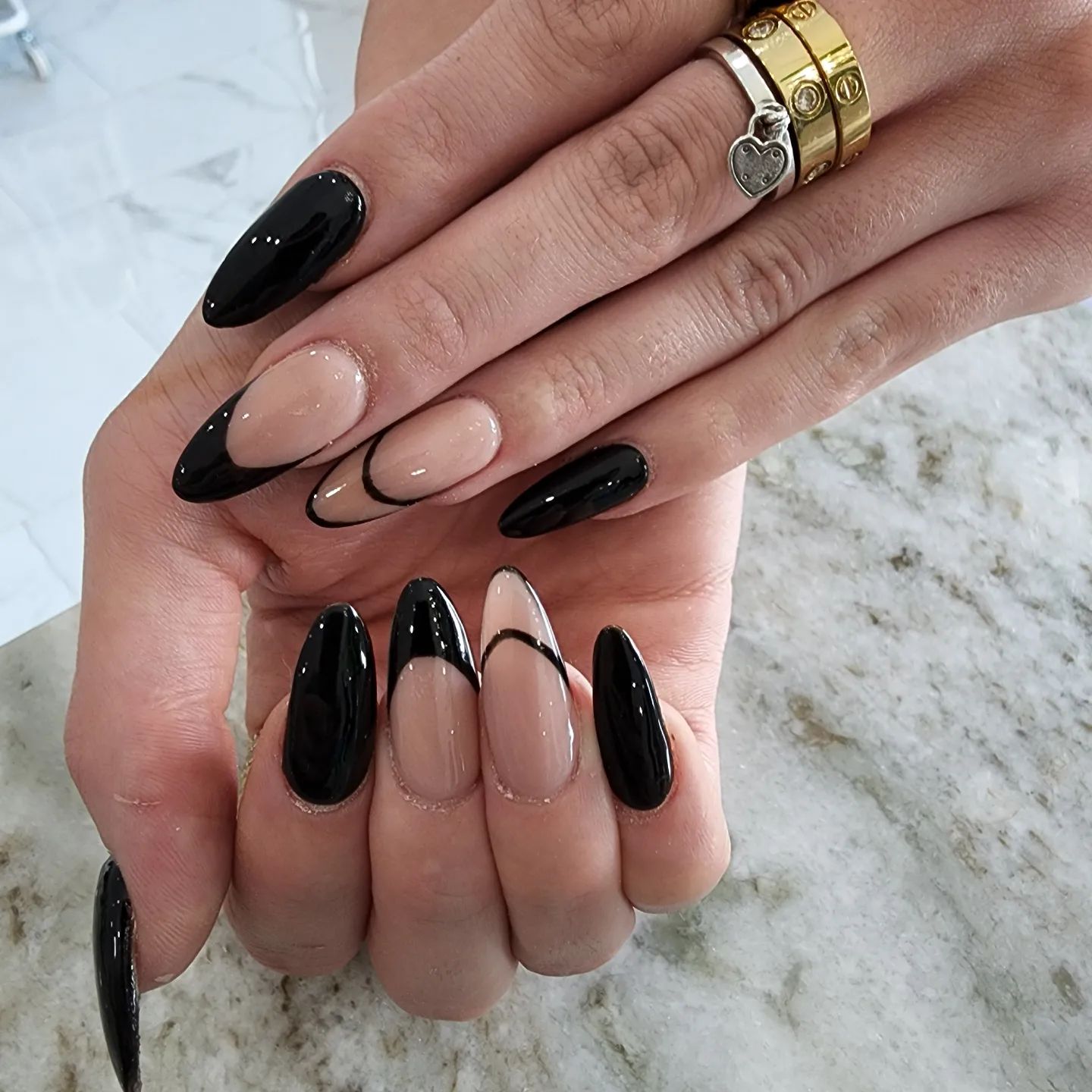 35. Coffin Black French Tips with Gemstones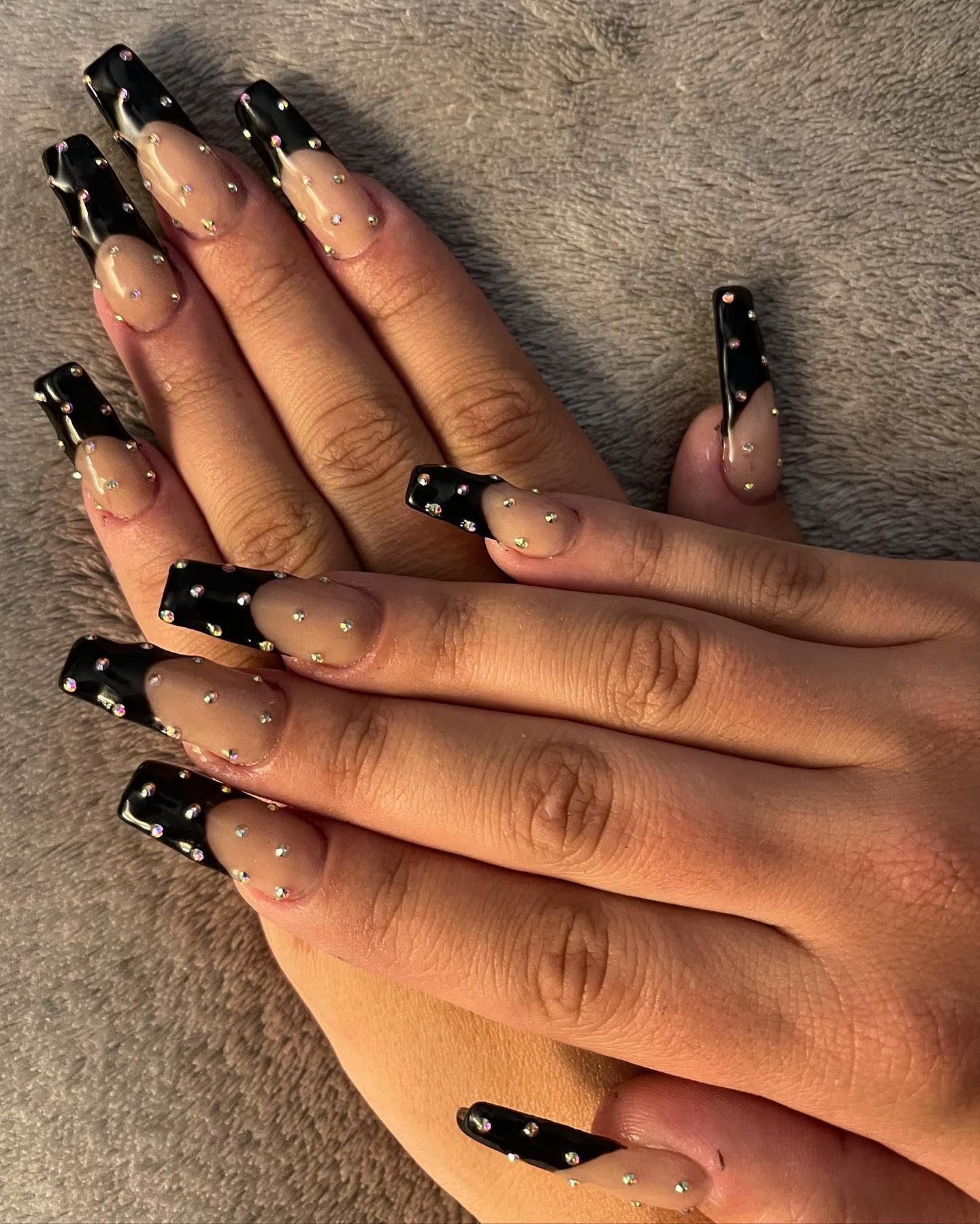 36. Monochrome French Tips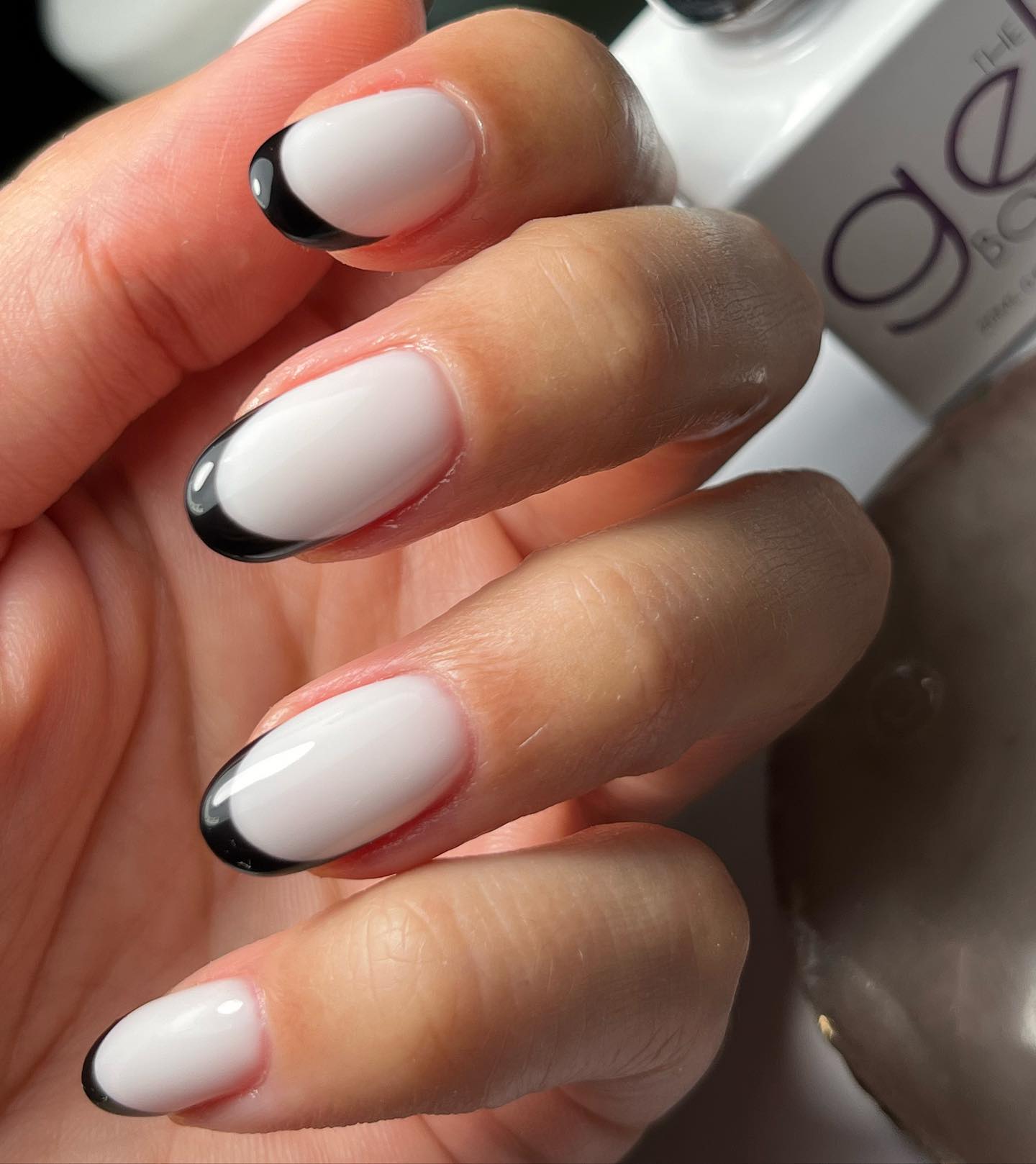 37. Modern Black French Tips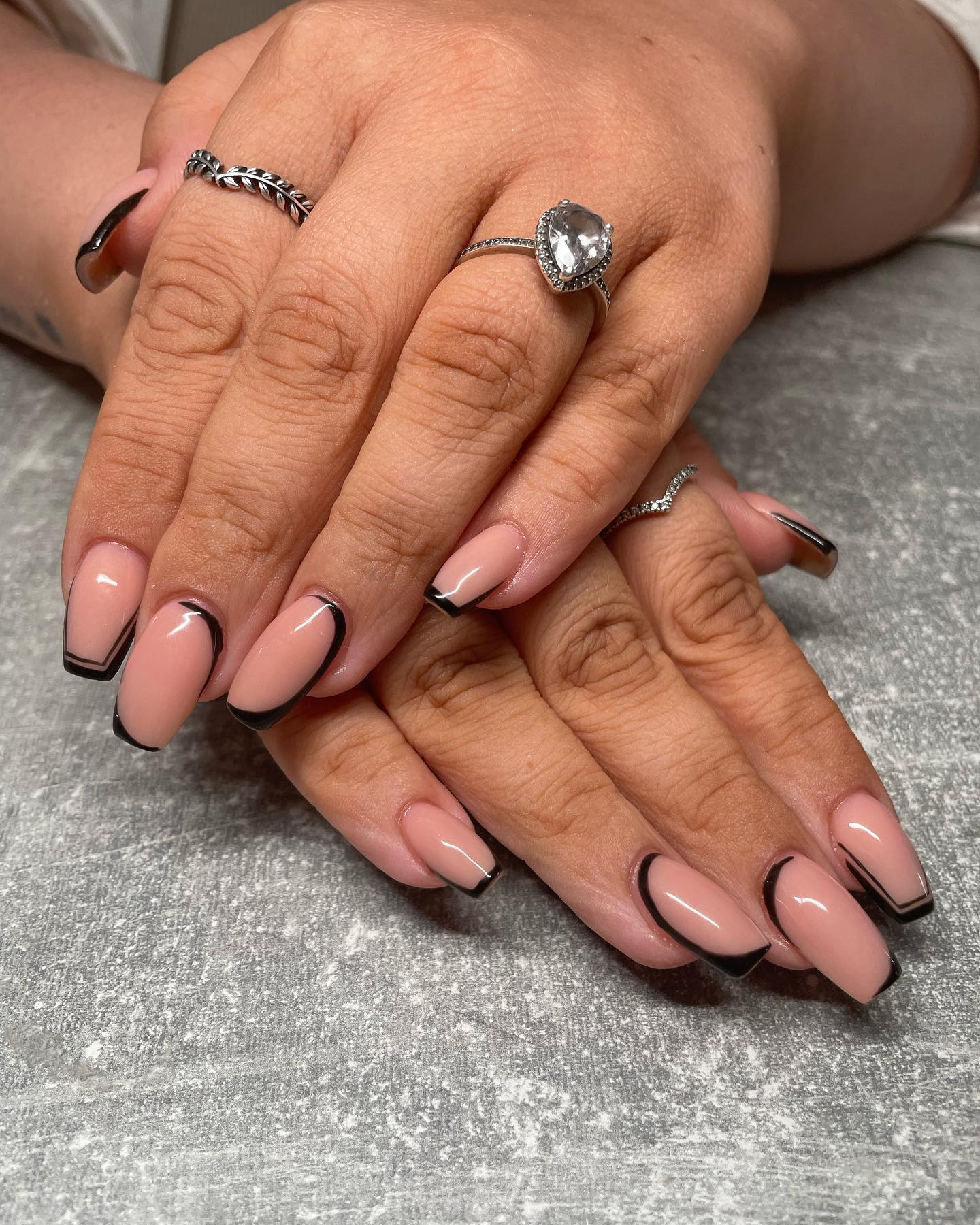 38. Long Almond Nails with Black French Tips
39. Black French Tips with Pink Base Color and Gemstones