Capture the essence of the night sky with these spectacular blue galaxy nails!
Our team has put together a curated collection of the prettiest blue galaxy nails, from the most talented nail artists from around the world. Whether you're planning to create these from scratch yourself or take them with you for your next nail salon appointment, you will find plenty of ideas you will fall in love with!
Blue galaxy nails are a really pretty option for a manicure that will surely get you noticed. It comes in so many different styles, and unlike other nail art, it actually looks pretty spectacular on even the shortest nails. Whether you're a space geek or just love a look that's really 'out there', we are confident you will find the right manicure just for you!
Are you ready to explore the looks we picked out?
You can check out a simple video tutorial if you would like to give this a try at home, or head down lower in the article to see the images and ideas that made it to our collection of nail designs for this topic.
What are Blue Galaxy Nails?
Blue galaxy nails are natural or artificial nails decorated with an intricate nail design resembling the stars in the galaxy, the milky way or even the planets themselves.
There are a number of ways you can go about creating blue galaxy nails, some of the most popular nail art options include:
a simple look using just glitter nail polish in a variety of colors to achieve the look of a night sky, with some lighter shades of purple or white to make them look like the Milky Way
if you want to elevate the above look further, you can add some hand-painted stars or moon to the mix
to create an appearance of a starry sky, you can use a brush to spray your finger with white nail polish, which will immediately transform any black nail base into a pretty night sky
just because you're creating a manicure inspired by space, it doesn't mean you have to stick to black as your base color – dark blue also works perfectly well, and if you want a softer look, you can use a white base with gold stars, and adding some purple to create the appearance of the Milky Way
if you're feeling confident, or have a skilled nail artist, you can elevate your manicure by adding your favorite planets to your nails.
Blue Galaxy Nails: Simple Video Tutorial
If you would like to try creating blue galaxy nails at home, check out this easy tutorial prepared by Nails by Kizzy via youtube.
Best Blue Galaxy Nail Designs
Are you ready to get inspired?
Below are the nail designs for blue galaxy nails we have selected from Instagram – if you would like to see more work from the same nail artist, you can click on their bio which is linked under each image.
1. Grey and Blue Galaxy Nails
A softer and less complicated look for those who like to keep things elegant and simple. A dark grey base with glitter nail polish is beautifully complemented by adding some blue and purple shine for the effect of the Milky Way.
2. Bright Stars on Ombre Nails
These nails are truly a work of art – created on dark blue ombre nails, this manicure showcases some beautiful intricate star designs.
3. Bright Stars and Moon on Black Nails
If you would like to have a manicure with a lot of contrast, that works on short nails, this is one of the best options available – black nail polish combined with gold and white details and blue milky way.
4. Dark Galaxy Nails with Blue Star Dust
This black and blue galaxy nail art look especially beautiful on these long almond-shaped nails.
5. Spotted Blue Galaxy Nails
Why aim for the stars when you can have the sun? This simple darker look showcases a simple nail art with the sun as the 'star' of the show.
6. Dreamy Blue Grey and Gold Galaxy Nails
For those who love the idea of galaxy nails, but would like to interpret the concept in a more abstract way, this manicure is the perfect option.
7. Royal Blue Galaxy Nails
These mountain peak nails are certainly over the top, but perfectly capture a way to create a galaxy nail design with plenty of bling added on top.
8. Metalic Blue Galaxy Nails
A simple look using specialized nail polish, with golden details added on just one nail. The perfect choice not just for short nails, but almost any nail shape.
9. Blue Ombre with Gold Stars
These gel nails with ombre nail polish base come to life thanks to the addition of gold star stickers – another abstract take on the galaxy nails theme.
10. Blue Milky Way Nails
The essence of the Milky Way is perfectly captured in these marble nails with blue and white, with gold details added as the stars. Beautiful color selection for short nails.
11. Dramatic Black and Blue Galaxy Nails
If you have coffin nails, you can add a lot of drama – all it takes is the right shade of a glitter nail polish, and combining a few complimenting colors to create this beautiful space inspired design.
12. High Gloss Purple and Blue Galaxy Nails
Touch the sky with these spectacular high gloss nails in the most vibrant shades of blue and purple.
13. Short Purple and Blue Galaxy Nails
If you love a bit of a details on your nails, a simple glitter nail polish base with white or silver details painted on top will do!
14. Bright Blue Nails with White Stars
The bright blue nail polish in this galaxy design contrasts beautifully with lighter skin tones, which allows the design to really stand out.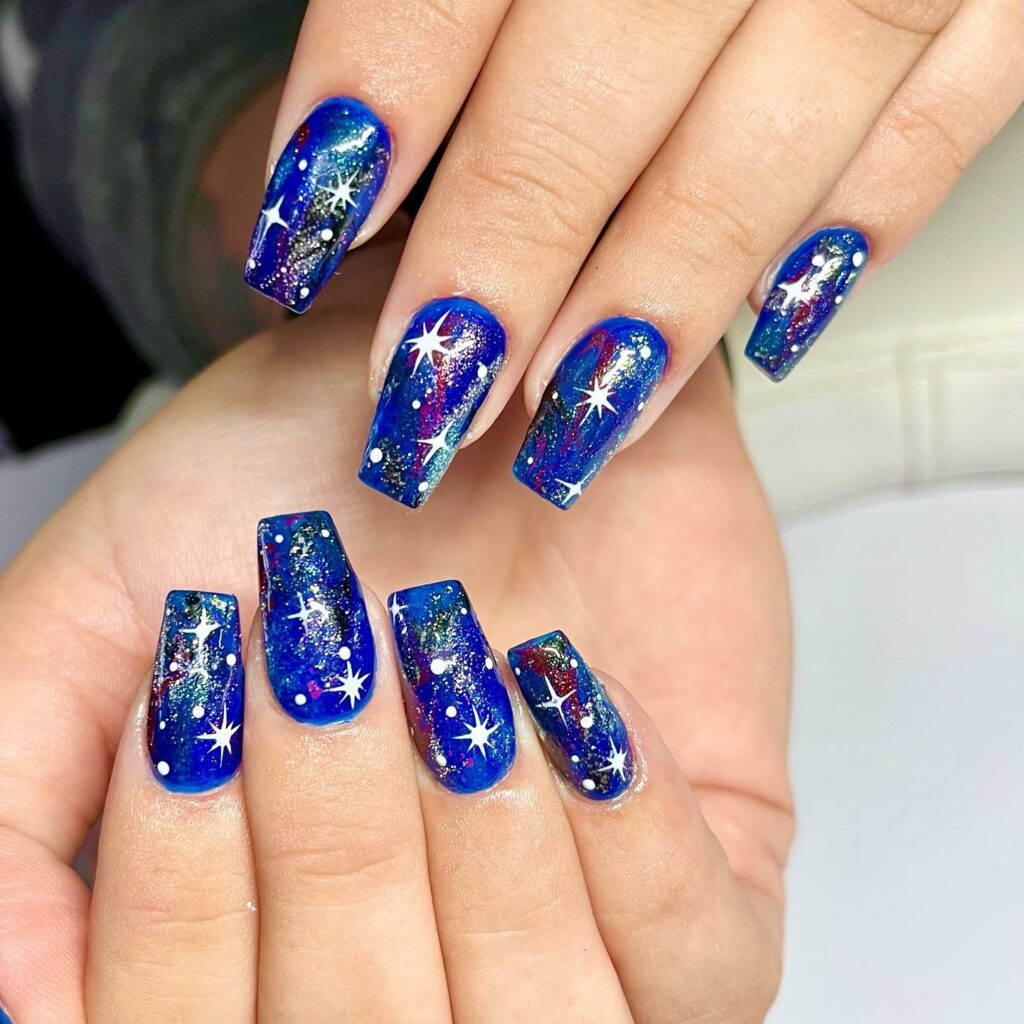 15. White Stars and Moon Nails
Dreamy look for those who would like to stay away from the darker shades.
16. Glitter Blue Galaxy Nails
We can't get enough glitter nail polish! With the right shade, you can create the appearance of a galaxy with just one brush stroke.
17. Purple, Blue and Green Galaxy Nails
A true show-stopper manicure for those who don't like to blend into the crowd.
18. Black and Blue Milky Way Nails
Dark blue, black and purple really bring this intricate work of art to life!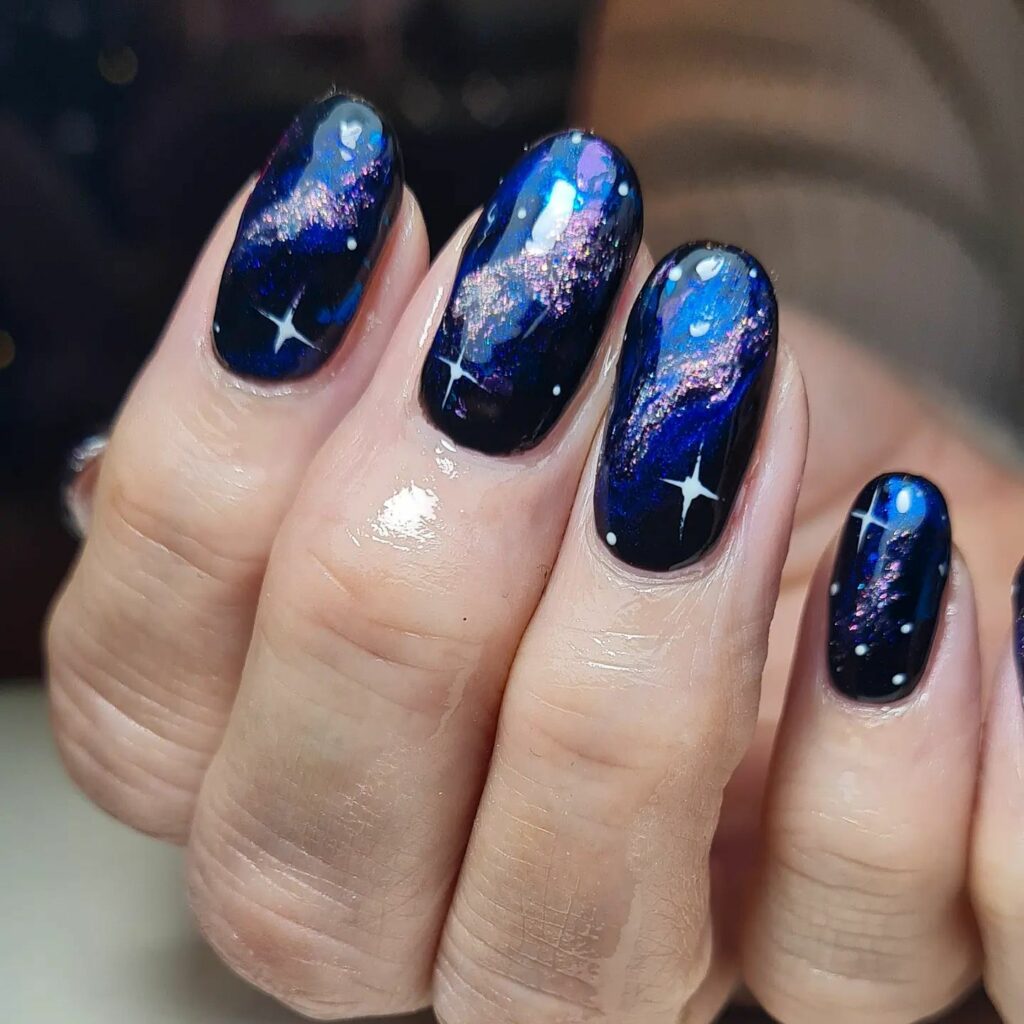 So, have you found a nail design that you adore? Did you find lots of inspiration for your next nail salon visit?
We certainly hope so!
Don't forget to check our other manicure ideas linked below. Thank you for reading!