Stunning nails with stars is the trend we definitely fall in love with and can't wait to try this season!
A whole star map can decorate your nails and that can be done in a very extravagant and beautiful way. It can be both minimalist, non-standard, and daring, this nail design is sure to make an impression and stand out thanks to the gentle glints of gold and silver. These are the highlights that are present in it in a very subtle way. True heavenly art on the nails.
In order to achieve the special effect of the star nails, it is important to have a good base, which you can choose to be darker – in black, dark blue, and burgundy or colorless or in a very light range such as milk-white, pale pink or nude hues.
The whole focus of the star nails is on the subtle decoration of small stars, moons, planets, and even constellations, which can be achieved with the help of a fine brush and nail polish in metallic shimmer. Something that would certainly be best left in the hands of a professional.
Of course, you can easily find nail stickers that would also help you to achieve the starry night sky on your nails at home. You will need:
nail decoration with stars
nail base
colorless nail polish
a clip to place the stars
nail polish remover and cotton pads
Current Trends for Nails with Stars
Dark contrast nails with emerald green, royal blue or even black base nail polish color
Focus on tiny stars scattered around a few nails
Mismatched manicure look with nail design distributed across a number of nails
The natural look with beige or clear nail polish beige and gold stars and moon
Statement half moons on each thumbnail
Nails with Stars Design: Simple Video Tutorial
These pretty galaxy blue nails with gold nail art was prepared by Nailbees via youtube.
27+ Best Ideas for Nails with Stars
Nails with stars are a great example of a sophisticated and at the same time minimalistic style. You can achieve it with star-shaped stickers on several of the nails or even to cover all of them. For a better result, you can trust a professional who will be able to draw an entire star constellation for example. This nail design is suitable for everyday wear, especially when the base is in the light range of colors like nudes, milky white, or colorless. If you choose a dark base, or too bright, then this manicure could perfectly fit into a formal and festive look and outfit.
1. Purple & Gold Moon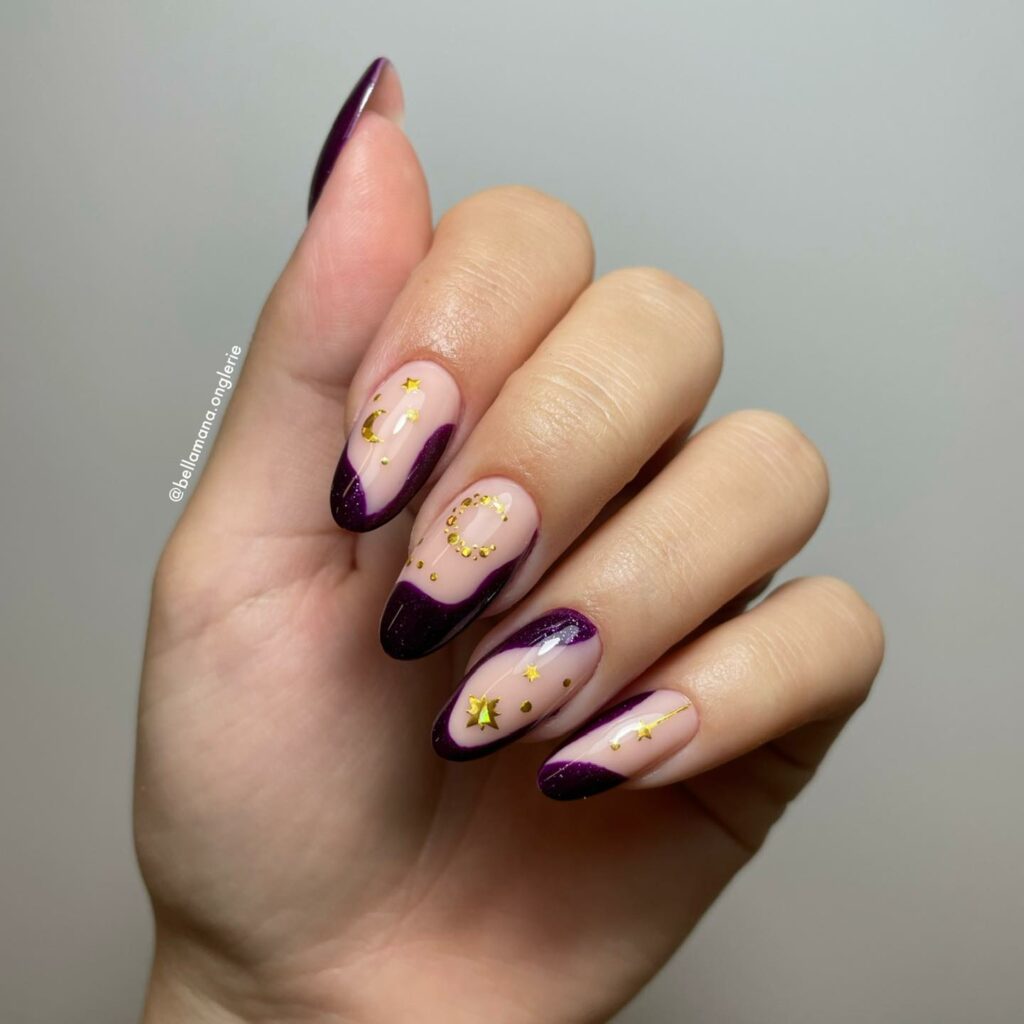 2. Neutral Silver Star Nails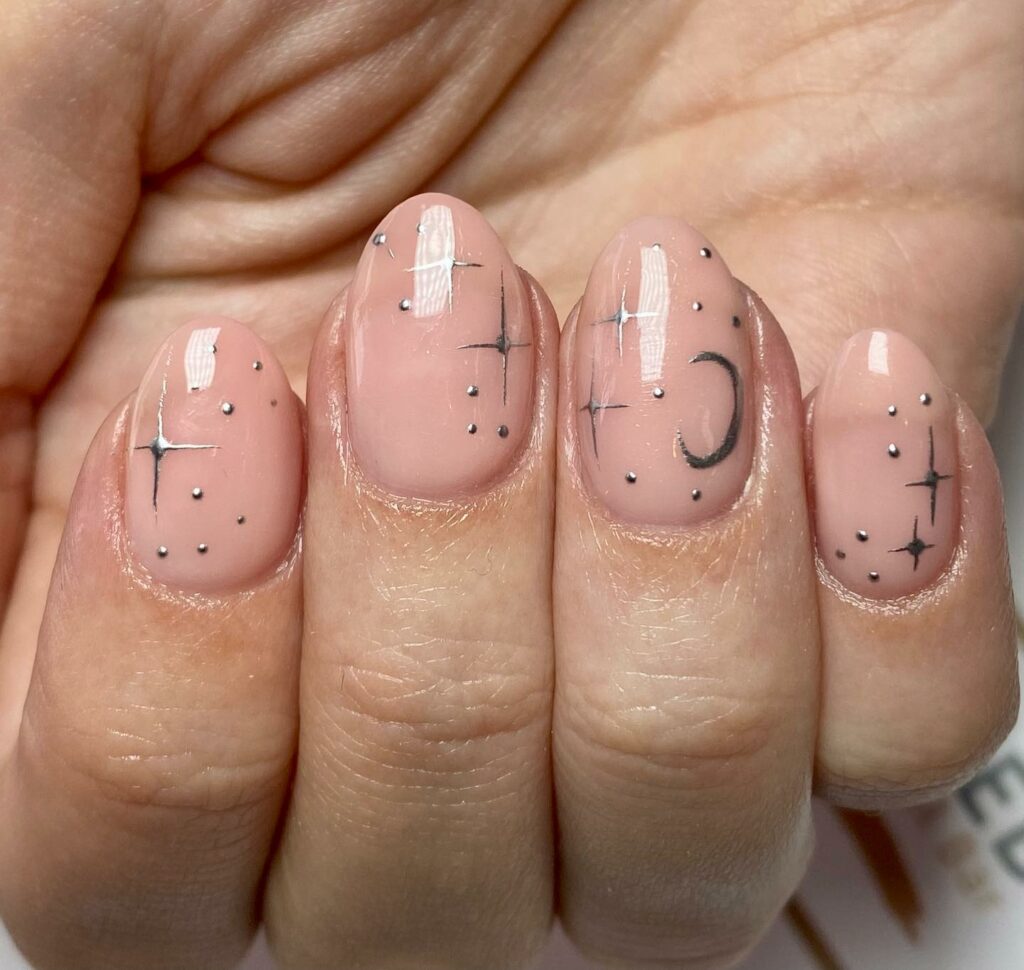 3. Black & White Star Nails
4. Minimalist Star Nail Design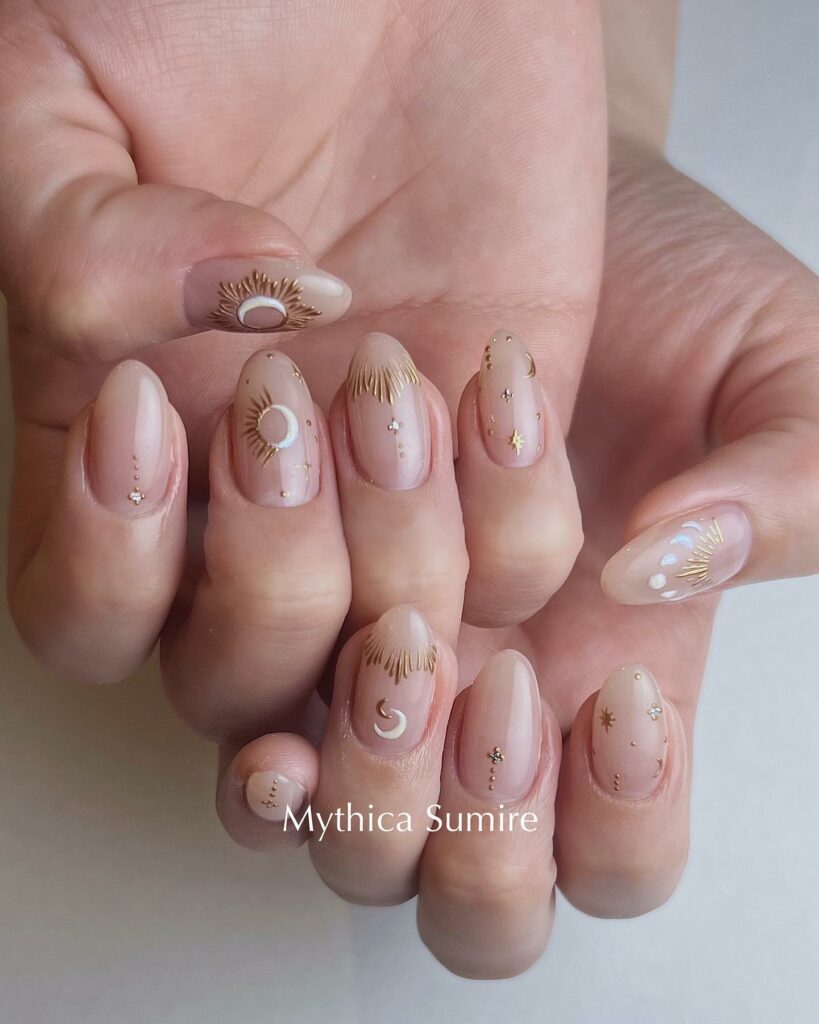 5. Glitter & Gems
6. Night Sky
7. Sparkling Star Nail Design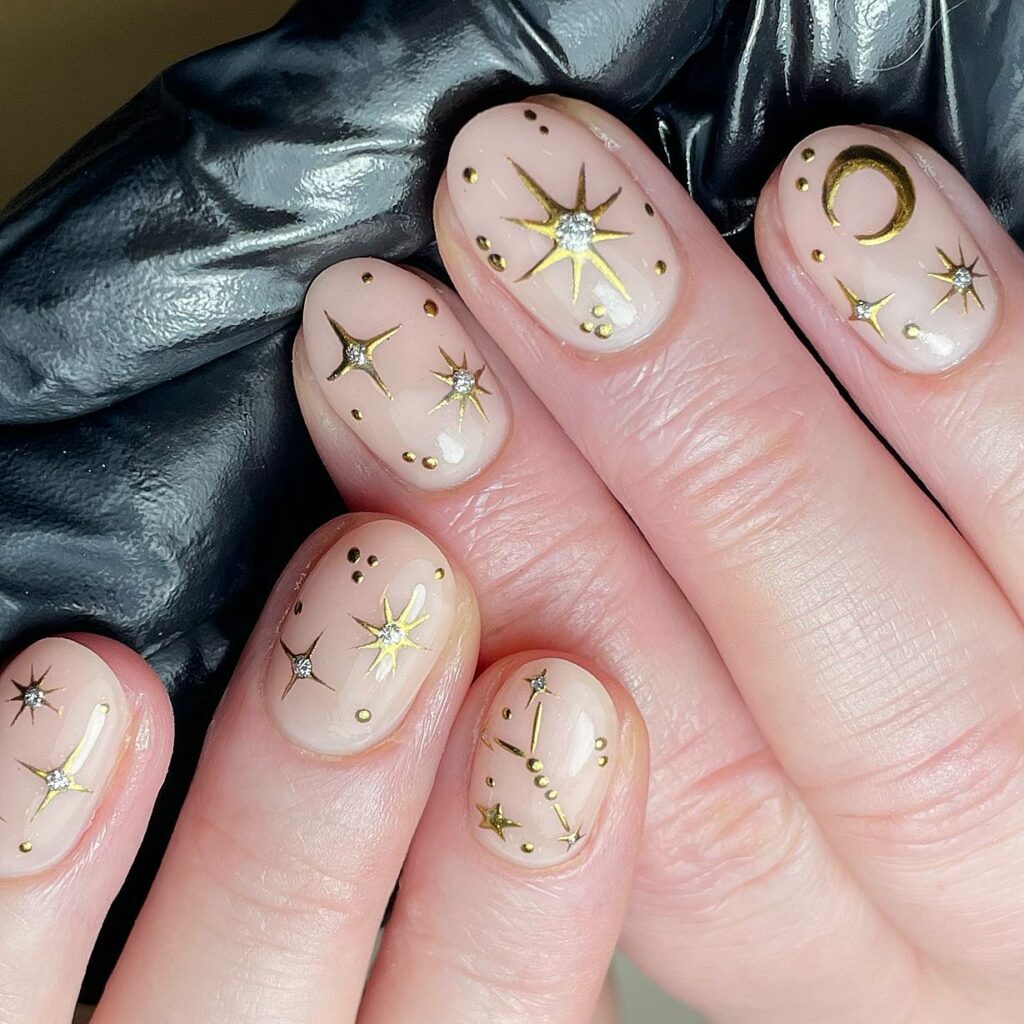 8. Purple Night Sky Nails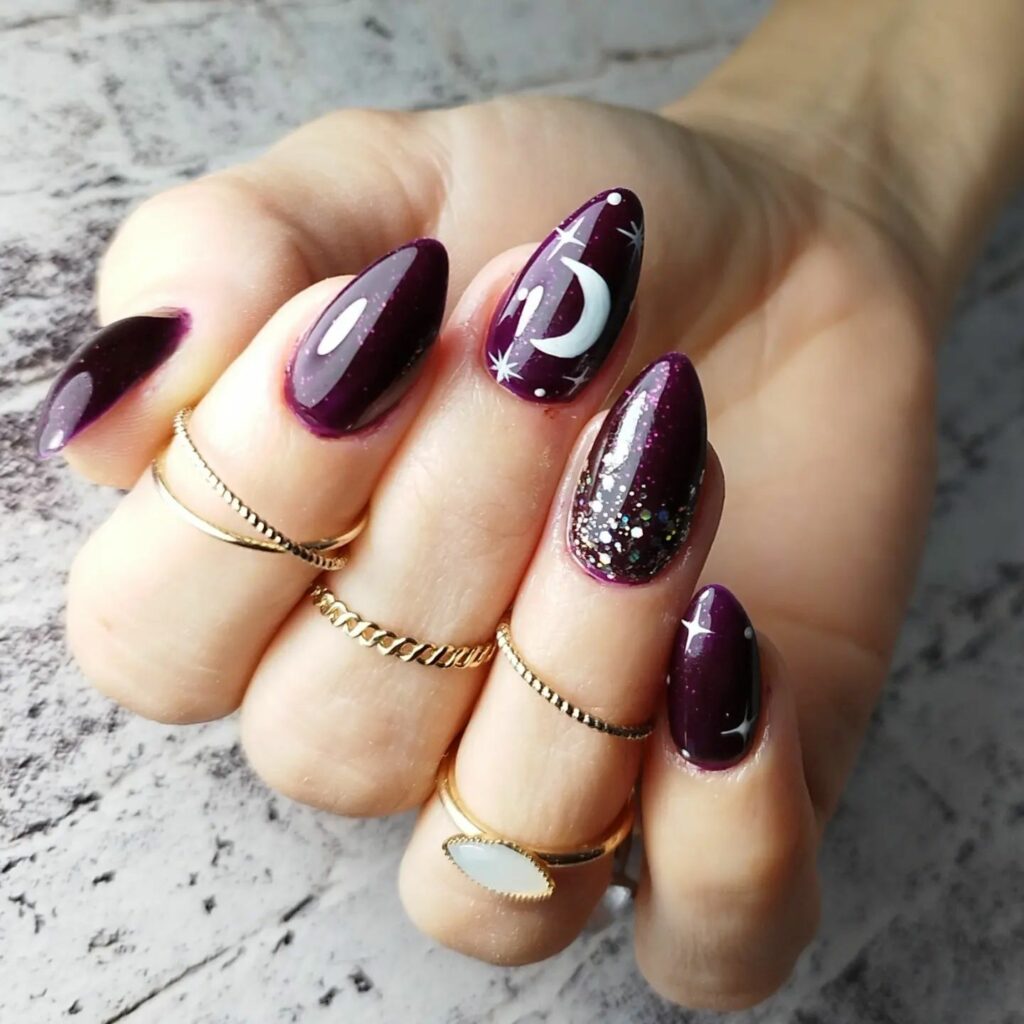 9. Royal Blue Night Sky Nails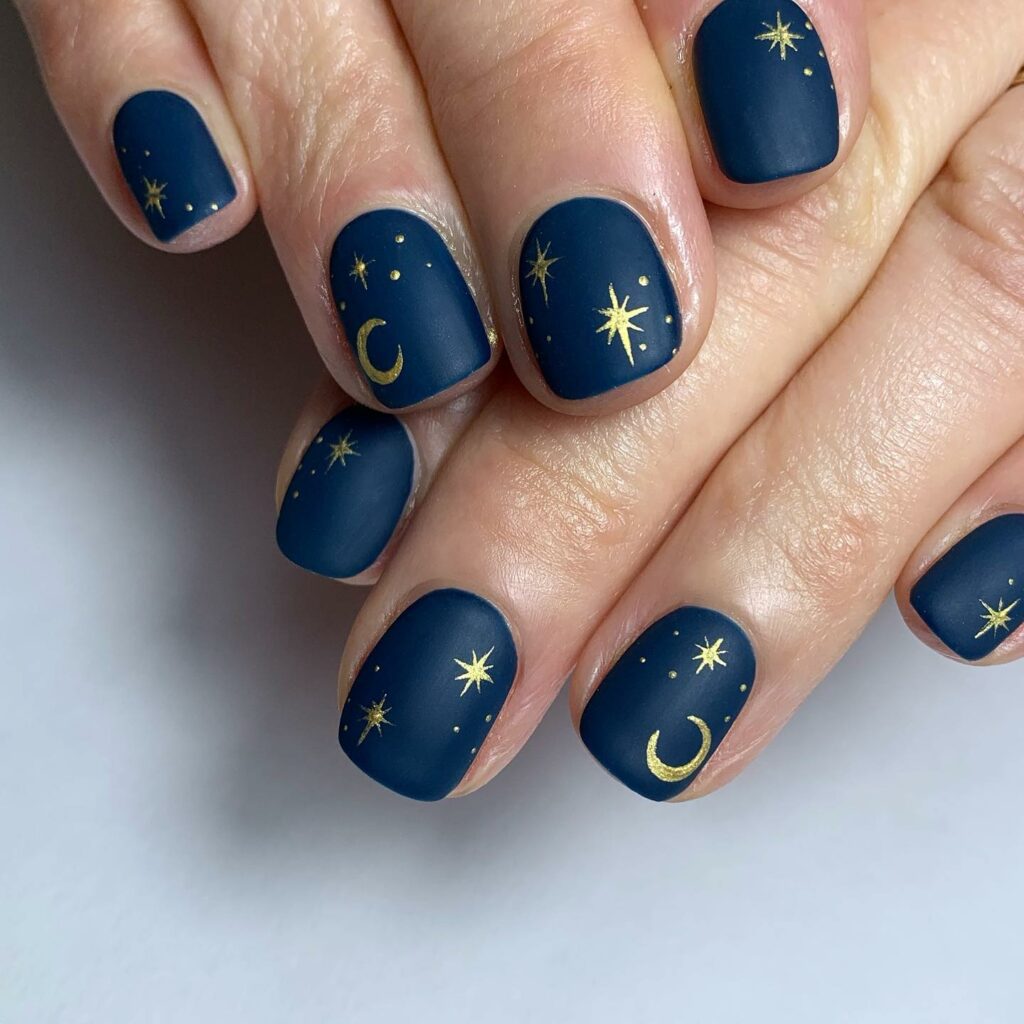 10. Gold Dusted Star Nail Design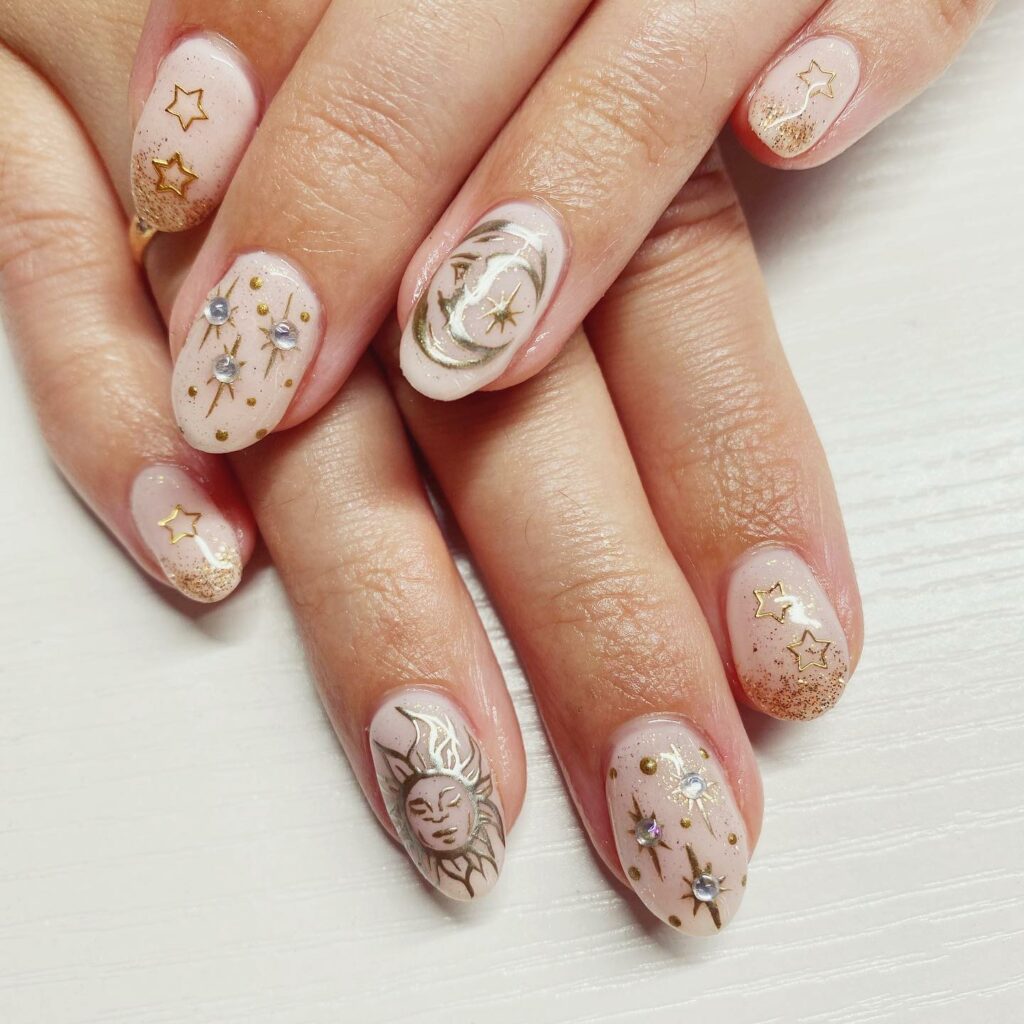 11. Emerald Green Star Nail Design
12. Green & Gold Nails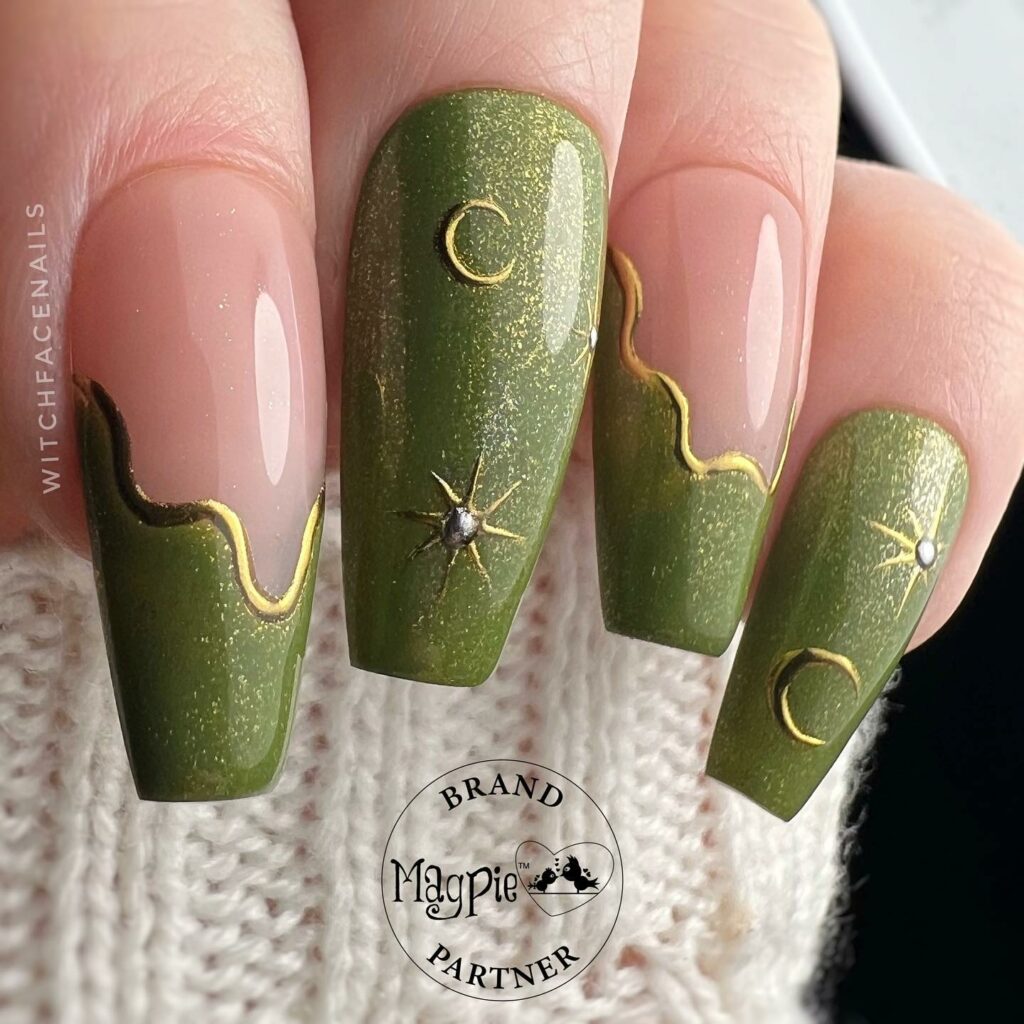 13. Minimalist Bare Star Nails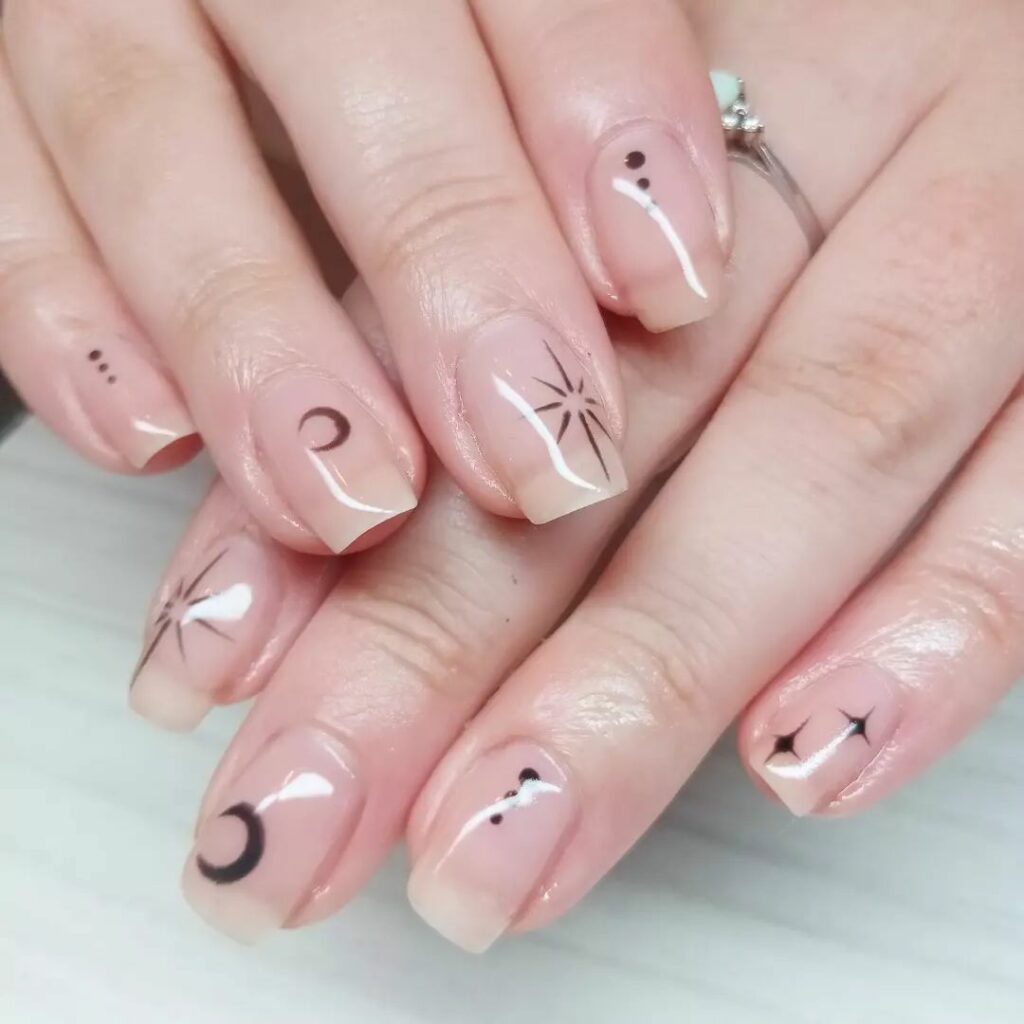 14. Simple Nude Star Nails
15. Dark Blue Star Nail Design
16. Bold Star Nail Design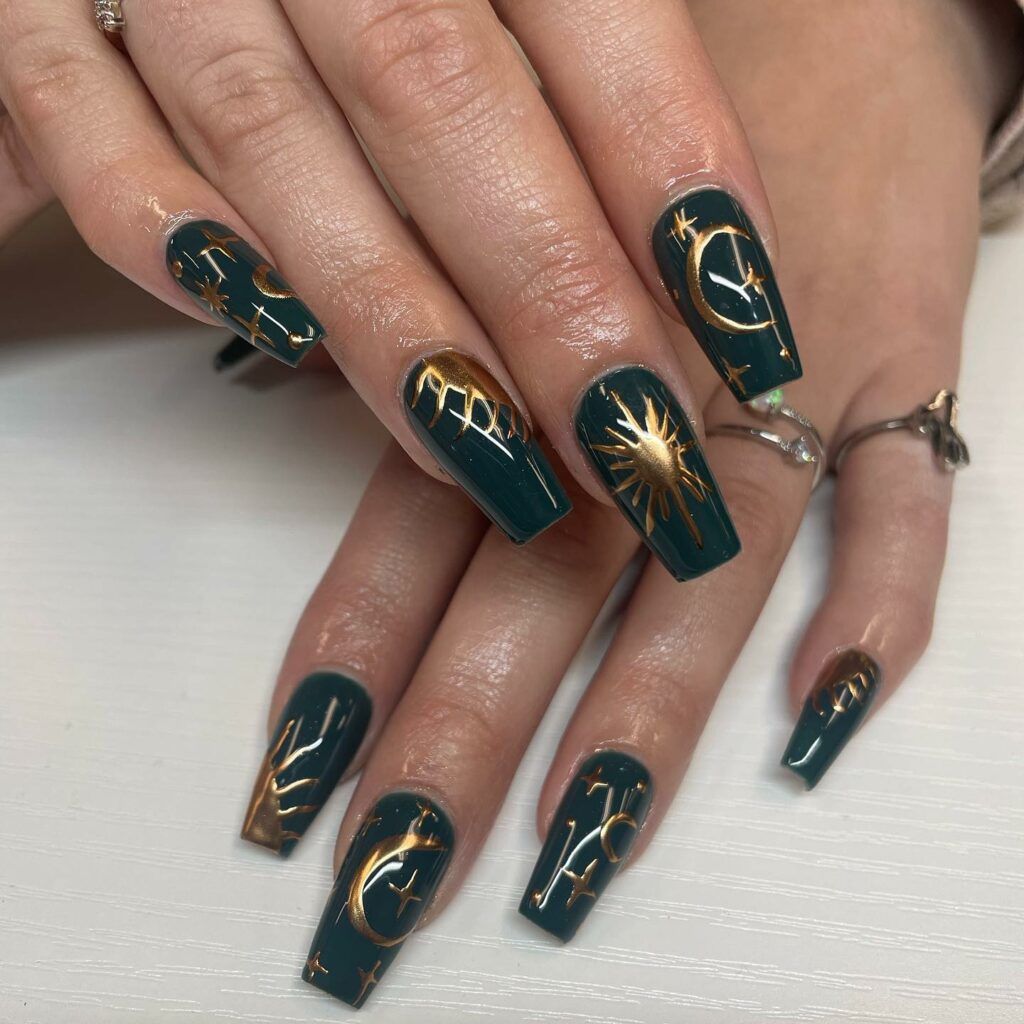 17. Galaxy Inspired Nail Design
18. Clouds with Star Nail Design
19. Evening Sky Nail Design
20. Monochrome Sky Nail Design
21. Royal Purple with Glitter
22. Blue and Gold Night Sky Nails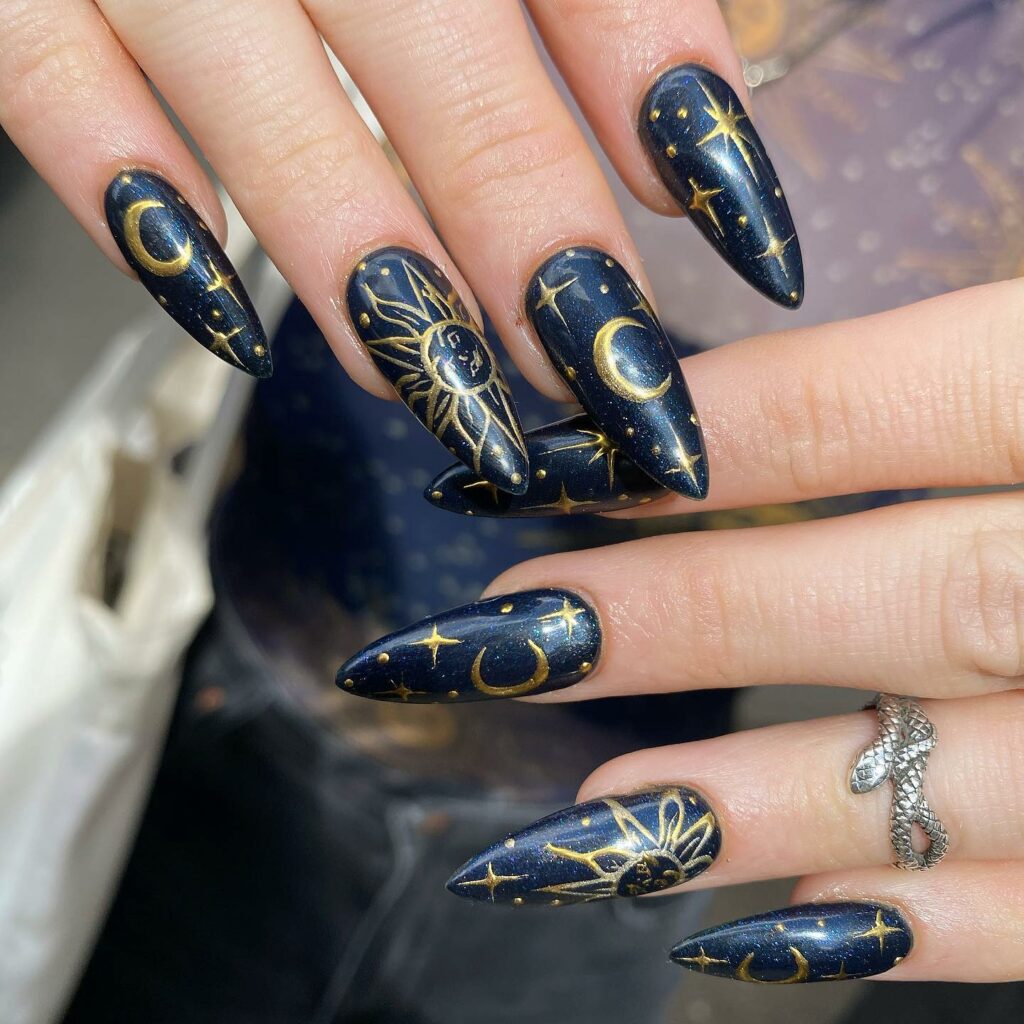 23. Black and Gold Nails with Stars
24. French Tip Nails with Stars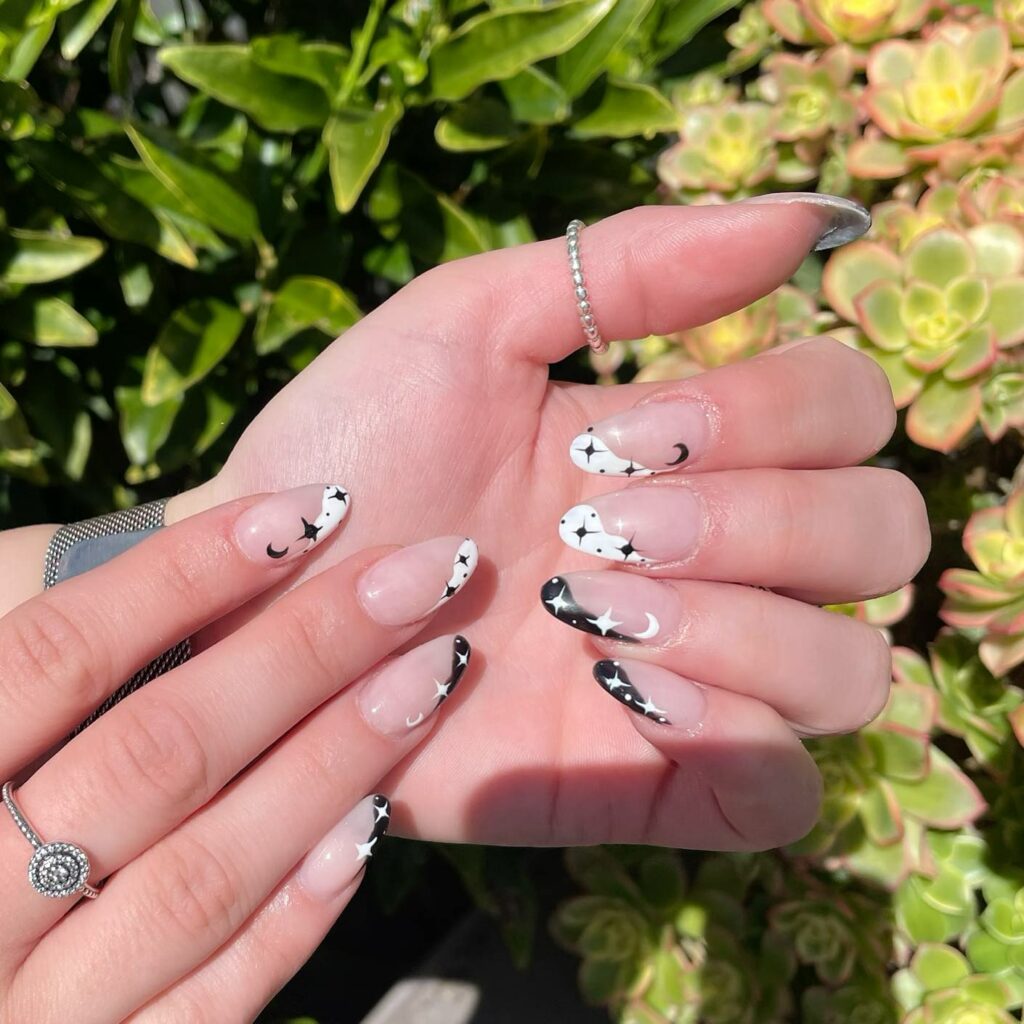 25. Black Boho Nails with Stars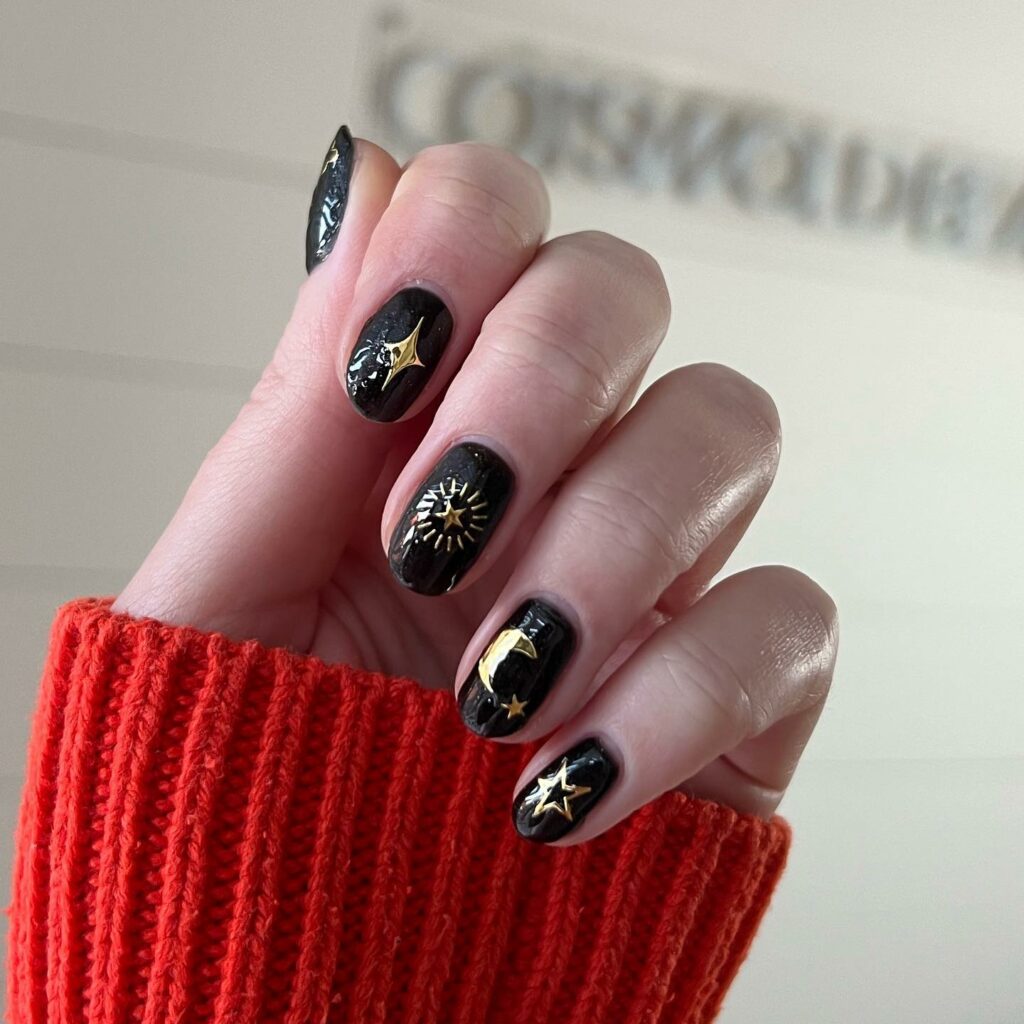 26. Sky Treasure Nails with Stars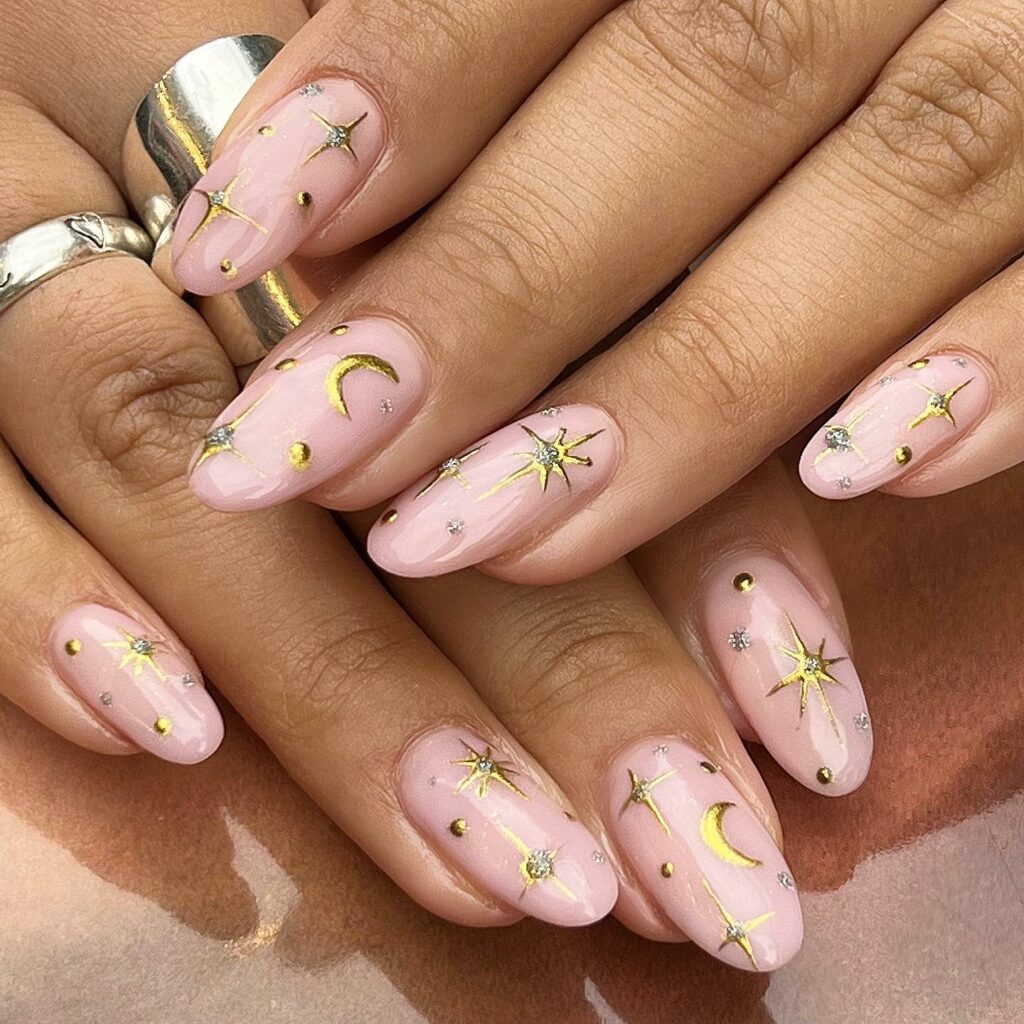 27. Oversized Nails with Stars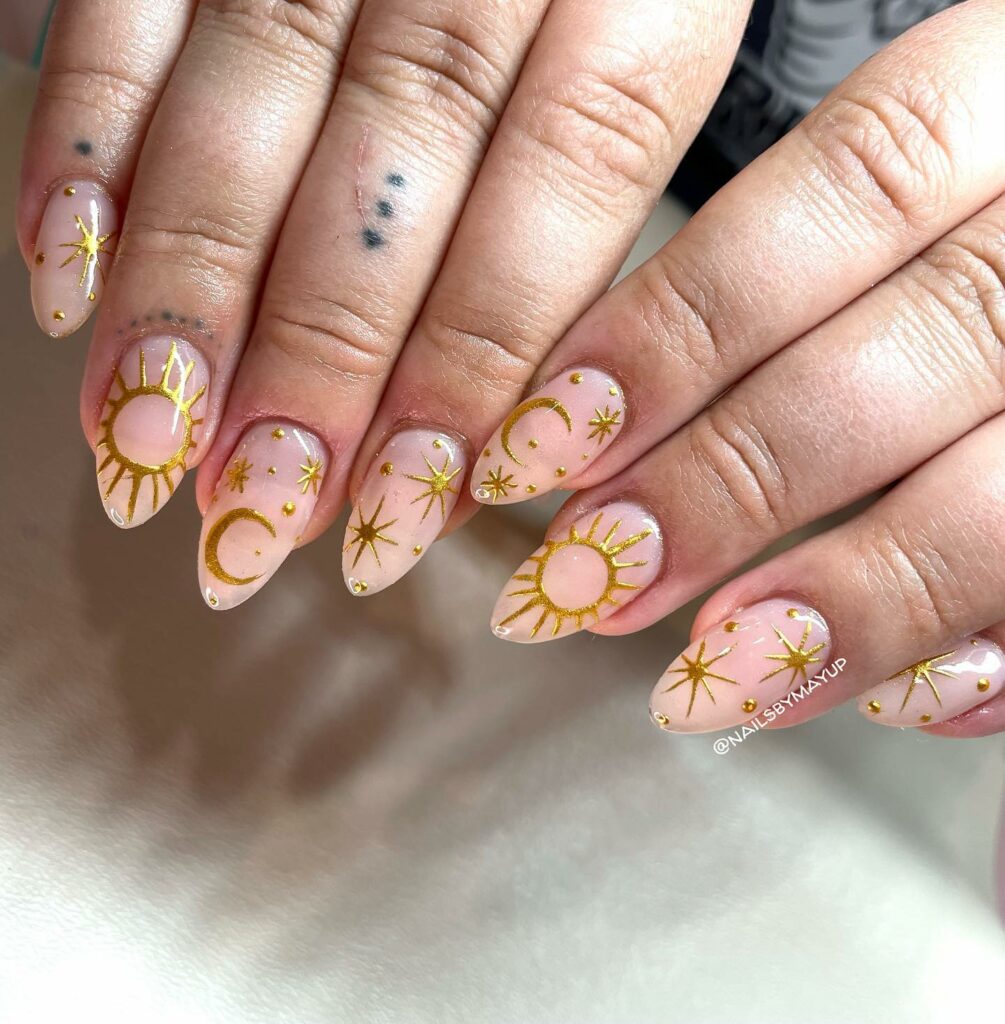 28. Lavender Long Nails With Stars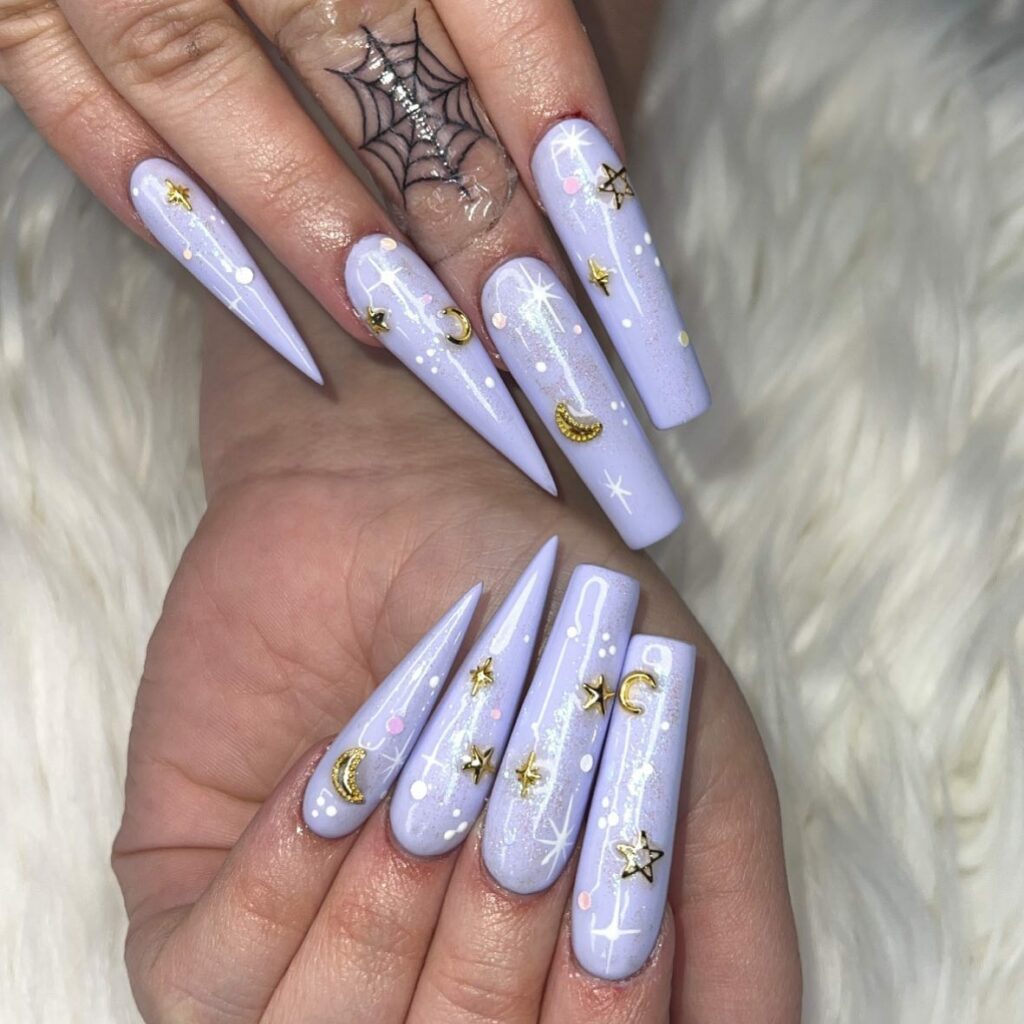 29. Burgundy Nails with Stars