Summertime neon is in, and in this article, we will share over thrity of the best neon green French tip nails of 2023.
The best part about nails is that you can change your entire mood and, therefore, your day with a new manicure or fresh polish.
It's the perfect time of year to put yourself on the bright side of life, so keep reading if you enjoy neon green French tip nails and need some inspiration for a new summer nail style.
We love the neon green French tip nails because the green symbolizes everything goes for the summer!
This color is spunky and fits the person that is not afraid of risk and is ready to express their sense of adventure.
We are going to share the best styles for neon green French tip nails, show you over 30 pics of this fun and funky trend, and we are going to break down how to get this look at home.
Best Styles for Neon Green French Tip Nails
Let's go over the important stuff, the best way to wear neon green French tip nails.
Marble neon green French tip nails
Neon green French tip nails with abstract wavy lines and designs.
Neon green French tips with holographic green flakes
3 shades of swirly neon green French tip
Use mermaid scale stencil to achieve a unique French tip design with neon green and neon glitter green nail polish.
33+ Best Ideas for Neon Green French Tip Nails
Keep scrolling because we have 30 inspirational photos of the best neon green French tip nails for you.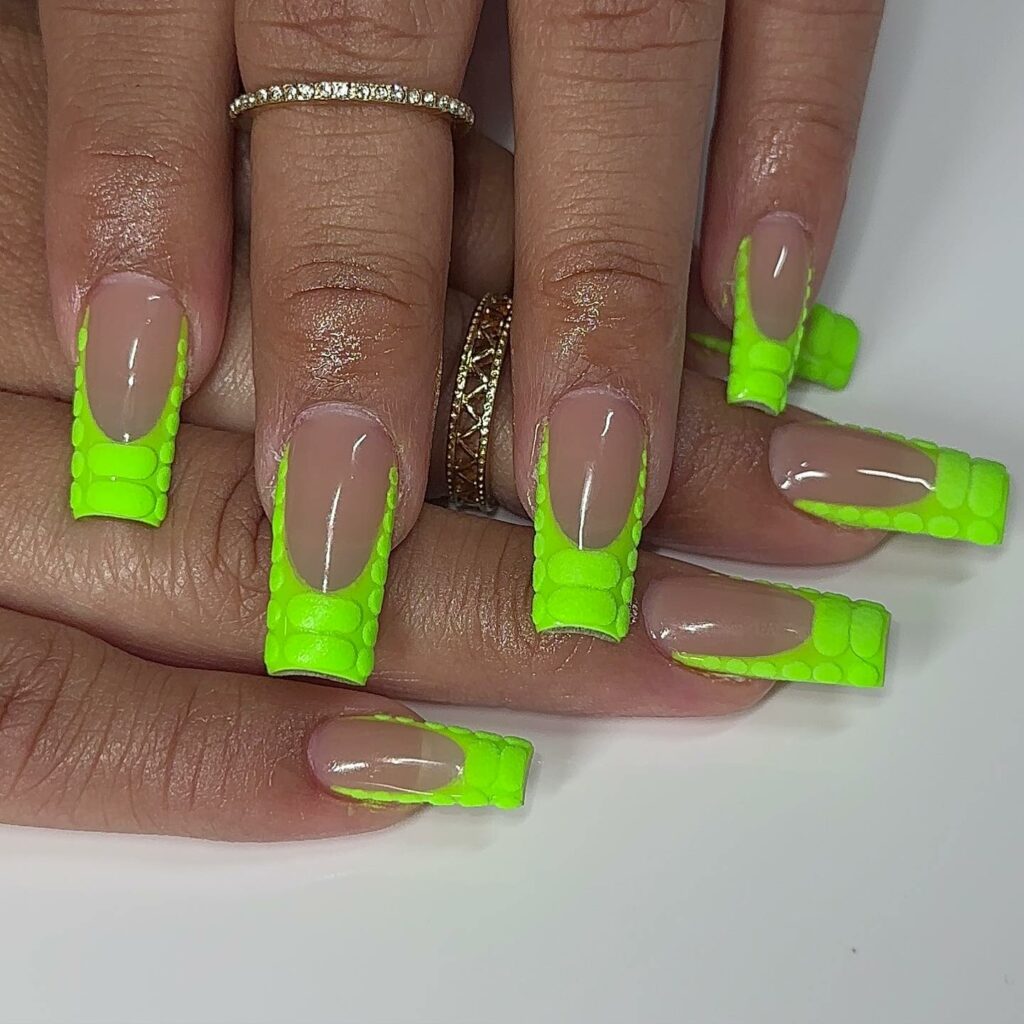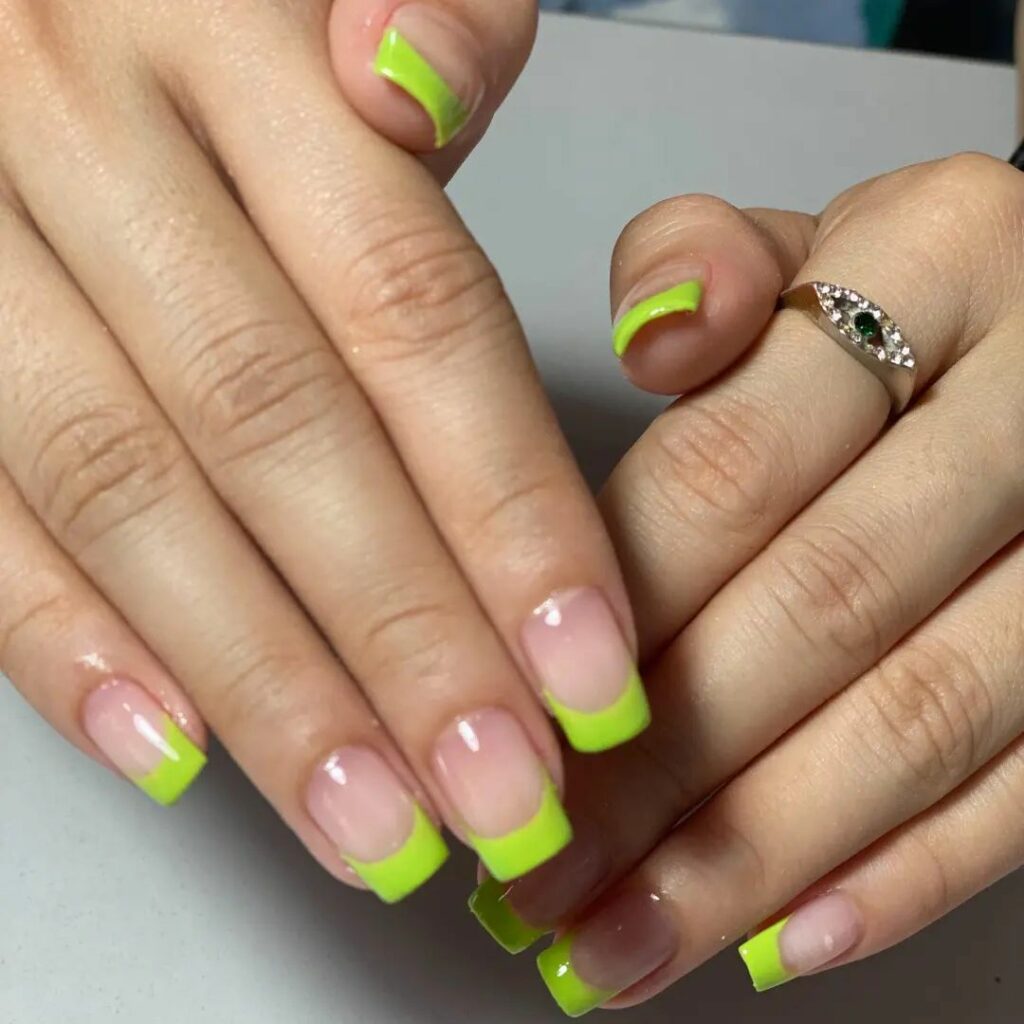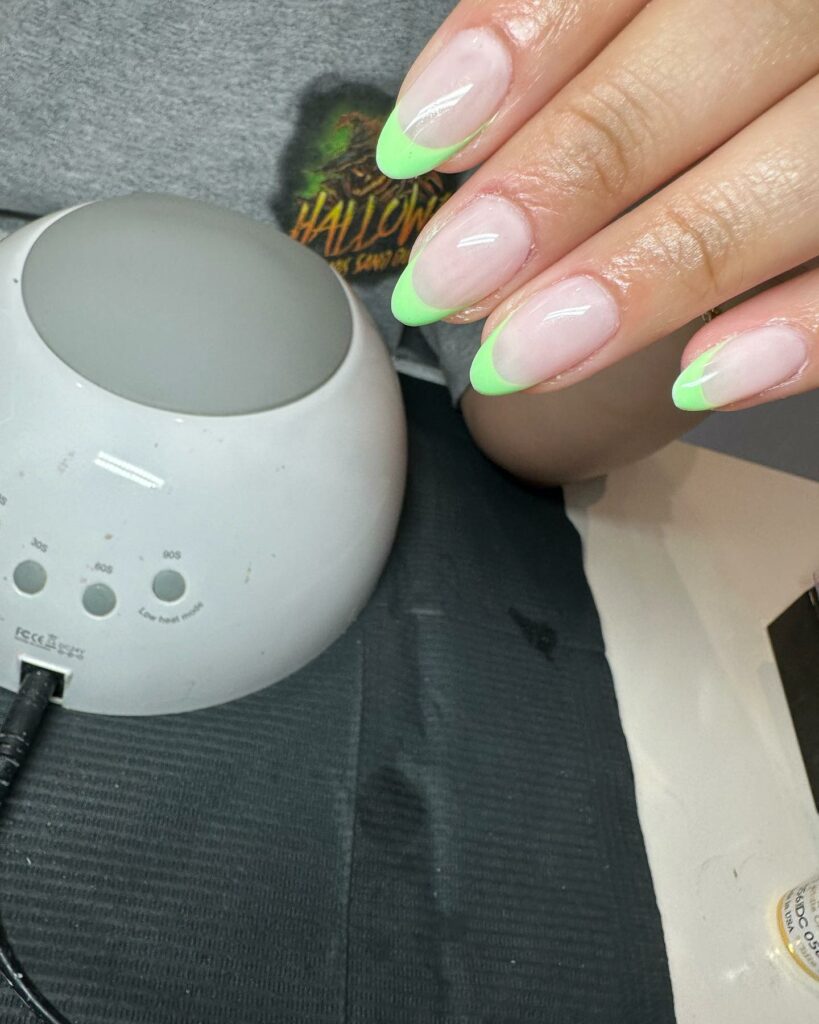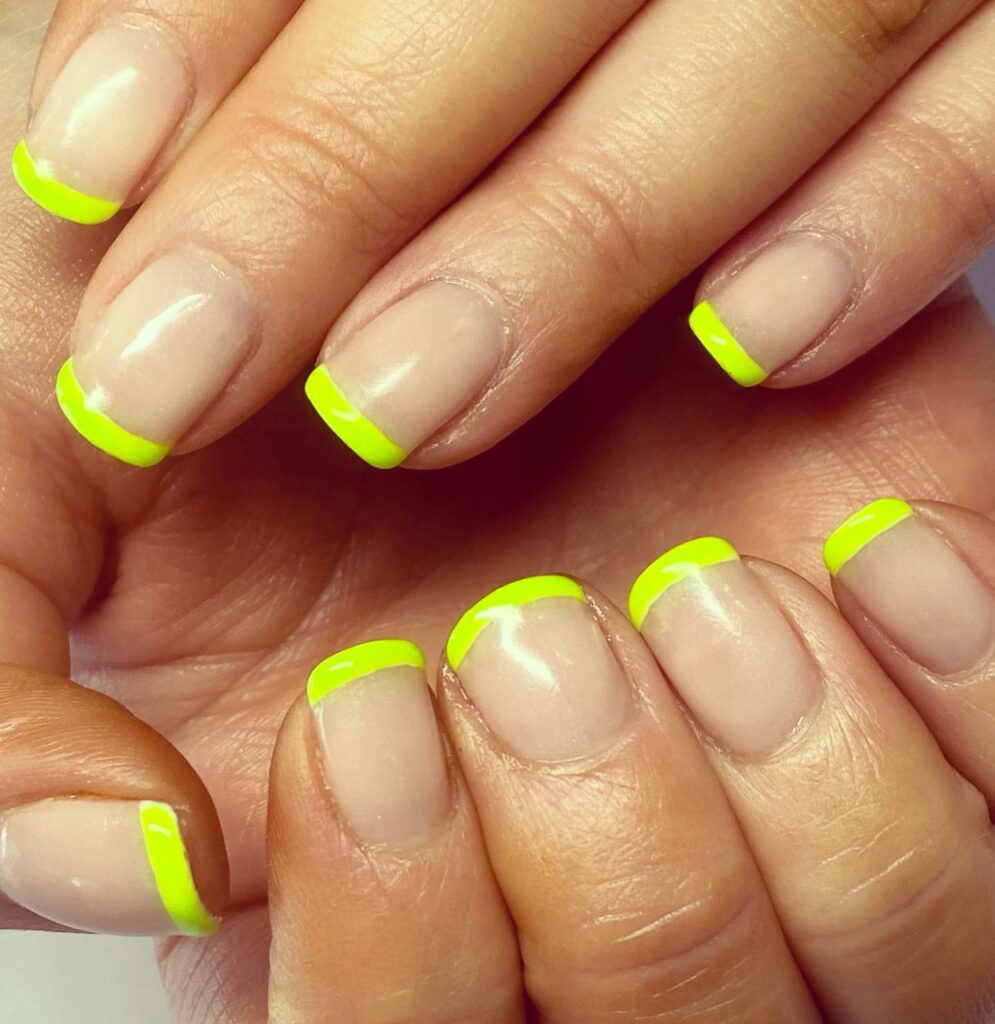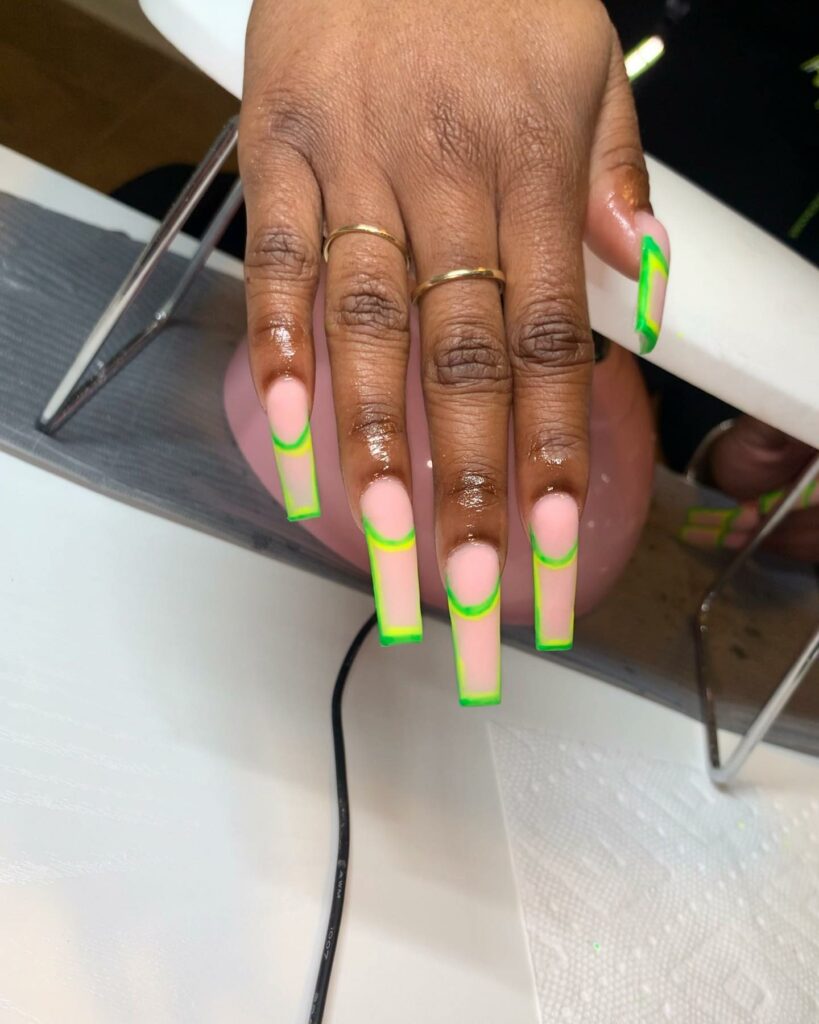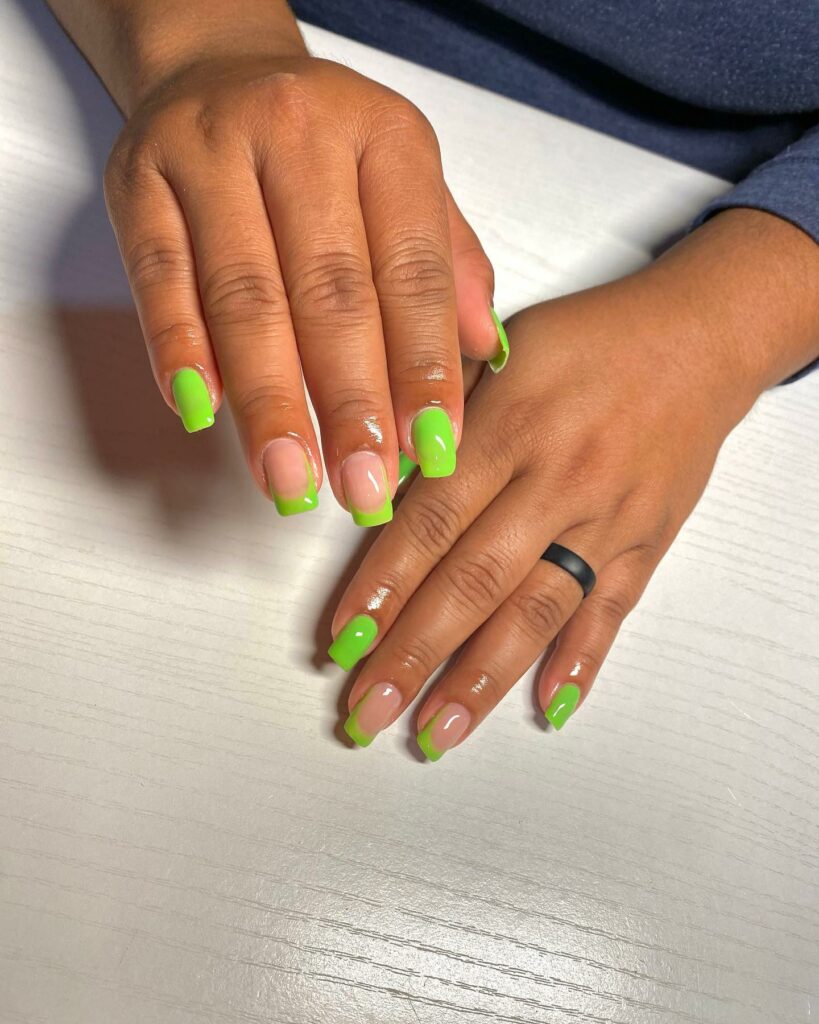 How To Do Neon Green French Tip Nails at Home
Let's discuss achieving the look of a neon green French tip at home. Giving yourself an at-home manicure is easier than you might think.
A few things you will need are clippers, cuticle nippers or mani scissors, a file, buffer, base, and top coats, a clean-up brush, and your neon green nail polish.
First things first. Soften your cuticles, soak your fingers in a bowl of warm water, and put a drop of essential oil in it for some smell-good feels.
If you don't want, or can't get a bowel, just run some water on your hands from the sink and use a towel or paper towel to dry them off lightly.
Second step, you need to lightly push back the cuticles with either a cuticle pusher from a manicure kit or a wooden orangewood stick.
Any dead skin that needs to be cut will be sticking up at this point. You should not need to press down and tear the skin away. Just trim away what is ticking up.
Next, you are going to cut and file your nails. The best and most flattering shape for your nail is a shape that slightly mirrors the shape of your cuticle.
So if your cuticle bed is rounded, try shaping the nail to match. If you have shorter fingers, round, almond, or oval will help to lengthen the look of your fingers.
After the cuticle care and shaping, you will want to buff the nail bed and free edge to eliminate scratchy edges and ridges before polishing.
Use a clean-up brush and acetone to prep the surface of the nail. Follow up with a quality base coat, and cover the entire nail. Come in with your base color and polish the entire nail.
The first way of creating a French smile line can be done with a striper brush, and you would dip the striper in the neon green polish and slowly draw a single solid smile line from one side of the nail to the other.
You would then take the polish brush and paint from that smile line out to the free edge, ensuring to cap every nail.
The second way of creating a French smile line requires a clean-up brush. What you would do is brush the tip of the nail with your neon green polish and let it dry for a few seconds.
You must then dip your clean-up brush in and run it along the green polish to create the desired smile line shape. This might be the easier option for those with a not-so-steady hand.
After you have finished capping all your nails off, you must go in with your favorite top coat and finish the job.
That's all there is to it. You have over 30 ideas for your next neon green French tip manicure, and even have step-by-step instructions on how to get the look on your own. Don't for get to have fun and enjoy them!