Red or white nails? It is hard to choose, and this is the reason to present you with the most gorgeous red and white acrylic nails for this season!
Innocent and pure, but same time passionate and bossy, there is no reason to not fall in love with them. You can have this manicure both for festive and crazy party attires but is also suitable for your office outfits.
Combined, these two colors create a perfect look on your nails. The contrast between them attracts the eyes and be sure that if you bet on red and white acrylic nails you won't stay unnoticed.
Red nail polish offers so many shades and hues that will perfectly fuse with white color. A classic red and its shades of crimson or cardinal are more suitable for pale skin. If you are looking for a better contrast, then try rich raspberry or deep cherry red.
For the ladies with sunkissed skin tones, is better to pick classic red shades or more pinky hues like burgundy, candy apple, or sweet berries shades.
The options for decorating red and white nails are unlimited. You can paint, add stickers, lovely hearts, 3D decorations with crystals and rhinestones, blend, or create a gorgeous French tip manicure or moon manicure.
Whether you are looking for an easy and affordable design or an intricate and eye-catching look, there is something to suit any taste. From classic stripes, swirls, lines, bold dots, or sweet floral patterns, the red and white combination will make your nails look elegant, neat, and very chic.
Red and White Ombre Acrylic Nails
Red and White Swirl Nails
Glitter Holiday Red and White Nails
Holiday Nail Art on Red and White Acrylic Nails
Red and White Acrylic Nails with Dots
Red and White Acrylic Nails with Gold or Silver Accents
Video Tutorial: Red and White Acrylic Nails
If you need a bit more inspiration for red and white acrylic nails, check out BootyfulNailz By Jess tutorial showcasing an extremely lengthy red acrylic nail design with crystals, marble ring fingers, and French tip glitter red. Simply follow this step-by-step video tutorial to achieve this festive and gorgeous look!
30+ Best Designs for Red and White Acrylic Nails
Are you ready to pick your favorite design?
Our roundup below has over 30 fabulous ideas for this pretty red and white manicure, for a variety of different nail sizes and nail shapes.
If you need even more inspiration, you can check our Pinterest account where you will find hundreds of trending nail designs ideas for the perfect manicure!
1. Red Swirl Nails
2. Red and White Nails with Silver Glitter
3. Glitter Holiday Red and White Nails
4. Gold Stripe Red and White Nails
5. Lace and Glitter Red White Nails
6. Holiday Nail Art on Red Nails
7. White Swirl Nails
8. Red Marble Nails
9. Valentine's Day Manicure
10. Geometric Red and White Nails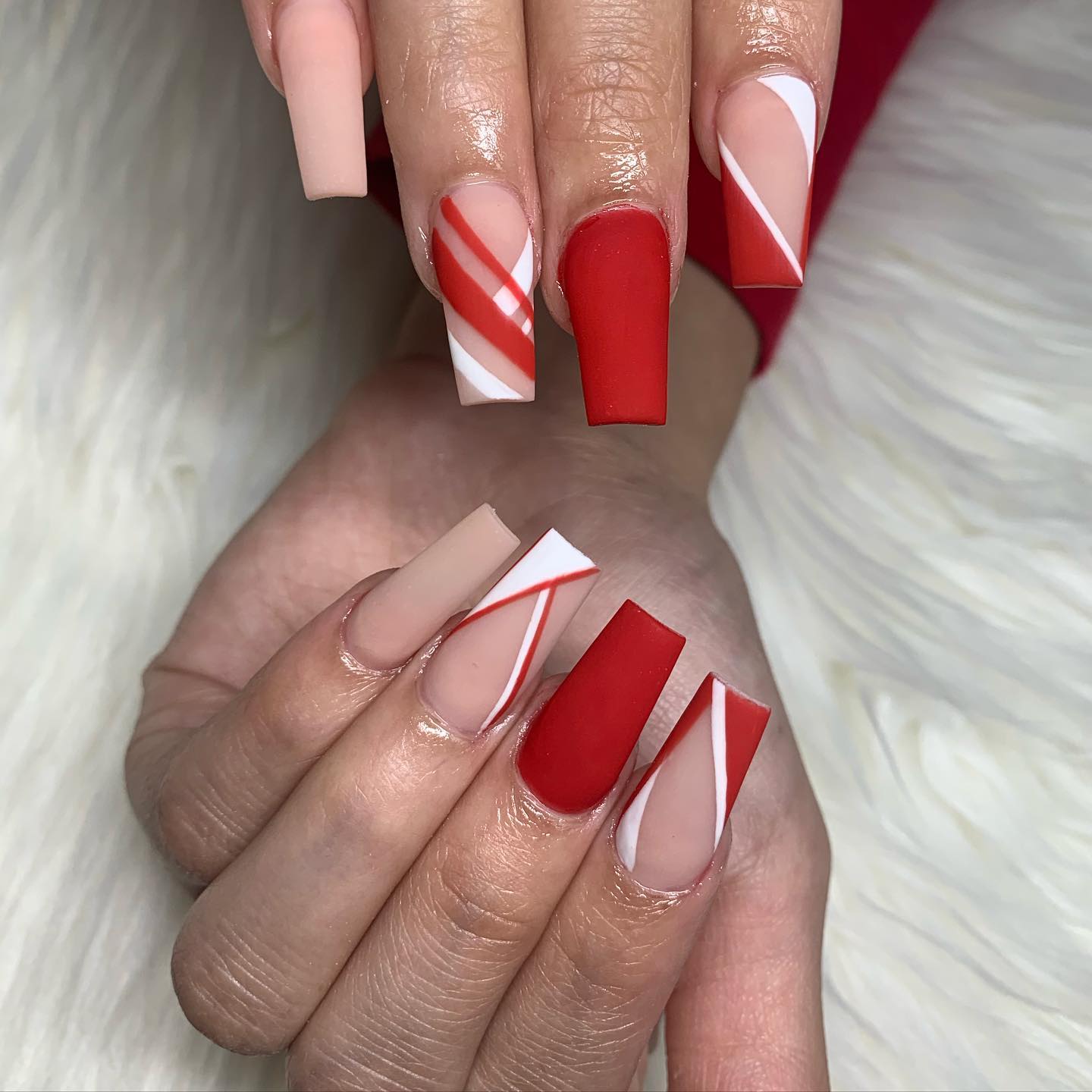 11. Snowflake Red and White Nails
12. Holiday Red and White Nails
13. Simple Stripe Red and White Nails
14. Heart Nail Art on Red and White Nails
15. Silver Crown Nails
16. Silver Dust Nails
17. Summer Red and White Nails
18. White Outline Nails
19. Silver Swirl Nails
20. Extra Long Coffin Nails
21. Dark Red Nails with Nail Art
22. Bright Red Nails with Flowers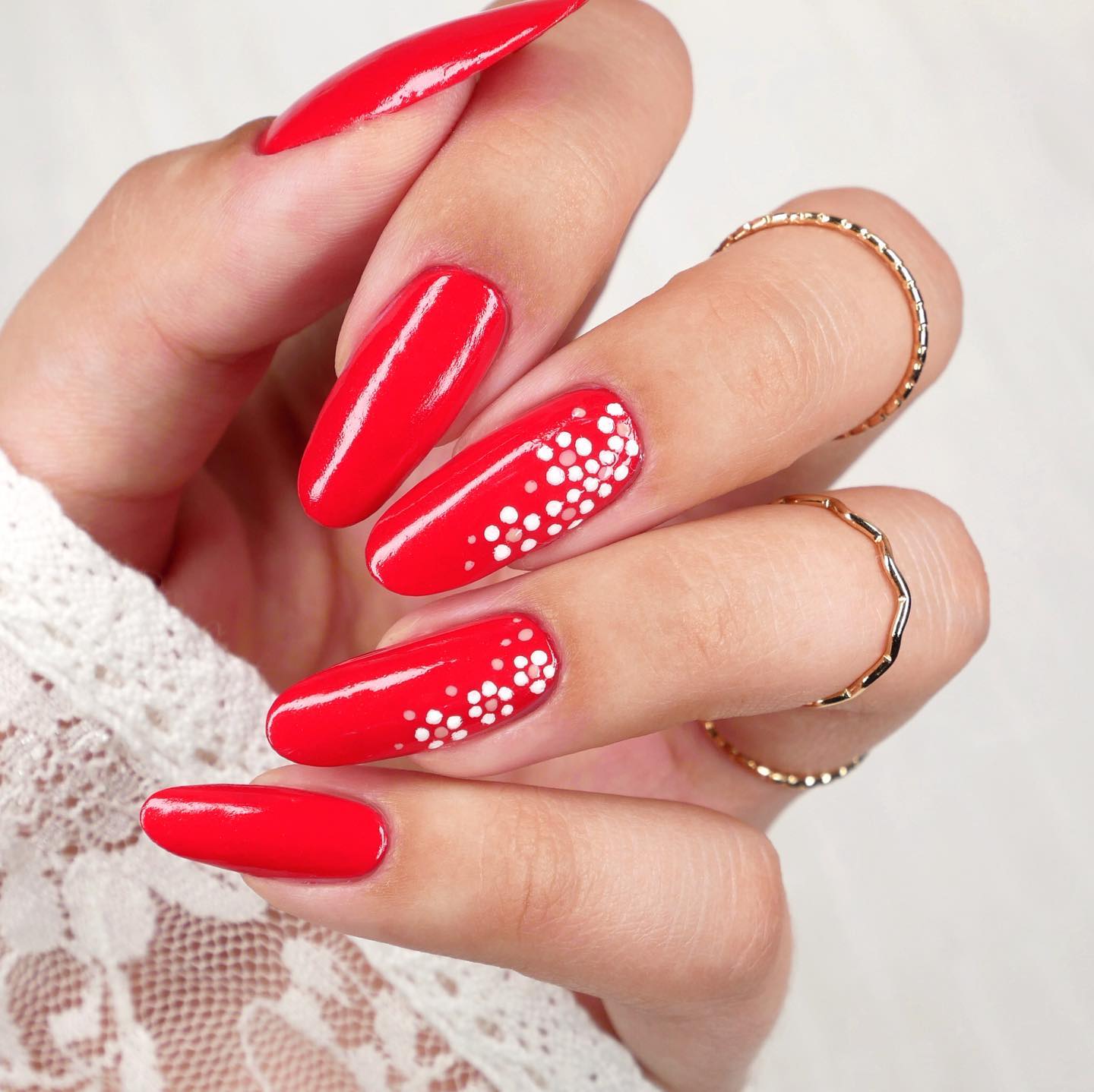 23. Heart Nail Art
24. Gallery Nails
25. Minimalist Red and White Nails
26. Summer Flower Nails
27. Sweet Dot Nails
28. Strawberry Sweet Nails
29. Red Drip Nails
30. Single Red Nail
31. Red Marble Nails
32. Red Chrome Marble
33. Gemstones and Glitter
34. Vertical Ombre Nails