Let's have a hoppin' good time with these super cute Easter bunny nails!
The most joyful spring holiday is coming with its brightness, freshness, and cuteness in every meaning- home decor, party setups, and not least personal style and nail design ideas. Of course, this provokes us to be a bit more playful and select the most adorable and sweet Easter bunny nail designs for you!
Are you ready? Let's hop on to it and do not forget to check our Pinterest account where you will find hundreds of trending nail design ideas to try!
Most Popular Styles for Easter Bunny Nails
Your Easter manicure can be unique and one of a kind if you decide to include any of the following combinations and ideas.
They come in a variety of designs, so you can go as detailed as you can, or just do a simple outline and everyone will get the message. Bunny nails are best to do at a nail salon as they require a bit of precision, but there are also some simplified designs you can try to do at home.
You can mix and match colors and Easter elements like sweet chicks, carrots, little tiny eggs, and flowers. These festive nails are suitable for any nail shape and length. From all-time classic almond shape nails to the latest trends in acrylic and coffin nail designs. All you need is a bit more festive mood and inspiration!
Bunny and florals
Bunny and polka dots
Bunny face
Bunny ears
Bunny tail
Bunny and stripes
Bunny and glitter
Bunny in pastel colors
Bunny and eggshell patterns
So what are you waiting for? Get your tools ready and let's have some seriously awesome, bunny-approved, Easter nails!
Video Tutorial: Easter Bunny Nails
Are you looking to give your nails a festive and fresh new look? Here's what you need. In this video tutorial, you will learn how to make a stunning Easter bunny design, giving your hands a sweet and lively, and striking look.
This video will guide you step by step through mastering the nail design art, from choosing color combinations to adding the final touches so you can make a sweet Easter bunny on your nails
30 Cute Ideas for Easter Bunny Nails
We've included everything from pastel color combinations to glitter, stripes, flowers, and dots. And lastly, but not least, a variation of lovely bunnies of course. Let's pop up colors just like Easter eggs and bring the real spring splash of cotton candy pink, pastel baby blue, bright yellow hues, vivid green, and happy red-violet shades.
We've also made sure to include styles that are easy enough for beginners but still fun for the pros.
1. Pastel Pink Easter Bunny Nails
2. Pastel Pink and Grey Easter Bunny Nails
3. Short Pink Easter Bunny Nails
4. Bright Coral Easter Bunny Nails
5. Sage Green Easter Bunny Nails
6. Glitter & Coral Easter Bunny Nails
7. Floral Easter Bunny Nails
8. Baby Blue Easter Bunny Nails
9. Cute Brown Easter Bunny Nails
10. Easter Color Nails
11. Happy Easter Color Nails
12. Bunny and Eggs Nails
13. Bright Bunny Nails
14. Easter Shadow Art Nails
15. Pastel Egg and Bunny Nails
16. Coffin Flower and Bunny Nails
17. Cute Bunny Ear Nails
18. Mixed Design Easter Bunny Nails
19. Barbie Pink Easter Bunny Nails
20. Green and Pink Easter Bunny Nails
21. Speckled Egg Easter Nails
22. Mint Green Easter Nails
23. Mixed Design Bright Pastel Easter Nails
24. Elegant White Easter Nails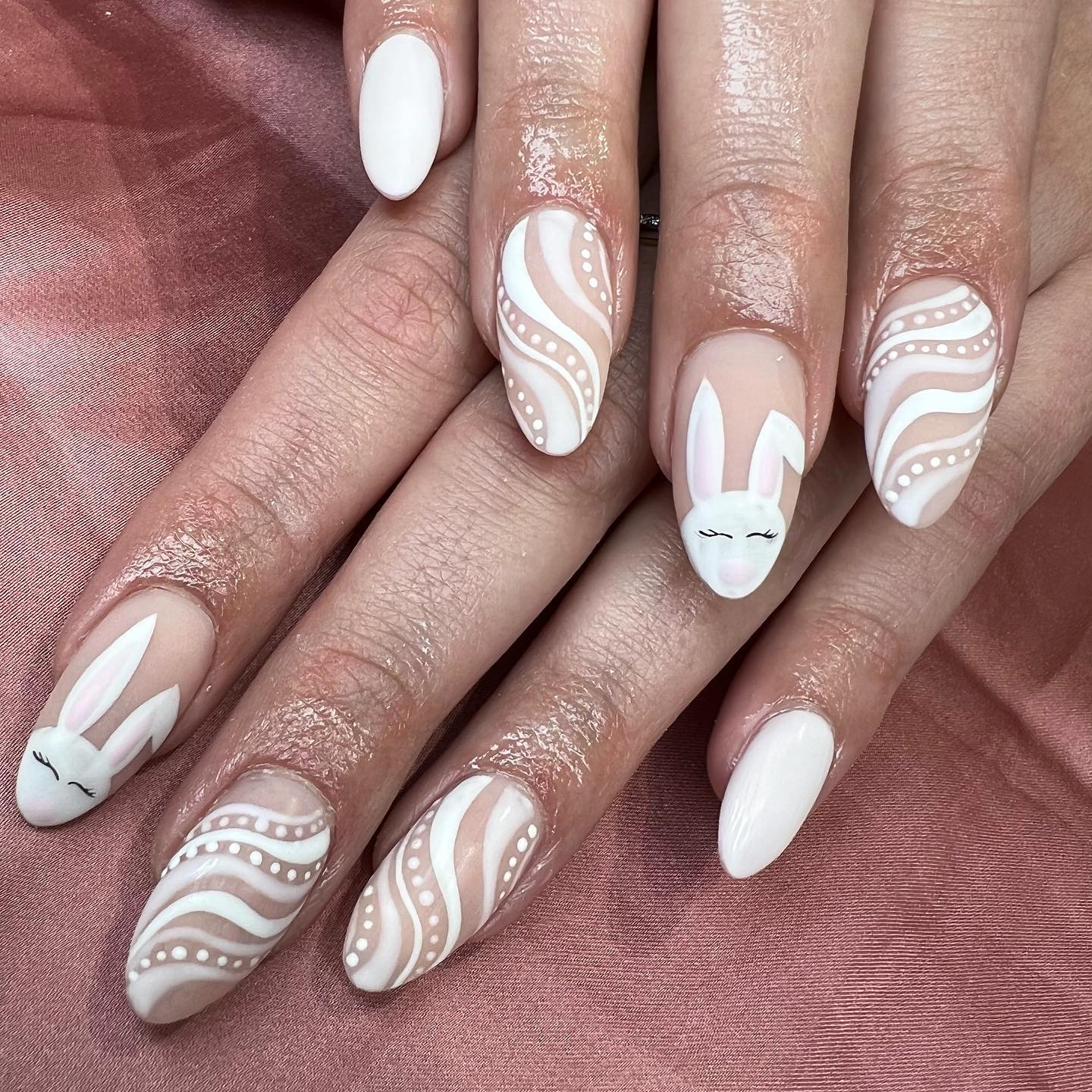 25. Blue and Pink Easter Nails