If you're looking for a new twist on a classic manicure, then trying red French tips should be definitely on your radar!
Updating your classic white French tips to the fiery tones of red is not only a pretty choice for Valentine's Day or your anniversary but adds a bit of interest even to an everyday manicure or a look for the office.
In this article, we have compiled over 30 of the best examples of this manicure for a variety of nail shapes and lengths, including coffin nails, acrylic nails or almond nails.
You may think that you need quite long nails to pull it off, but as you will see from our gallery, French tips can be achieved even on the shortest nails, although they might not look as elegant as on the longer nail shapes.
So if you're prepared to give this a try, head down below to our image roundup, and also check the video tutorial we have shared below.
How to Do Red French Tip Nails
To transform your nails with this manicure you need a few simple steps to follow.
You need to start with freshly cleaned up and tidy nails, without any dust residue. Brush them off properly to make sure you have a clean and smooth surface to work with.
Select your base color – to achieve the classic look, natural beige color tones work the best, but you can experiment also with milky white nail polish or natural shades of light pink.
Once you're done with your base color and let it dry properly, its time to create the design.
To create the French tips, you would normally use stickers that would outline the area you need to cover in red. You need to be careful to place those on roughly the same spot on each nail, so the size of your red tips is the same on all your nails.
Once you've got that measured up and the nail stickers in place, you can grab your red nail polish and get creating. The longer the nails are, the longer you can usually go with the French tips too.
French tips are one of the first nail designs most ladies experiment with, as they are easy to achieve at home and look like they've been done at the nail salon.
If you're doing them the first time, give yourself plenty of time to practice to achieve the perfect look.
Video Tutorial: Red French Tips on Gel Nails
If you would like to try this nail design at home check out this tutorial by Anosh Does Nails via youtube.
30+ Prettiest Red French Tip Nails
Below is our selection of the prettiest design ideas for red French tip nails – if you want to try a new twist on this manicure classic, we are sure you will find lots of designs you will love in this collection.
For more nail design inspiration, check our recommended articles below.
1. Pink and Red French Tips
2. Red French Tips with Gold Half Moon
3. Red French Tips on Short Nails
4. Red French Tips on Log Coffin Nails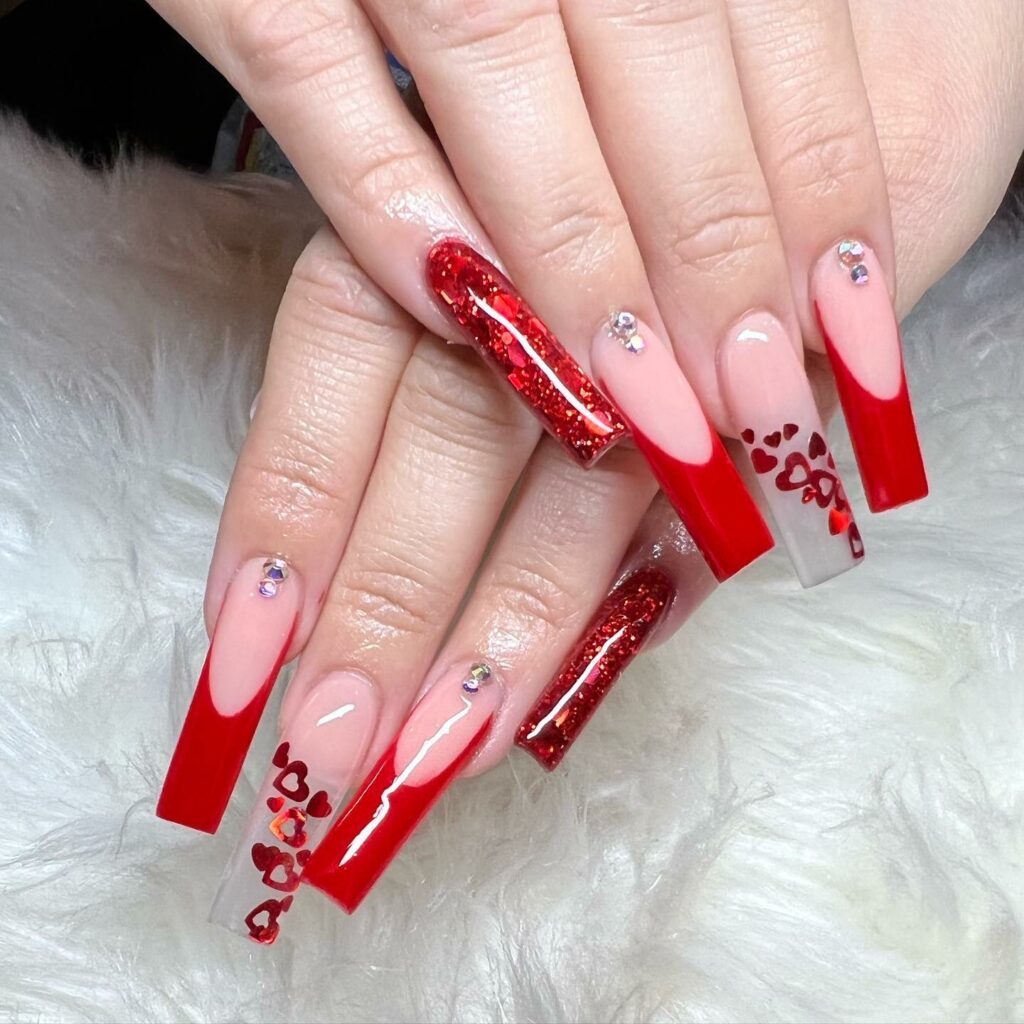 5. Short Coffin Nail French Tips
6. Natural Nails with Red French Tips
7. Heart Details on Red French Tips
8. Almond Shaped Red French Tips
9. Super Short Nails with Red Tips
10. Coffin Red Tips with Black Nail Art
11. Elegant Red French Tips
12. Dark Red Glitter French Tips on Acrylic Nails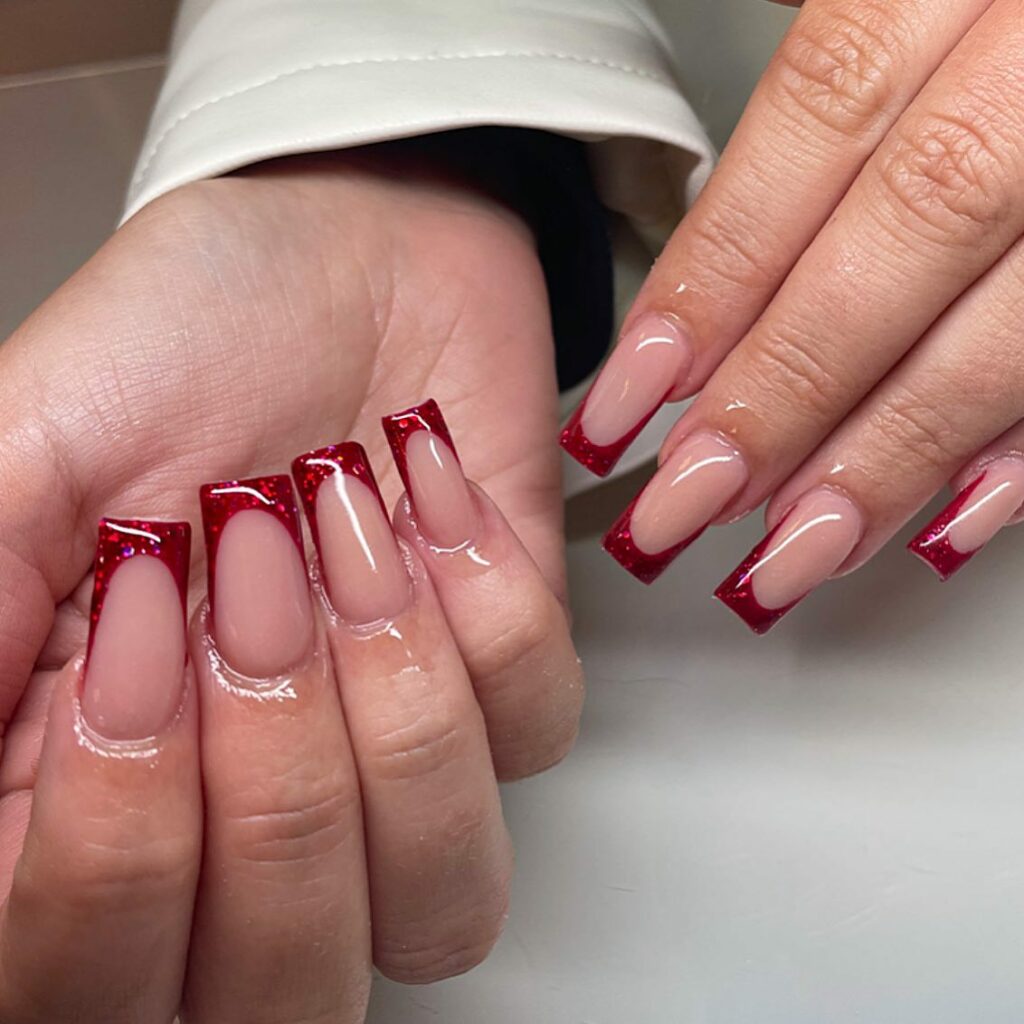 13. Long Almond Nails with Red Tips
14. Long Almond Nails with Red Tips
16. Alternating Red and Gold Tips
17. With Silver Star
18. Simple Elegant Red Tips
19. With a Heart Detail
20. Elegant Long Acrylic Nails with Red Tips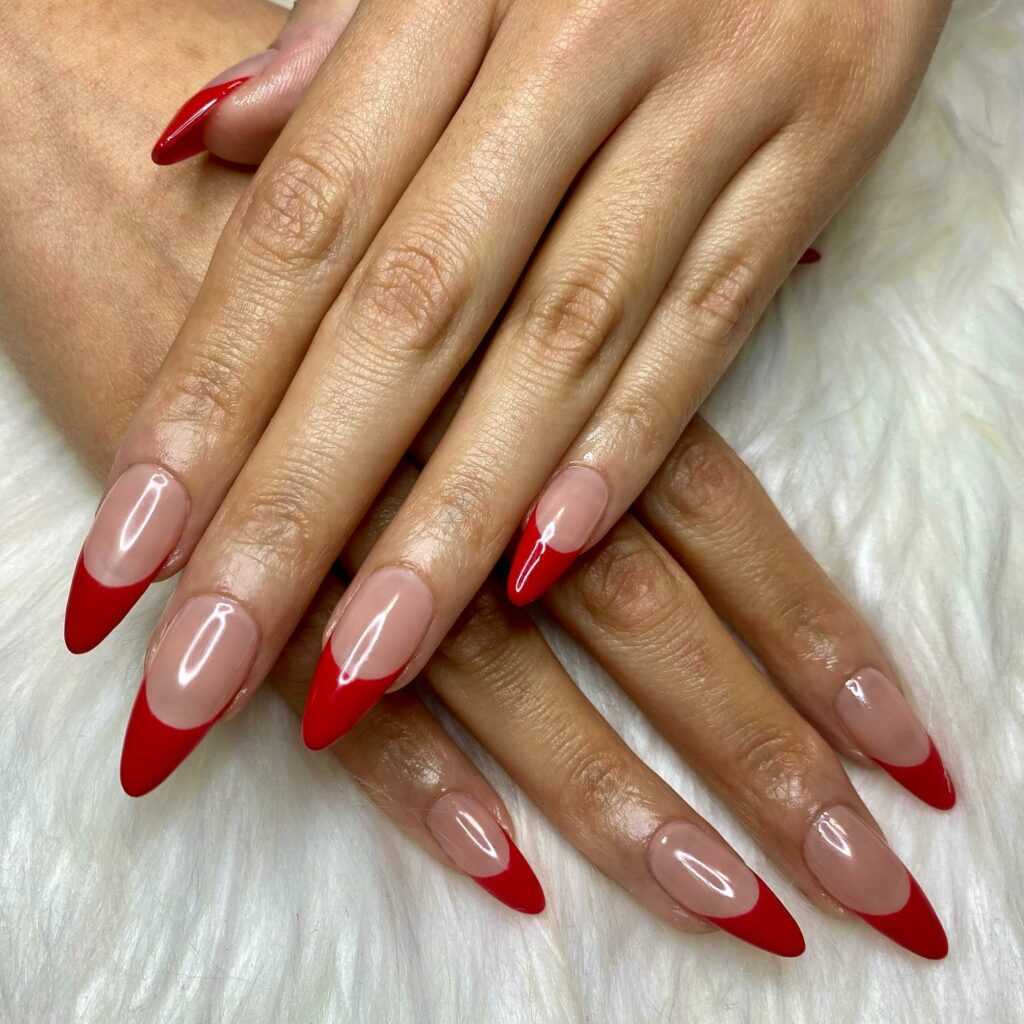 21. Super Short Tips with Yellow Outline
22. Classic French Tips in Red
23. Black Middle Line Nails
24. Red Coffin Tips with Gold Nail Art
25. Statement Gold Nail
26. White Fire Coffin Nails
27. Classic Coffin Red Tips
28. Coffin Red French Tips with Gemstones
29. Summer Red French Tips
30. Extended Tips on Coffin Nails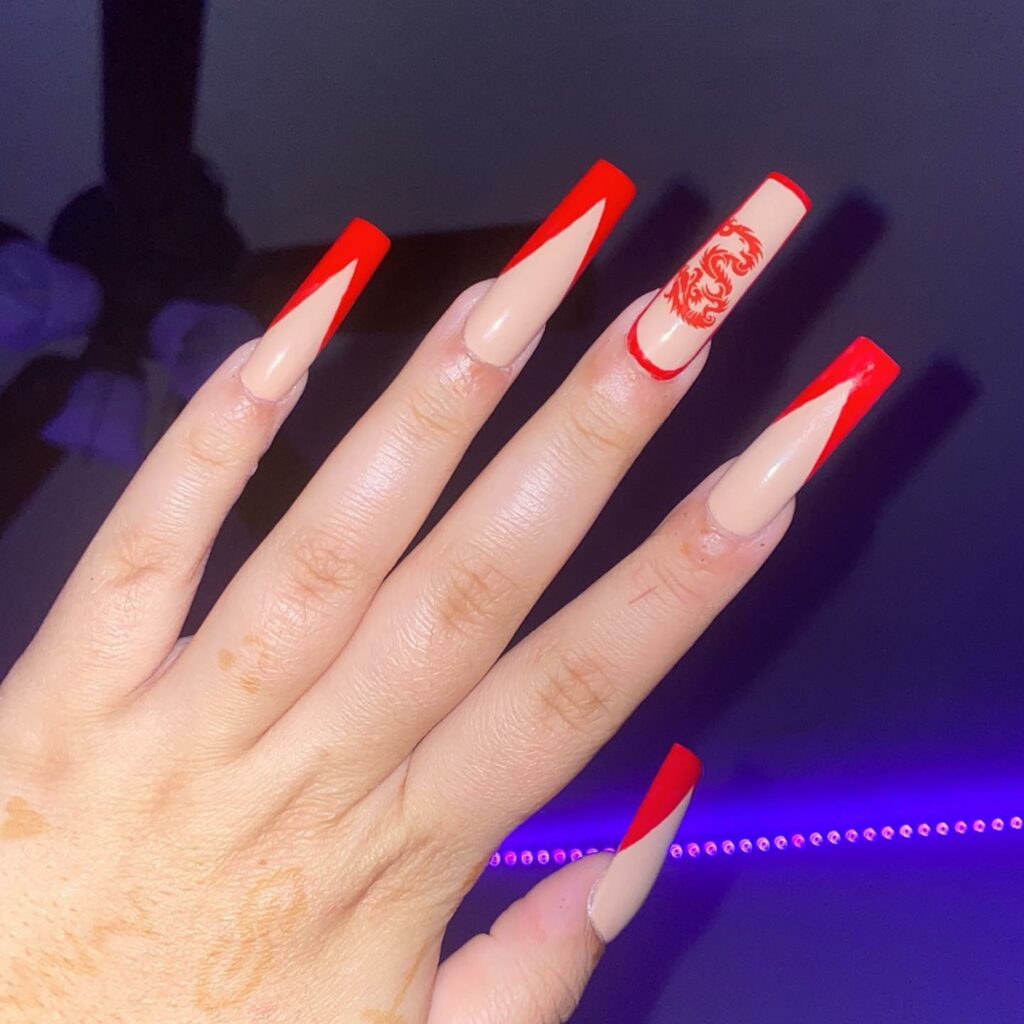 31. Side Tips with Gemstone Nail
32. Long French Tips