Break the frames and impress with extraordinary edgy black French tip coffin nails! If you are looking for classic, elegant, but extravagant designs for your coffin nails, you are just in the right spot!
And before you say, this is too bold and not for everyone, I will give you a few great points about why to choose black French tip nails.
The black French tip manicure is extremely suitable for evening or official occasions and events. Modern decoration elements – pebbles, crystals, gold or silver accents in combination with black French create a unique and memorable look for your nails, which will surely fit into your overall elegant look.
This type of design is also suitable in everyday life, but in a completely different style – double, edge, or with colorful elements like little flowers, hearts, and dots.
The black French tip nails are combined perfectly with a pale pink or nude base.
If you want to refresh your nails with up-to-the-latest fashion trends, you can try the edgy black French tip nails and combine black French tip manicure with an accent color, gloss, stickers, or crystals on your ring fingers. This will make the black French tip nails an ideal choice for an evening event.
It will probably be a surprise for many of you, but the edgy black French tip nails can bring a fairly fresh mood for the coming spring season, with the help of various nail prints and decorations of flowers, butterflies, and hearts.
How to Create Edgy Black French Tip Coffin Nails Designs
Prep Your Nails- usually coffin nails are a bit longer than the other nail shapes, but surprisingly you can make coffin nails on shorter nails too.
Apply Base Coat- Once you prep your nails to your preferred length, you can apply your base coat. You can choose a transparent one or one with more pink nude hues.
Paint Your Nails- If you like to get a stronger accent, you can paint your nails with pale pink nail polish. This is how the black French tips will look better.
Apply Top Coat- For a final touch apply top coat. For special occasions and events, you can pick one with glitter and gold/silver foil pearls.
Trending Edgy Black French Tip Coffin Nails
Some of the nail design styles that we see over and over on social media are the following:
coffin French tips with an extra framed outline right under the tip, either in a contrasting color like white, or with glitter nail polish
glitter is also a popular choice for the black design on the French tips
outline French tips which just create the optical illusion of the tip by framing it with black nail polish, and leaving the inner part of it in a neutral color
bright white nail polish is used as a base color to create even more contrast for your nails
adding nail art like starts to your nails
using small gemstones in your nail design
Our Picks: 30+ Edgy Black French Tip Coffin Nails
Ladies, it is time to turn the page and show off some bold, edgy, and chic appearances with our finest selection of black French tip nails.
For more inspiration, do not forget to check our Pinterest account where you will find hundreds of trending nail design ideas to try!
1. Coffin Nails with Double Outline
2. Elegant Extended Black French Tips
3. Simple French Tips with Gemstones
4. Winter Black French Tips
5. Blended French Tips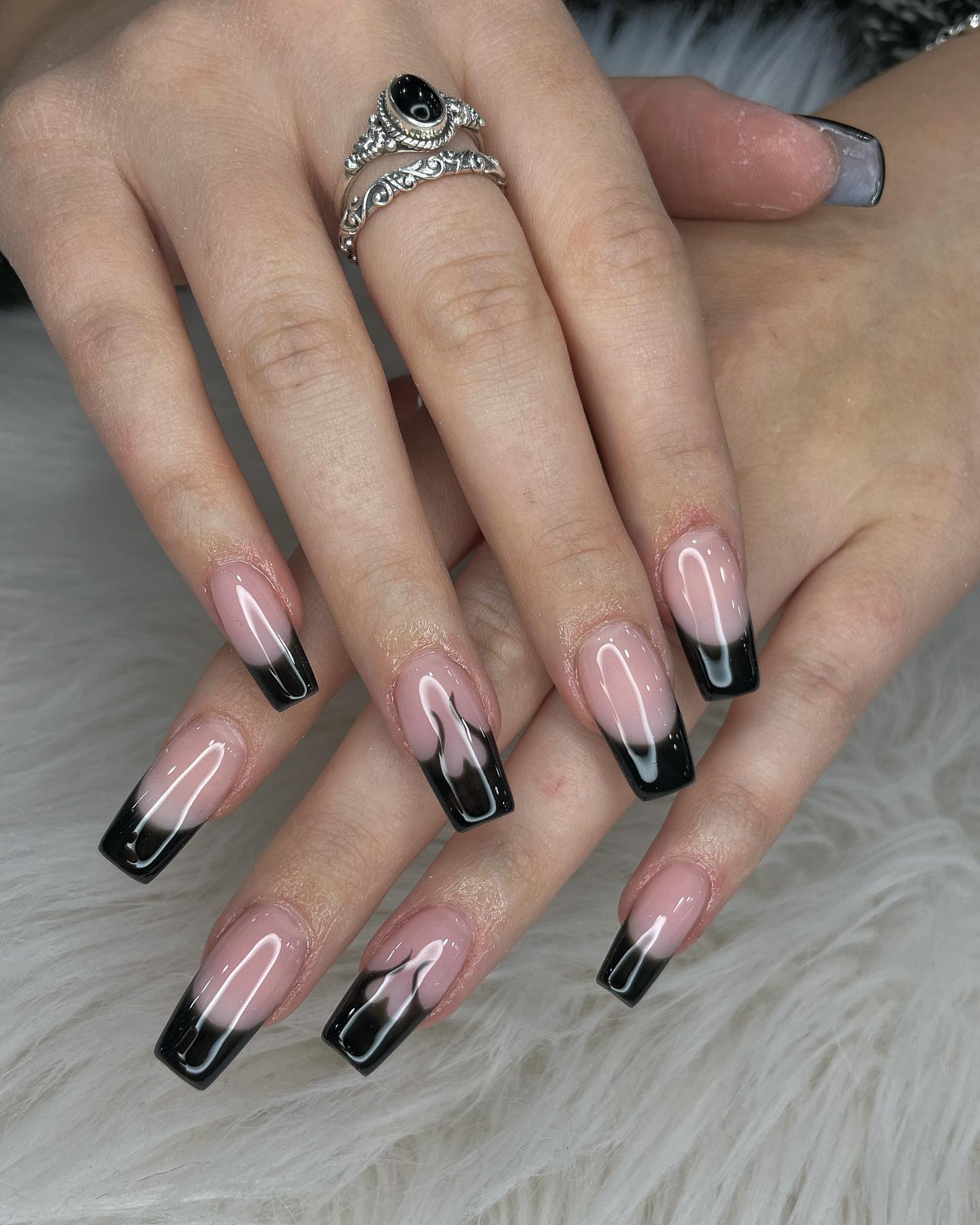 6. Black French Tips with Silver Frame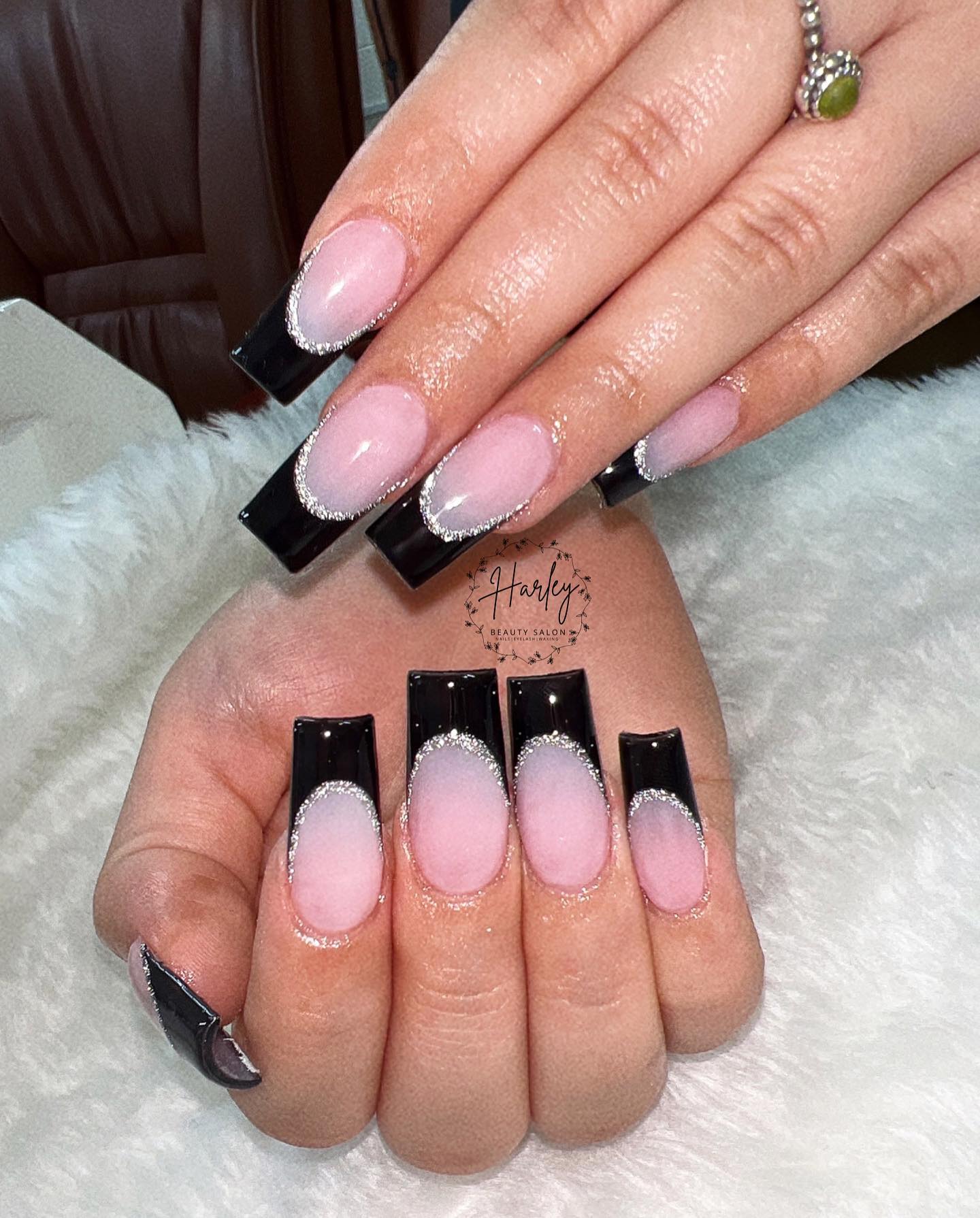 7. Matte and Glossy Black French Tips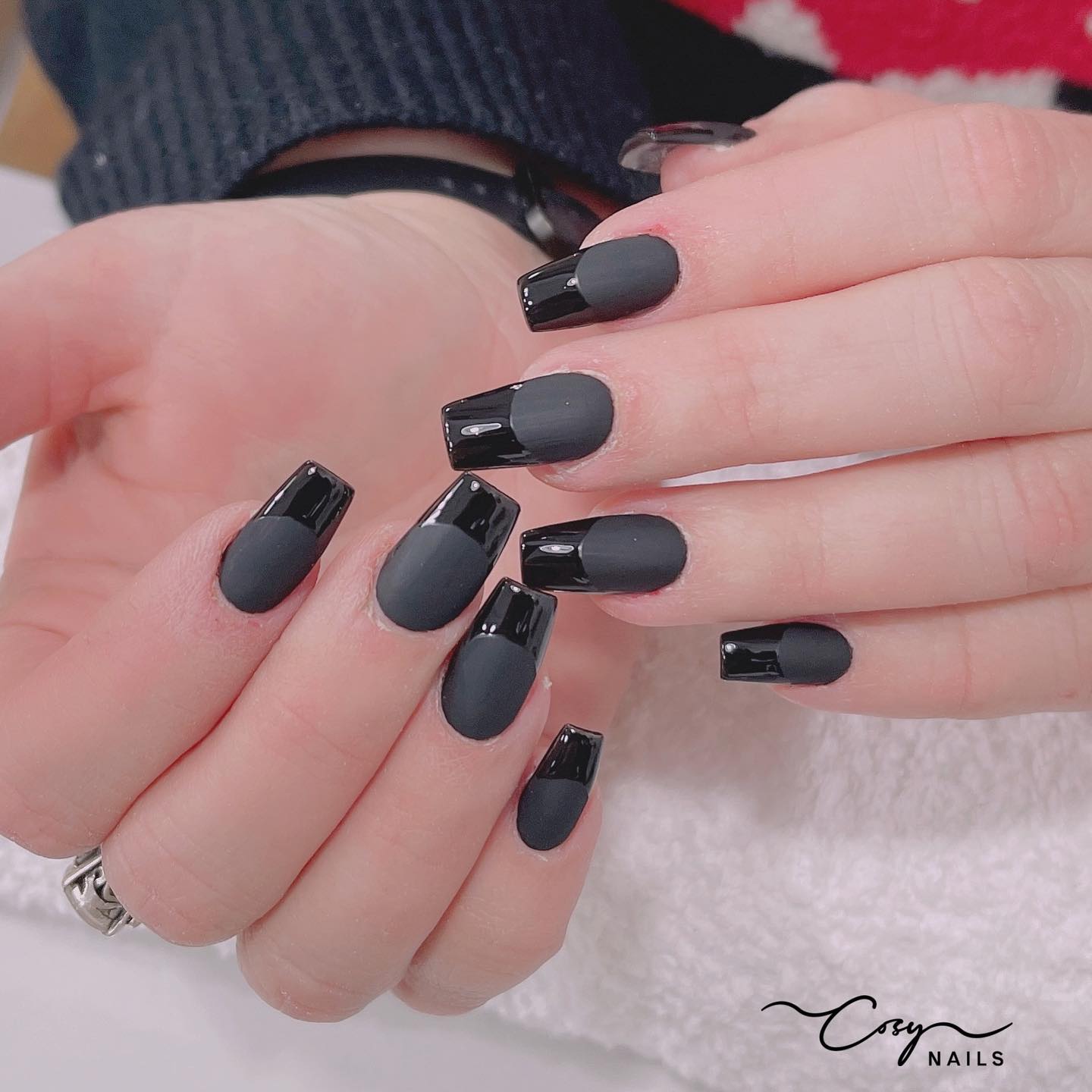 8. Coffin Black French Tips with Gemstones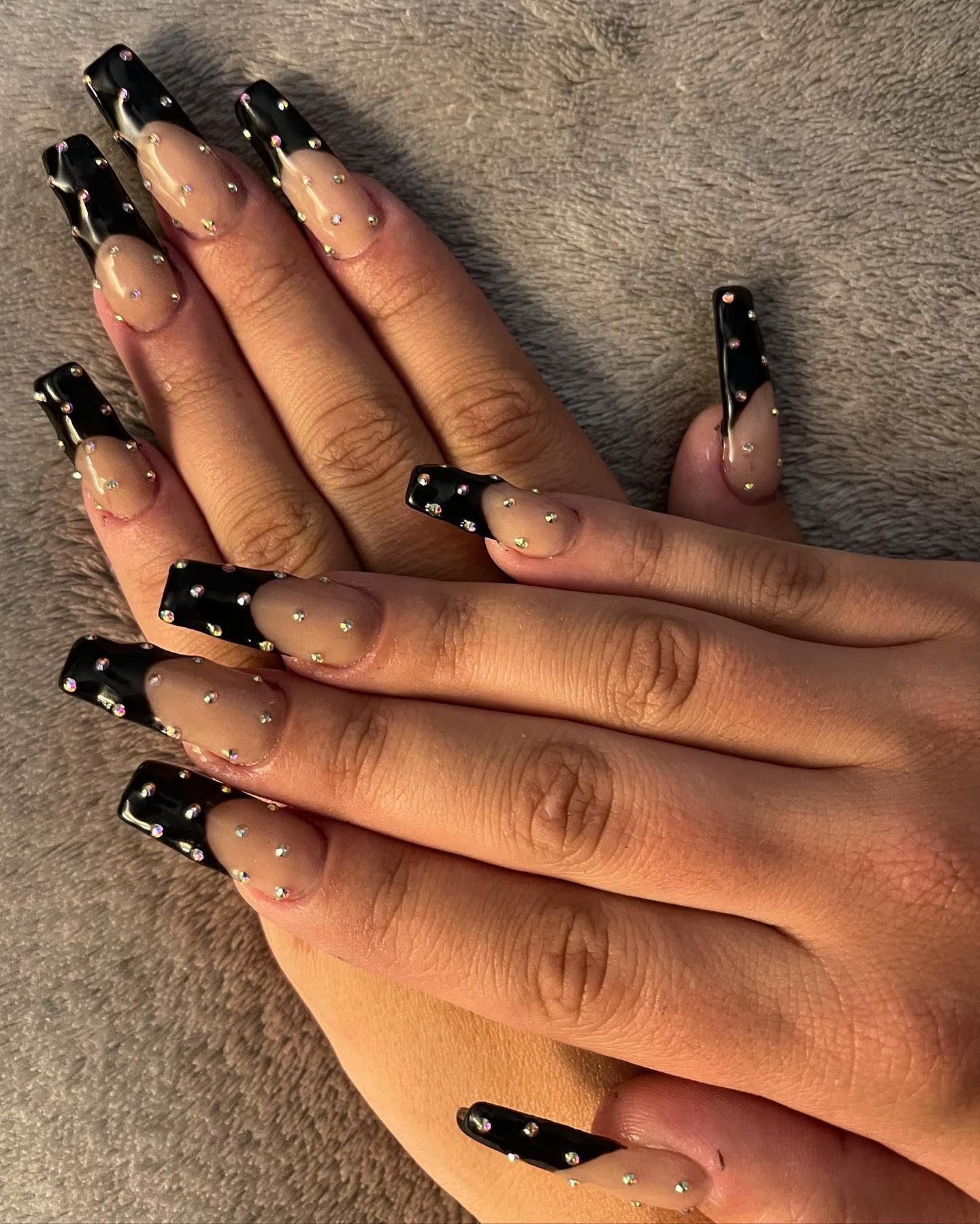 9. Black French Tips with Pink Base Color and Gemstone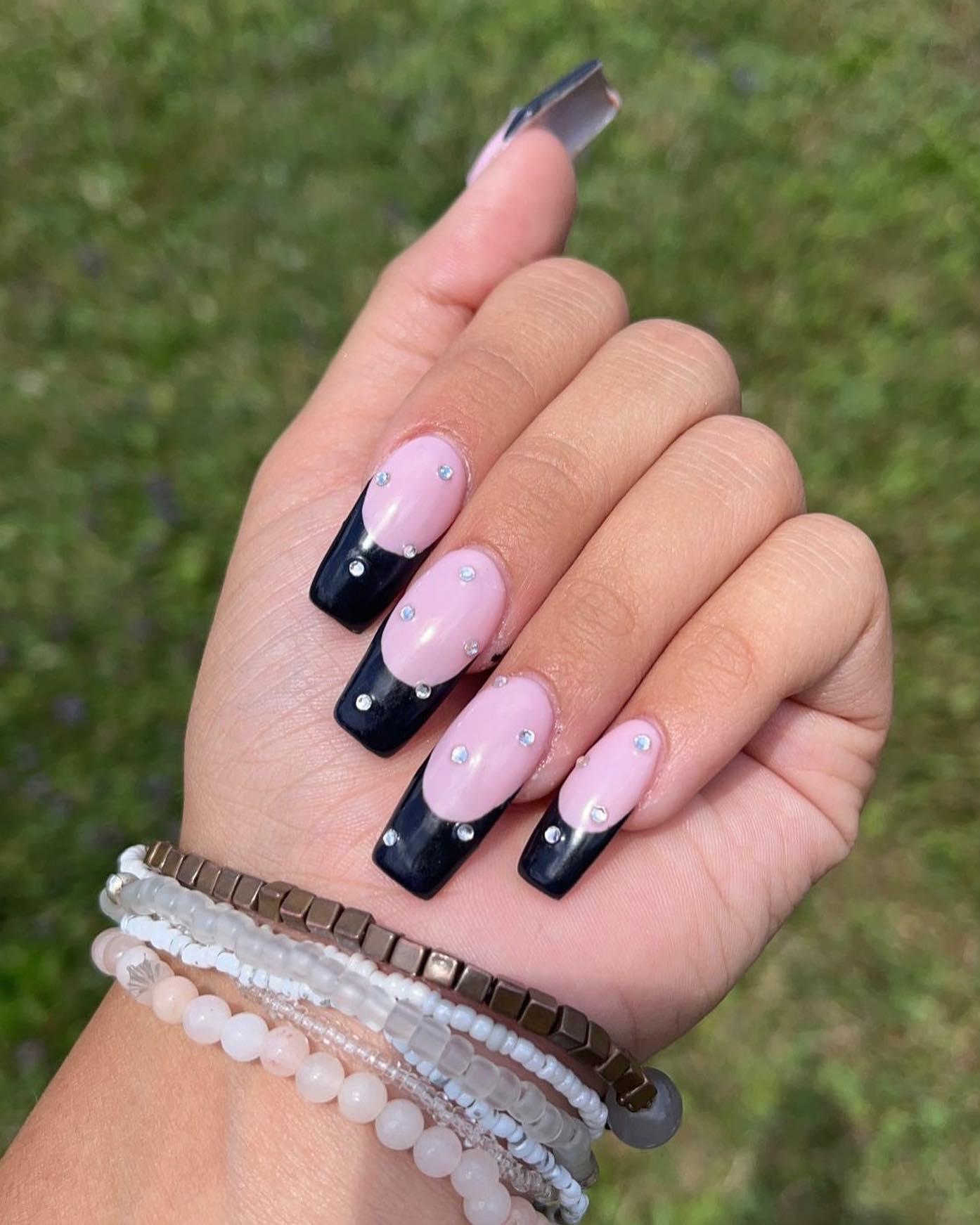 10. Unique Black French Tip Nails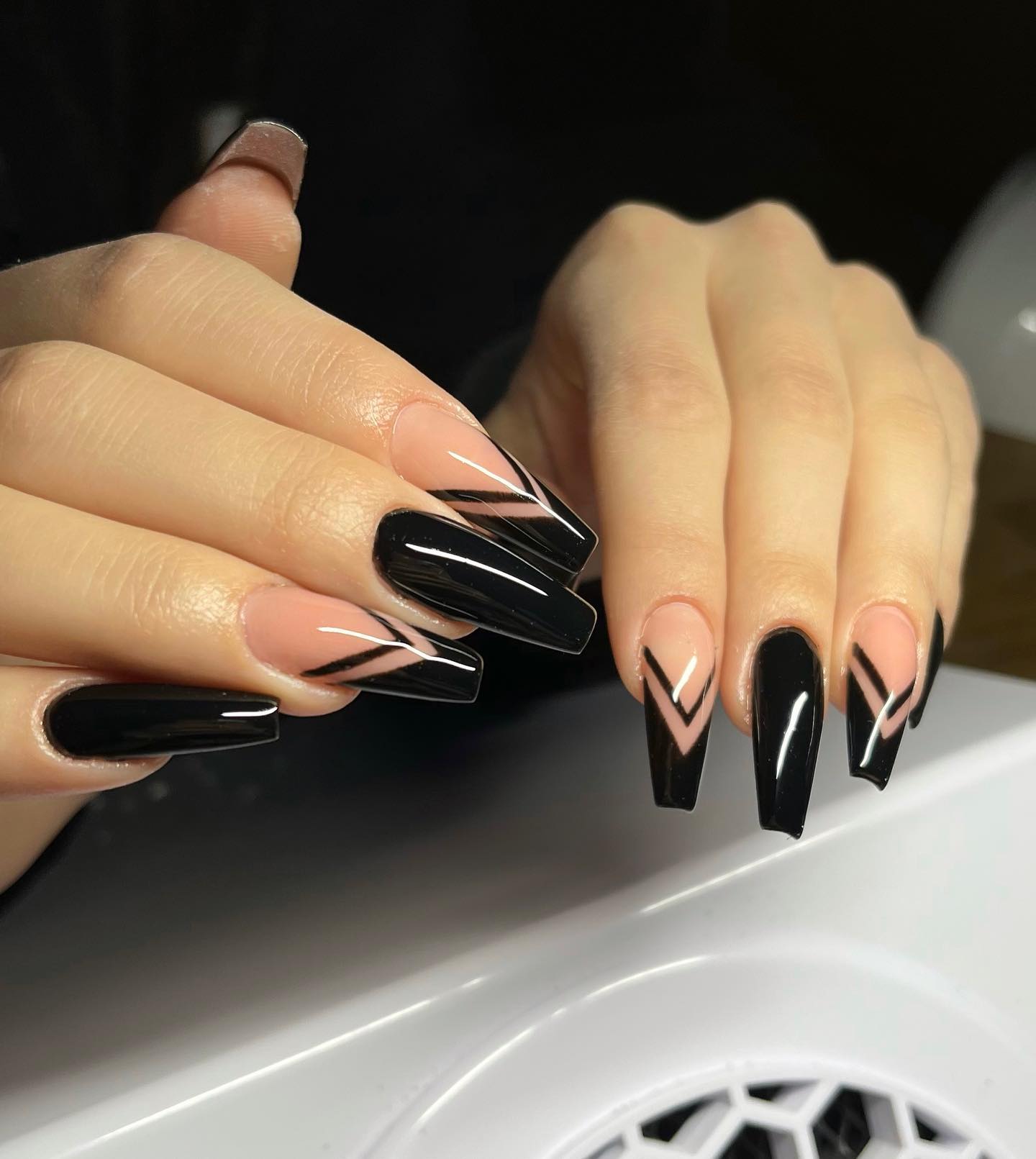 11. Nude Edgy Black French Tip Nails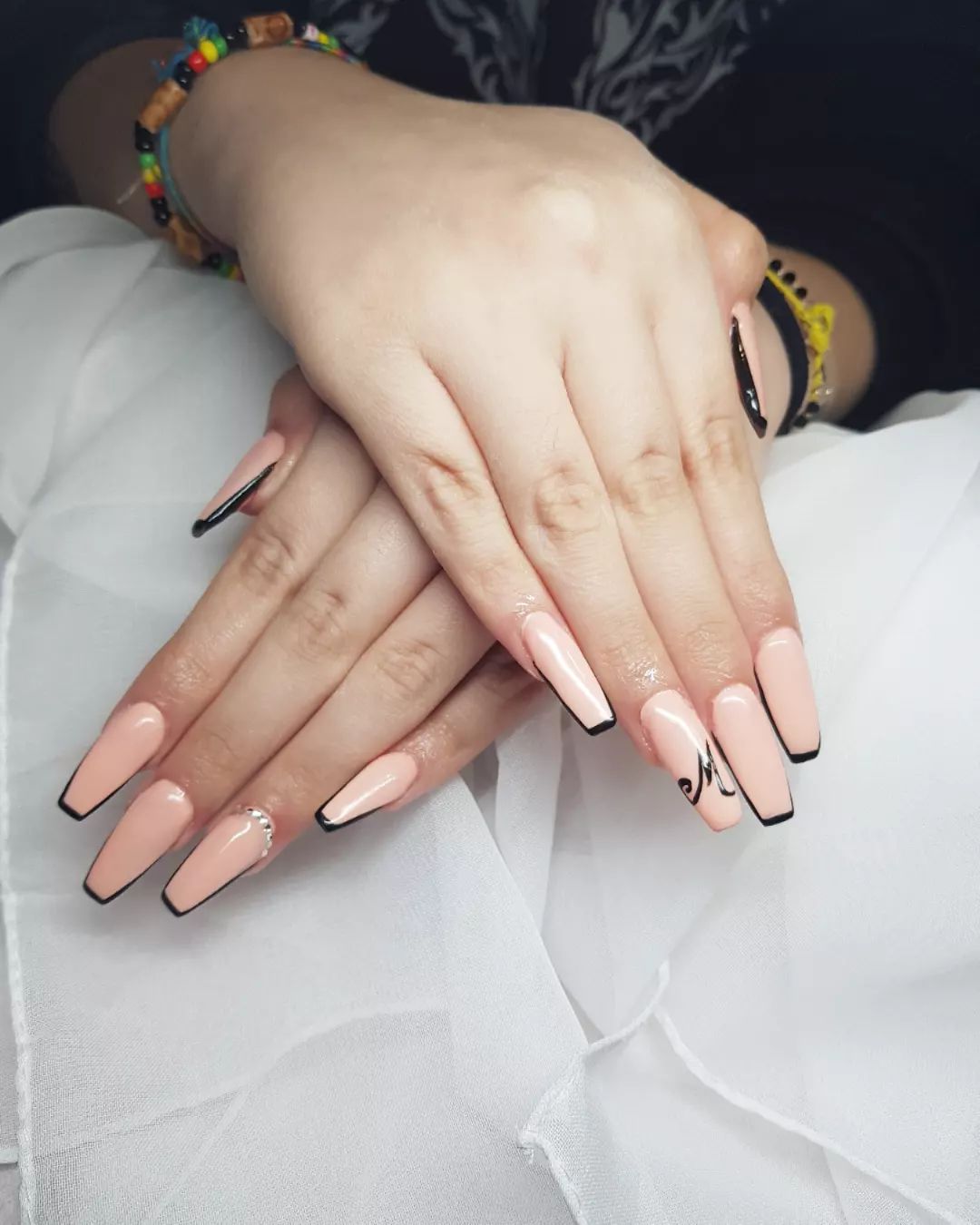 12. Golden Lined Black French Tip Nails
13. V Black and Silver French Tips
14. Cobalt Black French Tip Coffin Nails With Silver
15. Rhinestone Accented Edgy Black French Tip Nails
16. Butterflies Rhinestones
17. Black Hearts
18. Golden Foil Black French Tip Nails
19. Classic Black French Tip Coffin Nails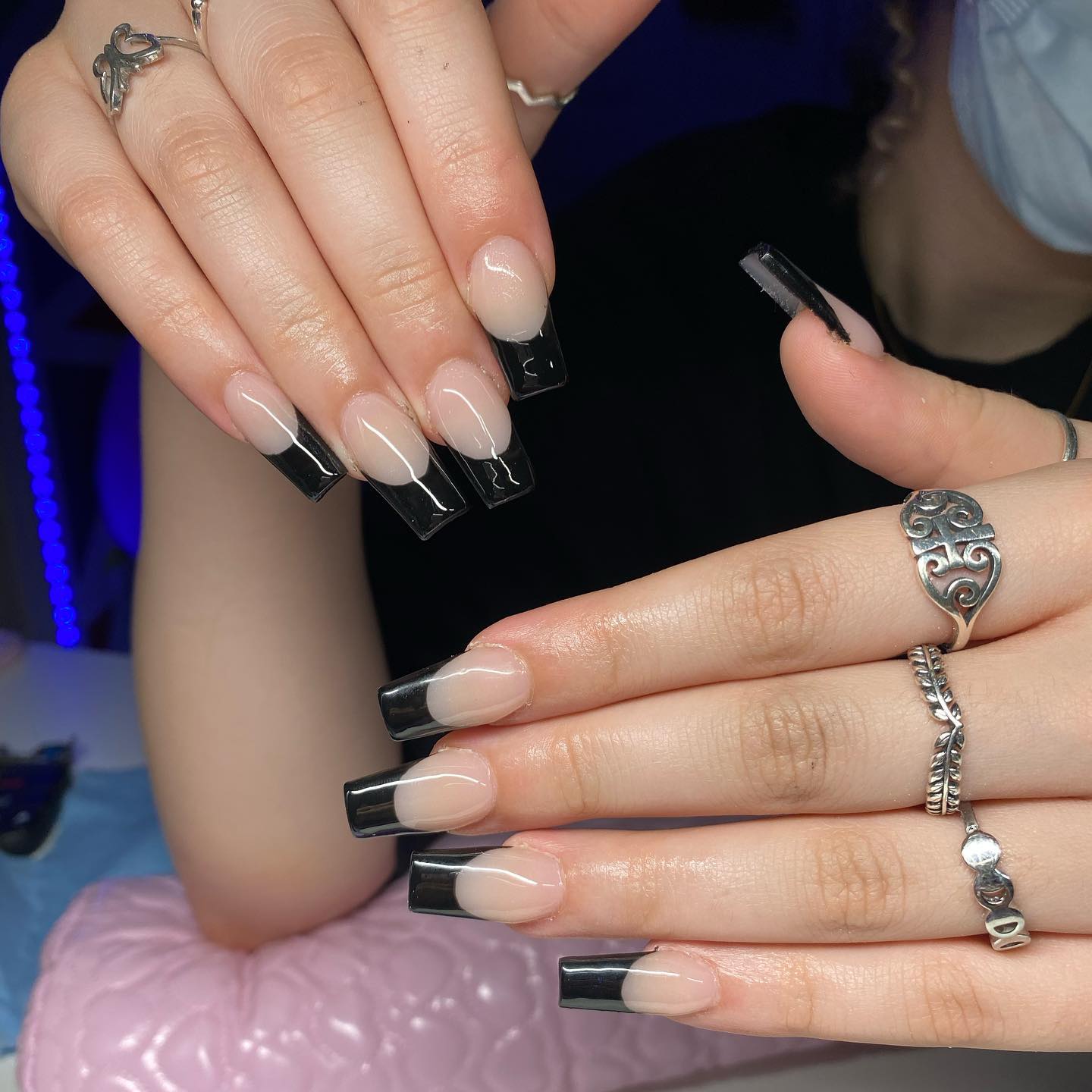 20. 3D Gemstones Black Ring Finger Nails
21. Dainty Black French Tips
22. Edgy Black French Tip Coffin Nails on Nude Base
23. Cobalt Black French Tips With Hearts
24. Whie Hearts and Rhinestones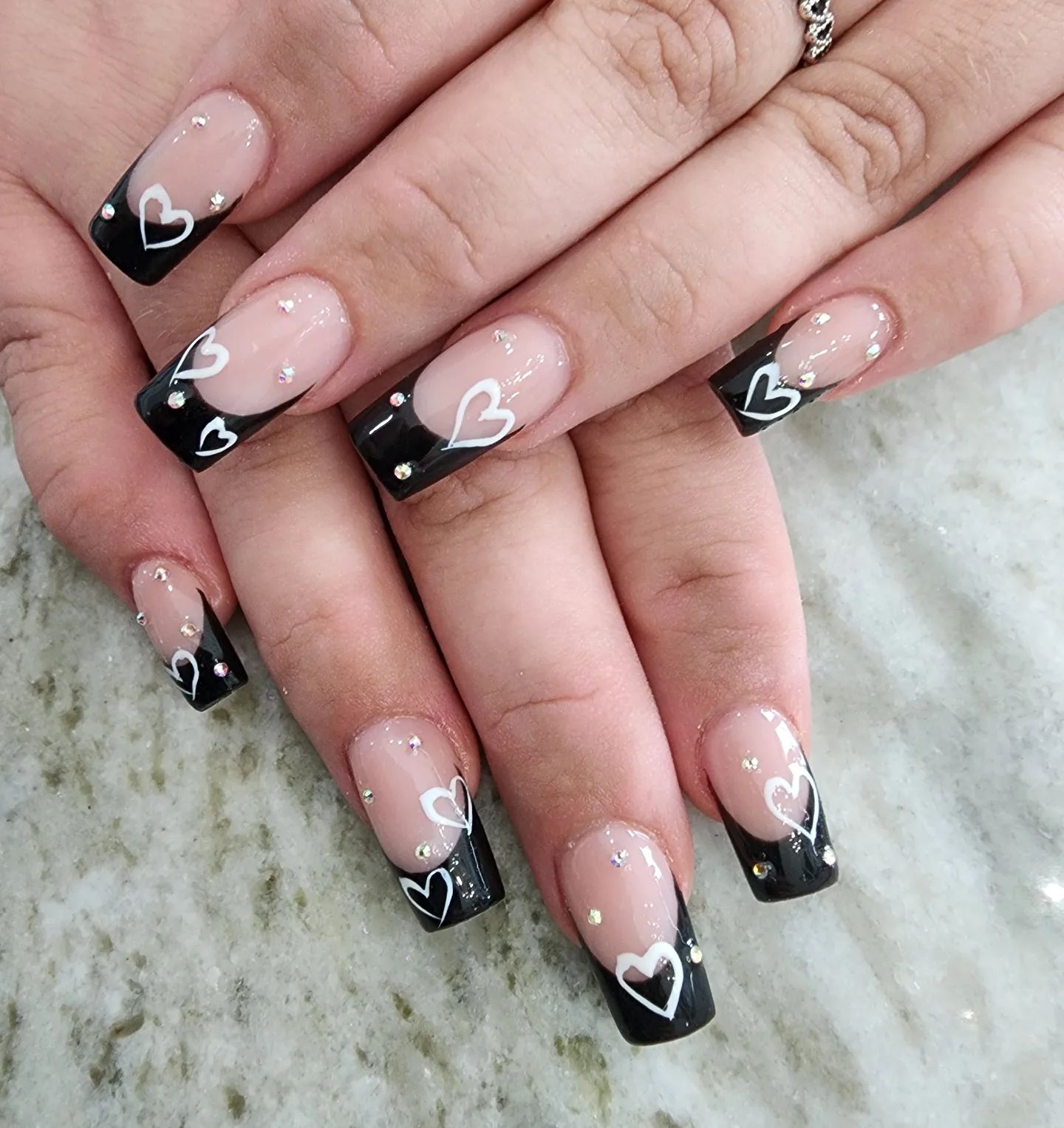 25. Silver Swirls
26. Classic Black French Tip Nails With Pearls
27. Cobalt Edgy Black French Tip Nails With Pearls
28. Classy and Elegant Black French Tips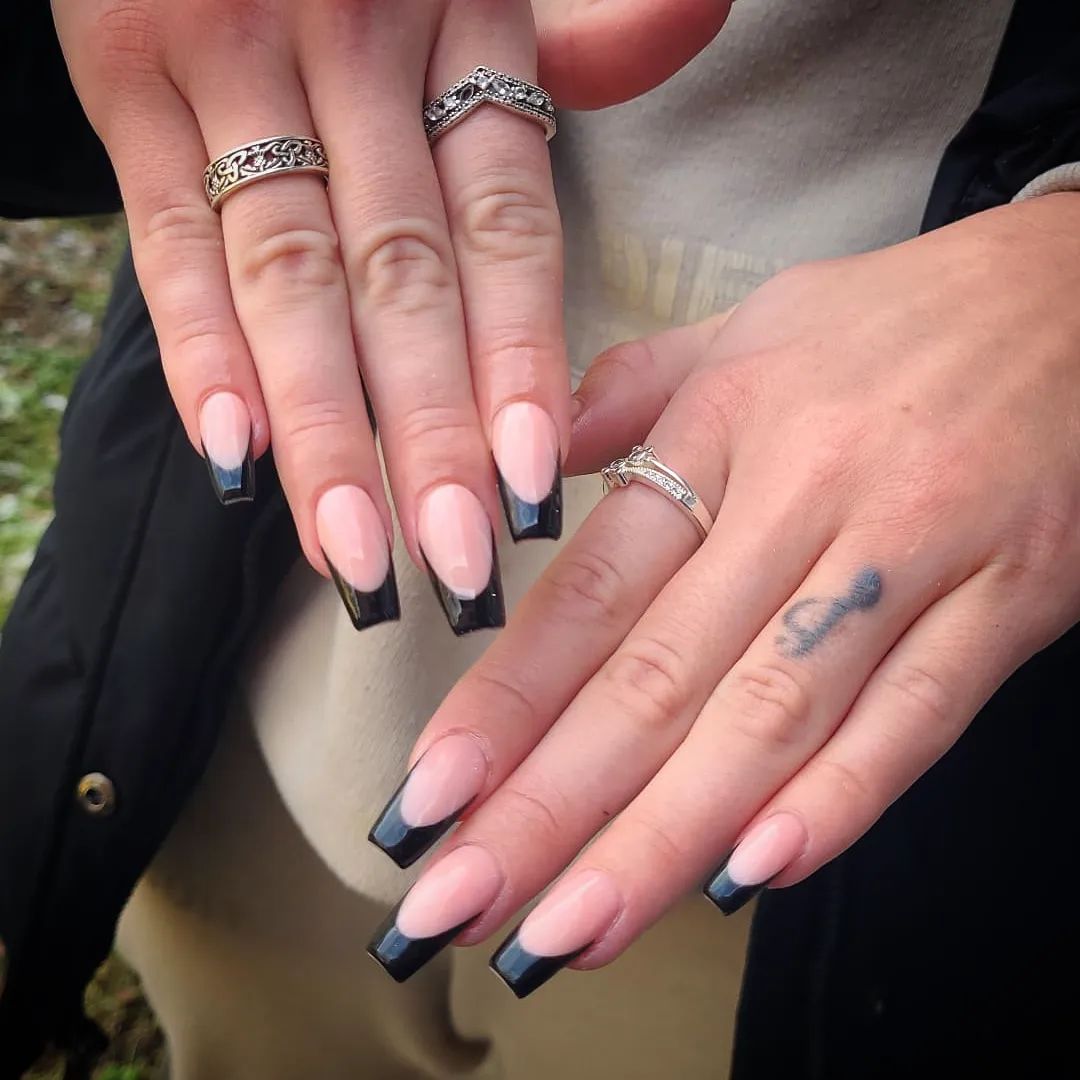 29. Edgy Black French Tip Nails With Flowers
30. Cobalt Black French Nails with Silver