If you're looking for a timeless and elegant update for your nails, look no further than red French tip almond nails!
French tips are an all-time classic when it comes to elegant manicures, and with the addition of bright red color they make a statement that's hard to miss. If you're looking to try this chic look for this season, we've compiled a selection of the best nail design ideas to help you find your dream manicure.
Why Red French Tips on Almond Nails?
Almond nails are pretty close to the natural shape of the nails, and even though it's not the first choice to create the French tip look, they allow you to make the tips of the nails much more noticeable and extend the design even further.
Even if you have shorter nails, you can pull off the look with the right design and color choice.
Red nail polish is the perfect choice to master this look as it's a color that fits any season or occasion. If you need an everyday manicure for the office, or fresh nails for your next day, red French tip almond nails will tick off both of the boxes and more.
How to Do Red French Tip Nails
To transform your nails with this manicure you need a few simple steps to follow.
You need to start with freshly cleaned up and tidy nails, without any dust residue. Brush them off properly to make sure you have a clean and smooth surface to work with.
Select your base color – to achieve the classic look, natural beige color tones work the best, but you can experiment also with milky white nail polish or natural shades of light pink.
Once you're done with your base color and let it dry properly, its time to create the design.
To create the French tips, you would normally use stickers that would outline the area you need to cover in red. You need to be careful to place those on roughly the same spot on each nail, so the size of your red tips is the same on all your nails.
Once you've got that measured up and the nail stickers in place, you can grab your red nail polish and get creating. The longer the nails are, the longer you can usually go with the French tips too.
30+ Prettiest Red French Tip Almond Nails
Are you ready to select your favorite manicure?
Whether you're heading to the nail salon or would like to try this design at home, we have selected plenty of ideas for any nail length – we're sure you will find lots of ideas you will love.
1. Mismatched Red French Tip Almond Nails
2. Bright Red French Tip Almond Nails
3. Heart Shaped Red French Tips
4. Dark Red French Tip Almond Nails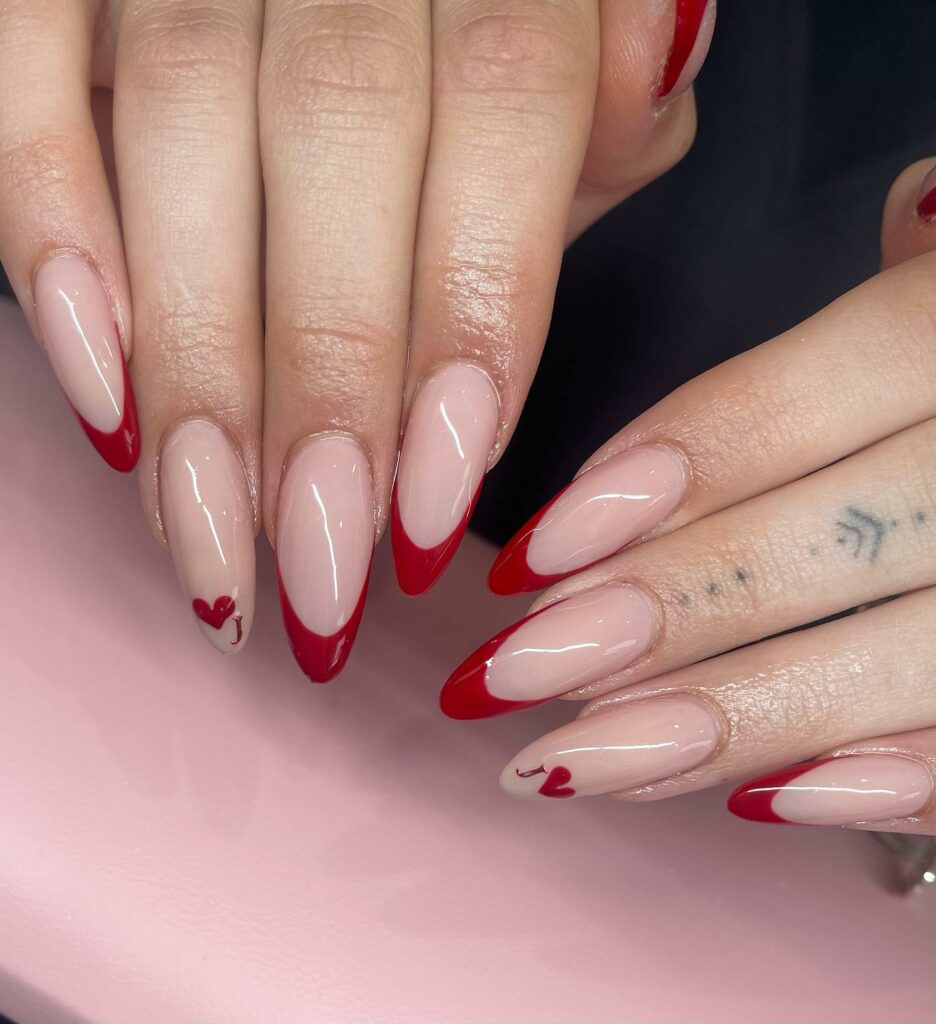 5. Holiday Manicure
6. Gift Wrap Red French Tips
7. Dark Red French Tips
8. Almond Shaped Red French Tips
9. Super Short Nails with Red Tips
10. December Nails
11. Glitter Red French Tips on Almond Nails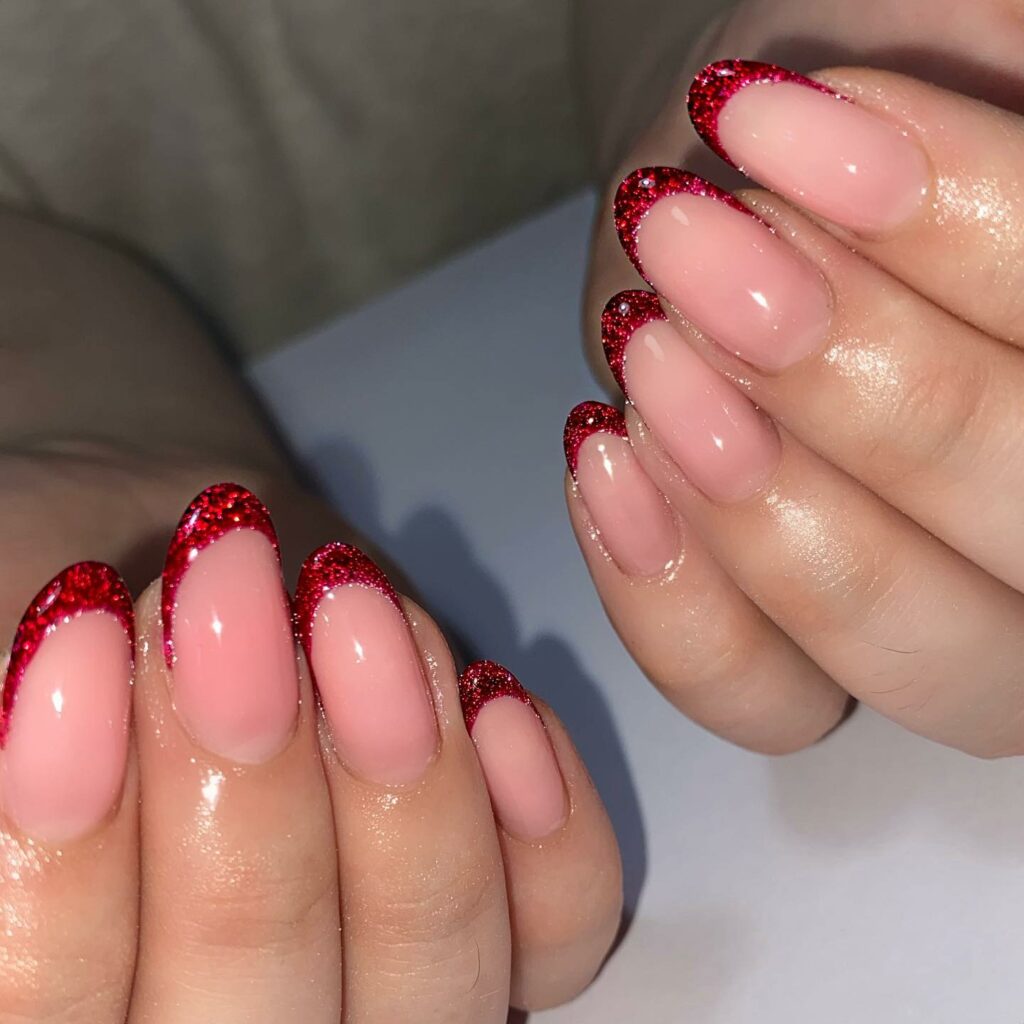 12. Summer Red Glitter French Tips
13. Long Almond Nails with Red Tips
14. Long Almond Nails with Red Tips
15. Alternating Red and Gold Tips
16. With Silver Star
17. Simple Elegant Red Tips
18. Tattoo Nail Art
19. Elegant Long Almond Nails with Red Tips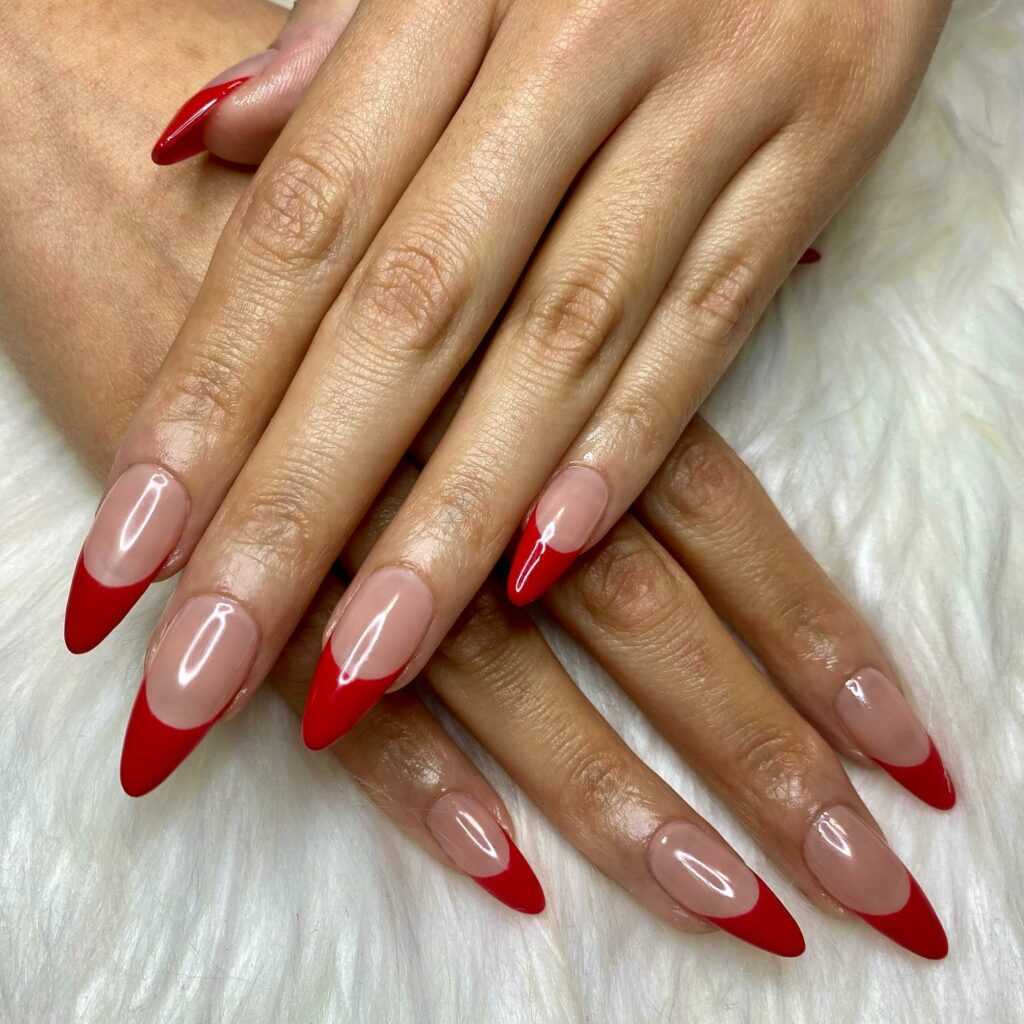 21. Romantic Manicure
22. Classic French Tips in Red
23. Black Middle Line Nails
24. Heart Nail Art
25. White Stripes
26. Gold Heart Detail
27. Long Red French Tip Almond Nails
28. Almond Red French Tips with Gemstones
29. Red Dots
30. With Flowers
31. Artistic Red French Tips
32. Black Nail Art
33. Sharp Red French Tips
34. Mismatched Summer French Tips