Summer pink nail designs just in time for the Barbie season and for the endless beach days that will fit any nail length and style!
The pink color is often associated with a feeling of timidity and rather affects our inner world. According to psychologists, it is usually preferred by more introverted individuals.
Gentle and delicate, it evokes early spring flowers, romance, love, and friendship. It is not by chance that it is also one of the most preferred colors for summer nails.
It allows multiple interpretations and comes in so many shades that it is suitable for every skin color and nail length and shape. Of course, before you choose your favorite shade of pink it's important to match it to your complexion so the shade you're choosing looks good.
The lighter and pale shades are more suitable for fair skin, and the dark and saturated ones – are for darker and tanned ones.
Not least, the best part is that summer pink nails could be matched with a lot of your colorful summer dresses and outfits.
In this article, we have prepared a curated collection of over 30 best designs for hot summer pink nail designs, in a variety of different shades, and options and shown on different nail lengths suitable for your summer outfits and dresses!
Trending Summer Pink Nail Designs for 2023
Pink nails can find a place easily into the list of timeless nail design ideas. Like with French tip nails and the passionate red manicure.
The pink color can never go out of fashion trend. All of the pink shades and ranges are so lovely, gentle, and elegant yet laid back and natural. There are countless ways to incorporate pink nails into your look, whether casual or formal.
If you want pure and innocent beauty and style in your hands, soft pink is your eternal and unfailing choice.
If you want to catch the eye, then pink metallic nails are the perfect way to make your manicure stand out, but stylish and elegant enough.
Сn other words, you have the opportunity to go completely out of your comfort zone and experiment at will: with a classic pink manicure, add a pinch of glitter or choose a muted matte shade. In conclusion – there are countless ways to wear summer pink nail designs boldly and proudly.
Here are just a few of our top choices:
light pink marble nails
pink marble French tips
pale pink nails with foil
pink animal prints
pink nails with lines
sparkle pink nails
pink matt nails
neon pink nails with rhinestones
nude pink nails
pink and yellow nails
Video Tutorial:
Check out this tutorial for hot DIY summer pink nail designs by Life World Women:
Best Summer Pink Nail Designs and Ideas
The pink manicure is suitable not only for summer but also for every other season. It looks beautiful and appropriate for any age, and it is suitable for any occasion.
You can wear it in your everyday life- from 9 to 9 and it is also a great choice for festive and special occasions. Last, but not least it also fits any nail shape and size. In other words, it is universal.
1. Neon Pink Nails
2. Dark Pink Marble Nails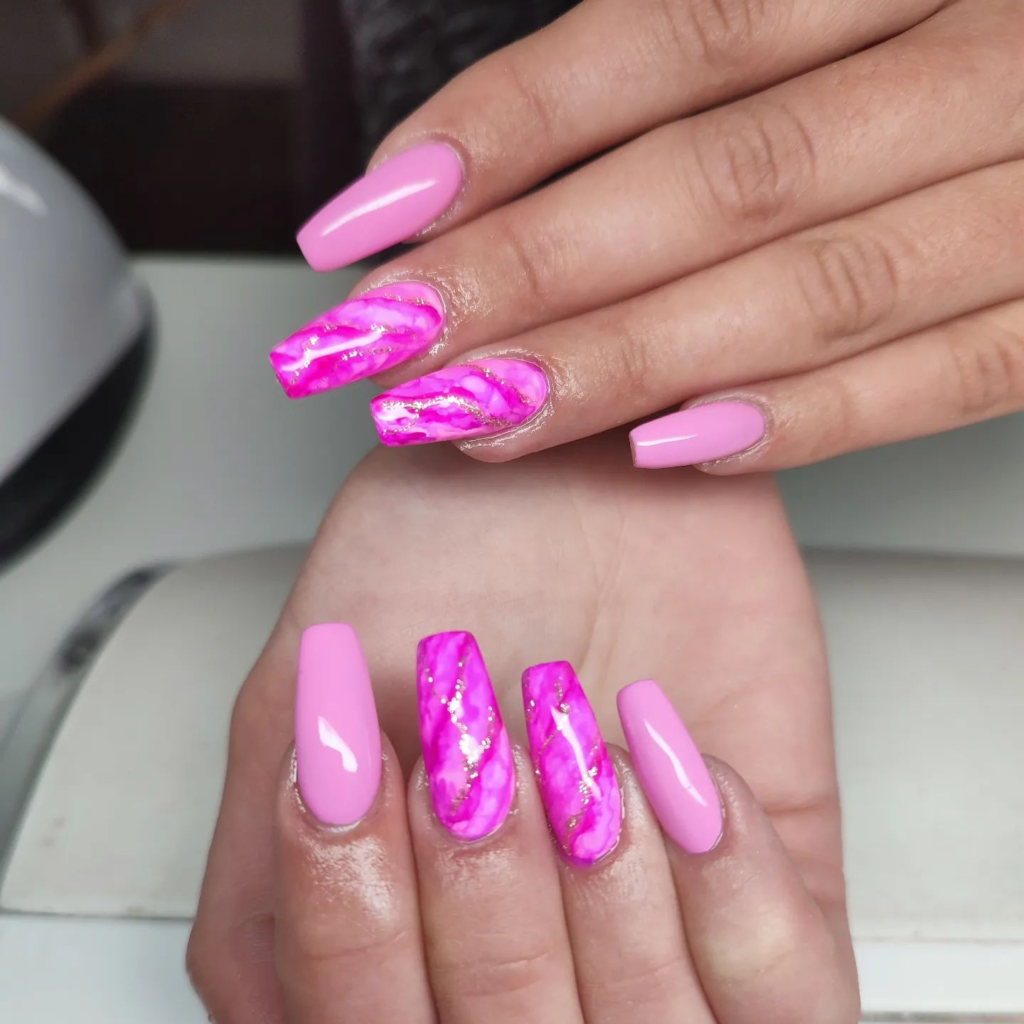 3. Pink Swirls
4. Light Pink Ombre with Silver Foil
5. Gold Foil on Dark Pink Ombre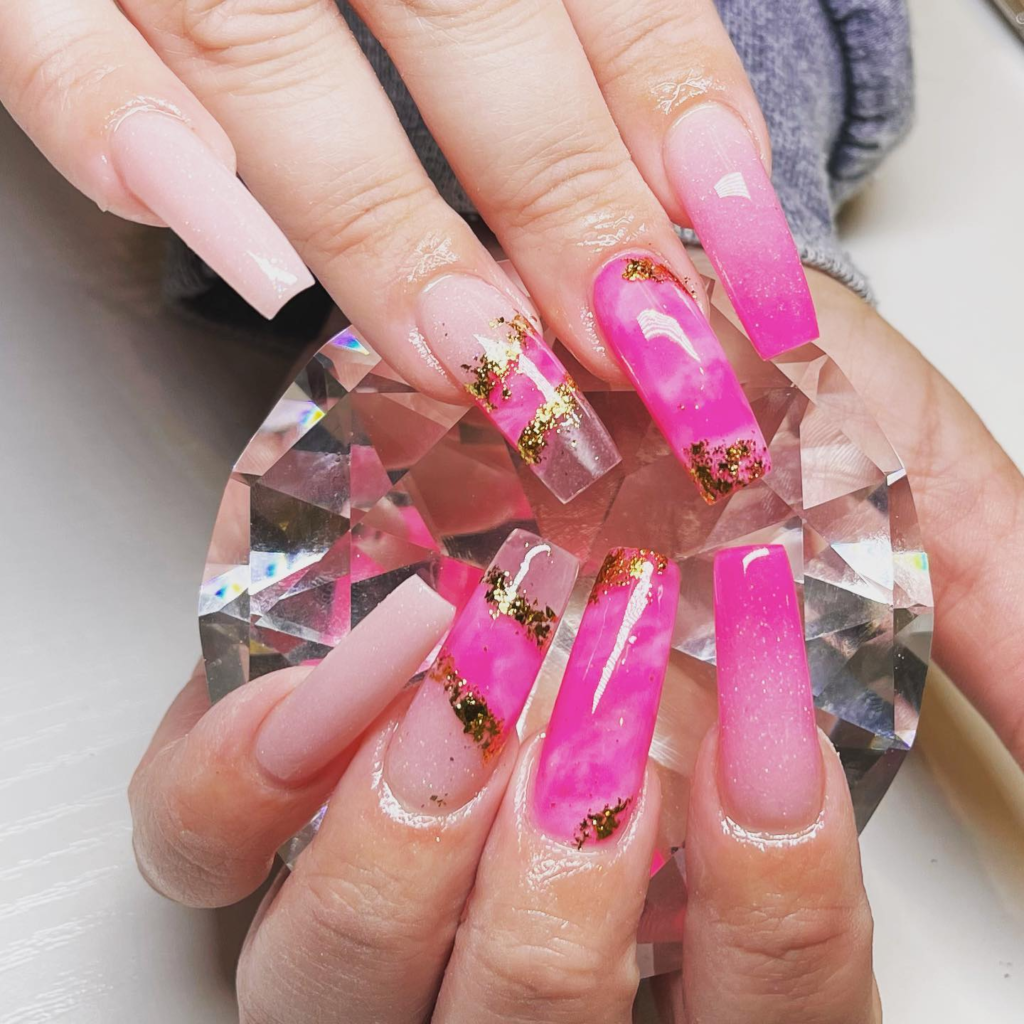 6. Pink Marble French Tips
7. Fuchsia Swirls
8. White and Pink Acrylic Marble Nails
9. Dark Pink with Arts
10. Acrylic Pink Marble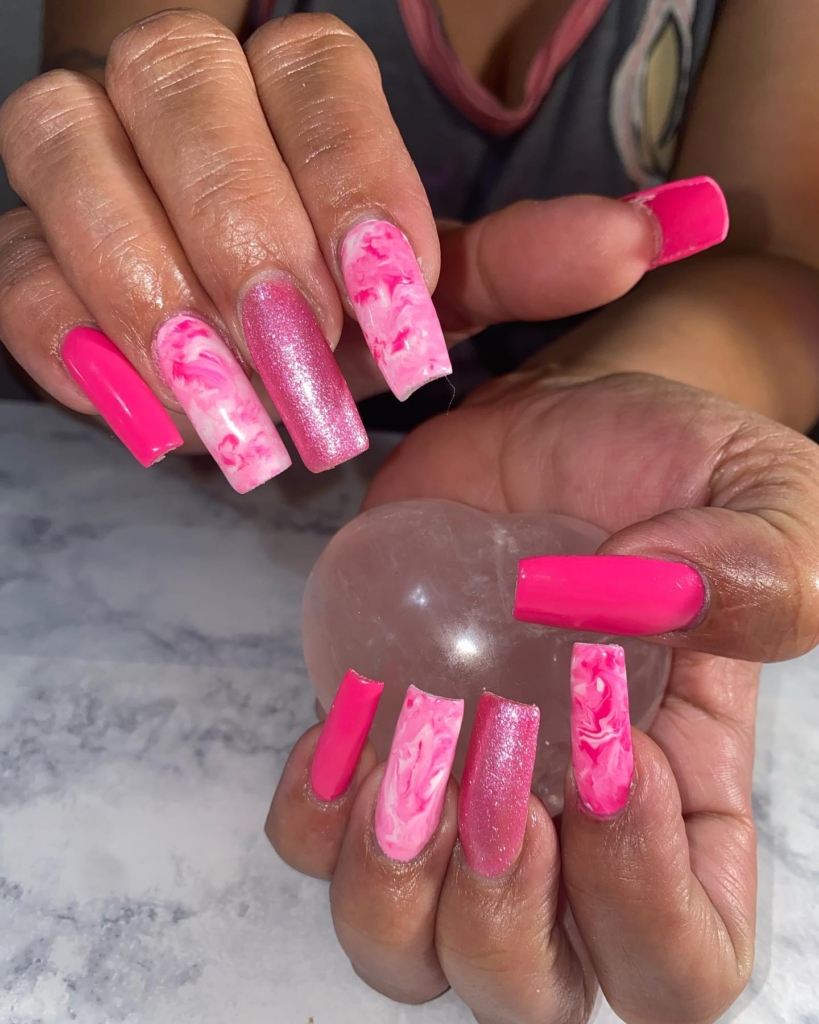 11. Two-Shades of Pink
12. Pink Animal French Tip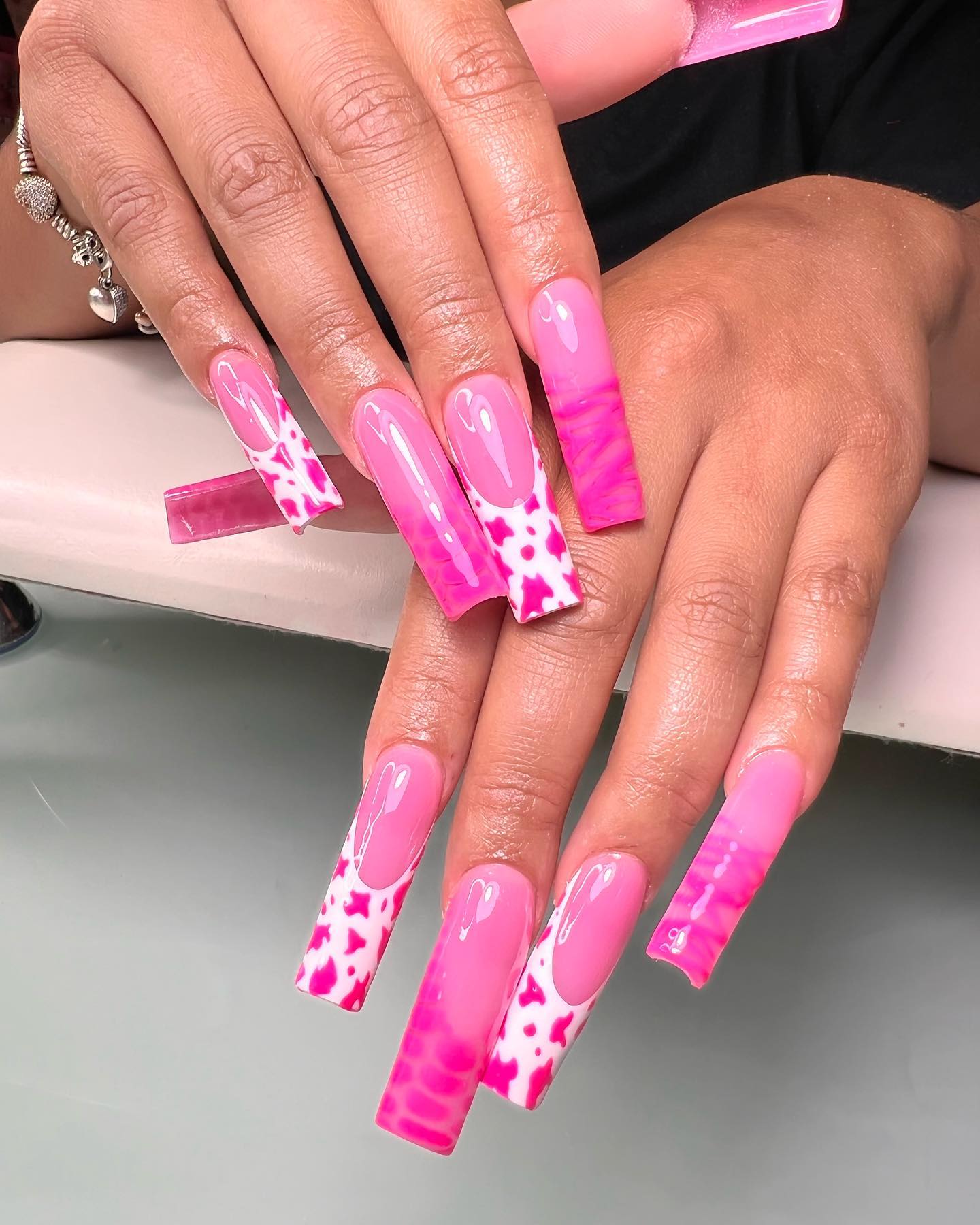 13. Pink and Shining Nails
14. Pink Nails with Lines
15. Matt Pink Marble Ombre
16. Summer Pink Nails with Flower Decorations
17. Pink French Tips with Lines
18. Pink Cow Nails
19. Pink Zebra Nails
20. Pink and Yellow Nails with Gold Lines
21. Fuchsia Swirls
22. Pink and Yellow Nails
23. Dark Pink Nails with Swirls
24. Summer Pink Ombre Nails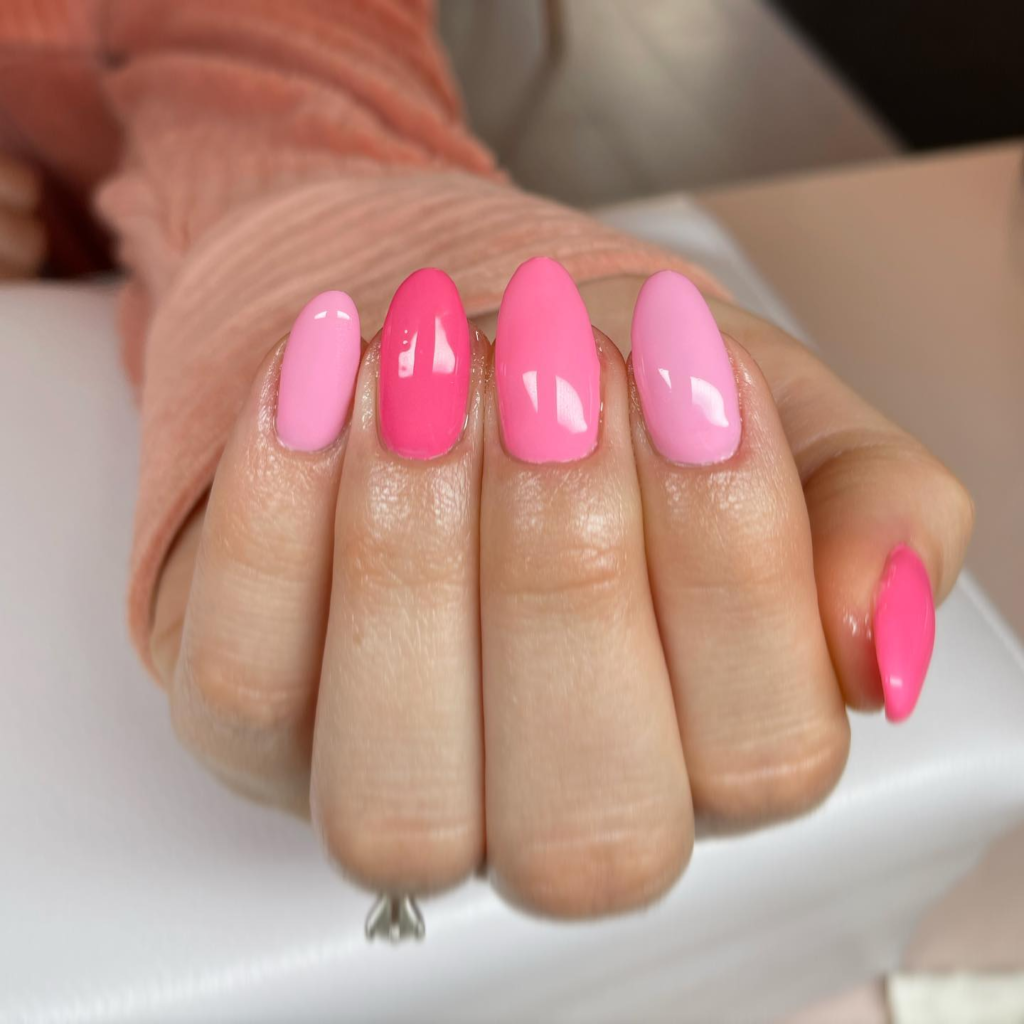 25. Pink Acrylic Nails with Art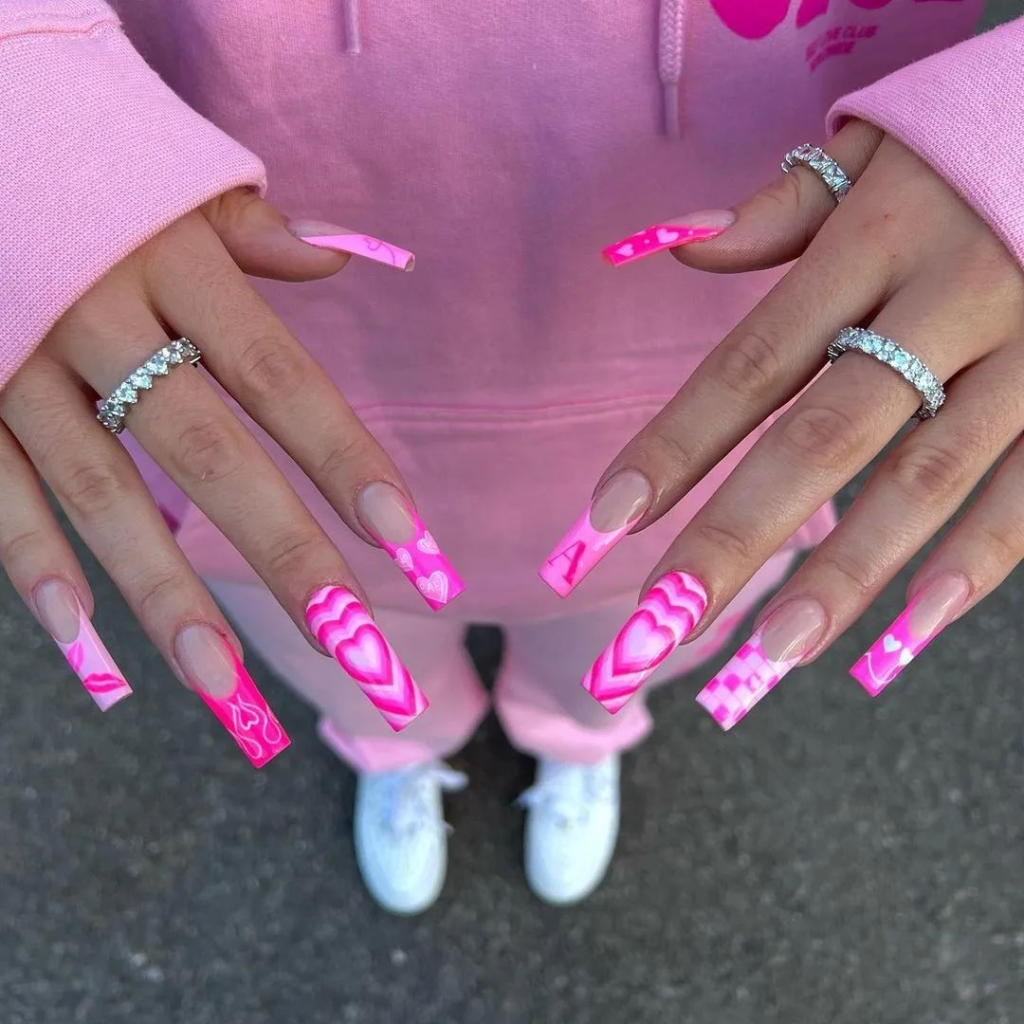 26. Pink Nails with Red Lines
27. Light Pink French Tips with Silver Lines
28. Pink Nails with Glitter Swirls
29. Short Almond Pink Nails
30. Pink and White Short Nails
31. Gold and Pink Marble Nails
32. Light Pink Acrylic Nails
33. Short Almond Pink Cow Nails
34. Short Pink Coffin Nails
35. Marble French Tip Coffin Nails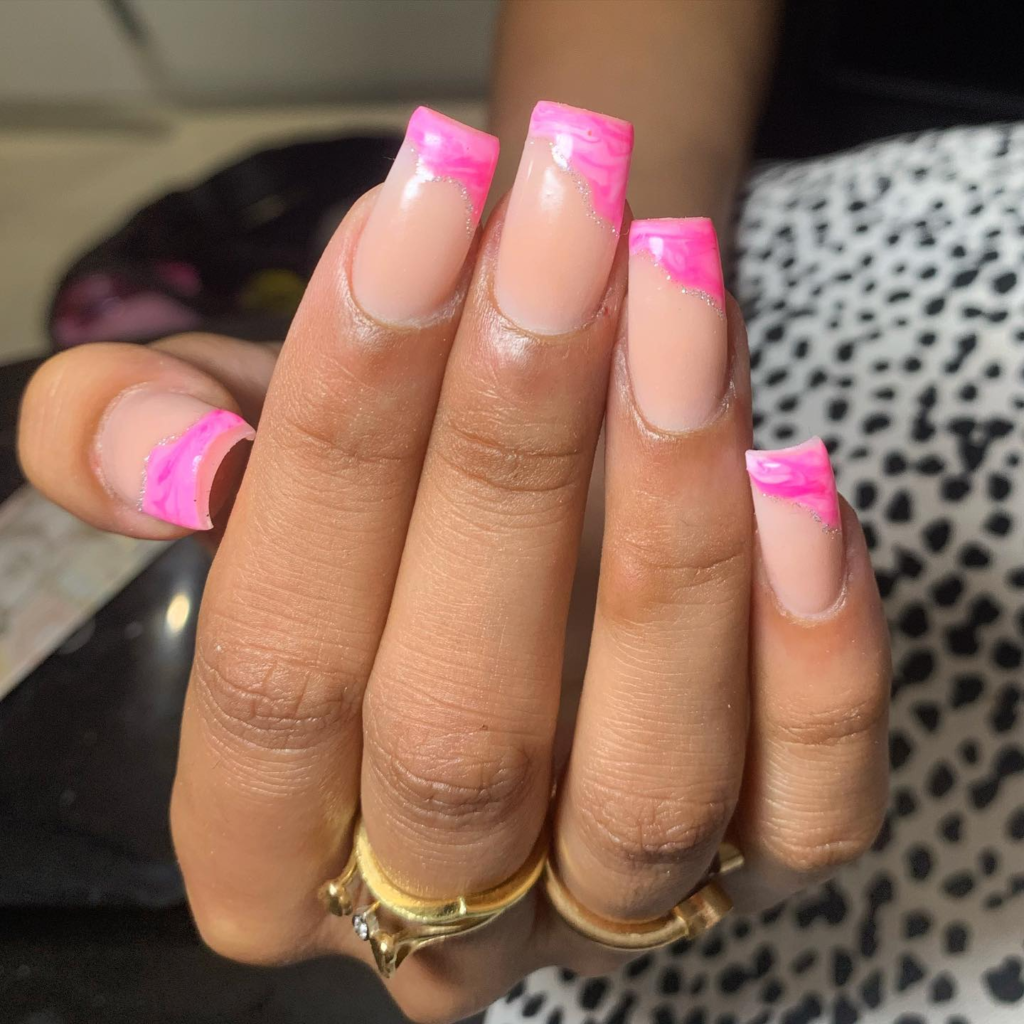 36. Acrylic Marble Nails
37. Almond Pink Marble Tips
38. Dark Pink Marble Nails