We love the fall! In celebration of pumpkin spice season, we've decided to put together a collection of orange fall nails! As the title states, these make for the perfect seasonal manicure!
Autumn is a magical time of the year. The trees are changing color and crops are getting ready for harvest.
It's a symbolic time, so why not celebrate with a manicure?
If you love the magic and coziness of fall, these nails are the perfect way to celebrate it! And nothing looks better holding a cup of pumpkin spice than these gorgeous orange fall nails!
We've rounded up the hottest looks for this season!
We will show you the latest trending designs, beautiful pictures for inspiration, and even a video tutorial so you can get a cozy fall look for yourself!
But wait, there's more! We know what it's like to put a lot of work and pride into our nail game.
We don't want our nails to fade away before the seasons! So, just for you, at the end of the article we've also provided some quick and easy tips for keeping your look fresh for as long as possible!
Trending Designs for Orange Fall Nails
Dark orange acrylic base with marbled gold.
Burgundy base for thumb, pinky, and ring finger, middle finger white acrylic base, pointer finger orange with glitter.
Clear base with orange French tips and golden striper line.
Deep orange base with golden or brown nail art.
Brown base coat for thumb, orange base for ring finger, yellow base for middle finger, red base for ring finger, burgundy base coat for pinky with clear French tips with a golden striper line.
Video Tutorial: Orange Fall Nails
This video tutorial will show you everything you need to know to achieve a perfect fall look!
30+ Ideas for Orange Fall Nails
These orange fall nails are as fun to look at as they are to wear! You're going to love looking through these gorgeous ideas! So sit back, relax, and enjoy these inspirational styles.
Almond Orange Fall Ombre Nails
Short Sparkling Orange Fall Nails
Elegant Short Orange Fall Nails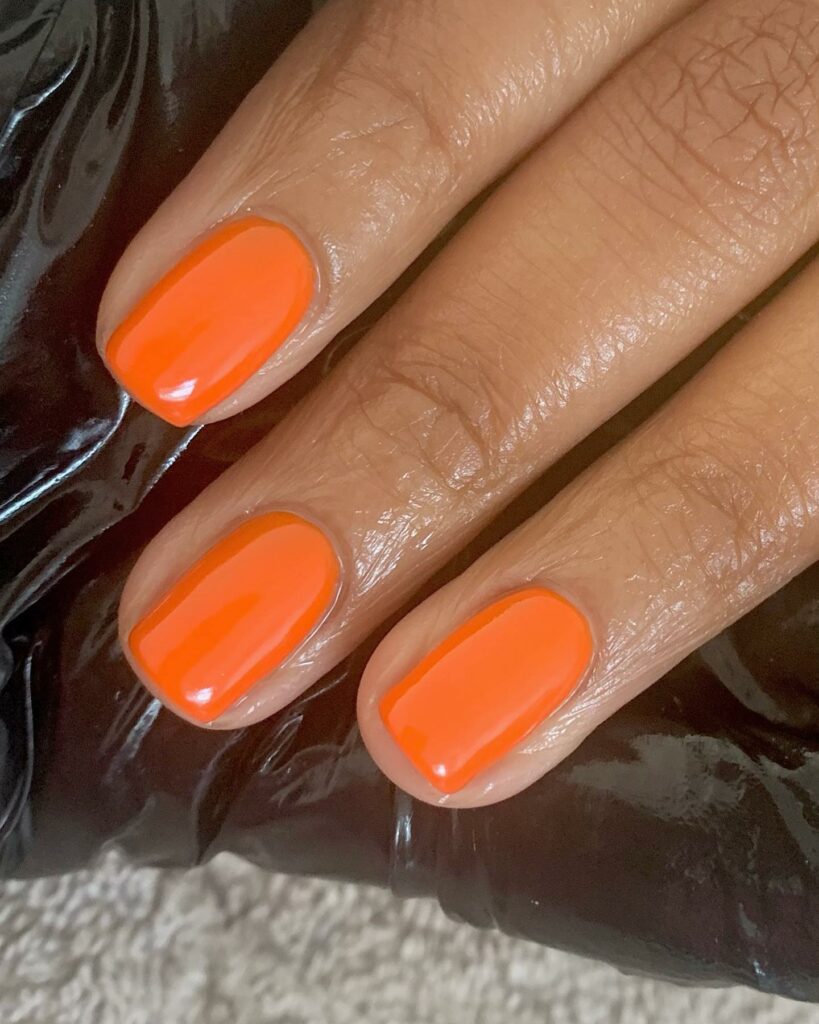 Orange French Tips with Gold LIne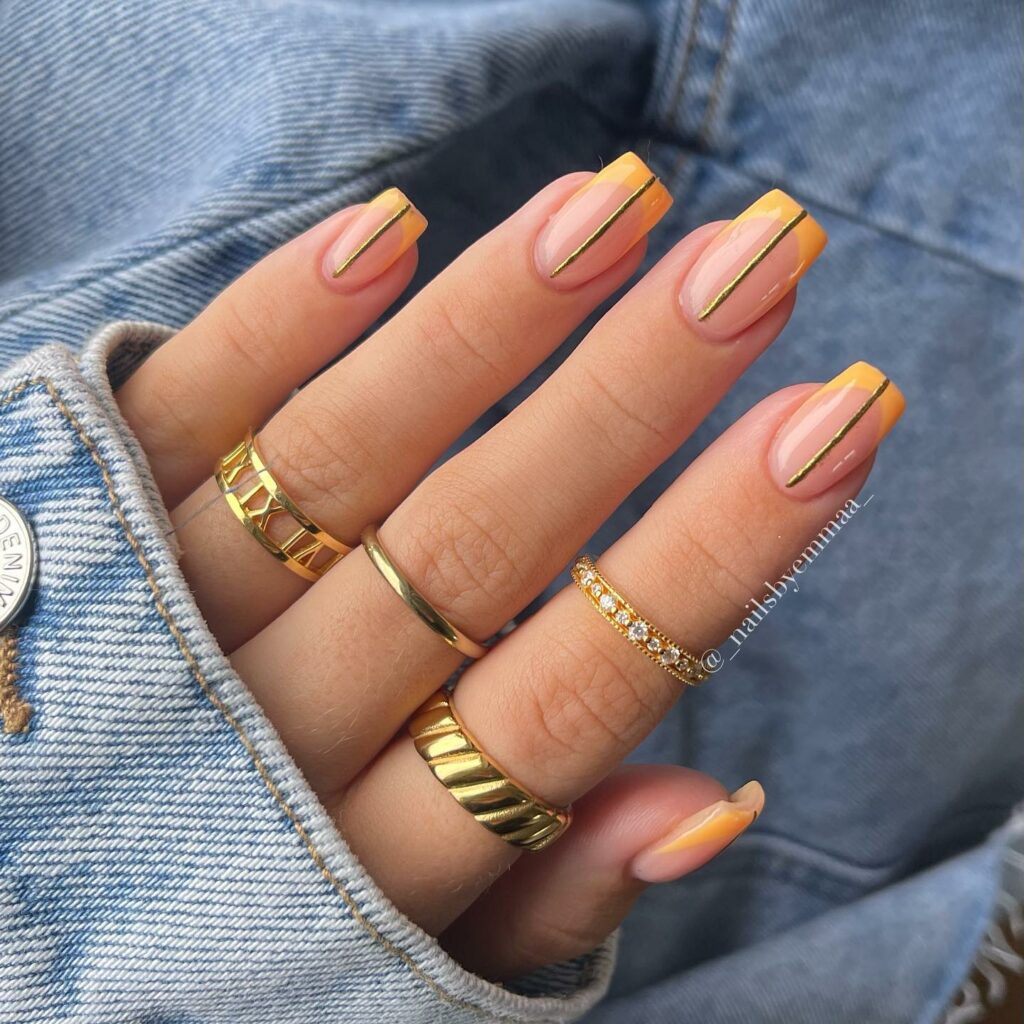 Orange Sparkling Lipstick French Tips
Short Square Orange Fall Nails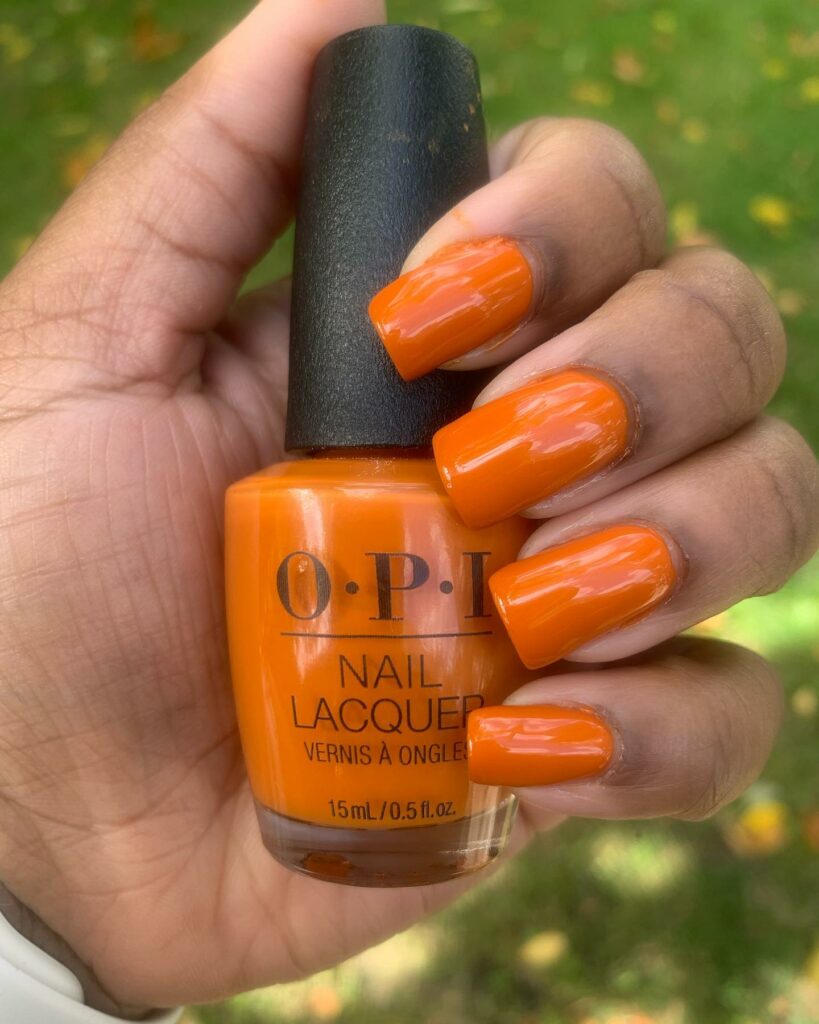 Glitter Coffin Nails
Gold Foil Orange Fall Short Coffins
Orange Fall Nails with Leaves
Orange Fall Ombre Coffins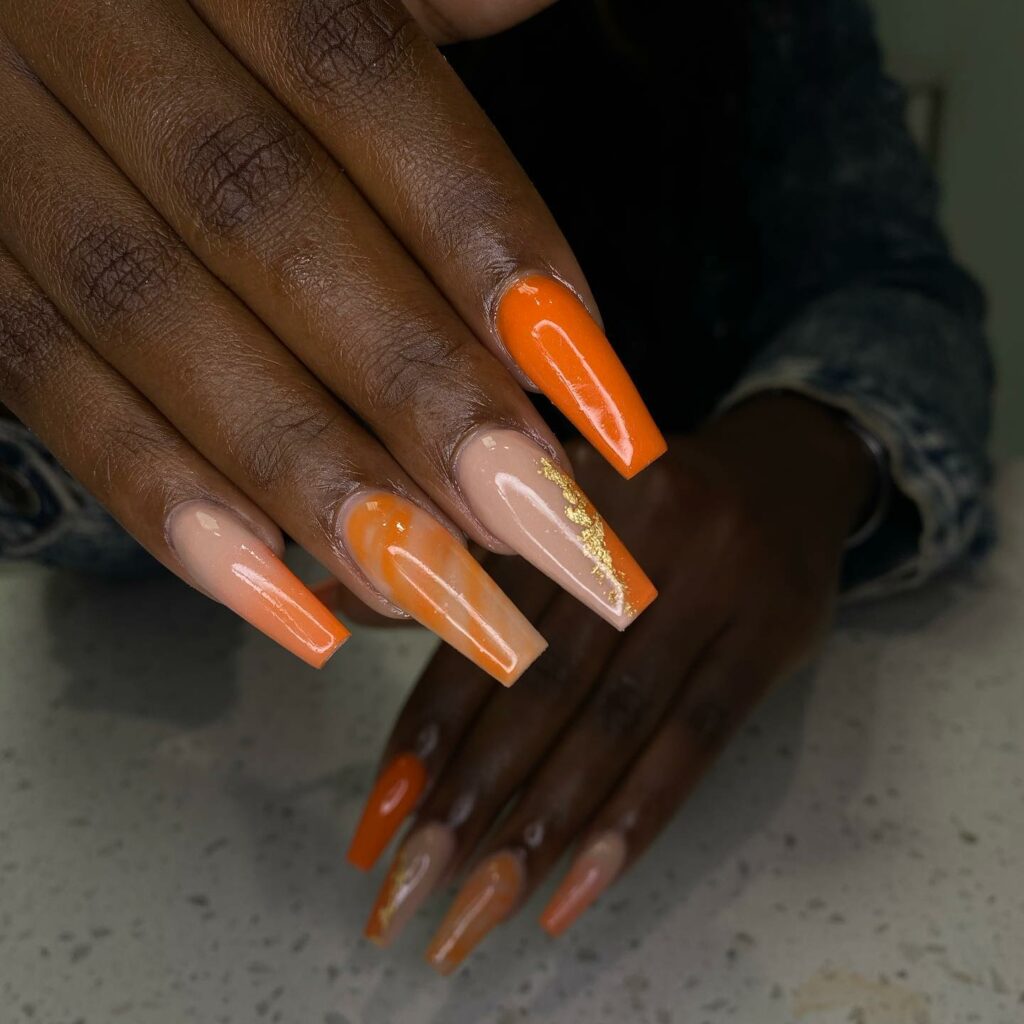 Orange Gold Leaves on Coffins
Short Orange Fall Nails with Flowers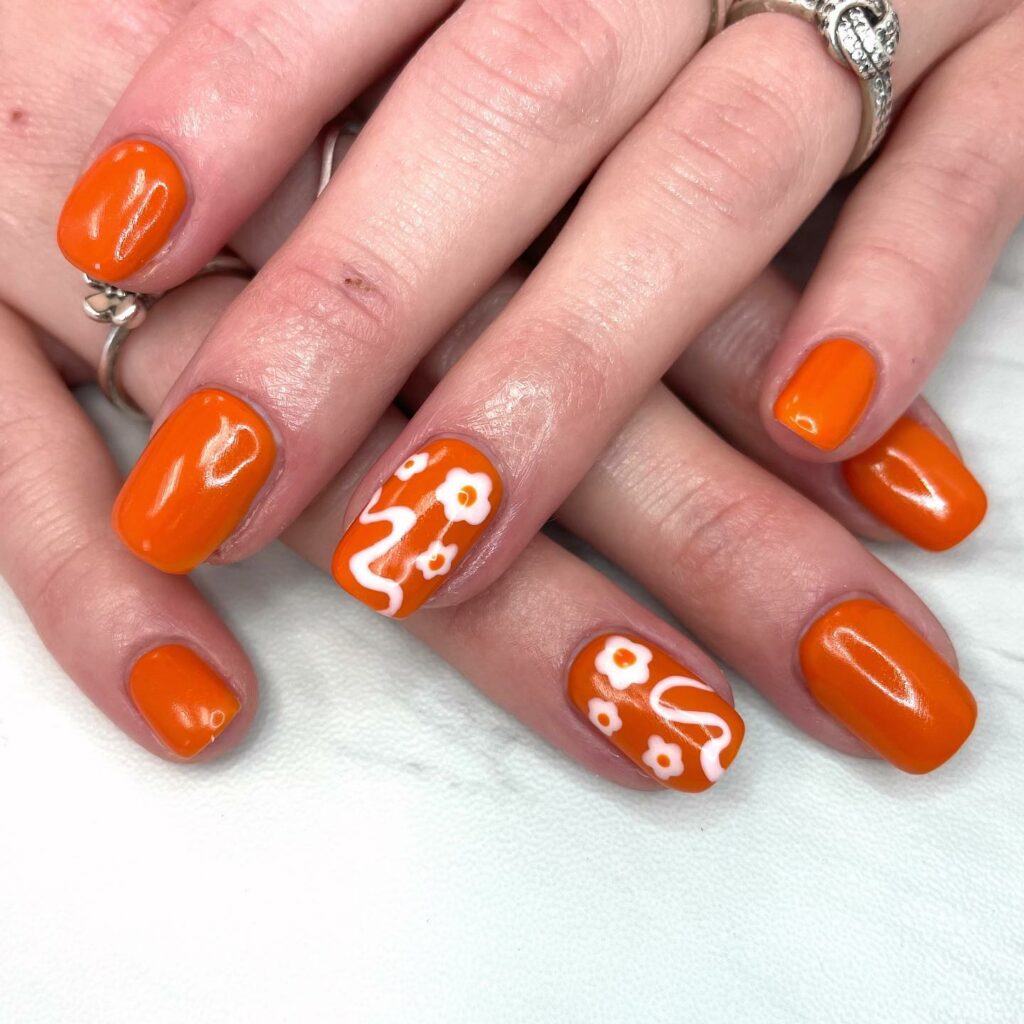 Orange Halloween Coffins
Square Naisl in Orange and Gold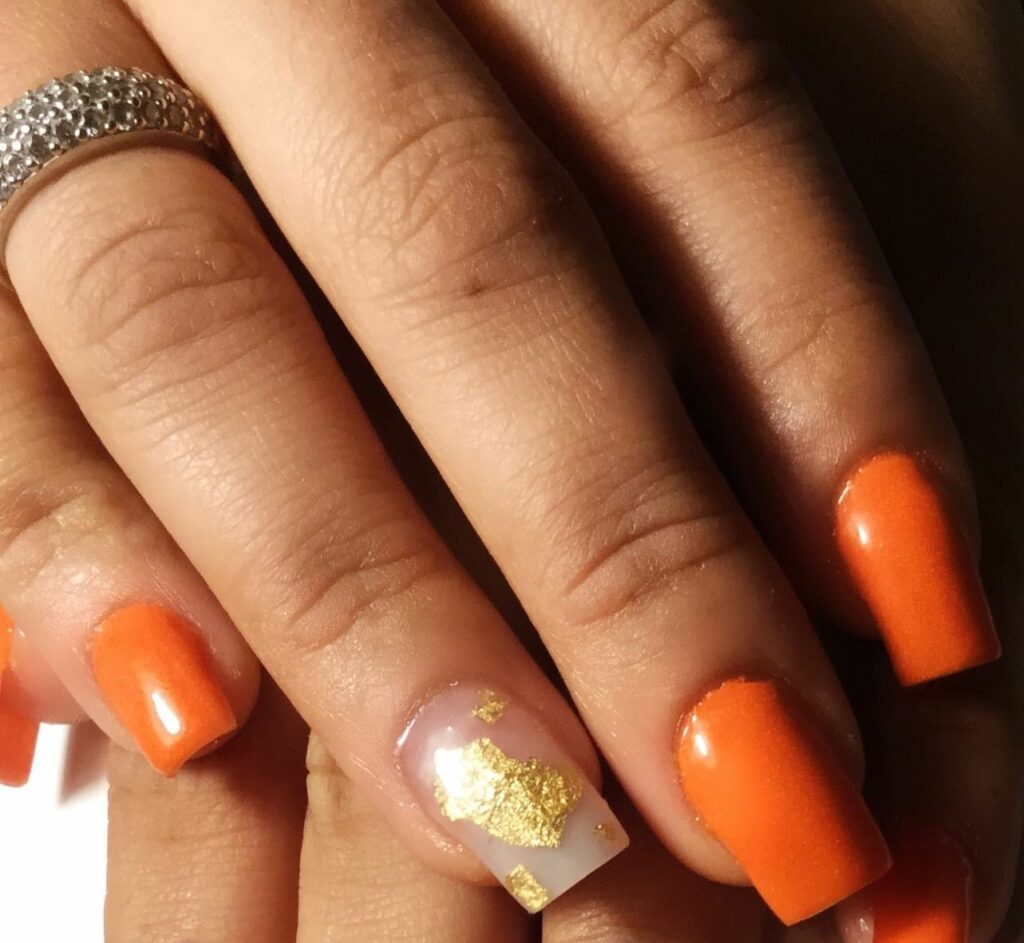 Long Orange Square Nails with Glitter
Fall Leaves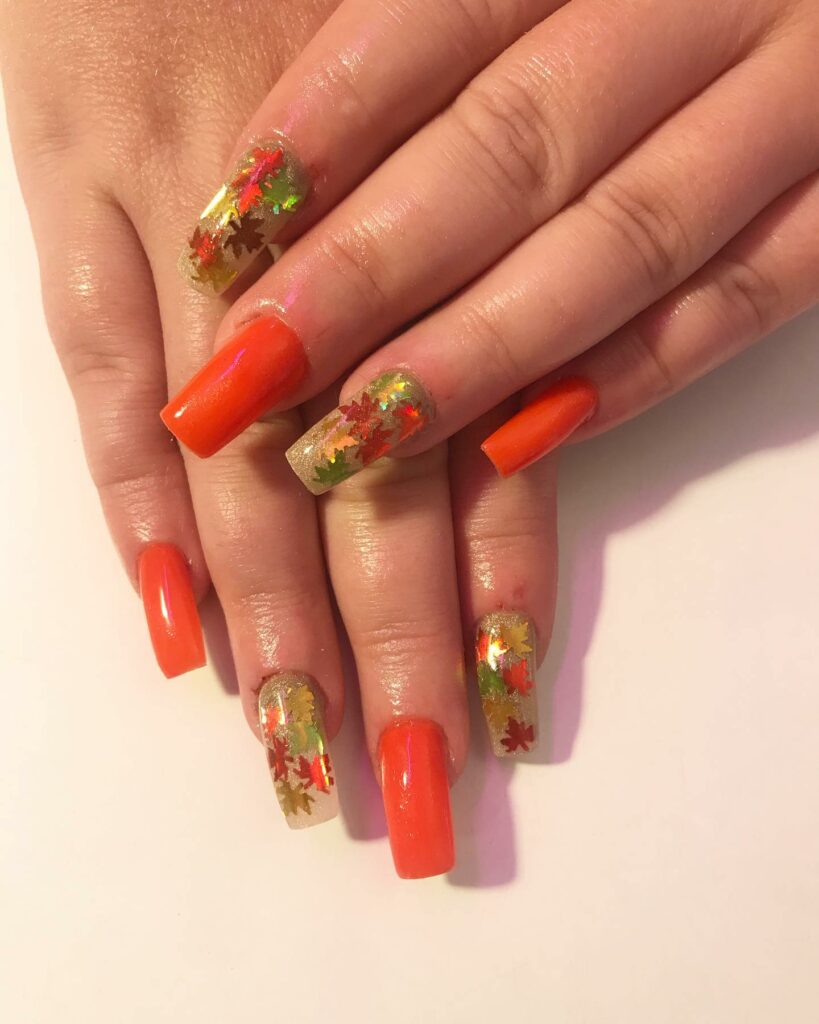 Acrylic Coffins with Orange Flowers
Matt Orange Fall Nails
Coffin French Tips with Leaves
Fall Orange Marbles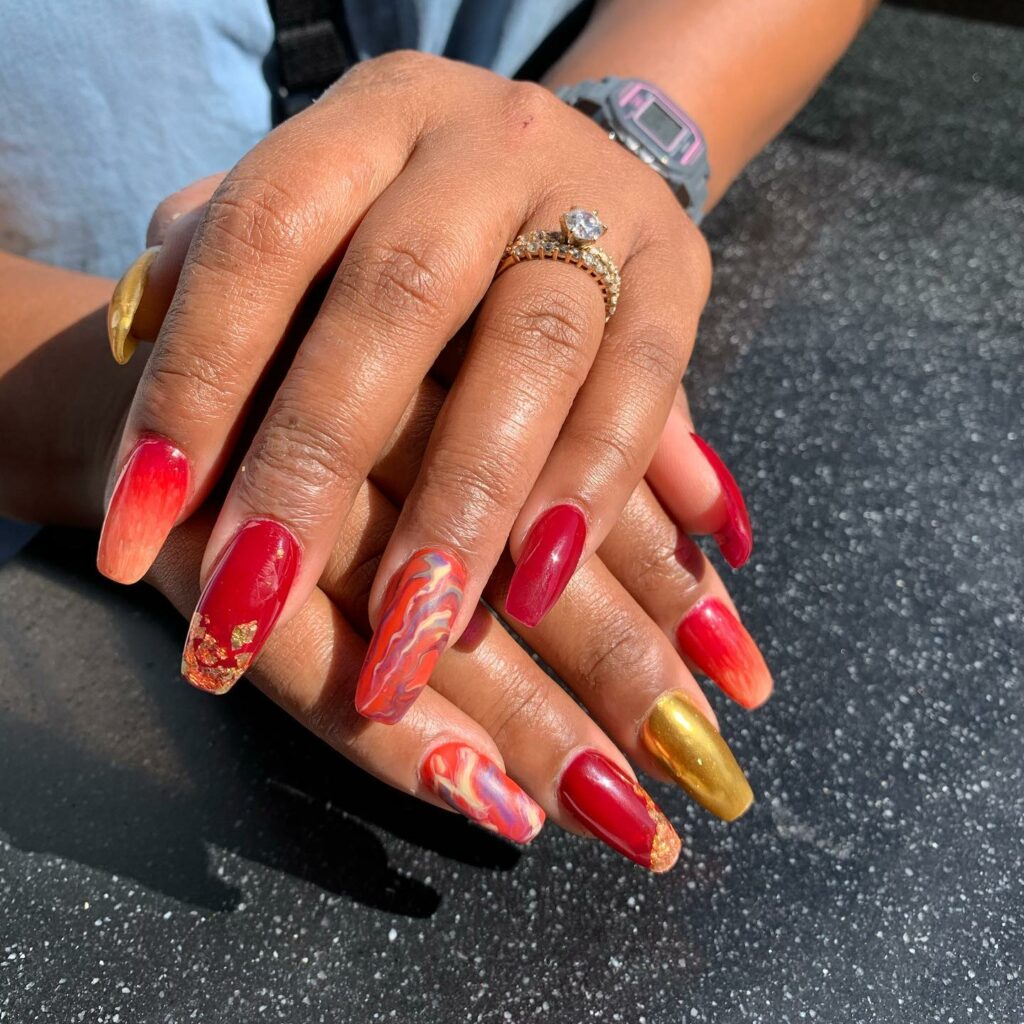 Orange Halloween French Tips
Dark Orange Short Nails
Mount Peak Orange Ombre
Chrome Orange Fall Nails
Fall Pallete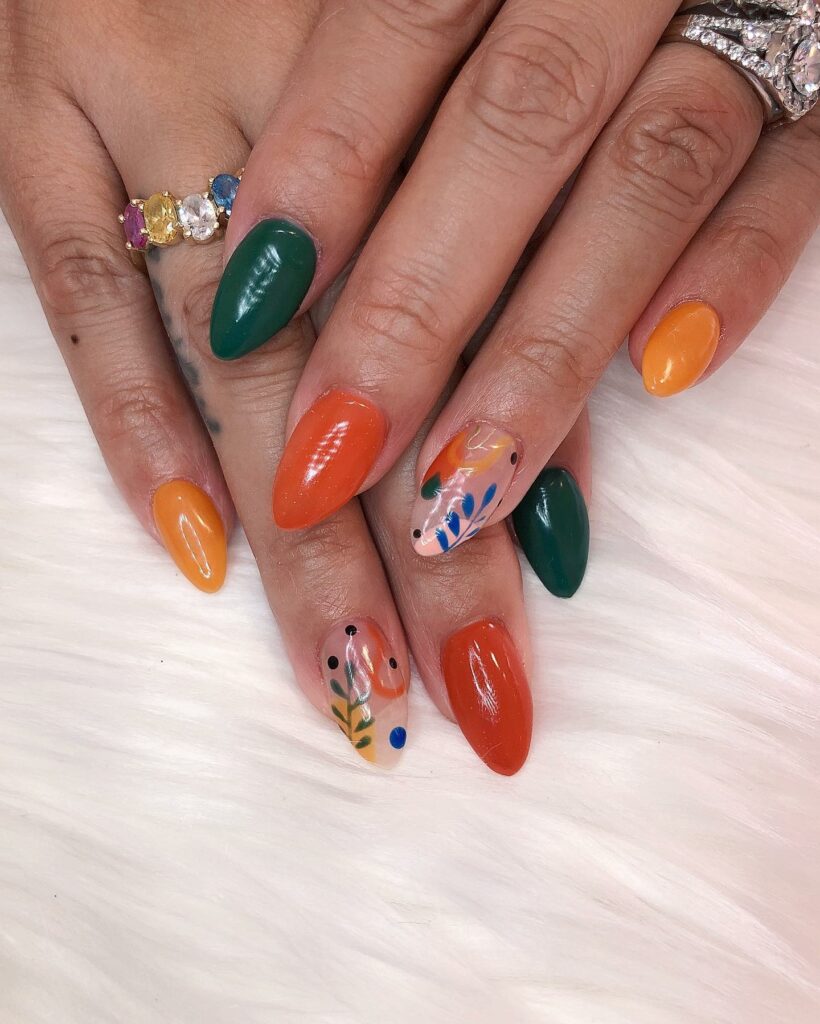 Bright Orange Fall Nails with Swirls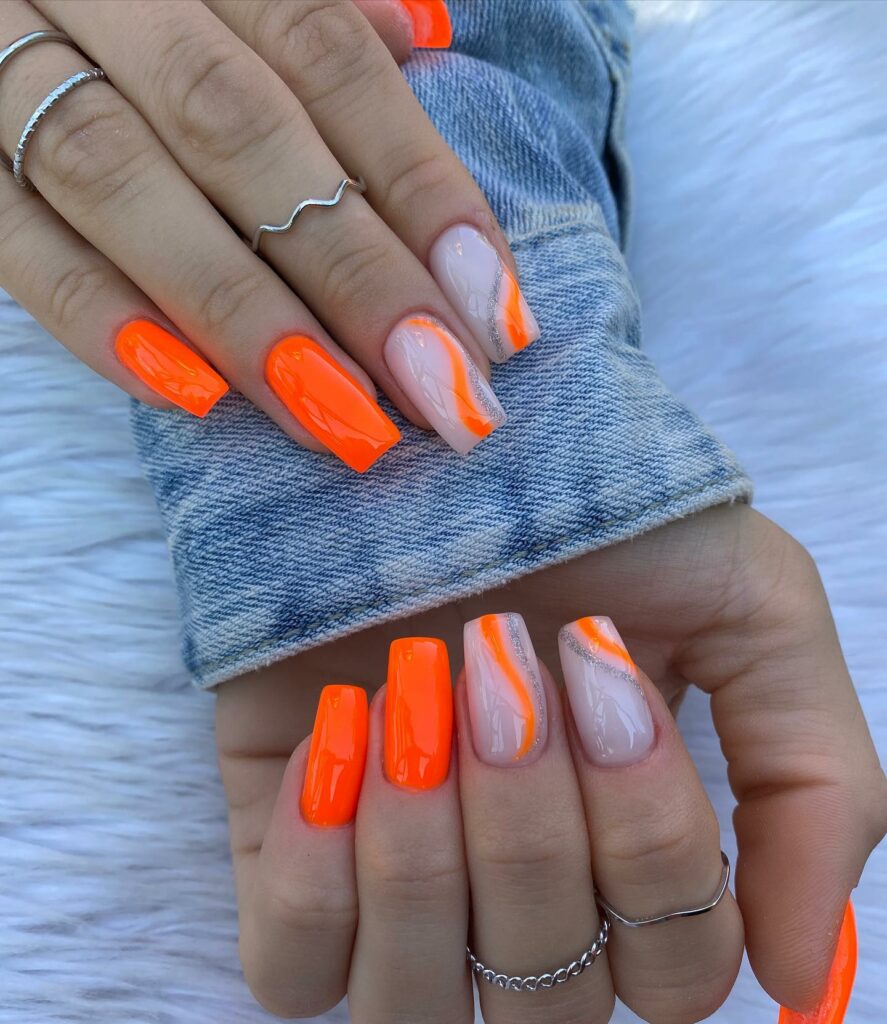 Stiletto Orange Fall Nails
Short Coffins with Orange Fall Leaves
Orange and Brown with Stripes
Orange Fall Nails and Leaves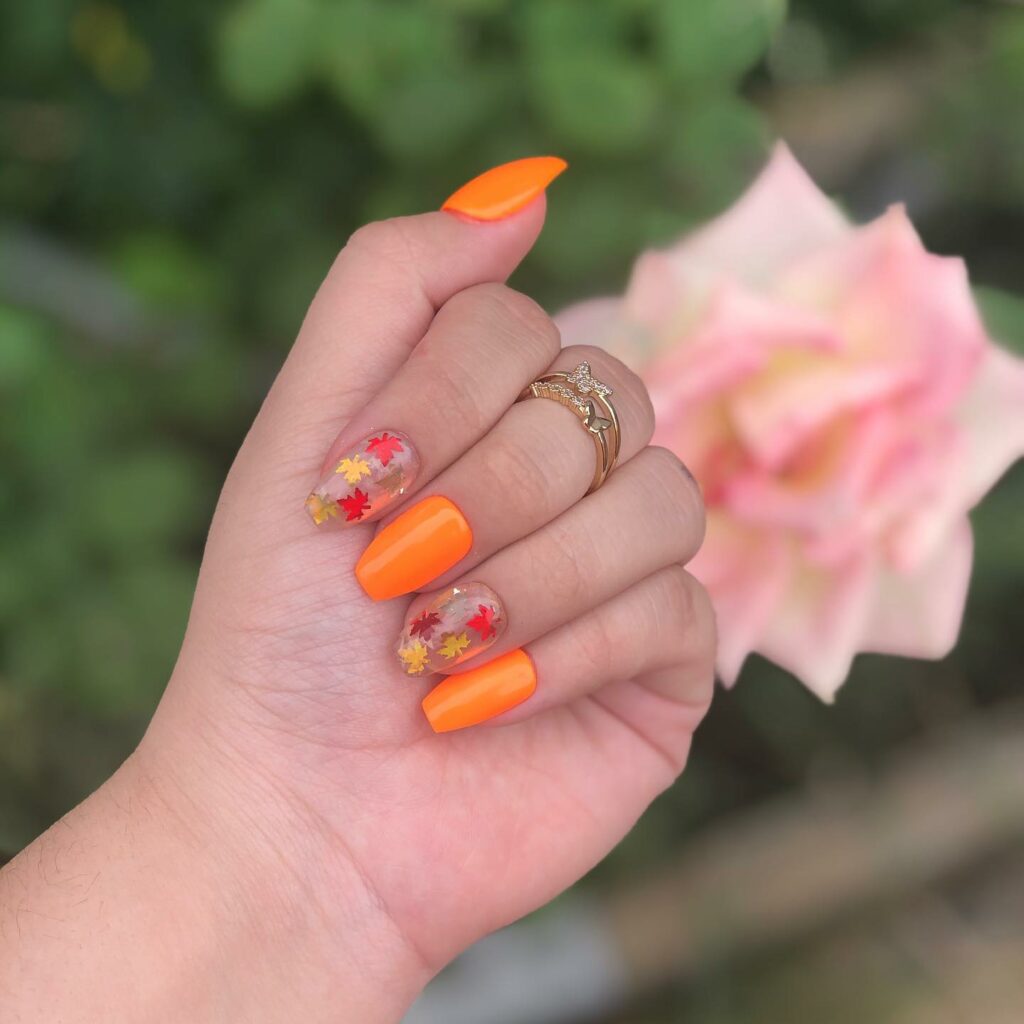 Trick or Treat Fall Nails
Orange Almond Halloween Nails with Ghosts
Pumpkin Latte Nails
Orange Ombre with Spider Webs
How to Take Care of Your Orange Fall Nails
So you've got your perfect orange nail design for fall! Now what?
Keeping it crisp like an autumn leaf is a good start! First things first, you will want to make some proactive choices before you ever begin your manicure.
If you're thinking about cutting your nails, do it before the manicure is done! Cutting or filing your nails afterward can damage the look. Short nails keep manicure styles longer anyway, so consider keeping your nails nice and trim!
Next, you will want to avoid hot water like the plague! Nothing damages a manicure faster than prolonged exposure to hot water or chemicals. Where possible, use lukewarm water or wear gloves to protect your beautiful hands!
On the topic of washing hands with hot water, it's important to avoid using hand sanitizer as well. The alcohol is a problem for a fresh new manicure because (or any manicure for that matter!) because we really don't want to dry our nails out if we want a manicure to last. Hand sanitizer also obliterates the top coat, and makes it more likely for our beautiful creations to become damaged.
Another important thing to remember is to use cuticle oil daily! This helps to improve circulation and can give a beautiful shine to your look. More importantly, it acts as a barrier to debris that could damage your nails.
Freshening up the top coat is another great way to keep your manicure safe. Doing this every few days is a good idea if you want your look to last as long as possible!