Did you know French manicure doesn't originate from France?
The chic design was first introduced by a beauty supplier in Hollywood. He tried to do a nail design that could suit all the outfits. Classic French manicure has been popular all over the world since then. But now ladies are bored and trying something different like diagonal French tip nails.
Yes, the trend is back with a twist in 2023.
In this blog, we'll tell you the techniques of doing French tip nails with a diagonal pattern and ideas for trends in 2023. Moreover, you'll also get to know a DIY method.
30+ Ideas for Diagonal French Tip Nails
Want a twist on the classic French tip nails? Go for diagonal French tip nails. Here are some of the best ideas you can follow.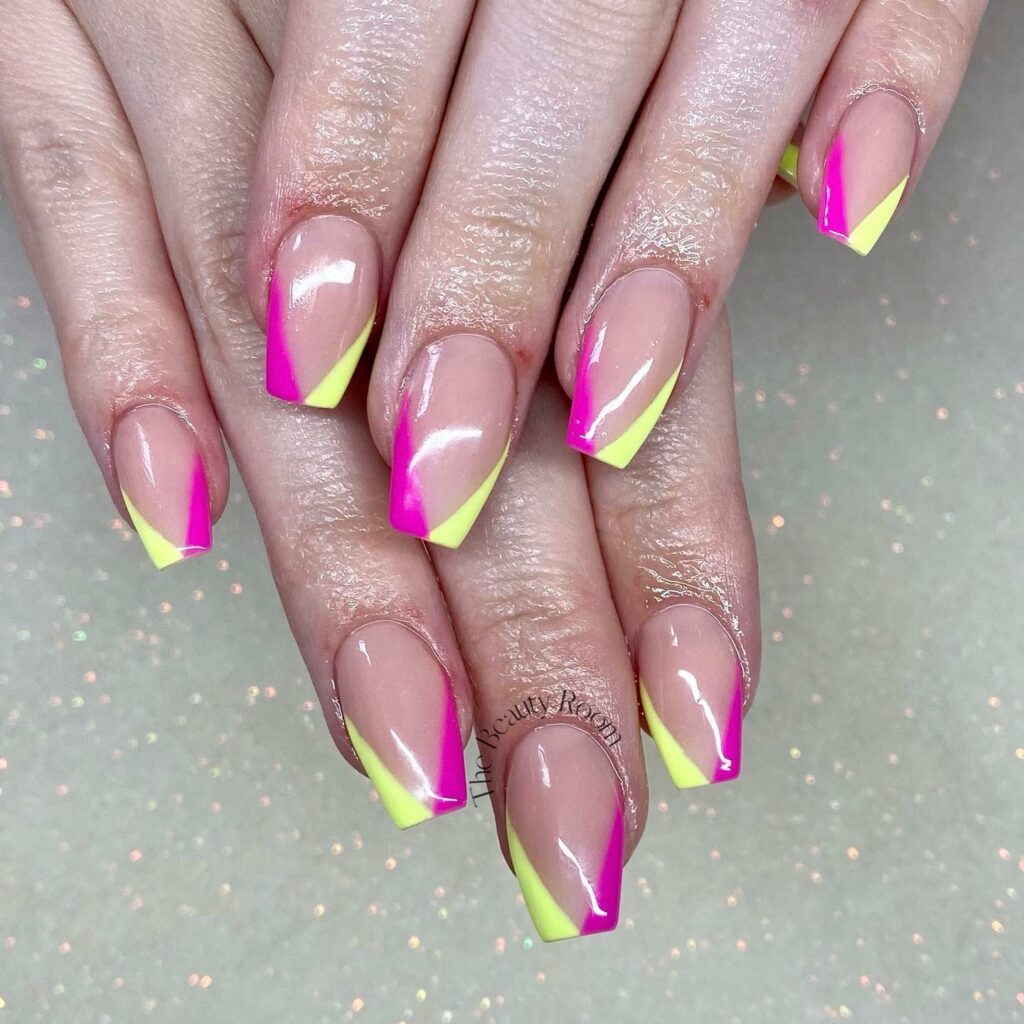 Diagonal French Tip Nails: How to Achieve the Look
You might be wondering how a perfect diagonal line is applied in french tip nails. If you've mastered a french manicure, nothing's difficult for you.
Diagonal french tips can be quickly done with the help of a stamper or a makeup brush.
Scroll down to check "How to do diagonal french tip nails at home?"
2023 Trends for Diagonal French Tip Nails
Looking for the top 2023 trends to slay your high school days this year? Follow these trending ideas to look exceptional yet the most fashionable.
Black Diagonal French Tip Nails
White French tips are no doubt classic but they sometimes don't excite you.
Why not replace it with black to make your nails more dramatic? This new trend is turning heads in 2023.
Mix Ocean Blue With Sky Blue on Your French Tips
If you love nature, you prolly gonna love this one.
Make your nails look deep while limitless at the same time. One coat of deep ocean blue color with another of limitless shades of sky diagonally applied on the french tips.
Bloody Red with Diagonal French Tip Nails
Want to look minimal yet bold at the same time? Go for bloody red instead of white in your diagonal French nails. This is going to be many's favorite winter look this year.
A mix of Pastels on Your French Tips 
So you're a cute girl team and you want to look different with the typical French tip nails. Try pastels on your french tips to make them sugary. You can choose bubblegum pink, ice blue, or sage for it. 
How To Do Diagonal French Tip Nails at Home
Diagonal French tip nails are easier than the classic ones. Can't believe it? Here is the recipe to make you believe it:
Shape your nails. Trim them if needed. Remove the already applied nail color.
Apply a base color of your choice. Let it dry before moving on to the next step.
Take a makeup sponge. Cut it according to your nail shape.
Apply your desired tip color on the makeup sponge in a line.
Now hold the makeup sponge in a diagonal direction and press it onto your nail.
Repeat it if you haven't got the desired finish.
Finally, apply a top coat or sheer color to finish it off.
Final words
Diagonal French tip nail art is a popular trend this year to upgrade that typical french manicure.
Ditch the always-done white with some exotic colors like black or bloody red.
Or go for pastel pink and blue hues. So which French nail trend is your most fav this year?