Oh we are so excited about Easter! All the chocolate, festivities, gatherings… and most importantly – the perfect excuse to update your manicure!
If you're looking for some Easter nail design suggestions for your almond nails, you came to the right place! Our team has worked hard to curate this collection of over 20 cutest designs that are perfect for almond nails, and beautifully capture the essence of the season.
Head down below to check them out, or read our tips for trending easter nail designs for this year! Enjoy!
2023 Trends for Easter Almond Nails
Easter Bunny Nails – these are probably the cutest option for your Easter manicure. They come in a variety of designs, so you can go as detailed as you can, or just do a simple outline and everyone will get the message. Bunny nails are best to do at a nail salon as they require a bit of precision, but there are also some simplified designs you can try to do at home.
Easter French Tips – French tips are popular all year round, and for Easter, the manicure just gets a little makeover by changing the color palette to pastel shades. You can also incorporate some of the Easter elements to your French tips, like adding a bit of a speckled egg look or tiny rabbit ears.
Speckled Egg Nails – one of the most popular looks and manicures to create, they allow you to choose from plenty of nail polish colors to create one of the cutest manicure options for the Easter season.
Pastel Easter Nails – if there is one color that's dominating the Easter season its obvious pastel shades! They are notoriously associated with Easter, so choosing a few of these colors for your nails can instantly transform your manicure with very little effort.
Floral Easter Nails – flowers are associated with spring, and they can't be missing from any Easter-themed manicure either. For Easter, you can do them in pastel shades or opt for a more elegant look with white nail art paired with French tips (example included in our roundup).
Abstract Easter Nails – if you're not keen on any of the above, simple swirls or stripes are an easy way to add a bit more personality and interest to your nails. For Easter, pair the design with pastel colors and your festive manicure is done!
Video Tutorial: Speckled Egg Easter Nail Design at Home
Would you like to try one of the most popular options for Easter manicures at home? This tutorial will show you how you can do the speckled egg manicure easily at home!
20+ Cute Ideas for Easter Almond Nails
Are you ready to select your favorites?
We have rounded up over 20 cutest ideas for Easter almond nails for any nail length and color preferences – you will find everything from soft pastel shades, and neutral colors but also bold neon choices for those who like to stand out.
For even more inspiration for the latest nail design trends and more Easter nail ideas, follow us on Pinterest and don't forget to check out the account to get even more ideas for your next manicure project.
1. Pastel Pink Bunny Nails
2. Pastel Pink and Grey Easter Nails
3. Glitter & Coral Easter Nails
4. Cute Brown Easter Nails
5. Beige and Green Speckled Egg Design
6. Bunny And Eggs in Pastel Shades
7. Mixed Design Bright Pastel Easter Nails
8. Elegant White Easter Nails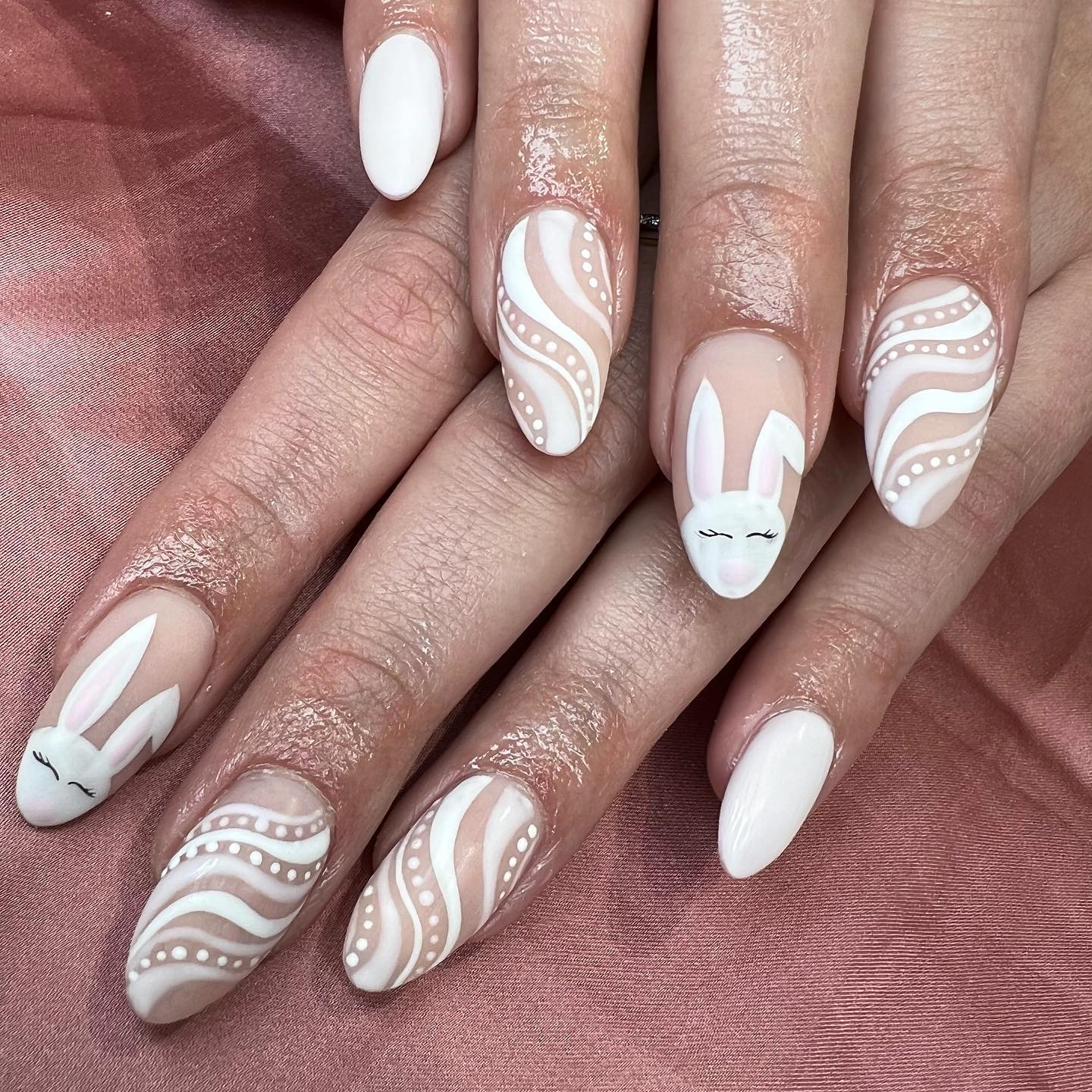 9. Easter Almond Flower Nails
10. Cutest Easter Almond Nails
11. Bunny & Branch Easter Almond Nails
12. Bright Bubble Easter Almond Nails
13. French Tip Easter Almond Nails with Flowers
14. Pastel Tip Easter Almond Nails
15. Dotted Ombre Almond Easter Nails
16. Pastel French Tip Almond Easter Nails
17. Pink Bunny Nails
18. Pastel Bunny Ear Almond Nails
19. Classic Speckled Egg Almond Nails
20. Easter Pastel Almond Nails
21. Easter Flowers Almond Nails
22. Easter Egg French Tip Almond Nails