Cherries are back in fashion guys!!!
Not only in clothes prints or handbags, cherry French tip nails is the top trend this year. If you want your nails to look the sexiest, go for it. In this blog, you'll get to know all about the new cherry trend.
From popular shades of cherry French nails to top 2023 trends.
Also, we have included a small guide on how to do cherry French tip nails at home. Ready? Let's dig into it.
Most Popular Shades For Cherry French Tip Nails
From bubblegum pink to cherry red, several shades can go into the trend of cherry French nails. Pink is always best for French nails either you go for tea pink or sheer pink.
If you want to make it a fun summery look, then go for blue or yellow. Ice blue with cherries on top. Oh Gosh. So cute. Create unique French nail art with pastel yellow instead of typical pink. Or make it dramatic with cherry red or crimson shade. Nude is another way to slow it down yet slay the look.
30+ Ideas for Cherry French Tip Nails
Make your summer fresh and fruity with cute ideas of cherry French tip nails. These will urge you to book your appointment with your nail technician within a matter of seconds.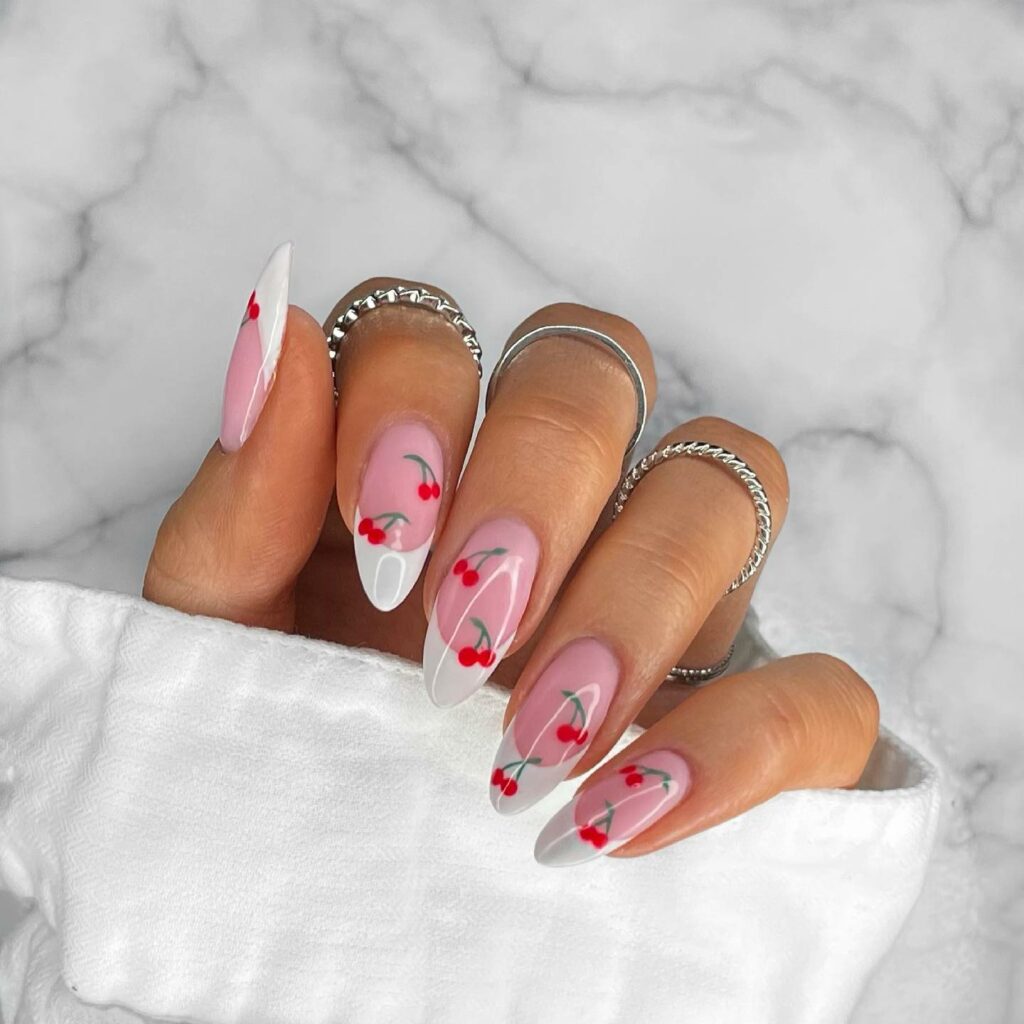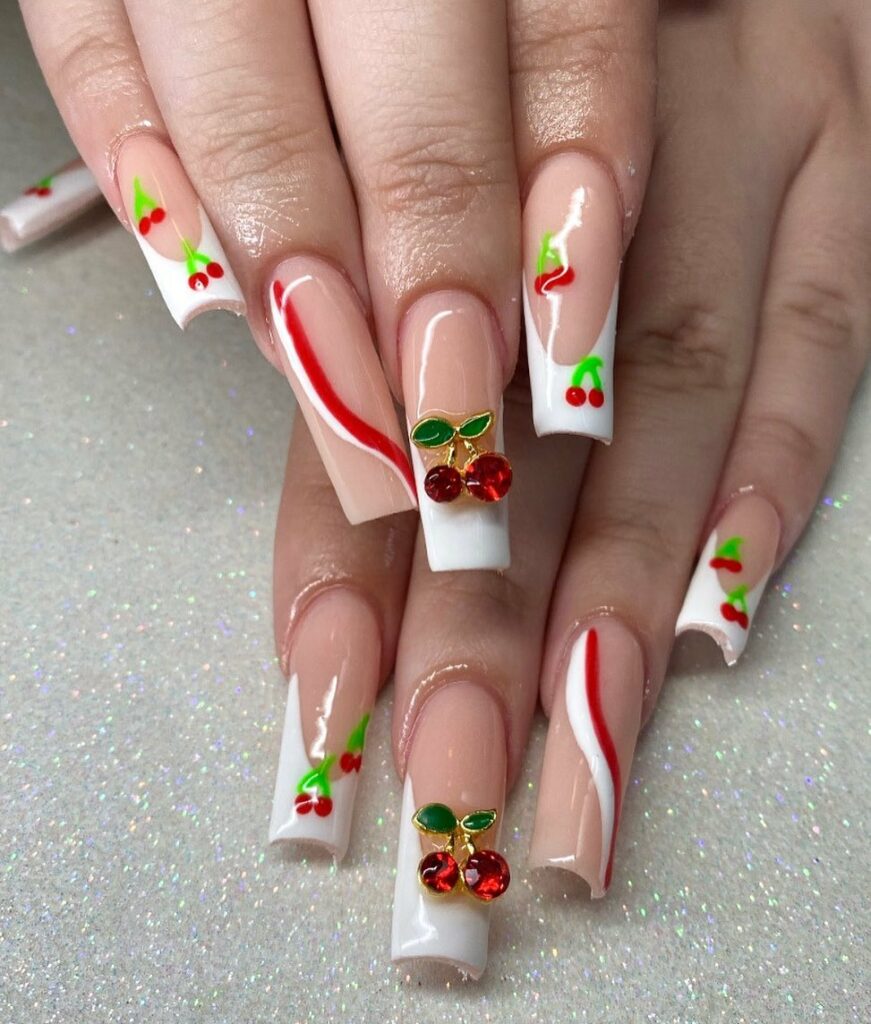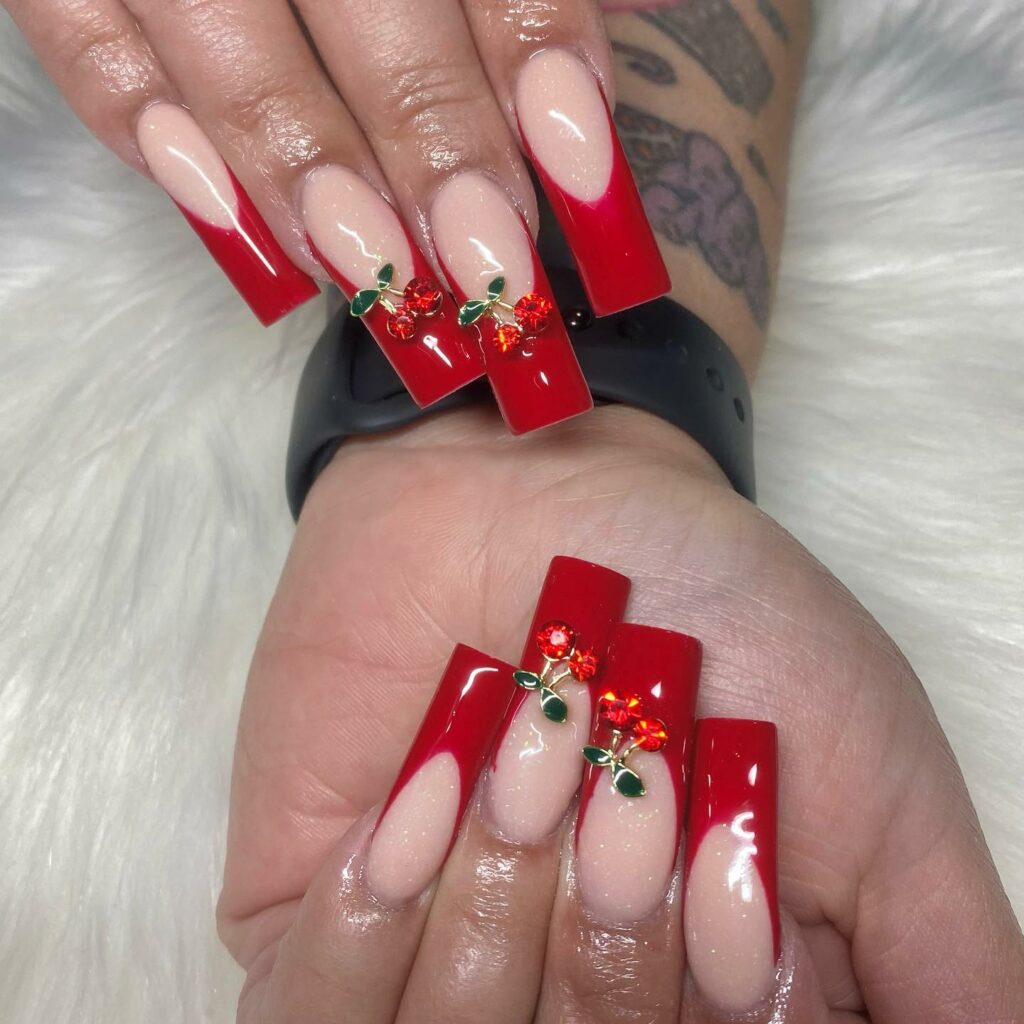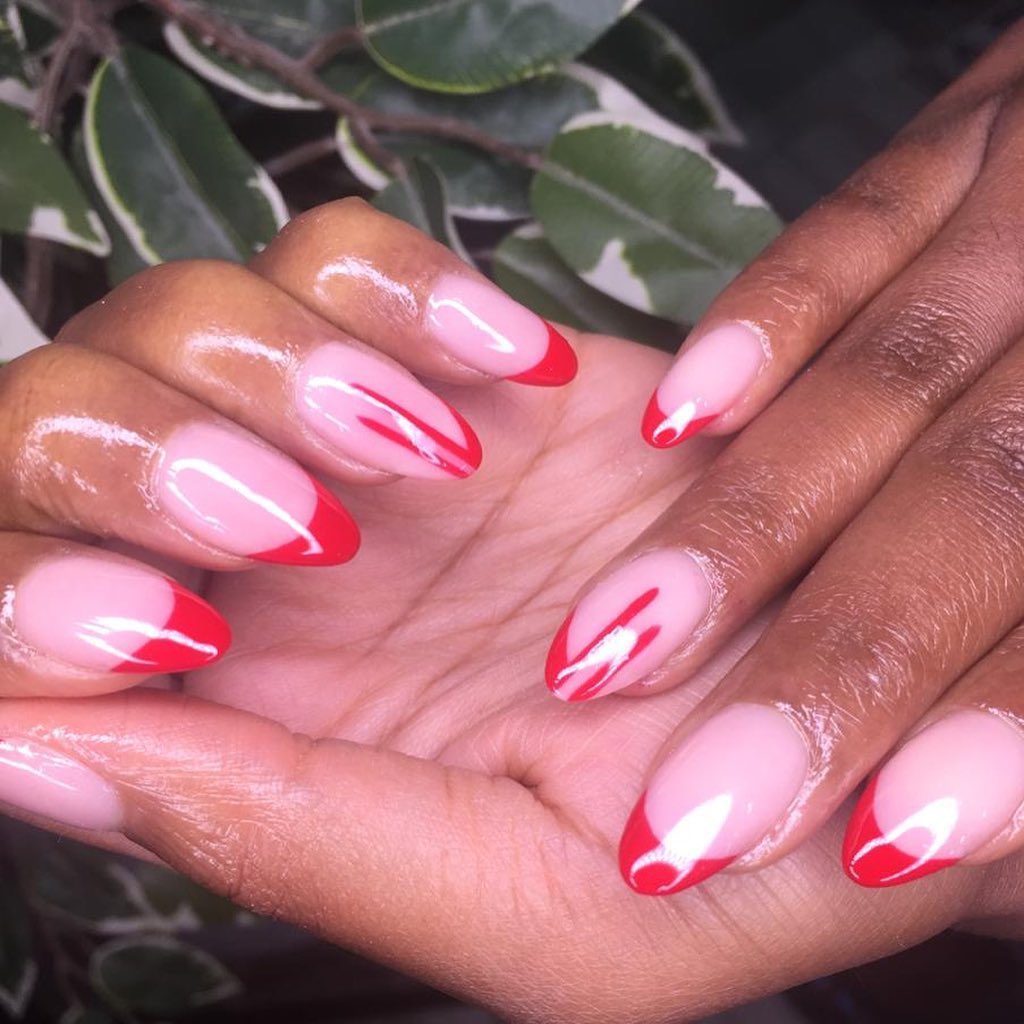 2023 Trends for Cherry French Tip Nails
Are you looking for the top trends to follow this year for French tip nails? Here are some of the trends that you can recreate at your next kitty party.
Ditch white in the French nails with a cherry red shade
Aren't you bored with those typical French nails? Everyone is doing it. And it has become so common. Why not try something different? Choose a cherry red shade for your tips in French nails instead of white.
French nails with a stripe of cherry shade
Another way to make your French nails appealing is to add a stripe of cherry red shade on your French nails. It's a smart way to recreate traditional French. You can choose it for a casual look at work.
French cherry nails with shimmer on the edges
French cherry nails are fun. But why not pop it with a shimmer? Make your sophisticated French nails more magical by giving them a sparkle. Cherry shade tips with glitter can compliment a pretty yet dark look at the same time.
All cherry red shades mixed with French details
Cherry red always looks exotic. To make it look more dramatic, do a mix-mix style. Choose only a red shade on the index finger and little finger. Then do French nails with cherry nail art on the ring and middle finger.
Cherries on the tips of French nails
Top your nicely done French nails with cherries if you want an expensive look. Give your nails a blend of vintage and sexy with these tiny cherries. This trend is the most popular in 2023.
How To Do Cherry French Tip Nails at Home
Not able to go to the salon to get your nails done? Don't worry. Whatever your reason is, you can quickly DIY at home. Here's the whole procedure with some tips and tricks:
Make sure your nails are in perfect shape and form. If not, trim or shape them.
Remove the already applied nail color if any. And then apply a base color. Keep it simple.
Once the base is dry, apply nail tape till your tips. It will help you create a professional french mani.
Now take a white nail paint and brush it on your tips. Don't panic about the excess nail color over the tape.
Remove the tape and take a cotton swab to even out the lines.
Then apply a sheer pink shade to make your nails look natural.
When the nails are perfectly dried, take a cherry shade nail color. Apply dots of red cherries with green color stems. And tada, your cherry french tip nails are done.
No, don't stop here. You forgot the top coat. Even after applying a sheer, you have to apply a top coat to seal your manicure.