Looking for pretty emerald green and gold nails ideas? You came to the right place!
Our team has curated a collection of over 25 emerald green nail designs to give you plenty of inspiration for your next manicure. If you're planning to do your own nails at home, or need some inspiration for your next trip to the nail salon, you will find plenty of options for each scenario in our little roundup.
The nail polish choice of emerald green and gold is a versatile option almost for any occasion, but it's especially popular for the winter season and often used for Christmas nails. Even if you want to use it in the summer, it will help you to stand out from the crowd among all the bright colors of summer nails.
For a special event, you can elevate your nails even further by adding more glittery nail polish or emerald green gemstones which will transform even the most simple nails into artwork.
Below is our selection of the prettiest green and gold nail ideas we found online. The selection is diverse and we tried to make sure we will show you how these colors look on any nail shape, from super short natural nails all the way to coffin nails or mountain peak nails.
25+ Prettiest Emerald Green and Gold Nails
Get inspired by our collection of pretty emerald green and gold nails for your next trip to the beauty salon. If you need even more ideas, we have saved up dozens more in our dedicated Pinterest board.
Don't forget to follow us on Pinterest so you don't miss out on the latest trends in nail design!
Enjoy our green and gold nail designs:
1. Gold Dusted Emerald Nails
A tiny dust of gold will transform these simple nails into a pretty manicure that will stand out from the crowd.
2. Gold Flakes Emerald Nails
These mountain peak shape nails look like a work of art with gold flakes and pretty botanical nail art.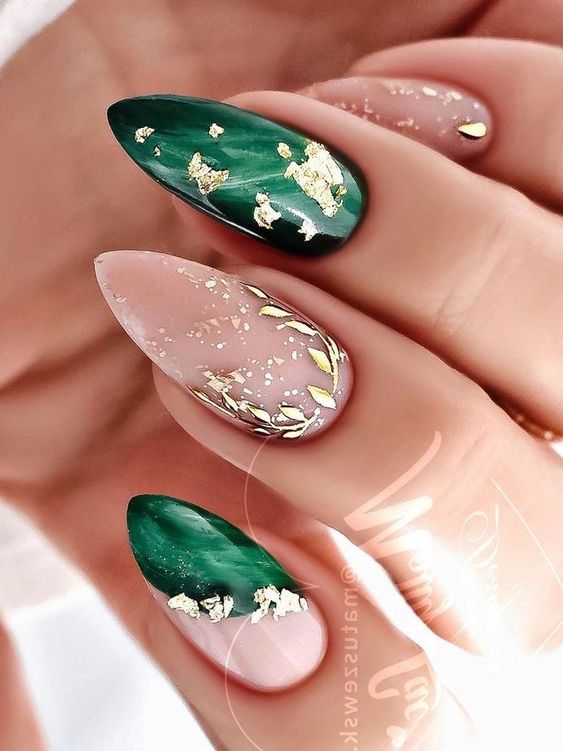 3. Emerald Green Nail Art
French tips in emerald green color with a contrasting feature nail using gold glitter nail polish.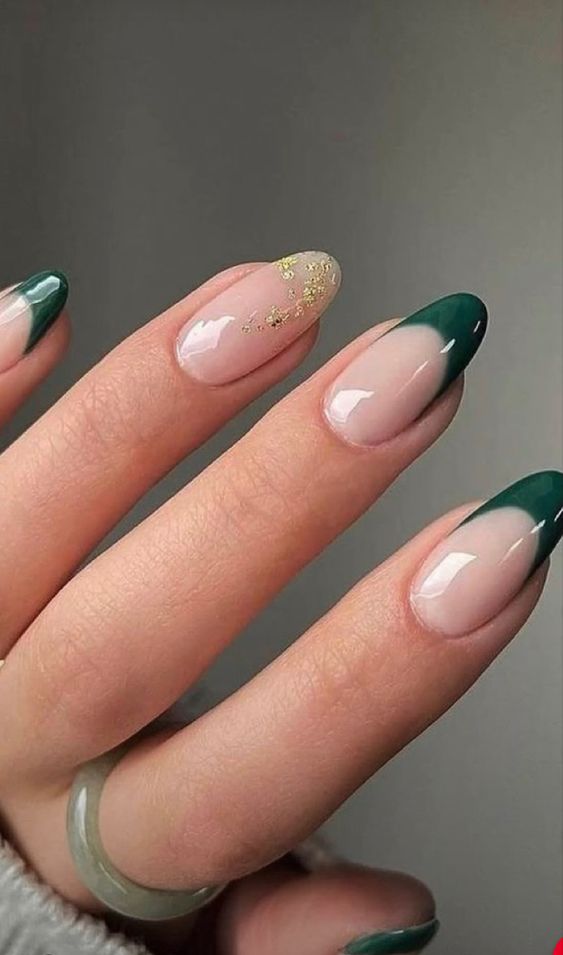 4. Botanical Emerald & Gold Nails
Botanical inspired emerald green and gold nails with cute nail design and plenty of golden highlights.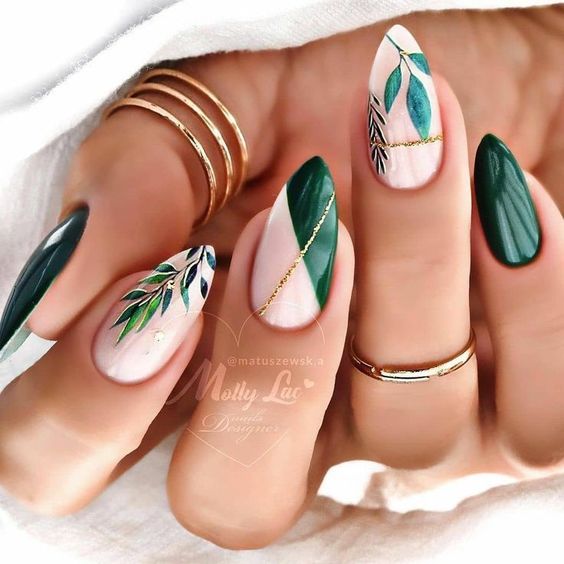 5. Emerald & Gold Nails with Animal Print
Emerald green and gold nail designs, especially with panther prints on them? Count us in!
What a great way to transform simple manicure into a pretty work of art by adding some animal print.
6. Marble Gold and Green Nails
Make your nails looks like real gemstones using the marble effect with emerald green color and gold foil outlines on the outside of the color.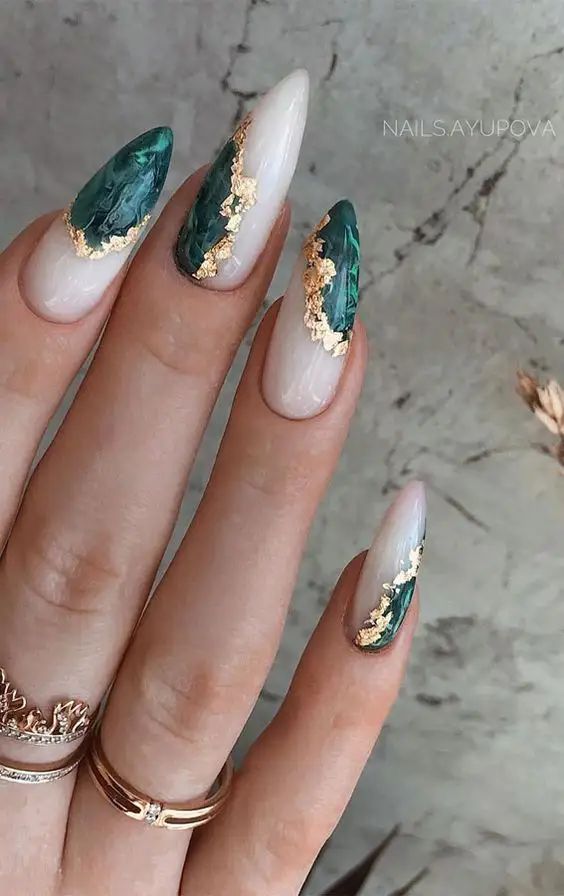 7. Emerald And Gold Nails
For those who prefer minimalist nail design, this pretty style combines simple geometric shapes with glitter gold nail polish and highlights the edges of the nail with emerald green.
8. Emerald Green Nails With Gold
Add a bit of variation to your manicure by painting only the peaks of your nails with your chosen color, and highlight with gold nail polish.
9. Marble Emerald Green and Gold Nails
Two nail design styles combined in one – marble effect combined with simple single color nail polish.
10. French Tip Emerald Green and Gold Nails
Minimalist French tips elevated by the use of pretty golden details.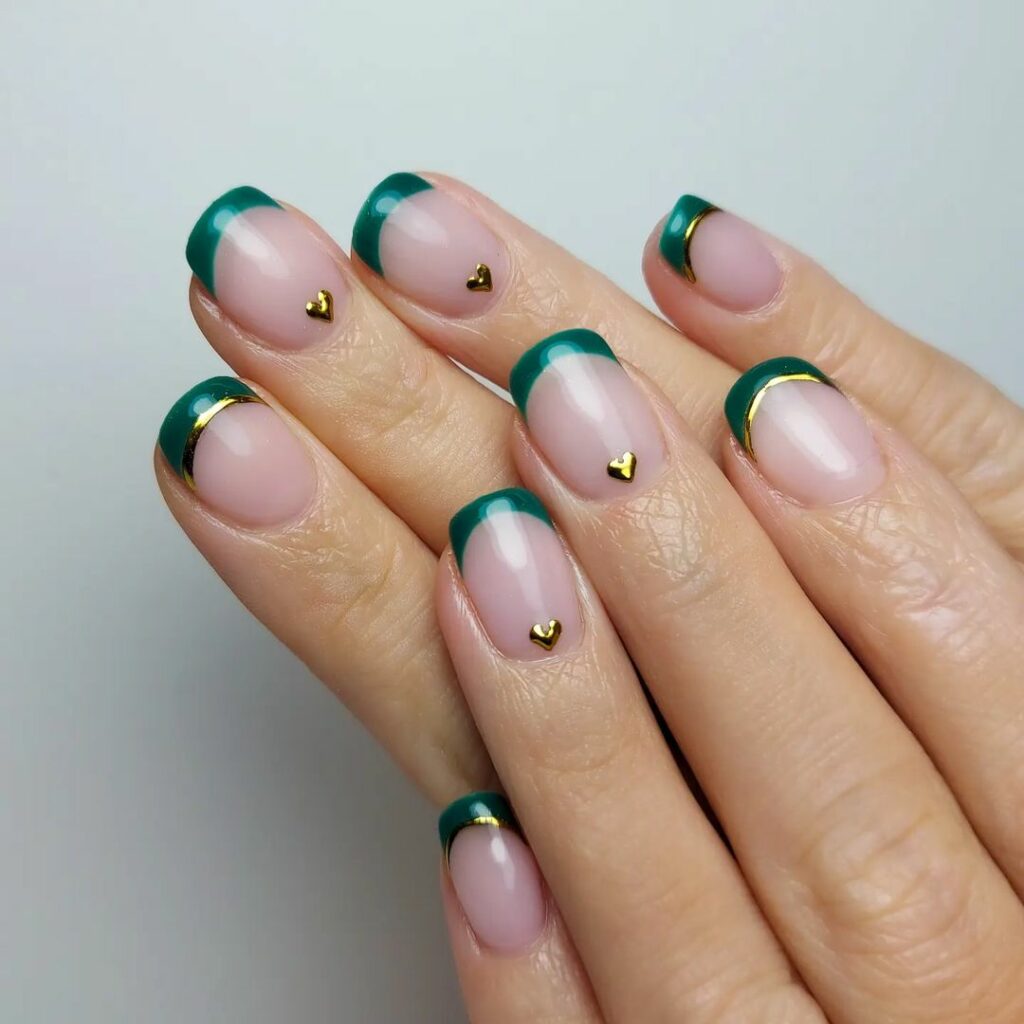 11. Golden Marble Nails
Another variation of our favorite emerald nail designs, this time with a lovely golden heart gemstone.
12. Golden French Tip Nails with Emerald Green
Match your manicure with your jewelry!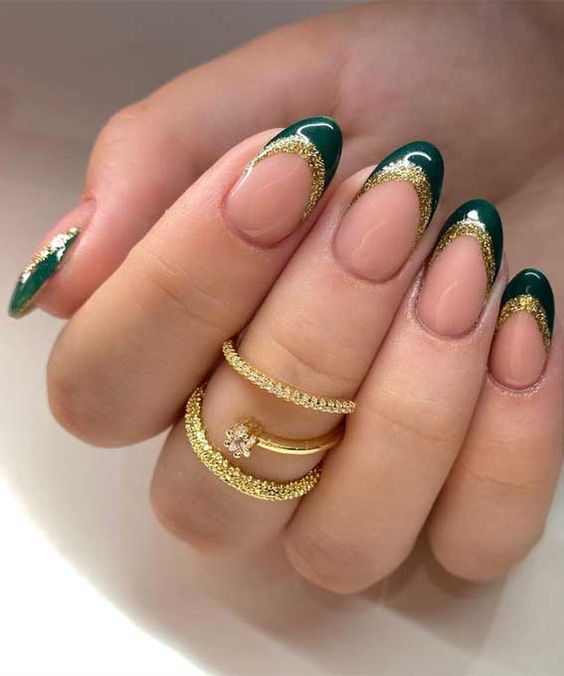 13. Gold Brushed Nails
A touch of gold will transform simple emerald nails into super pretty manicure for a special occasion.
14. Gemstone Effect Nails
Gemstone nails look super elegant even on the shortest nails.
15. Green and Animal Print Nails
Mix the classic green and gold with something unusual – animal print nails. The result is a unique manicure that's bound to turn heads.
16. Geometric Gold And Emerald Nails
A simple golden geometric nail art which anyone can master without the help of nail artist.
17. Golden Foil Emerald Nails
For high gloss finish, choose this golden foil effect for your manicure.
18. Festive Emerald Green White And Gold Nails
Emerald green and gold nails are the perfect manicure choice for the holidays.
19. Floral Art Emerald Green and Gold Nails
Pretty botanical inspired art with black nail polish on emerald green nails with a dust of gold. Emerald and gold nail designs are a staple!
20. Forest Green And Gold Nails
Minimalist green and gold nails design never looked this good!
20. Double Layered French Tips
Green & gold nails are a timeless duo! Add the extra layer of interest to your French tips with this pretty gold nail polish AND check out these stunning emerald green nail ideas!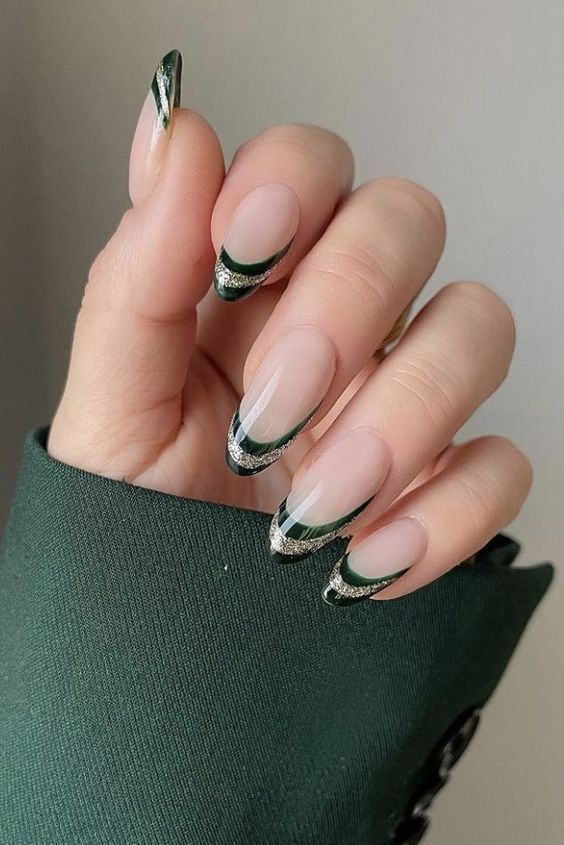 21. Green And Gold Ombre Nails
If you love the ombre look, you can fake it using the technique shown in this image.
22. Green And Gold Glitter Nails
Go big and bold with all glitter nail polish in gold and green. Dark green nails with gold glitter look stunning (as always).
23. Dark Green And Gold Nails
Reverse approach to golden highlights on emerald nails – this time the gold glitter is applied at the base of the nails. One of our easier green gold nail designs, but yet gorgeous and glamorous!
24. Green Gold Nails With Black Streaks
A touch of gold and black nail polish will transform simple emerald green manicure.
25. French Tips on Short Nails
Shortest nails can be optically elongated by using this style of French tips.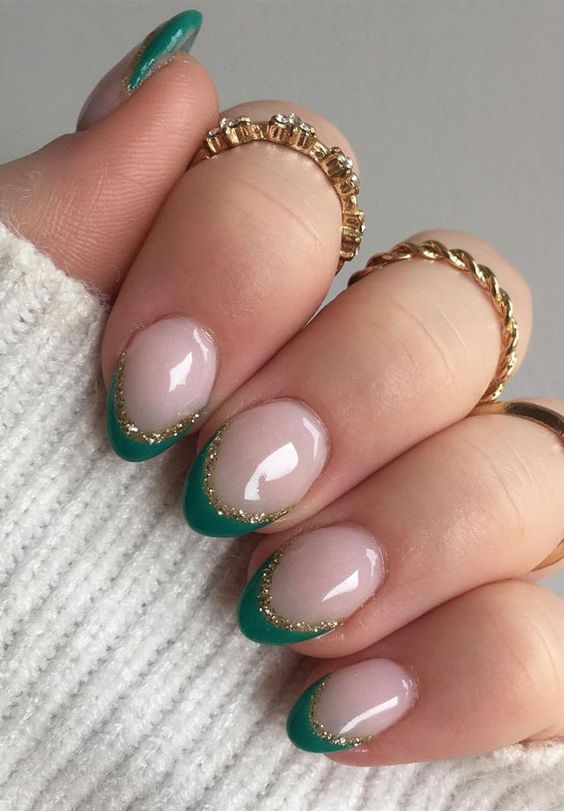 25. Pink with Emerald Green
Emerald green looks fantastic when paired with light pink, and even better with some golden outline highlights.
26. Dark Green Nails With Gold
Beige is an unusual color choice for emerald green, but look how fantastic it turned out!
27. With Gemstones
28. Emerald Marble French Tips
Want to maximize your French tips? This is a way to go! This pretty manicure combines French tips with marble nail art and a touch of gold.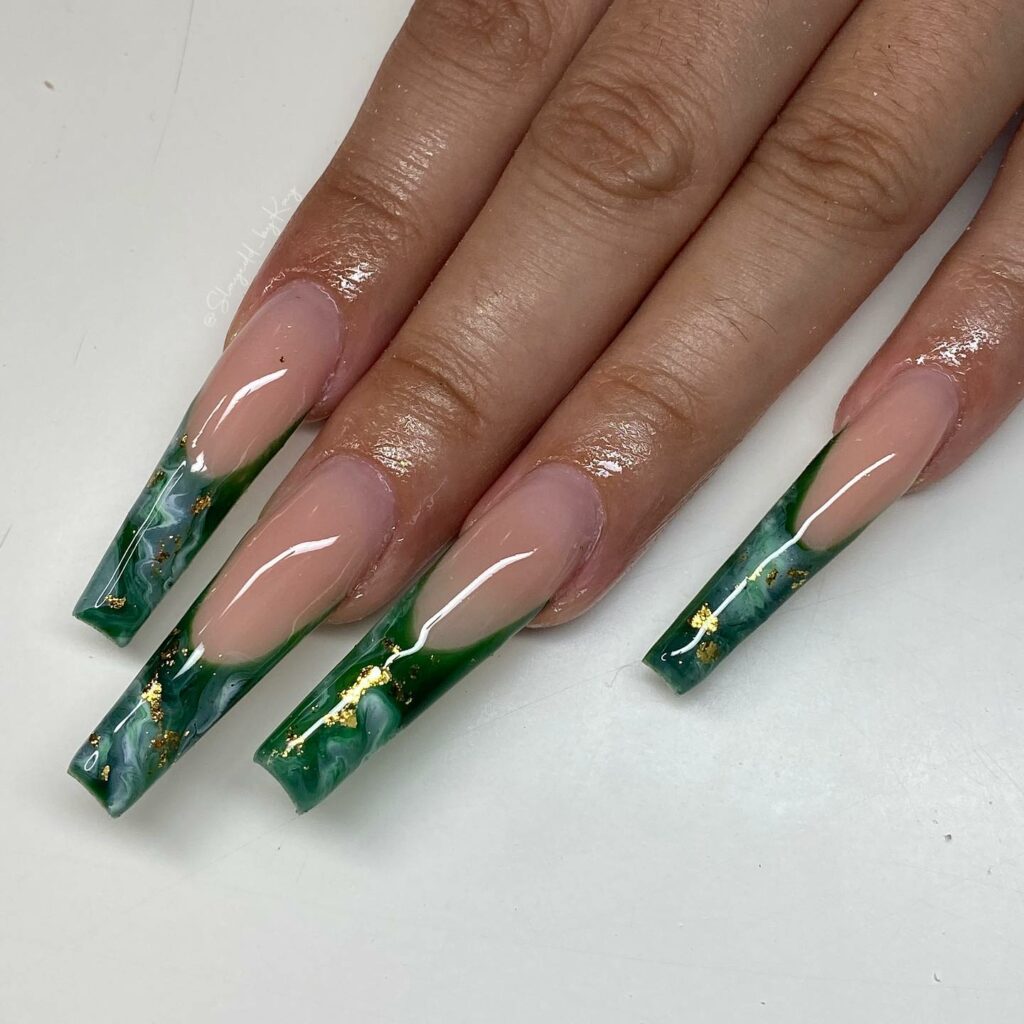 29. Natural Ombre with Gemstones
Pretty natural ombre nails matched perfectly with emerald gemstones on a beige coffin nail. This type of green and gold nail art never looked prettier!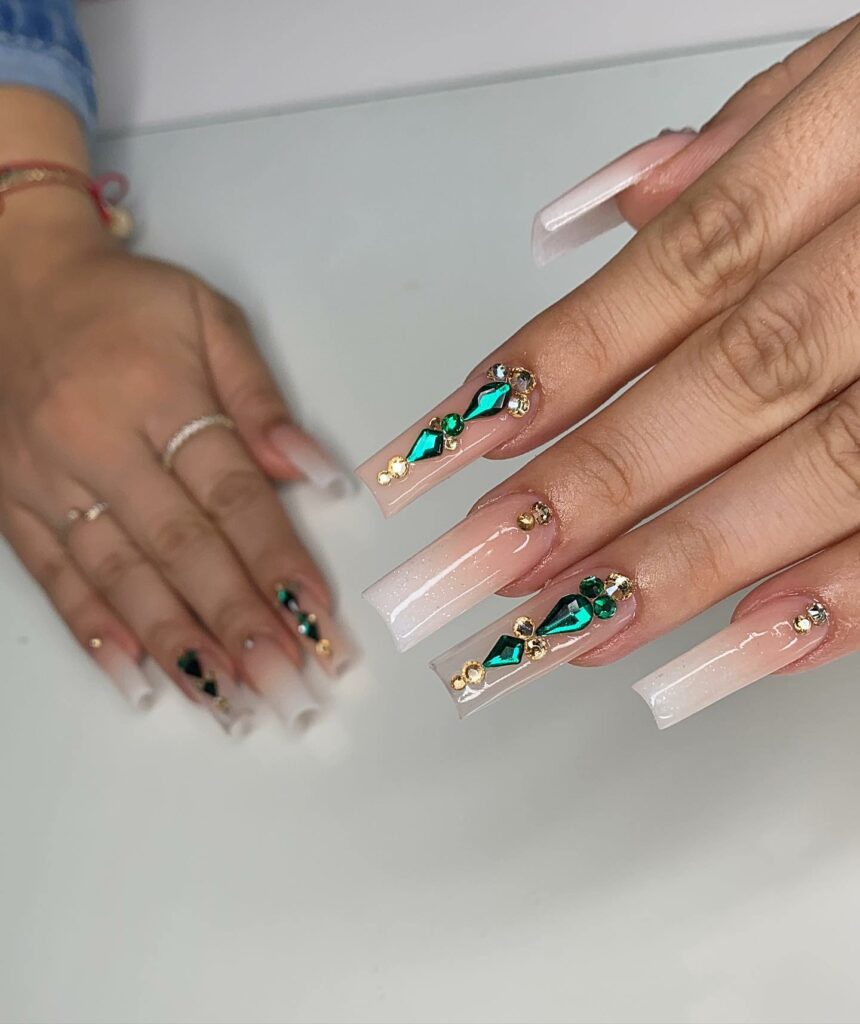 Dark green and gold nail designs are definitely a favorite of our's! Don't you agree?
If you're looking to add a touch of elegance to your nail game, you can't go wrong with emerald green and gold acrylic nail – it's a chic and timeless choice!
30. Emerald Nails With Gold
31. Gold And Emerald Green Nails
Check out these stunning gold and green nail designs that are sure to make your manicure pop! Consider trying out the trendy green and gold French tip nails for a chic and stylish look.
32. Gold And Green Nail Art
What do you think? Consider trying out this eye-catching emerald green nails design that's sure to turn heads!
33. Green And Gold Gel Nails
If you're looking to add a touch of elegance to your nails, consider trying out a nail design in green and gold, like this one.