Are you looking for the perfect beige nail designs to test this month?
In that case, you came to the right place!
Our curated collection features 40 beautiful beige nail designs ideas you can use for inspiration, or take with you for the next trip to the nail salon.
Beige is one of the most popular colors in nail design, as it's so versatile and can be used in so many different ways. It looks amazing on just about any nail shape and nail length. You can match it really well with your skin color and make it look on-trend just by adding a bit of glittery nail polish or a few rhinestones.
Beige nails will take you from the beach to the boardroom or your friend's birthday party, all without having to update your manicure each time. They look super natural and elegant in almost any version, and are especially pretty on longer nails and darker skin tones.
If you want to give it a try, take a look at our curated collection of 40 best beige nail designs, complete with the nail artist's Instagram profile linked under the image.
Beige Nail Designs Trends for 2023
So what's going to be huge in 2023? The following trends are the most popular nail designs for beige nails:
geometric shapes in white or black
ombre nails with beige and white color
golden flakes
glitter in the shades of copper, silver or gold
mismatched nail designs in shades of beige
comics nails (huge on TikTok atm)
minimalist designs
French tips in black on beige nails
Beautiful Beige Nail Designs Ideas
Below is our selection of the prettiest beige nail designs – if you need even more inspiration, check our dedicated Pinterest board and follow our Pinterest profile for the latest nail trends.
1. White Nail Art
We love this simple yet intricate artistic touch in beautiful amond-shaped nails.
2. Geometric Prints
Geometric prints are one of the most popular ways to transform simple beige nails into something a little more interesting. There are so many ways you can do these, and they are great as a DIY project with a bit of practice.
3. Touch of Gold Foil
Gold flakes transform basic beige nails into a special occasion manicure.
4. With Silver Glitter
Surprisingly enough, silver mixes really well with some shades of beige. In this case, just a touch of glitter on a few nails will take your everyday manicure to a special occasion version.
5. Timeless Beige Classic
Beuaty is in simplicity, and this beige manicure is a true manifest of that.
6. Simple Beige & White Manicure
The perfect blend of neutral and intricate.
7. Simple Beige & Brown Manicure
Pretty mismatched manicure with cohesive color scheme and a pretty golden strip for a bit of variety.
8. Simple Geometric Details
How simple and how pretty is this nail design?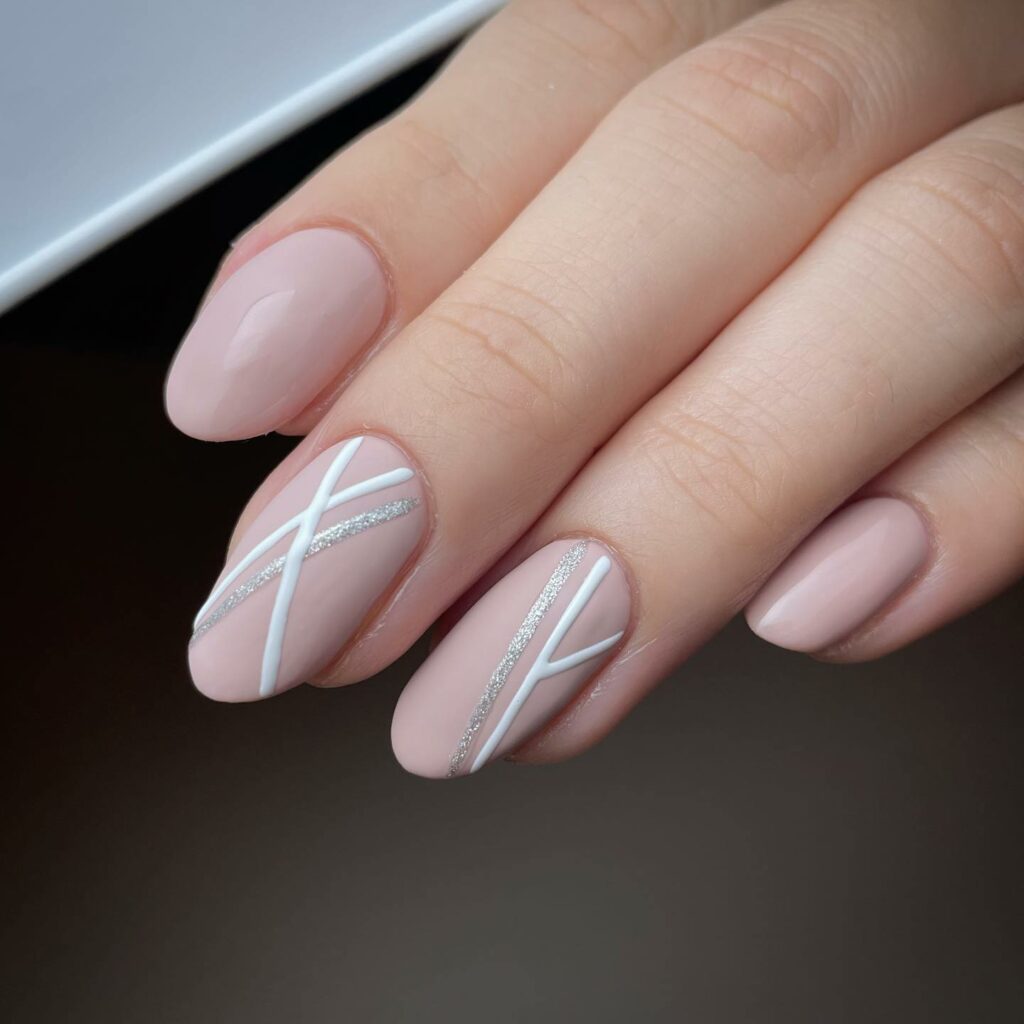 9. Boho Inspired Beige Nails
Add a bit of personality to your beige nail design with this pretty boho print.
10. Gold Dusted Beige Nails
Even short nails can look super glam with a bit of golden foil on a glossy beige background.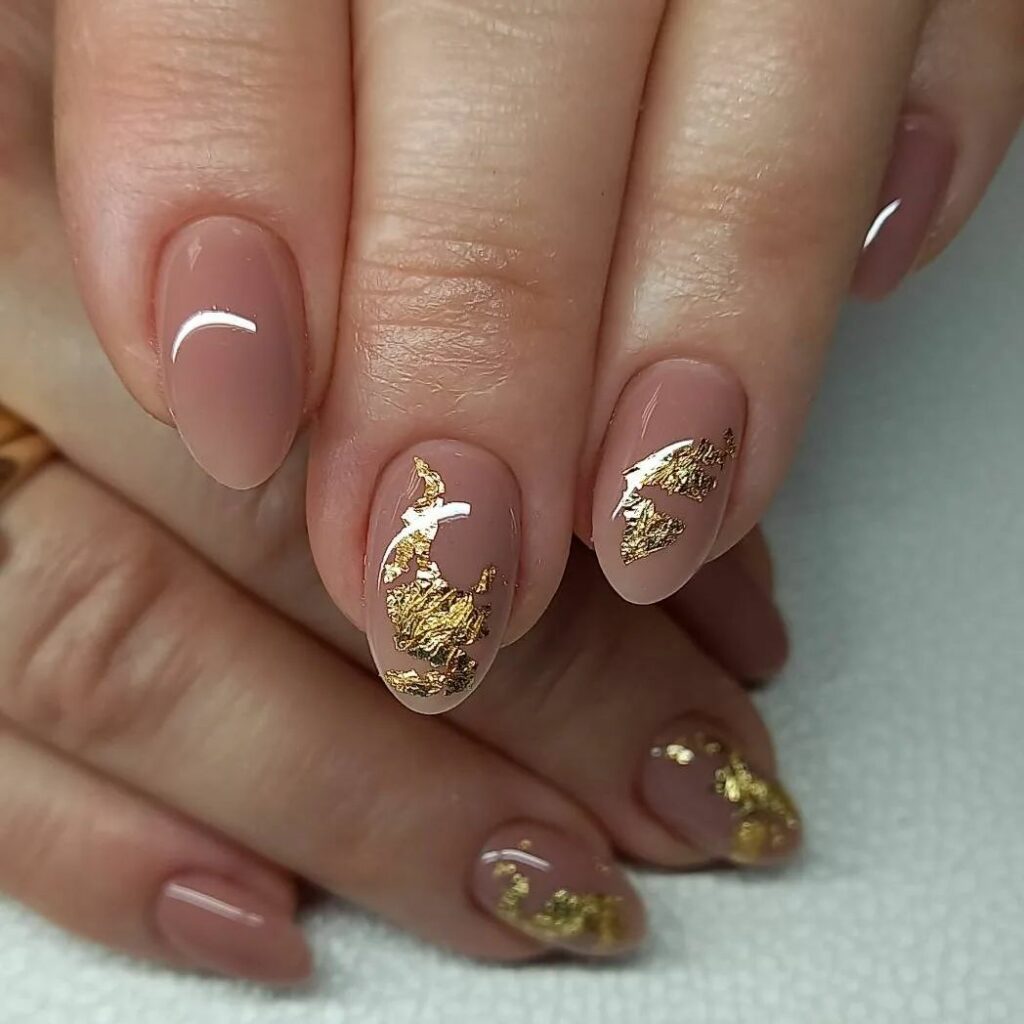 11. Individual Ombre Beige Nails
Not sure what color to choose? Use them all.
12. Winter Beige Nails
Snowflake inspired beige nail with pretty wintery nail art.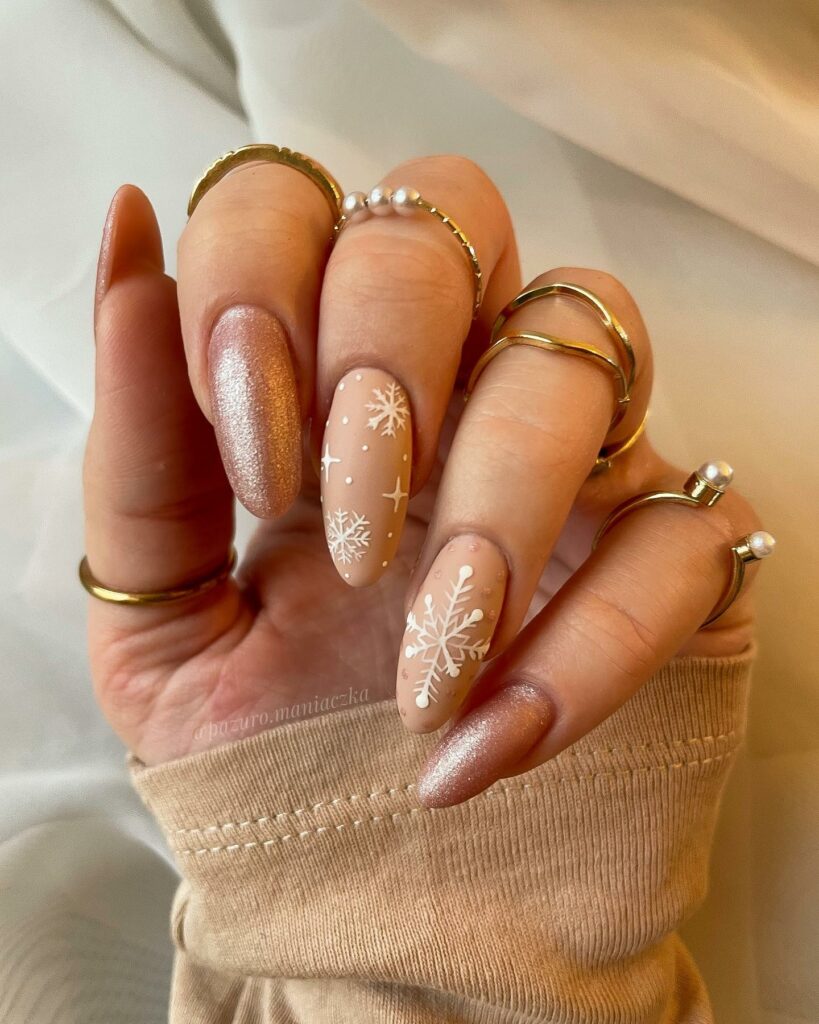 13. Comics Beige Nails
One of the biggest trends at the moment, even comics nails which normally rely on a lot of color, but can look superb with different shades of beige for a 3D effect.
14. Black Botanical Beige Nail Design
Add a touch of nature to your nails with pretty botanical nail art in black.
15. Dark Beige Comics Nails
Another full version of the comics nails this time in much darker color tones.
16. Minimalist Beige Nails
One of our favorite looks – we love the light beige tone and the minimalist art that transforms the nails into really pretty manicure.
17. Pretty Gemstones
If you're using gemstones, they don't have to take the center stage. They can be used in a more subtle and sophisticated way, as in this example.
18. Sweater Effect Nails
Sweater nails are super popular for winter months and Christmas, and they look really pretty in this coffee beige color.
19. French Tips in Beige
A slight modification of a classic French tips manicure with a beige color scheme, elevated with a bit of rusty gold color.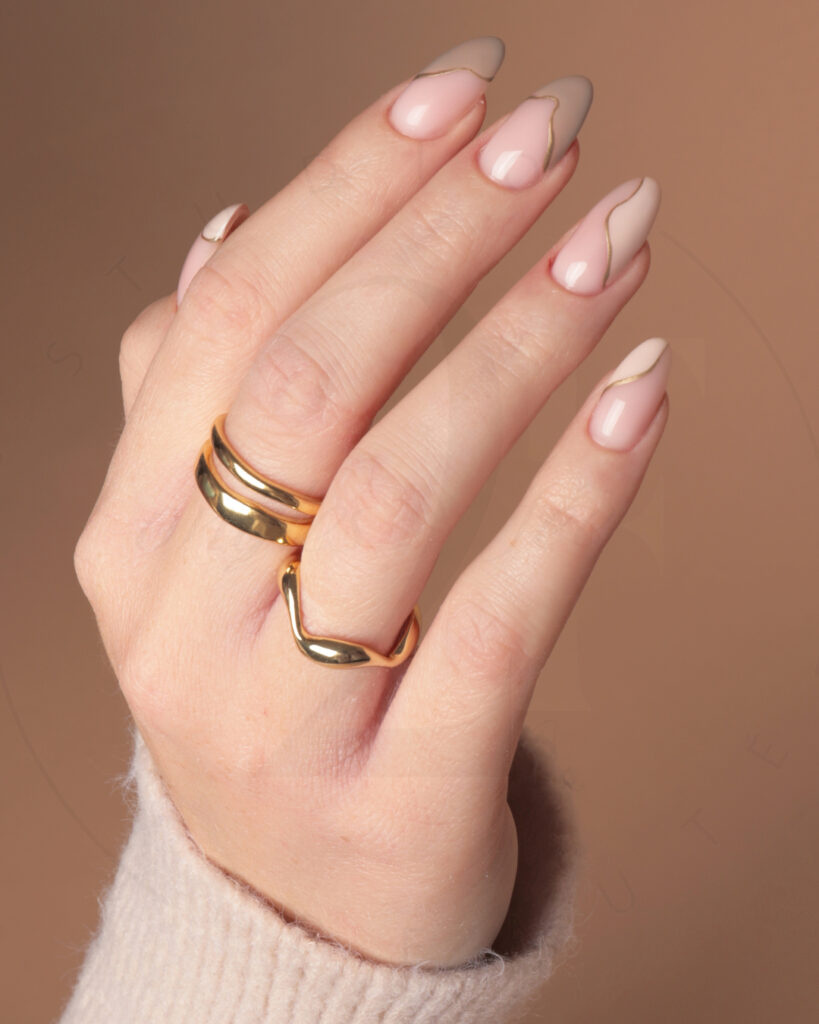 20. Multi Tone Beige Nail Design
The ombre effect was reversed and applied to individual nails. Anyone can do this at home!
21. Beige with Silver & Grey
A very pretty color scheme and nail design for the winter months.
22. Fall Beige Nails
Embrace the fall with this pretty beige manicure.
23. Beige & Gold Nails
Instead of gold flakes, you can experiment with gold foil which makes your nail shine like you're wearing diamonds.
24. Golden Line Beige Nails
Another pretty version of a beige manicure using the golden strip nail art.
25. Festive Look Nails
Fall inspired manicure that will take you to Christmas table or even to the New Year parties.
26. Bridal Inspired Nails
Beautiful almond shape nails in the most angelic bridal manicure.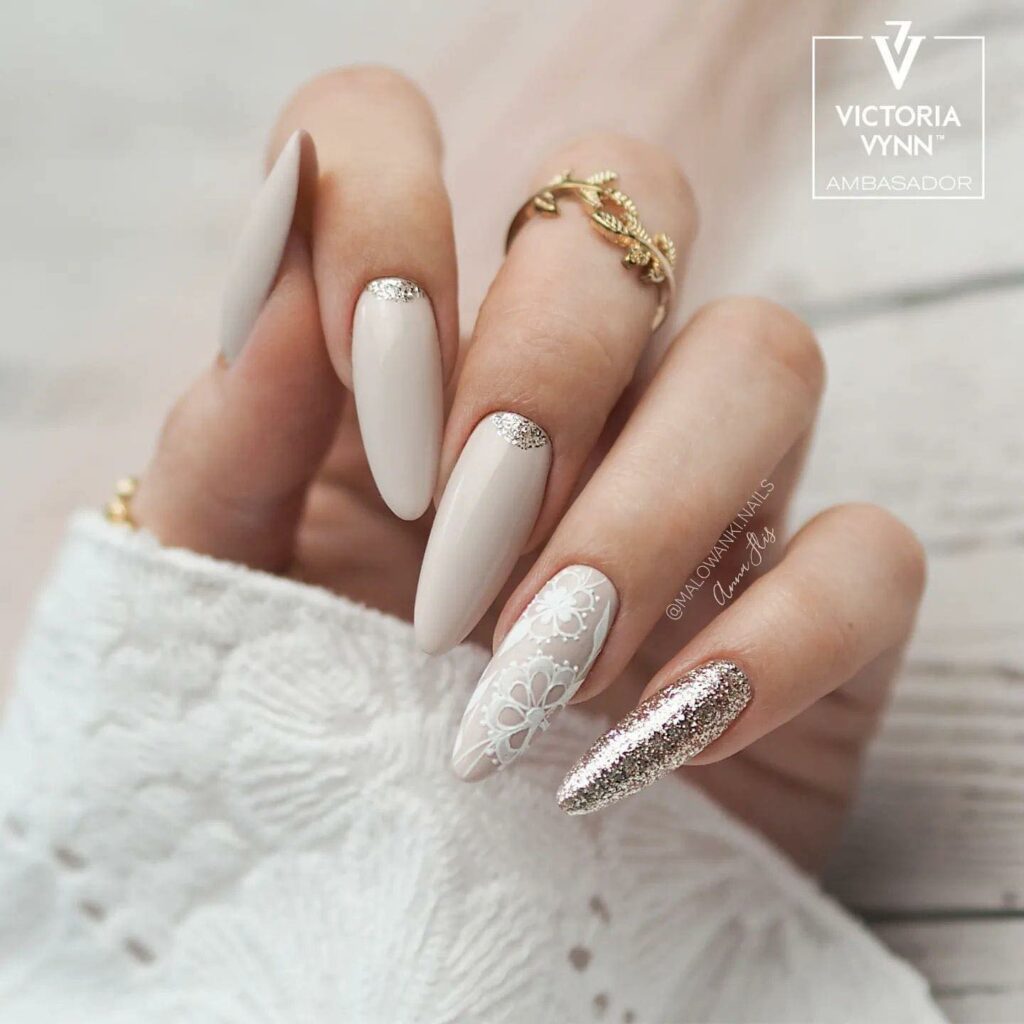 27. Black French Tips
Another one of the most trending nail designs with beige nail polish and black French tips for added contrast.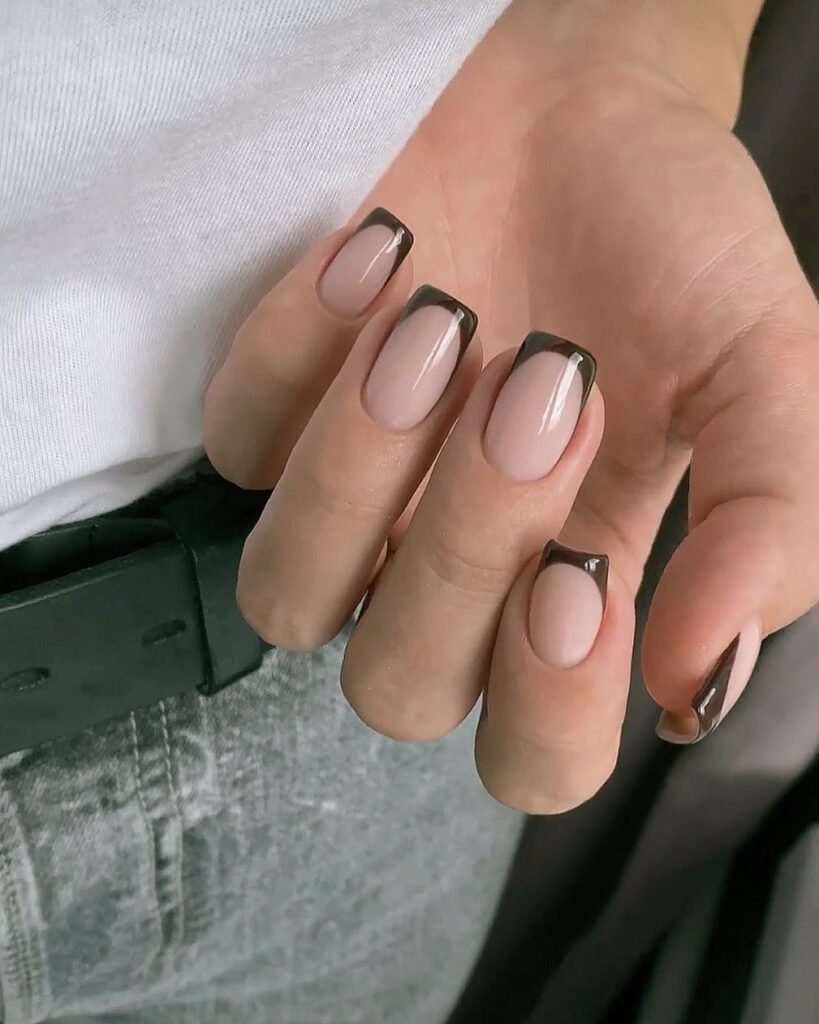 28. Black and Beige Manicure
Similar to sweater nails, this manicure looks great for the winter months and uses darker moody colors.
29. Black and Beige Dotted Nails
Cute and quirky, this manicure is a great twist on traditional beige natural nails.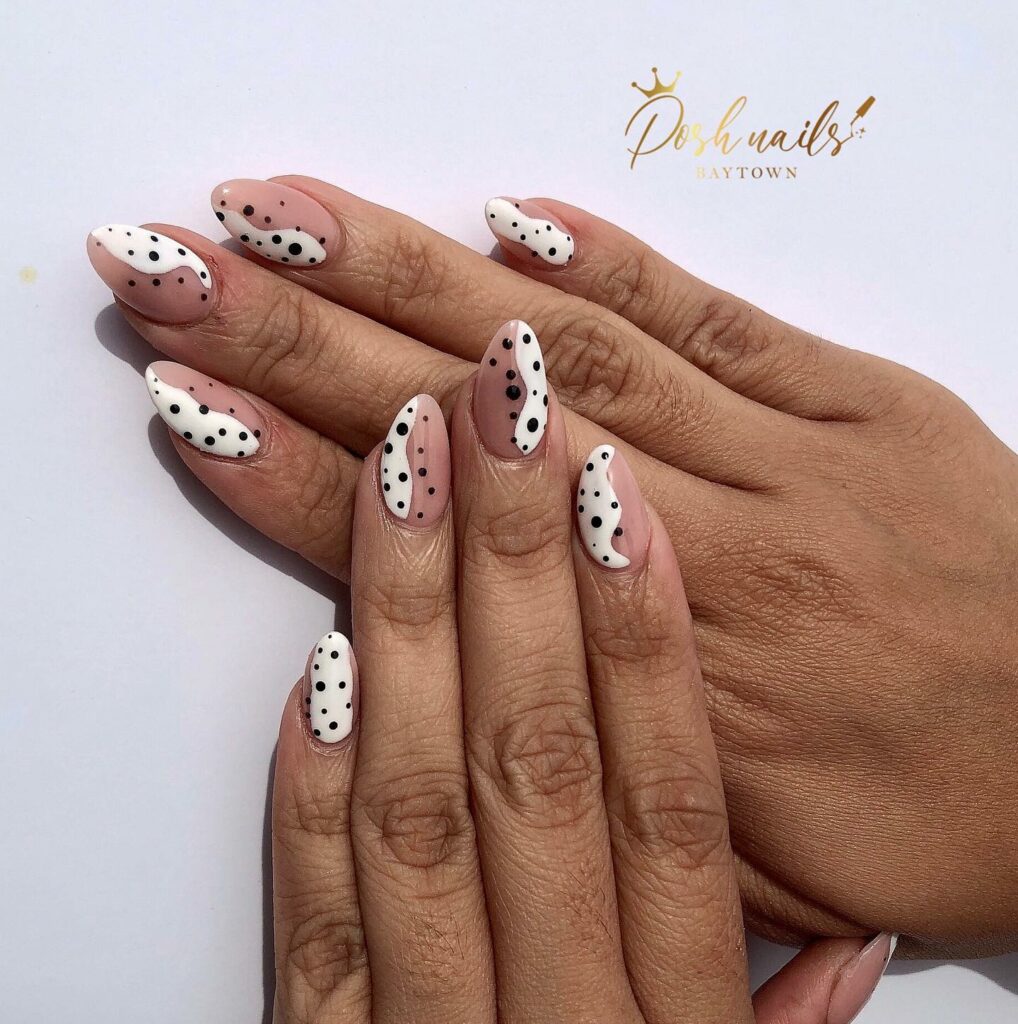 30. Black Sky Nail Art
Sky-inspired nail art on a classic beige nail looks always effortless and stylish.
31. Simple Beige Nail Design
Warm beige color combined with a bit of golden glitter is perfect for the office, or weekend parties.
32. Art Stripes
Discover your inner artist and experiment with geometric lines and shapes, with the shades of beige.
33. Animal Inspired
Animals are a huge trend for beige nails, and this is just one of many ways you can get the look.
34. Rusty Gold with Beige
Dark beige contrasts beautifully with the added special touch of golden nail polish.
35. Minimalist Beige Nails with Black Detail
This one looks so simple yet so sophisticated! Like a piece of art painted on a nail.
36. Leopard Print Beige Nails
Show them your wild side.
37. Animal Print Beige Nails
Almond nails got the beige and animal makeover.
38. Short Beige Nails
Short nails? They look super pretty with a single tone of beige nail polish and a bit of golden glitter for added attention.
39. Beige and Brown Nails with Gold Foil
A variation in shade is always a good idea!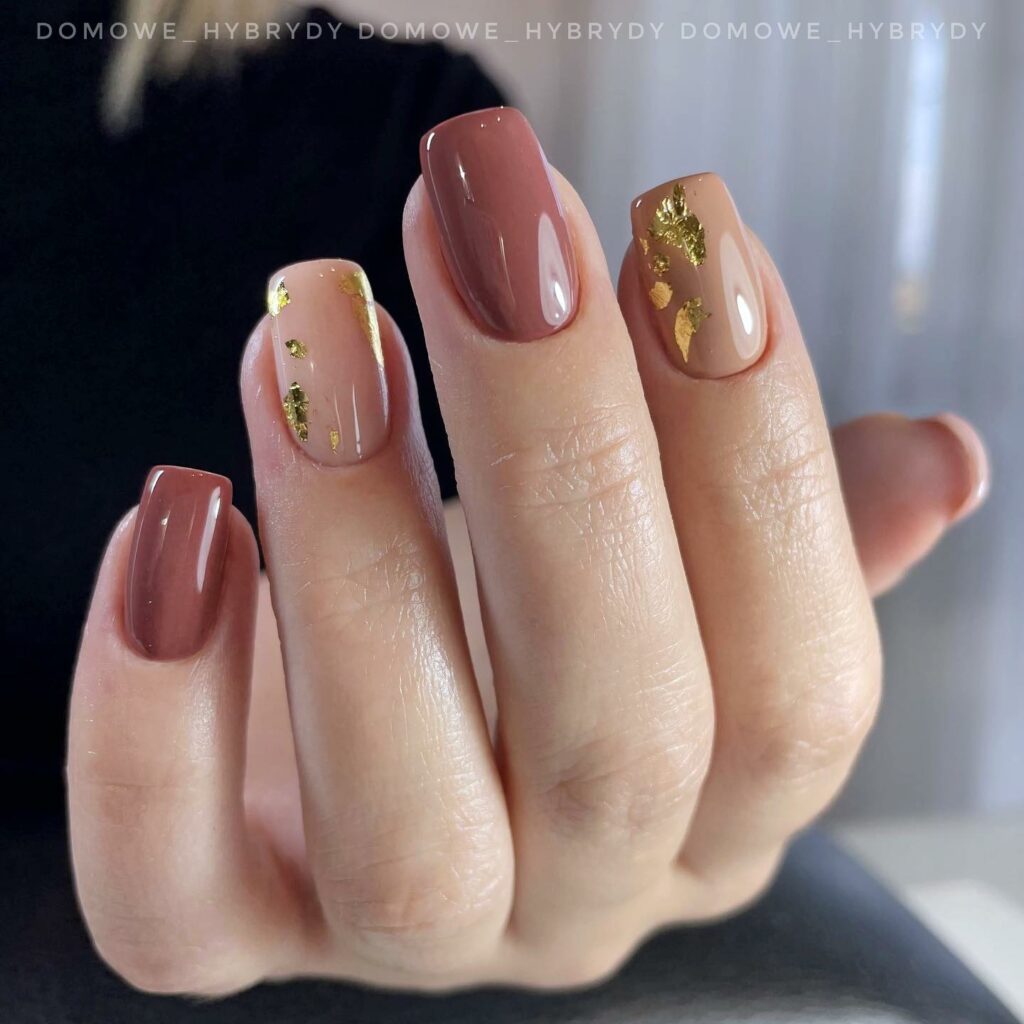 40. Beige Nails with Botanicals
Don't hesitate to add green – it makes your nails look even more natural!