Pastel purple is one of our favorite colors! There is something so peaceful and pleasant about them, don't you think? Now imagine getting to see this incredible color every day right on your hands by sporting pastel purple nails!
It almost seems too good to be true, doesn't it?
But if you're like us, the world is literally at your fingertips. With these pastel purple nail designs, it's hard not to have a smile on your face!
We've been looking into the latest trending designs and have collected several of them right here in this article! There's also a video tutorial for anyone interested in giving themselves one of these exquisite manicures!
And at the end of the article, we're going to show you some of the best ways to help your manicure last. These pastel purple nails are a blessing, and we want to make sure you can enjoy them for as long as possible!
Why We Love Pastel Purple Nails
What's not to love about these nails? They're cute, gentle, and just overall beautiful. Whenever we wear them, we just find them peaceful!
Purple is a strong, bold color, but in its pastel tone it reminds us of stress-relieving lilacs. There's something decidedly spring-like about this color.
That makes it one of our favorites for the spring season, but it's a look that can be worn any time of year!
This versatility is another thing we love so much about pastel purple nails. We can wear them any time and always find them so comforting! They're also incredibly pretty and distinctly feminine, so if you're feeling a little girly these may very well be just what you're looking for!
Trending Designs for Pastel Purple Nails
Pastel purple gel base with clear French tips and white striper line.
Clear acrylic base with pastel purple French V tips and metallic silver striper line.
Pastel purple base marbled with white.
Acrylic pastel purple base with clear french tips and golden nail art (looks especially good with moons and stars in our opinion!)
Oval shaped nails with pastel purple base coat with iridescent marbling on ring finger and fully iridescent over the top coat on middle finger.
Video Tutorial: Pastel Purple Nails
If pastel purple nails appeal to you as much as they do to us, check out this awesome video! It has some great tips and tricks to achieve the perfect design.
30+ Ideas for Pastel Purple Nails
Pastel purple nails have a special place in our hearts. It was so much fun to put this collection together to share with you. Please, enjoy these beautiful designs!
1. Pastel Purple Almond Nails with Flowers
2. Pastel Purple Mountain Peak Nails
3. Short Pastel Purple French Tips
4. Pastel Purple Nails with Stripes
5. Elegant Pastel Purple Nails
6. Pastel Rainbow Nails
7. Pastel Purple Cow Nails
8. Lillac Nails
9. Lavender Almond Nails
10. Acrylics Purple Nails with Rhinestones
11. Geometrics Pastel Purple Coffins
12. Galaxy Short Almond Nails
13. Short Pastel Purple Nails
14. Pastel Purple Glitter Frenchies
15. Pastel Purple French Tips with Daisies
16. Pastel Purple Ombre Nails
17. Pastel Purple Nails with Swirls
18. Short Square Pastel Purple Nails
19. Pastel Purple French Tips
20. Chrome Pastel Purple Nails
21. Purple and White Nails
22. Acrylic Pastel Purple Nails with Stones
23. Pastel Purple Short Coffin Nails
24. Pastel Purple Frenchiew with Silver
25. Chrome Purple Almond Nails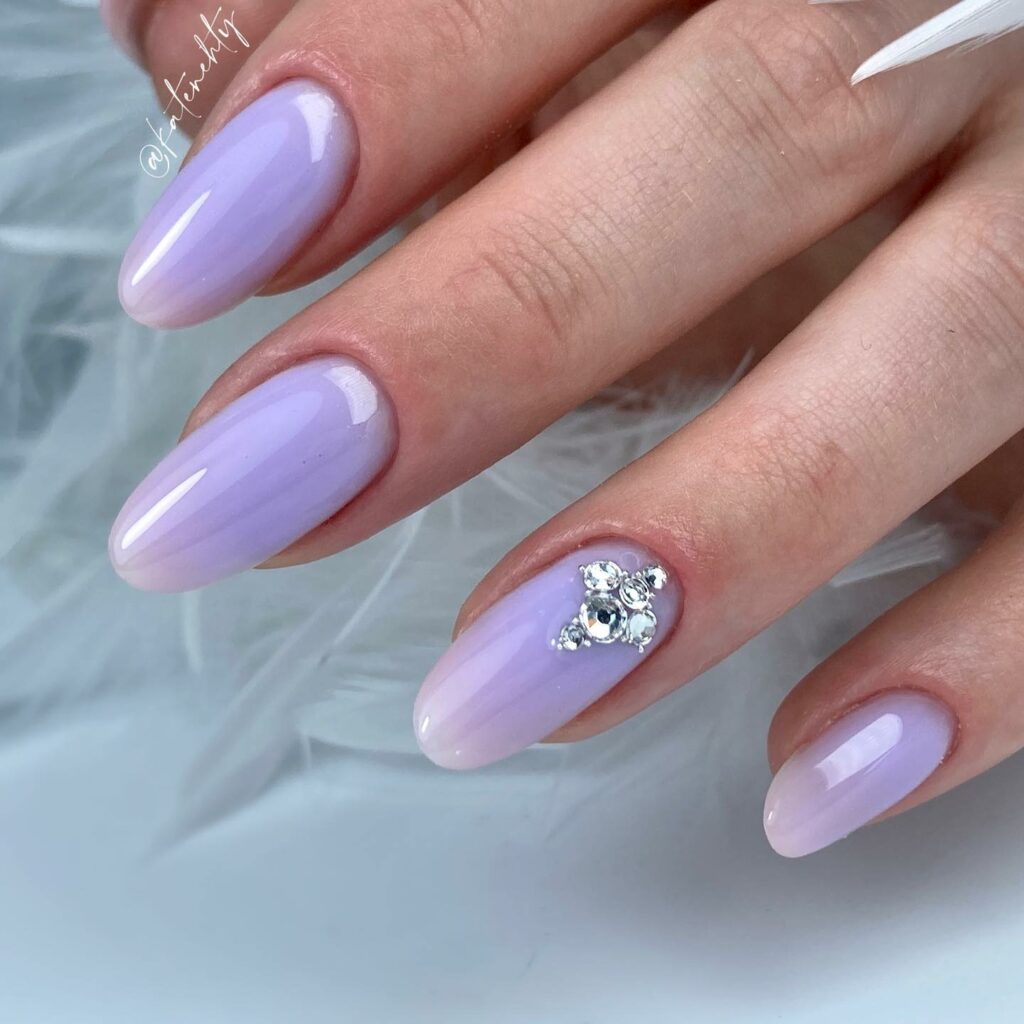 26. Dragonfly Nails
27. Purple French Tips
28. Pastel Purple Boho Nails
29. Almond Butterfly Nails
30. Pink and Pastel Purple Nails
31. Pastel Purple Flower Nails
32. Purple Glitter Nails
33. Pastel Purple Marble Nails
34.Purple Cherry Nails
35. Acrylic Purple Nails with 3D Flowers
36. Barbie French Tips
37. Purple Nails with Roses
38. Pastel Purple French Tips with Butterflies
39. Pastel Purple Ombre Coffin Nails
How to Take Care of Your Pastel Purple Nails
We've got a few special tips for you to keep your look fresh for as long as possible!
We all know that prevention is key, so make sure your manicure was properly applied and you've got your edges sealed!
Once that's done, try to avoid anything harsh from contacting your nails. This includes hot water, chemicals, and even the acids from certain foods like fruits or hot peppers or sauces. These things can corrode the top coat and make it easier to damage!
Making sure you have a strong top coat is a key way in keeping your purple pastel nails pristine! Don't let your nails get too dry either, as dry nails can lead to cracks and chips. You can use cuticle oil to maintain proper hydration.
Last but not least, make sure to keep reapplying your top coat! It can be done every second or third day after you get these beautiful nails done. All of these tips will help you to take care of your pastel purple nails!